News articles on tropical forests

---
Mongabay.com news articles on tropical forests in blog format. Updated regularly.





Drill baby drill! The fate of African biodiversity and the monkey you've never heard of


(05/02/2013) Equatorial Guinea is not a country that stands very large in the American consciousness. In fact most Americans think you mean Papua New Guinea when you mention it or are simply baffled. When I left for Bioko Island in Equatorial Guinea, I also knew almost nothing about the island, the nation, or the Bioko drills (Mandrillus leucophaeus poensis). The subspecies of drill is unique to Bioko Island and encountering them was an equally unique experience. I initially went to Bioko as a turtle research assistant but ended up falling in love with the entire ecosystem, especially the Bioko drills as I tagged along with drill researchers.


13 year search for Taiwan's top predator comes up empty-handed

(05/01/2013) After 13 years of searching for the Formosan clouded leopard (Neofelis nebulosa brachyura), once hopeful scientists say they believe the cat is likely extinct. For more than a decade scientists set up over 1,500 camera traps and scent traps in the mountains of Taiwan where they believed the cat may still be hiding out, only to find nothing.


Conservation without supervision: Peruvian community group creates and patrols its own protected area


(04/30/2013) When we think of conservation areas, many of us think of iconic National Parks overseen by uniformed government employees or wilderness areas purchased and run from afar by big-donor organizations like The Nature Conservancy, Wildlife Conservation Society, WWF, or Conservation International. But what happens to ecosystems and wildlife in areas where there's a total lack of government presence and no money coming in for its protection? This is the story of one rural Peruvian community that took conservation matters into their own hands, with a little help from a dedicated pair of primate researchers, in order to protect a high biodiversity cloud forest.


Scientists discover new giant mole rat in Africa (photos)


(04/30/2013) Although the term "giant mole rat" may not immediately inspire love, the mole rats of Africa are a fascinating bunch. They spend practically their entire lives underground building elaborate tunnel systems and feeding on plant stems. This underground lifestyle has led them to evolve small ears, tiny eyes, forward-pointing teeth for digging, and nostrils they can shut at will while digging. Some species are quite social, such as the most famous, the naked mole rat (Heterocephalus glaber), while others live largely solitary lives. If that's not enough, the family of mole rats, dubbed Blesmols, may even help us find a cure for cancer.


What if companies actually had to compensate society for environmental destruction?


(04/29/2013) The environment is a public good. We all share and depend on clean water, a stable atmosphere, and abundant biodiversity for survival, not to mention health and societal well-being. But under our current global economy, industries can often destroy and pollute the environment—degrading public health and communities—without paying adequate compensation to the public good. Economists call this process "externalizing costs," i.e. the cost of environmental degradation in many cases is borne by society, instead of the companies that cause it. A new report from TEEB (The Economics of Ecosystems and Biodiversity), conducted by Trucost, highlights the scale of the problem: unpriced natural capital (i.e. that which is not taken into account by the global market) was worth $7.3 trillion in 2009, equal to 13 percent of that year's global economic output.


Amazon: the world's greatest rainforest or internet giant?

(04/25/2013) When you see the word "Amazon", what's the first thing that springs to mind—the world's biggest forest, the longest river or the largest internet retailer—and which do you consider most important? These questions have risen to the fore in an arcane, but hugely important, debate about how to redraw the boundaries of the internet. Brazil and Peru have lodged objections to a bid made by the US e-commerce giant for a prime new piece of cyberspace: ".amazon".


Featured video: Earth Day message from indigenous tribes in the Peruvian Amazon

(04/23/2013) A new video by Alianza Arkana includes an Earth Day message from the indigenous peoples in the Peruvian Amazon who are facing the existential threats of logging and fossil fuel development on their traditional lands.


Malaysia may be home to more Asian tapirs than previously thought (photos)


(04/23/2013) You can't mistake an Asian tapir for anything else: for one thing, it's the only tapir on the continent; for another, it's distinct black-and-white blocky markings distinguishes it from any other tapir (or large mammal) on Earth. But still little is known about the Asian tapir (Tapirus indicus), including the number surviving. However, researchers in Malaysia are working to change that: a new study for the first time estimates population density for the neglected megafauna, while another predicts where populations may still be hiding in peninsular Malaysia, including selectively-logged areas.


Two new frog genera discovered in India's Western Ghats, but restricted to threatened swamp-ecosystems


(04/22/2013) The misty mountains of the Western Ghats seem to unravel new secrets the more you explore it. Researchers have discovered two new frog genera, possibly restricted to rare and threatened freshwater swamps in the southern Western Ghats of India. The discoveries, described in the open-access journal Zootaxa, prove once again the importance of the mountain range as a biodiversity hotspot.


A new tool against illegal logging: tree DNA technology goes mainstream


(04/22/2013) Modern DNA technology offers a unique opportunity: you could pinpoint the origin of your table at home and track down if the trees it was made from were illegally obtained. Each wooden piece of furniture comes with a hidden natural barcode that can tell its story from a sapling in a forest all the way to your living room.


Judge halts military-backed dam assessment in Brazil's Amazon

(04/17/2013) A federal court in Brazil has suspended the use of military and police personnel during technical research on the controversial São Luíz do Tapajós Dam in the Brazilian Amazon. The military and police were brought in to stamp down protests from indigenous people living along the Tapajós River, but the judge decreed that impacted indigenous groups must give free, prior, and informed consent (FPIC) before any furter studies can be done on the proposed dam. However, the decision is expected to be appealed.


Featured video: local communities successfully conserve forests in Ethiopia

(04/17/2013) A participatory forest management (PFM) program in Ethiopia has made good on forest preservation and expansion, according a recent article and video interview (below) from the Guardian. After 15 years, the program has aided one community in expanding its forest by 9.2 percent in the last decade, while still allowing community access to forest for smallscale logging in Ethiopia's Bale Mountains.


New insect discovered in Brazil, only third known in its bizarre family (photos)


(04/15/2013) A new species of forcepfly named Austromerope brasiliensis, was recently discovered in Brazil and described in the open access journal Zoo Keys. This is the first discovery of forcepfly in the Neotropics and only the third known worldwide. The forcepfly, often called the earwigfly because the male genital forceps closely resemble the cerci of the common earwig, remains a scientific enigma due to the lack of information on the family.


Landowner who allegedly ordered Amazon murders acquitted

(04/10/2013) Jose Rodrigues Moreira, a Brazilian landowner who allegedly ordered the killings of Amazon activists Jose Claudio Ribeiro da Silva and his wife Maria, was acquitted this week due to lack of evidence. But, the two men who carried out the assassinations, Lindonjonson Silva Rocha and Alberto Lopes do Nascimento, were found guilty and sent to 42 and 45 years of jail respectively.


Featured video: stemming human-caused fires in the Amazon

(04/09/2013) A new series of 5 films highlights how people use fire in the Amazon rainforest and how such practices can be mitigated. Collectively dubbed "Slash & Burn" each film explores a different aspect of fire-use in the Amazon. In recent years the Amazon has faced unprecedented droughts, possibly linked to climate change and vast deforestation, making the issue of human-started fires even more important.


Still hope for tropical biodiversity in human modified landscapes

(04/09/2013) As primary forests become increasingly rare and expensive to protect, many ecologists are looking to better management of Human Modified Landscapes (HMLs) to shepherd and shield biodiversity in the tropics. Secondary forests, selectively logged forests and lands devoted to sustainable agriculture already play an important role in conservation efforts. However, the idea that HMLs will serve as a "Noah's Ark" for biodiversity, is controversial.


REDD+ and Business Sustainability: A Guide to Reversing Deforestation for Forward Thinking Companies – book review

(04/08/2013) Brian McFarland has published a concise, yet comprehensive, DōShort book titled REDD+ and Business Sustainability.


Indigenous group: Brazil using military to force Amazon dams


(04/08/2013) An Amazonian community has threatened to "go to war" with the Brazilian government after what they say is a military incursion into their land by dam builders. The Munduruku indigenous group in Para state say they have been betrayed by the authorities, who are pushing ahead with plans to build a cascade of hydropower plants on the Tapajós river without their permission.


Killings over land continues in the Amazon

(04/04/2013) On Wednesday, in the Brazilian state of Pará, the trial begins of three men accused of murdering José Cláudio Ribeiro da Silva and his wife Maria do Espirito Santo, who had campaigned against loggers and ranchers for years. Their assassinations in May 2011 generated international outrage, just like that of Chico Mendes, 25 years ago, and that of the American-born nun Dorothy Stang in 2005.


New giant tarantula that's taken media by storm likely Critically Endangered (photos)


(04/04/2013) Described by a number of media outlets as "the size of your face" a new tree-dwelling tarantula discovered in Sri Lanka has awed arachnophiliacs and terrified arachnophobes alike. But the new species, named Raja's tiger spider (Poecilotheria rajaei), is likely Critically Endangered according to the scientist that discovered it in northern Sri Lanka.


An insidious threat to tropical forests: over-hunting endangers tree species in Asia and Africa


(04/04/2013) A fruit falls to the floor in a rainforest. It waits. And waits. Inside the fruit is a seed, and like most seeds in tropical forests, this one needs an animal—a good-sized animal—to move it to a new place where it can germinate and grow. But it may be waiting in vain. Hunting and poaching has decimated many mammal and bird populations across the tropics, and according to two new studies the loss of these important seed-disperser are imperiling the very nature of rainforests.


Infamous elephant poacher turns cannibal in the Congo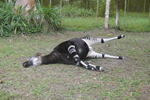 (04/03/2013) Early on a Sunday morning last summer, the villagers of Epulu awoke to the sounds of shots and screaming. In the eastern reaches of the Democratic Republic of the Congo, that can often mean another round of violence and ethnic murder is under way. In this case, however, something even more horrific was afoot.


Proposed coal plant threatens Critically Endangered Philippine cockatoo


(04/02/2013) One kilometer off the Philippine island of Palawan lies the Rasa Island Wildlife Sanctuary; here forest grows unimpeded from a coral island surrounded by mangroves and coral reefs. Although tiny, over a hundred bird species have been recorded on the island along with a major population of large flying foxes, while in the waters below swim at least 130 species of coral fish, three types of marine turtles, and that curious-looking marine mammal, dugongs. Most importantly, perhaps, the island is home to the world's largest population of Philippine cockatoos (Cacatua haematuropygia), currently listed as Critically Endangered. But, although uninhabited by people, Rasa Island may soon be altered irrevocably by human impacts.


U.S. book industry using 24 percent recycled paper on average


(04/01/2013) From 2004 to 2010, book publishers increased their use of recycled fiber by nearly five times, from 5 percent to 24 percent on average, according to a new report by the Book Industry Environmental Council (BIEC) and Green Press Initiative. The report, which depends on voluntary statistics from the book industry, also found that nearly all (89 percent) of book publishers have environmental policies.


Humans killed over 10 percent of the world's bird species when they colonized the Pacific Islands


(03/25/2013) Around 4,000 years ago intrepid Polynesian seafarers made their way into an untamed wilderness: the far-flung Pacific Islands. Over a thousands or so years, they rowed from one island to another, stepping on shores never yet seen by humans. While this vast colonization brought about a new era of human history, it also ended the existence of well-over a thousand bird species according to a new study in the Proceedings of the National Academy of Sciences (PNAS).


Indigenous protester killed by masked assailants in Panama over UN-condemned dam


(03/25/2013) A Ngäbe indigenous Panamanian, Onesimo Rodriguez, opposing the Barro Blanco hydroelectric dam project was killed last Friday evening by four masked men. His body was then thrown into a nearby stream where it was discovered the following day. Onesimo Rodriguez was attacked with a companion in Las Nubes, after they had attended a demonstration in Cerro Punta, Bugaba, against the dam. His companion, whose identity is being withheld for security reasons, received serious injuries but managed to escape and is having his injuries tended to by the local indigenous community.


Forging zoos into global conservation centers, an interview with Cristian Samper, head of WCS


(03/25/2013) The Wildlife Conservation Society (WCS) is one of the world's leading environmental organizations. Founded in 1895 (originally as the New York Zoological Society), the WCS manages 200 million acres of wild places around the globe, with over 500 field conservation projects in 65 countries, and 200 scientists on staff. The WCS also runs five facilities in New York City: the Central Park Zoo, the New York Aquarium, Prospect Park and Queens Zoos, and the world renowned Bronx Zoo.


Scientists discover two new remarkably-colored lizards in the Peruvian Amazon (photos)


(03/21/2013) Scientists have discovered two new species of woodlizards from the Peruvian Amazon. Woodlizards, in the genus Enyalioides, are little-known reptiles with only 10 described species found in South and Central America. Described in a new paper in ZooKeys, both new woodlizards were found in Cordillera Azul National Park, the nations third-largest.


Ant communities more segregated in palm oil plantations than rainforest


(03/21/2013) Ants are an important ecological group in both degraded and natural habitats. They interact with many other species and mediate a range of ecological processes. These interactions are often interpreted in the context of ant mosaics, where dominant species form strict territories, keeping other ants out. This segregation between ant species is well-documented in monoculture plantations. Now new research published in Ecography has shown that these changes are driven by the replacement of rainforests with monocultures and not the arrival of non-native species.


Video uncovers top level corruption in Sarawak over indigenous forests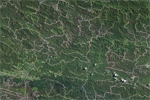 (03/20/2013) Tax evasion, kick-backs, bribery, and corruption all make appearances in a shocking new undercover video by Global Witness that shows how top individuals in the Sarawak government may be robbing the state of revenue for their own personal gain. Anti-corruption groups have believed that corruption has been rife in the Malaysian state of Sarawak for decades, but Global Witness says their investigation offers undeniable proof.


Panama's indigenous people drop REDD+

(03/19/2013) The National Coordinator of Indigenous Peoples in Panama (COONAPIP) has announced it is withdrawing from the United Nation's REDD+ program following a series of disagreements. The exit of COONAPIP from the negotiating table with UN officials and the Panamanian government will likely be a blow to the legitimacy of REDD+ in the central American country. REDD, or Reducing Emissions from Deforestation and Degradation, is a program to reduce emissions by safeguarding forests.


Peruvian night monkey threatened by vanishing forests, lost corridors


(03/18/2013) The Peruvian night monkey (Aotus miconax) is one of the world's least known primates, having never been studied in the wild--until now. Found only in the cloud forests of northern Peru, a group of scientists with Neotropical Primate Conservation and the National University of Mayor San Marcos have spent 12 months following a single group of this enigmatic monkey species in a small forest patch. The results of their research, published in mongabay.com's open access journal Tropical Conservation Science, shows that protecting forests, even small forest fragments, is vital to the species' survival.


Invasive plants hurt locals in Mauritius

(03/18/2013) Native species on the island of Mauritius have long had to deal with invasive species. In fact, invasives likely played a major role in the extinction of the Mauritius' most famous resident, the dodo. While scientists have long cataloged the impact of invasive animals on island wildlife, there has been less clarity when it comes to invasive plants. However, a new paper in mongabay.com's open access journal Tropical Conservation has found that invasive plants do indeed negatively impact local species.


Logging studies plagued by sampling problems

(03/18/2013) Although research into the impact of selective logging in tropical forests has been booming recently, much of it is undercut by basic research flaws, according to a new study in mongabay.com's open access journal Tropical Conservation Science. Selective logging means targeting certain species or only a particular number of trees per hectare, and as such is considered generally more environmentally-friendly than clearcutting, which strips entire forests.


Into the unknown mountains of Cambodia: rare birds, rice wine, and talk of tigers


(03/14/2013) Ringed with forested mountains forming the borders with Laos and Vietnam, the northeast corner of Cambodia has been an intriguing blank spot among my extensive travels through the country. Nestled up against this frontier is Virachey National Park, created in 1993. I began searching for a way to explore this area a couple of years ago, hoping to connect with conservation NGOs to get me into the park; no one seemed to know much about it. I learned that the area had been written off by these groups due to massive land concessions given to logging and rubber concerns. The World Bank abandoned its 8-year effort to create a management scheme for Virachey after the concessions were granted in 2007. A moratorium on the concessions is temporarily in place, but illegal logging incursions into the park continue.


Burning coal may be killing over 100,000 people in India every year


(03/13/2013) India's dependence on coal-fired power plants for energy may be leading directly to the deaths of 80,000 to 115,000 of its citizens every year, according to the first ever report on the health impacts of coal in the country. The report, commissioned by the Conservation Action Trust and Greenpeace-India, deals only with the direct health impact of coal and not climate change. But even ignoring the rising pain of global warming, the bleak report outlines that coal consumption in India is causing over 20 million asthma attacks, nearly a million emergency room visits, and killing some 10,000 children under five annually.


Dozens of tropical trees awarded new protections at CITES

(03/12/2013) Numerous species of rosewood and ebony from Madagascar, Latin America, and Southeast Asia were granted protection today at the Convention on International Trade in Endangered Species (CITES) in Bangkok, Thailand. The ruling comes one day after CITES granted the first protections ever to sharks and manta rays.


Photographers threatening the already-abused slender loris


(03/12/2013) Caught in a beam of torchlight, the eyes of the slender loris reflect back a striking glow. In an effort to better understand these shy, nocturnal primates, a team of researchers set out to the Western Ghats of India. The resulting paper: Moolah, Misfortune or Spinsterhood? The Plight of the Slender Loris (Loris lydekkerianus) in Southern India was published in the Journal of Threatened Taxa in January of 2013. Forest walks and interviews with the Kani people, who live in close proximity to the lorises, supported evidence of a surprising new threat to the lorises: photographers.


Seeing the forest through the elephants: slaughtered elephants taking rainforest trees with them


(03/11/2013) Elephants are vanishing. The booming illegal ivory trade is decimating the world's largest land animal, but no place has been harder hit than the Congo basin and its forest elephants (Loxodonta cyclotis). The numbers are staggering: a single park in Gabon, Minkebe National Park, has seen 11,100 forest elephants killed in the last eight years; Okapi Faunal Reserve in the Democratic Republic of the Congo has lost 75 percent of its elephants in fifteen years; and a new study in PLoS ONE estimates that in total 60 percent of the world's forest elephants have been killed in the last decade alone. But what does that mean for the Congo forest?


New illegal logging ban in EU could sever all ties with companies working in DRC


(03/04/2013) Yesterday, the EU joined the U.S. and Australia in banning all timber that was illegally harvested abroad. The new regulation could have a major impact on where the EU sources its timber, and no where more so than the Democratic Republic of Congo (DRC). According to a new report by Greenpeace, the DRC's current moratorium on industrial logging is being systematically circumvented making all timber from the country suspect.


Extinction warning: racing to save the little dodo from its cousin's fate


(03/04/2013) Sometime in the late 1600s the world's last dodo perished on the island of Mauritius. No one knows how it spent its final moments—rather in the grip of some invasive predator or simply fading away from loneliness—but with its passing came an icon of extinction, that final breath passed by the last of its kind. The dodo, a giant flightless pigeon, was a marvel of the animal world: now another island ground pigeon, known as the little dodo, is facing its namesake's fate. Found only in Samoa, composed of ten islands, the bird has many names: the tooth-billed pigeon, the Manumea (local name), and Didunculus ("little dodo") strigirostris, which lead one scientist to Christen it the Dodlet. But according to recent surveys without rapid action the Dodlet may soon be as extinct as the dodo.


Selective logging changes character of tropical forest

(02/28/2013) Selective logging is usually considered less harmful than other forestry practices, such as clear cutting, but a new study in mongabay.com's open access journal Tropical Conservation Science has found that even selective logging has a major impact on tropical forests lasting decades. Comparing trees in two previously logged sites and two unlogged sites in northeast India, researchers found less tree diversity in selectively logged forests with trees dispersed by birds proved especially hard-hit.


Warlords, sorcery, and wildlife: an environmental artist ventures into the Congo


(02/25/2013) Last year, Roger Peet, an American artist, traveled to the Democratic Republic of Congo (DRC) to visit one of the world's most remote and wild forests. Peet spent three months in a region that is largely unknown to the outside world, but where a group of conservationists, headed by Terese and John Hart, are working diligently to create a new national park, known as Lomami. Here, the printmaker met a local warlord, discovered a downed plane, and designed a tomb for a wildlife ranger killed by disease, in addition to seeing some of the region's astounding wildlife. Notably, the burgeoning Lomami National Park is home to the world's newest monkey species, only announced by scientists last September.


Activists warn of industrial palm oil expansion in Congo rainforest


(02/21/2013) Industrial oil palm plantations are spreading from Malaysia and Indonesia to the Congo raising fears about deforestation and social conflict. A new report by The Rainforest Foundation UK (RFUK), dramatically entitled The Seeds of Destruction, announces that new palm oil plantations in the Congo rainforest will soon increase fivefold to half a million hectares, an area nearly the size of Delaware. But conservationists warn that by ignoring the lessons of palm oil in Southeast Asia, this trend could be disastrous for the region's forests, wildlife, and people.


Featured video: Saving the Amazon through maps

(02/20/2013) In a new video ethnobotanist, Mark Plotkin, talks about recent—and historical—efforts to preserve the Amazon rainforest through map-making and technology. Today scientists like Plotkin are teaching indigenous people how to digitally map their territory to win land rights over the forest they've used for centuries.


First strike: nearly 200 illegal loggers arrested in massive sting across 12 countries

(02/20/2013) One-hundred-and-ninety-seven illegal loggers across a dozen Central and South American countries have been arrested during INTERPOL's first strike against widespread forestry crime. INTERPOL, or The International Criminal Police Organization, worked with local police forces to take a first crack at illegal logging. In all the effort, known as Operation Lead, resulted in the seizure of 50,000 cubic meters of wood worth around $8 million.


Biofuel company caught clearing elephant habitat in Sri Lanka


(02/20/2013) A biofuel plantation near Yala National Park has landed Lanka Orex Leasing Company PLC (LOLC) in Sri Lanka's highest court. Environmentalists say the company is illegally bulldozing Asian elephant habitat, including scrubland and tree stands, near the buffer zone of Yala National Park for gliricidia (Gliricidia sepium) biofuel plantation.


Will Amazon species lose the climate change race?


(02/14/2013) Deforestation could increase the risk of biodiversity loss in the Amazon by forcing species to migrate further in order to remain at equilibrium with changing climates, says new research. "As migration models are made more realistic through the inclusion of multiple climatic, biotic, abiotic and human factors, the predicted distances between current and future climate analogues invariably increases," Kenneth Feeley, lead author of the paper published in Global Change Biology, told mongabay.com.


World's biggest camera trapping program hits 1 million photos of tropical animals (photos)


(02/14/2013) The world's largest study of wildlife using remote camera traps has captured one million photographs. The project, known as the Tropical Ecology Assessment and Monitoring (TEAM) Network, takes photos of mammals and birds in 16 protected areas across 14 tropical countries in Asia, Africa, as well as Central and South America. Remote camera traps, which take stealth photos of wildlife when no humans are around, have become an increasingly important tool in the conservationists' toolbox, allowing researchers to monitor otherwise hard-to-find animals in remote and often punishing locations.


Rosewood in Belize: the truth behind the smoke

(02/11/2013) In Belize, the uncontrolled and often illegal harvesting of rosewood has been, and still is, one of the major environmental issues in the country. In March of last year, the government established a moratorium on the export and extraction of rosewood, however illegal harvesting continued. On Friday 11 January, the Minister of Forestry, Fisheries and Sustainable Development made the bold move of burning confiscated illegally cut rosewood flitches.



Page 1 | Page 2 | Page 3 | Page 4 | Page 5 | Page 6 | Page 7 | Page 8 | Page 9 | Page 10 | Page 11 | Page 12 | Page 13 | Page 14 | Page 15 | Page 16 | Page 17 | Page 18 | Page 19