News articles on tropical forests

---
Mongabay.com news articles on tropical forests in blog format. Updated regularly.








When is a forest a forest? How definitions affect monitoring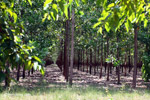 (01/29/2015) What exactly is a forest? With forest definitions differing from country to country, and primary forests, secondary forests, and even tree plantations all perceived collectively as "tree cover" by satellite data, how does one accurately keep tabs on land changes?
Community tourism fills niche around Tambopata National Reserve
(01/29/2015) When Víctor Zambrano retired from the military and returned to his family's old homestead outside the fast-growing jungle town of Puerto Maldonado in Peru, he got an unpleasant surprise. Strangers had moved in and cleared the trees to raise cattle. As Zambrano tells it, he ran up the Peruvian flag, chased the invaders off, and set to work planting 19,000 native tree seedlings.
Radical transparency: tracking deforestation through satellite imagery
(01/28/2015) Floating softly through the vacuum of space, the Landsat 7 satellite has faithfully provided imaging of the entirety of earth's surface, every 16 days, since 1999. Now a series of technological developments has made this silent spectator a dominant force in tracking forests worldwide.
China's recent forest tenure reforms threaten panda habitat
(01/27/2015) Since the 1950s, plantations and second-growth forests in China have been locally managed by village communities as collective forests, which today account for 58 percent of China's forestland. Many of these collective forests lie within mountainous rural areas, some of which are also home to the 1,600 or so wild giant pandas (Ailuropoda melanoleuca) that survive today.
Deforestation may be ramping up in Papua, West Papua
(01/27/2015) Despite being covered in commodity concessions and becoming a focal point for the Indonesian government's palm oil development in the country's eastern half, the provinces of Papua and West Papua have, rather mysteriously, recorded very low deforestation rates compared to the rest of the archipelago. However, emerging data, reports, and photos suggest the region's forest loss may be escalating.
Sumatran community grows crops, aids conservation through 'village forests'
(01/23/2015) The rolling green hills covered in rice paddies and coffee plantations give Semende in the Muara Enim regency of South Sumatra a welcome and hospitable feeling. However, behind the peaceful pastoral veil, is a history of rampant forest encroachment and land conflict in the Barisan mountains.
Half of Borneo's mammals could lose a third of their habitat by 2080
(01/22/2015) Borneo consistently makes the list of the world's "biodiversity hotspots" – areas full of a wide variety of forms of life found nowhere else, but which are also under threat. To better understand the hazards, a study published today in the journal Current Biology examines the effects of climate change and deforestation in the coming decades on mammals living on the island.
Indigenous territories play dual role as homelands and protected areas
(01/22/2015) Indigenous communities claim—and scientific evidence increasingly shows—that indigenous forested territories are as well protected as, or better protected than, government-designated parks. In areas under pressure from roads or development projects, deforestation rates are sometimes even lower in indigenous territories than in official protected areas.
Sundarbans still reeling from effects of December oil spill
(01/21/2015) Last month, an estimated 350,000 liters of fuel oil spilled into the Sundarbans delta on the Bay of Bengal. An oil tanker that had collided with a cargo vessel on December 9th sank into the Shela River, spilling its oil into a protected sanctuary for the rare and endangered Irrawaddy dolphins (Orcaella brevirostris) and the Ganges river dolphins (Platanista gangetica).
Sumatran village protects environment through agroforestry
(01/21/2015) The forest behind Indudur village clings to the steep hillside. The topography itself is enough to protect it from most common threats of development. However, the area is under attack by a more pernicious force: a lack of interest by the younger generation in earning their living here. The difficulty of life compels many to migrate out, leaving the village dominated by older people.
Environmental wisdom: keeping indigenous stories alive
(01/21/2015) Enchanted lakes and magic hills: how traditional stories support conservation and abundance. 'Long ago, when animals were gente...' Those words, uttered countless times by indigenous Amazonian storytellers, blur the boundary between humans and other creatures in the forests and rivers, revealing a different view of the way human and non-human worlds intertwine.
A model forest? Regional park balances local needs and conservation
(01/21/2015) Regional conservation area safeguards subsistence and spirituality in the Peruvian Amazon. For Alfredo Rojas, the history of the remote villages along the Ampiyacu River is one of enslavement. Growing up here, Rojas listened to his parents tell stories of the rubber barons who beat and killed the Indians who failed to meet their latex quota.
Company chops down rainforest to produce 'sustainable' chocolate
(01/20/2015) A cacao grower with roots in Southeast Asia's palm oil industry has set up shop in the Peruvian Amazon. The CEO of United Cacao has told the international press that he wants to change the industry for the better, but a cadre of scientists and conservation groups charge that United Cacao has quietly cut down more than 2,000 hectares of rainforest.
India's tiger population up by more than 500 animals in four years

(01/20/2015) The tiger is in major trouble. In 1900, the global population was over 100,000 animals; today, it is on the precipice of extinction, hovering around just 3,000. In response, tiger range countries have pledged to double to the population by 2022. But there has been little evidence of success until now: India has announced that its tiger population has jumped a remarkable 29 percent in the last four years.
Sulawesi village seeks protection for sacred forest threatened by development
(01/16/2015) Home to some 400 fishermen, Manurung village appears unremarkable at first glance: quiet houses along a winding river lined with boats. However, behind the village lies something remarkable: a tract of old-growth forest nearly untouched by human exploitation. Pensimoni Hill stands as a rare outpost of towering trees rising above freshwater springs that provide clean water and life for the villages below.
No experience necessary: how studying tamarins led to an innovative research organization in the Amazon
(01/15/2015) While conducting doctoral research on tamarin reproductive biology in the Peruvian Amazon, Mrinalini Watsa realized she needed help in the field. Rather than hiring seasonal assistance she, along with Gideon Erkenswick, decided to create a life-changing non-profit organization, PrimatesPeru. The new NGO would allow students to conduct field research in one of the most biodiverse, yet threatened, places on Earth.
Farmers help restore degraded forests in Sulawesi
(01/15/2015) Irda tends to his two-hectare timber plantation in Pamulukkang Forest at the base of Tanete Kindo Mountain in West Sulawesi. Unlike some other farmers in Indonesia, he does so without fear of harassment by forest rangers or police. Since 2008, he has been involved in the Community Plantation Forest (HTR) program—an initiative by the Indonesian government to restore degraded lands by encouraging locals to plant and manage commercially sustainable forests.
Amazon gold rush destroying huge swaths of rainforest
(01/14/2015) The rainforests of South America face many threats. The deforestation occurring on the continent is among the highest in the world and results in losses of habitat, biodiversity and massive amounts of sequestered carbon. While the usual culprits such as farming, ranching and logging are well known, gold mining is fast extending its destructive reach into some of the world's most untouched landscapes, according to new research.
Forest management by Sulawesi community attracts international attention
(01/13/2015) The Ngata Toro community in the Indonesian province of Central Sulawesi worked with the government to remap their lands and negotiate access to the forest. In the year 2000, officials from the national park signed an agreement with Ngata Toro recognizing the existence of indigenous forests, and granting them permission to maintain the forest as they had previously.
Mother and cub: researchers photograph rare cat with cub in Sumatra
(01/13/2015) Researchers working in Kerinci Seblat National Park have captured a remarkable image of a mother Asian golden cat (Catopuma temminckii) carrying her young in her mouth. The image was taken in mid-2014 as reported by Mongabay Indonesia by the Sumatran Tiger Research Team.
Sulawesi community regains access to forest on which it depends
(01/09/2015) Recognizing the ecological sensitivity of an area in Central Sulawesi, the Indonesian government established two expansive protected areas in the region. Although these protective measures may be forward-thinking in terms of environmental protection, they had the unfortunate side effect of corralling the residents of the village of Namo on a tiny patch of land, forbidding them from the utilizing the forest resources that once sustained them.
Kalimantan community maps forest to thwart timber companies
(01/08/2015) The small village of Tumbang Bahanei is inhabited by 139 indigenous families that tend to 2,859 hectares of customary forest, 132 hectares of rice fields, 5,841 hectares of rubber forest, and 43 hectares of forest designated for indigenous tourism. In total, this amounts to just over 8,880 hectares. The residents know these numbers precisely, because they have been diligently mapping every corner of their territory in a desperate attempt to prevent it from being snatched up by timber companies.
New bat species has fangs you won't believe
(01/08/2015) What big teeth you have, my dear! The better to eat insects with—and make one's own ecological niche. Scientists have uncovered a new bat with stupendous canines in the rainforests of Lao PDR and Vietnam, aptly naming it Hypsugo dolichodon, or the long-toothed pipistrelle.
Sulawesi community vies to maintain rights to forest
(01/07/2015) Around 3,000 people from 833 households live in Tompo Bulu's seven sub-villages. Traditional culture and ritual run thick in this area. The residents of Karampuang believe the area is where the cultures from eastern and western Indonesia first met. Local myth holds that the first leader of the area descended from the sky with a mandate that the locals must maintain their traditional way of life.
Palm oil threatens community forest in Central Kalimantan
(01/07/2015) Delang district is different than many parts of Central Kalimantan. Namely, on the drive in from Nangabulik, you won't see large-scale oil palm plantations, and the forest appears to be well maintained. This is because the locals are keenly aware of the importance of their land at the headwaters of the Lamandau River.
Time for a checkup: researchers examine the health of lowland tapirs
(01/07/2015) The Brazilian tapir may get a bad rap in Brazil, where referring to someone as a 'tapir' essentially equates to calling them an 'ass,' but history has shown that this species is deserving of a lot more respect. These hardy 'living fossils' have survived multiple extinction events since the Eocene, yet their ability to survive the ongoing Anthopocene extinction remains uncertain.
Traditional farming technique preserves soil, forest in Kalimantan
(01/06/2015) The road winds five kilometers through a thick canopy of trees before ending abruptly at a stream and a small, stout wooden cabin in West Kalimantan, Indonesia. Amid, the cabin's owner, proudly explains that he constructed it from local hardwoods—high value trees still readily available in the surrounding hills.
Coffee farmers help protect Flores forest
(01/06/2015) Located on the slopes of Inerie Mountain on the island of Flores in Indonesia, farmers in Bajawa and Golewa districts have practiced sustainable agroforestry for generations, producing coffee for export to the U.S. and Europe known as Arabica Flores Bajawa (AFB). Although not as well-known as other specialty coffees in Indonesia, its popularity is increasing, and Ngada regency now produces more than 300 tons of AFB per harvest.
Featured video: new documentary highlights 'Sumatra Burning'

(01/05/2015) A new half-hour documentary investigate the impact of the palm oil industry in Indonesia, including burning forests and peatlands as well as haze spreading across Indonesian borders. Entitled Sumatra Burning, the documentary explores palm oil production on the island of Sumatra, which is experiencing some of the highest deforestation rates on the planet.
Endangered mussel still harvested for food in Laos
(12/29/2014) Only one freshwater pearl mussel species is known to inhabit tropical water systems. However, despite being listed as Endangered by the IUCN, it is also still a part of the diet of villagers in Northern Laos. A study published recently found that the dwindling populations of the bivalve would benefit from a ban on their capture.
Camera traps capture rare footage of wild bonobos (video)
(12/29/2014) Bonobos, our ape cousins, love peace. Unlike chimpanzees, also our close relatives, bonobos are known to resolve conflict through sex instead of aggression. They kiss, they caress, and females display genito-genital rubbing (also called G-G rubbing) to communicate, bond, and reconcile.
Palawan palm oil presence likely to grow, industry rep denies harmful impact
(12/23/2014) Plans to convert eight million hectares of land for palm oil production on Palawan island in the Philippines have been met with opposition from environmental and social advocacy groups, with a petition to cease development sent to the United Nations Commission on Human Rights by an anti-palm oil expansion group. But an industry representative denies claims that all eight million hectares will be cultivated to the detriment of wildlife and human communities, maintaining palm oil expansion will be beneficial to the people of Palawan.
Advocacy group lashes out against palm oil expansion on Philippine island
(12/23/2014) In the first week of November, an anti-oil palm expansion group sent a copy of their petition to the Special Rapporteur on the Rights of the Indigenous People for the United Nations Commission on Human Rights hoping to elevate their concerns over land-grabbing issues faced by tribes in Palawan, Philippines, due to planned palm oil expansion in the province.
Top 10 Environmental Stories of 2014
(12/23/2014) In 2014, the unimaginable happened: companies representing the majority of palm oil production and trade agreed to stop cutting down rainforests and draining peatlands for new oil palm plantations. After years of intense campaigning by environmentalists and dire warnings from scientists, nearly two dozen major producers, traders, and buyers established zero deforestation policies.
Shifting attitudes may help endangered wild dogs in Thailand
(12/22/2014) Once found throughout much of Asia, the dhole—a wild dog species that looks something like a jackal—has been displaced by humans from much of its range. But a new study published in mongabay.org's open-access journal Tropical Conservation Science, offers hope that the two species may be able to coexist, with people living next to protected forest areas in southeastern Thailand showing a favorable attitude towards increasing awareness and conservation efforts for the endangered canids.
Saving the world's rarest primate: can it be done?
(12/17/2014) Endemic to China's southernmost province of Hainan, only around 30 Hainan gibbons survive today. Rapid island-wide deforestation and consequential loss of habitat, uncontrolled hunting, and failed captive breeding attempts have pushed this ape towards the precipice of becoming the first primate species to go extinct in the modern world. Will a multi-stakeholder conservation strategy be able to save it?
Scientists reintroduce agoutis in rainforest in city of 12 million
(12/17/2014) When one thinks of Rio de Janeiro, one usually doesn't think: rainforest. However, in the heart of the city sits a massive rainforest sprung over long-gone sugar and coffee plantations. The forest—protected today as the Tijuca National Park—is home to hundreds of threatened species, but no agoutis, a common ground mammal in Latin America.
Success of 'land sparing' will depend on global economics, regulations
(12/16/2014) Agriculture is the primary driver of tropical deforestation. Indeed, most global food production occurs in the tropics, including important commodity crops such as sugarcane, soybeans, palm oil, and beef. Recent estimates indicate that forest clearing for agriculture contributes significantly to greenhouse gas emissions. This fuels concern over how to balance food production for a growing population with climate change mitigation through conserving tropical forests.
New mapping technique sheds light on dry forests
(12/16/2014) The extreme habitat heterogeneity of Southeast Asian forests makes it difficult to map their different compositions, resulting in a lack of study of many forest types and their underrepresentation in protected area networks. To address this issue, researchers came up with a remote sensing-based method to accurately delineate forest types, which they demonstrate in a study released this week by focusing on one particular forest type: Dry Deciduous Dipterocarp forests.
Gibbon species pushed towards extinction as island loses its trees
(12/15/2014) Only about 30 Hainan gibbons currently inhabit our world and all of them are confined to the 2,100-hectare Bawangling National Nature Reserve on the western part of Hainan Island. Endemic to this island, these gibbons primarily inhabited the lowland broadleaf and semi-deciduous monsoon forests that today are almost entirely deforested.
Children 'clean' oil spill with kitchen utensils in the Sundarbans
(12/15/2014) On December 9th, a tanker slammed into another vessel along the Shela River in the world's largest mangrove forest: the Sundarbans in Bangladesh. The tanker sank, spilling an estimated 75,000 gallons (350,000 liters) of fuel oil into waterways that are a part of a reserve for threatened Ganges river dolphins and Irrawaddy dolphins.
New poison dart frog needs immediate conservation plan
(12/15/2014) It was a surprising discovery in an unlikely location. In a leaf litter nearly four inches deep under a dense canopy of rainforest trees, researchers Marcos Ponce and Abel Batista with the Universidad Autónoma de Chiriquí worked to complete an inventory of endangered species in Panama's Isthmian-Atlantic moist forest. But they were both completely unsuspecting of what they were about to find: a new poison dart frog.
Bamboo could help fight global warming
(12/11/2014) Restoring degraded land and forests with the world's fastest growing plant, bamboo, can contribute to major carbon emission reductions. This is according to a new report that discusses the massive potential of bamboo in fighting global warming, with bamboo forests projected to store more than one million tons of carbon by 2050 in China alone.
New film highlights local resistance to Nicaragua's canal
(12/11/2014) This fall, filmmakers Tom Miller and Nuin-Tara Key with Pretty Good Productions found themselves in Nicaragua where they heard about a stunning project: the Gran Canal. Approved last year, the canal is meant to compete with the Panama Canal to the south. Built by a Chinese company, it will cut through 278 kilometers, destroying forests and driving through the largest freshwater body in Central America.
Striking new gecko discovered in Thailand
(12/09/2014) A research team based in western Thailand has discovered a new gecko species in the Kanchanaburi Province, a region renowned for its number of species found nowhere else in the world. A recent publication describes the Sai Yok bent-toed gecko (Cyrtodactylus saiyok), the sixth reptile species endemic to the region known to science.
Relief for Kenya's rare coastal forest
(12/09/2014) In October this year, CAMAC Energy, an oil and gas exploration and production company, announced that they would conduct seismic surveys for oil and gas within Arabuko-Sokoke Forest, one of the last remaining fragments of coastal forests in East Africa. But following immense pressure from the environmental front, CAMAC Energy cancelled their plans to conduct surveys inside the forest.
How an indigenous community in Ecuador stood up to big oil - and won
(12/05/2014) The Sarayaku, a Kichwa indigenous people numbering 1,200 from the Ecuadorian Amazon, won a historic court case in 2012. The Inter-American Court of Human Rights ruled that the government of Ecuador must publicly apologize, consult with, and recompense the Sarayaku for allowing oil exploration by Argentine Compañia General de Combustibles on their territory without prior consultation
Giant stone face unveiled in the Amazon rainforest (video)
(12/04/2014) A new short film documents the journey of an indigenous tribe hiking deep into their territory in the Peruvian Amazon to encounter a mysterious stone countenance that was allegedly carved by ancient peoples. According to Handcrafted Films, which produced the documentary entitled The Reunion, this was the first time the Rostro Harakbut has been filmed.
New endangered bird species discovered in Brazil
(12/04/2014) The Bahian mouse-colored tapaculo (Scytalopus gonzagai) has only just been discovered by scientists in the heavily logged Atlantic Forest of southeast Brazil -- and it's already believed to be endangered.
Is the Gran Canal really a 'big Christmas present' for Nicaraguans?
(12/04/2014) "A big Christmas present"—that is how Paul Oquist, an advisor to Nicaraguan president, Daniel Ortega, described the country's plan to build a mega-canal across the nation. Preliminary construction on the canal is set to begin December 24th, despite major concerns over environmental destruction, forced removal of thousands of people, and a lack of transparency.
One-two punch: farming, global warming destroying unique East African forests
(12/03/2014) Lush mountains speckle East Africa's grasslands and desert, from Mozambique to Ethiopia. These isolated habitats are home to a plethora of species, and are considered by scientists to be some of the most biodiverse regions in the world. However, their forests are being cut down for farmland and are threatened by global warming, putting at risk multitudes of species that have nowhere else to go.
New survey finds surprisingly large population of endangered owl
(12/03/2014) The Anjouan scops owl—an elusive owl found only on its tiny eponymous island—was once considered among the world's most endangered owls, and even the most threatened birds. However, the first in-depth survey of the owls on the island finds that, in fact, the population is far larger than initially estimated.
Threatened indigenous forests store more than half the Amazon's carbon
(12/02/2014) A new study released today finds the total carbon load locked up in parts of the Amazon rainforest held by indigenous groups to be much higher than previously estimated – an amount that, if released, would be capable of destabilizing the earth's atmosphere. But because of flimsy land rights, these areas stand at risk of deforestation.
Chinese logging company takes over Guyana's forests
(11/26/2014) Foreign companies investing in Guyana's substantial forests are supposed to adhere to national laws and international agreements. But civil society leaders and activists inside and outside the South American country are crying foul, saying foreign corporations and government officials are paying lip service to the accords while quietly building a timber-harvesting empire in the country with few benefits for the average Guyanese.
Palm oil interest surges in Papua New Guinea
(11/19/2014) As the lands of traditional palm oil powerhouses like Indonesia and Malaysia have become saturated with plantations, companies looking to profit have turned to vast areas of seemingly untouched tropical forest in other parts of the world – places like Papua New Guinea. But, in fact, say advocates of local communities, those forests often support the lives and livelihoods of millions of people who must have their rights taken into account.
Ending deforestation won't stop carbon emissions from land use change

(11/17/2014) Even if the world stopped cutting down forests, carbon dioxide emissions from land use change would still pose a major challenge, according to a new paper in Nature Climate Change. The research finds that eliminating deforestation would mean agriculture would be pushed into non-forest ecosystems and still release significant quantities of carbon dioxide.
Leaf bacteria are important to tree health, may help forests adapt to climate change
(11/13/2014) Leaves are vital trees organs that support many important functions. A recent study published in PNAS found that each tree species in tropical rainforests possesses distinctive bacterial communities – called microbiomes – on their leaves. Understanding how leaf microbiomes vary among species may in the future be applied for maintaining healthy forests and predicting how forests will react to climate change.
Mapping mistake leaves wildlife at risk
(11/12/2014) Scientists have discovered a new, endangered plant species in the Democratic Republic of Congo (DRC), in an area that is supposed to be protected as a reserve. However, mapping errors effectively moved the reserve's boundaries 50 kilometers to the west, opening up the region and its vulnerable wildlife to human disturbance.
'Guns kill trees too': overhunting raises extinction threat for trees
(11/12/2014) A new paper confirms what ecologists have long feared: hunting birds and mammals drastically raises the risk of extinction for tropical trees. Following the long-lifespan of a single canopy tree, Miliusa horsfieldii, researchers discovered that overhunting of animals could increase the chances of extinction for the species fourteen times over a century, from 0.5 percent to seven percent.
'Militarized occupation': local communities pay the price for palm oil
(11/11/2014) There's little doubt that the use of palm oil is expanding rapidly throughout the world, and with it the need for millions of hectares of land to grow oil palm trees. The results can be devastating for local communities who depend on the agriculture and forests that these lands support. A recent report catalogs the issues that arise with oil palm expansion.
New birds arise due to emigration not separation
(11/11/2014) A bird's eye view of speciation in the Neotropics. How long does it take for a new species to develop? Not long, it turns out. In fact, only a few thousand years — an evolutionary blink of an eye. A recent article published in Nature tracked neotropical bird speciation, or the process by which new species emerge.
New laws may turn Brazil's forests into mines
(11/07/2014) With the world's largest system of protected areas and a 70 percent drop in the deforestation rate of the Amazon over the past decade, Brazil has made huge strides in safeguarding what's left of its wilderness. However, this progress now hangs in the balance, with new laws threatening to turn many of the country's protected areas into mines and dams.
Indigenous uprising earned tribe territories, but greatest challenges lie ahead
(11/06/2014) In 1925, Nele Kantule led a revolution that would make Guna Yala an independent and sovereign indigenous territory within Panama. Since then, the Guna have maintained a way of life that has allowed them to preserve their natural resources and mainland forest to an exceptional degree. But today, like many indigenous groups around the world, the Guna face some of their greatest challenges yet: the impacts of climate change, encroaching outside influences, and a younger generation that many elders feel is drifting from its roots.
91% of Kenya's protected areas shrank in 100 years
(11/04/2014) Over the last century, 91.7 percent of all changes to protected areas in Kenya have involved reductions in their area, known as downsizing, which is an unusual and remarkable statistic from a global perspective. Analyses show, however, that a variety of factors—including some that which occurred half a century ago—could be responsible for the status of forests in Kenya today.
De-protection of Protected Areas ramps up in Brazil, 'compromises the capacity' of ecosystems
(10/31/2014) Brazil has reserved about 17.6 percent of its land (1.5 million square kilometers) to receive protection from unauthorized exploitation of resources. However, despite significant expansions in protected areas since the mid-2000s, the formation of Protected Areas has stagnated in the country since 2009, and many have had their protections completely revoked.
Between the Forest and the Sea: The Yarsuisuit Collective - Part II
(10/31/2014) In this multimedia piece by SRI fellow Bear Guerra, we follow Andrés de León and the Yarsuisuit collective, a group of men who grow and harvest food sustainably in the Guna mainland forest. They also run a store on the island of Ustupu that helps support their families, serving as a model for the wider community.
'Too many people': Philippine island being deforested despite extensive protections
(10/31/2014) About an hour and a half plane ride from the Philippine capital Manila is Palawan, a long, narrow island home to about a quarter of all the animal species found in the country. But the province is losing its forests at a rapid clip due to human population increases, logging, quarrying, mining, and even a huge palm plantation.
The Search for Lost Frogs: one of conservation's most exciting expeditions comes to life in new book
(10/30/2014) One of the most exciting conservation initiatives in recent years was the Search for Lost Frogs in 2010. The brainchild of scientist, photographer, and frog-lover, Robin Moore, the initiative brought a sense of hope—and excitement—to a whole group of animals often ignored by the global public—and media outlets. Now, Moore has written a fascinating account of the expedition: In Search of Lost Frogs.
Destroyed habitat, fewer resources, Ebola: the many repercussions of Liberia's deforestation
(10/29/2014) Liberia is one of the last strongholds of intact forest in West Africa. These forests are the home of many unique species of plants and animals, and many Liberians rely on the forests for direct economic benefits. The presence of intact forests may even be important for preventing the future outbreak of disease such as Ebola, which can be transmitted to people from animal vectors displaced by deforestation.
Artists, musicians, writers protest government plans for massive coal plant in the Sundarbans

(10/28/2014) Over the weekend, Bangladeshi artists performed plays, sang songs, and recited poetry all in a bid to protect the Sundarbans—the world's biggest mangrove forest—from the threat of a massive coal plant. Construction is already under way on the hugely controversial Rampal coal plant, a 1,320 megawatt plant set just 14 kilometers from the edge of the Sundarbans.
Between the forest and the sea: life and climate change in Guna Yala - Part I
(10/27/2014) The island-dwelling Guna people of Panama are one of the most sovereign indigenous communities in the world, but now severe weather and sea level rise are causing regular flooding on many of the islands, and will likely force the Guna to have to abandon their island homes for the mainland. This multimedia piece offers an introduction to everyday life and customs in Guna Yala and touches upon the uncertain future the Guna are now facing thanks to the impacts of climate change.
Scientific association calls on Nicaragua to scrap its Gran Canal

(10/27/2014) ATBC—the world's largest association of tropical biologists and conservationists—has advised Nicaragua to halt its ambitious plan to build a massive canal across the country. The ATBC warns that the Chinese-backed canal, also known as the Gran Canal, will have devastating impacts on Nicaragua's water security, its forests and wildlife, and local people.
Conservationists propose Dracula Reserve in Ecuador
(10/24/2014) Deep in the dark, cool forests of Ecuador and Colombia live strange and mysterious organisms. Some inhabit the trees and others stay to the ground, and many are threatened by human encroachment. Because of this threat, Rainforest Trust has launched a Halloween fundraising drive to help pay for the creation of the Dracula Reserve--named for its dramatic inhabitant, the Dracula orchid.
Beef, palm oil, soy, and wood products from 8 countries responsible for 1/3 of forest destruction

(10/23/2014) Four commodities produced in just eight countries are responsible for a third of the world's forest loss, according to a new report. Those familiar with the long-standing effort to stop deforestation won't be surprised by the commodities named: beef, palm oil, soy, and wood products (including timber and paper). Nor will they be very surprised by most of the countries: Brazil, Indonesia, and Malaysia.
Brazil declares new protected area larger than Delaware
(10/23/2014) Earlier this week, the Brazilian government announced the declaration of a new federal reserve deep in the Amazon rainforest. The protections conferred by the move will illegalize deforestation, reduce carbon emissions, and help safeguard the future of the area's renowned wildlife.
Next big idea in forest conservation? Recognize the value of novel forests
(10/23/2014) Think first before you eradicate non-native species says Dr. Ariel E. Lugo, the current director of the International Institute of Tropical Forestry within the USDA Forest Service, based in Puerto Rico. Lugo, an accomplished ecologist, supports the idea that both native and non-native plants have important roles to play in conservation efforts.
Gold mining expanding rapidly along Guiana Shield, threatening forests, water, wildlife
(10/22/2014) Gold mining is on the rise in the Guiana Shield, a geographic region of South America that holds one of the world's largest undisturbed tract of rainforest. A new mapping technology using a radar and optical imaging combination has detected a significant increase in mining since 2000, threatening the region's forests and water quality.
'No forests, no cash': palm oil giants commit to sustainability, but will they follow through?
(10/21/2014) Four of Indonesia's largest palm oil producers signed a landmark commitment in New York in September to further implement sustainable practices across one of the country's largest commercial sectors. Then-President Susilo Bambang Yudhoyono and the Indonesia Chamber of Commerce (KADIN) witnessed the undertaking, which is hoped to expand the country's palm oil industry while making it more environmentally friendly.
Top scientists raise concerns over commercial logging on Woodlark Island
(10/21/2014) A number of the world's top conservation scientists have raised concerns about plans for commercial logging on Woodlark Island, a hugely biodiverse rainforest island off the coast of Papua New Guinea. The scientists, with the Alliance of Leading Environmental Scientists and Thinkers (ALERT), warn that commercial logging on the island could imperil the island's stunning local species and its indigenous people.
Saving Asia's other endangered cats (photos)
(10/21/2014) It's no secret that when it comes to the wild cats of Asia—and, really, cats in general—tigers get all the press. In fact, tigers—down to an estimated 3,200 individuals—arguably dominate conservation across Asia. But as magnificent, grand, and endangered as the tigers are, there are a number of other felines in the region that are much less studied—and may be just as imperiled.
Indonesia developing mega coal mine five times larger than Singapore
(10/20/2014) Global miner BHP Billiton and Indonesian partner PT Adaro are developing what could become the single largest mine in Indonesia in terms of land area, with BHP owning 75 percent. The IndoMet mine complex in Central and East Kalimantan provinces on Borneo comprises seven coal concessions, which cover 350,000 hectares, or about five times the size of Singapore.
Walking the walk: zoo kicks off campaign for orangutans and sustainable palm oil
(10/20/2014) If you see people wearing orange this October, it might not be for Halloween, but for orangutans. Chester Zoo's conservation campaign, Go Orange for Orangutans, kicks off this month for its second year. The campaign aims to raise money, and awareness, for orangutans in Borneo, which have become hugely impacted by deforestation often linked to palm oil plantations.
Indonesia's tough choice: capping coal as Asian demand grows
(10/17/2014) Indonesia cannot build power stations fast enough. And neither can most of its Asian neighbors. Rapid economic and population growth are driving equally rapid demands for electricity as the region builds out power grids to connect up millions of people to fuel prosperity.
Indonesia tries to clamp down on coal sector's worst excesses
(10/16/2014) Out of the jungles of East Borneo in Indonesia comes the fire that fuels Asia's burgeoning economies: coal. Miners dig deep open pits, clearing forests and farmlands to extract coal from thick black seams, which is then crushed and loaded onto trucks and barges for shipment to China, India, Japan and other destinations in Asia.
India plans huge palm oil expansion, puts forests at risk
(10/14/2014) The world's largest importer of palm oil, India is seeking to slake its thirst domestically. The Ministry of Agriculture estimates that India has the potential to cultivate oil palm in 1.03 million hectares of land--nearly the size of the U.S. state of Connecticut--and produce four to five million metric tons of palm oil per year.
'River wolves' recover in Peruvian park, but still remain threatened inside and out (photos)
(10/14/2014) Lobo de río, or river wolf, is the very evocative Spanish name for one of the Amazon's most spectacular mammals: the giant river otter. This highly intelligent, deeply social, and simply charming freshwater predator almost vanished entirely due to a relentless fur trade in the 20th Century. But decades after the trade in giant river otter pelts was outlawed, the species is making a comeback.
Forest restoration commitments: driven by science or politics?
(10/10/2014) During September's UN Climate Summit, three African nations were recognized for their commitments to restore collectively millions of hectares of forest. But several organizations declined invitations to sign the pact because they say it fails to lay out "concrete action" to fight climate change, and some experts in the field worry that the announcements are little more than political posturing.




Page 1 | Page 2 | Page 3 | Page 4 | Page 5 | Page 6 | Page 7 | Page 8 | Page 9 | Page 10 | Page 11