News articles on tropical forests

---
Mongabay.com news articles on tropical forests in blog format. Updated regularly.






Big reserve expansion gives tigers a boost in India
(06/29/2015) A hundred years ago, there were thirteen times as many tigers in the world as there are today, ranging from Turkey across the Eurasian continent to the eastern coast of Russia. The 13 countries that contain the world's last tigers today - a mere, 2,500 mature individuals - are challenged with increasing protected tiger habitat to prevent crowding and inbreeding, while facing extreme funding and space constraints. One state in India, however, has found a cost-effective way to give tigers more room.
Many tropical species surprisingly resilient, if not actively persecuted
(06/19/2015) Dr. Richard Corlett is the current Director of the Center for Integrative Conservation at the Xishuangbanna Tropical Botanical Garden, which is part of the Chinese Academy of Sciences. He is also a former president of ATBC, and one of the keynote speakers for this year's conference in Hawaii. Dr. Corlett recently spoke with Mongabay.com about some of the insights he's gained from his research in tropical ecology and conservation.
Can we save the Sumatran rhino? Indonesia holds out hope
(06/19/2015) 'One percent of the world's population,' veterinarian Zulfi Arsan says as he nods towards Bina, a 714-kilogram, 30-year-old female Sumatran rhinoceros leisurely crunching branches whole. A gentle and easygoing rhino, pink-hued Bina doesn't seem to mind the two-legged hominids snapping pictures and awing at her every move at the Sumatran Rhino Sanctuary.
As mangroves disappear at 'an alarming rate,' conservationists urge more protection
(06/04/2015) In 2010, the Jakarta Post reported that, according to a local NGO called People's Coalition for Justice in Fisheries, Indonesia lost 2.2 million hectares of mangroves in less than 30 years. Conservationists hope Sri Lanka's move to protect all its mangroves could help push other South and Southeast Asian mangrove range countries in the same direction.
Sri Lanka becomes first country to completely protect mangroves
(06/04/2015) In a press conference held in May 2015 in the Sri Lankan capital of Colombo, U.S.-based nonprofit Seacology, Sri Lanka-based NGO Sudeesa (formerly known as the Small Fisheries Federation of Sri Lanka) and the government of Sri Lanka announced a joint program that makes Sri Lanka the first country in the world to grant full protection to all its mangrove forests.
Invasive predators, deforestation driving Tasmanian parrot over the edge
(05/29/2015) In the forests of Tasmania lives the swift parrot (Lathamus discolour), a highly threatened bird found nowhere else in the world. New research published recently in Biological Conservation finds they are more at risk of extinction than previously thought, with introduced sugar gliders (Petaurus breviceps) and logging dealing two big blows to their remaining numbers.
First-of-its-kind mapping technique sheds new light on tropical forests
(05/29/2015) Scientists at the Woods Hole Research Center in Massachusetts have developed vegetation height maps for the entire tropics at very fine spatial scales. These first-of its-kind high resolution maps can help researchers estimate forest cover, monitor biodiversity and wildlife habitats, and manage and monitor timber.
New bird uncovered in South American conflict region, researchers urge protection
(05/28/2015) For many years, study skins of a bird languished in a dusty drawer in the Smithsonian Institution National Museum of Natural History, classified hurriedly (and erroneously,) as Scytalopus atratus nigricans, a songbird found in lower montane forests. Recently, scientists rediscovered the bird on the Venezuelan slopes of the Perijá Mountains, and were able to use twenty-first century techniques to describe its genetics, ecology and appearance. In doing so, they identified it as a new species: the Perijá tapaculo.
China unveils plans for huge railway in South America
(05/27/2015) China is looking to add another rung to its investment presence in Latin America, with an announcement of plans to build an expansive railway bisecting the continent from Brazil to Peru. The bid has raised the hackles of conservation groups, which are concerned the railway will run through sensitive ecosystems, harm threatened wildlife, and affect indigenous communities.
Amazon deforestation speeding global warming
(05/27/2015) Human activity has destroyed huge swaths of the Amazon rainforest's biomass as trees are cleared to make way for pasture, soy fields, and other developments. Now, a new study has determined how much that destruction has contributed to climate change.
Timber 'mass graves' uncovered as Malaysian authorities pursue illegal loggers

(05/21/2015) A crackdown on illegal logging in Peninsular Malaysia's largest continuous forest complex has uncovered three timber 'mass graves' – burial sites where valuable logs have been stashed beneath tons of earth to hide evidence. The loggers apparently made haste in fleeing the hilly terrain where they left the timber. A joint operation by Malaysia's antigraft agency and Forestry Department found parts of logs sticking out of the ground and the red earth still unsettled, indications their quarry had hurriedly concealed the felled trees.
Primary rainforest cleared for massive palm oil plantations in Peru
(05/20/2015) More than 9,400 hectares of closed-canopy Amazonian rainforest has been removed for two oil palm plantations in the Peruvian region of Ucayali since 2011, according to scientists working for MAAP, the Monitoring of the Andean Amazon Project. The two plantations are linked to Czech entrepreneur Dennis Melka.
High pressure: is U.S. policy deterring illegal wood imports?
(05/19/2015) Some countries, such as the U.S., have imposed legislation at the consumer level, banning the import of illegally sourced wood through their borders. A new study finds that such legislation can be effective, with a 2008 amendment to the Lacey Act significantly reducing the influx of illegal wood into the U.S.
China's investment in Latin America taking toll on the environment, setting the stage for conflict
(05/18/2015) China has been investing heavily in Latin America's natural resources and crude oil. Recently, the country even pledged to invest $250 billion over the next decade to strengthen its presence in the region, and compete with the U.S. But this increasing Chinese trade and investment in Latin America is also increasing environmental and social conflict, finds a new report published by Boston University.
Satellite images show deforestation on fringes of UNESCO World Heritage Site in Cameroon
(05/14/2015) In the push to become a middle-income country in the next two decades, Cameroon has courted investments in its vast natural resource wealth in the form of mining, logging and large-scale agriculture. But deforestation revealed by a recent Greenpeace Africa investigation highlights a lack of coordination in determining how to use the country's land.
New mapping project uncovers road networks in Peru's primary forests
(05/13/2015) A research team unearthed a suspicious network of roads in northern Peru in early 2013. For two years, they watched the network grow to over 150 kilometers in length, split into two networks. The southern part of the network is located entirely in the protected buffer region of the Cordillera de Azul National Park, and is characteristic of roads meant for logging.
Satellite data shows how deforestation is impacting our weather and our food
(05/12/2015) The conversion of forests to cropland can drive local temperatures up or down by as much as a few degrees, according to a new report. Ironically, the authors write that these temperature fluctuations can lead to less productivity from the very same agricultural operations the forests were cleared to make way for.
World's critical habitats lost Connecticut-size area of forest in a decade
(05/08/2015) Many of the world's endangered animals live in only one place, making them hugely susceptible to environmental upset. One fell swoop, and entire species could disappear from existence forever. New analysis shows that possibility may be edging closer and closer to reality in some areas, with forests known to harbor high-risk species losing an area of tree cover the size of Connecticut in a little over a decade.
Gov't officials permitted deforestation in Dominican Republic national park
(04/29/2015) In late 2014, an irregularity in the issuance of permits for agriculture-related deforestation was brought to light by an environmental conservation association working to curb deforestation within the park. On July 30, the Pedernales office of the Ministry of the Environment and Natural Resources granted permission to local landowners to deforest an area within the National Park, close to an area that was being assessed for hutia and solenodon presence by a team of researchers.
'Deforestation fronts' revealed
(04/27/2015) Environmental group WWF has released a new report projecting where the organization believes the bulk of global deforestation is likely to occur over the next 15 years. The analysis, published today, highlights eleven regions where 'the bulk of global deforestation is projected to take place' by 2030.
Conservation in Myanmar: a cause for optimism?
(04/24/2015) Fifty years of relative political and economic isolation have yielded slow economic growth and contributed to the conservation of many of Myanmar's native species. However, the dissolution of Myanmar's military junta in 2011 marked the beginning of a new age of increasing political and economic liberalization and international engagement. Many experts fear that possible rapid development fueled by international investment, improved infrastructure and expanded transport networks, pose a grave risk to Myanmar's biodiversity and forests.
Officials: Sumatran rhino is extinct in the wild in Sabah
(04/23/2015) There are no Sumatran rhinos left in the wild in the Malaysian state of Sabah, confirmed Masidi Manjun, the Tourism, Culture and Envi­ronment Minister, over the weekend. In 2008, conservationists estimated there were around 50 rhinos in the state. Five years later, it dropped that estimate to just ten. Now, it's admitted the awful truth: the wild rhino is very likely gone.
Photo essay: the flying fox show
(04/22/2015) Rain or clear, wind or still, full moon or no. Every night thousands of flying foxes rise from a small mangrove island among the lesser Sunda islands of Indonesia. Around sunset the Sunda flying fox begin to stir in their roots—their stomachs waking them—until the boldest among them takes off into the sky.
Can shade-grown cocoa help conserve sloths?
(04/22/2015) Tropical forests support the greatest diversity of species in the world, yet we are rapidly destroying them. Most deforestation in the tropics is due to agricultural development and livestock production, the two greatest causes of declines in terrestrial biodiversity. However, one strategy that has been gaining attention for its potential to preserve biodiversity is shade-grown agriculture.
Recently discovered 'punkrocker' frog changes skin texture in minutes
(04/17/2015) In 2006, two scientists discovered a tiny new frog species in the Reserva Las Gralarias, a nature reserve in north-central Ecuador. They took its photograph and nicknamed it the "punkrocker" frog because of spine-like projections coming out of its skin. For the next three years, they did not find the punkrocker again. But when they did re-discover it in 2009, the team found that the punkrocker had more tricks up its sleeve.
Court rules deforestation of Peruvian rainforest for chocolate was legal
(04/16/2015) A regional court in Loreto, Peru recently ruled that the clearing of more than 2,000 hectares of forest by Cacao del Peru Norte for a plantation to grow cacao, the raw material behind chocolate, was legal, reported the investigative news site OjoPúblico on April 9. The ruling rejects contentions brought by Forestry Department that the company should have sought approval to clear the trees.
Expedition in the Congo rediscovers lost primate
(04/14/2015) The last time there was a sighting of Bouvier's red colobus disco was all the rage, the Internet was non-existent, and Madonna still referred solely to the mother of God. But then the African monkey vanished and conservationists feared it had gone extinct—a victim of the bushmeat trade. For years, research groups called for an expedition to find out if Bouvier's red colobus still survived.
Scientists find new monkey with unique penis
(04/10/2015) Researchers were in for a surprise when they viewed footage from a remote and little-explored area of southeastern Tibet. Among the more than 700 photos of macaques, they spotted several with physical characteristics that hadn't been documented before; namely, genitals that were shaped and colored differently than other known macaques in the region. The scientists say these differences may make these macaques a new species.
Condition of tropical forests 'worsening', could become 'critical'
(04/07/2015) World leaders are continuing to overlook the worsening condition of tropical forests despite the biome's vast potential to help mitigate climate change, support local livelihoods and ecosystem services, and stabilize global agriculture, warns a comprehensive review published by a body founded by Prince Charles.
Palm oil companies, NGOs endorse new deforestation-limiting toolkit
(04/06/2015) Forests not only house many of the world's species, but also much of its carbon. Now, a toolkit has been developed by a group of companies and organizations with the aim of helping other companies and NGOs identify High Carbon Stock (HCS) forests. The toolkit was endorsed last week by major NGOs and plantation companies in Singapore.
Illegal deforestation driven by EU appetite for beef, palm oil, soy, say new reports
(04/01/2015) A new report finds that the European Union is driving international trade in commodities grown on land cleared outside of the law. In 2012 alone, the report says, the EU imported $6.5 billion worth of illegally sourced beef, leather, palm oil and soy, which amounts to nearly one-fourth of all global trade and some 2.4 million hectares (59.3 million acres) of forest illegally cleared.
Tropical soundscapes offer clues to forest and animal community health
(04/01/2015) Marine biologists were the first to continuously eavesdrop on marine mammals using a technique called passive acoustic monitoring (PAM). By simply listening to these animals' sounds, researchers could collect valuable information about animal population density and distribution, population health, and responses to human disturbance. Given the challenges of studying animal communities as they migrate across the sweep of the world's oceans, acoustic surveys gained popularity as a tool for gathering data from otherwise inaccessible study sites.
Pollution from East Asia affecting air quality in Borneo's rainforests
(04/01/2015) A study published in the journal Atmospheric Chemistry and Physics finds that industrial activities in East Asia are polluting the air in the rainforests of Borneo and that, once there, the pollutants could be traveling into the upper atmosphere and impacting Earth's ozone layer.
Large animals invaluable for tree-seed dispersal and regeneration of tropical forests
(03/30/2015) Nearly two-thirds of tropical forests in Southeast Asia have been degraded by logging, agriculture and other human uses, and their fauna have been decimated by hunting and the bushmeat trade. But if those degraded tropical forests are to recover naturally, they will need to rely on their remaining large wild animals to disperse large tree seeds, according to a new study.
Just how useful is forest restoration? New study seeks to find out
(03/27/2015) Across the world, scientists estimate there are about two billion hectares of degraded forestland. In Indonesia alone, 25 million hectares of former logging concessions currently have no management, according to research. A study recently published in mongabay.com's open access journal Tropical Conservation Science suggests this may represent an important opportunity for biodiversity conservation through restoration.
Mexico's club mosses at risk of extinction
(03/26/2015) All nine species of the club moss genus Phlegmariurus found in the state of Veracruz in eastern Mexico are at risk of extinction, according to a new study published in the journal Tropical Conservation Science. One of these species, P. orizabae, has not been recorded in the wild since 1854.
Photos: expedition to Amazon's white sands may have found new primate
(03/24/2015) Most people think of the Amazon rainforest as one massive, homogenous ecosystem—a giant castle of green. However, within the Amazon rainforest lie a myriad of distinct ecosystems, sporting unique characteristics and harboring endemic species. One of the rarer ecosystems in the Amazon is the white sands forest.
Reforestation programs may help reduce illegal logging in Indonesian Borneo
(03/24/2015) Can the act of planting a tree change one's attitude towards forests and conservation? Erica Pohnan, Hotlin Ompusunggu, and Campbell Webb, from the conservation NGO Alam Sehat Lestari (ASRI), set out to answer this question by evaluating the effectiveness of reforestation programs in and around Gunung Palung National Park in West Kalimantan, Indonesia.
Study finds roads in Southeast Asia may be devastating forests, wildlife
(03/20/2015) Habitat loss and illegal hunting are leading drivers behind mammal population decline and extinction in the tropical forests of Southeast Asia. But what's driving these drivers? Road infrastructure, according to research. Researchers conducted the first-ever comprehensive study examining the impacts of road infrastructure on mammal populations in Southeast Asia; their findings were recently published in PLOS One.
Discovery of 'Lost City' spurs conservation pledge
(03/18/2015) Earlier this month, National Geographic made big news: the discovery of what it called a 'lost city' below the thick jungles of Honduras. While the coverage has led to scientists crying sensationalism, it also resulted this week in a commitment of protection by the Honduras President, Juan Orlando Hernández, for a long-neglected portion of the country.
Road rage: scientists denounce $60 trillion infrastructure expansion
(03/14/2015) Last November, at the annual G-20 summit - for the 20 wealthiest of the world's nations - in Brisbane, Australia, a staggering commitment was made to invest $60 to $70 trillion worldwide in new infrastructure over the next 15 years. This is akin to doubling the current value of all global infrastructure put together.
Scientists warn of global warming threat to temperate rainforests
(03/13/2015) In a new study published recently in Earth Systems and Environmental Sciences, researchers warn that temperate rainforests may be in for big changes in the face of global warming, and they recommend reducing greenhouse gas emissions before it's too late.
Newly discovered Brazilian bird may number fewer than 10 individuals
(03/12/2015) In October 2002, a team of ornithologists at Murici in northeastern Brazil observed and recorded the call of a bird. At that time, the team believed they had chanced upon a rare bird previously described by other researchers as the Alagaos foliage-gleaner (Philydor novasei).
Local land rights may be in danger from push for palm oil in Liberia
(03/12/2015) The rights of local and indigenous peoples aren't being adequately protected in the drive for economic development, according to a report published in February by the Rights and Resources Initiative (RRI), a coalition of forest-oriented organizations. For a place like Liberia, reeling from both decades of persistent poverty and the recent Ebola epidemic, economic development seems critical at just about any cost.
UN report warns of grave consequences if mangroves not protected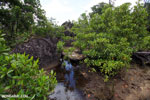 (03/11/2015) According to the United Nations Environment Program (UNEP), global destruction of mangrove forests impacts biodiversity, food security, and the lives and livelihoods of some of the most marginalized communities in the world. Mangroves, which are forests of salt-tolerant trees and shrubs that lie along coastlines in the tropics and subtropics, are also invaluable carbon sinks. And we're not doing nearly enough to protect them, says a recent report.
Endangered forests shrink as demand for soy rises
(03/10/2015) As battles over labeling genetically modified foods or displaying calorific breakdowns per serving rage on, it appears that a possibly more significant battle is in its infancy - where do all the ingredients on the package actually come from?
Photo essay: filming in the remote Amazon
(03/09/2015) You wake up at 4:30 AM, a little before the first rays of tropical sun begin to dance behind the treetops. You put on your wet clothes from the previous day, pack your bag, and pick up your tripod. The jungle is shrouded in a thick mist from the previous nights rain. As you walk, you recognize many of the strange calls that echo between the trees.
Newly described monkey species found in threatened Amazon forest
(03/06/2015) In 2011, Julio César Dalponte noticed a peculiar looking titi monkey on the bank of the Roosevelt River in Mato Grasso, Brazil. Titi monkeys, genus Callicebus, are common throughout South America, but this one had a flaming orange tail, light gray forehead stripe and ochre sideburns, which didn't match any known titi species.
New bird species confirmed in Sulawesi 15 years after first sighting
(03/06/2015) Although it's a hotspot of avian biodiversity, the Indonesian island of Sulawesi has been "poorly studied ornithologically," according to a study published in the scientific journal PloS one. Case in point: the subject of the study, a new species of flycatcher first observed in 1997 but not formally described by scientists until November 2014.
Firewood fervor may turn Zimbabwe into an 'outright desert'
(03/05/2015) In developing countries like Zimbabwe and in much of the rest of sub-Saharan Africa, fuelwood is a major source of energy for cooking and heating for people who can't afford electricity. A 2014 study published in Resources and Environment highlights the severity of this issue in Zimbabwe.
Somali charcoal: funding terrorism through deforestation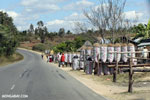 (03/05/2015) Militant terrorist group Al-Shabaab funds itself, in part, through the illegal production and sale of charcoal, turning Somalia's trees into "black gold." Because areas of the country controlled by the group aren't accessible to researchers, it's difficult to determine just how many trees are cut down to fuel Al-Shabaab's violent agenda.
Madagascar's frog haven: rich, underexplored, threatened
(03/04/2015) Madagascar is a treasure trove of frogs. Located off the east coast of Africa, this large island nation has more than 500 species of frogs, many of which are found nowhere else in the world. Much of Madagascar's rich biodiversity remains understudied. As researchers comb through the country's forests, they continue to discover previously undescribed species of frogs, adding to Madagascar's amphibian diversity.
Researchers, locals work together to save Ethiopia's 'church forests'
(03/03/2015) Presenting a workshop on ecosystem services to a roomful of priests in Ethiopia may seem like an unlikely scenario for a conservation biologist to end up in, but for Meg Lowman, it's an essential part of spreading her passion for bottom-up conservation. "Canopy Meg," as she's fondly referred to by her colleagues, believes in the power of local communities to be part of the solution, often in ways that are more effective than researchers can make alone.
Colombia proposes protected corridor across South America
(03/03/2015) Colombian President Juan Manuel Santos has announced plans to create the world's largest protected area, stretching from the Atlantic Ocean to the Andes Mountains. Santos plans to propose the protected environmental corridor during the UN climate talks in Paris later this year as a means to combat global warming.
Reports slam Malaysian timber companies, urge reforms in forest management
(02/27/2015) Two international NGOs have called out Malaysia in recent months over the country's widespread illegal logging. Malaysia has been accused of not doing enough to protect its diminishing forests and thwart the illicit timber trade, particularly in Sarawak, the site of the country's worst deforestation. Lax oversight, endemic corruption and limited transparency have allowed for Malaysia's forests to be plundered by both the government and the private sector.
Researchers propose improvements for Peru's protected areas
(02/26/2015) In a study published recently in PLOS ONE, researchers examined Peru's network of protected areas. They found that many of these don't exist in the areas most important for preserving the country's biodiversity and addressing its threats, and suggest alternatives to make the system more effective.
One of Brazil's rarest primates still holds out in single patch of rainforest
(02/26/2015) For many years, particularly after renowned naturalist Philip Hershkovitz of the Field Museum in Chicago published his valuable taxonomy of Neotropical Primates, Saimiri vanzolinii was considered to be a mere subspecies of the larger Bolivian squirrel monkey (Saimiri boliviensis). Today, it has the distinction of being one of the most range-restricted primates in all of the Neotropics.
Reports blame illegal logging for felling Sarawak forest
(02/25/2015) A recent report by the international affairs think tank Chatham House has highlighted Malaysia's lack of progress in dealing with illegal logging, blaming corruption and a lack of transparency on the country's sluggish approach to environmental policy reform.
Rainforest loss increased in the 2000s, concludes new analysis
(02/25/2015) Loss of tropical forests accelerated roughly 60 percent during the 2000s, argues a paper published in the journal Geophysical Research Letters. The findings contradict previous research suggesting that deforestation slowed since the 1990s. The study is based on a map of 1990 forest cover developed last year by Do-Hyung Kim and colleagues from the University of Maryland. The map, which includes 34 countries that contain 80 percent of the world's tropical forests, enabled the researchers to establish a consistent baseline for tracking forest cover change across regions and countries over time.
Study finds Peru's protected areas aren't where they should be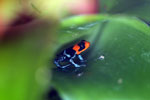 (02/25/2015) Many of the world's protected areas may not be located in the areas that need them the most, according to a recently published study in the journal PLoS ONE. The study examined the effectiveness of Peru's existing protected area system in holistically preserving the biodiversity in this megadiverse country, finding it inadequately protecting many of the country's species.
Partnering for conservation benefits Tacana people, Bolivian park
(02/25/2015) Kneeling in a small clearing amid tropical trees, Baldemar Mazaro skillfully arranges a circle of sticks and a noose of cord in the community of San Miguel de Bala. He hands a branch to a tourist and asks her to prod the sticks as if the branch were the nose of an animal snuffling around, looking for food.
$7 million could save lemurs from extinction
(02/25/2015) Last year, scientists released an emergency three-year plan that they argued could, quite literally, save the world's lemurs from mass extinction. Costing just $7.6 million, the plan focused on setting up better protections in 30 lemur hotspots. However, there was one sticking point: donating to small programs in one of the world's poorest countries was not exactly user friendly.
Critically endangered bird gets new addition to its reserve
(02/24/2015) An unassuming brown bird, tiny both in body and population size, hovers on the edge of extinction as its habitat is cleared for agriculture and its nests are parasitized. In response, conservation organizations created a reserve expressly for the species' preservation in the late 1990s; now that reserve is being expanded to try to push one of the world's most endangered bird species farther back from the precipice.
Locals lead scientists to new population of near-extinct reptile
(02/24/2015) By the early Twentieth Century, the world had pretty much given up on the Arakan forest turtle, named after the hills where it was found in 1875 in western Myanmar. Now, this Lazarus reptile —which has been dubbed one of the 25 most threatened turtles on the planet —has more good news: researchers have documented an entirely new population where no one
New Guinea rainforest being leveled for palm oil, revealing gaps in zero deforestation pacts
(02/23/2015) An Indonesian palm oil firm is destroying rainforests in New Guinea despite high profile zero deforestation pledges from its customers, finds research by Greenomics-Indonesia. Landsat imagery acquired and analyzed by Greenomics shows that Austindo Nusantara Jaya Agri (ANJ) is clearing high carbon stock forests in the southern part of West Papua's Bird's Head Peninsula in Indonesian New Guinea.
Outgoing government wipes hard drives, slowing environmental progress in Peru
(02/23/2015) Non-profit organizations are working with the regional government of Loreto, in northeastern Peru, to replace documents and data reportedly lost or destroyed before newly-elected officials took office. Some hard disks had been removed from computers. Others had been deleted, password protected, or infected with viruses, according to regional government officials who took office at the beginning of the year.
Are small-scale hydro projects always greener?
(02/23/2015) Rising energy demand and global efforts to mitigate climate change have made renewable energy projects increasingly attractive. One widely known and well-developed source of renewable energy is hydroelectricity. However, past environmental campaigns against large dams have resulted in policy changes in some parts of the world, leading to an increasing number of small hydropower projects.
Study finds local technicians effective at forest monitoring
(02/20/2015) An important part of REDD is accurate measurement of carbon stocks. In Guyana, members of native Amerindian communities have been recruited for data collection by Project Fauna, a joint initiative by researchers from different institutions and local indigenous leaders.
Assessing carbon stock value of forests is tricky business, study finds
(02/19/2015) With financial incentives encouraging maintenance of carbon stocks and the increased popularity of carbon trading between countries, a forest has become economically a lot more than a clump of trees that supplements livelihoods. A forest now has an intrinsic value by just existing, a value that can be measured in economic terms.
Illicit timber feeds Indonesia's industrial forestry sector, alleges new report
(02/19/2015) Amid government schemes to curb illegal land clearing and systematically enhance a struggling legal wood certification system, a new report analyzing Indonesia's forestry industry alleges that more than 30 percent of wood used by the country's industrial forest sector is derived from illegal sources. But some say the report's analysis wasn't deep enough to support its claims.
Indigenous communities in Paraguay threatened by deforestation despite having land rights
(02/17/2015) According to a report by Survival International, the existence of the isolated Ayoreo Totobiegosode people is critically threatened by cattle ranching firms that are destroying their last forest refuge. The report asserts Paraguayan law gives native people the rights to their traditional land. Yet, most of the land in Paraguay is privatized, making these laws in reality difficult to achieve.
Sabah shocked by banteng poaching

(02/16/2015) Malaysia's Daily Express recently published graphic photos of poachers in the Malaysian state of Sabah posing proudly with a number of illegally slaughtered large animals, including the incredibly rare and cryptic banteng. Wild, forest cattle, banteng are scattered across parts of Southeast Asia, but Borneo is home to a distinct subspecies: Bos javanicus lowi.
Illegal logging still a big issue in Cameroon
(02/13/2015) Cameroon is struggling to make progress in combatting illegal logging. Regulatory budgets are too thin to protect the country's vast tracts of Congolian Rainforest. And demand domestically and abroad make the financial incentives for both the informal sector and Cameroon's leaders too difficult to pass up, leading to an illicit timber trade beset with corruption.
How do parks affect the poor? Jury's still out, some experts say
(02/13/2015) In Peru's vast northeastern region, where roads are scarce and forests abundant, crackdowns on the illegal plundering of timber, fish, and wildlife are sporadic and expensive. To fill the gap, the Peruvian National Park Service and non-profit conservation organizations encourage community groups to patrol their lakes and forests and control fishing and hunting.
Scientists, NGOs race to save 'Millennium Trees'
(02/12/2015) In a tiny area of an isolated archipelago in the southwest Pacific lives a unique tree species on the precipice of extinction. Recent research has shown it is declining dramatically, and mature individuals may be completely gone in 100 years. In response, environmental organizations and scientists are coming together to try and save New Caledonia's Millennium Trees.
Mining activist released after being charged with terrorism, rebellion in Ecuador

(02/11/2015) Yesterday, mining and environmental activist, Javier Ramírez, walked out of an Ecuadorian courtroom with his freedom. Ramírez, who has long fought against a massive state-owned massive copper mine in the cloud forest village of Junin, was arrested in April last year and subsequently charged with rebellion, sabotage, and terrorism among other thing.
Illegal logging contributed to deadly Malaysian floods, according to government minister
(02/11/2015) Heavy rains hit peninsular Malaysia in December, leading to severe floods that resulted in at least 21 deaths and the displacement of some 200,000 residents in the states of Kelantan, Pahang, Perak, and Terengganu. Now a minister with the federal government says he has proof that the flooding was caused in part by illegal deforestation.
Innovating Brazil nuts: a business with roots in the rainforest
(02/11/2015) Scientist and entrepreneur turn to Brazil nuts to protect Peru's threatened forests. Sofía Rubio was eight years old when she decided she wanted to be a biologist. 'I would skip school to go to the woods with my father or mother,' who did research in what is now the Tambopata National Reserve in the southeastern Peruvian Amazon, she says.
Recently discovered, critically endangered bird gets its first reserve
(02/10/2015) In an 11-square mile strip of forest on the slopes of a plateau in northeastern Brazil lives an entire species, considered by scientists to be one of the most endangered birds in the world. Now, 18 years after it was first discovered by scientists, conservation groups have acquired 140 acres of land to establish the first-ever reserve for the Araripe manakin.
Pulpwood company may be denying Sumatran community rights to their land
(02/05/2015) For over a decade, a conflict has been brewing between the local community of Senyerang in Sumatra, Indonesia, and a major pulpwood plantation company, Asia Pulp & Paper (APP), according to NGOs operating in the area. In 2004, Indonesia's Ministry of Forestry awarded a license to APP's subsidiary, PT Wira Karya Sakti (WKS), to clear the village forests for acacia plantations to generate paper pulp.
Video: innovative tourism helps protect forests in Amazonian Peru
(02/05/2015) A new short documentary highlights the innovative, locally-grown tourist ventures sprouting up in the buffer zone around Peru's Tambopata National Reserve. Not only do these tourist adventures--some specializing in rehabilitating wildlife, others in finding out how locals live, and some even in jungle yoga--help provide jobs and income in a region dominated by extractive industries, but they are also help to keep forests standing.
Communities create timber company to protect Sumatran forest
(02/04/2015) To reduce logging pressures on the surrounding forest, several villages in the Lampung province of Sumatra have been conducting an experiment in community managed timber plantations on public lands. For the last 10 years, instead of logging the forest, members of the local timber cooperative have planted thousands of seedlings such as white teak and acacia in and among the surrounding villages.
The Amazon's oil boom: concessions cover a Chile-sized bloc of rainforest
(02/04/2015) Hungry for oil revenue, governments and fossil fuel companies are moving even further into one of the world's last great wildernesses, according to a new study in the journal Environmental Research Letters. The total area set aside for oil and gas in the Western Amazon has grown by 150,000 square kilometers since 2008, now totaling more than 730,000 square kilometers—an area the size of Chile.
Sulawesi communities build big, unique houses by sustainably managing forests
(02/03/2015) Layuk Sarungallo sits in front of a large Tongkonan, the traditional house of the Toraja people characterized by sweeping roofs that resemble a boat or a buffalo horn arching toward the sky. The locals still use traditional construction methods, maintaining their houses with wood, bamboo and reeds.
Rapid development threatening traditional farms, forests in West Papua
(02/03/2015) Through a system of community protected areas and family agricultural rotation, the indigenous people of Demaisi in West Papua have maintained their way of life and the health of the forest for as long as anyone can remember. But now this system is under threat as government-fostered development moves into the region.
Mercury fish: gold mining puts downstream communities at risk in Peru
(02/02/2015) Artisanal, often illegal gold-mining, has swept across portions of the Peruvian Amazon over last decade, driven in part by a rising price in gold. The unregulated industry has resulted in widespread deforestation leading to an environmental disaster. Now a new study finds that mercury pollution has moved rapidly downstream and could be impacting communities at least 560 kilometers away.
When is a forest a forest? How definitions affect monitoring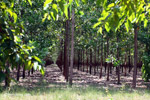 (01/29/2015) What exactly is a forest? With forest definitions differing from country to country, and primary forests, secondary forests, and even tree plantations all perceived collectively as "tree cover" by satellite data, how does one accurately keep tabs on land changes?




Page 1 | Page 2 | Page 3 | Page 4 | Page 5 | Page 6 | Page 7 | Page 8 | Page 9 | Page 10 | Page 11 | Page 12