News articles on trade

---
Mongabay.com news articles on trade in blog format. Updated regularly.








Private sector innovations reduce food loss in West Africa
(06/01/2015) Why is Africa's second largest tomato producer also the world's biggest importer of tomato paste? The question is a preoccupation for Lamido Sanusi, the former governor of the Central Bank of Nigeria. For Sanusi and other experts, the problem is a lack of processing capacity, which leads to enormous waste and a giant food import bill.
Together we stand: A policy approach to reducing food loss in West Africa
(05/28/2015) West African countries have recognized that when it comes to food security, no nation is an island. Since achieving independence, West African countries have strived for regional integration. By building strong political and economic ties, the 15 member nations of the Economic Community of West African States (ECOWAS) aimed to maximize economic development and minimize inter-country conflict.
Fracas over Costa Rican shark-fin exports leads American Airlines to stop shipping fins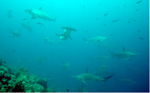 (04/24/2015) On December 24, an American Airlines plane carried 411 kilos of dried hammerhead shark fins from Alajuela, Costa Rica, to Hong Kong, touching down partway through the journey in Miami. The shipment, valued at nearly $53,000, contained fins from around 411 animals, more than seven times the number on its export permit from the Costa Rican government.
Singapore intercepts massive illegal shipment of Madagascar rosewood
(06/03/2014) Authorities in Singapore have made the largest-ever international seizure of rosewood logs, providing further evidence that industrial-scale smuggling of Madagascar's rainforest timber continues despite an official ban on the trade. Details of the seizure remain sparse since the investigation is still active, but leaked correspondence between officials in Madagascar indicates that the shipment amounts to 3,000 tons, or more than 29,000 illicit rosewood logs.
Environmental groups: top secret Pacific trade agreement to sacrifice wildlife, environment

(01/16/2014) Environmental groups have blasted draft text of the Trans-Pacific Partnership (TPP) released yesterday by WikiLeaks as potentially devastating to the environment and wildlife. The massive 12-nation free trade agreement has been negotiated in secret now for almost four years, and the information release by WikiLeaks shows that key environmental safeguards in the agreement are being stripped away, including a ban on shark finning and illegal logging, as well as legally-enforced pollution regulations.
30% of Brazil's emissions from deforestation are export-driven
(04/05/2013) 2.7 billion tons of carbon dioxide emissions or 30 percent of the carbon associated with deforestation in the Brazilian Amazon between 2000 and 2010 was effectively exported in the form of beef products and soy, finds a new study published in the journal Environmental Research Letters. The research underscores the rising role that global trade plays in driving tropical deforestation.
Leopard poaching is a bigger problem in India than previously believed
(10/31/2012) A recent study conducted by wildlife trade monitoring group TRAFFIC uncovered unnerving statistics about the illegal trade of leopards (Panthera pardus) in India: at least four leopards have been poached every week for the past decade in the country. The study, entitled Illuminating the Blind Spot: A study on illegal trade in Leopard parts in India, highlights the severity of leopard poaching from 2001 to 2010, despite preventative measures established in 1972 by the Wildlife Protection Act (WLPA) that prohibit the sale of leopard parts in India.
Wealthy consumption threatens species in developing countries
(07/11/2012) Consumption in wealthy nations is imperiling biodiversity abroad, according to a new study in Nature that investigates the link between international trade and biodiversity decline. The study shows how threats to biodiversity and ecosystems, located primarily in developing countries, can be connected to consumer demand for goods in wealthier nations. Some of the major commodities include coffee, cocoa, soy, beef and palm oil.
U.S. gobbling illegal wood from Peru's Amazon rainforest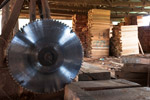 (04/10/2012) The next time you buy wood, you may want to make sure it's not from Peru. According to an in-depth new report by the Environmental Investigation Agency (EIA), the illegal logging trade is booming in the Peruvian Amazon and much of the wood is being exported to the U.S. Following the labyrinthian trail of illegal logging from the devastated forests of the Peruvian Amazon to the warehouses of the U.S., the EIA identified over 112 shipments of illegally logged cedar and big-leaf mahogany between January 2008 and May 2010. In fact, the group found that over a third (35 percent) of all the shipments of cedar and mahogany from Peru to the U.S. were from illegal sources, a percentage that is likely conservative.
Our success in transforming commodity markets will determine nature's fate
(04/01/2012) The success of governments and big corporations in eliminating environmental degradation from the products we consume will play a critical role in determining the fate of the world's remaining wild places, said a group of experts speaking at a panel during the Skoll World Forum on Social Entrepreneurship.
Snake laundering rampant in the Indonesian reptile export market
(11/21/2011) Breeding farms in Indonesia are being used to launder illegally caught wildlife, finds a new study published in the journal Biological Conservation. The research is based on surveys of traders who supply the market for green pythons, a non-venomous snake popular in the pet trade for its many color forms. The authors tracked pythons from their point of capture in Indonesian New Guinea and Maluku to breeding farms in Jakarta where the snakes are exported for the pet trade as 'captive-bred'. They found that 80 percent of snakes exported annually from Indonesia are illegally wild-caught.
Cooper-Blackburn bill seeks exemptions for illegal wood imports

(11/05/2011) A proposed bill would gut the Lacey Act, undermining an amendment that bans import of illegally logging forest products, says a coalition of environmentalists and woodworkers in a letter addressed to members of Congress. The bill, introduced last month by Jim Cooper, Marsha Blackburn, and Mary Bono Mack, would grant an exemption to pulp and paper importers from Lacey Act requirements, while reducing fines for non-compliance to a pittance for "first time" offenders no matter the size of the infraction.
New rosewood scandal in Madagascar

(07/01/2011) Customs officials in Madagascar threatened to go on strike Monday if the country's Transition Authority does not reveal the owner of a shipment of six containers of rosewood seized in Mauritius.
Could palm oil help save the Amazon?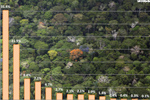 (06/14/2011) For years now, environmentalists have become accustomed to associating palm oil with large-scale destruction of rainforests across Malaysia and Indonesia. Campaigners have linked palm oil-containing products like Girl Scout cookies and soap products to smoldering peatlands and dead orangutans. Now with Brazil announcing plans to dramatically scale-up palm oil production in the Amazon, could the same fate befall Earth's largest rainforest? With this potential there is a frenzy of activity in the Brazilian palm oil sector. Yet there is a conspicuous lack of hand wringing by environmentalists in the Amazon. The reason: done right, oil palm could emerge as a key component in the effort to save the Amazon rainforest. Responsible production there could even force changes in other parts of the world.
Food security in developing world threatened by climate change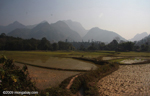 (06/06/2011) If swift action is not taken to prepare farmers in the developing world for hotter, drier, shorter growing seasons, climate change may threaten the lives of hundreds of millions of people by 2050. People in Africa and South Asia are particularly at risk of further impoverishment and hunger in a warmer world. According to the UN, a billion people are already going hungry worldwide.
Liberia fights illegal logging through agreement with EU

(05/10/2011) The tiny West African nation of Liberia (about the size of the US state of Virginia) is the most recent country to work with the European Union (EU) on ending the illegal logging trade. Yesterday the EU and Liberia signed a Voluntary Partnership Agreement (VPA) that would make certain no raw wood or wood products exported from Liberia to the EU would have been illegally cut.
Indonesia signs agreement with EU to end the sale of illegally logged wood

(05/04/2011) The EU and Indonesia today signed an agreement in Jakarta that aims to keep illegally logged wood from reaching the European market. This is the first Voluntary Partnership Agreement (VPA) signed by an Asian nation with the EU and is seen as a considerable step forward on the fight against the illegal logging trade worldwide.
New land snail invading Singapore requires swift action

(03/28/2011) An African land snail Limicolaria flammea has been discovered by researchers in six locations in Singapore, perhaps heralding a new invasion of alien land snails in Southeast Asia. Although snails may seem largely innocuous creatures, past invasions have resulted in agricultural and economic damage. The global invasion of the giant African land snail (Achatina fulica) has been called one of the world's top 100 worst alien species. Writing in mongabay.com's open access journal Tropical Conservation Science, researchers examine the issue and provide suggestions as to how Singapore authorities can quickly rid the nation of Limicolaria flammea.
Lack of schools, trade drive exodus from remote parts of the Amazon

(12/17/2010) Lack of school access and higher costs of trade are driving an exodus from remote areas in the Amazon, a new study published in Population & Environment reveals. The research sheds light on to why people are leaving remote forest areas. It follows an earlier publication indicating that migration away from remote rural areas may have repercussions on deforestation.
Australia cracks down on illegal timber

(12/16/2010) The Australian government has announced the creation of new legislation which will put further restrictions on the import of foreign wood products in effort to halt the flow of illegally logged timber. Taking effect next year, the laws will require importers to disclose the sources of all timber products, even paper.
Frogs and friends at risk from booming global wildlife trade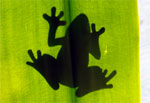 (09/08/2010) Alejandra Goyenechea, International Counsel at Defenders of Wildlife and Chair of the Species Survival Network's (SSN) Amphibian Working Group, spoke with Laurel Neme on her 'The WildLife' radio show and podcast about the global amphibian trade. In her interview, Alejandra Goyenechea discusses the benefits of frogs and the many threats – such as habitat loss, climate change, pollution, invasive species, disease, and overexploitation – to their survival. Did you know frogs indicate environmental quality, like canaries in a coal mine? Or that many have medicinal properties, like the phantasmal poison dart frog which produces a painkiller 200 times the potency of morphine?
Chinese traders fear new import restrictions on illegal timber

(09/02/2010) The China Timber and Wood Products Circulation Association (CTWPCA) is seeking to establish a body to help importers navigate new environmental regulations in the United States and Europe that restrict trade in illegally logged timber, reports the International Tropical Timber Organization (ITTO).
Europe bars illegal timber from markets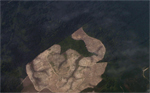 (07/07/2010) The European Parliament today voted overwhelming to bar illegally logged timber from E.U. markets. The legislation, which passed 644-25, will require all companies selling timber products in the E.U. to prove their wood is legally sourced. Companies that fail to demonstrate credible sourcing practices will be subject to fines. The rules will go into effect in 2012, but paper products will be exempted for five years.