News articles on threats to the rainforest

---
Mongabay.com news articles on threats to the rainforest in blog format. Updated regularly.






Commercial hunting is a major threat to tropical rainforests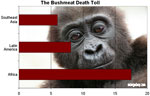 (05/01/2007) Commercial hunting is decimating wildlife populations across the tropics and may be one of the gravest threats presently facing rainforests, reports a series of studies published in the May issue of the journal Biotropica. The research reveals that large-scale loss of wildlife is already affecting forest health and regeneration.
Dutch plan restricts biofuels that damage environment
(04/29/2007) The Netherlands has proposed a system to reduce the environmental impact of biofuels production. The country becomes the first in the world to establish such guidelines. Environmentalists have expressed increasing concern for the establishment of energy crops in biodiverse and carbon-rich ecosystems like the peatlands of Indonesia and the Amazon rainforest. They say that conversion of these forests for oil palm and soybeans is threatening endangered species and worsening global warming. Further, they warn, demand for such biomass energy products is driving up prices for food crops.
Dutch will demand rainforest-friendly palm oil
(04/27/2007) In a report scheduled to be released today, the Dutch government will outline criteria for growing biofuels in a more sustainable manner. The guidelines will be closely watched by the rest of Europe, which is currently struggling with the environmental pros and cons of large-scale energy crop production, especially in ecologically-sensitive areas like the Amazon and Indonesian rainforests.
Ecuador: pay us not to develop Amazon oil reserves

(04/27/2007) Ecuador says it will wait a year to see whether the international community takes its offer to forsake development of a giant oil field in the Amazon rainforest in exchange for compensation, reports the Environmental News Service.
Scientists capture video of rare Borneo rhino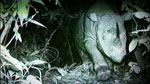 (04/24/2007) WWF has captured video footage of the rare Borneo rhino. There are only 25-50 of the rhino left in the wild on the island. Video from a camera trap shows the animal eating, walking to the camera and sniffing the equipment. It is first time the beast's behvaior in the wild has been captured on film.
How to stop haze and forest fires in Indonesia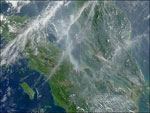 (04/19/2007) In recent years, annual forest fires in Indonesian have destroyed millions of hectares of forest and caused billions of dollars in economic damage. After each episode of fires the Indonesian government, facing criticism from neighboring governments, promises it will crack down. Nothing happens and the fires burn again the next year.
Soybeans may worsen drought in the Amazon rainforest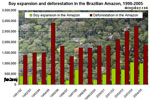 (04/18/2007) The rapid expansion of soybean cultivation in the Amazon may be having a larger impact on climate than previously believed, according to research published last week in Geophysical Research Letters. Using experimental plots in the Amazon, a team of scientists led by Marcos Costa from the Federal University of Vicosa in Brazil found that clearing for soybeans increases the reflectivity or albedo of land, reducing rainfall by as much as four times relative to clearing for pasture land.
Illegal logging threatens Congo's forests, global climate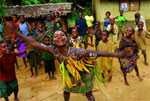 (04/11/2007) Despite government and World Bank assurances to the contrary. a new report from Greenpeace finds that illegal logging is rampant in the Democratic Republic of Congo (DRC). The report, Carving up the Congo, reveals that in spite of a 2002 moratorium on new logging, over 15 million hectares of rainforest have been concessioned to loggers with little regard to the environmental impact or compensation to affected communities.
Indonesia and Australia sign deforestation pact
(04/09/2007) Indonesia and Australia have agreed to reduce deforestation in southeast Asia according to Malcolm Turnbull, the Australian Minister for the Environment and Water Resources. Turnbull was in Jakarta meeting with the Indonesian Minister for Forestry, M. S. Kaban, and the Minister for the Environment, Rachmat Witoelar.
Could global deforestation fight climate change?
(04/09/2007) While many climate change mitigation schemes rely on reforestation schemes to sequester carbon dioxide from the atmosphere, those located in temperate regions may actually be warming the planet, worsening global change, reports a new study published in the April 9-13 online edition of the Proceedings of the National Academy of Sciences. Surprisingly, the research suggests that global-scale deforestation would produce a net cooling effect, but that forest preservation efforts and reforestation in the tropics is more effective in cooling the planet.
Congo cancels logging contracts
(04/09/2007) The new government of the Democratic Republic of Congo (DRC) cancelled more than 20 illegally-granted logging contracts which covered nearly three million hectares (7.4 million acres) of forest, according to a report from AFP. The announcement came at the International conference on the sustainable management of the forests in the DRC (ConForDRC) held February 26-27 in Brussels. At the conference policymakers agreed that Congo should maintain its moratorium on new logging and provide legal recognition for the rights of indigenous forest dwellers. There was wide support for Congo's participation in the Coalition of Rainforest Nations' proposal to seek compensation for forest conservation.
Indonesia seeks to increase deforestation rate, already world's highest
(04/09/2007) Already having the highest deforestation rate in the world, Indonesia's Minister of Forestry announced the country would increase its harvest quota for natural timber for 2007 by 12 percent to 9.1 million cubic meters according to the International Tropical Timber Organization (ITTO). ITTO said the target quota may actually be 12.4 million cubic meters (53 percent higher than 2006) for the year.
Palm oil doesn't have to be bad for the environment
(04/04/2007) As traditionally practiced in southeast Asia, oil palm cultivation is responsible for widespread deforestation that reduces biodiversity, degrades important ecological services, worsens climate change, and traps workers in inequitable conditions sometimes analogous to slavery. This doesn't have to be the case. Following examples set forth by the Roundtable on Sustainable Palm Oil and firms like Golden Hope Plantations Berhad, a Malaysian palm oil producer, oil palm can be cultivated in a manner that helps mitigate climate change, preserves biodiversity, and brings economic opportunities to desperately poor rural populations.
Eco-friendly palm oil could help alleviate poverty in Indonesia
(04/03/2007) The Associated Press (AP) recently quoted Marcel Silvius, a climate expert at Wetlands International in the Netherlands, as saying palm oil is a failure as a biofuel. This would be a misleading statement and one that doesn't help efforts to devise a workable solution to the multiplicity of issues surrounding the use of palm oil.
Congo forest elephants declining from logging roads, illegal ivory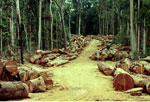 (04/02/2007) Fast-expanding logging roads in the Congo basin are becoming 'highways of death' for the fierce but elusive forest elephant, according to a new study published in the journal Public Library of Science. Logging roads both provide access to remote forest areas for ivory poachers and serve as conduits of advancing human settlement.
Australia puts $200M toward rainforest conservation
(03/30/2007) Australia has committed A$200m ($160m) to global forest conservation efforts to help fight illegal logging and slow global warming. The fund is one of the largest ever established by a government for reducing tropical deforestation. The new fund, known as the Global Initiative on Forests and Climate, aims to cut deforestation rates and promote reforestation schemes.
Malaysia to use certification to crack down on illegal logging

(03/27/2007) Malaysia will ask its timber suppliers in other countries to provide certification on the origin of wood according to a report from the International Tropical Timber Organization (ITTO). The move will help Malaysia fight allegations that its timber processors are complicit in the illegal logging industry.
Logging reduces abundance of rare mammals in Borneo

(03/27/2007) Selective logging profoundly reduces the abundance of rare forest species according to surveys of logged and unlogged rainforests on the island of Borneo, one of the most biodiverse parts of southeast Asia. The results, published in a trio of papers, have implications for biodiversity and forest conservation efforts in one of the world's most threatened ecosystems.
Cargill busted in the Amazon rainforest

(03/26/2007) Brazilian authorities have shut down Cargill Incorporated's deepwater soy export terminal on the Amazon River reports the Associated Press. The action comes after a local judge ruled that the firm failed to prepare a proper environmental impact statement for the project.
Sachs says biodiversity extinction crisis avoidable

(03/26/2007) In a Guardian editorial published Wednesday, Jeffrey Sachs called for action to stem mounting losses of global biodiversity. Sachs, director of the Earth Institute at Columbia University and Special Advisor to United Nations Secretary-General Ban Ki-Moon, says humans are the primary cause for depletion of the world's biological richness.
Controversial rainforest clearing approved in Uganda

(03/26/2007) Uganda's prime minister Apolo Nsibambi has approved a plan to clear thousands of hectares of protected rainforest for a sugarcane plantation, reported the New Vision newspaper, a government-owned publication.
Britain invests $100M to protect Congo rainforest
(03/23/2007) Britain will invest nearly $100 million in a initiative to protect the Congo rainforest, the second largest tropical forest in the world. Ten other countries are also supporting the project.
Fires burn across Burma; pollution levels rise in Thailand

(03/20/2007) Fires are raging across Myanmar (Burma) causing 'haze' pollution in neighboring Thailand, Laos, and southern China according to new satellite images release by NASA. The fires are set annually during the dry season for clearing brush and scrub for agriculture. In especially dry years the fires often spread into adjacent forest areas.
Fruit-eating birds at particular risk from Indonesian deforestation
(03/20/2007) A new study on the island of Sulawesi in Indonesia confirms the critical importance of fig trees to the rainforest ecosystem. The research has implications for wildlife conservation in an area of high rates of forest loss from agricultural conversion and logging.
Timber industry teams with greens on new anti-illegal logging bill
(03/15/2007) A bipartisan group of U.S. lawmakers introduced a bill to ban the use of illegally-harvested timber and wood products. Led by Congressmen Earl Blumenauer (D-OR), Robert Wexler (D-FL), and Jerry Weller (R-IL) the legislation would make it a crime to import, export, possess, purchase or sell illicit timber.
Amazon rainforest fires date back thousands of years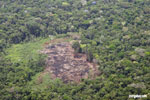 (03/14/2007) Fires are nothing new to the Amazon reports a study published in the journalBiotropica. Analyzing soils in the eastern Amazon, a team of scientists led by David S. Hammond of NWFS Consulting, has found evidence of forest fires dating back thousands of years. While the origin of these fires is unclear, the authors propose intriguing scenarios involving pre-Colombian human populations and ancient el Nino events which could have so dried rainforest areas that they became more prone to forest fires.
Can new loan really bring sustainable cattle ranching to the Amazon?
(03/12/2007) Brazil's second largest exporter of beef has won approval of a controversial loan from the International Finance Corporation (IFC), the private equity lender of the World Bank, according to a report from the Associated Press. Environmentalists say the deal will drive further deforestation in the biologically rich Amazon rainforest. Cattle ranching is responsible for more than half of forest loss in the region.
Biodiversity extinction crisis looms says renowned biologist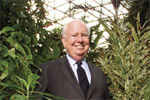 (03/12/2007) While there is considerable debate over the scale at which biodiversity extinction is occurring, there is little doubt we are presently in an age where species loss is well above the established biological norm. Extinction has certainly occurred in the past, and in fact, it is the fate of all species, but today the rate appears to be at least 100 times the background rate of one species per million per year and may be headed towards a magnitude thousands of times greater. Few people know more about extinction than Dr. Peter Raven, director of the Missouri Botanical Garden. He is the author of hundreds of scientific papers and books, and has an encyclopedic list of achievements and accolades from a lifetime of biological research. These make him one of the world's preeminent biodiversity experts. He is also extremely worried about the present biodiversity crisis, one that has been termed the sixth great extinction.
Deforestation causes species extinction in Madagascar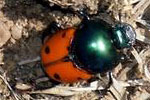 (03/07/2007) Deforestation has already caused the extinction of a large number of endemic insect species on the island of Madagascar, according to new research published in the March edition of the journal Biology Letters. The work suggests that only half the species confined to these forest areas will survive.
World's only blue lizard heads toward extinction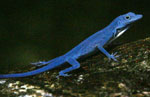 (03/07/2007) High above the forest floor on the remote Colombian island of Gorgona lives a lizard with brilliant blue skin, rivaling the color of the sky. Anolis gorgonae, or the blue anole, is a species so elusive and rare, that scientists have been unable to give even an estimate of its population. Due to the lizard&spod;s isolated habitat and reclusive habits, researchers know little about the blue anole, but are captivated by its stunning coloration.
Gold mining in Guyana damages environment, threatens Amerindians

(03/06/2007) Informal gold mining is causing environmental harm and human rights abuses in Guyana says a new report from the International Human Rights Clinic (IHRC) of Harvard Law School's Human Rights Program. Wildcat gold mining has been a serious problem in the Guiana shield countries of Brazil, Venezuela, Guyana, Suriname and French Guiana. Rising gold prices in recent years have only worsened the problem, as illegal miners have flooded the region clearing forest, polluting rivers, and making threats against indigenous people.
2006 Indonesian forest fires worst since 1998

(03/01/2007) NASA has linked el Nino to the worst fires in Indonesia since the 1997-1998 conflagration that burned nearly 25 million acres (10 million hectares) of land across the country.
Indigenous populations deforested New World rainforests before European contact
(02/28/2007) Indigenous populations used fire to clear large areas of tropical forest well before the arrival of Europeans reports a new study published in Annals of the Missouri Botanical Garden. The research has important implications for understanding the impact of present forest development on biodiversity and forest regeneration in the tropics.
Brazil to allow large-scale monitored harvesting of the Amazon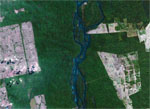 (02/23/2007) The International Tropical Timber Organization (ITTO) reports the Brazilian government plans to allow large-scale monitored harvesting of the Amazon rainforest. The new plan expands on an initiative proposed last year by Brazilian president Luiz Inacio Lula da Silva that would allow sustainable logging across 3 percent of the Amazon rain forest.
Biofuels, logging may spur deforestation in Guyana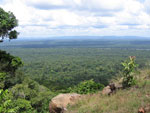 (02/15/2007) Growing timber exports and rising interest in biofuels are raising concerns that deforestation could accelerate in the South American country of Guyana. Guyana is a small, lightly populated country on the north coast of South America. About three-quarters of Guyana is forested, roughly 60 percent of which is classified as primary forest. Guyana's forests are highly diverse: the country has some 1,263 known species of amphibians, birds, mammals, and reptiles, and 6,409 species of plants.
Borneo's rainforest protected

(02/12/2007) An agreement to protect large areas of forest in central Borneo was officially signed by three governments that share the island. Brunei Darussalam, Indonesia and Malaysia will 'conserve and sustainably manage' the so-called 'Heart of Borneo', one of the most biodiverse, and threatened, tropical rainforests in the world. The World Wildlife Fund (WWF) played a critical role in the initiative's creation.
Amazon deforestation damaging critical ecosystem services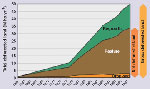 (02/08/2007) Human disturbance of the Amazon rainforest is more extensive than previously thought say a team of scientists writing in the current edition of the journal Frontiers in Ecology. Reviewing recent research on the Amazon ecosystem, they note that human activities are affecting the health of the forest and impacting the ecological goods and services the Amazon provides mankind.
Brazil calls out rich countries on global warming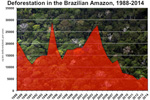 (02/06/2007) Reuters reports that Brazilian President Luiz Inacio Lula da Silva criticized wealthy countries for their contributions to global warming and told them to stay out of Brazil's business when it comes to the fate of the Amazon rainforest.
98% of orangutan habitat in Borneo, Sumatra gone by 2022
(02/06/2007) A report from the United Nations Environment Programme (UNEP) today warns that illegal logging is rapidly destroying the last remaining habitat for orangutans in Borneo and Sumatra. The report says that up to 98 percent may be destroyed by 2022 without urgent action.
Just how bad is the biodiversity extinction crisis?

(02/06/2007) In recent years, scientists have warned of a looming biodiversity extinction crisis, one that will rival or exceed the five historic mass extinctions that occurred millions of years ago. Unlike these past extinctions, which were variously the result of catastrophic climate change, extraterrestrial collisions, atmospheric poisoning, and hyperactive volcanism, the current extinction event is one of our own making, fueled mainly by habitat destruction and, to a lesser extent, over-exploitation of certain species. While few scientists doubt species extinction is occurring, the degree to which it will occur in the future has long been subject of debate in conservation literature. Looking solely at species loss resulting from tropical deforestation, some researchers have forecast extinction rates as high as 75 percent. Now a new paper, published in Biotropica, argues that the most dire of these projections may be overstated. Using models that show lower rates of forest loss based on slowing population growth and other factors, Joseph Wright from the Smithsonian Tropical Research Institute in Panama and Helene Muller-Landau from the University of Minnesota say that species loss may be more moderate than the commonly cited figures. While some scientists have criticized their work as "overly optimistic," prominent biologists say that their research has ignited an important discussion and raises fundamental questions about future conservation priorities and research efforts. This could ultimately result in more effective strategies for conserving biological diversity, they say.
Gold Rush Tears Up a Patch of the Amazon

(02/02/2007) It's a gold rush in the Amazon jungle, driven by the Internet. Speeding past unbroken walls of foliage, a motorboat packed with gritty prospectors veers toward the shore of the Juma river and spills its passengers into a city of black plastic lean-tos veiled by greasy smoke. All around them are newly dug pits, felled trees, misery and tales of striking it rich. This is Eldorado do Juma, scene of Brazil's biggest gold rush in more than 20 years.
Indonesia wants to be paid for slowing deforestation

(01/31/2007) Indonesia voiced support for a proposal by a coalition of developing countries seeking compensation for forest conservation, according to a report from Reuters. Rachmat Witoelar, Indonesia's minister of the environment, told Reuters that poor countries should be paid for conserving forests and the services they provide the world.
New maps reveal causes of Amazon deforestation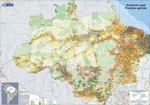 (01/26/2007) Brazil's National Statistics Office (IBGE) released a set of maps showing how farmers are converting the Amazon rainforest into cattle pasture and soybean farms. The maps show for the first time the impact of deforestation and agricultural expansion on the Amazon rainforest, according to the agency.




Page 1 | Page 2 | Page 3 | Page 4 | Page 5 | Page 6 | Page 7 | Page 8 | Page 9 | Page 10 | Page 11 | Page 12 | Page 13 | Page 14 | Page 15 | Page 16 | Page 17