News articles on threats to the rainforest

---
Mongabay.com news articles on threats to the rainforest in blog format. Updated regularly.






DR Congo has great potential for biofuels says U.N. official

(01/09/2008) A UN economist is touting the potential of DR Congo for industrial biofuels production, reports Reuters. In a telephone interview, Dr Schmidhuber said the worn-torn country could devote millions of acres for oil palm, soy, and other biofuel feedstocks.
U.S. corn subsidies drive Amazon destruction

(12/13/2007) U.S. corn subsidies for ethanol production are contributing to deforestation of the Amazon rainforest, reports a tropical forest scientist writing in this week's issue of the journal Science.
70% of rainforest island to be cleared for palm oil

(12/13/2007) Mongabay.com received information this week that the Malaysian company Vitroplant has been granted the permit it needs to begin developing 70% of Woodlark Island into palm oil plantations. In an e-mail received by one of the opposition leaders to Vitroplant, Dr. Simon Piyuwes said that "the government granted the permit to the oil palm company despite a widespread campaign and pressure from NGOs". In an earlier article Dr. Piyuwes stated that "we [the islanders] do not have money to fight the giant. We only hope for the support from the NGOs, and the mercy of the government to withdraw the project." It seems the government has refused Dr. Piyuwes what he hoped for.
Rainforest destruction continues in tropical Asia

(12/09/2007) Tropical forests in Asia have been rapidly and extensively destroyed over the past generation, with significant implications for the region's biodiversity and global climate. A new study, published in the December volume of Current Science, finds that Asian forest loss has occurred mostly in poor, corrupt countries that have high population density and robust population growth rates.
Kyoto pact ignores CO2 emissions from biofuels

(12/05/2007) The Kyoto climate pact, as it currently stands, ignores millions of tons of carbon dioxide emissions from the drainage of peatsoils for palm oil production in Indonesia and Malaysia, warnned Wetlands International, an international NGO, in a report released at the UN climate meeting in Bali.
Could the carbon market save the Amazon rainforest?

(11/29/2007) The global carbon market could play a key role in saving the Amazon from the effects of climate change and economic development, which could otherwise trigger dramatic ecological changes, reports a new paper published in Science. The authors argue that a well-articulated plan, financed by carbon markets, could prevent the worst outcomes for the Amazon forest while generating economic benefits for the region's inhabitants.
Cooking oil, palm oil biodiesel can reduce emissions relative to diesel

(11/28/2007) A lifecycle analysis of biodiesel by Australia's Commonwealth Scientific and Industrial Research Organization (CSIRO) shows that using palm oil derived from existing plantations can be an effective biofuel feedstock for reducing greenhouse gas emissions relative to conventional diesel fuel. However, palm oil sourced from rainforest and peatlands generating emissions 8 to 21 times greater than those from diesel.
Subtle threats could ruin the Amazon rainforest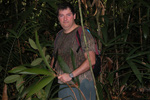 (11/07/2007) While the mention of Amazon destruction usually conjures up images of vast stretches of felled and burned rainforest trees, cattle ranches, and vast soybean farms, some of the biggest threats to the Amazon rainforest are barely perceptible from above. Selective logging -- which opens up the forest canopy and allows winds and sunlight to dry leaf litter on the forest floor -- and 6-inch high "surface" fires are turning parts of the Amazon into a tinderbox, putting the world's largest rainforest at risk of ever-more severe forest fires. At the same time, market-driven hunting is impoverishing some areas of seed dispersers and predators, making it more difficult for forests to recover. Climate change -- an its forecast impacts on the Amazon basin -- further looms large over the horizon.
WSJ inquiry pushes FSC to cancel logging certification in endangered forest

(10/30/2007) An inquiry by The Wall Street Journal prompted the Forest Stewardship Council (FSC), an environmental body that runs a widely accepted "green" labeling system for forestry products, to revoke certification for a Singapore-based Asia Pulp & Paper Co. (APP) project on the Indonesian island of Sumatra.
Global warming puts primates at greater risk

(10/25/2007) 29 percent of the world's primate species are in danger of going extinct warns a new report from the Primate Specialist Group of IUCN's Species Survival Commission (SSC) and the International Primatological Society (IPS).
2007 Amazon fires among worst ever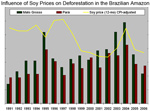 (10/22/2007) By some measures, forest fires in the Amazon are at near-record levels, according to analysis Brazilian satellite data by mongabay.com. A surge in soy and cattle prices may be contributing to an increase in deforestation since last year. Last year environmentalists and the Brazilian government heralded a sharp fall in deforestation rates, the third consecutive annual decline after a peak in 2004. Forest loss in the 2006-2007 season was the lowest since record-keeping began in the late in 1970s. While the government tried to claim credit for the drop, analysts at the time said that commodity prices were a more likely driver of slow down: both cattle and soy prices had declined significantly over the previous months.
Brazil to search for oil in the Amazon

(10/21/2007) Brazil's plan to seek oil in the Western Amazon has upset environmentalists, reports the Associated Press (AP). The National Petroleum Agency, or ANP, plans to put US$36 million toward oil and gas exploration in Acre, a state bordering Bolivia, according to Brazilian state media Agencia Brasil, but environmental officials say no impact study has been done to assess how the plan could affect the Amazon.
Congo pygmies to meet World Bank President Zoellick over forest destruction

(10/17/2007) A delegation of 'Pygmies' from Democratic Republic of Congo are visiting Washington this week to discuss World Bank-sanctioned logging of their rainforest home. The 'Pygmies' are scheduled to meet with bank President Robert Zoellick, according to the Rainforest Foundation, a lobby group that sponsored the trip.
Amazon rainforest burning "worst" in memory

(10/16/2007) Fires continue to rage in the Amazon, according to local reports. John Cain Carter, a rancher who runs Alianca da Terra, an environmental accountability group for agricultural operators, says that the fires are the worst he has ever seen in the region. "I have never seen fires this bad," he told mongabay.com. "The fires are even worse than in 1998's El Nino event." NASA satellite images released at the end of September confirm widespread burning in the Amazon state of Mato Grosso.
Fires rage in Amazon rainforest park

(10/04/2007) Forest fires are raging in Xingu National Park in the Amazon rainforest, according to a pioneering cattle rancher-turned-conservationist in the Brazilian state of Mato Grosso.
China urged to join sustainable soy efforts in the Amazon

(09/12/2007) Brazilian soy crushers have urged China to join an alliance to promote sustainable soybean production in the Amazon, according to Reuters. Brazil, soon to be the world's largest producer of soybeans, recently formed the Global Roundtable on Responsible Soy Association as concerns grow that global demand for biofuels will level the Amazon rainforest. Environmentalists say demand from China is playing an important role in surging soybean production in the region.
Groups demand AES withdraw from Panama dam projects

(08/23/2007) More than 50 green groups demanded Thursday that AES Corporation withdraw from three controversial hydroelectric projects that are threatening La Amistad International Park in Panama. Environmentalists say the dams threaten to displace wildlife and local communities -- the Naso and Ngobe people -- in the World Heritage site.
U.N. sends team to investigate gorilla killings

(08/10/2007) The U.N. said it will send a team of experts to probe the killings of critically endangered mountain gorillas in the Democratic Republic of the Congo (DRC). Four gorillas were shot "execution-style" last month, while three others have been killed so far this year. Rangers believe illegal charcoal harvesters from Goma are to blame.
Coal mining threatens the "Heart of Borneo"

(07/25/2007) Coal mining in Borneo imperils the island's fast-disappearing forests and threatens to undermine the effectiveness of an monumental conservation initiative, according to a report from the The Sunday Times and Parliamentary testimony.
China's paper recycling industry can help shield forests from destruction

(07/15/2007) China's massive paper recycling capacity is helping shield global forests worldwide from destruction by supporting an international market for wastepaper as an alternative to pulpwood, says a new report released by Forest Trends, an international forestry organization. Nevertheless, wastepaper alone is not enough to meet demand from China's growing paper industry.
Toll road could raise money for Amazon conservation

(07/15/2007) Southeastern Peru is arguably the most biodiverse place on the planet. A new highway project, already under construction, poses a great threat to this biological richness as well as indigenous groups that live in the region. While its too late to stop the road, called the Carretera Transoceanica or Interoceanic Highway, there are ways to reduce its impact on the forest ecosystem and its inhabitants.
Poverty and corruption reduce effectiveness of rainforest parks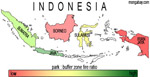 (07/09/2007) Poverty and corruption are linked to higher incidence of fire in tropical forest reserves, reports a new study published in the journal Ecological Applications. Poor, corrupt countries -- like Cambodia, Guatemala, Paraguay, and Sierra Leone -- have the least effective parks when measured in terms of the incidence of fire relative to surrounding "buffer" areas. The findings have significant implications for rainforest conservation efforts.
Set back for AES on rainforest dam project in Panama

(06/26/2007) The World Heritage Committee moved to assess threats to La Amistad International Park, a World Heritage site shared by Panama and Costa Rica, from AES Corporation's planned construction of four hydroelectric dams on the park's border. The decision was based on an April 2007 petition from the Center for Biological Diversity and more than 30 other organizations in the United States, Panama, and Costa Rica.
98% of orangutan habitat gone in next 15 years

(06/11/2007) Indonesia is losing more than 2.1 million hectares (5.2 million acres) of forest a year to illegal loggers, states a new report from the U.N. Environment Program (UNEP). The report, which estimates the value of illicit timbering at $4 billion annually, warns that 98 percent of Indonesia's lowland forests will be gone by 2022, putting species like the orangutan at risk of extinction in the wild. The report, Last stand of the Orang-utan: State of Emergency, was released Monday at the Convention on International Trade in Endangered Species meeting in The Hague.
Chinese demand drives global deforestation

(06/10/2007) From outside, Cameroon's Ngambe-Tikar forest looks like a compact, tangled mass of healthy emerald green foliage. But tracks between the towering tropical hardwood trees open up into car park-sized clearings littered with logs as long as buses. Forestry officers say the reserve is under attack from unscrupulous commercial loggers who work outside authorized zones and do not respect size limits in their quest for maximum financial returns.
Brazil debates $11B Amazon dam project

(06/10/2007) The eternal tension between Brazil's need for economic growth and the damage that can cause to the environment are nowhere more visible than here in this corner of the western Amazon. Now a proposal to build an $11 billion hydroelectric project here on the Madeira River, which may have the world's most diverse fish stocks, has set off a new controversy.
Logging roads rapidly expanding in Congo rainforest

(06/07/2007) Logging roads are rapidly expanding in the Congo rainforest, report researchers who have constructed the first satellite-based maps of road construction in Central Africa. The authors say the work will help conservation agencies, governments, and scientists better understand how the expansion of logging is impacting the forest, its inhabitants, and global climate.
Can cattle ranchers and soy farmers save the Amazon?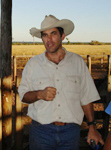 (06/06/2007) John Cain Carter, a Texas rancher who moved to the heart of the Amazon 11 years ago and founded what is perhaps the most innovative organization working in the Amazon, Alianca da Terra, believes the only way to save the Amazon is through the market. Carter says that by giving producers incentives to reduce their impact on the forest, the market can succeed where conservation efforts have failed. What is most remarkable about Alianca's system is that it has the potential to be applied to any commodity anywhere in the world. That means palm oil in Borneo could be certified just as easily as sugar cane in Brazil or sheep in New Zealand. By addressing the supply chain, tracing agricultural products back to the specific fields where they were produced, the system offers perhaps the best market-based solution to combating deforestation. Combining these approaches with large-scale land conservation and scientific research offers what may be the best hope for saving the Amazon.
Globalization could save the Amazon rainforest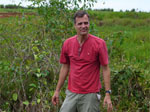 (06/03/2007) The Amazon basin is home to the world's largest rainforest, an ecosystem that supports perhaps 30 percent of the world's terrestrial species, stores vast amounts of carbon, and exerts considerable influence on global weather patterns and climate. Few would dispute that it is one of the planet's most important landscapes. Despite its scale, the Amazon is also one of the fastest changing ecosystems, largely as a result of human activities, including deforestation, forest fires, and, increasingly, climate change. Few people understand these impacts better than Dr. Daniel Nepstad, one of the world's foremost experts on the Amazon rainforest. Now head of the Woods Hole Research Center's Amazon program in Belem, Brazil, Nepstad has spent more than 23 years in the Amazon, studying subjects ranging from forest fires and forest management policy to sustainable development. Nepstad says the Amazon is presently at a point unlike any he's ever seen, one where there are unparalleled risks and opportunities. While he's hopeful about some of the trends, he knows the Amazon faces difficult and immediate challenges.
Uganda rainforest reserve safe, for now

(05/23/2007) Uganda's cabinet has suspended a proposal to allow a sugarcane grower to convert part of Mabria rainforest reserve for a plantation, reports Reuters. The plan, a pet project of president Yoweri Museveni, faced widespread opposition that was capped by deadly riots.
U.S. ethanol may drive Amazon deforestation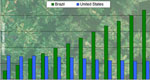 (05/17/2007) Ethanol production in the United States may be contributing to deforestation in the Brazilian rainforest said a leading expert on the Amazon. Dr. Daniel Nepstad of the Woods Hole Research Center said the growing demand for corn ethanol means that more corn and less soy is being planted in the United States. Brazil, the world's largest producer of soybeans, is more than making up for shortfall, by clearing new land for soy cultivation. While only a fraction of this cultivation currently occurs in the Amazon rainforest, production in neighboring areas like the cerrado grassland helps drive deforestation by displacing small farmers and cattle producers, who then clear rainforest land for subsistence agriculture and pasture.
Amazon nun-killer sentenced to 30 years in Brazil

(05/15/2007) Vitalmiro Bastos de Moura, a Brazilian rancher charged with ordering the killing of Dorothy Stang, an American nun, in the Amazon rainforest in February 2005, was convicted today of murder and sentenced to 30 years in prison.
Environmental concerns mount as palm oil production grows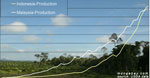 (05/15/2007) The booming market for palm oil is driving record production but fueling rising concerns over the environmental impact of the supposedly "green" bioenergy source. The two leading producers of palm oil, Malaysia and Indonesia, have rapidly expanded palm oil production in recent years, often at the expense of biodiverse rainforests and carbon-rich peatlands that store billions of tons of greenhouse gases. Environmentalists say that due to these factors, burning of palm oil can at times be more damaging the global climate than the use of fossil fuels.
UN warns on dangers of bioenergy

(05/09/2007) Biofuels offer "an extraordinary opportunity" to reduce greenhouse gas emissions but could make "substantial demands on the world's land and water resources at a time when demand for both food and forest products is also rising rapidly," said the U.N. in its first assessment on the growing bioenergy industry.
Cuddly slow loris threatened by the pet trade

(05/09/2007) The slow loris, a big-eyed primate found in the rainforests of southeast Asia, is threatened by the international pet trade said ProFauna Indonesia, a wildlife activist group that has called for a ban on the illegal trafficking of the charismatic animal.
Better forest policies would reduce illegal logging in the Amazon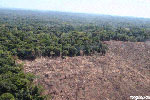 (05/06/2007) Brazil could improve sustainable forest management, reduce illegal logging, and perhaps cuts deforestation by introducing coherent policies for timber operations in the Amazon rainforest argues a new paper published in Frontiers in Ecology. However, successful implementation of sustainable timber production will require overcoming significant biological and political hurdles, suggest the authors.
Climate change could dramatically change forests in Central America
(05/02/2007) Drought could cause dramatic shifts in rainforest plant communities in Central America, reports a new study published in the May 3 issue of Nature. The research shows that many rainforest plants are ill-equipped to deal with extended dry periods, putting them at elevated risk from changes in climate projected for the region.





Military technology uses satellite signals to catch poachers

(05/02/2007) Wild animals sought by poachers for their skins, meat and bones have a new means of protection developed by a visiting scholar at the SUNY College of Environmental Science and Forestry (ESF). Steve Gulick, an electrical engineer who calls himself a biologist wannabe, has designed a metal detector specifically to pick up the presence of poachers' weapons and send an electronic signal, via satellite, to law enforcement authorities.




Page 1 | Page 2 | Page 3 | Page 4 | Page 5 | Page 6 | Page 7 | Page 8 | Page 9 | Page 10 | Page 11 | Page 12 | Page 13 | Page 14 | Page 15 | Page 16 | Page 17