News articles on threats to the amazon

---
Mongabay.com news articles on threats to the amazon in blog format. Updated regularly.






Oil road transforms indigenous nomadic hunters into commercial poachers in the Ecuadorian Amazon
(09/13/2009) The documentary Crude opened this weekend in New York, while the film shows the direct impact of the oil industry on indigenous groups a new study proves that the presence of oil companies can have subtler, but still major impacts, on indigenous groups and the ecosystems in which they live. In Ecuador's Yasuni National Park—comprising 982,000 hectares of what the researchers call "one of the most species diverse forests in the world"—the presence of an oil company has disrupted the lives of the Waorani and the Kichwa peoples, and the rich abundance of wildlife living within the forest.
Concerns over deforestation may drive new approach to cattle ranching in the Amazon
(09/08/2009) While you're browsing the mall for running shoes, the Amazon rainforest is probably the farthest thing from your mind. Perhaps it shouldn't be. The globalization of commodity supply chains has created links between consumer products and distant ecosystems like the Amazon. Shoes sold in downtown Manhattan may have been assembled in Vietnam using leather supplied from a Brazilian processor that subcontracted to a rancher in the Amazon. But while demand for these products is currently driving environmental degradation, this connection may also hold the key to slowing the destruction of Earth's largest rainforest.
Crowned sifaka population on the verge of local extinction: dispatch from the field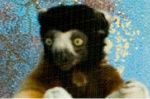 (09/08/2009) A small group of crowned sifaka lemurs Propithecus coronatus have been located in the corridor d'Amboloando-Dabolava, Miandrivazo district-Madagascar, but are immediately threatened with local extinction. The small, fragmented, and isolated forest shelters a group of only six adults and one baby. Interviews with local people revealed that once several groups of the species resided in the corridor, and even last year, about 20 individuals were still found there. However, within one year, the population dropped from 20 to 6 individuals.
New Amazonian reserve saves over a million acres in Peru
(08/30/2009) On August 27th Peru's Ministry of the Environment approved the creation of the Matses National Reserve to protect the region's biodiversity, ensure its natural resources, and preserve the home of the Matses indigenous peoples (known as the Mayorunas in Brazil). The park is 1,039,390 acres (or 420,626 hectares) of lowland Amazonian rainforest in eastern Peru. The park is the culmination of over a decade of work by the local non-profit CEDIA (the Center for the Development of the Indigenous Amazonians) funded in part by the Worldland Trust.
Tesco responds to allegations of causing Amazon deforestation

(06/29/2009) Tesco, one of Europe's largest retailers, has sent a response to the British newspaper The Guardian in light of the paper's coverage of recent allegations that the chain store sells beef and leather products that caused deforestation of the Amazon.
World Bank revokes loan to Brazilian cattle giant accused of Amazon deforestation
(06/13/2009) The Work Bank's private lending arm has withdrawn a $90 million loan to Brazilian cattle giant Bertin, following Greenpeace's release of a report linking Bertin to illegal deforestation of the Amazon rainforest, report environmental groups, Friends of the Earth-Brazil and Greenpeace. The loan, granted by the International Finance Corporation (IFC) in March 2007, was to expand Bertin's meat-processing in the Brazilian Amazon. At the time, the IFC promoted the loan as a way to promote environmentally responsible beef production in the Amazon, although environmental groups — including Friends of the Earth-Brazil and Greenpeace — criticized the move.
Wal-Mart bans beef illegally produced in the Amazon rainforest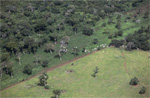 (06/12/2009) Brazil's three largest supermarket chains, Wal-Mart, Carrefour and Pão de Açúcar, will suspend contracts with suppliers found to be involved in Amazon deforestation, reports O Globo. The decision, announced at a meeting of the Brazilian Association of Supermarkets (Abras) this week, comes less than two weeks after Greenpeace's exposé of the Amazon cattle industry. The report, titled Slaughtering the Amazon, linked some of the world's most prominent brands — including Nike, Toyota, Carrefour, Wal-Mart, and Johnson & Johnson, among dozens of others — to destruction of the Amazon rainforest for cattle pasture.
Brazil to sanction illegal colonization in 230,000 sq mi of Amazon rainforest

(06/08/2009) Brazil moved a step closer to passing a controversial law that would allow landowners who illegally deforested land in the Amazon to get legal title to these holdings. Environmentalists say HB 458 — which now only needs the signature of President Lula, an avid supporter — will legitimize years of illegal colonization and may promote new deforestation.
Bill Clinton speaks out for rainforests in Brazil

(06/03/2009) Former US president Bill Clinton spoke out against rainforest destruction on Monday in Brazil. Headlining the Ethanol Summit 2009 in Sao Paulo, Clinton spoke of the positive role ethanol could play in lowering carbon emissions, but not when at the expense of rainforest.
Nike, Unilever, Burger King, IKEA may unwittingly contribute to Amazon destruction, says Greenpeace
(06/01/2009) Major international companies are unwittingly driving the deforestation of the Amazon rainforest through their purchases of leather, beef and other products supplied from the Brazil cattle industry, alleges a new report from Greenpeace. The report, Slaughtering the Amazon, is based on a three-year undercover investigation of the Brazilian cattle industry, which accounts for 80 percent of Amazon deforestation and roughly 14 percent of the world's annual forest loss. Greenpeace found that Brazilian beef companies are important suppliers of raw materials used by leading global brands, including Adidas/Reebok, Nike, Carrefour, Eurostar, Unilever, Johnson & Johnson, Toyota, Honda, Gucci, Louis Vuitton, Prada, IKEA, Kraft, Tesco and Wal-Mart, among others.
Rainforest soy moratorium shows success in the Brazilian Amazon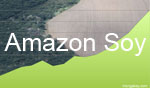 (04/15/2009) An industry-led moratorium on soy plantings on recently deforested rainforest land continues to show success in the Brazilian Amazon, reports a study released Tuesday by environmental groups and Abiove, the soy industry group that formed the initiative and represents about 90 percent of Brazil's soy crush. The satellite-based study showed that only 12 of 630 sample areas (1,389 of 157,896 hectares) deforested since July 2006 — the date the moratorium took effect — were planted with soy.
Reserves with roads still vital for reducing fires in Brazilian Amazon

(04/08/2009) Analyzing ten years of data from on fires in the Brazilian Amazon, researchers found that roads built through reserves do not largely hamper a reserve's important role in reducing the spread of forest fires. The finding is important as Brazil continues a spree of road-building while at the same time paving over existing roads.
Revolutionary new theory overturns modern meteorology with claim that forests move rain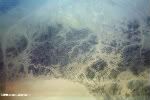 (04/01/2009) Two Russian scientists, Victor Gorshkov and Anastassia Makarieva of the St. Petersburg Nuclear Physics, have published a revolutionary theory that turns modern meteorology on its head, positing that forests—and their capacity for condensation—are actually the main driver of winds rather than temperature. While this model has widespread implications for numerous sciences, none of them are larger than the importance of conserving forests, which are shown to be crucial to 'pumping' precipitation from one place to another. The theory explains, among other mysteries, why deforestation around coastal regions tends to lead to drying in the interior.
Amazonian region likely to become savannah due to burning, deforestation

(03/31/2009) A new analysis shows that the heavily-deforested Amazonian region of Mato Grosso is particularly susceptible to 'savannization' due to repeated burning that has likely depleted the region's soils of precious nutrients. According to the study, published in the Journal of Geophyscial Research, savannization, or the process of tropical ecosystems shifting to savannah, is likely in northern Mato Grosso even if no further deforestation occurs.
Will palm oil drive deforestation in the Amazon?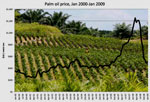 (03/23/2009) Already a significant driver of tropical forest conversion across southeast Asia, oil palm expansion could emerge as threat to the Amazon rainforest due to a proposed change in Brazil's forest law, new infrastructure, and the influence of foreign companies in the region, according to researchers writing in the open-access journal Tropical Conservation Science. William F. Laurance, a senior scientist at the Smithsonian Tropical Research Institute (STRI) in Panama City, Panama, and Rhett A. Butler, founder of environmental science web site Mongabay.com, warn that oil palm expansion in the Brazilian Amazon is likely to occur at the expense of natural forest as a result of a proposed revision to the forest code which requires land owners to retain 80 percent forest on lands in the Amazon. The new law would allow up to 30 percent of this reserve to consist of oil palm.
Beef consumption fuels rainforest destruction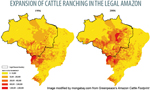 (02/16/2009) Nearly 80 percent of deforestation in the Brazilian Amazon results from cattle ranching, according to a new report by Greenpeace. The finding confirms what Amazon researchers have long known – that Brazil's rise to become the world's largest exporter of beef has come at the expense of Earth's biggest rainforest. More than 38,600 square miles has been cleared for pasture since 1996, bringing the total area occupied by cattle ranches in the Brazilian Amazon to 214,000 square miles, an area larger than France. The legal Amazon, an region consisting of rainforests and a biologically-rich grassland known as cerrado, is now home to more than 80 million head of cattle. For comparison, the entire U.S. herd was 96 million in 2008.
Peru's uncontacted Amazon tribes under attack

(10/22/2008) Illegal logging in the Peruvian Amazon is driving uncontacted tribes into Brazil where they are in conflict over food and resources with other uncontacted groups, according to a Reuters interview with a leading expert on indigenous tribes.
Independent of climate, forest cover in southern Amazon may fall to 20% by 2016

(09/03/2008) Forest cover in the "Arc of Deforestation" of southern Amazonia will decline to around 20 percent 2016 due to continued logging and conversion of forests for cattle pasture and soy farms, report researchers writing in the journal Environmental Conservation. Analyzing high resolution satellite data from 1984 through 2004 for the Alta Floresta region in northern Mato Grosso, Fernanda Michalski, Carlos Peres and Iain Lake of the University of East Anglia found that forest cover declined from from 91.1 percent to 41.7 percent between 1984 and 2004. They note that while the deforestation rate has slowed to around 2 percent per year since peaking at more than 8 percent annually in late 1980s to mid-1990s, renewed expansion of road networks will enable loggers to increasingly exploit remaining forests, leading to degradation and likely eventual conversion for agricultural use. Overall Michalski and colleagues forecast that forest cover in Alta Floresta will fall to 21 percent by 2016, a decline of 77 percent since 1984.
Indian protesters win land rights battle against Peru's President Garcia

(08/31/2008) Peru's Congress rejected two decrees by President Alan García that made it easier for foreign developers to buy Amazon rainforest land. The repeal came just two days after lawmakers struck a deal with indigenous rights groups whose protests over the law had shut down oil and gas operations. The groups were worried that the laws weakened their land rights in favor of loggers, miners, and drillers.
Amazon deforestation jumps 69% in 2008

(08/31/2008) Deforestation in the Brazilian Amazon increased 69 percent in the past 12 months as high commodity prices have driven forest conversion for ranches and cropland, according to preliminary figures released by Brazil's National Institute for Space Research (INPE). The increase comes after three consecutive years of declining deforestation in Brazil.
Oil development could destroy the most biodiverse part of the Amazon

(08/12/2008) 688,000 square kilometers (170 million acres) of the western Amazon is under concession for oil and gas development, according to a new study published in the August 13 edition of the open-access journal PLoS ONE. The results suggest the region, which is considered by scientists to be the most biodiverse on the planet and is home to some of the world's last uncontacted indigenous groups, is at great risk of environmental degradation.
Corporations become prime driver of deforestation, providing clear target for environmentalists
(08/05/2008) The major drivers of tropical deforestation have changed in recent decades. According to a forthcoming article, deforestation has shifted from poverty-driven subsistence farming to major corporations razing forests for large-scale projects in mining, logging, oil and gas development, and agriculture. While this change makes many scientists and conservationists uneasy, it may allow for more effective action against deforestation. Rhett A. Butler of Mongabay.com, a leading environmental science website focusing on tropical forests, and William F. Laurance of the Smithsonian Tropical Research Institute in Panama believe that the shift to deforestation by large corporations gives environmentalists and concerned governments a clear, identifiable target that may prove more responsive to environmental concerns.
Industry-driven road-building to fuel Amazon deforestation

(03/12/2008) Unofficial road-building will be a major driver of deforestation and land-use change in the Amazon rainforest, according to an analysis published in Philosophical Transactions of the Royal Society B. Improved governance, as exemplified by the innovative MAP Initiative in the southwestern Amazon, could help reduce the future impact of roads, without diminishing economic prospects in the region.
Cellulosic energy may trigger dramatic collapse in the Amazon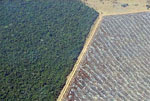 (03/11/2008) Next generation biofuels may trigger the ecological collapse of the Amazon frontier and could have profoundly unexpected economic consequences for the region, warns a paper published in Philosophical Transactions of the Royal Society B. Dr. Donald Sawyer writes that "interacting with climate change and land use, the upcoming stage of cellulosic energy could result in a collapse of the new frontier into vast degraded pasture." The shift could increase the incidence and severity of fires, reduce rainfall in key agricultural zones, exacerbate forest die-back and climate change, and worsen social instability. Sawyer says that while difficult to anticipate, the worst outcomes could likely be avoided be promoting "intensified and more sustainable use" of already cleared areas, minimizing new deforestation, and encouraging "sustainable use of natural resources by local communities."
Human impacts on primate conservation in central Amazonia

(03/03/2008) Deforestation in the Amazon is a serious concern. In the Brazilian Amazon, forests are cleared for cattle ranches, soybean cultivation, and selective logging practices. A new plan to settle approximately 180 families north of Manaus, the capital city of the state of Amazonas, has created widespread controversy. The land plots would be located within the study site of the longest-running study of forest fragmentation, the Biological Dynamics of Forest Fragments Project (BDFFP). Therefore, the plan would threaten scientific research at the BDFFP and other nearby research sites operated by the Instituto Nacional da Pesquisas de Amazônia (INPA) and Large Scale Biosphere-Atmosphere Experiment in Amazonia (LBA), as well as the future of the Central Amazonian conservation Corridor.
Half the Amazon rainforest will be lost within 20 years

(02/27/2008) More than half the Amazon rainforest will be damaged or destroyed within 20 years if deforestation, forest fires, and climate trends continue apace, warns a study published in Philosophical Transactions of the Royal Society B. Reviewing recent trends in economic, ecological and climatic processes in Amazonia, Daniel Nepstad and colleagues forecast that 55 percent of Amazon forests will be "cleared, logged, damaged by drought, or burned" in the next 20 years. The damage will release 15-26 billion tons of carbon into the atmosphere, adding to a feedback cycle that will worsen both warming and forest degradation in the region. While the projections are bleak, the authors are hopeful that emerging trends could reduce the likelihood of a near-term die-back. These include the growing concern in commodity markets on the environmental performance of ranchers and farmers; greater investment in fire control mechanisms among owners of fire-sensitive investments; emergence of a carbon market for forest-based offsets; and the establishment of protected areas in regions where development is fast-expanding.







Deforestation a greater threat to the Amazon than global warming

(02/25/2008) If past conditions are any indication of future conditions, the Amazon rainforest may survive considerable drying and warming caused by global warming, argue researchers in a paper published in Philosophical Transactions of the Royal Society B.




Page 1 | Page 2 | Page 3 | Page 4 | Page 5 | Page 6