News articles on terra preta

---
Mongabay.com news articles on terra preta in blog format. Updated regularly.






Terra preta found in Asia

(05/14/2012) Indigenous people of the Amazon produced rich agricultural soil by adding charcoal, manure, and animal bones to the otherwise nutrient-poor dirt of the world's greatest rainforest. The inputs allowed early indigenous people to farm their terra preta, or dark earth, sustainably in the Amazon. To date such practices are only known from the the Amazon and parts of Africa. But in a recent paper in the open access journal Forests scientists in Indonesian Borneo report on the first evidence of terra preta in Asia.
Could biochar save the world?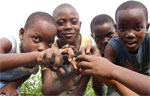 (08/16/2010) Biochar—the agricultural application of charcoal produced from burning biomass—may be one of this century's most important social and environmental revolutions. This seemingly humble practice—a technology that goes back thousands of years—has the potential to help mitigate a number of entrenched global problems: desperate hunger, lack of soil fertility in the tropics, rainforest destruction due to slash-and-burn agriculture, and even climate change. "Biochar is a recalcitrant form of carbon that will stay almost entirely unaltered in soils for very long periods of time. So you can sequester carbon in a simple, durable and safe way by putting the char in the soil. Other types of carbon in soils rapidly turn into carbon dioxide. Char doesn't," managing director of the Biochar Fund, Laurens Rademakers, told mongabay.com in a recent interview.
Congo biochar initiative will reduce poverty, protect forests, slow climate change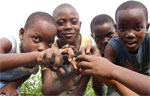 (05/19/2009) An initiative using soil carbon enrichment techniques to boost agricultural yields, alleviate poverty, and protect endangered forests in Central Africa was today selected as one of six projects to win funding under the Congo Basin Forest Fund (CBFF). The scientific committee of the CBFF awarded Belgium's Biochar Fund and its Congolese partner ADAPEL €300,000 to implement its biochar concept in 10 villages in the Equateur Province of the Democratic Republic of Congo. The approach improves the fertility of soils through the introduction of "biochar" — charcoal produced from the burning of agricultural residues and waste biomass under reduced oxygen conditions — thereby increasing crop yields and reducing the need to clear forest for slash-and-burn agriculture.
Biochar and its Role in Mitigating Climate Change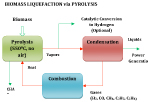 (12/17/2008) The growing concerns about climate change have brought biochar, a charcoal produced from biomass combustion, into limelight. Biochar is a carbon-rich, fine-grained residue which can be produced either by ancient techniques (such as covering burning biomass with soil and allowing it to smolder) or state-of-the-art modern pyrolysis processes. Combustion and decomposition of woody biomass and agricultural residues results in the emission of a large amount of carbon dioxide. Biochar can store this CO2 in the soil leading to reduction in GHGs emission and enhancement of soil fertility. Biochar holds the promise to tackle chronic human development issues like hunger and food insecurity, low agricultural productivity and soil depletion, deforestation and biodiversity loss, energy poverty, air pollution and climate change. Thus, biochar could make a difference in the energy-starved countries of Asia, Africa and Latin America as well as the industrialized world with its vast array of benefits.
Pre-Colombian Amazonians lived in sustainable 'urban' society

(08/28/2008) Researchers have uncovered new evidence to support the controversial theory that parts of the Amazon were home to dense 'urban' settlements prior to the arrival of Europeans in the 15th century. The study is published this Friday in the journal Science. Conducting archeological excavations and aerial imagery across a number of sites in the Upper Xingu region of the Brazilian Amazon, a team of researchers led by Michael Heckenberger found evidence of a grid-like pattern of 150-acre towns and smaller villages, connected by complex road networks and arranged around large plazas where public rituals would take place.
Heavily-populated Amazon was decimated by old world disease

(06/09/2008) Ecologists and archaeologists agree that when Columbus struck the Americas in 1492 everything changed, but questions persist over the kind of world Columbus and his followers would soon transform. Recently the state of the pre-Columbian Amazon has been under increasing debate among scientists across numerous fields. In a lecture given at the ATBC conference (Association of Tropical Biology and conservation) in Paramaribo, Suriname, Dr. Francis Mayle weighed in on the debate.
Could felling and burying trees help fight global warming?

(04/30/2008) Could cutting down trees and burying them help fight global warming? An article in this week's issue of New Scientist suggests so. Ning Zeng, an atmospheric scientist at the University of Maryland in College Park, tells New Scientist that thinning forests and burying "excess wood" in a manner in which its didn't decay could sequester enough carbon to offset all of our fossil-fuel emissions.
Amazon farming technique may fight global warming

(04/11/2008) Fifteen hundred years ago, tribes people from the central Amazon basin mixed their soil with charcoal derived from animal bone and tree bark. Today, at the site of this charcoal deposit, scientists have found some of the richest, most fertile soil in the world. Now this ancient, remarkably simple farming technique seems far ahead of the curve, holding promise as a carbon-negative strategy to rein in world hunger as well as greenhouse gases.
Ancient Amazon fires linked to human populations

(02/20/2008) Analysis of soil charcoal in South America confirms that from a historical perspective, fire is rare in the Amazon rainforest, but when it does occur, it appears linked to human activities. The research, published in Philosophical Transactions of the Royal Society B, is based on dating of soil carbon, which provides a good indication of when fires occurred in Amazonia, according to lead author Mark Bush, head of the Department of Biology at Florida Institute of Technology.
Killers of renowned anthropologist sentenced in Brazil

(07/12/2007) The men charged with the 2005 killing of University of Vermont anthropology professor James Petersen in the Amazon rainforest were sentenced Tuesday to nearly 30 years in prison, close to the maximum under Brazilian law.
Ancient Amazonian technology could save the world
(05/17/2007) Terra preta, the ancient charcoal-based soil used by ancient Amazonians to create permanently fertile agricultural lands in the rainforest, is getting serious consideration as a means to fight global warming and meet domestic energy demand, reports an article in Scientific American.
Who pays for Amazon rainforest conservation?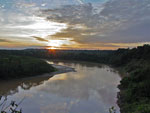 (12/12/2006) Last Monday, Brazil created the world's largest rainforest protected area in the northern Amazon. Covering more than 15 million hectares (57,915 square miles) -- or an area larger than England -- the network of seven new protected reserves has been met with praise by environmental groups. Instrumental in the development of the conservation project has been an organization that most people wouldn't associate with rainforest conservation but certainly should: the Gordon and Betty Moore Foundation.
Global warming could cause catastrophic die-off of Amazon rainforest by 2080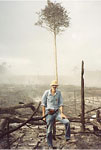 (10/23/2006) For the Amazon, there is an immense threat looming on the horizon: climate change could well cause most of the Amazon rainforest to disappear by the end of the century. Dr. Philip Fearnside, a Research Professor at the National Institute for Research in the Amazon in Manaus, Brazil and one of the most cited scientists on the subject of climate change, understands the threat well. Having spent more than 30 years in Brazil and now recognized as one of the world's foremost experts on the Amazon rainforest, Fearnside is working to do nothing less than to save this remarkable ecosystem. Fearnside believes saving the Amazon will require a fundamental shift in perception where the Amazon is recognized as an asset beyond the current price of mahogany, soybeans, or cattle, where its value is only unlocked by its destruction. The Amazon is far worth more than this he says. It can play a key role in fighting climate change while providing economic sustenance for millions through sustainable agriculture and rational utilization of its renewable products. It can serve as a storehouse for biodiversity while at the same time ensuring reliable water supplies and moderating regional temperature and precipitation. In short, maintaining the Amazon as a viable ecosystem makes sense economically and ecologically -- it is in our best interest to preserve this resource while we still can.
Pre-Columbian Amazon supported millions of people

(10/18/2005) Controversial evidence uncovered over the past decade suggests that the Amazon rainforest was once home to large sedentary populations of people. Besides the well-known empires of the Inca and their predecessors, the Huari, millions of people once lived in the forests and shaped the environment to suit their own needs.