News articles on tcs

---
Mongabay.com news articles on tcs in blog format. Updated regularly.






Tanzanian study says education, better signing could reduce animal vehicle collisions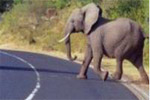 (07/06/2015) Animal vehicle collisions (AVCs) take an incredible toll on wildlife worldwide. In the United States, for example, as many as 1.5 million deer, moose, and other ungulates are annually involved in vehicle crashes, with all yearly U.S. wildlife collisions costing $1 billion and causing 29,000 human injuries. Still, drivers and the media tend to downplay these costs to world wildlife and automotive safety.
Scientists reconstruct what was in the Harapan Rainforest of Sumatra
(05/12/2015) A new study published in mongabay.com's open-access journal Tropical Conservation Science describes how the Harapan Rainforest was prior to extensive logging and compares it to its current condition. The authors call for the Harapan's conservation because it is still very rich in species and holds rare habitats and many endemic plants.
Large animals invaluable for tree-seed dispersal and regeneration of tropical forests
(03/30/2015) Nearly two-thirds of tropical forests in Southeast Asia have been degraded by logging, agriculture and other human uses, and their fauna have been decimated by hunting and the bushmeat trade. But if those degraded tropical forests are to recover naturally, they will need to rely on their remaining large wild animals to disperse large tree seeds, according to a new study.
Just how useful is forest restoration? New study seeks to find out
(03/27/2015) Across the world, scientists estimate there are about two billion hectares of degraded forestland. In Indonesia alone, 25 million hectares of former logging concessions currently have no management, according to research. A study recently published in mongabay.com's open access journal Tropical Conservation Science suggests this may represent an important opportunity for biodiversity conservation through restoration.
Mexico's club mosses at risk of extinction
(03/26/2015) All nine species of the club moss genus Phlegmariurus found in the state of Veracruz in eastern Mexico are at risk of extinction, according to a new study published in the journal Tropical Conservation Science. One of these species, P. orizabae, has not been recorded in the wild since 1854.
Illegal cocoa plantations threaten Côte d'Ivoire's parks and primates
(03/25/2015) Côte d'Ivoire, the world's largest producer of cocoa, also boasts an ecosystem of great biological richness and species diversity, with over 2,250 endemic plants and 270 vertebrate species. Unfortunately, it also has the highest deforestation rate in all of sub-Saharan Africa, largely due to its rise as a significant player in the global agricultural economy after years of civil unrest.
Reforestation programs may help reduce illegal logging in Indonesian Borneo
(03/24/2015) Can the act of planting a tree change one's attitude towards forests and conservation? Erica Pohnan, Hotlin Ompusunggu, and Campbell Webb, from the conservation NGO Alam Sehat Lestari (ASRI), set out to answer this question by evaluating the effectiveness of reforestation programs in and around Gunung Palung National Park in West Kalimantan, Indonesia.
Rat eradication needed to save seabird colony
(12/30/2014) Although only a nuisance in your home, on an isolated island chain (archipelago) off the northeastern coast of Brazil, rats pose a threat to the red-billed tropicbird (Phaethon aethereus). The seabird nests in the remote Abrolhos National Park, but two species of invasive rats prey on its eggs and young: the house rat (Rattus rattus) and the brown rat (Rattus norvegicus).
Endangered mussel still harvested for food in Laos
(12/29/2014) Only one freshwater pearl mussel species is known to inhabit tropical water systems. However, despite being listed as Endangered by the IUCN, it is also still a part of the diet of villagers in Northern Laos. A study published recently found that the dwindling populations of the bivalve would benefit from a ban on their capture.
Scientists rediscover Critically Endangered streamside frog in Costa Rica
(12/26/2014) In the past 20 years, amphibian species around the world have experienced rapid decline due to climate change, disease, invasive species, habitat loss and degradation. Populations have decreased by approximately 40 percent with nearly 200 species thought to have gone extinct since 1980. However, despite these discouraging statistics, new research efforts are turning up lost populations of some vanished frogs.
How a frog with a strange name is helping improve conservation in Brazil
(12/23/2014) Protecting the biodiversity of the Amazon basin is an immense undertaking, and to its credit the Brazilian government has a set procedure for doing so. However, there are gaps in the process that may prevent the authorities from fully protecting the species that call this place home. To investigate this, a recent study uses as an example the brilliant-thighed frog, a species that is found across the Amazon Basin—including the area surrounding the soon-to-be dammed Xingu River.
Conservation conflicting with local ways of life in Mexican reserve
(12/23/2014) Although conservation has good intentions, it can give rise to conflicts when the interests of conservationists put local peoples' livelihoods at stake. A recent study has uncovered an unhappy symbiosis between Mayan subsistence hunters and authorities in Yucatán, Mexico. A lack of understanding and communication about hunting regulations are forcing Mayan hunter societies to alter their traditional ways of living.
Shifting attitudes may help endangered wild dogs in Thailand
(12/22/2014) Once found throughout much of Asia, the dhole—a wild dog species that looks something like a jackal—has been displaced by humans from much of its range. But a new study published in mongabay.org's open-access journal Tropical Conservation Science, offers hope that the two species may be able to coexist, with people living next to protected forest areas in southeastern Thailand showing a favorable attitude towards increasing awareness and conservation efforts for the endangered canids.
Genetics study sheds light on Chile's most endangered bird
(12/22/2014) A member of the Furnariidae family, the small brown and beige bird possesses rusty "spine-like" tail feathers and inhabits densely vegetated areas. Scientists estimate the total population to range from 140 to 500 individuals. In 2012 the IUCN declared the Masafuera Rayadito to be a Critically Endangered species.
Plant wars: some tree species compete better against grasses for reforestation
(12/18/2014) What happens to degraded pastureland once the cows are kicked out? After years of letting the area rest, does it eventually become what it once was? Not likely. When disruptions such as invasive species and human interference are introduced to an area, ecological succession doesn't occur the way it should naturally.
Enough for an elephant: why are Cameroon's elephants raiding fields?
(12/18/2014) Waza National Park in West Africa is a refuge to many endangered and vulnerable species. Walk through the grounds and you may see red-fronted gazelles grazing or giraffes sauntering between trees in search of foliage. Head to the park's perimeter, though, and you may see a less serene scene: elephants raiding local farmers' crops.
Ocelots live in super densities on Barro Colorado Island

(12/18/2014) By comparing camera trapping findings with genetic samples taken from feces, biologists have determined that the density of ocelots on Barro Colorado Island in Panama is the highest yet recorded. There are over three ocelots per every two square kilometers (0.77 square miles) on the island.
Deforestation taking toll on nesting birds in Cameroon
(12/17/2014) The tropical montane forests of the Cameroon mountain ranges boast fertile volcanic soils, high biodiversity of grasses and non-woody plants, as well as many endemic bird species that can be found only in this high-altitude region. Yet, many of these endemic bird species may be at risk due to increased nest predation linked with human-induced forest degradation, according to a new study.
Google Earth used to identify environmentally important termite mounds

(12/17/2014) In woodland and savannah areas, certain termite species play a critical environmental role due to the mounds they build. These mounds can be used as fertilizer to induce new ecosystems, and the termites themselves can be studied as biological indicators of human-caused degradation. Detecting the amount and distribution of these mounds throughout an area can provide importance insight on the overall health of an environment. However, detecting the mounds on the ground can be a costly and time-consuming activity.
Scientists reintroduce agoutis in rainforest in city of 12 million
(12/17/2014) When one thinks of Rio de Janeiro, one usually doesn't think: rainforest. However, in the heart of the city sits a massive rainforest sprung over long-gone sugar and coffee plantations. The forest—protected today as the Tijuca National Park—is home to hundreds of threatened species, but no agoutis, a common ground mammal in Latin America.
New mapping technique sheds light on dry forests
(12/16/2014) The extreme habitat heterogeneity of Southeast Asian forests makes it difficult to map their different compositions, resulting in a lack of study of many forest types and their underrepresentation in protected area networks. To address this issue, researchers came up with a remote sensing-based method to accurately delineate forest types, which they demonstrate in a study released this week by focusing on one particular forest type: Dry Deciduous Dipterocarp forests.
Use of mammals still prevalent in Brazil's Conservation Units
(10/06/2014) For as long as humans and animals have co-existed, people have utilized them as resources. Animals, and their parts, have been used for a variety of purposes, ranging from basic food to more esoteric practices such as in magical ceremonies or religion. A new study has found that the undocumented use of animals, particularly mammals, continues to occur in Brazil's protected areas known as Conservation Units.
Studying common birds could help save rare species in Vietnam

(09/30/2014) Studies in conservation biology often focus on rare, threatened species faced with impending extinction, but what about common animals of least concern? Could they too help conservationists fine-tune their approach? Doctoral researcher Laurel Yohe not only claims that they can, but demonstrates how in a new study. She and five other researchers compared ranges of five babblers with development across Vietnam.
Armed conflict decimates tigers, rhinos, and swamp deer in Indian park

(09/30/2014) The human cost of war is horrendous. However, while most attention is focused on the suffering caused to people—and rightly so—an understudied element is the impact on wildlife conservation. This is worrying given that many of the world's conflict zones are situated in biodiversity hotspots.
A weed by any other name: remnant shrubs and trees play vital role in regenerating forests
(09/29/2014) Tropical forest restoration projects are exciting research sites for scientists studying factors that affect ecosystem recovery. Here, scientists are trying to understand plant community succession, i.e. the process of recovery after cleared lands are abandoned and allowed to regrow naturally. One of the most important components of this recovery process is seed dispersal, since seeds from nearby forests allow a deforested habitat to become populated again by native plants and trees.
Dogs may be responsible for declining mammals in Brazil's agroforests
(09/26/2014) With an estimated population of 700 million individuals, domestic dogs are the most abundant carnivore in the world and are present everywhere that man has settled. Domestic dogs are not usually viewed as a huge threat to wildlife and native habitats, but according to a recent study dogs fit all three categories to be considered an invasive species and may be decimating mammals in agroforests in Brazil.
Reintroduction program ups Mexico's scarlet macaw population by 34 percent in one year
(09/25/2014) While listed as Least Concern by the IUCN, the scarlet macaw has disappeared from almost all of its native range in Mexico, is very rare in most Central America countries, and is locally extinct in El Salvador. A new paper published this week finds a reintroduction program was hugely successful in its first year of operation, with a 92 percent survival rate for released birds.
Scientists use genes, feces to study disappearing monkeys
(09/24/2014) Human pressures through tree clearing and poaching are reducing both forest and fauna in West Africa. In response to dwindling primate populations, scientists used genetics techniques to examine their makeup and outlook – demonstrating the usefulness of such methods in the study of animals that are becoming ever-fewer in number and ever-harder to find.
Drivers in Brazil will intentionally run-down small animals, but only if it is safe
(09/24/2014) Although not always very wide, roads can be huge barriers to wildlife. Not only do roads break up habitats, making animal movement more difficult, but they also allow people into long-inaccessible natural areas. A new study in mongabay.com's open-access journal Tropical Conservation Science looks at how drivers on Brazil's MG-010 road act when faced with small animals, such as snakes, on the path.
Fragmented forests hurt some bat species, may benefit others
(09/23/2014) Development of roads and other structures disturb large, continuous patches of habitat for wildlife. This habitat fragmentation is one of the biggest contributors to species extinction, as the local ecology and species interactions are altered. A new study finds that leaf-nosed bat abundances in Mexico are closely linked to how sensitive each species is to habitat fragmentation.
'Exciting implications' for conservation: new technology brings the lab to the field
(06/26/2014) Times have changed, and technological advancements have scaled down scientific equipment in terms of both size and cost. Among them are the tools and procedures needed to conduct molecular genetic analysis. A study published this week explored the potential applications of this new technology, and found that it allows both researchers and novices alike to analyze DNA in the field easily, cheaply, and effectively.
Size matters: small animals abundant in fragmented forests, large animals not
(06/25/2014) Habitat fragmentation and hunting are both distinct critical issues facing forests today that require their own countermeasures. Yet, much research has chosen to conflate the two, potentially leading to ineffective ecosystem management. According to a new study, the interaction of both factors can contradict the effects of hunting and fragmentation alone, revealing a research and management gap that urgently needs to be filled.
Logging in Vietnam still affecting rare trees 30 years later
(06/25/2014) Restricted geographic ranges, high habitat specificity, and small local population sizes all contribute to the natural rarity of many tree species. Anthropogenic activities such as selective logging can compound this rarity by modifying habitats and altering the competitive balance among tree species. According to a new study, previous logging in the forests of Vietnam continue to put rare tree species at risk.
A taste for wildlife: what's driving bushmeat hunting in Tanzania?
(06/25/2014) Barbed-wire snares, spent shotgun shells, the lingering smell of gunpowder, and strips of curing meat: glimpses from a bushmeat hunt. Bushmeat hunting is the illegal hunting of wildlife for food and income. A new study reports regular bushmeat consumption by a large proportion of Tanzania's tribal populations. Co-authors Silvia Ceppi and Martin Nielson were hunting for their own answers: who was eating bushmeat and why?
Study finds tiny cloud forests have big biodiversity
(06/24/2014) Tropical cloud forests are situated in mountains and are characterized by the frequent presence of low-level clouds. Scientists have always regarded them as having high biodiversity, but a recent study adds a new dimension: it found cloud forests contain a significant and surprising array of tree and bromeliad species, even when they are relatively small.
Scientists: Neotropical otter should not be considered threatened

(06/24/2014) The Neotropical otter (Lontra longicaudis) should not be considered threatened by the IUCN Red List, according to a new paper in mongabay.com's open-access journal Tropical Conservation Science. Currently the species is listed as Data Deficient, but was considered Vulnerable until 2000.
Monkeys reset camera trap, capture first-ever images of flat-headed cats in park
(06/23/2014) Photo trapping is a popular technique for gathering images and information about elusive wildlife. Recently, camera traps captured the first-ever images of wild flat-headed cats in the Pasoh Forest Reserve, an unexpected find in the forestland southeast of Kuala Lumpur, according to a new report in mongabay.com's open access journal Tropical Conservation Science.
Will yellow fever drive brown howler monkeys to extinction in Argentina?
(04/04/2014) The brown howler monkey is listed as Critically Endangered in Argentina, where a small number persist in the northeastern portion of the country. Although habitat loss and other human impacts have contributed to the populations' decline, a new report indicates that yellow fever outbreaks in the region are primarily to blame.
Kala: the face of tigers in peril
(03/27/2014) In 1864, Walter Campbell was an officer in the British Army, stationed in India when he penned these words in his journal: "Never attack a tiger on foot—if you can help it. There are cases in which you must do so. Then face him like a Briton, and kill him if you can; for if you fail to kill him, he will certainly kill you." In a stroke of good fortune for the tiger, perceptions in India have changed drastically since Campbell's time. Tiger hunting is now banned and conservationists are usually able to rescue the big cats if they become stranded while navigating increasingly human-occupied areas. But is this enough to save the tiger?
Researchers use new technique to shed light on endangered tapir
(03/26/2014) A new study, recently published in mongabay.com's open access journal, Tropical Conservation Science, uses a new technique to examine the behavior and distribution of the Endangered Baird's tapir (Tapirus bairdii) in the southern forests of Mexico. One of four species of Central American tapir, Baird's tapir was recently ranked 34th on a list of 4,000 endangered animals in need of urgent protection by the Zoological Society of London.
Alien trees use logging roads to invade Borneo forests
(03/25/2014) The spiked pepper tree (Piper aduncum) is native to the American tropics, but has made itself at home in a variety of other locales where it can crowd out local vegetation and interfere with forest recovery. Although it's been slow to spread through Borneo since its introduction to Indonesia in 1952, new logging roads appear to be driving the species farther afield. A study in mongabay.com's open access journal Tropical Conservation Science raises concerns that these roads may bring unintended plant colonists to new areas – putting the biodiversity of forests at risk.
Over 9,000 primates killed for single bushmeat market in West Africa every year
(03/24/2014) Over the past 25 years, West Africa's primates have been put at risk due to an escalating bushmeat trade compounded with forest loss from expanding human populations. In fact, many endemic primates in the Upper Guinea forests of Liberia and Ivory Coast have been pushed to the verge of extinction. To better understand what's happening, a recent study in mongabay.com's open-access journal Tropical Conservation Science investigated the bushmeat exchange between these neighboring countries.
Bizarre, endangered bird discovered in high densities

(03/24/2014) The turkey-sized, noisy, fruit-feasting guans are arguably one of the strangest wildlife sightings in the tropical forests of Central and South America. Ancient animals, these birds are members of the Cracidae family—which also include equally-odd currasows and chachalacas—and are actually distantly related to megapode, or mound-building, birds of Australiasia. A new study in mongabay.com's open-access journal Tropical Conservation Science looks at a particularly endangered guan: the Cauca gaun (Penelope perspicax).
Asian elephants depend on shifting cultivation during the dry season

(12/16/2013) Asian elephants (Elephas maximus) have co-existed with human practices for thousands of years, including shifting cultivation. Shifting agriculture encompasses a variety of different practices that involve abandoning plots for periods of time to allow natural vegetation to grow. The practice consists of cutting and burning the natural vegetation at the end of the dry season and cultivating with the rains. Harvesting is completed by the end of the wet season.
A bird's eye view of hornbills in northeast India
(12/16/2013) Hornbills are as peculiar, as they are magnificent. Their calls especially, can sound rather strange to the uninitiated - some grunt, some growl, and some cackle maniacally. These queer birds, with their large brightly-colored curved beaks, and a distinctive cavity-nesting habit, are also totem animals for many tribes in India.
Scientists: well-managed forest restoration benefits both biodiversity and people

(12/16/2013) In November this year, the world was greeted by the dismaying news that deforestation of the Brazilian Amazon jumped 28% in the past year. The year 2013 also holds the dubious distinction of being the first time since humans appeared on the planet, that carbon concentrations in the atmosphere rose to 400 parts per million. A map by Google revealed that Russia, Brazil, the United States, Canada and Indonesia all displayed over 10 million hectares of gross forest loss from 2000-2012, with the highest deforestation rate occurring in Malaysia.
Camera traps find less mammals than expected in Costa Rican corridor

(12/16/2013) A new study using camera traps in mongabay.com's open-access journal Tropical Conservation Science has surveyed the diversity of medium and large-sized predators in the San Juan-La Selva biological corridor in Costa Rica, whilst also demonstrating how alteration of habitat is affecting the use of this corridor.
Odd porcupine hugely imperiled by hunting, deforestation
(12/16/2013) The thin-spined porcupine, also known as the bristle-spined rat, is a truly distinct animal: a sort of cross between New World porcupines and spiny rats with genetic research showing it is slightly closer to the former rather than the latter. But the thin-spined porcupine (Chaetomys subspinosus), found only in Brazil's Atlantic Forest, is imperiled by human activities. In fact, a new study in mongabay.com's open access journal Tropical Conservation Science found that the species remains a target for hunters, despite a reputation for tasting terrible.
Characteristics of nutmeg family explored

(11/11/2013) A special issue of Mongabay's open-access academic journal, Tropical Conservation Science, explores the state of knowledge of the nutmeg (Myristicaceae) tree family.
Wildlife in Nilgiris Biosphere Reserve suffers from lack of a transition zone
(10/01/2013) The Nilgiris Biosphere Reserve in southern India acts as a conduit between the biodiversity-rich Western Ghats, a mountain range parallel to the western coast of India and its eastern counterpart, the Eastern Ghats. Established in 1986 by Government of India, the 5,520 square kilometer reserve was recognized by UNESCO in 2000. However a new study in mongabay.com's open-access journal Tropical Conservation Science finds that the lack of a transition zone in the Nilgiris Biosphere Reserve has undercut the aims of this crucial protected area.
Has Brazil turned against its progressive environmental policies?
(09/30/2013) Last year, Brazil rolled back crucial parts of its landmark Forestry Code, potentially opening vast tracts of forest for destruction; it is also moving ahead on a number of Amazon dams, including the infamous Belo Monte, despite international condemnation and conflict with indigenous people. Meanwhile, a new law under consideration proposes allowing large-scale mining in protected areas. Given this a new paper in mongabay.com's open access journal Tropical Conservation Science argues that Brazil has thrown off its once admired mantle of environmental legislation, imperiling hundreds of thousands of species in the most biodiverse country on Earth.
African manatee hanging on in Cameroon

(09/30/2013) In the Lower Basin of the Sanaga River in Cameroon, near Lake Ossa and the Douala-Edea National Parks, manatees swim and float about like round, potato-shaped mermaids. This region is home to the West African manatee (Trichechus senegalensis), an aquatic mammal facing a decline in population. Classed as Vulnerable by the IUCN Red List, the West African manatee is threatened by excessive kills, habitat loss, and habitat degradation. Given this, and the dearth of information about manatees, a group of Cameroon scientists have taken an ethnobiological approach (i.e. the interaction between people and wildlife) by employing skilled, knowledgable locals to collect data on the manatees.
Camera-traps reveal surprising mammals at remote site in Honduras (photos)
(09/30/2013) A camera trap survey along the Sikre River in Honduras has discovered that the region is home to a menagerie of rare mammals, including giant anteaters. The survey, published in mongabay.com's open access journal, Tropical Conservation Science, recorded five cat species in 70 square kilometers.
Are 'novel' tropical forests nature's response to global change?

(08/22/2013) We now live in a world dominated by humans (the Anthropocene), whose activities on Earth are resulting in new habitats and new environmental conditions including climate change. To many, the Anthropocene is an era of environmental doom that unless reversed, will result in catastrophic reductions in biodiversity. An alternate view is that the biota will adjust to the new environmental conditions and through processes of species mixing and self-organization will form sustainable novel communities of organisms.
60 big cats killed in Brazilian parks in last two years
(06/24/2013) At least 60 big cats have been killed within national protected areas in Brazil during the past two years according to a recent survey published in mongabay.com's open access journal Tropical Conservation Science. The report, which focuses on jaguar (Panthera onca) and puma (Puma concolor) populations, within Brazilian protected areas shows that reserve management and use restrictions impact the level of big cat hunting.
On guard: protecting wildlife in a heavily hunted Brazilian forest

(06/24/2013) The Brazilian government offers tax relief to landowners who set aside areas for preservation. While this has expanded the system of private ecological reserves considerably, the Brazilian government currently lacks funding to enforce the protection of these lands from threats such as hunting, leaving the responsibility to the landowners.
Over 16,000 wild mammals and birds sold in Nagaland market, India, annually
(06/24/2013) A comprehensive survey of the wildlife sold in the markets of Tuensang has resulted in a stunning record of the wildlife trade in the state of Nagaland in northeast India, as reported in a new study published in mongabay.com's open-access journal Tropical Conservation Science. Once a week, researchers with the Sálim Ali Centre for Ornithology and Natural History and the Near Chang Baptist group entered the Tuensang market and carried out intensive surveys and interviews of vendors selling wild birds or mammals.
Local people provide wildlife and forest data in park plagued by conflict
(06/24/2013) There are often many obstacles for scientists when gauging wildlife decline and forest loss, and one of the most difficult is civil conflict, like the situation in the Similipal Tiger Reserve in India. But a new study in mongabay.com's open access journal Tropical Conservation Science (TCS) finds that local communities may be used to gauge forest loss and wildlife decline for baseline data when conflicts or other obstacle prevent long-term research and monitoring.
Peruvian night monkey threatened by vanishing forests, lost corridors
(03/18/2013) The Peruvian night monkey (Aotus miconax) is one of the world's least known primates, having never been studied in the wild--until now. Found only in the cloud forests of northern Peru, a group of scientists with Neotropical Primate Conservation and the National University of Mayor San Marcos have spent 12 months following a single group of this enigmatic monkey species in a small forest patch. The results of their research, published in mongabay.com's open access journal Tropical Conservation Science, shows that protecting forests, even small forest fragments, is vital to the species' survival.
Scientists successfully freeze Barbary sheep embryos for conservation purposes

(03/18/2013) The Barbary sheep (Ammotragus lervia), or aoudad, is a goat-antelope found in northern Africa. It is currently listed as Vulnerable by the IUCN Red List, with populations imperiled by hunting, habitat loss, and competition with livestock. Still little is known about its remaining population, prompting scientists in Mexico to test possible assisted reproduction of captive individuals.
Deer populations hurt by poaching in Mexican dry forest

(03/18/2013) White-tailed deer are usually thought of as inhabiting temperate forests in the U.S. and Canada, but this widespread species can also be found across tropical forests, from Mexico to Peru. A new study in mongabay.com's open access journal Tropical Conservation Science investigates the population of white-tailed deer (Odocoileus virginianus) in Mexico's Tehuacan-Cuicatlan Biosphere Reserve (TCBR), and finds that poaching may be having a large impact.
Invasive plants hurt locals in Mauritius

(03/18/2013) Native species on the island of Mauritius have long had to deal with invasive species. In fact, invasives likely played a major role in the extinction of the Mauritius' most famous resident, the dodo. While scientists have long cataloged the impact of invasive animals on island wildlife, there has been less clarity when it comes to invasive plants. However, a new paper in mongabay.com's open access journal Tropical Conservation has found that invasive plants do indeed negatively impact local species.
Forgotten lions: shedding light on the fate of lions in unprotected areas
(03/18/2013) African lions (Panthera leo) living outside of protected areas like national parks or reserves also happen to be studied much less than those residing within protected areas, to the detriment of lion conservation initiatives. In response to this trend, a group of researchers surveyed an understudied, unprotected region in northwestern Mozambique called the Tete Province, whose geography and proximity to two national parks suggests a presence of lions.
Scientists successfully reintroduce gaur in Indian park

(03/18/2013) Gaur (Bos gaurus gaurus) is one of the large wild ungulates of Asian jungles. It is the tallest living ox, and one of the four heaviest land mammals (elephant, rhino and wild buffalo are the other three), weighing up to 940 kilograms (2,070 pounds) and standing between 1.6 and 1.9 meters (5.2 to 6.2 feet) at the shoulder. Gaur were once distributed throughout the forested tracts of India and South Nepal, east to Vietnam and south to Malaya. Today, however, they are confined to just over a hundred existing, and 27 proposed, Protected Areas in India.
Heavy metal shark meat: dangerous lead levels found in sharks used as fish food
(03/18/2013) A recent study published in mongabay.com's open access journal Tropical Conservation Science raises concerns about levels of heavy metals, particularly lead (Pb), present in shark meat, as well as the decline of shark abundance due to global fishing pressures. Sharks are primarily caught as by-catch for other fishing industries. By one account, 70% of the total catch in swordfish long-line fisheries was sharks. Due to consumer demand, this by-catch is sold to Asian fish markets as fin and trunk meat. Much of the trunk and organ meat is used to make fish-meal, which is then fed to farmed fish.
Innovative idea: wildlife income may help people withstand drought in Africa

(03/18/2013) Getting local people to become invested in wildlife conservation is not always easy, especially in parts of the world where protected areas are seen as taking away natural resources from local communities. This tension lies around Gonarezhou National Park in Zimbabwe, where a growing population of livestock herders competes with wildlife.
Logging studies plagued by sampling problems

(03/18/2013) Although research into the impact of selective logging in tropical forests has been booming recently, much of it is undercut by basic research flaws, according to a new study in mongabay.com's open access journal Tropical Conservation Science. Selective logging means targeting certain species or only a particular number of trees per hectare, and as such is considered generally more environmentally-friendly than clearcutting, which strips entire forests.
Selective logging changes character of tropical forest

(02/28/2013) Selective logging is usually considered less harmful than other forestry practices, such as clear cutting, but a new study in mongabay.com's open access journal Tropical Conservation Science has found that even selective logging has a major impact on tropical forests lasting decades. Comparing trees in two previously logged sites and two unlogged sites in northeast India, researchers found less tree diversity in selectively logged forests with trees dispersed by birds proved especially hard-hit.
Poaching in Serengeti seems worth the risk

(12/10/2012) Illegal hunting in Tanzania's Greater Serengeti Ecosystem (GSE) remains a prevalent activity for local people, despite government regulation and grassroots movements to prevent it. A new paper from mongabay.com's open-access Tropical Conversation Science examines the factors that drive poachers to continue their activities, despite the high costs involved. By interviewing citizens involved with illegal hunting in the Western part of the Serengeti, they were able to identify key risks that are faced by the hunters as well as the perceived gains of a successful hunt.
Recovery of Atlantic Forest depends on land-use histories

(12/10/2012) The intensity of land-use influences the speed of regeneration in tropical rainforests, says new research. Tropical rainforests are a priority for biodiversity conservation; they are hotspots of endemism but also some of the most threatened global habitats. The Atlantic Forest stands out among tropical rainforests, hosting an estimated 8,000 species of endemic plants and more than 650 endemic vertebrates. However, only around 11 percent of these forests now remain.
New inroads made into bushmeat consumption in Tanzania

(12/10/2012) Bushmeat consumption, or "wildlife hunted for human consumption," poses a significant threat to wildlife conservation all across the globe. But in Eastern Africa—where savannah grasslands flourish and big game roam free within 'protected' reserves—one may be forgiven to think that poaching does not occur here: but it does.
REDD+ should pave way for more research into genetic studies of tropical species

(12/10/2012) Reducing Emissions from Deforestation and Degradation (REDD+), the UN program to conserve tropical forests by paying developing nations to keep them standing, should go hand-in-hand with increased genetic studies of imperiled tropical biodiversity, according to a new opinion article in mongabay.com's open access journal Tropical Conversation Science.
Vanishing corridors: trying to keep big animals on the move across Tanzania
(12/10/2012) One of the biggest challenges for big African wildlife like lions, elephants, and buffalo is movement across native habitat that is increasingly being encroached on by humans. Animals find their movement restricted by roads, fences, and property boundaries which fragment the landscape. Without safe, smart, and well-maintained corridors between designated wildlife areas, animals can get cut off from resources needed for survival and from potential mates (putting genetic health at risk), even while conflicts with humans become more frequent.
Measuring nutrient pollution in pristine waters: Puerto Rico's Vieques Island

(12/10/2012) Life in the ocean require nutrient, but too much of a good thing can be hugely detrimental. Nutrient pollution from agricultural and industrial runoff causes serious ecological harm in the world's marine waters, at times producing massive "dead zones" where much of the dissolved oxygen has been stripped making it difficult for most marine animals to live there. A new study by scientists with the U.S. National Oceanic and Atmospheric Administration (NOAA) attempts to establish a baseline of nutrient levels in the largely pristine waters around the island of Vieques off of Puerto Rico.
A new method to monitor stray dog abundance

(12/10/2012) Free-roaming dogs (Canis familiaris) can fill a variety of ecological roles including competitor, predator, prey, and transmitter of disease to both wildlife and people with particular concern for rabies. A range of methods has been used to control dog populations, but monitoring dogs is a critical part of assessing the effectiveness of these methods.
Reducing the risk that REDD+ will shift conservation funding away from biodiverse forests

(12/10/2012) One of the major concerns about the Reducing Emissions from Deforestation and Degrdatation (REDD+) program is that it could prioritize conservation of high carbon ecosystems like peatlands over high biodiversity landscapes, effectively shifting conservation funding away key wildlife-rich areas. A new paper, published in Tropical Conservation Science, analyzes the issue and suggests approaches that could reduce the potential detrimental impacts of REDD+ on biodiversity.
Method to estimate primate abundance falls short

(09/17/2012) Counting wildlife may sound straight-forward, but achieving accurate estimates has plagued scientists for centuries, especially in difficult and dense environments like rainforest. Recently, one method to estimate leaf-eating primates was to look at leaf quality in a particular habitat, particularly the ratio of protein to fiber in leaves. However, a new study in mongabay.com's open access journal Tropical Conservation Science adds to growing concerns regarding this model by finding that it doesn't accurately predict abundance of red colobus (Procolobus rufomitratus) in Uganda's Kibale National Park.
Turtle knowledge in Africa shows significant gaps

(09/17/2012) Sometimes turtles fall through the cracks: a new study in the open access journal Tropical Conservation Science, has uncovered a number of 'gap species' in the turtle families inhabiting Africa. 'Gap species' are those that are recorded in one country or another, but not in adjacent countries which could be due to a lack of data, a change in ecosystems, or human impacts.
Bushmeat consumption differs between communities in Tanzania

(09/17/2012) Bushmeat consumption depends on the make-up of individual communities, according to a new study in the open access journal Tropical Conservation Science. By interviewing indigenous groups and refugees living near two protected areas in western Tanzania, researchers found that consumption rates differed significantly, likely based on costliness and access.
Wax palm can be sustainably harvested

(09/17/2012) The wax palm can be harvested sustainably with just a few management restrictions, according to a new study in mongabay.com's open access journal Tropical Conservation Science (TCS). Found only in the Peruvian and Ecuadorian Andes, the leaves of the wax palm (Ceroxylon echinulatum) are used to make Easter handicrafts. But the practice has caused fears that the species, which is currently categorized as Vulnerable by the IUCN Red List, is being overexploited.
Rare birds abound in Brazil's Acre state

(09/17/2012) The Brazilian state of Acre has had little attention by bird-lovers and bird scientists, though it lies deep in the Amazonian rainforest. Now a new survey in mongabay.com's open access journal Tropical Conservation Science by ornithologist, John J. DeLuca, works to build a better picture of rare birds in this largely-neglected region. The work is all the more important as the Brazil-Peru Interoceanic Highway could bring massive changes to the region.
Buffer zones key to survival of maned wolf
(09/17/2012) Known for its abnormally long lanky legs, its reddish-orange coat, and its omnivorous diet, the maned wolf (Chrysocyon brachyurus) is one of the more beautiful and bizarre predators of South America. However its stronghold, the Brazilian Cerrado, is vanishing rapidly to industrialized agriculture and urban development. Now, a new study in mongabay.com's open access journal Tropical Conservation Science reveals the key role of buffer zones and unprotected areas in keeping the maned wolf from extinction in the Cerrado savannah, where only 2 percent of the ecosystem is under protection.
Rodents have lowest diversity in primary forests in the Congo

(09/17/2012) For many animal families, diversity and abundance rises as one moves away from human-impacted landscapes, like agricultural areas, into untouched places, such as primary rainforests. However, a new study in mongabay.com's open access journal Tropical Conservation Science, shows that the inverse can also be true. In this case, scientists working in the Democratic Republic of Congo's (DRC) Maskao Forest found that both rodent diversity and abundance was lowest in primary forest.
Extremely rare plant region left unprotected in the Yucatan Peninsula

(09/17/2012) For the first time, scientists have identified the areas of the Yucatan Peninsula that hold the highest concentrations of endangered woody plants, which includes trees, shrubs, and lianas. In doing so they uncovered four key regions, but also noted that the region with the highest concentration of extremely rare plants was left unprotected, according to a new paper in mongabay.com's open access journal Tropical Conservation Science.
Over 80 species targeted by hunters in Brazil's northeast

(09/17/2012) A new survey of hunting in Brazil's northeastern state of Paraíba, finds that hunters target, often illegally over 80 species for food, the pet trade, medicine, leather, fur, and ornaments. Over half of the species, mainly birds and mammals, are targeted for food, according to the research published in mongabay.com's open access journal Tropical Conservation Science.
Predicting the distribution of tropical dung beetles

(07/09/2012) Although they live in almost every ecosystem in the world—from your backyard to the Antarctic—scientists know very little about many insect species, including many individual species' distribution. A new study in mongabay.com's open-access journal Tropical Conservation Science attempts to predict the range of 53 dung beetle species in the genus Eurysternus, all of which are found in the American tropics. Dung beetles are hugely important to their environments, since they efficiently devour and recycle waste.
Poaching in the Serengeti linked to poverty, high legal hunting prices

(07/09/2012) In the effort to protect the Serengeti—arguably Africa's most famous ecosystem—one of the major problems is the bushmeat trade. Population growth, little available protein, poverty, and a long-standing history of hunting has led many communities to poach wildlife within Serengeti National Park. Interviewing over a thousand community members in the western Serengeti, scientists found that community members are largely aware that wildlife hunting is illegal and that conservation of wild species is important, but hunt animals anyway partly out of necessity.
Making reforestation work in abandoned pasturelands

(07/09/2012) Tropical reforestation is not easy, especially in abandoned pasturelands. But a new study in mongabay.com's open access journal Tropical Conservation Science finds that removing grasses prior to and after planting native tree seeds significantly improves the chances of forests to take root. The study site, located in Mexico's Lacandon rainforest, was covered in an invasive African grass (Cynodon plectostachyus).
Poaching results in elephant gender imbalance in Indian park

(07/09/2012) Scientists have undertaken a new census of Asian elephants (Elephas maximus) in India's Biligiri Rangaswamy Temple Tiger Reserve (BRT) following almost 30 years of sustained poaching. Estimating that the park contains four female elephants for every male, the scientists warn in a new study in mongabay.com's open access journal Tropical Conservation Science that this gender imbalance threatens the population. Poachers target male Asian elephants for their tusks, generally leaving females untouched.
Critically Endangered capuchins discovered in four new locations

(07/09/2012) The Ecuadorian capuchin, a Critically Endangered subspecies of the white-fronted capuchin (Cebus albifrons), has been discovered in four new locations according to a new study in mongabay.com's open access journal Tropical Conservation Science. Found only in Ecuador and northern Peru, the scientists say the monkey may be unique enough to warrant consideration as a distinct species.
Tracking elephants in Cameroon to mitigate conflict with locals

(07/09/2012) Elephant conservation is imperiled by poor spatial planning, according to a new study in mongabay.com's open access journal Tropical Conservation Science. Tracking two elephant matriarchs in and around Bénoué National Park in Cameroon, scientists found that the herds spent over half their time outside of the park, highlighting the potential for human-wildlife conflict as elephants are known to raid fields.
Bad science journalism: articles spread misinformation about whale sharks
(07/09/2012) The death of one of the world's largest recorded whale sharks (Rhincodon typus) in the Arabian Sea provoked a sudden global interest in these massive shark. Weighing 14.5 tons, the fish in question made 'whale shark 'whale shark' the number 3 top search in Google Trends on the day the news hit. But, according to a new study in mongabay.com's open access journal Tropical Conservation Science, more than half the reports filed by journalists were "factually wrong."




Page 1 | Page 2