News articles on taxonomy

---
Mongabay.com news articles on taxonomy in blog format. Updated regularly.





Giant clams are easy to recognize, but genetics proves there is more than meets the eye


(12/21/2013) Giant clams are among the more easily spotted invertebrates of the marine realm. However, some are actually quite cryptic and distinct species are often difficult to identify, claims a study recently published in PlosOne. Much attention has been focused on charismatic species in research, but the scientists who authored the study argue that giant clams also deserve the spotlight because of the potential threats and present misunderstandings regarding their taxonimical classifications.


The neglected giraffe: world's tallest animal in need of conservation assistance


(06/27/2013) Just two year's before his assassination, Julius Caesar brought to Rome one of the world's most astonishing living creatures: a giraffe. The animal was among Caesar's spoils from his campaign in Egypt and according to the Roman writer, Dio, the giraffe, which was arguably the first to ever touch European soil, was paraded in the Circus for all to see. Today, over two thousand years later, the giraffe has become one of the world's most recognizable animals: after all nothing looks quite like it with its spotted coat, tufted horns, and, most importantly, that impossibly long neck. But less commonly known is that the giraffe is in trouble with some subspecies down to just a few hundred individuals.


Scientists describe over 100 new beetles from New Guinea


(06/03/2013) In a single paper, a team of researchers have succinctly described 101 new species of weevils from New Guinea, more than doubling the known species in the beetle genus, Trigonopterus. Since describing new species is hugely laborious and time-intensive, the researchers turned to a new method of species description known as 'turbo-taxonomy,' which employs a mix of DNA-sequencing and taxonomic expertise to describe species more rapidly.


Three new species of carnivorous snails discovered in endangered habitat in Thailand (photos)


(05/23/2013) Scientists from Chulalongkorn University, Bangkok and the Natural History Museum, London recently discovered three new species of carnivorous snails in northern Thailand. However, the celebration of these discoveries is tainted by the fact that the new snails are already threatened with extinction due to the destruction of their limestone habitat.


Looking beyond the hundred legs: finding new centipedes in India requires many tools


(04/08/2013) A small, boneless creature, that lives underground, with a "hundred" legs, and a rather powerful sting; some of these creatures are drab, but some are so beautiful and brightly colored that they can startle. Centipedes. There is more to a centipede than its many legs, and its habit of darting out of dark places. One of the first lifeforms to turn up on land, some centipede fossils date back to about 450 million years ago. They have been evolving steadily since, with some estimates showing about 8,000 species today. Not even half of these species have been taxonomically described.


Scientists discover new wasp species in a field box from the 1930s (photos)


(04/03/2013) Searching through materials at the Natural History Museum in Paris, Simon van Noort recently came across a long-neglected field box of wasp specimens. Collected 80 years earlier by André Seyrig in Madagascar, the box contained several specimens of wasp in the Paramblynotus genus. The big surprise: wasps in this genus had never before been seen in Madagascar.


Scientists could name every species on Earth in 50 years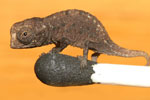 (01/28/2013) A bold new paper in Science argues that the world's species could be named and described before they vanish into extinction, though the threat of eventual extinction will remain for many, especially as climate change worsens. The scientists say that contrary to popular belief, there are more taxonomists working than ever before and there are likely less species on Earth than often reported, making finding and naming the world's species within reach this century.


Noel Rowe: all the world's primates "in one place"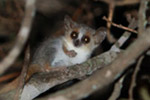 (05/14/2012) Spanning the gamut from mouse lemurs to mountain gorillas, All The World's Primates is a comprehensive database of primate species. Founded in 2004 by Noel Rowe and Marc Myers and designed primarily to aid scientists and college students in primatology research, ATWP is also readily accessible to anyone who would like to know a little more about primates. The database is continually updated when new species are discovered; from its inception in 2004 until 2010, 58 new species had been added to the site. In addition to discoveries made by primatologists in the field, All The World's Primates compiles information from the latest genetic studies. The site also includes photos and videos of many species, and was recently expanded to include a visual key for identification.


Coral reef biodiversity may be vastly underestimated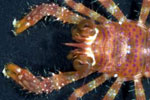 (11/03/2011) Researchers with the Smithsonian have catalogued almost as many crab species on tropical coral reef bits measuring just 20.6 square feet (6.3 square meters) as in all of Europe's seas, finds a new paper in PLoS ONE. The team used DNA barcoding to quickly identify a total of 525 crustaceans (including 168 crab species) from dead coral chunks taken from seven sites in the tropics, including the Indian, Pacific and Caribbean oceans.


Humanity knows less than 15 percent of the world's species


(08/23/2011) Scientists have named, cataloged, and described less than 2 million species in the past two and a half centuries, yet, according to an new innovative analysis, we are no-where near even a basic understanding of the diversity of life on this small blue planet. The study in PLoS Biology, which is likely to be controversial, predicts that there are 8.7 million species in the world, though the number could be as low as 7.4 or as high as 10 million. The research implies that about 86 percent of the world's species have still yet to be described.


Not enough data on world's tropical plants to predict impact of warming world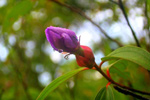 (02/14/2011) How many tropical plant species are threatened by climate change? Which plants have big enough ranges to survive a warming world, not to mention deforestation? How likely is it that the tropics are undergoing a current mass extinction? These questions may appear straight forward, but a new study in Global Change Biology finds that researchers lack the hard data necessary to come to any confident conclusions. According to the study, nine out of ten tropical plants from Africa, Asia, and South America lack the minimum number of collections needed (at least 20) to determine the species' range, and therefore predict the impact of climate change.