News articles on tanya dimitrova

---
Mongabay.com news articles on tanya dimitrova in blog format. Updated regularly.






Scientists name new endangered species after the company that will decide its fate
(08/24/2014) Scientists have discovered a new snail species near a cement quarry in Malaysia, which as far as they know lives nowhere else in the world. It lives on a limestone hill called Kanthan given as a concession to an international company Lafarge. The cement producer quarries the hill for raw materials. As a result, the scientists have named the species after the company that will decide if it goes extinct.
Shot Egyptian vulture leads conservationists to bizarre black-market for bird parts
(06/24/2014) Around 11 AM on Thursday, 27 February 2014, Angoulou Enika was lying hidden in the tall grass on the side of a large water hole in the Sahel region of Niger. He was staying as quiet as he could while aiming his custom-made rifle at an Egyptian vulture which had landed nearby to drink from the water. He took a breath, held it and fired. The large bird fell to its side.
A new face for palm oil? How a small co-op is changing the industry in Honduras
(04/10/2014) Expanding oil palm plantations are among the top reasons for deforestation globally, along with cattle ranching, timber, and soy. However, a small palm oil production outfit recently became the first cooperative in the world to achieve Rainforest Alliance certification for sustainable growth of African palms, employing a number of innovations to ensure the prosperity of both forests and local communities.
A Turtle's Tale: researchers discover baby turtles' kindergarten (photos)
(03/14/2014) Kate Mansfield, at her lab in the University of Central Florida, is holding a baby loggerhead turtle, smaller than her palm, painting manicure acrylic on its shell. When the base coat dries out, she glues on top a neoprene patch from an old wetsuit with hair extensions adhesive. Finally, she attaches a satellite tracker on top, the size of a two "party cheese" cubes, with flexible aquarium silicone, powered by a tiny solar battery. Now the little turtle is ready to be released back into the ocean.
Corals thriving despite acidified conditions in remote Pacific bay
(02/25/2014) Scientists have discovered a small island bay in the Pacific which could serve as a peephole into the future of the ocean. Palau's Rock Island Bay harbors a naturally occurring anomaly – its water is acidified as much as scientists expect the entire ocean to be by 2100 as a result of rising carbon dioxide emissions.
How hunters have become key to saving Bulgaria's capercaillie
(02/04/2014) Surprising clatter cuts through the silence in the snowy forest shortly before sunrise. The powerful clicking sounds like a dropping Ping-Pong ball before culminating in a loud pop resembling the opening of a champagne bottle. This sound is heard clearly and far. Propped on a thick pine tree branch, with a peacock-fanned tale, relaxed wings and head pointing skyward, a western capercaillie is singing. The song terminates with a low-frequency sound similar to scraping a fork to the bottom of a frying pan. It's exactly during those last few moments of singing that something unusual happens: the male bird goes temporarily deaf. Hence the species' common name in Bulgarian—deaf bird.
Journalists win environmental news reporting prizes
(12/10/2013) Mongabay's internship program has benefited from the hard work and great environmental reporting of more than 30 writing interns since the program's inception in July 2012. This year, Mongabay asked this pool of contributing authors to submit their most compelling piece out of over 150 articles. The submissions were then reviewed by a panel.
Average American consumes 50,000 pounds of raw materials annually for the stuff they buy
(12/10/2013) The average American car weighs about 3,000 pounds. But to produce that vehicle, a lot more raw materials were used than its final weight! Maybe as much as 100 times more, as reported by scientists in a recent paper in the Proceedings of National Academy of Science. For this car to be produced, iron ore is mined in Australia and made into steel. Steel is then shipped to Japan and made into a car, which is then sold in the U.S. Most studies until now, measured national consumption by accounting only for the final weight of the products we purchase.
President's pledge to ban commercial fishing around Pacific island nation slow to materialize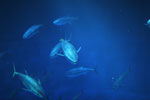 (09/23/2013) In 2010 President Anote Tong of Kiribati made a historic pledge, committing to protect the waters around his island nation in a massive marine protected area. He said the gesture represented Kiribati's contribution to protecting the environment and he urged industrial countries to do the same by cutting their greenhouse gas emissions, which threaten low-lying islands with rising sea levels. The commitment raised Tong's profile, winning him international accolades, and boosted the tiny country's standing in the fight against climate change. But since 2010 questions have begun to emerge about the extent of Tong's commitment.
Attempt to export nearly-extinct pygmy sloths sets off international incident in Panama
(09/20/2013) Last Monday, the police officer on morning duty at Isla Colón International Airport, Panama noticed some foreigners loading crates with what appeared to be animals on a private jet. Finding this suspicious, he alerted his supervisor. Within minutes the local police chief, the mayor of Bocas, the director of the regional office of the National Environmental Authority (ANAM), community leaders and heads of local conservation organizations were informed about the incident. Little by little, a crowd of concerned citizens from Bocas town gathered around what turned out to be eight pygmy sloths – some of the rarest mammals on Earth
The brown bears of Bulgaria – life after dancing
(09/09/2013) A rehabilitation center for retired dancing bears sounds like a typo. Yet this is exactly what the animal rights NGOs Four Paws and Foundation Brigitte Bardot created 13 years ago in Belitsa, Bulgaria. For many Bulgarians the first childhood contact with a forest animal is seeing a 'dancing bear' on the street in their city. These chained brown bears (Ursus arctos) would stand on their back feet waving their front paws on hearing their gypsy master play the gadulka (a local musical string instrument). Children used to admire the dancing bears; little did they know of the tragic fate of these animals.
Balkan lynx conservation unifies neighboring countries
(07/31/2013) They still call the Balkans "the Powder Keg of Europe." For good reason too: bloody ethnic and religious conflicts in the past decades have left hundreds of thousands dead and millions displaced. As recently as 2001, the army in Macedonia was fighting with ethnic Albanians, many of them from Kosovo. However, in the past seven years a rare and charismatic wild cat – the Balkan lynx (Lynx lynx balcanicus)– is serving to unify countries with troubled historical and political relations. Albania, Macedonia, Kosovo and Montenegro are collaborating on a joint conservation strategy for the Critically Endangered animal.
Rare animal species and Buddhist monks in danger of losing their home to cement quarry
(07/22/2013) An international cement company Lafarge, winner of a Green Initiative award, is considering quarrying a cave in Malaysia which is the sole home of a critically endangered species. The proposed operations also threaten a Buddhist monastery near the cave where monks are facing eviction. Kanthan cave in Peninsular Malaysia is located in a limestone hill, already extensively quarried for the production of cement by Lafarge. The cave, just as most karst caves in Southeast Asia, harbors a unique ecosystem. One of the rare endemic organisms is the Kanthan Cave trapdoor spider (Liphistius kanthan), which was just designated as Critically Endangered by the IUCN Red List.
Biodiversity conservation funding can be better targeted, scientists find
(07/04/2013) Researchers identified the most underfunded countries globally for nature conservation in a study published in the Proceedings of the National Academy of Sciences (PNAS) this week. The 40 most severely underfunded countries contain a third of the world's threatened mammals. The study provides an opportunity for a 'rapid global triage' in conservation: better coordination between donors and a very modest increase in international assistance can limit immediate biodiversity losses at relatively little cost.
The Egyptian Vulture on the Balkans – a hopeful but perilous conservation story
(07/02/2013) "They look like humans: have bare skin, wrinkles, hairdos… Maybe that's why many people don't like them," says Dr. Stoyan Nikolov from the Bulgarian Society for the Protection of Birds about Egyptian vultures. Poisoned, electrocuted, shot, these rare and magnificent birds are the fastest disappearing raptors in Europe. The globally endangered species has become extinct in nine European countries in the past half a century. Dr Nikolov, the manager of an EU-funded conservation project along with more than 100 people on his team are working hard to make sure that the Egyptian vulture does not disappear from Bulgaria and Greece.
Conserving top predators results in less CO2 in the air
(06/19/2013) What does a wolf in Yellowstone National Park have in common with an ambush spider on a meadow in Connecticut? Both are predators and thus eat herbivores, such as elk (in the case of wolves) and grasshoppers (in the case of spiders). Elk and grasshoppers also have more in common than you probably imagine: they both consume large quantities of plant matter. While scientists have long-known that predators lead to carbon storage by reducing herbivore populations, a new study reveals a novel way in which top predators cause an ecosystem to store more carbon.
Data on big transboundary land acquisition deals now available

(06/11/2013) Concerns about potential land grabs – governments and corporation purchasing high-quality agricultural land in developing countries to grow food and crops for home – prompted this initiative by the International Land Coalition (ILC). Open access to a public database is the first step towards preventing unfair or harmful land deals.
Southern U.S. logging soars to meet foreign biofuel demand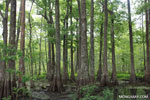 (06/06/2013) In order to meet the European Union's goal of 20% renewables by 2020, some European utility companies are moving away from coal and replacing it with wood pellet fuel. The idea is simple: trees will regrow and recapture the carbon released in the burning of wood pellets, making the process supposedly carbon-neutral. But just like other simple ideas, it misses out important details that can turn it on its head.
U.S. company's open pit gold mine in UNESCO reserve in Mexico raises concerns
(05/28/2013) Sierra la Laguna is a unique ecosystem reserve spanning more than 100,000 hectares in the southern tip of the California peninsula. It is one of the best-preserved natural areas in Mexico and home to about 100 traditional farmer families as well as multiple endemic animal and plant species. But there is one more thing that makes the region unique: approximately 2 million ounces of gold reserves underground worth $2.8 billion at current gold prices.
Plants re-grow after five centuries under the ice

(05/27/2013) While monitoring the retreat of the Teardrop Glacier in the Canadian Arctic, scientists have found that recently unfrozen plants, some of which had been under ice since the reign of Henry VIII, were capable of new growth.
A new tool against illegal logging: tree DNA technology goes mainstream
(04/22/2013) Modern DNA technology offers a unique opportunity: you could pinpoint the origin of your table at home and track down if the trees it was made from were illegally obtained. Each wooden piece of furniture comes with a hidden natural barcode that can tell its story from a sapling in a forest all the way to your living room.