News articles on swamps

---
Mongabay.com news articles on swamps in blog format. Updated regularly.





In precedent-setting case, palm oil company fined $30M for destroying orangutan forest


(01/09/2014) In a precedent-setting case, an Indonesian court has found a palm oil company guilty of violating environmental laws and ordered it to pay $30 million in fines and reparations for clearing an area of protected peat forest that is a stronghold for endangered orangutans in Indonesia's Aceh Province. In a ruling handed down Wednesday, the Meulaboh district court concluded that PT Kallista Alam illegally cleared and burned forest within the the protected Tripa peat swamp in northwestern Sumatra.


Journey to the Edge of Eden: the struggle to preserve Southwest Florida


(08/05/2013) Gary Schmelz, in a Journey to the Edge of Eden, takes us through a wonderful personal account of the conservation history of Southwest Florida. Journey to the Edge of Eden is one part personal memoir similar to the English naturalist Gerald Durrell and one part Florida conservation history. With hilarious stories of unintended naturalist misadventures and recounting conservation "as it happened," a Journey to the Edge of Eden is one of those rare books you read in a coffee shop and with gusto and pride while laughing along out loud at Gary Schmelz stories.


Australia terminates landmark REDD+ project in Borneo

(07/03/2013) Australia is ending its major forest restoration project in Indonesian Borneo, reports the Sydney Morning Herald.


Southern U.S. logging soars to meet foreign biofuel demand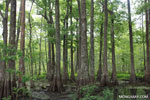 (06/06/2013) In order to meet the European Union's goal of 20% renewables by 2020, some European utility companies are moving away from coal and replacing it with wood pellet fuel. The idea is simple: trees will regrow and recapture the carbon released in the burning of wood pellets, making the process supposedly carbon-neutral. But just like other simple ideas, it misses out important details that can turn it on its head.


Paper giant APRIL to restore peat forest in Sumatra, but green groups say it continues to deforest

(05/14/2013) Pulp and paper giant Asia Pacific Resources International Limited (APRIL) has launched a $7 million ecosystem restoration project to restore and protect over 20,000 hectares of peat forest in Indonesia's Riau province, Mongabay-Indonesia reported last week.


Court rules for palm oil company in controversial deforestation case


(05/05/2013) Court orders Aceh governor to reverse decision to cancel palm oil concession in protected peatlands. An Indonesian court has ruled in favor of plantation company PT Kallista Alam in a lawsuit brought against the governor of Indonesia's Aceh province for revoking the company's license to develop palm oil plantations in a protected peat swamp forest.


Endangered primates and cats may be hiding out in swamps and mangrove forests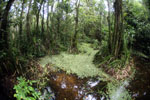 (05/02/2013) What happens to animals when their forest is cut down? If they can, they migrate to different forests. But in an age when forests are falling far and fast, many species may have to shift to entirely different environments. A new paper in Folia Primatologica theorizes that some 60 primate species and 20 wild cat species in Asia and Africa may be relying more on less-impacted environments such as swamp forests, mangroves, and peat forests.


Two new frog genera discovered in India's Western Ghats, but restricted to threatened swamp-ecosystems


(04/22/2013) The misty mountains of the Western Ghats seem to unravel new secrets the more you explore it. Researchers have discovered two new frog genera, possibly restricted to rare and threatened freshwater swamps in the southern Western Ghats of India. The discoveries, described in the open-access journal Zootaxa, prove once again the importance of the mountain range as a biodiversity hotspot.


World has lost half its wetlands


(11/29/2012) Half of the worlds wetlands have been destroyed in just the last 100 years, says a new report. Published by the Economics of Ecosystems and Biodiversity (TEEB), the report found that of the 25 million square kilometers of wetlands that existed in 1900 just 12.8 million square kilometers now remain. The rate of destruction varies geographically with notable loses in East Asia running at 1.6 per cent per year. In places where aquaculture, over-exploitation (e.g. unsustainable harvesting of fish) and storm damage have been severe, the rate of destruction can be as high as 80 percent.


Flooded savannas in Latin America shrinking 3 times faster than rainforests

(08/22/2012) Flooded grasslands and savannas in Latin America are disappearing nearly three times faster than tropical rainforests in the region, finds a new study published in the journal Biotropica.


Global wetlands shrink 6% in 15 years

(05/14/2012) Global wetlands declined by six percent between 1993 and 2007 due to conversion for agriculture, drainage, and water diversion, reports a new satellite-based assessment published by European researchers in Geophysical Research Letters.


Oil company blamed for fire in Belize national park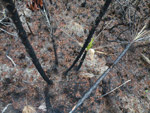 (05/01/2012) At the end of March in southern Belize the sun beats down through blackened trees onto what was the only known low-lying sphagnum moss bog in Central America. Now it is an expanse of ash and pale crusts of burned moss onto which dragonflies settle briefly before passing on. Fire spread through the area at the end of February 2012, and since then reeds have begun to sprout, but otherwise it remains a scene of devastation with no sign that the moss is regenerating.


Palm oil case against 'Green Governor' in Indonesia heats up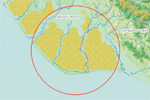 (03/22/2012) Environmental activists have launched an urgent appeal calling for a 'just decision' in a court case that has pitted Aceh's 'Green Governor' and palm oil developers against efforts to save endangered orangutans in a Sumatran peat forest. In letters directed toward judges weighing the case in Sumatra's Aceh Provice, Indonesian President Susilo Bambang Yudhoyono, the country's REDD+ authority, the World Bank, and the Governors' Climate and Forests Task Force (GCF), a coalition of conservation groups says the outcome of the case could have substantial implications for efforts to conserve Indonesia's remaining forests and peatlands.


Photos of the day: a celebration of wetlands (for World Wetlands Day)


(02/02/2012) Forget the groundhogs, February 2nd is also World Wetland Day, commemorating the historic convention of wetlands in Ramsar, Iran in 1971. The Ramsar Treaty was an international agreement meant to address the loss and degradation of wetlands worldwide.


Invasion!: Burmese pythons decimate mammals in the Everglades

(01/30/2012) The Everglades in southern Florida has faced myriad environmental impacts from draining for sprawl to the construction of canals, but even as the U.S. government moves slowly on an ambitious plan to restore the massive wetlands a new threat is growing: big snakes from Southeast Asia. A new paper in the Proceedings of the National Academy of Sciences (PNAS) has found evidence of a massive collapse in the native mammal population following the invasion of Burmese pythons (Python molurus bivittatus) in the ecosystem. The research comes just after the U.S. federal government has announced an importation ban on the Burmese python and three other big snakes in an effort to safeguard wildlife in the Everglades. However, the PNAS study finds that a lot of damage has already been done.


Economic slowdown leads to the pulping of Latvia's forests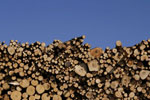 (01/23/2012) The economic crisis has pushed many nations to scramble for revenue and jobs in tight times, and the small Eastern European nation of Latvia is no different. Facing tough circumstances, the country turned to its most important and abundant natural resource: forests. The Latvian government accepted a new plan for the nation's forests, which has resulted in logging at rates many scientists say are clearly unsustainable. In addition, researchers contend that the on-the-ground practices of state-owned timber giant, Latvijas Valsts meži (LVM), are hurting wildlife and destroying rare ecosystems.


Extinct frog rediscovered in Israel

(11/21/2011) After its marshland was drained, researchers thought the Hula painted frog (Discoglossus nigriventer) had vanished for good. However a patrol at the Ha-Hula lake in Israel recently discovered a single female amphibian that turned out to be the long-lost, and long-sought, Hula painted frog.


Valuing Ecosystem Services: The Case of Multi-functional Wetlands

(05/16/2011) Valuing Ecosystem Services: The Case of Multi-functional Wetlands provides the clearest guide yet to describing and implementing in a systematic fashion payments for ecosystems services (PES) strategies for wetland protection mechanisms. By focusing initially on frameworks and obstacles to implementation of wetland protection strategies such as property rights, measuring and monitoring, behavior and compensation, cultural barriers and external factors, the authors posit that is possible to effectively value multi-functional wetlands.


Nearly half of the world's wetlands used for crops

(09/27/2010) Wetlands used for crops have expanded significantly over the past eighty years. According to a new study in the open-access journal Tropical Conservation Science, wetlands being utilized for crop production has jumped from 25 percent in 1926 to 43 percent in 2006 of the world's wetlands as identified by the Ramsar Convention on Wetlands.


Oil palm plantations on peatlands won't get carbon credits under CDM

(09/19/2010) Plantations on peatlands will no longer be supported by the Clean Development Mechanism (CDM), a framework for industrialized countries to reduce their emissions via projects in developing countries, reports Wetlands International.


Gazprom, Shell and Clinton Foundation back rainforest carbon deal in Borneo

(08/24/2010) A forest conservation project backed by Shell, Gazprom Market and Trading and the Clinton Foundation on the island of Borneo has won approval under a carbon accounting standard, reports Reuters.


Logging may swamp Indonesian peatlands, destroy local sustainable sago industry

(08/16/2010) Industrial logging concessions on islands off the coast of Sumatra threaten to undermine a sustainable community industry that may hold to key to protecting Indonesia's carbon-dense, but increasingly endangered peatlands.


Indonesia's plan to save its rainforests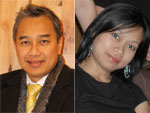 (06/14/2010) Late last year Indonesia made global headlines with a bold pledge to reduce deforestation, which claimed nearly 28 million hectares (108,000 square miles) of forest between 1990 and 2005 and is the source of about 80 percent of the country's greenhouse gas emissions. President Susilo Bambang Yudhoyono said Indonesia would voluntarily cut emissions 26 percent — and up to 41 percent with sufficient international support — from a projected baseline by 2020. Last month, Indonesia began to finally detail its plan, which includes a two-year moratorium on new forestry concession on rainforest lands and peat swamps and will be supported over the next five years by a one billion dollar contribution by Norway, under the Scandinavian nation's International Climate and Forests Initiative. In an interview with mongabay.com, Agus Purnomo and Yani Saloh of Indonesia's National Climate Change Council to the President discussed the new forest program and Norway's billion dollar commitment.


Peatlands restoration wins support in effort to reduce carbon emissions

(06/10/2010) The body charged with establishing a framework for a global climate treaty will account for emissions from peatlands degradation, a source of roughly 6 percent of greenhouse gas emissions. The decision by the Intergovernmental Panel on Climate Change (IPCC) lays the groundwork for new measures to protect and restore wetlands, says Wetlands International.


Indonesian government report recommends moratorium on peatlands conversion


(01/19/2010) A study issued by Indonesian government recommends a moratorium on peatlands conversion in order to meet its greenhouse gas emissions target pledged for 2020, reports the Jakarta Post. The report, commissioned by the National Development Planning Agency (Bappenas), says that conversion of peatlands accounts for 50 percent of Indonesia's greenhouse gas emissions but only one percent of GDP. A ban on conversion would therefore be a cost-effective way for the country to achieve its goal of reducing carbon emissions 26 percent from a projected baseline by 2020. But the recommendation is likely to face strong resistance from plantation developers eager to expand operations in peatland areas. Last year the Agricultural Ministry lifted a moratorium on the conversion of peatlands of less than 3 meters in depth for oil palm plantations. Environmentalists said the move would release billions of tons of carbon dioxide.


Indonesia: Kalimantan's Lowland Peat Forests Explained



(12/04/2009) Earth's tropical rainforests are a critical component of the world's carbon cycle yet cover only about 12% of its terrestrial land. Accounting for 40% of the world's terrestrial carbon and 50% of the world's gross primary productivity,[1]. the production of organic compounds primarily through photosynthesis, tropical rainforests also are one of the engines driving Earth's atmospheric circulation patterns.


Peat emissions data by country

(11/04/2009) A new study by Wetlands International and Greifswald University provides country-by-country data on peat stocks and emissions. Overall the assessment found that drainage of wetlands for agriculture, forestry and peat extraction causes 1.3 billion tons of carbon dioxide emissions per year. Emissions from fires and peat mining (for horticulture and fuel) amount to another 700,000 million tons per year.


EU is 2nd largest source of peat emissions after Indonesia, finds global peat survey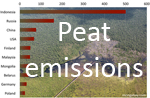 (11/04/2009) The EU is the world's second largest source of carbon dioxide emissions from peatlands drainage, after Indonesia, reports the first country-by-country assessment of peat stocks. The study, conducted by Wetlands International and Greifswald University, found that drainage of wetlands for agriculture, forestry and peat extraction causes 1.3 billion tons of carbon dioxide emissions per year. Emissions from fires and peat mining (for horticulture and fuel) amount to another 700,000 million tons per year.


Indonesia: emissions to rise 50% by 2030, 3rd largest GHG emitter

(09/22/2009) A report released by the Indonesian government shows the country is the world's third largest greenhouse gas emitter, largely as a result of the destruction of rainforests and carbon-dense peatlands. Indonesia accounts for 8 percent of global carbon dioxide emissions.


Palm oil companies trade plantation concessions for carbon credits from forest conservation

(07/22/2009) Indonesian palm oil producers are eying forest conservation projects as a way to supplement earnings via the nascent carbon market, reports Reuters.


Florida announces python hunt following snake invasion

(07/16/2009) Florida has authorized a cull of Burmese pythons that have invaded the Everglades and other wetland areas, reports the Associated Press.


UK firm plans to log habitat of critically endangered orangutan for palm oil production

(06/23/2009) A Scottish firm has been implicated in funding a plan that would destroy the rainforest habitat of critically endangered orangutans in Sumatra.


Peatlands conversion for oil palm a 'monumental mistake' for Indonesia's long-term prosperity, sustainability

(06/04/2009) Indonesia's decision earlier this year to allow conversion of up to 2 million hectares of peatlands for oil palm plantations is "a monumental mistake" for the country's long-term economic prosperity and sustainability, argues an editorial published in the June issue of Frontiers in Ecology and the Environment.


Finland, Sweden push for loophole that would drive destruction of peatlands around the world

(12/09/2008) Finland and Sweden are pushing for a loophole in the E.U.'s Renewable Energy Directive that would open up vast tracts of peatlands around the world to development for biofuels production. The move could have drastic consequences for climate and biodiversity, warns Wetlands International, an environmental group.


Tropical wetlands sequester 80% more carbon than temperate wetlands

(10/08/2008) Tropical wetlands store 80 percent more carbon than temperate wetlands, reports a new study that compared ecosystems in Costa Rica and Ohio.


Migratory waterbird populations in decline in Europe

(09/15/2008) 41 percent of 522 migratory waterbird populations on the routes across Africa and Eurasia show decreasing trends, reports a new study released at the African-Eurasian Migratory Waterbird Agreement meeting in Antananarivo, Madagascar.


11 species of monkeys discovered in West African biodiversity hotspot

(09/15/2008) Urgent conservation measures are needed to protect some of the world's most endangered primates from the hunting, logging, and oil palm development in a region that has only recently emerged from a period of civil strife, report researchers writing in the open-access journal Tropical Conservation Science.


Indonesia's Riau bans destruction of rainforests and peatlands for palm oil

(08/15/2008) The Indonesian province of Riau on the island of Sumatra has pledged to stop destruction of its forests and carbon-rich peatlands in an effort to reduce carbon emissions from deforestation by 50 percent by 2009.


Brazil may ban new sugar cane cultivation in the Pantanal

(08/06/2008) Brazil would restrict sugar cane cultivation in the world's largest tropical wetland under a proposed plan to protect the Pantanal, reports Reuters.


Massive gorilla population discovered in the Congo

(08/05/2008) The world's known population of critically endangered western lowland gorillas has more than doubled following a new census that revealed some 125,000 in the Republic of Congo.


Often overlooked, small wild cats are important and in trouble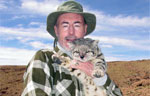 (08/05/2008) While often over-shadowed by their larger and better-known relatives like lions, tigers, leopards, and jaguars, small cats are important indicators of the health of an ecosystem, says a leading small cat expert who uses camera traps extensively to document and monitor mammals in the wild. Dr Jim Sanderson, a scientist with the Small Cat Conservation Alliance and Conservation International, is working to save some of the world's rarest cats, including the Andean cat and Guigna of South America and the bay, flat-headed, and marbled cats of Southeast Asia. In the process Sanderson has captured on film some of the planet's least seen animals, including some species that have never before been photographed. He has also found that despite widespread criticism, some corporate entities are effectively protecting remote wilderness areas.


How to replant a mangrove forest: local, low-cost initiatives prove most successful

(07/23/2008) Mangrove replanting and rehabilitation has become a widespread and important environmental initiative worldwide. Mangrove forests play key ecological roles, including sustaining fish populations and other wildlife, preventing erosion along coastlines, and acting as an overall carbon sink. Furthermore, mangroves have received attention lately for their role in providing an effective buffer against typhoons. In light of the many replanting initiatives now occurring, researchers J.H. Primavera and J.M.A. Esteban conducted a study of the overall effectiveness of different mangrove rehabilitation schemes. Their findings show that small, local, and generally cheaper initiatives have a higher success rate over large costly government and international programs.


Biofuels can reduce emissions, but not when grown in place of rainforests

(07/22/2008) Biofuels meant to help alleviate greenhouse gas emissions may be in fact contributing to climate change when grown on converted tropical forest lands, warns a comprehensive study published earlier this month in the journal Environmental Research Letters. Analyzing the carbon debt for biofuel crops grown in ecosystems around the world, Holly Gibbs and colleagues report that "while expansion of biofuels into productive tropical ecosystems will always lead to net carbon emissions for decades to centuries... [expansion] into degraded or already cultivated land will provide almost immediate carbon savings." The results suggest that under the right conditions, biofuels could be part of the effort to reduce humanity's carbon footprint.


Mangroves are key to healthy fisheries, finds study

(07/21/2008) Mangroves serve as a critical nursery for young marine life and therefore play an important role in the health of fisheries and the economic well-being of fishermen, report researchers writing in the early online edition of the Proceedings of the National Academy of Sciences.


Destruction of wetlands worsens global warming

(07/20/2008) Destruction of wetland ecosystems will generate massive greenhouse gas emissions in coming years, warn experts convening at an international wetlands conference in Brazil.


Palm oil is a net source of CO2 emissions when produced on peatlands

(12/17/2007) Researchers have confirmed that converting peat forests for oil palm plantations results in a large net release of carbon dioxide, indicating industry claims that palm oil helps fight climate change are unfounded, at least when plantations are established in peatlands.