News articles on sustainable forestry

---
Mongabay.com news articles on sustainable forestry in blog format. Updated regularly.






World's most cryptic feline photographed in logging concession
(11/04/2013) The bay cat is arguably the world's least-known member of the cat family (Felidae). Although first described by scientists in 1874, no photo existed of a living specimen until 1998 and a wild cat in its rainforest habitat wasn't photographed until five years later. Given this, scientists with Zoological Society of London (ZSL) and Imperial College London were taken aback when their remote camera traps captured numerous photos of these elusive cats hanging out in a commercial logging concession in Sabah, a state in Malaysian Borneo.
Selective logging changes character of tropical forest

(02/28/2013) Selective logging is usually considered less harmful than other forestry practices, such as clear cutting, but a new study in mongabay.com's open access journal Tropical Conservation Science has found that even selective logging has a major impact on tropical forests lasting decades. Comparing trees in two previously logged sites and two unlogged sites in northeast India, researchers found less tree diversity in selectively logged forests with trees dispersed by birds proved especially hard-hit.
Borneo may lose half its orangutans to deforestation, hunting, and plantations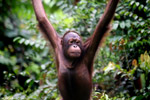 (11/13/2012) Borneo will likely lose half of its orangutans if current deforestation and forest conversion trends continue, warns a comprehensive new assessment by an international team of researchers. The study, published in the journal PLoS ONE, overlays orangutan distribution with land use regulations in Malaysian and Indonesian Borneo. Borneo has suffered high rates of deforestation, logging, and forest conversion for industrial plantations in recent decades, endangering the world's largest surviving populations of orangutans.
Saving 'Avatar Grove': the battle to preserve old-growth forests in British Columbia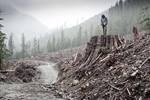 (07/23/2012) A picture is worth a thousand words: this common adage comes instantly to mind when viewing T.J. Watt's unforgettable photos of lost trees. For years, Watt has been photographing the beauty of Vancouver Island's ancient temperate rainforests, and documenting their loss to clearcut logging. The photographer and environmental activist recently helped co-found the Ancient Forest Alliance (AFA), a group devoted to saving the island's and British Columbia's (BC) last old-growth while working with the logging industry to adopt sustainable practices. This February the organization succeeded in saving Avatar Grove—which was only discovered in 2009—from being clearcut. The grove, a rare stand of massive and ancient trees named after the popular eco science-fiction movie, has become a popular tourist destination, providing a new economic incentive for communities to protect rather than cut Canada's last great forests.
Industrial logging leaves a poor legacy in Borneo's rainforests
(07/17/2012) For most people "Borneo" conjures up an image of a wild and distant land of rainforests, exotic beasts, and nomadic tribes. But that place increasingly exists only in one's imagination, for the forests of world's third largest island have been rapidly and relentlessly logged, burned, and bulldozed in recent decades, leaving only a sliver of its once magnificent forests intact. Flying over Sabah, a Malaysian state that covers about 10 percent of Borneo, the damage is clear. Oil palm plantations have metastasized across the landscape. Where forest remains, it is usually degraded. Rivers flow brown with mud.
Innovative program seeks to safeguard Peruvian Amazon from impacts of Inter-Oceanic Highway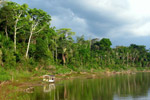 (03/06/2012) Arbio was begun by Michel Saini and Tatiana Espinosa Q. in the Peruvian Amazon region of Madre de Dios. The project focuses on a protective response to the increased encroachment and destructive land use driven by development. The recent construction of the Inter-Oceanic Highway in the Madre de Dios area presents an enormous threat to forest biodiversity. Arbio provides opportunities to help establish a buffer zone near the road to limit intrusive agricultural and deforestation activities.
Large tract of old growth redwood forest protected in the San Francisco Bay Area

(12/13/2011) 8,532 acres of redwood forest and wildlife habitat in the Santa Cruz mountains will be protected after a coalition of San Francisco Bay Area conservation groups bought the land — the largest private landholding in in Santa Cruz County — for $30 million from building materials giant CEMEX, reports the San Jose Mercury News.
Agriculture group to spend 10 years on forest research

(12/07/2011) Recognizing the global importance of the world's vanishing forests, a 10-year-long research program will focus on the interconnection between agriculture and forests. Conducted by CGIAR, a global agriculture group concerned with sustainability, the research program will look at ways to decrease forest loss and degradation.
Malaysian sustainable timber certification fails Dutch standards
(10/23/2011) An independent panel in the Netherlands has found that the Malaysian Timber Certification Scheme (MTCS) falls short of Dutch standards for sustainable forestry. The final decision comes after a series of judgements and appeals with the latest panel concluding that MTCS still allows natural forest to be destroyed for monoculture plantation and that the scheme ignores the rights of indigenous people.
FSC mulls controversial motion to certify plantations responsible for recent deforestation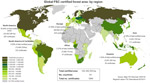 (06/24/2011) Members of the Forest Stewardship Council (FSC), meeting in Malaysia this week for its General Assembly, will consider various changes to the organization, including a vote on a controversial motion that would open the door—slightly at first—to sustainable-certification of companies that have been involved in recent forest destruction for pulp and paper plantations. Known as Motion 18, the change is especially focusing on forestry in places where recent deforestation has been rampant, such as Indonesia and Malaysia.
FSC to continue allowing baboon killing on sustainably-certified plantations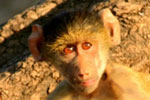 (06/23/2011) Shooting baboons will continue in Forest Stewardship Council (FSC)-certified plantations. After examining a complaint by the NGO GeaSphere against South African plantations for trapping and shooting hundreds of baboons, the FSC has announced it will not place a moratorium on baboon-killing in its sustainably-certified plantations.
Fighting illegal logging in Indonesia by giving communities a stake in forest management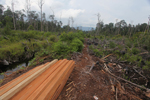 (03/10/2011) Over the past twenty years Indonesia lost more than 24 million hectares of forest, an area larger than the U.K. Much of the deforestation was driven by logging for overseas markets. According to the World Bank, a substantial proportion of this logging was illegal. Curtailing illegal logging may seem relatively simple, but at the root of the problem of illegal logging is something bigger: Indonesia's land policy. Can the tide be turned? There are signs it can. Indonesia is beginning to see a shift back toward traditional models of forest management in some areas. Where it is happening, forests are recovering. Telapak understands the issue well. It is pushing community logging as the 'new' forest management regime in Indonesia. Telapak sees community forest management as a way to combat illegal logging while creating sustainable livelihoods.
Sustainable timber in Tanzania experiences huge growth

(01/18/2011) The level of Tanzanian timber forest certified as sustainable increased by 700 percent earlier this month. The certification not only represents an environmental win, but is expected to bring opportunities and money to the communities which exist within and around the forests.
Will Indonesia's big REDD rainforest deal work?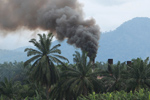 (12/28/2010) Flying in a plane over the Indonesian half of the island of New Guinea, rainforest stretches like a sea of green, broken only by rugged mountain ranges and winding rivers. The broccoli-like canopy shows little sign of human influence. But as you near Jayapura, the provincial capital of Papua, the tree cover becomes patchier—a sign of logging—and red scars from mining appear before giving way to the monotonous dark green of oil palm plantations and finally grasslands and urban areas. The scene is not unique to Indonesian New Guinea; it has been repeated across the world's largest archipelago for decades, partly a consequence of agricultural expansion by small farmers, but increasingly a product of extractive industries, especially the logging, plantation, and mining sectors. Papua, in fact, is Indonesia's last frontier and therefore represents two diverging options for the country's development path: continued deforestation and degradation of forests under a business-as-usual approach or a shift toward a fundamentally different and unproven model based on greater transparency and careful stewardship of its forest resources.
Timber certification is not enough to save rainforests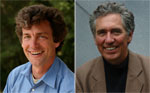 (06/02/2010) In the 1980s and 1990s pressure from activist groups led some of the world's largest forestry products companies and retailers to join forces with environmentalists to form the Forest Stewardship Council (FSC), a certification standard that aims to reduce the environmental impact of wood and paper production on natural forests. Despite initial skepticism on whether buyers would pay a premium for greener forest products, FSC quickly grew and by 2000 had become a standard in many markets, including Europe and the United States. Companies like Home Depot, Lowe's, and Ikea are today strong supporters of the FSC. But the FSC has not been without controversy. In recent years some activists have voiced concern about FSC standards as well as the credibility of auditors that certify timber operations. Among the initiative's supporters is the Rainforest Action Network (RAN), a group best known for its aggressive protest tactics. RAN says engagement with the FSC is better than the alternative: leaving the timber industry to devise its own sustainability standards.