News articles on sustainable forest management

---
Mongabay.com news articles on sustainable forest management in blog format. Updated regularly.






New tropical wood substitute could save rainforests worldwide

(12/18/2009) One of the main drivers of tropical deforestation is western consumption of hardwoods, more durable and weather-resistant than softwoods. For example, hardwood harvested in Southeast Asia—both legally and illegally obtained—often makes its way to China where it is crafted into cheap outdoor-ready hardwood products, which is then sold to the world's wealthy nations, such as the United States and countries in the EU. The trade releases significant greenhouse gases, threatens indigenous groups, and imperils the region's biodiversity. Yet a new product, apart of an art installation at the Climate Change conference in Copenhagen, may have the capacity to stem the loss of tropical forests for hardwoods.
Developed countries plan to hide emissions from logging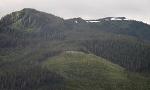 (12/09/2009) While developing countries in the tropics have received a lot of attention for their deforestation emissions (one thinks of Brazil, Indonesia, and Malaysia), emissions from logging—considered forest cover change—in wealthy northern countries has been largely overlooked by the media. It seems industrialized countries prefer it this way: a new study reveals just how these countries are planning to hide forestry-related emissions, allowing nations such as Canada, Russia, and the EU to contribute to climate change without penalty.
Destruction of old-growth forests looms over climate talks
(12/08/2009) Destruction of old-growth or primary forests looms large in discussions in Copenhagen over a scheme to compensate tropical countries for reducing emissions from deforestation and degradation (REDD). Some environmental groups are pressing for conservation of old-growth forests — the most carbon-dense, and biologically-rich state of forests — to be the centerpiece of REDD, while industry and other actors are pushing for "sustainable forest management" or logging using reduced-impact techniques to be the primary focus of REDD.
Eco-label for rainforest products could boost sustainability

(12/06/2009) Tropical forests around the world continue to fall, largely the result of logging and conversion to agriculture. But new hope for forests has emerged under a scheme that would reward countries for reducing greenhouse gas emissions from deforestation and degradation. Some variations of the concept, which is known as REDD, would allow for "sustainable forest management" (SFM), that is, reduced impact logging of forests, as well as harvesting of non-wood forest products (NWFPs) like seeds, fruit, and game. But the extent to which this harvesting affects forest ecology, and therefore carbon sequestration, is still poorly understood.
Paper provider for fashion gurus drops APP due to deforestation across Indonesia

(12/02/2009) One by one, the fashion industry's biggest companies are leaving Asian Pulp and Paper (APP)—and deforestation in Indonesia—behind. The newest defector is PAK 2000, a packaging company for fashion products. After a sustained campaign by the Rainforest Action Network (RAN) and fashion companies buying from PAK 2000, the New Hampshire-based company, has announced that it is severing all ties with APP by the end of the year. The announcement means that big famous companies—from Versace to J. Crew—will have an easier time avoiding paper products that cause rainforest destruction.
Deforestation emissions should be shared between producer and consumer, argues study
(11/19/2009) Under the Kyoto Protocol the nation that produces carbon emission takes responsibility for them, but what about when the country is producing carbon-intensive goods for consumer demand beyond its borders? For example while China is now the world's highest carbon emitter, 50 percent of its growth over the last year was due to producing goods for wealthy countries like the EU and the United States which have, in a sense, outsourced their manufacturing emissions to China. A new study in Environmental Research Letters presents a possible model for making certain that both producer and consumer share responsibility for emissions in an area so far neglected by studies of this kind: deforestation and land-use change.
Gucci drops APP in pledge to save rainforests

(11/03/2009) One of the world's largest and most prestigious fashion brands has stated it will stop sourcing paper from Indonesian forests and will drop Asia Pulp and Paper (APP) as a supplier, which has become notorious for tropical deforestation. The move comes after pressure from the Rainforest Action Network (RAN) on the fashion industry to stop sourcing paper from threatened rainforests for their shopping bags.
Business and conservation groups team up to conserve and better manage US's southern forests

(10/15/2009) A new project entitled Carbon Canopy brings together multiple stakeholders—from big business to conservation organizations to private landowners—in order to protect and better manage the United State's southern forests. The program intends to employ the emerging US forest carbon market to pay private forest owners for conservation and restoration efforts while making certain that all forest-use practices subscribes to the standards of the Forest Stewardship Council (FSC).
Could agroforestry solve the biodiversity crisis and address poverty?, an interview with Shonil Bhagwat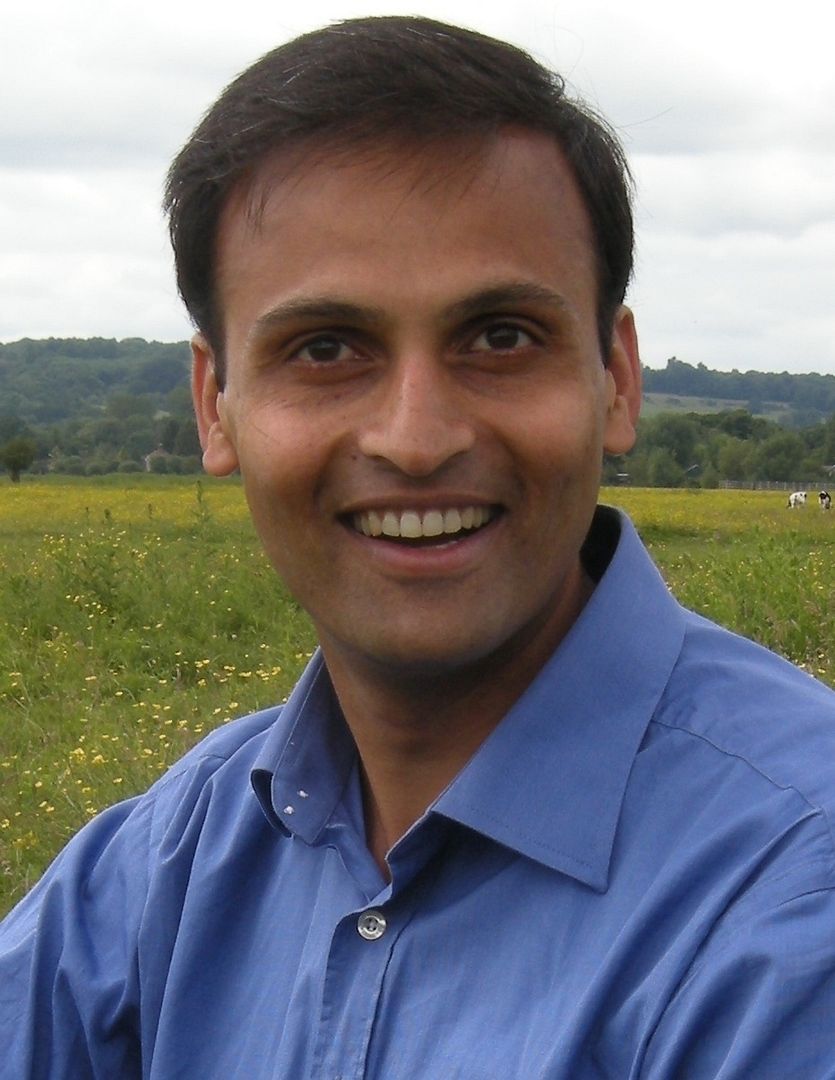 (09/24/2009) With the world facing a variety of crises: climate change, food shortages, extreme poverty, and biodiversity loss, researchers are looking at ways to address more than one issue at once by revolutionizing sectors of society. One of the ideas is a transformation of agricultural practices from intensive chemical-dependent crops to mixing agriculture and forest, while relying on organic methods. The latter is known as agroforestry or land sharing—balancing the crop yields with biodiversity. Shonil Bhagwat, Director of MSc in Biodiversity, Conservation and Management at the School of Geography and the Environment, Oxford, believes this philosophy could help the world tackle some of its biggest problems.
Fashion labels drop APP after party highlights the plight of Indonesian forests

(09/21/2009) The fashion world has been rocked: not by the newest designer or the most shocking outfit, but by the continuing destruction of forests in Indonesia. On September 15th, the Rainforest Action Network (RAN) helped open New York City's styling Fashion Week with a party to encourage fashion designers to take a closer look at the paper bags they give customers.
Independent review finds logging company has abused rights of indigenous Penan in Borneo
(09/15/2009) An independent review of Interhill Logging found that the Sarawak logging company has regularly violated forest laws and abused the rights of the indigenous Penan peoples. The review, conducted by French tourism giant ACCOR, found that Interhill Logging had not received free, prior, and informed consent from the local Penan people for its logging operations; the logging being done by Interhill "is very definitely not sustainable"; the company is not fully compiling with Sarawak's Natural Resources and Environment Board; and Interhill is providing no long-term benefits to the Penan peoples.
500 scientists call on Quebec to keep its promise to conserve half of its boreal forest

(09/13/2009) This March, the Canadian province of Quebec pledged to conserve 50 percent of its boreal forest lying north of the 49th parallel, protecting the region from industrial, mining, and energy development. On Thursday 500 scientists and conservation professionals—65 percent of whom have PhDs—sent a letter to Quebec's Premier Jean Charest calling on him to make good on his promise.
Concerns over deforestation may drive new approach to cattle ranching in the Amazon
(09/08/2009) While you're browsing the mall for running shoes, the Amazon rainforest is probably the farthest thing from your mind. Perhaps it shouldn't be. The globalization of commodity supply chains has created links between consumer products and distant ecosystems like the Amazon. Shoes sold in downtown Manhattan may have been assembled in Vietnam using leather supplied from a Brazilian processor that subcontracted to a rancher in the Amazon. But while demand for these products is currently driving environmental degradation, this connection may also hold the key to slowing the destruction of Earth's largest rainforest.
Retailers Costco and Amazon.com flunk sustainable paper use, WalMart and Target fare little better

(08/27/2009) Every year forests are destroyed for the production of paper: habitat is lost, greenhouse gases are released, species are impacted, and fresh water sources damaged. Some companies have begun to move towards more sustainable paper production, seeking paper sources stamped by the Forest Stewardship Council (FSC) and increasing the use of recycled paper, however other companies in the industry have yet to change their way. The 3rd annual report card conducted by Dogwood Alliance and Forest Ethics focuses both on the companies who continue to make progress toward sustainable paper production—and those who don't.
Weak forest definition may undermine REDD efforts

(08/20/2009) The weak definition of what constitutes forest under the United Nations Framework Convention on Climate Change (UNFCCC) puts the effectiveness of a proposed mechanism for reducing emissions from deforestation and degradation (REDD) at risk, argue researchers writing in the journal Conservation Letters.
Can non-timber forest products help conserve the Amazon?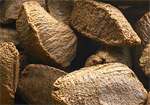 (07/20/2009) Industrial-scale logging and resource exploitation continue to plague the South American rainforests, contributing to their systematic destruction. Today, indigenous inhabitants and other local residents of the rainforests and their surrounding areas, faced with the enormous pressures of the global economy, often find themselves in a crucible. Many of their opportunities for supporting themselves and their families financially involve logging or other large-scale operations that deplete and ultimately decimate the forests. In order to make even a marginal living, local people often find themselves forced to participate in the destruction of the very ecosystems that they live in and depend on.
A Tasmanian tragedy? : How the forestry industry has torn an island apart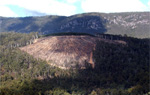 (07/02/2009) This is by no means a new battle: in fact, Tasmanian industrial foresters and environmentalists have been fighting over the issue of clearcutting the island's forests for decades. The battle—some would probably prefer 'war'—is over nothing less than the future of Tasmania. Some Tasmanians see the rich forests that surround them in terms of income, dollars and cents; they see money literally growing on trees, or more appropriately growing on monoculture plantations and government owned native forests. They see the wilderness of Tasmania as an exploitative resource.
Saving one of the last tropical dry forests, an interview with Edwina von Gal
(06/29/2009) Often we hear about endangered species—animals or plants on the edge of extinction—however we rarely hear about endangered environments—entire ecosystems that may disappear from Earth due to humankind's growing footprint. Tropical dry forests are just such an ecosystem: with only 2 percent of the world's tropical dry forest remaining it is one of the world's most endangered ecosystems. A newly established organization, the Azuero Earth Project, is working not only to preserve some of the world's last tropical dry forest on the Azuero peninsula in Panama, but also to begin restoration projects hoping to aid both the forest's viability and the local people. Edwina von Gal, a landscape designer, is one of the founders of the Azuero Earth Project, as well as president of the organization.
Reducing emissions from deforestation in developing countries
(06/02/2009) Global forest covers around 30 per cent of the Earth's land surface (nearly 4 billion hectares). Forests provide valuable ecosystem services and goods, serve as a habitat for a wide range of flora and fauna and hold a significant standing stock of global carbon. The total carbon content of forests has been estimated at 638 Gt for 2005, which is more than the amount of carbon in the entire atmosphere. Deforestation, mainly conversion of forests for agriculture activities, has been estimated at an alarming rate of 13 million hectares per year (in the period 1990-2005).
New rainforest reserve in Congo benefits bonobos and locals

(05/25/2009) A partnership between local villages and conservation groups, headed up by the Bonobo Conservation Initiative (BCI), has led to the creation of a new 1,847 square mile (4,875 square kilometer) reserve in the Democratic Republic of Congo (DRC). The reserve will save some of the region's last pristine forests: ensuring the survival of the embattled bonobo—the least-known of the world's four great ape species—and protecting a wide variety of biodiversity from the Congo peacock to the dwarf crocodile. However, the Kokolopori Bonobo Reserve is worth attention for another reason: every step of its creation—from biological surveys to reserve management—has been run by the local Congolese NGO and villages of Kokolopori.
The EU and Republic of Congo announce system to eradicate illegal logging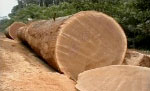 (05/11/2009) The Republic of Congo and the EU have announced a new system to ensure that by 2011 no illegal timber will reach European Union member nations from the Republic of Congo. Under the system all wood products will be required to carry a license showing that the timber was obtained legally.
Rainforest conservation gains in U.S. and U.N. climate proposals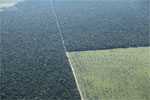 (04/14/2009) A proposed mechanism for reducing emissions from deforestation and degradation (REDD) figures prominently in the draft climate bill released last month by Congressmen Henry Waxman and Ed Markey as well as a U.N. document posted last week following a climate meeting in Bonn, Germany. Deforestation is the source of roughly 20 percent of greenhouse gas emissions from human activities.
REDD in Indonesia could evict forest people from their lands, warns U.N. committee

(03/23/2009) In a letter released today, the United Nations Committee on the Elimination of Racial Discrimination expressed concern that a scheme to promote forest conservation in Indonesia via the Reduced Emissions from Deforestation and Forest Degradation (REDD) mechanism could increase conflict over land if the government doles out forest-carbon concessions in the same manner that it has with logging concessions. In the worst cases, forest people could be denied access rights to their traditional territories say indigenous rights' groups.
Economic crisis hurts forestry sector, sustainability initiatives

(03/16/2009) The global economic crisis has slowed demand for timber products and may undermine efforts to improve the environmental performance of forestry, reports the U.N. Food and Agriculture Organization (FAO) in its biannual "State of the World's Forests 2009", released today.
Historic US law now extends to illegal logging

(03/11/2009) Enacted in 1900 by William F. McKinley the Lacey Act is the oldest wildlife protection law in the US; for a over a century it has protected animals from being illegally hunted and trafficked. An amendment made last year has now extended the law to protect plants for the first time, making it possible for the US to support efforts abroad and at home to combat illegal logging.
New model uses carbon credits, sustainable palm oil to save Indonesia's rainforests
(02/05/2009) The World Resources Institute (WRI) has launched an innovative avoided deforestation model that aims to deter conversion of Indonesian rainforest for oil palm plantations. The project, dubbed "POTICO" (Palm Oil, TImber, Carbon Offsets), integrates sustainable palm oil, FSC-certified timber, and carbon offsets in order to "divert new oil palm plantations onto degraded lands and bring the forests that were slated for conversion into certified sustainable forestry".
Beef drives 80% of Amazon deforestation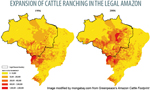 (01/29/2009) Nearly 80 percent of land deforested in the Amazon from 1996-2006 is now used for cattle pasture, according to new maps released today in a report by Greenpeace at the World Social Forum in Belem, Brazil. The report, Amazon Cattle Footprint: Mato Grosso: State of Destruction, confirms that cattle ranching is the primary driver of deforestation in Earth's largest rainforest: the Brazilian Amazon.
Secondary forest should become new conservation initiative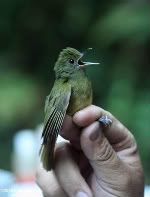 (01/19/2009) "I want to convince you we need to go beyond primary forests to preserve biodiversity", Robin Chazdon told an audience at the National Natural History Museum during a symposium on the tropics. Chazdon, a professor of ecology and evolutionary biology at the University of Connecticut, has been studying secondary growth forests for over eighteen years. Secondary forests are those forests in the process of regrowth after being used for agriculture or logging. In her study area of NE Costa Rica, many of these forests were converted to pastures in the 1970s and 1980s, but have since been abandoned. In her presentation Chazdon argued that to preserve biodiversity numerous types of human-impacted landscapes, such as secondary forest, require attention by the conservation community.
Shade-grown coffee preserves native tree diversity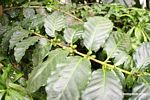 (12/23/2008) A new study finds that shade-grown coffee protects the biodiversity of tree species, as well as those of birds and bats. Published in Current Biology, the study found that native trees in shade-grown coffee plantations aid the overall species' gene flow and can become a focal point for reforestation.
Salvage logging offers hope for forests, communities devastated by industrial logging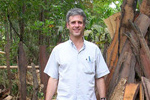 (12/04/2008) As currently practiced, logging is responsible for large-scale destruction of tropical forests. Logging roads cut deep into pristine rainforests, opening up once remote areas to colonization, subsistence and industrial agriculture, wildlife exploitation, and other forms of development. Timber extraction thins the canopy, damages undergrowth, and tears up soils, reducing biodiversity and leaving forests more vulnerable to fire. Even selective logging is damaging. Nevertheless demand for wood products continues to grow. China is expected to import more than 100 million cubic meters of industrial roundwood by 2010, much of which will go into finished products shipped off to Europe and the United States. As much as 60 percent of this is illicitly sourced. Meanwhile in Brazil domestic hunger for timber is fueling widespread illegal logging of the Amazon rainforest. Armed standoffs between environmental police and people employed by unlicensed operators are increasingly common. Tropical Salvage, a Portland, Oregon-based producer of wood products, is avoiding these issues altogether by taking a different approach to meet demand for products made from high-quality tropical hardwoods. The company salvages wood discarded from building sites, unearthed from mudslides and volcanic sites, and dredged from rivers in Indonesia and turns it into premium wood products. In the process, Tropical Salvage is putting formers loggers to work and supporting a conservation, education and reforestation project on Java.
Indonesian governors agree to protect Sumatra's endangered forests

(10/09/2008) The ten governors of Sumatra — along with four federal ministers — have signed an agreement to protect forests and other ecosystems on the Indonesian island, according to WWF. The announcement is significant because Sumatra is a biodiversity hotspot — home to rare and endemic wildlife — that is under great threat from logging and expansion oil palm plantations. The island has lost 48 percent of its forest cover since 1985.
Forest conservation can fight climate change and poverty

(10/08/2008) The Forests Dialogue — a coalition consisting of more than 250 representatives of governments, forestry companies, trade unions, environmental and social groups, international organizations, forest owners, indigenous peoples and forest-community groups — has issued guiding principles for including forests in climate change negotiations.
Ghana becomes first country to sign sustainable timber pact with the E.U.

(09/04/2008) The European Union has signed a sustainable forestry deal with Ghana that would stop imports of illegally-harvested timber from the West African nation, according to a statement released by the European Forest Institute. The agreement comes under the European Commission's 2003 Action Plan on Forest Law Enforcement, Governance and Trade (FLEGT), which seeks to address illicit timber imports. The regulation requires chain-of-custody documentation for timber to be imported into the E.U.
Pre-Colombian Amazonians lived in sustainable 'urban' society

(08/28/2008) Researchers have uncovered new evidence to support the controversial theory that parts of the Amazon were home to dense "urban" settlements prior to the arrival of Europeans in the 15th century. The study is published this Friday in the journal Science. Conducting archeological excavations and aerial imagery across a number of sites in the Upper Xingu region of the Brazilian Amazon, a team of researchers led by Michael Heckenberger found evidence of a grid-like pattern of 150-acre towns and smaller villages, connected by complex road networks and arranged around large plazas where public rituals would take place. The authors argue that the discoveries indicate parts of the Amazon supported "urban" societies based around agriculture, forest management, and fish farming.
The FSC is the 'Enron of forestry' says rainforest activist

(04/17/2008) On April 7th, Mongabay printed an interview with FSC International Communications Manager, Nina Haase, in which she defended the FSC against criticism leveled at it by various environmental organizations, such as The World Rainforest Movement and Ecological Internet. The interview drew strong reactions on both sides, and Simon Counsell, director of the Rainforest Foundation UK, requested a chance to respond to the FSC's interview in-depth. In his response, he states that the FSC has created a "'race to the bottom' of certification standards", alleging that the "FSC really has become the 'Enron of forestry'".




Page 1 | Page 2 | Page 3 | Page 4