News articles on sustainable development

---
Mongabay.com news articles on sustainable development in blog format. Updated regularly.






Gucci drops APP in pledge to save rainforests

(11/03/2009) One of the world's largest and most prestigious fashion brands has stated it will stop sourcing paper from Indonesian forests and will drop Asia Pulp and Paper (APP) as a supplier, which has become notorious for tropical deforestation. The move comes after pressure from the Rainforest Action Network (RAN) on the fashion industry to stop sourcing paper from threatened rainforests for their shopping bags.
Will Ecuador's plan to raise money for not drilling oil in the Amazon succeed?

(10/27/2009) Ecuador's Yasuni National Park is full of wealth: it is one of the richest places on earth in terms of biodiversity; it is home to the indigenous Waorani people, as well as several uncontacted tribes; and the park's forest and soil provides a massive carbon sink. However, Yasuni National Park also sits on wealth of a different kind: one billion barrels of oil remain locked under the pristine rainforest.
"Money is not a problem," palm oil CEO tells conservationists during speech defending the industry
(10/26/2009) Earlier this month at a colloquium to implement wildlife corridors for orangutans in the Malaysian state of Sabah, Dr. Yusof Basiron, the CEO of Malaysian Palm Oil Council (MPOC), told conservationists and primate experts that the palm oil industry was ready to fund reforestation efforts in the corridors. "We can raise the money to replant [the corridors] and keep contributing as a subsidy in the replanting process of this corridor for connecting forests," Basiron said in response to a question on how the palm oil industry will contribute. "Money is not a problem. The commitment is already there, the pressure is already very strong for this to be done, so it's just trying to get the thing into motion."
Emotional call for palm oil industry to address environmental problems
(10/21/2009) During what was at times an emotional speech, Sabah's Minister of Tourism, Culture, and Environment, Datuk Masidi Manjun, called on the palm oil industry to stop polluting rivers and work with NGOs to save orangutans and other wildlife. He delivered the speech on the first day of an Orangutan Conservation Colloquium held in early October in the Malaysian state of Sabah on the island of Borneo.
Kenya's pain, part two: decades of wildlife decline exacerbated by drought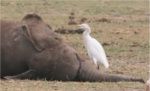 (10/20/2009) Not many years ago if you were planning a trip to Africa to see wildlife, Kenya would be near the top of the list, if not number one. Then violent riots in late 2007 and early 2008 leaving a thousand dead tarnished the country's image abroad. When calm and stability returned, Kenya was again open for tourism, and it's true that most travelers were quick to forget: articles earlier this year announced that even with the global economic crisis Kenya was expecting tourism growth. However, a new disaster may not be so quickly overcome.
Business and conservation groups team up to conserve and better manage US's southern forests

(10/15/2009) A new project entitled Carbon Canopy brings together multiple stakeholders—from big business to conservation organizations to private landowners—in order to protect and better manage the United State's southern forests. The program intends to employ the emerging US forest carbon market to pay private forest owners for conservation and restoration efforts while making certain that all forest-use practices subscribes to the standards of the Forest Stewardship Council (FSC).
Palm oil industry pledges wildlife corridors to save orangutans

(10/03/2009) In an unlikely—and perhaps tenuous—alliance, conservationists and the palm oil industry met this week to draw up plans to save Asia's last great ape, the orangutan. As if to underscore the colloquium's importance, delegates on arriving in the Malaysian State of Sabah found the capital covered in a thick and strange fog caused by the burning of rainforests and peat lands in neighboring Kalimantan. After two days of intensive meetings the colloquium adopted a resolution which included the acquisition of land for creating wildlife buffer zones of at least 100 meters along all major rivers, in addition to corridors for connecting forests. Researchers said such corridors were essential if orangutans were to have a future in Sabah.
Could agroforestry solve the biodiversity crisis and address poverty?, an interview with Shonil Bhagwat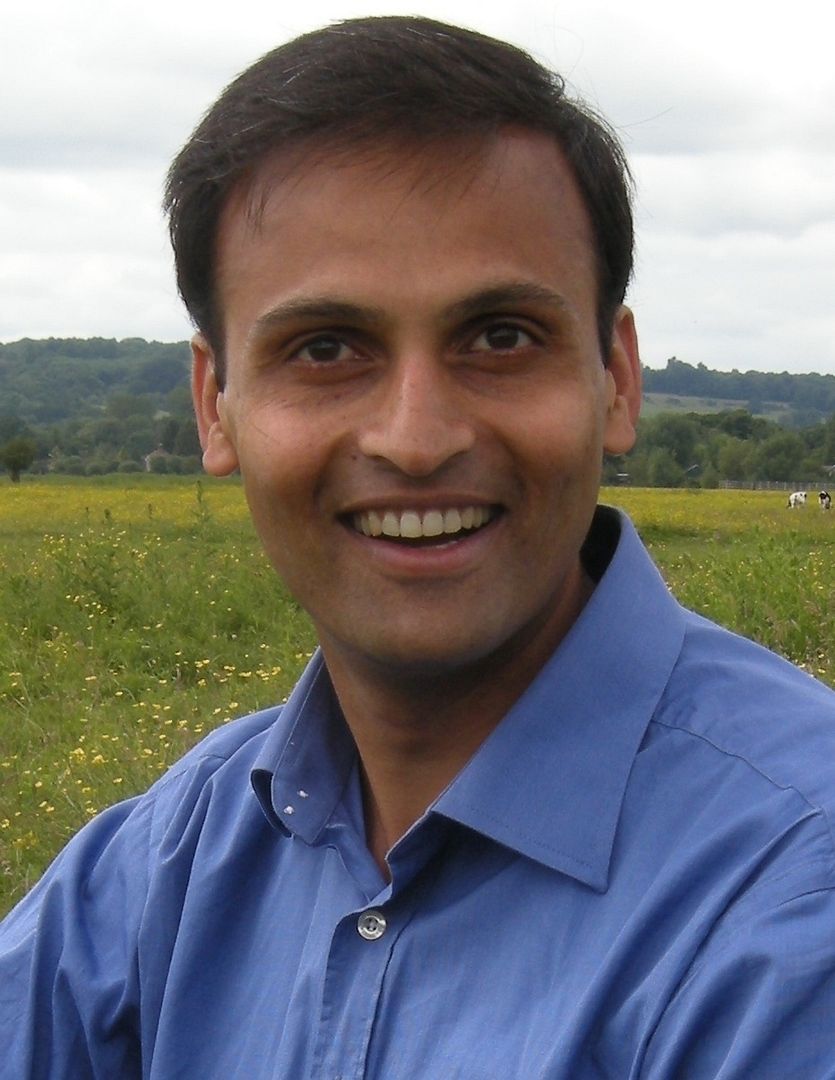 (09/24/2009) With the world facing a variety of crises: climate change, food shortages, extreme poverty, and biodiversity loss, researchers are looking at ways to address more than one issue at once by revolutionizing sectors of society. One of the ideas is a transformation of agricultural practices from intensive chemical-dependent crops to mixing agriculture and forest, while relying on organic methods. The latter is known as agroforestry or land sharing—balancing the crop yields with biodiversity. Shonil Bhagwat, Director of MSc in Biodiversity, Conservation and Management at the School of Geography and the Environment, Oxford, believes this philosophy could help the world tackle some of its biggest problems.
Palm oil both a leading threat to orangutans and a key source of jobs in Sumatra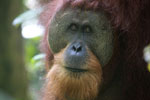 (09/24/2009) Of the world's two species of orangutan, a great ape that shares 96 percent of man's genetic makeup, the Sumatran orangutan is considerably more endangered than its cousin in Borneo. Today there are believed to be fewer than 7,000 Sumatran orangutans in the wild, a consequence of the wildlife trade, hunting, and accelerating destruction of their native forest habitat by loggers, small-scale farmers, and agribusiness. Gunung Leuser National Park in North Sumatra is one of the last strongholds for the species, serving as a refuge among paper pulp concessions and rubber and oil palm plantations. While orangutans are relatively well protected in areas around tourist centers, they are affected by poorly regulated interactions with tourists, which have increased the risk of disease and resulted in high mortality rates among infants near tourist centers like Bukit Lawang. Further, orangutans that range outside the park or live in remote areas or on its margins face conflicts with developers, including loggers, who may or may not know about the existence of the park, and plantation workers, who may kill any orangutans they encounter in the fields. Working to improve the fate of orangutans that find their way into plantations and unprotected community areas is the Orangutan Information Center (OIC), a local NGO that collaborates with the Sumatran Orangutan Society (SOS).
Carbon Financing and Community Forestry

(09/20/2009) Deforestation and forest degradation contribute some 20 percent of global greenhouse gas emissions. Forest-related mitigation measures are now recognized to be amongst the most practical and cost-effective interventions to slow global warming – as well as providing a host of other environmental products and services. However, rural poverty, weak law enforcement, and escalating demand for food and fuel continue to drive forest destruction at an alarming rate – in the Asia-Pacific region alone, some 3.7 million hectares of natural forest are lost every year. This also threatens millions of already vulnerable rural livelihoods, often undermining traditional rights to vital forest resources.
Kenya's pain: famine, drought, government ambivalence cripples once stable nation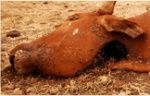 (09/17/2009) Kenya was once considered one of Sub-Saharan Africa's success stories: the country possessed a relatively stable government, a good economy, a thriving tourist industry due to a beautiful landscape and abundant wildlife. But violent protests following a disputed election in 2007 hurt the country's reputation, and then—even worse—drought and famine struck the country this year. The government response has been lackluster, the international community has been distracted by the economic crisis, and suddenly Kenya seems no longer to be the light of East Africa, but a warning to the world about the perils of ignoring climate change, government corruption, and the global food and water shortages.
Alleviating poverty and saving biodiversity are inherently linked argue scientists
(09/17/2009) Twenty-nine scientists argue in Science today that the world will not be able to lift up the world's poor unless it also addresses global biodiversity loss. They say that the same underlying problems—exploitation of resources, unsustainable overconsumption, climate change, population growth—are exacerbating global poverty and the extinction of species.
Independent review finds logging company has abused rights of indigenous Penan in Borneo
(09/15/2009) An independent review of Interhill Logging found that the Sarawak logging company has regularly violated forest laws and abused the rights of the indigenous Penan peoples. The review, conducted by French tourism giant ACCOR, found that Interhill Logging had not received free, prior, and informed consent from the local Penan people for its logging operations; the logging being done by Interhill "is very definitely not sustainable"; the company is not fully compiling with Sarawak's Natural Resources and Environment Board; and Interhill is providing no long-term benefits to the Penan peoples.
500 scientists call on Quebec to keep its promise to conserve half of its boreal forest

(09/13/2009) This March, the Canadian province of Quebec pledged to conserve 50 percent of its boreal forest lying north of the 49th parallel, protecting the region from industrial, mining, and energy development. On Thursday 500 scientists and conservation professionals—65 percent of whom have PhDs—sent a letter to Quebec's Premier Jean Charest calling on him to make good on his promise.
Concerns over deforestation may drive new approach to cattle ranching in the Amazon
(09/08/2009) While you're browsing the mall for running shoes, the Amazon rainforest is probably the farthest thing from your mind. Perhaps it shouldn't be. The globalization of commodity supply chains has created links between consumer products and distant ecosystems like the Amazon. Shoes sold in downtown Manhattan may have been assembled in Vietnam using leather supplied from a Brazilian processor that subcontracted to a rancher in the Amazon. But while demand for these products is currently driving environmental degradation, this connection may also hold the key to slowing the destruction of Earth's largest rainforest.
Discovering nature's wonder in order to save it, an interview with Jaboury Ghazoul

(09/08/2009) Sometimes we lose sight of the forest by staring at the trees. When this happens we need something jarring and eloquent to pull us back to view the big picture again. This is what tropical ecologist Jaboury Ghazoul provided during a talk at the Association of Tropical Biology and Conservation (ATBC) meeting this summer in Marburg, Germany. Throwing out a dazzling array of big ideas and even bigger questions—incorporating natural history, biodiversity, morality, philosophy, and art—the enthusiastic Ghazoul left his audience in a state of wonder.
Saving Africa's 'unicorn', the okapi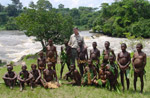 (09/02/2009) The giraffe is one of Africa's most recognizable animals, but its shy and elusive forest cousin, the okapi, was so little known that until just over a century ago the western world believed it was a mythical beast, an African unicorn. Today, a shroud of mystery still envelops the okapi, an animal that looks like a cross between a zebra, a donkey, and a giraffe. But what is known is cause for concern. Its habitat, long protected by its remoteness, was the site of horrific civil strife, with disease, famine, and conflict claiming untold numbers of Congolese over the past decade. Now, as a semblance of peace has settled over Democratic Republic of Congo (DRC), the okapi's prospects have further dimmed, for its home is increasingly seen as a rich source of timber, minerals, and meat to help the war-torn country rebuild. In an effort to ensure that the okapi does not become a victim of economic recovery, the Okapi Conservation Project (OCP) is working to protect the okapi and its habitat. Founded by John Lukas in 1987, well before the conflict, OCP today manages the Okapi Wildlife Reserve, a 13,700-square-kilometer tract of wilderness in the Ituri Forest of northeastern DRC.
Greenhouse gas emissions drop in the EU for the fourth year in a row

(08/31/2009) In 2008 greenhouse gas emissions in the EU fell 1.3 percent, the European Environment Agency (EEA) said today. This figure measures only the emissions in the 15 EU countries that have commitments to reduce emissions, however when all 27 members of the EU are included, greenhouse gas emissions actually fell further: 1.5 percent.
The Pope: "creation is under threat"

(08/26/2009) Pope Benedict XVI spoke today on environmental issues, singling out the importance of a September U.N. summit in New York to work on negotiations for an international framework to tackle climate change, preparing for the U.N. Conference on Climate Change in Copenhagen in December.
Trees sprout across farmland worldwide

(08/26/2009) Half the planet's farmed landscapes have significant tree cover, reports a new satellite-based study. The research, conducted by the Consultative Group on International Agricultural Research's World Agroforestry Centre found that tree cover exceeds 10 percent on more than 1 billion hectares of farmland, indicating that agroforestry is a "vital part" of worldwide agricultural production. 320 million hectares of forested agricultural land are found in Latin America, 190 million hectares in sub-Saharan Africa and 130 million hectares in Southeast Asia.
Environmental disappointments under Obama

(08/24/2009) While the President has been bogged down for the last couple months in an increasingly histrionic health-care debate-which has devolved so far into ridiculousness that one doesn't know whether to laugh or cry-environmental decisions, mostly from the President's appointees have still been coming fast and furious. However, while the administration started out pouring sunshine on the environment (after years of obfuscated drudgery under the Bush administration), they soon began to move away from truly progressive decisions on the environment and into the recognizable territory of playing it safe-and sometimes even stupid.
World's rarest tree kangaroo gets help from those who once hunted it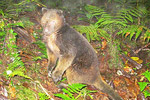 (08/17/2009) The world's rarest tree kangaroo is in the midst of a comeback in a remote part of Papua New Guinea. On the brink of extinction in 2001 with a population estimated at fewer than 100 individuals, Scott's Tree Kangaroo (Dendrolagus scottae), or the tenkile, is recovering, thanks to the efforts of the Tenkile Conservation Alliance to motivate local communities to reduce hunting and respect critical forest habitat. The tenkile Conservation Alliance, led by Australians Jim and Jean Thomas, works to provide alternative sources of protein and raise environmental awareness among local communities.
Saving the tsingy forests in Madagascar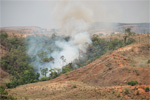 (08/17/2009) After the success of their Sahafina Forest project, Biodiversity Conservation Madagascar is now branching out to the tsingy forest of Beanka, a project set to launch in October this year. Biodiversity Conservation Madagascar (BCM) has been granted a 25-year lease on a 14,000-hectare area of dry hardwood forest, the Beanka tsingy, situated 75 km east of Maintirano in western Madagascar. 'Tsingy' are spectacular razor-sharp limestone pinnacles found on the west and north of the island, formed by acidic rain erosion. The deciduous forests that inhabit them are characterized by high plant and animal endemism. The Malagasy organization plans to apply the same principles here – protection of the forest, socio-economic development and forest restoration – that brought them success with their last project, the 2,500-hectare forest block of Sahafina on Madagascar's east coast.
Can non-timber forest products help conserve the Amazon?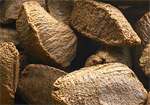 (07/20/2009) Industrial-scale logging and resource exploitation continue to plague the South American rainforests, contributing to their systematic destruction. Today, indigenous inhabitants and other local residents of the rainforests and their surrounding areas, faced with the enormous pressures of the global economy, often find themselves in a crucible. Many of their opportunities for supporting themselves and their families financially involve logging or other large-scale operations that deplete and ultimately decimate the forests. In order to make even a marginal living, local people often find themselves forced to participate in the destruction of the very ecosystems that they live in and depend on.
Saving one of the last tropical dry forests, an interview with Edwina von Gal
(06/29/2009) Often we hear about endangered species—animals or plants on the edge of extinction—however we rarely hear about endangered environments—entire ecosystems that may disappear from Earth due to humankind's growing footprint. Tropical dry forests are just such an ecosystem: with only 2 percent of the world's tropical dry forest remaining it is one of the world's most endangered ecosystems. A newly established organization, the Azuero Earth Project, is working not only to preserve some of the world's last tropical dry forest on the Azuero peninsula in Panama, but also to begin restoration projects hoping to aid both the forest's viability and the local people. Edwina von Gal, a landscape designer, is one of the founders of the Azuero Earth Project, as well as president of the organization.
Wind could power the entire world

(06/22/2009) Wind power may be the key to a clean energy revolution: a new study in the Proceedings of the National Academy of Science finds that wind power could provide for the entire world's current and future energy needs.
What is the crop productivity and environmental impact of too much or too little fertilizer?

(06/18/2009) While the use of synthetic fertilizer has greatly increased agricultural production globally—helping to feed a global population that is not slowing down—it has brought with it high environmental costs. Fertilizer runoff has polluted many coastal regions creating 'dead zones' where the ocean is starved of oxygen by the influx of nitrogen. Synthetic fertilizers have also polluted the air with ammonia, and sent emissions of nitrous oxide into the atmosphere, contributing to global warming.
Amazon deforestation doesn't make communities richer, better educated, or healthier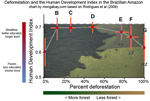 (06/11/2009) Deforestation generates short-term benefits but fails to increase affluence and quality of life in the long-run, reports a new study based an analysis of forest clearing in 286 municipalities across the Brazilian Amazon. The research, published in Friday's issue of the journal Science, casts doubt on the argument that deforestation is a critical step towards development and suggests that mechanisms to compensate communities for keeping forests standing may be a better approach to improving human welfare, while simultaneously sustaining biodiversity and ecosystem services, in rainforest areas.
Reducing emissions from deforestation in developing countries
(06/02/2009) Global forest covers around 30 per cent of the Earth's land surface (nearly 4 billion hectares). Forests provide valuable ecosystem services and goods, serve as a habitat for a wide range of flora and fauna and hold a significant standing stock of global carbon. The total carbon content of forests has been estimated at 638 Gt for 2005, which is more than the amount of carbon in the entire atmosphere. Deforestation, mainly conversion of forests for agriculture activities, has been estimated at an alarming rate of 13 million hectares per year (in the period 1990-2005).
Brazil's plan to save the Amazon rainforest
(06/02/2009) Accounting for roughly half of tropical deforestation between 2000 and 2005, Brazil is the most important supply-side player when it comes to developing a climate framework that includes reducing emissions from deforestation and forest degradation (REDD). But Brazil's position on REDD contrasts with proposals put forth by other tropical forest countries, including the Coalition for Rainforest Nations, a negotiating block of 15 countries. Instead of advocating a market-based approach to REDD, where credits generated from forest conservation would be traded between countries, Brazil is calling for a giant fund financed with donations from industrialized nations. Contributors would not be eligible for carbon credits that could be used to meet emission reduction obligations under a binding climate treaty.
Forest Recovery Programs in Madagascar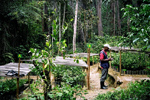 (06/01/2009) Despite being one of the last habitable land masses on earth to be settled by man, Madagascar has lost more of its forests than most countries; less than 10% of its original forest cover now remains, and much of that is degraded. Political turmoil that erupted earlier this year continues to rumble on and the ensuing lawlessness has created the opportunity for illegal logging syndicates to plunder national parks, most notably Marojejy and Masoala, for valuable hardwoods and wildlife.
Rich countries buy up agricultural land in poor countries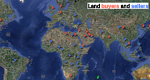 (05/26/2009) Over two-and-half million hectares in the Democratic Republic of the Congo; half a million hectares in Tanzania; and a quarter of a million hectares in Libya: these figures represent just some of the recent international land deals where wealthy countries buy up land in poorer nations for food, and sometimes biofuel, production. The controversial trend has sparked a recent report from the International Food Policy Research Institute (IFPRI) highlighting what nations have to gain—and lose—from participating in such deals.
Protecting watersheds secures freshwater and saves billions of dollars

(03/19/2009) The World Water Forum brings together 25,000 experts this week in Istanbul, Turkey to discuss the water challenges facing a growing world. According to a compilation of case studies by the International Union for Conservation of Nature (IUCN), which is sponsoring the event, one of the simplest and least expensive ways to have ample water for a growing human population is to protect watersheds. Not only do protected watersheds provide clean and easy-access water for many of the world's largest cities, their protection also saves billions of dollars.
Mr. President, it is time for a speech on climate change

(03/17/2009) Now that Barack Obama has been president for nearly two months, it is time for him to give a defining speech on climate change. While Obama has spent most of his time on what the majority of Americans consider the most pressing issue—the economy—he has proven himself adept at juggling the economy with other vital issues. A fact-based speech on climate change would accomplish several goals.
New greenhouse gas '4,800 times more potent' than carbon

(03/12/2009) Scientists from MIT and Scripps Institution of Oceanography have announced the discovery of an exceptionally potent new greenhouse gas. Sulfuryl fluoride is an up-and-coming fumigant against insects, but scientists have discovered that if the new gas becomes widely used it could contribute significantly to climate change.
Largest US protest on climate change today

(03/02/2009) At 1 PM EST activists from across the US plan to engage in civil disobedience at Capitol Power Plant in Washington DC. Organizers from 90 different groups estimate that more than 2,500 people will be joining in the protests making it the largest US protest on climate change to date. Owned by congress, Capital Power Plant is seen by activists as a longtime symbol of the US government's consistent support for the use of coal, the leading source of CO2 emissions in the US.
Payments for eco services could save the Amazon

(02/12/2009) Paying for the ecological services provided by the Amazon rainforest could be the key to saving it, reports a new analysis from WWF. The study, Keeping the Amazon forests standing: a matter of values, tallied the economic value of various ecosystem services afforded by Earth's largest rainforest. It found that standing forest is worth, at minimum, $426 per hectare per year.
Beef drives 80% of Amazon deforestation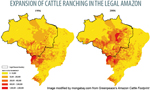 (01/29/2009) Nearly 80 percent of land deforested in the Amazon from 1996-2006 is now used for cattle pasture, according to new maps released today in a report by Greenpeace at the World Social Forum in Belem, Brazil. The report, Amazon Cattle Footprint: Mato Grosso: State of Destruction, confirms that cattle ranching is the primary driver of deforestation in Earth's largest rainforest: the Brazilian Amazon.
High coffee prices spurred deforestation in Sumatra but effective law enforcement slowed forest loss

(01/22/2009) Law enforcement efforts can significantly deter deforestation in protected areas despite high pressure from agricultural expansion, reports a new study that assessed the effectiveness of conservation in Bukit Barisan Selatan National Park in southern Sumatra, Indonesia. However the research suggests that conservation needs extend beyond law enforcement to be effective in the long-run.
Secondary forest should become new conservation initiative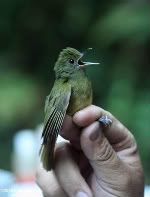 (01/19/2009) "I want to convince you we need to go beyond primary forests to preserve biodiversity", Robin Chazdon told an audience at the National Natural History Museum during a symposium on the tropics. Chazdon, a professor of ecology and evolutionary biology at the University of Connecticut, has been studying secondary growth forests for over eighteen years. Secondary forests are those forests in the process of regrowth after being used for agriculture or logging. In her study area of NE Costa Rica, many of these forests were converted to pastures in the 1970s and 1980s, but have since been abandoned. In her presentation Chazdon argued that to preserve biodiversity numerous types of human-impacted landscapes, such as secondary forest, require attention by the conservation community.
20 years ago the Amazon lost its strongest advocate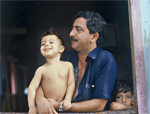 (12/22/2008) Twenty years ago ago today, Chico Mendes, an Amazon rubber tapper, was shot and killed in front of his family at his home. He was 44. His assassination in Xapuri, a remote town in the Brazilian state of Acre, would serve as a catalyst that led to the birth of the movement to protect the Amazon rainforest from loggers, ranchers, and developers. But the movement has stalled. Some would even say it has failed: since 1988 more than 348,000 square kilometers (134,000 square miles) of Amazon rainforest have been leveled.
How youth in Kenya's largest slum created an organic farm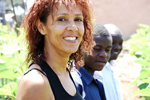 (12/09/2008) Kibera is one of the world's largest slums, containing over a million people and 60 percent of Nairobi's population. With extremely crowded conditions, little sanitation, and an unemployment rate at 50 percent, residents of Kibera face not only abject poverty but also a large number of social ills, including drugs, alcoholism, rape, AIDS, water-borne diseases, and tensions between various Kenyan tribes.





Linking rural health care to forest conservation proving a success in Borneo

(12/08/2008) Health in Harmony was today awarded mongabay.com's annual "Innovation in Conservation" award for its unique approach to conservation which combats illegal logging by providing healthcare and sustainable livelihoods to communities living around Gunung Palung National Park in Kalimantan, on the island of Borneo. The award includes a cash grant and prominent placement on the mongabay.com web site and newsletter for the month of December. Health in Harmony is working to break an impoverishing cycle of illegal logging and deforestation by offering healthcare rewards to encourage the villagers to protect the national park, rather than log it. The effort seems to be paying off: since launching a 'forests-for-healthcare' incentive program in September, 18 of 21 communities have signed a moratorium of understanding agreeing to participate.






Page 1 | Page 2 | Page 3 | Page 4 | Page 5 | Page 6 | Page 7