News articles on strange

---
Mongabay.com news articles on strange in blog format. Updated regularly.






Uncovering the private lives of Amazon wildlife through camera traps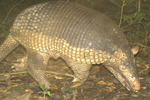 (05/20/2011) One of the best words to describe Amazon wildlife, including large mammals and birds, is cryptic. A person can spend a day trekking through the dense green and brown foliage of the Amazon and see nothing more than a few insects, maybe a frog here and there if they have good eyes. In fact, researchers have spent years in the jungle and never seen a jaguar, let alone a tapir. Some species like the bushdog and the giant armadillo are even more cryptic. Almost never encountered by people, in some parts of the Amazon they have taken on a mythic status, more rumor around the fire than reality. However, camera traps—automated cameras that take a flash photo whenever an animal triggers an infrared sensor—in the Amazon have begun to reveal long-sought information about the presence and abundance of species, providing new data on range and territories. And even at times giving glimpses into the private lives of species that remain largely shrouded in mystery.
Red rodent shows up at Colombian nature lodge after 113 years on the lam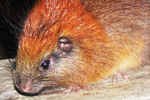 (05/18/2011) The red-crested tree rat (Santamartamys rufodorsalis) had not been recorded since 1898 and was thought possibly extinct—that is until one showed up at 9:30 PM on May 4th at a lodge in El Dorado Nature Reserve in northern Colombia. 'He just shuffled up the handrail near where we were sitting and seemed totally unperturbed by all the excitement he was causing,' said Lizzie Noble, a British volunteer with Fundacion ProAves.
No limbs or sight needed: bizarre new lizard uncovered in Cambodia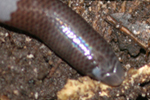 (05/09/2011) A new species of legless lizard has been discovered in Cambodia. Herpetologist Neang Thy uncovered, literally, the new species when he turned over a log in the species-rich Cardamom Mountains. While the new lizard looks like a snake or a big earthworm, it is in fact a lizard belong to the Dibamidae family. These bizarre reptiles spend much of their lives burrowing underground for insects, which has allowed them to lose the need for limbs.
Forgotten species: the endearing Tenkile tree kangaroo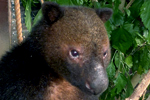 (05/03/2011) With their long snout, furry body, soft eyes, and, at times, upright stance, tree kangaroos often remind me of the muppets. Of course, if there were any fairness in the world, the muppets would remind me of tree kangaroos, since kangaroos, or macropods, have inhabited the Earth for at least 5 million years longer than Jim Henson's muppets. But as a child of the 1980s, I knew about muppets well before tree kangaroos, which play second fiddle in the public imagination to their bigger, boxing cousins. This is perhaps surprising, as tree kangaroos possess three characteristics that should make them immensely popular: they are mammals, they are monkey-like (and who doesn't like monkeys?), and they are desperately 'cute'.
With 24 eyes, box jellyfish are constantly looking up

(04/28/2011) Lacking brains does not mean box jellyfish are incapable of complex visual behavior, according to a new study in Current Biology. Researchers have known for over a century that box jellyfish support an astounding two-dozen eyes. Now, they are beginning to find out how these eyes are used: four of a box jellyfish's 24 eyes are always peering up out of the water finds the new study. These four eyes, no matter how the body is oriented, allow the jellyfish to navigate their shallow, obstacle-filled habitats, such as mangroves—and keep them from straying too far from home.
Vietnam creates reserve for newly-discovered, nearly-extinct mammal, the saola

(04/14/2011) The Vietnam government and local people have approved a Saola Natural Reserve to protect one of the world's most endangered—and most elusive—mammals. Only discovered by the outside world in 1992, the saola (Pseudoryx nghetinhensis) inhabits the lush forests of the Annamite Mountains. No one knows how many saola remain, but it has been classified as Critically Endangered as it is likely very few. Recently, conservationist William Robichaud told mongabay.com that the saola was "perhaps the most spectacular zoological discovery of the 20th century", comparing it only to the discovery of the okapi in central Africa in 1900.
The saola: rushing to save the most 'spectacular zoological discovery' of the 20th Century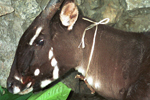 (04/04/2011) The saola (Pseudoryx nghetinhensis) may be the most enigmatic, beautiful, and endangered big mammal in the world—that no one has ever heard of. The shy ungulate looks like an African antelope—perhaps inhabiting the wide deserts of the Sahara—but instead it lives in the dense jungles of Vietnam and Laos, and is more related to wild cattle than Africa's antelopes. The saola is so unusual that is has been given its own genus: Pseudoryx, due to its superficial similarities to Africa's oryx. In the company of humans this quiet forest dweller acts calm and tame, but has yet to survive captivity long. Yet strangest of all, the 200 pound (90 kilogram) animal remained wholly unknown to science until 1992.
Escaped Bronx Zoo cobra found! (picture)

(03/31/2011) The missing Bronx Zoo cobra that caused consternation among some New York residents while becoming a pop culture icon has been found after a thorough search of the zoo's Reptile House.
'Huge reduction' of water from plants due to higher carbon levels

(03/30/2011) As if ocean acidification and a warming world weren't enough, researchers have outlined another way in which carbon emissions are impacting the planet. A new study shows that higher carbon dioxide levels in the atmosphere have taken a toll on how much water vapor plants release, potentially impacting the rainfall and groundwater sources. A study in the Proceedings of the National Academy of Sciences (PNAS) has found that carbon dioxide levels over the past 150 years has reduced plants' spores, called stomata, by over one third (34%). This is important because stomata take in oxygen and carbon dioxide and release water vapor in a process dubbed 'transpiration'. Less stomata means less water driven into the atmosphere.
New seabird discovered, first in 55 years

(03/23/2011) Stephen Maturin, if he were not fictional, would be delighted. A new seabird has been discovered by an international expedition headed by one of the world's top seabird-experts, Peter Harrison, after he received photos from vacationing birders of an unusual looking storm petrel off the coast of Chile.
Critically endangered capuchins make tools to gather termites

(03/10/2011) Less than 200 blond capuchins (Cebus falvius) survive in the highly-fragmented habitat of Brazil's Atlantic Forest. But this tiny group of monkeys, only rediscovered in 2006, is surprising scientists with its adept tool-using abilities. Displaying similar behavior to that which made the chimpanzees of Gombe famous worldwide, the blond capuchins modify sticks to gather termites from trees; however, according to the study published in Biology Letters the blond capuchins use two techniques never witnessed before: twisting the stick when inside the termite nest and tapping the nest before inserting the stick.
Birds experience 'empathy' for their hatchlings

(03/09/2011) A new study has uncovered what many chicken owners would say is evident: a mother hen experiences empathy for her hatchlings. Published in the Proceedings of the Royal Society B, the study found that mother hens show both physiological responses and changes in behaviors when their chicks are even mildly distressed.
New species of zombie-creating fungi discovered

(03/02/2011) As everyone knows, human zombies are created when an uninfected human is bitten by a member of the brain-craving undead. But what about ant zombies? Yes, that's right: ant zombies.
Saving Madagascar's largest carnivorous mammal: the fossa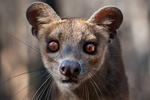 (02/17/2011) Madagascar is a land of wonders: dancing lemurs, thumbnail-sized chameleons, the long-fingered aye-aye, great baobab trees, and the mighty fossa. Wait—what? What's a fossa? It's true that when people think of Madagascar rarely do they think of its top predator, the fossa—even if they are one of the few who actually recognizes the animal. While the fossa gained a little notice in the first Madagascar film by DreamWorks, its role in the film was overshadowed by the lemurs. In this case, art imitates life: in conservation and research this feline-like predator has long lived in the shadow of its prey, the lemur. Even scientists are not certain what to do with the fossa: studies have shown that it's not quite a cat and not quite a mongoose and so the species—and its few Malagasy relatives—have been placed in their own family, the Eupleridae, of which the fossa (Cryptoprocta ferox) is the biggest. But if this is the first you've heard of such matter, don't feel bad: one of the world's only fossa-researchers, Mia-Lana Lührs also stumbled on the species.
Incredible new photos of uncontacted tribe in the Amazon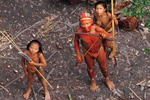 (01/31/2011) Taken by Brazil's Indian Affairs Department and released by indigenous-rights group, Survival International, new aerial photos show an uncontacted tribe on the border of Brazil and Peru in detail. According to a press release by Survival International, the photos "reveal a thriving, healthy community with baskets full of manioc and papaya fresh from their gardens", but a community that is also threatened by illegal loggers from Peru.
Egyptian jackal is actually ancient wolf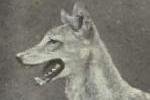 (01/26/2011) The Egyptian jackal, which may have been the inspiration for the Egyptian god Anubis, is actually not a jackal at all but a member of the wolf family. New genetic research in the open-access journal PLoS ONE finds that the Egyptian jackal is Africa's only member of the gray wolf family. The new wolf, dubbed by researchers as the African wolf, is most closely related to the Himalayan wolf.
Tiny bats trade in caves for pitcher plants in Borneo

(01/26/2011) A tiny species of bat in Borneo has chosen an unusual roost: a carnivorous pitcher plant, according to a recent study. The study examines how this behavior actually benefits both the bats and the plants, creating a symbiotic relationship.
Picture: scientists identify first known single-fingered dinosaur

(01/25/2011) Paleontologists working in China have discovered a first for dinosaurs: a species with only one finger. Named Linhenykus monodactylus, the extinct species stood only about two feet high and weighed about as much as a large parrot. Although small, the new dinosaur was a member of the carnivorous therapod dinosaurs, which include the infamous Tyrannosaurus Rex. The find was announced in the Proceedings of the National Academy of Sciences.
Updating the top 100 weirdest and most imperiled mammals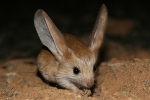 (01/24/2011) A lot can change in three years. In January 2007, the Zoological Society of London (ZSL) jumpstarted a program unique in the conservation world: EDGE, which stands for Evolutionarily Distinct and Globally Endangered, selects the species it works with not based on popularity or fund-raising potential but on how endangered and evolutionary unique (in laymen's terms: weird) they are. When EDGE first arrived in 2007, it made news with its announcement of the world's top 100 most unique and endangered mammals. While this list included a number of well-known species—such as the blue whale and the Asian elephant—it also introduced the public to many little-recognized mammals that share our planet, such as the adorable long-eared jerboa, the ancient poisonous solenodon, and the ET-like aye-aye. However, after three years the EDGE program found that their top 100 mammals list already need updating.
How Genghis Khan cooled the planet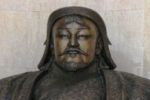 (01/20/2011) In 1206 AD Genghis Khan began the Mongol invasion: a horse-crazed bow-wielding military force that swept through much of modern-day Asia into the Middle East and Eastern Europe. But aside from creating the world's largest empire, the Mongol invasion had another global impact that has remained hidden in history according to new research by Julia Pongratz of the Carnegie Institution's Department of Global Ecology. Genghis Khan and his empire, which lasted nearly two centuries, actually cooled the Earth.
World's weirdest aphrodisiac: elephant-digested durian fruit

(01/20/2011) The spiky, odorous, weighty, and almost impenetrable durian fruit is considered by some to be a fine delicacy, but others a putrid horror. Its taste has been described between a delicious custard and old gym socks. Still, even durian lovers may be uncomfortable with the idea of eating the fruit after it has been consumed and expelled by a wild Asian elephant. But according to the New Straits Times recently wealthy businessmen are willing to pay over $300 for a sample of elephant-ingested durian, which they believe acts as an aphrodisiac.
Africa gains new elephant species
(01/19/2011) DNA evidence has shown that the forest elephant-Africa's smaller, shyer pachyderm-is indeed a separate species from the much more well-known savanna elephant. While scientists have long debated the status of the forest elephant (should it be considered a separate population, a subspecies, or a unique species?) a new study in the open-access journal PLoS Biology finds that genetically the forest elephant is unarguably a new species. If conservation authorities accept the new study, it will change elephant conservation efforts throughout Africa.
How cannibal crickets choose their victims

(12/17/2010) Social interactions influence cannibalistic behavior among migratory bands of crickets, finds a new study published in the Public Library of Science. Cannibalism in turn is a major driving force behind the nature and direction of cricket swarms.
Extinct giant stork towered over 'hobbits' on Flores

(12/07/2010) Scientists have discovered an extinct massive stork, standing nearly 6 feet tall (1.8 meter) and weighing 35 pounds (15 kilograms), which would have shared the island of Flores with the 'hobbits'—dwarf hominin species known as Homo floresiensis—reports the BBC. According to the researchers the meat-eating stork was big enough to prey on young Homo floresiensis, and stood about 2 and a half feet (0.8 meters) above adult hobbits.
Forgotten species: the plummeting cycad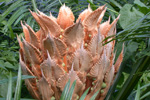 (12/06/2010) I have a declarative statement to make: cycads are mind-blowing. You may ask, what is a cycad? And your questions wouldn't be a silly one. I doubt Animal Planet will ever replace its Shark Week with Cycad Week (perhaps the fact that it's 'animal' planet and not 'plant' planet gave that away); nor do I expect school children to run to see a cycad first thing when they arrive at the zoo, rushing past the polar bear and the chimpanzee; nor do I await a new children's book about a lonely little anthropomorphized cycad just looking for a friend. In the world of species-popularity, the cycad ranks pretty low. For one thing, it's a plant. For another thing, it doesn't produce lovely flowers. And for a final fact, it looks so much like a palm tree that most people probably wouldn't know it wasn't. Still, I declare the cycad to be mind-blowing.
Breaking all of life's rules: scientists discover bacteria that can survive on arsenic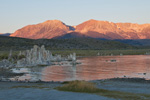 (12/02/2010) While for days rumors have circulated around the Internet that NASA had discovered alien life, the truth may be even less expected. Instead of aliens, NASA-funded researchers have discovered a microorganism on Earth that breaks all the rules of life: in Mono Lake in California scientists found a bacterium that can survive wholly on arsenic. The microorganism is capable of replacing phosphate, one of the essential blocks of all known life, with the toxic chemical arsenic according to new researched published in Science. Uncovered by lead author and NASA-funded scientist, Felicia Wolf-Simon, along with astrobiolgist colleagues at Arizona State University, the discovery is thought to have widespread implications on how life may survive on other planets.
Hairy enigma of the Serengeti photographed again

(11/29/2010) A mysterious—and extremely hairy—animal has been photographed again in the Serengeti. Robert Berntsen, a frequent traveler to East Africa, photographed the creature, almost certainly a gazelle, in Kenya's Masai Mara Reserve. It was earlier photographed by Paolo Torchio in the same reserve.
Genetic analysis uncovers new parrot on the edge of extinction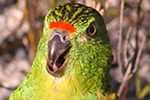 (11/23/2010) Down to just over 100 individuals, DNA analysis has revealed one of the world's most imperiled bird species: the western ground parrot Pezoporus flaviventris.. Genetic evidence collected from museums specimens, some well-over a century old, have led scientists to "cautiously suggest" that Australia's ground parrot be split into two distinct species—the eastern and the western—and not subspecies as they are currently considered. According to the study, the ground parrot species split apart some two million years ago, around the same time as the first members of the genus Homo evolved.
Back from extinction: Tasmanian tiger caught on video?

(11/16/2010) A 9 second video released today on YouTube claims to show a living Tasmanian tiger. The footage was captured by Murray McAllister last year. McAllister says he has seen the believed-to-be-extinct Tasmanian tiger several times in the last few years.
Researchers track the little-known giant sunfish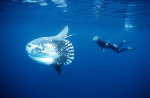 (11/10/2010) Getting to know the heaviest bony fish in the world is surprisingly hard. At 3 m (10 ft) long and 2,200 kg (4,850 lb), the Mola mola, or ocean sunfish, is an elusive giant. A typical day in its life is still a mystery. Now, a study published on 30 September in the Journal of Experimental Marine Biology and Ecology has opened a small portal onto their behaviors – and has underlined concerns that sunfish die in alarming numbers as unintentional catches in commercial fisheries.
Biological shocker: snake reproduces asexually

(11/03/2010) Researchers have discovered a biological shocker: female boa constrictors are capable of giving birth asexually. But the surprise doesn't end there. The study in Biology Letters found that boa babies produced through this asexual reproduction—also known as parthenogenesis—sport a chromosomal oddity that researchers thought was impossible in reptiles.
Picture: new monkey discovered in Myanmar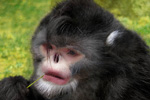 (10/26/2010) Hunters' reports have led scientists to discover a new species of monkey in the northern forests of Myanmar. Discovered by biologists from the Myanmar Biodiversity and Nature Conservation Association with support from primatologists with Fauna & Flora International (FFI) and the People Resources and Biodiversity Foundation, the strange looking primate is a member of the snub-nosed monkey family, adding a fifth member to this unmistakably odd-looking group of Asian primates. However, the species survives in only a small single population, threatened by Chinese logging and hunting.
Elephant tromping benefits frogs and lizards

(10/25/2010) While elephants may appear destructive when they pull down trees, tear up grasses or stir up soils, their impacts actually make space for the little guys: frogs and reptiles. The BBC reports that a new study in African Journal of Ecology finds that African bush elephants (Loxodonta Africana), facilitate herpetofauna (i.e. amphibians and reptiles) biodiversity when they act as ecosystem engineers.
Mystery of the chupacabra monster likely solved

(10/22/2010) The mystery of the legendary chupacabra, a beast that is said to drain the blood of domestic animals at night, has been solved according to a scientist at the University of Michigan.
Photos: weird new species discovered in deep sea trench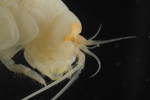 (10/18/2010) Fish were not expected to be able to survive so deep, but scientists have captured footage of a new species of a scavenger-hunting snailfish swimming at an astounding 7,000 meters below the surface. The video, taken from an 8,000 meter-deep sea trench in the Southeast Pacific Ocean, showed a level of biodiversity that surprised seasoned marine biologist, who have previously surveyed five other deep sea trenches.
Majority of Americans confused on climate change basics

(10/17/2010) Most Americans don't understand the basics of climate change, according to a new poll by researchers with Yale. The poll found that over half of Americans deserve an 'F' on basic understanding of climate science and climate change, while only 1% would receive an 'A'.
Flickr reveals longest whale migration

(10/14/2010) Communal photo sharing site, Flickr, has allowed researchers to discover the longest migration by a whale yet recorded. Ten years ago a female humpback whale swam from Brazil to Madagascar, covering around 6,090 miles (9,800 kilometers). The migration tops the previous record by 2,485 miles (4,000 kilometers). Not only is this a record for a whale, it's a record for non-human mammals.
Monarch butterflies medicate their sick kids

(10/12/2010) A new study in Ecology Letters has discovered that monarch butterflies employ medicinal plants to treat their larva. Researchers found that certain species of milkweed, which the larva feed on, can reduce the threat of a sometime deadly parasite. However, even more surprising: "we have also found that infected female butterflies prefer to lay their eggs on plants that will make their offspring less sick, suggesting that monarchs have evolved the ability to medicate their offspring," says lead author Jaap de Roode.
Do wind farms drive local warming?

(10/11/2010) Using decades-old data researchers have proven a long-suspected effect of wind turbines: under certain conditions large-scale wind farms can change local weather. Temperatures recorded from a wind farm in San Gorgonio, California in 1989 shows that turbines cooled local temperatures during the day, but warmed them at night. However, researchers in the paper published in the Proceedings of the National Academy of Science say that the impact of wind farms on local temperatures will not be the same everywhere.
U.S. government bombs Guam with frozen mice to kill snakes

(09/28/2010) In a spectacularly creative effort to rid the island of Guam of an invasive species, the US Department of Agriculture is planning to 'bomb' the rainforests with dead frozen mice laced with acetaminophen. The mice-bombs are meant to target the brown tree snake, an invasive species which has ravaged local wildlife, and angered local residents, since arriving in the 1940s.
Indian carnivore eats mostly fruit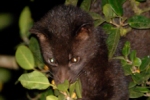 (09/27/2010) When is a carnivore no longer a carnivore? A new study in mongabay.com's open access journal Tropical Conservation Science has found that the brown palm civet (Paradoxurus jerdoni), a cat-sized tree-loving carnivore, lives almost entirely off fruit and seeds. Studying over a 1000 feces from the brown palm civet during three years, researchers found that 97 percent of its diet was composed of plants, not meat. Given its penchant for fruit, researchers argue that the brown palm civet is an important disperser of tropical plants, playing a vital ecological role rarely connected to civets.
Plant names cut by over half a million

(09/22/2010) Researchers expect to strike out some 600,000 plant species names from taxonomy lists, representing over half of the names in current lists which stretched to nearly a million. The names cut are duplicate monikers for the same plant: for example, researchers discovered an astounding 800 different names for the tomato (Solanum lycopersicum). Researchers are once-and-for-all weeding out alias names in an attempt to create a single definitive list of plant names.
New ape species uncovered in Asia

(09/21/2010) Discovering a species unknown to science is a highlight of any biologist's career, but imagine discovering a new ape? Researchers with the German Primate Center (DPZ) announced today the discovery of a new species of ape in the gibbon family, dubbed the northern buffed-cheeked gibbon (Nomascus annamensis), according to the AFP. The new species was discovered in rainforests between the borders of Vietnam, Laos, and Cambodia: an area that contains a number of gibbon species.
Tigers discovered living on the roof of the world

(09/20/2010) A BBC film crew has photographed Bengal tigers, including a mating pair, living far higher than the great cats have been documented before. Camera traps captured images and videos of tigers living 4,000 meters (over 13,000 feet) in the tiny Himalayan nation of Bhutan.
Beyond bizarre: strange hairy antelope photographed in Kenya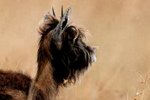 (08/19/2010) Is it a hairy goat roaming the plains? An antelope with some genetic mix-up? At this point no one knows. This strange creature was photographed in Kenya's Masai Mara National Reserve. Apart of the Serengeti plains, the Masai Mara covers 1,500 square kilometers and is home to a wide-range of iconic African savannah species, from elephants to lions and giraffes to hippos.The photos were first published on conservation organization WildlifeDirect's website.





Vampire killing spree in Peru

(08/16/2010) At least four children died after rabid vampire bats attacked Awajun indigenous communities in a remote part of Peru, reports the BBC.




Page 1 | Page 2 | Page 3 | Page 4 | Page 5 | Page 6 | Page 7 | Page 8 | Page 9 | Page 10 | Page 11 | Page 12