News articles on strange

---
Mongabay.com news articles on strange in blog format. Updated regularly.






Scientific expedition to survey species in China's Bigfoot territory

(07/02/2012) This month, nearly 40 scientists will enter a wild and remote region of western China, reports China's state media Xinhua. Spending several weeks in Shennongjia Nature Reserve, the researchers hope to study rare species like the golden snub-nosed monkey (Rhinopithecus roxellana), which is listed as Endangered by the IUCN Red List. But the forest is also the source of China's 'wild man' sightings; known locally as the 'Yeren,' the unconfirmed primate has also been dubbed China's Bigfoot.
Forgotten species: the overlooked Sumatran striped rabbit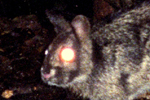 (06/28/2012) When you read the words 'Sumatra' and 'Endangered Species' in the same sentence there is a 99 percent chance that you will be reading about one of four animals: orangutans, tigers, elephants, or rhinos. These big four of Sumatra have become the rallying cry to save the island's ever-dwindling forests. This is not surprising, given that these species include some of the world's most publicly beloved animals and, in addition, they are all considered Critically Endangered by the IUCN Red List. But by dominating the headlines in Sumatra's deforestation crisis, these four species often overshadow the thousands of other species found on the island, many of which also face extinction. In fact when you read the words 'Sumatra' and 'Endangered Species' you will almost certainly not be reading about the Sumatran striped rabbit.
'Time pollution': loss of predators pushes nocturnal fish to take advantage of the day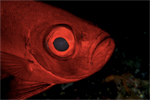 (06/25/2012) Nocturnal fish—which sport big eyes for improved night vision—are taking back the day in the coral reefs of the Tabuaeran Atoll, according to a new study in the open-access journal PLoS ONE. Overfishing has plundered the Pacific atoll of many of its notable predators, including sharks and barracudas, causing ripple effects through the ecosystem. One of these emerging changes appears to be that with less fear of being eaten, nocturnal fish are increasingly venturing out during the day.
New tiny crustacean discovered in deep sea off Europe (photo)

(06/20/2012) Scientists have pulled up a tiny new species of 'squat lobster' from a deep sea mountain at 1,410 meters below sea level off the coast of Spain. Dubbed Uroptychus cartesi, this is only the fourth species in this genus from the eastern Atlantic Ocean, although there are over hundred unique species in the Pacific and Indian ocean. The new species measures just 5-7 centimeters.
Extinct toad rediscovered after hiding for 133 years in Sri Lanka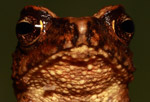 (06/18/2012) A small toad not seen since 1876, and considered by many to be extinct, has been rediscovered in a stream in Sri Lanka. First recorded in 1872, the Kandyan dwarf toad had (Adenomus kandianus) vanished for over a century before being found by scientists during a survey in 2009 in the Peak Wilderness Sanctuary, according to a new paper in Zootaxa.
B95, the great survivor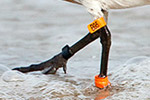 (06/11/2012) He is so long-lived that he has surpassed all expectations, touching hearts throughout the American continent, bringing together scientists and schools, inspiring a play and now even his own biography. B95 is the name of a rufus red knot (Calidris canutus rufus), a migratory bird that in his annual journeys of 16,000 kilometers (9,940 miles) each way from the Canadian Arctic to Tierra del Fuego, in Argentina, has flown a distance bigger than the one between the Earth and Moon.
Massive algae bloom in Arctic like "finding the Amazon rainforest in the Mojave Desert"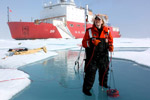 (06/11/2012) Given everything marine researchers know about phytoplankton, a type of algae, no one expected to find some of the world's largest blooms beneath Arctic sea ice. But this is exactly what scientists stumbled on during an ICESCAPE expedition in the Chukchi Sea, which is examining the massive impacts of climate change in the region. Researchers recorded a 100 kilometer (62 miles) long bloom underneath the Arctic ice pack that was four times richer than adjacent ice-free waters.
Forgotten Species: the wonder-inducing giant clam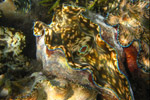 (06/11/2012) The first time I ever saw a giant clam was at a ride in Walt Disney World's Magic Kingdom. My family and I piled into the Nautilus submersible at the 20,000 Leagues Under the Sea: Submarine Voyage and descended into the playtime depths. While we saw sea turtles, sharks, lobsters, mermaids, and even a sea monster, the creature that lingered in my mind most was the giant clam, raising and closing its pearly shell in the weedy abyss. Of course, none of these aquatic wonders were real—they were animatronics—but to a child with a vivid imagination they stirred within me the deep mystery of the boundless ocean, and none more so than that monstrous clam with its gaping maw.
Featured video: baby hornbills grow up in a jar

(05/29/2012) A researcher in Malaysia has captured footage of Oriental pied hornbills (Anthracoceros albirostris) raising chicks in an earthen jar in the Kenyir rainforest of Malaysia. The first video shows the father Oriental pied hornbill feeding the chicks, while the second shows a chick leaving its nest.
Blue tarantula, walking cactus, and a worm from Hell: the top 10 new species of 2011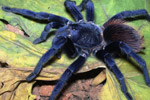 (05/23/2012) A sneezing monkey, a blue tarantula, and an extinct walking cactus are just three of the remarkable new species listed in the annual Top Ten New Species put together by the International Institute for Species Exploration at Arizona State University. This year's list includes a wide-variety of life forms from fungi to flower and invertebrate to primate.
New frog species leaves scientists' fingers yellow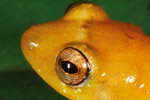 (05/22/2012) A beautiful, yellow frog species has been discovered in western Panama, according to a new paper in ZooKeys. Scientists were surprised when handling the new species to find their fingers stained bright yellow by its skin, but even after laboratory research the purpose of this dye remains a mystery. The new species, named Diasporus citrinobapheus, is a member of the large rain frog family, whose members skip the tadpole stage and instead are born directly from eggs as tiny froglets.
Jaguar v. sea turtle: when land and marine conservation icons collide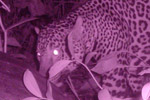 (05/16/2012) At first, an encounter between a jaguar (Panthera onca) and a green sea turtle (Chelonia mydas) seems improbable, even ridiculous, but the two species do come into fatal contact when a female turtle, every two to four years, crawls up a jungle beach to lay her eggs. A hungry jaguar will attack the nesting turtle, killing it with a bite to the neck, and dragging the massive animal—sometime all the way into the jungle—to eat the muscles around the neck and flippers. Despite the surprising nature of such encounters, this behavior, and its impact on populations, has been little studied. Now, a new study in Costa Rica's Tortuguero National Park has documented five years of jaguar attacks on marine turtles—and finds these encounters are not only more common than expected, but on the rise.
Exploring Asia's lost world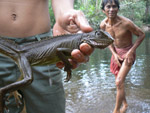 (05/03/2012) Abandoned by NGOs and the World Bank, carved out for rubber plantations and mining by the Cambodian government, spiraling into a chaos of poaching and illegal logging, and full of endangered species and never-explored places, Virachey National Park may be the world's greatest park that has been written off by the international community. But a new book by explorer and PhD student, Greg McCann, hopes to change that. Entitled Called Away by a Mountain Spirit: Journey to the Green Corridor, the book highlights expeditions by McCann into parts of Virachey that have rarely been seen by outsiders and have never been explored scientifically, including rare grasslands that once housed herds of Asian elephants, guar, and Sambar deer, before poachers drove them into hiding, and faraway mountains with rumors of tigers and mainland Javan rhinos.
Does the Tasmanian tiger exist? Is the saola extinct? Ask the leeches
(04/30/2012) The use of remote camera traps, which photograph animals as they pass, has revolutionized research on endangered and cryptic species. The tool has even allowed scientists to document animals new to science or feared extinct. But as important as camera traps have become, they are still prohibitively expensive for many conservationists and require many grueling hours in remote forests. A new paper in Current Biology, however, announces an incredibly innovative and cheaper way of recording rare mammals: seek out the leeches that feed on them. The research found that the presence of mammals, at least, can be determined by testing the victim's blood for DNA stored in the leech.
New reptile discovered in world's strangest archipelago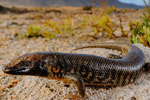 (04/25/2012) Few people have ever heard of the Socotra Archipelago even though, biologically-speaking, it is among the world's most wondrous set of islands. Over one third of Socotra's plants are found no-where else on Earth, i.e. endemic, while 90 percent of its reptiles are also endemic. Adding to its list of unique life-forms, researchers have recently uncovered a new skink species that is found only on the island of Abd al Kuri, which is slightly smaller than New York City's Staten Island. Dubbed the "the other Galapagos," the four Socotra islands are under the jurisdiction of Yemen, although geographically speaking the islands are actually closer to Somalia.
Two-foot-long cloud rat rediscovered after missing for forty years in the Philippines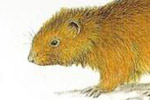 (04/17/2012) Czech computer programmer, Vaclav Rehak, was the first person to see a living Dinagat bushy-tailed cloud rat (Crateromys australis) in nearly forty years, reports GMA News. Rehak was traveling on Dinagat Island with his new wife, Milada Rehakova-Petru, a specialist on Philippine tarsiers, when he stumbled on the rodent, which has only been recorded once by scientists in 1975. Found only on the Dinagat Island, the rodent was feared extinct, but is now imperiled by mining concessions across its small habitat, which is thought to be less than 100 square kilometers.
Baby animal picture of the day: world's weirdest mammal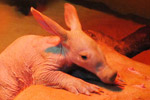 (04/04/2012) A female aardvark (Orycteropus afer) named Oq gave birth last month to her seventh baby, making the breeding program at Colchester Zoo one of the most successful in Europe. The aardvark is the only surviving species of the mammalian order, Tubulidentata. According to the conservation program, EDGE, this make the aardvark the world's most evolutionary unique mammal.
Photos: the aye-aye of frogs rediscovered after 62 years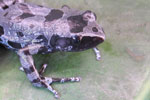 (03/27/2012) A pair of researchers have rediscovered a long-lost frog in the tiny African country of Burundi. Known as the Bururi long-fingered frog (Cardioglossa cyaneospila), the species hadn't been seen for over 60 years—since the Soviet Union tested its first nuclear weapon in 1949—but was rediscovered in Bururi Forest Reserve.
Beyond Bigfoot: the science of cryptozoology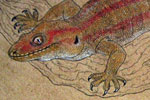 (03/26/2012) Anyone who doubts cryptozoology, which in Greek means the "study of hidden animals," should remember the many lessons of the past 110 years: the mountain gorilla (discovered in 1902), the colossal squid (discovered in 1925, but a full specimen not caught until 1981), and the saola (discovered in 1992) to name a few. Every year, almost 20,000 new species are described by the world's scientists, and a new book by Dr. Karl Shuker, The Encycloapedia of New and Rediscovered Animals, highlights some of the most incredible and notable new animals uncovered during the past century.
Russia, South Korea sign agreement to resurrect woolly mammoth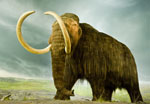 (03/19/2012) Last week Russian and South Korean educational facilities signed an agreement to work together to bring back the woolly mammoth (Mammuthus primigenius) from extinction. The project will be headed by Hwang Sooam of South Korea's Bioengineering Research Institute and will involve implanting a woolly mammoth embryo into a modern elephant.
Animal photos of the day: elephants in the English countryside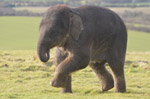 (03/14/2012) Elephants have been spotted roaming the pastoral fields of eastern England. Released for a jaunt from the Zoological Society of London's Whipsnade Zoo, a herd of Asian elephants (Elephas maximus), including a four-month-old calf named Scott, took in the scenic views of Aylesbury Vale from the Chiltern Hills. "Scott usually crashes out as soon as he's back from the walk. We put piles of hay down in the barn and he's out for the count."
Camera traps go under the ocean, seeking sharks

(03/12/2012) Remote camera traps, which have become a hugely important conservation tool on land during the past decade, have now gone underwater. Marine biologists have used underwater video camera traps to compare the population of Caribbean reef sharks (Carcharhinus perezii) in Belize's protected areas versus fishing areas in a new study in the open-access journal PLoS ONE. Conducted from 2005-2010, the study found that reef sharks benefited significantly from conservation areas.
Meet the dinosaur that looks like a crow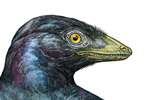 (03/08/2012) The more we discover about dinosaurs, the more these "terrible lizards" resemble otherworldly birds. None more so than the microraptor, which paleontologists have meticulously reconstructed in a paper in Science. Not only was the microraptor about the size of a modern-day crow, it looked very crow-like according to paleontologists, even down to the discovery that it sported dark iridescent feathers, the first yet recorded in nature.
Featured Video: new family of legless amphibians discovered

(03/07/2012) Researchers exploring northeast India have discovered a new family of legless amphibians, known as caecilians. Although caecilians superficially resemble giant earthworms, they are in fact vertebrates and are most closely related to their amphibian kin, frogs and salamanders.
Sawfish impale, cleave prey with snout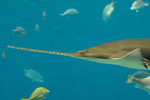 (03/05/2012) Although all seven species of sawfish are nearly extinct, scientists have spent little time studying these vanishing species. However that is changing as a new study in Current Biology sheds light on the sawfishes' most distinguishing feature: its long toothed snout, which gives the fish its name. "I was surprised to see how skilled sawfish are with their saw," said co-author Barbara Wueringer of the University of Queensland in a press release. "They use their saw to impale prey on the rostral teeth by producing several lateral swipes per second."
When giant coyotes roamed the Earth

(02/27/2012) Not long ago, geologically speaking, coyotes (Canis latrans) were bigger and more robust than today's animals. In the late Pleistocene, over 10,000 years ago, coyotes rivaled grey wolves (Canis lupus) in size. But, according to a new paper in the Proceedings of the National Academy of Sciences (PNAS), coyotes shrunk significantly following the megafaunal extinction—including the disappearance of big herbivores like giant sloths and mastodons and predators like the smilodon—due to changes in prey and predator competition.
Paleontologists reconstruct extinct, "elegant" penguin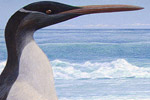 (02/27/2012) Around 25 million years ago a penguin with a long, sharp beak and massive flippers lived in a New Zealand that was almost entirely underwater. The bird, named Kairuku after a Maori word that means "diver who returns with food," was first discovered in 1977, but has only recently been reconstructed by scientists in a study in the Journal of Vertebrate Paleontology.
Scientists discover world's deepest terrestrial animal

(02/22/2012) It's not the prehistoric monsters from the Jules Verne's Journey to the Center of the Earth or the human-bat hybrids of The Decsent, but it's an astonishing discovery nonetheless: intrepid scientists have discovered the world's deepest surviving terrestrial animal to date, a small wingless insect known as a springtail. Explorers discovered the new species, Plutomurus ortobalaganensis at a shocking 1.23 miles (1.98 kilometers) below the surface. The species was discovered by the Ibero-Russian CaveX Team Expedition in Krubera-Voronja Cave, the world's only known cave to go deeper than 2 kilometers.
Wild orangutans to watch film about orangutans
(02/22/2012) Born to be Wild 3D, an IMAX documentary in part about the plight of orphaned and injured Bornean orangutans (Pongo pygmaeus), will soon be aired in the rainforest that inspired it. Producer Drew Fellman is setting up a screen in the rainforest to screen the film for orphaned orangutans. "They came to be like members of the crew," Fellman told the Associated Press.
Photo: World's smallest chameleon discovered in Madagascar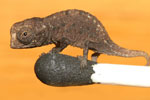 (02/15/2012) Scientists have discovered four new species of super-tiny chameleons in Madagascar, according to a new paper in PLoS ONE. The smallest of the new species, Brookesia micra, is found only on the small island of Nosy Hara and has been dubbed the smallest chameleon in the world, measuring from nose to tail 29 millimeters (1.14 inches) at its largest. Scientists believe it represents a notable example of island dwarfism.
Tiny tarsier makes big, ultrasonic noise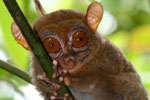 (02/13/2012) The Philippine tarsier (Tarsius syrichta), a 5-inch tall Southeast Asian primate, has long resembled a ventriloquist's doll. It would open its mouth as though chattering away, but researchers heard nothing. Now, a new study in Biology Letters has found out why: the Philippine tarsier communicates ultrasonically, surpassing all other primates, and nearly all terrestrial mammals, in its ability to create sounds in the upper registry.
Jurassic insect sings again

(02/06/2012) Innovative research has made a long-extinct katydid—which inhabited the world of dinosaurs like stegosaurus, allosaurus, and diplodocus—sing again. The discovery of an incredibly well-preserved fossil of a new species of katydid, dubbed Archaboilus musicus, gave biomechanical experts the opportunity to recreate a song not heard in 165 million years according to new research published in the Proceedings of the National Academy of Sciences (PNAS).
Vampire and bird frogs: discovering new amphibians in Southeast Asia's threatened forests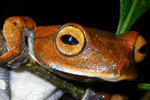 (02/06/2012) In 2009 researchers discovered 19,232 species new to science, most of these were plants and insects, but 148 were amphibians. Even as amphibians face unprecedented challenges—habitat loss, pollution, overharvesting, climate change, and a lethal disease called chytridiomycosis that has pushed a number of species to extinction—new amphibians are still being uncovered at surprising rates. One of the major hotspots for finding new amphibians is the dwindling tropical forests of Southeast Asia.
Fungus from the Amazon devours plastic

(02/02/2012) Students from Yale University have made the amazing discovery of a species of fungus that devours one of the world's most durable, and therefore environmentally troublesome, plastics: polyurethane. The new species of fungus, Pestalotiopsis microspora, is even able to consume polyurethane in zero-oxygen (anaerobic) conditions, which would be important in eating plastics in the deep dark layers of landfills where little sunlight, water, or oxygen is found.
New meteorological theory argues that the world's forests are rainmakers
(02/01/2012) New, radical theories in science often take time to be accepted, especially those that directly challenge longstanding ideas, contemporary policy or cultural norms. The fact that the Earth revolves around the sun, and not vice-versa, took centuries to gain widespread scientific and public acceptance. While Darwin's theory of evolution was quickly grasped by biologists, portions of the public today, especially in places like the U.S., still disbelieve. Currently, the near total consensus by climatologists that human activities are warming the Earth continues to be challenged by outsiders. Whether or not the biotic pump theory will one day fall into this grouping remains to be seen. First published in 2007 by two Russian physicists, Victor Gorshkov and Anastassia Makarieva, the still little-known biotic pump theory postulates that forests are the driving force behind precipitation over land masses.
Invasion!: Burmese pythons decimate mammals in the Everglades

(01/30/2012) The Everglades in southern Florida has faced myriad environmental impacts from draining for sprawl to the construction of canals, but even as the U.S. government moves slowly on an ambitious plan to restore the massive wetlands a new threat is growing: big snakes from Southeast Asia. A new paper in the Proceedings of the National Academy of Sciences (PNAS) has found evidence of a massive collapse in the native mammal population following the invasion of Burmese pythons (Python molurus bivittatus) in the ecosystem. The research comes just after the U.S. federal government has announced an importation ban on the Burmese python and three other big snakes in an effort to safeguard wildlife in the Everglades. However, the PNAS study finds that a lot of damage has already been done.
Frog perfume? Madagascar frogs communicate via airborne pheromones

(01/25/2012) Researchers have found that some frogs in Madagascar communicate by more than just sound and sight: they create distinct airborne pheromones, which are secreted chemicals used for communicating with others. A paper published in Angewandte Chemie International Edition relates that some male members of the Mantellinae family in Madagascar use large glands on their inner thighs to produce airborne pheromones. Interestingly, the pheromones are structurally similar to those produced by insects. Scientists have identified frogs producing water-borne pheromones before, but this is the first instance of airborne.
Pangolins imperiled by internet trade--are companies responding quickly enough?

(01/24/2012) You can buy pretty much anything on the internet: from Rugby team garden gnomes to Mickey Mouse lingerie. In some places, consumers have even been able to purchase illegal wildlife parts, such as ivory and rhino horn. In fact, the internet has opened up the black market wildlife trade contributing to the destruction of biodiversity worldwide. Pangolins, shy, scaly, anteater-like animals in appearance, have not been immune: in Asia the small animals are killed en masse to feed rising demand for Chinese traditional medicine, placing a number of species on the endangered list.
Geology has split the Amazon into two distinct forests
(01/19/2012) The common view of the Amazon is that it is one massive, unbroken forest. This impression is given by maps which tend to mark the Amazon by a large glob of green or even by its single name which doesn't account for regional changes. Of course, scientists have long recognized different ecosystems in the Amazon, most especially related to climate. But a new study in the Journal of Biogeography has uncovered two distinct forest ecosystems, sharply divided, caused by million of years of geologic forces.
Prehistoric Peruvians enjoyed popcorn

(01/18/2012) Researchers have uncovered corncobs dating back at least 3,000 years ago in two ancient mound sites in Peru according to a paper published in Proceedings of the National Academy of Sciences (PNAS). The ancient corn remnants, which proved residents were eating both popped corn and corn flour, are the earliest ever discovered in South America and may go back as far as 4,700 BCE (6,700 years ago), over fifteen hundred years before the early Egyptians developed hieroglyphics and while woolly mammoths still roamed parts of the Earth.
Photos: program devoted to world's strangest, most neglected animals celebrates five years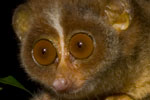 (01/16/2012) What do Attenborough's echidna, the bumblebee bat, and the purple frog have in common? They have all received conservation attention from a unique program by the Zoological Society of London (ZSL) called EDGE. Five years old this week, the program focuses on the world's most unique and imperiled animal species or, as they put it, the most Evolutionarily Distinct and Globally Endangered (EDGE) species. In the past five years the program has achieved notable successes from confirming the existence of long unseen species (Attenborough's echidna) to taking the first photos and video of a number of targeted animals (the purple frog).
Beyoncé honored with new horse fly named after her

(01/16/2012) Musical artists, and dancer extraordinare, Beyoncé has been awarded a new honor this week: entomologists in Australia have named a new horse fly after the American singer. The new horse fly, dubbed Scaptia beyonceae, is found in Queensland's Atherton Tablelands.
New frog trumps miniscule fish for title of 'world's smallest vertebrate'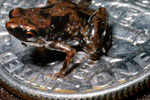 (01/12/2012) How small can you be and still have a spine? Scientists are continually surprised by the answer. Researchers have discovered a new species of frog in Papua New Guinea that is smaller than many insects and dwarfed by a dime. The frog trumps the previously known smallest vertebrate—a tiny fish—by nearly 1 millimeter.
Photos: scientists find new species at world's deepest undersea vent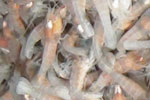 (01/10/2012) It sounds like a medieval vision of hell: in pitch darkness, amid blazing heat, rise spewing volcanic vents. But there are no demons and devils down here, instead the deep sea vent, located in the very non-hellish Caribbean sea, is home to a new species of pale shrimp. At 3.1 miles below (5 kilometers) the sea's surface, the Beebe Vent Field south of the Cayman islands, is the deepest yet discovered.
Weird carnivorous flower devours worms underground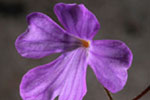 (01/09/2012) A worm measuring only a millimeter in length scoots its way through relatively massive grains of white sand. The worm, known as a nematode or roundworm, is seeking lunch in the form of bacteria. Suddenly, however, its journey is interrupted: it is caught on a large green surface. Unable to wiggle free the worm is slowly digested, becoming lunch itself for an innocuous purple flower called Philcoxia minensis.
'Lost world' dominated by Yeti crabs discovered in the Antarctic deep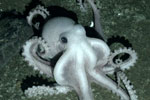 (01/03/2012) Scientists have discovered a deep sea ecosystem dominated by hairy pale crabs off of Antarctica. The new species of "Yeti crabs" survive alongside many other likely new species, including a seven-armed meat-eating starfish, off of hydrothermal vents, which spew heat and chemicals into the lightless, frigid waters. According to the paper published in PLoS ONE, this is the first discovery of a hydrothermal vent ecosystem in the Southern Ocean though many others have been recorded in warmer waters worldwide.




Page 1 | Page 2 | Page 3 | Page 4 | Page 5 | Page 6 | Page 7 | Page 8 | Page 9 | Page 10 | Page 11 | Page 12