News articles on species discoveries

---
Mongabay.com news articles on species discoveries in blog format. Updated regularly.






Photos: expedition to Amazon's white sands may have found new primate
(03/24/2015) Most people think of the Amazon rainforest as one massive, homogenous ecosystem—a giant castle of green. However, within the Amazon rainforest lie a myriad of distinct ecosystems, sporting unique characteristics and harboring endemic species. One of the rarer ecosystems in the Amazon is the white sands forest.
Scientists uncover new seadragon
(02/18/2015) For 150 years, scientists have known of just two so-called seadragons: the leafy seadragon and the weedy seadragon. But a new paper in the Royal Society Open Science has announced the discovery of a third, dubbed the ruby seadragon for its incredible bright-red coloring. Found only off the southern Australian coastline, seadragons belong to the same family as the more familiar seahorses: the Syngnathidae.
To collect or not to collect? Experts debate the need for specimens
(12/10/2014) In 1912, a group of intrepid explorers led by Rollo and Ida Beck, widely acknowledged to be the foremost marine bird collectors of their time, embarked on a most remarkable effort to catalogue South America's oceanic birds. Museums of the day held opportunistically collected specimens from scattered sources, but rarely did these include ocean-bound birds that spent little time near the coast.
Top scientists raise concerns over commercial logging on Woodlark Island
(10/21/2014) A number of the world's top conservation scientists have raised concerns about plans for commercial logging on Woodlark Island, a hugely biodiverse rainforest island off the coast of Papua New Guinea. The scientists, with the Alliance of Leading Environmental Scientists and Thinkers (ALERT), warn that commercial logging on the island could imperil the island's stunning local species and its indigenous people.
Scientists uncover six potentially new species in Peru, including bizarre aquatic mammal (photos)
(09/25/2014) A group of Peruvian and Mexican scientists say they have uncovered at least six new species near South America's most famous archaeological site: Machu Picchu. The discoveries include a new mammal, a new lizard, and four new frogs. While the scientists are working on formally describing the species, they have released photos and a few tantalizing details about the new discoveries.
Extinction island? Plans to log half an island could endanger over 40 species
(09/22/2014) Woodlark Island is a rare place on the planet today. This small island off the coast Papua New Guinea is still covered in rich tropical forest, an ecosystem shared for thousands of years between tribal peoples and a plethora of species, including at least 42 found no-where else. Yet, like many such wildernesses, Woodlark Island is now facing major changes: not the least of them is a plan to log half of the island.
Scientists uncover five new species of 'toupee' monkeys in the Amazon
(09/02/2014) While saki monkeys may be characterized by floppy mops of hair that resemble the worst of human toupees, these acrobatic, tree-dwelling primates are essential for dispersing seeds. After long being neglected by both scientists and conservationists, a massive research effort by one intrepid researcher has revealed the full-scale of saki monkey diversity, uncovering five new species.
Scientists name new endangered species after the company that will decide its fate
(08/24/2014) Scientists have discovered a new snail species near a cement quarry in Malaysia, which as far as they know lives nowhere else in the world. It lives on a limestone hill called Kanthan given as a concession to an international company Lafarge. The cement producer quarries the hill for raw materials. As a result, the scientists have named the species after the company that will decide if it goes extinct.
Scientists catalog the world's 10,000th reptile
(08/04/2014) As of this year, scientists have named and described over 10,000 reptiles, marking a new milestone in cataloging one of the most diverse vertebrate groups. Last week, the Reptile Database, an online catalog of all the world's living reptiles, announced it had passed 10,000 species.
87 new bird species considered threatened with extinction
(07/29/2014) Scientists have added 361 new bird species to the IUCN Red List following a major taxonomic review of non-passerine birds, i.e. non-perching or non-songbirds. Worryingly, 87 of these new birds are threatened with extinction, a percentage nearly double the overall threatened percentage for all birds, which currently sits at 13 percent.
Rare bird paradise protected in war-torn Colombian mountain range (photos)
(07/22/2014) A coalition of conservation groups have established a new protected area in one of Latin America's most neglected ecosystems: the Colombian-side of the Serranía de Perijá mountain range. Following decades of bloody conflict and rampant deforestation, experts say only five percent of rainforest is left on the Colombian side of this embattled mountain range.
Olinguito, tinkerbell, and a dragon: meet the top 10 new species of 2013
(05/22/2014) Out of around 18,000 new species described and named last year, scientists have highlighted ten in an effort to raise awareness about the imperiled biodiversity around us. Each species—from a teddy-bear-like carnivore in the Andes to a microbe that survives clean rooms where spaceships are built—stands out from the crowd for one reason or another.
Loggers plan to clear 20 percent of tropical island paradise
(04/28/2014) Seven years ago, a palm oil company set its eyes on Woodlark Island—a small rainforest island nearly 200 miles off the coast of Papua New Guinea—but was rebuked by the local populace. But locals and conservationists who spoke to mongabay.com at the time felt that wouldn't be the end of it: they were right. Recently, a company, Karridale Limited, has landed machinery on the island.
Scientist discovers a plethora of new praying mantises (pictures)
(03/19/2014) Despite their pacific name, praying mantises are ferocious top predators with powerful, grasping forelimbs; spiked legs; and mechanistic jaws. In fact, imagine a tiger that can rotate its head 180 degrees or a great white that blends into the waves and you'll have a sense of why praying mantises have developed a reputation. Yet, many praying mantis species remain little known to scientists, according to a new paper in ZooKeys that identifies an astounding 19 new species from the tropical forests of Central and South America.
Top 10 HAPPY environmental stories of 2013
(12/19/2013) China begins to tackle pollution, carbon emissions: As China's environmental crisis worsens, the government has begun to unveil a series of new initiatives to curb record pollution and cut greenhouse emissions. The world's largest consumer of coal, China's growth in emissions is finally slowing and some experts believe the nation's emissions could peak within the decade. If China's emissions begin to fall, so too could the world's.
'Lost' bird rediscovered in New Caledonia along with 16 potentially new species (photos)
(10/29/2013) In early 2011, Conservation International (CI) dubbed the forests of New Caledonia the second-most imperiled in the world after those on mainland Southeast Asia. Today, CI has released the results of a biodiversity survey under the group's Rapid Assessment Program (RAP) to New Caledonia's tallest mountain, Mount Panié. During the survey researchers rediscovered the 'lost' crow honeyeater and possibly sixteen new or recently-described species. Over 20 percent larger than Connecticut, New Caledonia is a French island east of Australia in the Pacific Ocean.
Scientists discover cocoa frog and 60 other new species in remote Suriname (photos)
(10/11/2013) In one of the most untouched and remote rainforests in the world, scientists have discovered some sixty new species, including a chocolate-colored frog and a super-mini dung beetle. The species were uncovered in Southeastern Suriname during a Rapid Assessment Program (RAP); run by Conservation International (CI), RAPS involve sending teams of specialists into little-known ecosystems to record as much biodiversity as they can in a short time. In this case, sixteen researchers from around the world had about three weeks to document the region's biodiversity.
Bird extravaganza: scientists discover 15 new species of birds in the Amazon

(06/12/2013) From 2000-2009, scientists described on average seven new bird species worldwide every year. Discovering a new bird is one of the least common of any species group, given that birds are highly visible, mobile, and have been scrutinized for centuries by passionate ornithologists and birders. But descriptions this year already blows away the record year over the last decade (in 2001 when nine new birds were described): scientists working in the southern Amazon have recorded an incredible 15 new species of birds according to the Portuguese publication Capa Aves. In fact, this is the largest group of new birds uncovered in the Brazilian in the Amazon in 140 years.
Scientists describe over 100 new beetles from New Guinea
(06/03/2013) In a single paper, a team of researchers have succinctly described 101 new species of weevils from New Guinea, more than doubling the known species in the beetle genus, Trigonopterus. Since describing new species is hugely laborious and time-intensive, the researchers turned to a new method of species description known as 'turbo-taxonomy,' which employs a mix of DNA-sequencing and taxonomic expertise to describe species more rapidly.
Two new arachnids discovered in Brazilian caves (photos)

(05/29/2013) Scientists have discovered two new species of short-tailed whipscorpions (in the order Schizomida) in limestone caves in Brazil, according to a new paper published in PLoS ONE. The new species—dubbed Rowlandius ubajara and Rowlandius potiguara—add new knowledge to a group of arachnids that is little known in South America outside of the Amazon.
Scientists discover two mini-spiders in China (photos)
(05/23/2013) Scientists have uncovered two miniature spiders living on mountains in China's southern region, one of which is among the smallest spiders recorded worldwide, according to a new paper in ZooKeys. Both spiders belong to the Mysmenidae family, which is made up of mini-spiders with eight eyes.
Looking beyond the hundred legs: finding new centipedes in India requires many tools
(04/08/2013) A small, boneless creature, that lives underground, with a "hundred" legs, and a rather powerful sting; some of these creatures are drab, but some are so beautiful and brightly colored that they can startle. Centipedes. There is more to a centipede than its many legs, and its habit of darting out of dark places. One of the first lifeforms to turn up on land, some centipede fossils date back to about 450 million years ago. They have been evolving steadily since, with some estimates showing about 8,000 species today. Not even half of these species have been taxonomically described.
Scientists discover new wasp species in a field box from the 1930s (photos)
(04/03/2013) Searching through materials at the Natural History Museum in Paris, Simon van Noort recently came across a long-neglected field box of wasp specimens. Collected 80 years earlier by André Seyrig in Madagascar, the box contained several specimens of wasp in the Paramblynotus genus. The big surprise: wasps in this genus had never before been seen in Madagascar.
Scientists discover new genus of crustacean

(03/27/2013) In recent journeys to Madagascar, New Caledonia, Vanuatu, the Philippines, and French Polynesia, scientists from the Centre for Advanced Studies of Blanes and the University of Barcelona have discovered not only five new crustaceous species, but also the existence of a new genus in the family.
Scientists discover two new remarkably-colored lizards in the Peruvian Amazon (photos)
(03/21/2013) Scientists have discovered two new species of woodlizards from the Peruvian Amazon. Woodlizards, in the genus Enyalioides, are little-known reptiles with only 10 described species found in South and Central America. Described in a new paper in ZooKeys, both new woodlizards were found in Cordillera Azul National Park, the nations third-largest.
Scientists discover 8 new frogs in one sanctuary, nearly all Critically Endangered (photos)
(03/21/2013) Two surveys in the mountainous forests of Sri Lanka's Peak Wilderness Sanctuary have uncovered eight new species of frogs, according to a massive new paper in the Journal of Threatened Taxa. While every year over a hundred new amphibians are discovered, eight new discoveries in a single park is especially notable. Sri Lanka is an amphibian-lovers paradise with well over 100 described species, most of which are endemic, i.e. found only on the small island country. Unfortunately the country has also seen more frog extinctions than anywhere else, and seven of the eight new species are already thought to be Critically Endangered.
Scientists could name every species on Earth in 50 years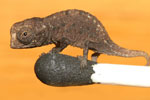 (01/28/2013) A bold new paper in Science argues that the world's species could be named and described before they vanish into extinction, though the threat of eventual extinction will remain for many, especially as climate change worsens. The scientists say that contrary to popular belief, there are more taxonomists working than ever before and there are likely less species on Earth than often reported, making finding and naming the world's species within reach this century.
Whale only known from bones washes up on beach in New Zealand
(11/05/2012) In 2010, a whale mother and male calf were found dead on Opape Beach in New Zealand. Although clearly in the beaked whale family—the most mysterious marine mammal family—scientists thought the pair were relatively well-known Gray's beaked whales (Mesoplodon grayi). That is until DNA findings told a shocking story: the mother and calf were actually spade-toothed beaked whales (Mesoplodon traversii), a species no one had ever seen before as anything more than a pile of bones.
New rare frog discovered in Sri Lanka, but left wholly unprotected
(11/05/2012) Sri Lanka, an island country lying off the southeast coast of India, has long been noted for its vast array of biodiversity. Islands in general are renowned for their weird and wonderful creatures, including high percentages of endemic species—and Sri Lanka, where scientists recently discovered a new frog species, is no exception.
Private reserve safeguards newly discovered frogs in Ecuadorian cloud forest
(08/28/2012) Although it covers only 430 hectares (1,063 acres) of the little-known Chocó forest in Ecuador, the private reserve las Gralarias in Ecuador is home to an incredible explosion of life. Long known as a birder's paradise, the Reserva las Gralarias is now making a name for itself as a hotspot for new and endangered amphibians, as well as hundreds of stunning species of butterfly and moth. This is because the reserve is set in the perfect place for evolution to run wild: cloud forest spanning vast elevational shifts. "The pacific slope cloud forests [...] are among the most endangered habitats in the world," explains Reserva las Gralarias' founder, Jane Lyons, in a recent interview with mongabay.com.
Mad frog bonanza: up to 36 new frogs discovered in tiny Madagascar forest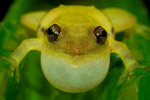 (04/19/2012) A forest less than half the size of Manhattan sports an astounding number of frogs, according to a new paper in Biodiversity Conservation. Two surveys of Madagascar's Betampona Nature Reserve, which covers 2,228 hectares, has uncovered 76 unique frogs, 36 of which may be new to science. To put this in perspective: the U.S. and Canada combined contain just 88 frog species, but cover an area nearly a million times larger than Betampona.
Photos: 46 new species found in little-explored Amazonian nation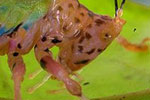 (01/25/2012) South America's tiniest independent nation still hides a number of big surprises: a three week survey to the sourthern rainforests of Suriname found 46 potentially new species and recorded nearly 1,300 species in all. Undertaken by Conservation International's (CI) Rapid Assessment Program (RAP) the survey found new species of freshwater fish, insects, and a new frog dubbed the "cowboy frog" for the spur on its heel. While Suriname may be small, much of its forest, in the Guyana Shield region of the Amazon, remains intact and pristine. The Food and Agriculture Organization (FAO) estimates that 91 percent of Suriname is covered in primary forests, however this data has not been updated in over two decades.
Photos: 10 new frogs discovered in India's great rainforest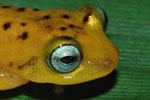 (08/09/2011) Ten new species of frog have been discovered in India's Western Ghats according to two new papers in Biosystematica. Although human populations have farmed in the Western Ghats for centuries, the new discoveries prove that the rainforest still holds many surprises. The Western Ghats lie along India's west coast and have been dubbed one of the world's biodiversity hotspots, but the rich wildlife is imperiled by rising human impacts.
Photo: six new mini-moths discovered

(07/19/2011) Researchers have discovered six new species of moth from Central America, according to a new paper in Zoo Keys. The moths belong to the primitive Yponomeutidae family, which are commonly known as ermine moths, since some of the species' markings resemble the coat of the ermine.
Photos: 600 new species discovered in Madagascar since 1999

(06/06/2011) More than 600 species of plants and animals have been described in Madagascar over the past decade, reiterating the position of Indian Ocean island as one of the world's top biodiversity hotspots, says a new report issued today by WWF.
3,000 amphibians, 160 land mammals remain undiscovered—that is if they don't go extinct first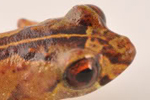 (05/18/2011) Remote little-explored rainforests probably harbor the majority of undiscovered amphibians and land mammals according to a new study in Proceedings of the Royal Society B. The study calculated that it's likely 33% of the world's amphibians and 3% of terrestrial mammals still remain unknown. However, the paper also found that these undiscovered species are likely in worse peril of extinction than already-described species.
Photo: new vipers discovered in Asia's rainforests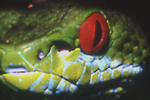 (03/30/2011) Researchers have discovered two new species of pitviper in Southeast Asia. After collecting snakes throughout the Asian tropics—Thailand, Laos, Vietnam, and Cambodia—researchers were able to parse out a more complex set of species than had been recognized. One of the new vipers has been dubbed Cryptelytrops rubeus for its ruby-colored eyes.
18,225 new species discovered in 2008

(05/27/2010) In the 2010 State of Observed Species researchers have announced that 18,225 living species were discovered in 2008. In addition, 2,140 new extinct species were discovered byway of fossils.
Photos: more new species found in Indonesia's 'lost world'

(05/17/2010) The Foja Mountains on the Indonesian side of New Guinea have proven a biological treasure trove that just keeps spilling riches. Two-and-a-half years ago the region—dubbed Indonesia's 'lost world'—made news globally when researchers announced the discovery of a giant rat: five times the size of the familiar brown rat. New amphibians, birds, and insects have also been found during past expeditions in 2005 and 2007. A collaborative team of Indonesia and international researchers have since returned to the Foja Mountains and found more spectacular species.
Scientists discover 120 million year-old ant in the Amazon rainforest

(09/17/2008) Scientists have discovered a previously unknown species of ant in the Amazon that may shed light on the evolution of ants. The species is believed to be the oldest-known ant at around 120 million years old. The discovery is presented this week in the journal Proceedings of the National Academy of Sciences.