News articles on soy

---
Mongabay.com news articles on soy in blog format. Updated regularly.





Agricultural firms cut incentives for Amazon deforestation

(12/02/2008) As grain prices plummet and concerns over cash mount, agricultural giants are cutting loans to Brazilian farmers, reports the Wall Street Journal. Tighter farm credit may be contributing to a recent slowing in deforestation in the Brazilian Amazon, where agriculture is an increasingly important driver of forest clearing.


Brazil suspends Amazon road project until protected areas established

(09/26/2008) Brazil has temporarily suspended the paving of a major Amazon road pending demarcation of 13 neighboring protected areas, reports the Associated Press.


Independent of climate, forest cover in southern Amazon may fall to 20% by 2016

(09/03/2008) Forest cover in the "Arc of Deforestation" of southern Amazonia will decline to around 20 percent 2016 due to continued logging and conversion of forests for cattle pasture and soy farms, report researchers writing in the journal Environmental Conservation. Analyzing high resolution satellite data from 1984 through 2004 for the Alta Floresta region in northern Mato Grosso, Fernanda Michalski, Carlos Peres and Iain Lake of the University of East Anglia found that forest cover declined from from 91.1 percent to 41.7 percent between 1984 and 2004. They note that while the deforestation rate has slowed to around 2 percent per year since peaking at more than 8 percent annually in late 1980s to mid-1990s, renewed expansion of road networks will enable loggers to increasingly exploit remaining forests, leading to degradation and likely eventual conversion for agricultural use. Overall Michalski and colleagues forecast that forest cover in Alta Floresta will fall to 21 percent by 2016, a decline of 77 percent since 1984.


Deforestation in the Brazilian Amazon won't increase significantly for 2008

(08/15/2008) Brazilian Environment Minister Carlos Minc said Thursday that Amazon deforestation for the 2007-2008 year will likely be comparable to the prior year. The announcement marks an abrupt turn-around for the Brazilian government which in April said that forest destruction was expected to increase for the first time since 2004.


Climate change to hurt Brazil's farm exports by 2020

(08/11/2008) Climate change could have a significant impact on thye value of Brazil's agricultural exports according to a study presented Monday at an agribusiness conference in Sao Paulo, reports the Financial Times.


Future threats to the Amazon rainforest

(07/31/2008) Between June 2000 and June 2008, more than 150,000 square kilometers of rainforest were cleared in the Brazilian Amazon. While deforestation rates have slowed since 2004, forest loss is expected to continue for the foreseeable future. This is a look at past, current and potential future drivers of deforestation in the Brazilian Amazon.


Facing criticism, biofuels industry forms new lobby group to influence lawmakers

(07/25/2008) Under attack by politicians, aid groups, and environmentalists for driving up food prices and fueling destruction of ecologically sensitive habitats, some of the world's largest agroindustrial firms have formed a lobby group to influence consumers and lawmakers to support continued subsidies for biofuel production, reports Reuters.


Biofuels can reduce emissions, but not when grown in place of rainforests

(07/22/2008) Biofuels meant to help alleviate greenhouse gas emissions may be in fact contributing to climate change when grown on converted tropical forest lands, warns a comprehensive study published earlier this month in the journal Environmental Research Letters. Analyzing the carbon debt for biofuel crops grown in ecosystems around the world, Holly Gibbs and colleagues report that "while expansion of biofuels into productive tropical ecosystems will always lead to net carbon emissions for decades to centuries... [expansion] into degraded or already cultivated land will provide almost immediate carbon savings." The results suggest that under the right conditions, biofuels could be part of the effort to reduce humanity's carbon footprint.


Amazon deforestation forecast for 2008 revised downward

(07/17/2008) Deforestation in the Brazilian Amazon fell sharply in the month of May (1,096 square kilometers) compared to May a year-ago (1,222 square kilometers), according to preliminary satellite data announced by the country's environment minister on Tuesday. Brazilian Environment Minister Carlos Minc said a preliminary analysis by the government's National Space Research Institute (INPE) showed 1,096 square kilometers (423 square miles) of rain forest were cut down in May, down from 1,123 square kilometers (434 square miles) in April.


Biofuels, food demand may doom tropical forests

(07/14/2008) Rising demand for fuel, food, and wood products will take a heavy toll on tropical forests, warns a new report released by the Rights and Resources Initiative (RRI).


Amazon soy moratorium extended; may be expanded to other products

(06/23/2008) Soy crushers operating in the Brazilian Amazon have extended a two-year-old moratorium on the purchase of soybeans produced on rainforest lands deforested after 2006, reports Reuters.


Amazon beef producer creates eco-certified meat product with help of scientists

(06/08/2008) Independencia Alimentos SA, Brazil's fifth-largest beef producer, will create an "eco-certified", branded beef product from the Amazon's Xingu region. Certification will be based on criteria established by Alian?a da Terra, an Brazilian NGO that seeks to improve the environmental performance of ranchers and beef producers in the world's largest rainforest. The new beef product will include a per-kilo "ecosystem service fee" — calculated with the help of scientists at the Woods Hole Research Center — to facilitate a financial reward for the producer's environmental stewardship.


Brazil's new environmental minister blames ranchers for surge in Amazon deforestation

(06/03/2008) Deforestation in the Brazilian Amazon rose significantly in April 2008 according to Carlos Minc, Brazil's newly appointed environment minister.


Amazon soy ban seems to be effective in reducing explicit deforestation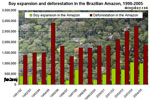 (04/03/2008) An industry-led ban on soy production in the Amazon appears to be proving effective at reducing new clearing for explicit soy production, according to a survey published Monday by Greenpeace and the Brazilian Vegetable Oils Industry Association. The moratorium, which was signed by some of the largest soy crushers in the Amazon in response to a campaign by environmental group Greenpeace, went into effect in October 2006. While soy is believed to be having an indirect impact on deforestation by driving up land prices and competing with the dominant form of land use in the Amazon — cattle ranching — the news is a hopeful sign for conservationists.


Land invasions undermine Amazon forest law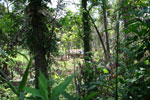 (04/03/2008) Land invasions are undermining a Brazilian law that requires ranchers to keep 80 percent of their land forested, according to reports from the Amazon state of Mato Grosso. A run up in land prices, driven by surging soy and cattle production in the region, combined with a lackadaisical response from law enforcement authorities are blamed for the incursions.


Corn planting to drop 8% in 2008

(03/31/2008) The UDSA's National Agricultural Statistics Service (NASS) expects American farmers to plant 86 million acres of corn in 2008, down 8 percent from last year. The news comes amid record high prices for competitive crops including soybeans and wheat.


Industry-driven road-building to fuel Amazon deforestation

(03/12/2008) Unofficial road-building will be a major driver of deforestation and land-use change in the Amazon rainforest, according to an analysis published in Philosophical Transactions of the Royal Society B. Improved governance, as exemplified by the innovative MAP Initiative in the southwestern Amazon, could help reduce the future impact of roads, without diminishing economic prospects in the region.


Cellulosic energy may trigger dramatic collapse in the Amazon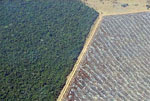 (03/11/2008) Next generation biofuels may trigger the ecological collapse of the Amazon frontier and could have profoundly unexpected economic consequences for the region, warns a paper published in Philosophical Transactions of the Royal Society B. Dr. Donald Sawyer writes that "interacting with climate change and land use, the upcoming stage of cellulosic energy could result in a collapse of the new frontier into vast degraded pasture." The shift could increase the incidence and severity of fires, reduce rainfall in key agricultural zones, exacerbate forest die-back and climate change, and worsen social instability. Sawyer says that while difficult to anticipate, the worst outcomes could likely be avoided be promoting "intensified and more sustainable use" of already cleared areas, minimizing new deforestation, and encouraging "sustainable use of natural resources by local communities."


Half the Amazon rainforest will be lost within 20 years



(02/27/2008) More than half the Amazon rainforest will be damaged or destroyed within 20 years if deforestation, forest fires, and climate trends continue apace, warns a study published in Philosophical Transactions of the Royal Society B. Reviewing recent trends in economic, ecological and climatic processes in Amazonia, Daniel Nepstad and colleagues forecast that 55 percent of Amazon forests will be "cleared, logged, damaged by drought, or burned" in the next 20 years. The damage will release 15-26 billion tons of carbon into the atmosphere, adding to a feedback cycle that will worsen both warming and forest degradation in the region. While the projections are bleak, the authors are hopeful that emerging trends could reduce the likelihood of a near-term die-back. These include the growing concern in commodity markets on the environmental performance of ranchers and farmers; greater investment in fire control mechanisms among owners of fire-sensitive investments; emergence of a carbon market for forest-based offsets; and the establishment of protected areas in regions where development is fast-expanding.


Biofuels are worsening global warming

(02/07/2008) Converting native ecosystems for production of biofuel feed stocks is worsening the greenhouse gas emissions they are intended to mitigate, reports a pair of studies published in the journal Science. The studies follow a series of reports that have linked ethanol and biodiesel production to increased carbon dioxide emissions, destruction of biodiverse forest and savanna habitats, and water and air pollution.


55% of the Amazon may be lost by 2030

(01/23/2008) Cattle ranching, industrial soy farming, and logging are three of the leading drivers of deforestation in the Brazilian Amazon. As commodity prices continue to rise, driven by surging demand for biofuels and grain for meat production, the economic incentives for developing the Amazon increase. Already the largest exporter of beef and the second largest producer of soy - with the largest expanse of "undeveloped" but arable land of any country - Brazil is well on its way to rivaling the U.S. as the world's agricultural superpower. The trend towards turning the Amazon into a giant breadbasket seems unstoppable. Nevertheless the decision at the U.N. climate talks in Bali to include "Reducing Emissions From Deforestation and Degradation" (REDD) in future climate treaty negotiations may preempt this fate, says Dr. Daniel Nepstad, a scientist at the Woods Hole Research Institute.


U.S. biofuels policy drives deforestation in Indonesia, the Amazon

(01/17/2008) U.S. incentives for biofuel production are promoting deforestation in southeast Asia and the Amazon by driving up crop prices and displacing energy feedstock production, say researchers.


E.U. may ban palm oil biodiesel

(01/15/2008) The E.U. may ban imports of certain biofuel feedstocks that damage the environment, reports The New York Times. Environmentalists say some biofuels like palm oil are driving the destruction of biologically-rich rainforests and may produce more emissions than conventional fossil fuels.


DR Congo has great potential for biofuels says U.N. official

(01/09/2008) A UN economist is touting the potential of DR Congo for industrial biofuels production, reports Reuters. In a telephone interview, Dr Schmidhuber said the worn-torn country could devote millions of acres for oil palm, soy, and other biofuel feedstocks.


Leading biofuels wreak environmental havoc

(01/03/2008) Biofuels made from world's dominant energy crops -- including corn, soy, and oil palm -- may have worse environment impacts than conventional fossil fuels, reports a study published in the journal Science.


Brazil bans illegal soy and cattle production in the Amazon rainforest

(12/24/2007) The Brazilian government launched a new initiative to slow deforestation in the Amazon, setting the stage for the country to potentially earn billions from carbon trading schemes set in motion two weeks ago at the U.N. climate meeting in Bali.


Tropical forests face huge threat from industrial agriculture

(12/05/2007) With forest conversion for large-scale agriculture rapidly emerging as a leading driver of tropical deforestation, a new report from the Woods Hole Research Center (WHRC) suggests the trend is likely to continue with Brazil, the Democratic Republic of the Congo, Indonesia, Peru, and Colombia containing 75 percent of the world's forested land that is highly suitable for industrial agriculture expansion. Nevertheless the study identifies forests that may be best suited (low population density, unsuitable climate and soils) for "Reduced Emissions from Deforestation and Degradation" (REDD) initiatives which compensate countries for preserving forest lands in exchange for carbon credits.


Could the carbon market save the Amazon rainforest?

(11/29/2007) The global carbon market could play a key role in saving the Amazon from the effects of climate change and economic development, which could otherwise trigger dramatic ecological changes, reports a new paper published in Science. The authors argue that a well-articulated plan, financed by carbon markets, could prevent the worst outcomes for the Amazon forest while generating economic benefits for the region's inhabitants.


Dutch bank arranges carbon-conservation deal in the Amazon rainforest

(11/27/2007) Dutch bank Rabobank will launch the first-ever carbon credits project in the Xingu region of the Brazilian Amazon, reports The Financial Times.


2007 Amazon fires among worst ever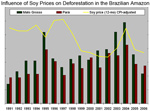 (10/22/2007) By some measures, forest fires in the Amazon are at near-record levels, according to analysis Brazilian satellite data by mongabay.com. A surge in soy and cattle prices may be contributing to an increase in deforestation since last year. Last year environmentalists and the Brazilian government heralded a sharp fall in deforestation rates, the third consecutive annual decline after a peak in 2004. Forest loss in the 2006-2007 season was the lowest since record-keeping began in the late in 1970s. While the government tried to claim credit for the drop, analysts at the time said that commodity prices were a more likely driver of slow down: both cattle and soy prices had declined significantly over the previous months.


China urged to join sustainable soy efforts in the Amazon

(09/12/2007) Brazilian soy crushers have urged China to join an alliance to promote sustainable soybean production in the Amazon, according to Reuters. Brazil, soon to be the world's largest producer of soybeans, recently formed the Global Roundtable on Responsible Soy Association as concerns grow that global demand for biofuels will level the Amazon rainforest. Environmentalists say demand from China is playing an important role in surging soybean production in the region.


Biofuels driving destruction of Brazilian cerrado

(08/21/2007) The cerrado, wooded grassland in Brazil that once covered an area half the size of Europe, is fast being transformed into croplands to meet rising demand for soybeans, sugarcane, and cattle. The cerrado is now disappearing more than twice as the rate as the neighboring Amazon rainforest, according to a Brazilian expert on the savanna ecosystem.


Archer Daniels Midland announces Amazon biodiesel plant start date

(06/08/2007) Archer Daniels Midland (ADM) plans to start operation of its $20 million biodiesel in the Brazilian state of Mato Grosso in early August, a company official said this week, according to MarketWatch.


Amazon tribe blocks major Brazilian highway

(06/08/2007) Indigenous Amazonians have blocked a major highway in the Brazilian state of Mato Grosso to protest a series of hydroelectric dams planned on the Xingu river, one of the Amazon's largest tributaries, according to Brazzil Mag and Survival International.


Can cattle ranchers and soy farmers save the Amazon?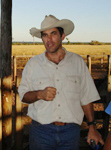 (06/06/2007) John Cain Carter, a Texas rancher who moved to the heart of the Amazon 11 years ago and founded what is perhaps the most innovative organization working in the Amazon, Alianca da Terra, believes the only way to save the Amazon is through the market. Carter says that by giving producers incentives to reduce their impact on the forest, the market can succeed where conservation efforts have failed. What is most remarkable about Alianca's system is that it has the potential to be applied to any commodity anywhere in the world. That means palm oil in Borneo could be certified just as easily as sugar cane in Brazil or sheep in New Zealand. By addressing the supply chain, tracing agricultural products back to the specific fields where they were produced, the system offers perhaps the best market-based solution to combating deforestation. Combining these approaches with large-scale land conservation and scientific research offers what may be the best hope for saving the Amazon.


Rural population decline may not slow deforestation


(06/03/2007) A new paper shoots down the theory that increasing urbanization will lead to increasing forest cover in the tropics. Writing in the July issue of the journal Biotropica, Sean Sloan, a researcher from McGill University in Montreal, argues that anticipated declines in rural populations via urbanization will not necessarily result in reforestation--a scenario put forth in a controversial paper published in Biotropica last year by Joseph Wright of the Smithsonian Tropical Research Institute in Panama and Helene Muller-Landau of the University of Minnesota. Wright and Muller-Landau said that deforestation rates will likely slow, then reverse, due to declining rural population density in developing countries.


Globalization could save the Amazon rainforest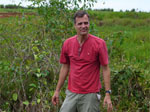 (06/03/2007) The Amazon basin is home to the world's largest rainforest, an ecosystem that supports perhaps 30 percent of the world's terrestrial species, stores vast amounts of carbon, and exerts considerable influence on global weather patterns and climate. Few would dispute that it is one of the planet's most important landscapes. Despite its scale, the Amazon is also one of the fastest changing ecosystems, largely as a result of human activities, including deforestation, forest fires, and, increasingly, climate change. Few people understand these impacts better than Dr. Daniel Nepstad, one of the world's foremost experts on the Amazon rainforest. Now head of the Woods Hole Research Center's Amazon program in Belem, Brazil, Nepstad has spent more than 23 years in the Amazon, studying subjects ranging from forest fires and forest management policy to sustainable development. Nepstad says the Amazon is presently at a point unlike any he's ever seen, one where there are unparalleled risks and opportunities. While he's hopeful about some of the trends, he knows the Amazon faces difficult and immediate challenges.


U.S. ethanol may drive Amazon deforestation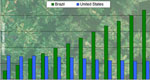 (05/17/2007) Ethanol production in the United States may be contributing to deforestation in the Brazilian rainforest said a leading expert on the Amazon. Dr. Daniel Nepstad of the Woods Hole Research Center said the growing demand for corn ethanol means that more corn and less soy is being planted in the United States. Brazil, the world's largest producer of soybeans, is more than making up for shortfall, by clearing new land for soy cultivation. While only a fraction of this cultivation currently occurs in the Amazon rainforest, production in neighboring areas like the cerrado grassland helps drive deforestation by displacing small farmers and cattle producers, who then clear rainforest land for subsistence agriculture and pasture.


Soybeans may worsen drought in the Amazon rainforest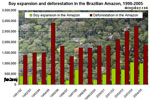 (04/18/2007) The rapid expansion of soybean cultivation in the Amazon may be having a larger impact on climate than previously believed, according to research published last week in Geophysical Research Letters. Using experimental plots in the Amazon, a team of scientists led by Marcos Costa from the Federal University of Vicosa in Brazil found that clearing for soybeans increases the reflectivity or albedo of land, reducing rainfall by as much as four times relative to clearing for pasture land.


Cargill busted in the Amazon rainforest

(03/26/2007) Brazilian authorities have shut down Cargill Incorporated's deepwater soy export terminal on the Amazon River reports the Associated Press. The action comes after a local judge ruled that the firm failed to prepare a proper environmental impact statement for the project.


New maps reveal causes of Amazon deforestation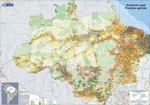 (01/26/2007) Brazil's National Statistics Office (IBGE) released a set of maps showing how farmers are converting the Amazon rainforest into cattle pasture and soybean farms. The maps show for the first time the impact of deforestation and agricultural expansion on the Amazon rainforest, according to the agency.


Biofuels could decimate environment, stymie developing countries, says report


(01/25/2007) In his State of the Union Address Tuesday night, U.S. President George W. Bush highlighted ethanol fuel production as a means to improve domestic security by reducing dependence on foreign oil while at the same time helping to fight global warming. His call echoes a broader shift in sentiment among business and political leaders who believe that biofuels -- liquid fuels produced 'energy crops' including sugarcane, corn, soybeans, oil palms -- are a key future liquid energy source. In fact, next week, biofuels are likely to take a prominent position at the European Union's 'Sustainable Energy Week' in Brussels when 650 delegates will listen to speeches by the likes of Al Gore and UK foreign minister Margaret Beckett. With all the enthusiasm it may seem that biofuels are the end-all solution. A new report argues that this is not the case. In its briefing, 'International trade in biofuels: Good for development? And good for environment?' the International Institute for Environment and Development (IIED) cautions policymakers not to get caught up in all the hype. IIED warns that serious concerns still remain when it comes to the widespread adoption of these renewable energy sources.


Biomimicry of native prairie yields more bioenergy than corn ethanol

(12/07/2006) Diverse mixtures of plants that mimic the native prairie ecosystem are a better source of biofuels than corn grain ethanol or soybean biodiesel according to a new paper published in the Dec. 8 issue of the journal Science. Led by David Tilman, a biology professor at the University of Minnesota, the research shows that "mixtures of native perennial grasses and other flowering plants provide more usable energy per acre than corn grain ethanol or soybean biodiesel and are far better for the environment," according to a release from the University of Minnesota.


Brazil claims soy and beef not responsible for Amazon deforestation

(10/26/2006) Brazil rejected claims that soybean farms and cattle pasture were destroying the Amazon rainforest, according to a report from Reuters. At the opening of an organic food products fair in Sao Paulo, Agriculture Minister Luis Carlos Guedes Pinto said that only 0.27 percent of Brazil's soybean crop is grown in the Amazon region, while less than 1.5 percent of Brazil's beef for export comes from the rainforest.


Expansion of agriculture in the Amazon may impact climate

(09/19/2006) A new study from NASA scientists shows that forest clearing for large-scale agriculture has recently become a significant cause of deforestation in the Brazilian Amazon. The researchers warn that this change in land use may affect the region' climate and the Amazon's ability to absorb carbon dioxide, a potent greenhouse gas.


Amazon soy becomes greener

(07/25/2006) Brazilian soy crushers and exporters will implement a two-year moratorium on trading soybeans grown on newly deforested lands in the Amazon basin. The governance program takes effect in October 2006 and applies only to forest cleared after that date.


Amazon Port Pits Farmers Vs. Rainforest

(07/18/2006) When U.S. grain giant Cargill opened a $20 million port in this sleepy Amazon River city three years ago, it expected to cash in on the rising global demand for soybeans that had become Brazil's richest agricultural export.


Soybean biodiesel has higher net energy benefit than corn ethanol

(07/11/2006) The first comprehensive analysis of the full life cycles of soybean biodiesel and corn grain ethanol shows that biodiesel has much less of an impact on the environment and a much higher net energy benefit than corn ethanol, but that neither can do much to meet U.S. energy demand.


High oil prices fuel bioenergy push

(05/09/2006) High oil prices and growing concerns over climate change are driving investment and innovation in the biofuels sector as countries and industry increasingly look towards renewable bioenergy to replace fossil fuels. Bill Gates, the world's richest man, has recently invested $84 million in an American ethanol company while global energy gluttons ranging from the United States to China are setting long-term targets for the switch to such fuels which potentially offer a secure domestic source of renewable energy and fewer environmental headaches. Biofuels are fuels that are derived from biomass, including recently living organisms like plants or their metabolic byproducts like cow manure. Unlike fossil fuels -- like coal, petroleum, and natural gas, which are finite resources -- biofuels are a renewable source of energy that can be replenished on an ongoing basis. In general, biofuels are biodegradable and, when burned, have fewer emissions than traditional hydrocarbon-based fuels. Typically, biofuels are blended with traditional petroleum-based fuels, though it is possible to run existing diesel, engines purely on biodiesel, something which holds a great deal of promise as an alternative energy source to replace fossil fuels. Further, because biofuels are generally derived from plants which absorb carbon from the atmosphere as they grow, biofuel production offers the potential to help offset carbon dioxide emissions and mitigate climate change.


Hudson Institute calls Amazon savanna biome a wasteland

(04/23/2006) In an April 21st, 2006 editorial published in the Canada Free Press Dennis T. Avery, senior fellow for Hudson Institute in Washington, DC and the Director for Global Food Issues, called Brazil's cerrado ecosystem a "wasteland" and criticized a recent report from the environmental activist group Greenpeace that linked Amazon deforestation to soy-based animal feed used by fast-food chains in Europe.



Page 1 | Page 2 | Page 3