News articles on soy

---
Mongabay.com news articles on soy in blog format. Updated regularly.





30% of Brazil's emissions from deforestation are export-driven


(04/05/2013) 2.7 billion tons of carbon dioxide emissions or 30 percent of the carbon associated with deforestation in the Brazilian Amazon between 2000 and 2010 was effectively exported in the form of beef products and soy, finds a new study published in the journal Environmental Research Letters. The research underscores the rising role that global trade plays in driving tropical deforestation.


China's hunger for resources has big environmental impact in Latin America

(03/29/2013) Amazonian forest cleared in Ecuador, a mountain leveled in Peru, the Cerrado savannah converted to soy fields in Brazil and oil fields under development in Venezuela's Orinoco belt.


Tropical croplands expand by 48m ha in 10 years, raising environmental concerns


(03/19/2013) Croplands in the tropics expanded by an average of 4.8 million hectares per year between 1999 and 2008, increasing pressure on forest areas and other ecosystems, reports a study published in the journal PLoS ONE. The research found that soybeans and maize (corn) expanded the most of any crops in terms of absolute area, followed by rice, sorghum, oil palm, beans, and sugar cane. The countries which added the largest area of new cropland were Nigeria, Indonesia, Ethiopia, Sudan and Brazil.


Bolivia takes step to boost agriculture and curb surging deforestation


(01/28/2013) Bolivia has passed a land use law that aims to boost food security and slow deforestation in a region that is wracked by illegal forest clearing. Approved earlier this month, Ley 337 seeks to regulate land use in the Bolivian Amazon where deforestation for industrial agricultural production is surging. The law requires landowners who illegally deforested land prior to 2011 to either reforest or establish 'productive agriculture' on the land and pay reduced fines for past transgressions.


Featured video: on-the-ground look at Brazil's fight against deforestation

(11/15/2012) A new video by the Guardian takes an on-the-ground look at Brazil's efforts to tackle deforestation in the Amazon. Using satellite imagery, an elite team of enforcement agents are now able to react swiftly to illegal deforestation. The crackdown on deforestation has been successful: destruction of the Amazon has slowed by around 75 percent in the last 8 years.


After seven year search, scientists film cryptic predator in Minas Gerais

(10/25/2012) South America's rare and little-known bush dog (Speothos venaticus) looks like a miniature dachshund who went bad: leaner, meaner, and not one to cuddle on your lap, the bush dog is found in 11 South American countries, but scientists believe it's rare in all of its habitats, which include the Amazon, the Pantanal wetlands, and the cerrado savannah. Given its scarcity, little is known about its wanderings.


Wealthy consumption threatens species in developing countries


(07/11/2012) Consumption in wealthy nations is imperiling biodiversity abroad, according to a new study in Nature that investigates the link between international trade and biodiversity decline. The study shows how threats to biodiversity and ecosystems, located primarily in developing countries, can be connected to consumer demand for goods in wealthier nations. Some of the major commodities include coffee, cocoa, soy, beef and palm oil.


Surging demand for vegetable oil drives rainforest destruction


(03/14/2012) Surging demand for vegetable oil has emerged as an important driver of tropical deforestation over the past two decades and is threatening biodiversity, carbon stocks, and other ecosystem functions in some of the world's most critical forest areas, warns a report published last week by the Union of Concerned Scientists (UCS). But the report sees some reason for optimism, including emerging leadership from some producers, rising demand for "greener" products from buyers, new government policies to monitor deforestation and shift cropland expansion to non-forest area, and partnerships between civil society and key private sector players to improve the sustainability of vegetable oil production.


More big companies disclosing impacts on forests


(02/07/2012) More companies are reporting on the impact of their operations on global forests, finds a new report. Eighty-seven global corporations disclosed their "forest footprint" in 2011, according to the third Forest Footprint Disclosure (FFD), which asks companies to report on their impact on forests based on their use of five commodities: soy, palm oil, timber and pulp, cattle, and biofuels. This is a 11 percent rise from the companies that reported in 2010, including the first reports by companies such as the Walt Disney Company, Tesco UK, and Johnson & Johnson. However a number of so-called "green" companies continue to refuse to disclose, including Patagonia, Stonyfield Farms, and Whole Foods Markets Inc.


As Amazon deforestation falls, food production rises

(01/09/2012) A sharp drop in deforestation has been accompanied by an increase in food production in the Brazilian state of Mato Grosso, reports a new study published in the journal Proceedings of the National Academy of Science. The research argues that policy interventions, combined with pressure from environmental groups, have encouraged agricultural expansion in already-deforested areas, rather than driving new forest clearing.


Carbon debt for some biofuels lasts centuries

(11/30/2011) It has long been known that biofuels release greenhouse gas emissions through land conversion like deforestation. But an innovative new study by the Center for International Forestry Research (CIFOR) published in Ecology and Society has computed how long it would take popular biofuel crops to payoff the "carbon debt" of land conversion. While there is no easy answer—it depends on the type of land converted and the productivity of the crop—the study did find that in general soy had the shortest carbon debt, though still decades-long, while palm oil grown on peatland had the longest on average.


Soy moratorium in Amazon maintaining its effectiveness

(10/14/2011) The moratorium on clearing Amazon rainforest for soy farms in Brazil appears to be maintaining its effectiveness for a fifth straight year, reports the Brazilian Association of Vegetable Oil Industries (ABIOVE).


Despite moratorium, soy still contributes indirectly to Amazon deforestation

(07/15/2011) Soy expansion in areas neighboring the Amazon rainforest is contributing to loss of rainforest itself, reports a new study published in Environmental Research Letters.


Profit, not poverty, increasingly the cause of deforestation

(06/13/2011) A new report highlights the increasing role commodity production and trade play in driving tropical deforestation.


Can Brazil meet deforestation, climate goals and still grow its cattle industry?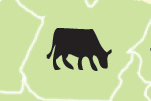 (06/09/2011) Despite environmentalists' efforts to combat "rainforest beef" in the 1980s, pasture expansion for cattle is still the primary cause of deforestation in the Brazilian Amazon, says a new report produced by Brighter Green. While Brazil's investments in agribusiness have made it an agricultural powerhouse—the country is now the world's third-largest exporter of farm commodities after the US and the European Union—unfortunately, two of the Brazil's key products, cattle and soy, are still driving deforestation as well as economic growth. According to Brighter Green's report, researchers estimate that cattle ranching caused 65-70 percent of land clearing in the Amazon between 2000 and 2005.


Dutch buy first 'responsible' soy sourced from the Amazon

(06/08/2011) The Dutch food and feed industry has bought the first soy produced under the principles of the Round Table on Responsible Soy (RTRS), a body that aims to bring more socially and environmentally sustainable soy to market.


Amnesty for illegal rainforest loggers moves forward in Brazil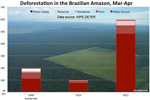 (05/25/2011) A controversial bill environmentalists say could increase deforestation in the Amazon rainforest moved a step forward to becoming law in Brazil after winning approval in Brazil's lower house of Congress. The measure, which has been hotly debated for months, next goes to the Senate where it is expected to pass, before heading to President Dilma Rousseff, who has vowed to veto any bill that grants amnesty for illegal deforestation. The bill includes such a measure, although it could be subject to change before a final decision by the president. The bill aims to reform Brazil's Forest Code, which requires landowners in the Amazon rainforest to maintain 80 percent of their holdings as forest.


Conversion of Brazil's cerrado slows

(04/08/2011) Destruction of Brazil's cerrado, a woody savanna that covers 20 percent of the country, slowed during the 2008-2009, reports Brazil's Ministry of Environment.


Moratorium on Amazon deforestation for soy production proving effective

(03/06/2011) The Brazilian soy industry's moratorium is proving effective at slowing deforestation for soy production in the Amazon rainforest, reveals a new study published in the journal Remote Sensing.


Agricultural lending jumps in Brazil, will Amazon deforestation follow?

(12/27/2010) With commodity prices surging, lending to Brazilian farmers for tractors, harvesters and plows reached 8.2 billion reais ($4.8 billion) for the July through November 2010 period, a 64 percent increase since the same period last year and the fastest pace since 2004, reports Bloomberg.


Brazil's largest national bank signs zero deforestation pact for Amazon soy

(12/03/2010) Banco do Brasil, Brazil's largest state-owned bank, announced it has joined a zero deforestation pact for soy grown in the Amazon. The bank will now require farmers applying for credit to certify the origin of their soybeans.


The ultimate bike trip: the Amazon rainforest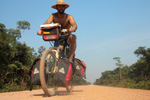 (10/17/2010) Like all commercial roads through rainforests, the 5,300 kilometer long Rodovia Transamazonica (in English, the Trans-Amazonia), brought two things: people and environmental destruction. Opening once-remote areas of the Amazon to both legal and illegal development, farmers, loggers, and miners cut swathes into the forest now easily visible from satellite. But the road has also brought little prosperity: many who live there are far from infrastructure and eek out an impoverished existence in a harsh lonely wilderness. This is not a place even the most adventurous travelers go, yet Doug Gunzelmann not only traveled the entirety of the Transamazonica in 2009, he cycled it. A self-described adventurer, Gunzelmann chose to bike the Transamazonica as a way to test his endurance on a road which only a few before have completed. But Gunzelmann wasn't just out for adrenaline-rushes, he was also deeply interested in the environmental issues related to the Transamazonica. What he found was a story without villains, but only humans—and the Amazon itself—trying to survive in a complex, confusing world.


Amazon soy moratorium extended

(07/08/2010) Brazilian soy farmers have extended their moratorium on Amazon deforestation for another year, reports Greenpeace.


Large-scale soy farming in Brazil pushes ranchers into the Amazon rainforest

(04/28/2010) Industrial soy expansion in the Brazilian Amazon has contributed to deforestation by pushing cattle ranchers further north into rainforest zones, reports a new study published the journal Environmental Research Letters.


Amazon rainforest will bear cost of biofuel policies in Brazil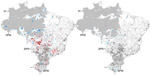 (02/08/2010) Business-as-usual agricultural expansion to meet biofuel production targets for 2020 will take a heavy toll on Brazil's Amazon rainforest in coming years, undermining the potential emissions savings of transitioning from fossil fuels to biofuels, warns a new paper published in the Proceedings of the National Academy of Sciences (PNAS). The research suggests that intensification of cattle ranching, combined with efforts to promote high-yielding oil crops like oil palm could lessen forecast greenhouse gas emissions from indirect land use in the region.


Commodity trade and urbanization, rather than rural poverty, drive deforestation


(02/07/2010) Deforestation is increasingly correlated to urban population growth and trade rather than rural poverty, suggesting that measures proposed to reduce deforestation will be ineffective if they fail to address demand for commodities produced on forest lands, argues a new paper published in Nature GeoScience.


Concerns over deforestation may drive new approach to cattle ranching in the Amazon


(09/08/2009) While you're browsing the mall for running shoes, the Amazon rainforest is probably the farthest thing from your mind. Perhaps it shouldn't be. The globalization of commodity supply chains has created links between consumer products and distant ecosystems like the Amazon. Shoes sold in downtown Manhattan may have been assembled in Vietnam using leather supplied from a Brazilian processor that subcontracted to a rancher in the Amazon. But while demand for these products is currently driving environmental degradation, this connection may also hold the key to slowing the destruction of Earth's largest rainforest.


Brazilian soy industry extends moratorium on Amazon deforestation

(07/28/2009) The Brazilian soy industry has agreed to extend a moratorium on soy production in newly deforested areas in the Amazon rainforest, reports Greenpeace. The moratorium has been in place since 2006.


Republic of Congo to turn over 25 M acres of land to South African farmers

(04/20/2009) The government of Republic of Congo (Brazzaville) has offered 25 million acres (10 million hectares) of land to South African farmers in an effort to improve the central African nation's food security, reports Reuters. The area is nearly twice the amount of arable land in South Africa.


Rainforest soy moratorium shows success in the Brazilian Amazon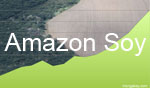 (04/15/2009) An industry-led moratorium on soy plantings on recently deforested rainforest land continues to show success in the Brazilian Amazon, reports a study released Tuesday by environmental groups and Abiove, the soy industry group that formed the initiative and represents about 90 percent of Brazil's soy crush. The satellite-based study showed that only 12 of 630 sample areas (1,389 of 157,896 hectares) deforested since July 2006 — the date the moratorium took effect — were planted with soy.


Brazil: 'Soy King', Environment Minister strike deal on Amazon deforestation

(04/02/2009) Meeting at the Katoomba payments-for-ecosystem-services conference in Cuiaba, Brazil, Carlos Minc, Brazil's Environment Minister, and Blairo Maggi, Governor of the State of Mato Grosso and the world's largest individual soy grower, put aside their ideological differences and agreed to grant a temporary reprieve for ranchers and farmers in the Amazonian state, allowing them up to four years to reforest their holdings to bring them up to legal code. Under Brazilian law landowners in the "legal Amazon" are required to maintain 80 percent forest cover on their holdings, but in practice, the regulation is widely ignored.


Amazon deforestation drops 70% for Nov 2008-Jan 2009 period

(03/04/2009) Deforestation in the Brazilian Amazon fell to 291 square miles (754 square kilometers) in the November 2008-January 2009 window, a drop of 70 percent compared to the year earlier period when 976 sq mi (2,527 sq km), said Environment Minister Carlos Minc.


80% of agricultural expansion since 1980 came at expense of forests


(02/15/2009) More than half of cropland expansion between 1980 and 2000 occurred at the expense of natural forests, while another 30 percent of occurred in disturbed forests, reported a Stanford University researcher presenting Saturday at the annual meeting of the American Association for the Advancement of Science (AAAS) in Chicago.


Payments for eco services could save the Amazon



(02/12/2009) Paying for the ecological services provided by the Amazon rainforest could be the key to saving it, reports a new analysis from WWF. The study, Keeping the Amazon forests standing: a matter of values, tallied the economic value of various ecosystem services afforded by Earth's largest rainforest. It found that standing forest is worth, at minimum, $426 per hectare per year.


Beef drives 80% of Amazon deforestation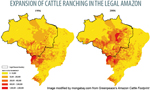 (01/29/2009) Nearly 80 percent of land deforested in the Amazon from 1996-2006 is now used for cattle pasture, according to new maps released today in a report by Greenpeace at the World Social Forum in Belem, Brazil. The report, Amazon Cattle Footprint: Mato Grosso: State of Destruction, confirms that cattle ranching is the primary driver of deforestation in Earth's largest rainforest: the Brazilian Amazon.


ADM takes step towards more sustainable soy production in the Amazon

(01/27/2009) Agricultural giant Archer Daniels Midland Co. (ADM) has partnered with Brazilian nonprofit Aliança Da Terra to promote better environmental stewardship among soybean producers operating in the Amazon, reports the Chicago Tribune.


What does slowing economy mean for rainforest conservation?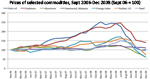 (01/26/2009) Plunging commodity prices may offer a reprieve for the world's beleaguered tropical forests. The global economic downturn has caused demand for many commodities to plummet. The resulting decline in the prices of timber, energy, minerals and agricultural products may do what conservationists have largely failed to achieve in recent years: slow deforestation. Fueled by surging demand from China and other emerging economies, and boosted by the convergence of food and energy markets in response to American and European incentives for biofuels, the worldwide commodity boom over the past few years helped trigger a land rush that precipitated the conversion of natural forests for farms, plantations, and ranches. At the same time, high prices for metals, fossil fuels, and other industrial resources drove a global search for exploitable reserves, many of which lie in tropical forest countries. Now that the bonanza is unwinding, with prices for everything from palm oil to bauxite to crude oil cratering, the incentives to clear forests are retreating. Developers large and small are abandoning projects and forgoing planned expansion around the world.


Symposium tackles big question: how many species will survive our generation

(01/16/2009) Nine scientists dusted off their crystal balls Monday at the National Museum of Natural History in Washington DC, weighing in on the future of the world's tropical forest. Despite the most up-to-date statistics, prognosis for the future of tropical forests varied widely. In the last few years a schism has occurred among biologists regarding the future of the tropics. No tropical scientist denies that rainforests and the species which inhabit them face unprecedented threats; neither do they argue that some of these forested regions and species will likely not survive the next fifty years. What has sparked debate, sometimes heated, is how bad will is it really? When the dust settles, what percentage of species will survive and how much forest will remain?


Corn expansion is hurting ladybugs

(12/15/2008) Expansion of corn acreage to meet ethanol targets is reducing the ability of beneficial insects to control pests, a loss valued at $58 million in the four states studied (Michigan, Iowa, Minnesota and Wisconsin), report researchers writing in the journal Proceedings of the National Academy of Sciences.


Agricultural firms cut incentives for Amazon deforestation

(12/02/2008) As grain prices plummet and concerns over cash mount, agricultural giants are cutting loans to Brazilian farmers, reports the Wall Street Journal. Tighter farm credit may be contributing to a recent slowing in deforestation in the Brazilian Amazon, where agriculture is an increasingly important driver of forest clearing.


Brazil suspends Amazon road project until protected areas established

(09/26/2008) Brazil has temporarily suspended the paving of a major Amazon road pending demarcation of 13 neighboring protected areas, reports the Associated Press.


Independent of climate, forest cover in southern Amazon may fall to 20% by 2016

(09/03/2008) Forest cover in the "Arc of Deforestation" of southern Amazonia will decline to around 20 percent 2016 due to continued logging and conversion of forests for cattle pasture and soy farms, report researchers writing in the journal Environmental Conservation. Analyzing high resolution satellite data from 1984 through 2004 for the Alta Floresta region in northern Mato Grosso, Fernanda Michalski, Carlos Peres and Iain Lake of the University of East Anglia found that forest cover declined from from 91.1 percent to 41.7 percent between 1984 and 2004. They note that while the deforestation rate has slowed to around 2 percent per year since peaking at more than 8 percent annually in late 1980s to mid-1990s, renewed expansion of road networks will enable loggers to increasingly exploit remaining forests, leading to degradation and likely eventual conversion for agricultural use. Overall Michalski and colleagues forecast that forest cover in Alta Floresta will fall to 21 percent by 2016, a decline of 77 percent since 1984.


Deforestation in the Brazilian Amazon won't increase significantly for 2008

(08/15/2008) Brazilian Environment Minister Carlos Minc said Thursday that Amazon deforestation for the 2007-2008 year will likely be comparable to the prior year. The announcement marks an abrupt turn-around for the Brazilian government which in April said that forest destruction was expected to increase for the first time since 2004.


Climate change to hurt Brazil's farm exports by 2020

(08/11/2008) Climate change could have a significant impact on thye value of Brazil's agricultural exports according to a study presented Monday at an agribusiness conference in Sao Paulo, reports the Financial Times.


Future threats to the Amazon rainforest

(07/31/2008) Between June 2000 and June 2008, more than 150,000 square kilometers of rainforest were cleared in the Brazilian Amazon. While deforestation rates have slowed since 2004, forest loss is expected to continue for the foreseeable future. This is a look at past, current and potential future drivers of deforestation in the Brazilian Amazon.


Facing criticism, biofuels industry forms new lobby group to influence lawmakers

(07/25/2008) Under attack by politicians, aid groups, and environmentalists for driving up food prices and fueling destruction of ecologically sensitive habitats, some of the world's largest agroindustrial firms have formed a lobby group to influence consumers and lawmakers to support continued subsidies for biofuel production, reports Reuters.


Biofuels can reduce emissions, but not when grown in place of rainforests

(07/22/2008) Biofuels meant to help alleviate greenhouse gas emissions may be in fact contributing to climate change when grown on converted tropical forest lands, warns a comprehensive study published earlier this month in the journal Environmental Research Letters. Analyzing the carbon debt for biofuel crops grown in ecosystems around the world, Holly Gibbs and colleagues report that "while expansion of biofuels into productive tropical ecosystems will always lead to net carbon emissions for decades to centuries... [expansion] into degraded or already cultivated land will provide almost immediate carbon savings." The results suggest that under the right conditions, biofuels could be part of the effort to reduce humanity's carbon footprint.


Amazon deforestation forecast for 2008 revised downward

(07/17/2008) Deforestation in the Brazilian Amazon fell sharply in the month of May (1,096 square kilometers) compared to May a year-ago (1,222 square kilometers), according to preliminary satellite data announced by the country's environment minister on Tuesday. Brazilian Environment Minister Carlos Minc said a preliminary analysis by the government's National Space Research Institute (INPE) showed 1,096 square kilometers (423 square miles) of rain forest were cut down in May, down from 1,123 square kilometers (434 square miles) in April.


Biofuels, food demand may doom tropical forests

(07/14/2008) Rising demand for fuel, food, and wood products will take a heavy toll on tropical forests, warns a new report released by the Rights and Resources Initiative (RRI).


Amazon soy moratorium extended; may be expanded to other products

(06/23/2008) Soy crushers operating in the Brazilian Amazon have extended a two-year-old moratorium on the purchase of soybeans produced on rainforest lands deforested after 2006, reports Reuters.



Page 1 | Page 2