News articles on southeast asia

---
Mongabay.com news articles on southeast asia in blog format. Updated regularly.








Development halted in crucial wildlife corridor in Malaysia
(11/07/2012) Kenyir Wildlife Corridor in northeast Malaysia is teeming with wildlife: elephants, gibbons, tigers, tapirs, and even black panthers (melanistic leopards) have been recorded in the 60 kilometer (37 mile) stretch of forest. In fact, researchers have recorded over 40 mammal species (see species list below), including 15 threatened with extinction according to the IUCN Red List. When these findings were presented by scientists to the Terengganu state government action followed quickly: all development projects have been halted pending a government study.
Controversial dam gets approval in Laos

(11/07/2012) Laos has given approval to the hugely-controversial $3.5 billion Xayaburi Dam on the Mekong River, reports the BBC. The massive dam, which would provide 95 percent of its energy production to Thailand, has been criticized for anticipated impacts on the river's fish populations, on which many locals depend.
Over 100,000 farmers squatting in Sumatran park to grow coffee
(11/06/2012) Sumatra's Bukit Barisan Selatan National Park—home to the Critically Endangered Sumatran rhinos, tigers, and elephants—has become overrun with coffee farmers, loggers, and opportunists according to a new paper in Conservation and Society. An issue facing the park for decades, the study attempted for the first time to determine the number of squatters either living in or farming off Bukit Barisan Selatan National Park, a UNESCO World Heritage Site; the rough census—over 100,000 people—shocked scientists.
Micro-hydro and decentralized green energy goals set in Borneo

(11/04/2012) The first ever meeting of the Southeast Asia Renewable Energy People's Assembly (SEAREPA) ended with agreement on 12 future projects, including developing community micro-hydro power and pushing for new policies on decentralized renewable energy in the region. Held in Malaysian state of Sabah on the island, the meeting brought together 130 people from some 80 different groups.
After defeating coal plant, Borneo hosts renewable energy meeting

(10/31/2012) Last year, a coalition of environmentalists and locals won a David-versus-Goliath battle against a massive coal plant in the Malaysian state of Sabah on Borneo. After facing a protracted campaign—including expert analysis of green energy options for Sabah—the state government announced it was scuttling plans to build the coal plant on a beach overlooking the Coral Triangle. Now, victorious grassroots campaigners are hosting the inaugural meeting of the Southeast Asia Renewable Energy People's Assembly (SEAREPA), bringing 80 organizations together to discuss green energy options across southeast Asia.
Indonesia remains epicenter for illegal wildlife trade in reptiles and amphibians
(10/24/2012) Demand for exotic pets is driving the illegal harvest and trade of herpetofauna (reptiles and amphibians) in Indonesian New Guinea, according to a recent study published in the journal Biodiversity and Conservation. Between September 2010 and April 2011, Daniel Natusch and Jessica Lyons of the University of New South Wales surveyed traders of amphibians and reptiles in the Indonesian provinces of Maluku, West Papua and Papua.
Rehabilitated orangutans in danger if industrial project proceeds in Borneo
(10/22/2012) The proposed extension of an industrial area in East Kalimantan, Indonesia will likely mean the end of a population of rehabilitated orangutans who reside there, according to the Indonesian environmental group Peduli Teluk Balikpapan. The Kariangau Industrial Area (KIK) will comprise 5,130 hectares of land currently covered by hardwood forests and mangroves when completed, including one third of orangutan habitat in Sungai Wain forest—a crucial portion that is not within the boundaries of the Sungai Wain Protection Forest and therefore not under any governmental protection.
The world's 25 most endangered primates: nearly a quarter in Madagascar
(10/15/2012) A coalition of conservation groups released the biannual Top 25 Primates list today, including nine species not appearing on the 2010 list, at the UN's Convention on Biological Diversity (CBD) in Hyderabad, India. Madagascar tops the list as home to the most threatened primates, including six on the list. Following Madagascar, Vietnam contains five, Indonesia three, and Brazil two. In all, over half (54 percent) of the world's primates, which have been evaluated, are considered threatened by the IUCN Red List.
The riot over rhinos: how a luxury and illegal commodity is driving the slaughter of one of the world's iconic megafauna
(10/15/2012) 23,680 = the estimated number of wild rhinoceroses in South Africa. 35,000,000 = the number of American dollars generated by rhino hunting in South Africa. 97% = the percentage increase in illegally-hunted rhinos in 2011 from the national average in 1990. 30,000 = the number of pounds of rhino horns confiscated from poachers since 2010. 65 = the number of horns that have been stolen in South Africa from public display. 430...the number of rhinos killed this year, and counting...
Is your Halloween candy linked to rainforest destruction?

(10/11/2012) A campaign by the Cheyenne Mountain Zoo hopes to raise awareness about the link between Halloween candy and deforestation in Indonesia and Malaysia. Employing the images of Critically Endangered orangutans, the zoo urges consumer to only buy candy containing eco-certified palm oil by the Round Table on Sustainable Palm Oil (RSPO).
Dollar General drops APP due to rainforest destruction concerns

(10/11/2012) U.S. retailer Dollar General has stopped sourcing paper products from controversial brand Asia Pulp and Paper (APP), according to the World Wide Fund for Nature (WWF) which has targeted 20 companies for selling APP-sourced tissue and paper towels. APP has been under fire for years for deforestation on the Indonesian island of Sumatra, the last home to the Sumatran tiger (Panthera tigris sumatrae), Sumatran orangutan (Pongo abelii), and Sumatran elephant (Elephas maximus sumatranus), each of which is listed as Critically Endangered by the IUCN Red List.
Cambodia drops case of murdered forest activist, Chut Wutty

(10/08/2012) An investigation into the mysterious death of Cambodian forest activist, Chut Wutty, has been dismissed by the courts, which critics allege is apart of an ongoing cover up. The court decided that since the suspect in Wutty's death, In Rattana, was also dead there was no need to proceed. Chut Witty was shot to death while escorting two journalists to a logging site run by Timbergreen. Wutty, whose death made international news, was a prominent activist against illegal logging in Cambodia.
90 percent of oil palm plantations came at expense of forest in Kalimantan
(10/08/2012) From 1990 to 2010 almost all palm oil expansion in Kalimantan came at the expense of forest cover, according to the most detailed look yet at the oil palm industry in the Indonesian state, published in Nature: Climate Change. Palm oil plantations now cover 31,640 square kilometers of the state, having expanded nearly 300 percent since 2000. The forest loss led to the emission of 0.41 gigatons of carbon, more than Indonesia's total industrial emissions produced in a year. Furthermore the scientists warn that if all current leases were converted by 2020, over a third of Kalimantan's lowland forests outside of protected areas would become plantations and nearly quadruple emissions.
Roundtable on Sustainable Palm Oil hits 10 year mark
(10/04/2012) The Roundtable on Sustainable Palm Oil (RSPO) is holding its tenth annual meeting later this month. The initiative, which aims to improve the social and environmental performance of palm oil production through a certification standard, has advanced considerably during that time, moving from an idea to a reality: RSPO-certified palm oil now accounts for 12 percent of global palm oil production. Yet the RSPO is not without controversy. Some palm oil companies say its criteria are too costly to adopt and are therefore discriminatory, while environmental critics argue its bar for "sustainable" palm oil is too low and the loopholes allow producers to claim membership even if they aren't actually producing certified palm oil across all their holdings. Nonetheless the RSPO has support from many of the world's largest palm oil producers, traders, and consumers as well as the biggest NGOs.
Another journalist attacked in Cambodia for covering illegal logging

(09/27/2012) Two weeks after an environmental journalist was found murdered in the trunk of his car, another journalist has been brutally attacked in Cambodia. Ek Sokunthy with the local paper Ta Prum says he was beaten in his home by three assailants by a pistol and a stick. The attack follows swiftly after the high-profile murder of 44-year-old forest journalist Hang Serei Oudom.
Corruption still plundering forests in Laos for furniture

(09/26/2012) The forests of Lao are still suffering from widespread destruction with the government turning a blind eye to a thriving black market logging trade on the border of Laos and Vietnam, according to an update report by the Environmental Investigation Agency (EIA). Last year, the EIA found that powerful players, including the Vietnamese military, were plundering Laos of its forests for raw logs. Smuggled from Laos into Vietnam, the raw logs are crafted into furniture, which are eventually exported to Europe and the U.S. Now, over a year later a new report finds little has changed.
New website highlights the plight of the pangolin
(09/25/2012) Scaly, insect-devouring, nocturnal, and notoriously shy, pangolins are strange mammals who remain unknown to many. But they are facing a major crisis as they are stolen from the wild in East Asia to serve as meat or traditional medicine. In Asia, two of the four species are now listed as Endangered due largely to poaching. Now, a new expert group through the International Union for the Conservation of Nature (IUCN) aims to work toward better research and conservation of the world's imperiled pangolins, starting with launching a new website, PangolinSG.
Featured video: camera traps find rare, mountain animals in Sumatra

(09/24/2012) In May of this year, Dutch filmmaker, Marten Slothouwer and his team trudged up Sumatra's northern-most mountains with video camera equipment in hand, hoping to capture rare and cryptic species for the world to see. Already the camera trapping initiative, dubbed Eyes on Leuser, took incredible footage in the region's imperiled lowland rainforest, but the group hoped now to capture mountain endemics.
NGO: Malaysian leader worth $15 billion despite civil-servant salary; timber corruption suspected

(09/19/2012) Abdul Taib Mahmud, who has headed the Malaysian state of Sarawak for over 30 years, is worth $15 billion according to a new report by the Bruno Manser Fund. The report, The Taib Timber Mafia, alleges that Taib has used his position as head-of-state to build up incredible amounts of wealth by employing his family or political nominees to run the state's logging, agriculture, and construction businesses. Some environmental groups claim that Sarawak has lost 90 percent of its primary forests to logging, while indigenous tribes in the state have faced the destruction of their forests, harassment, and eviction.
Learning to live with elephants in Malaysia
(09/18/2012) Humans and elephants have a lot in common: both are highly intelligent, intensely social, and both are capable of having a massive impact on their local environments. Given their similarities, it might not be surprising that elephants and human have often run afoul of one another. Conflict between these two great species has probably been going on for thousands of years, but as human populations have grown dramatically, elephant populations have been crippled and forced into smaller-and-smaller pockets. No-where is this more true than in Southeast Asia.
Environmental journalist investigating illegal logging murdered in Cambodia

(09/13/2012) Less than five months after high-profile forest activist, Chut Wutty, was killed in Cambodia, an environmental journalist, Hang Serei Oudom, has been found slain in the trunk of his car, possibly murdered with an ax, reports the AFP. Oudum, who worked at the local paper Vorakchun Khmer Daily, was known for writing stories on epidemic of illegal logging in Cambodia, often linking the crime to business people and politicians. The car and body were found in a cashew nut plantation in Ratanakiri province, an area rife with logging.
Photos: camera traps capture wildlife bonanza in Borneo forest corridor
(09/10/2012) Camera traps placed in a corridor connecting two forest fragments have revealed (in stunning visuals) the importance of such linkages for Borneo's imperiled mammals and birds. Over 18 months, researchers with the Sabah Wildlife Department (SWD) and the Danau Girang Field Centre (DGFC) have photographed wildlife utilizing the corridor located in the Lower Kinabatangan Wildlife Sanctuary in Malaysian Borneo.
Tiger and cubs filmed near proposed dam in Thailand

(09/04/2012) A tigress and two cubs have been filmed by remote camera trap in a forest under threat by a $400 million dam in Thailand. To be built on the Mae Wong River, the dam imperils two Thai protected areas, Mae Wong National Park and Huay Kha Khaeng Wildlife Sanctuary, according to the World Wide Fund for Nature (WWF)
Rainforests decline sharply in Sumatra, but rate of deforestation slows
(08/28/2012) The extent of old-growth forest in Sumatra shrank by 40 percent over the past 20 years, while overall forest on the Indonesian island declined by 36 percent, finds a comprehensive new satellite-based assessment published in Environmental Research Letters. The research, conducted by an international team led by Belinda Arunarwati Margono of South Dakota State University and Indonesia's Ministry of Forestry, reveals the dire condition of Sumatra's once extensive rainforests. Overall Sumatra lost 7.5 million hectares of forest between 1990 and 2010, of which about 2.6 million hectares was primary forest. The bulk of forest loss occurred in secondary forests that had been previously degraded by logging.
Mekong dam spree could create regional food crisis
(08/27/2012) Fish are a hugely important protein source for many people around the world. This is no more evident than along the lower Mekong River delta where an estimated 48 million people depend directly on the river for food and livelihoods. But now a new study in Global Environmental Change cautions that 11 planned hydroelectric dams in the region could cut vital fish populations by 16 percent while putting more strain on water and land resources.
Burning forests in Southeast Asia increases mortality rates in the region
(08/13/2012) Clearing forests and other vegetation with fire in Southeast Asia can kill, according to a new study in Nature Climate Change. The research found that fire-induced air pollution, including fine particulates and a rise in ozone, could be linked to thousands of deaths during El Nino years when dry conditions worsen human-set fires. The pollution was found to be worst over Malaysia and Indonesia, the latter where the vast majority of the fires are set.
Cambodia's largest lowland rainforest spared from new land concessions

(08/06/2012) Four economic land concessions have been cancelled in Cambodia's Prey Lang forest, known as the largest intact lowland forest in Southeast Asia, reports the Phnom Penh Post. The economic land concessions, totaling over 40,000 hectares, would have been used for rubber plantations.
Pictures of the day: pangolins saved in Thailand from poachers

(08/06/2012) Earlier this summer, 110 Sunda pangolins (Manis javanica) were rescued by Thai customs officials from poachers in a pickup truck. While the driver of the vehicle escaped, a passenger was arrested, but released after paying a fine of $75,000, reports the NGO FREELAND Foundation.
New Malaysian snail named after late conservation mentor

(07/30/2012) Researchers have discovered a new snail, which is so unusual that it has been granted its own genus: Kenyirus. To date, the mysterious forest snail, found in Malaysia's Kenyir Forest, is only known from its unique shell.
Conservationists pledge to double number of tiny buffalo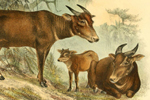 (07/25/2012) Ten thousand mighty tamaraw buffalo (Bubalus mindorensis) once grazed the mountain slopes of Mindoro Island in the Philippines. However, these dwarf buffalo are now classified as Critically Endangered on the IUCN Red List, with fewer than 300 individuals remaining on the small island to which they are wholly endemic. Yet hope remains for the tamaraw: an enormous effort has been mounted to revive this iconic species and to protect its unique island habitat.
New mammal discovered in Indonesia

(07/24/2012) Researchers have discovered a new species of rodent in Indonesia's Mekongga Mountains, reports the Jakarta Post. The new rodent, Christine's Margareta rat (Margaretamys christinae), is only the fourth in the genus Margaretamy, all of which are found on the island of Sulawesi.
Experts: sustainable logging in rainforests impossible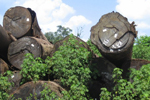 (07/19/2012) Industrial logging in primary tropical forests that is both sustainable and profitable is impossible, argues a new study in Bioscience, which finds that the ecology of tropical hardwoods makes logging with truly sustainable practices not only impractical, but completely unprofitable. Given this, the researchers recommend industrial logging subsidies be dropped from the UN's Reducing Emissions from Deforestation and Forest Degradation (REDD+) program. The study, which adds to the growing debate about the role of logging in tropical forests, counters recent research making the case that well-managed logging in old-growth rainforests could provide a "middle way" between conservation and outright conversion of forests to monocultures or pasture.
Borneo's forests face dire future from global warming

(07/18/2012) Already wracked by extensive deforestation and forest degradation, the future looks grim for Borneo's tropical rainforests, reports a new study published in the Journal of Geophysical Research-Biogeosciences.
Industrial logging leaves a poor legacy in Borneo's rainforests
(07/17/2012) For most people "Borneo" conjures up an image of a wild and distant land of rainforests, exotic beasts, and nomadic tribes. But that place increasingly exists only in one's imagination, for the forests of world's third largest island have been rapidly and relentlessly logged, burned, and bulldozed in recent decades, leaving only a sliver of its once magnificent forests intact. Flying over Sabah, a Malaysian state that covers about 10 percent of Borneo, the damage is clear. Oil palm plantations have metastasized across the landscape. Where forest remains, it is usually degraded. Rivers flow brown with mud.
Clever whale shark video goes viral

(07/17/2012) Researchers have a caught a juvenile—though still massive—whale shark on camera sucking fish out of a hole in an Indonesian fishing net. Posted on YouTube.com, the video has gone viral and has been viewed by 1.2 million people to date. The footage was captured during a program to tag 30 whale sharks (Rhincodon typus) in Indonesia's Cendrawasih Bay National Marine Park in order to learn more about the world's largest fish.
Scientists propose a new way forward on orangutan conservation
(07/16/2012) Orangutans are in dire need of a revised conservation approach, according to a new study in the Annals of the New York Academy of Sciences. While the plight of the species is widely recognized within the conservation community—receiving international attention in the form of scientific research, funding, and NGO efforts—the authors argue that "there has been frustratingly little progress."
'Beautiful' new snake discovered in Cambodia (photo)

(07/16/2012) Scientists have discovered a new snake species in the biodiverse rainforests of the Cardamom Mountains, reports Fauna & Flora International (FFI). The new reddish-hued serpent has been named after its country of origin by native herpetologist Neang Thy: the Cambodian kukri (Oligodon kampucheaensis).
Charts: deforestation in Indonesia and Malaysia, 2000-2010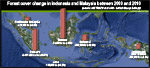 (07/15/2012) Indonesia and Malaysia lost more than 11 million hectares (42,470 square miles) of forest between 2000 and 2010, according to a study published last year in the journal Global Change Biology. The area is roughly the size of Denmark or the state of Virginia. The bulk of forest loss occurred in lowland forests, which declined by 7.8 million hectares or 11 percent on 2000 cover. Peat swamp forests lost the highest percentage of cover, declining 19.7 percent. Lowland forests have historically been first targeted by loggers before being converted for agriculture. Peatlands are increasingly converted for industrial oil palm estates and pulp and paper plantations.
Climate change increased the probability of Texas drought, African famine, and other extreme weather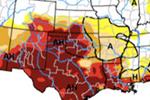 (07/11/2012) Climate change is here and its increasing the chances for crazy weather, according to scientists. A prestigious group of climatologists have released a landmark report that makes the dramatic point that climate change is impacting our weather systems—and in turn our food crops, our economies, and even our lives—here-and-now. The new report in the American Meteorological Society is first of what is intended to be an annual offering that will attempt to tease out the connections between climate change and individual extreme weather events, such as heatwaves, droughts and floods.
Vietnam buys stakes in controversial oil blocks threatening Peru's most vulnerable indigenous people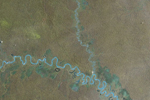 (07/11/2012) Vietnam's state oil and gas company, PetroVietnam Exploration and Production (PVEP), has announced its intention to acquire a major stake in controversial oil operations in the remote Peruvian Amazon. This area, known as Lot 67, is one of the most biodiverse in the world and home to indigenous people living without regular contact with outsiders, sometimes dubbed 'isolated' or 'uncontacted', who could be decimated by contact with oil company workers because they are highly vulnerable to disease.
Wealthy consumption threatens species in developing countries
(07/11/2012) Consumption in wealthy nations is imperiling biodiversity abroad, according to a new study in Nature that investigates the link between international trade and biodiversity decline. The study shows how threats to biodiversity and ecosystems, located primarily in developing countries, can be connected to consumer demand for goods in wealthier nations. Some of the major commodities include coffee, cocoa, soy, beef and palm oil.




Page 1 | Page 2 | Page 3 | Page 4 | Page 5 | Page 6 | Page 7 | Page 8 | Page 9 | Page 10 | Page 11 | Page 12 | Page 13 | Page 14 | Page 15 | Page 16