News articles on southeast asia

---
Mongabay.com news articles on southeast asia in blog format. Updated regularly.






Palm oil company guards injure four villagers in Indonesian Borneo clash

(07/29/2013) Four villagers were injured and several vehicles destroyed in a clash between local residents and palm oil company guards in Indonesian Borneo last week. The clash is the latest incident in a long-running conflict between Wilmar subsidiary PT Bumi Sawit Kencana and villagers in Kotawaringin Timur district, Central Kalimantan.
The Javan Rhino's final stronghold
(07/29/2013) August 27, 1883. It's been called 'the day the world exploded'. One hundred and thirty years ago this month, the volcanic island of Krakatau (Krakatoa) blew its top. The smoking mountain had given several days warning to the human inhabitants of Java and Sumatra, the closest large islands, but no one could have imagined the intensity of the eruption and the devastation that followed. Several cubic miles of rock and ash - more than half the island – rocketed skyward. The explosion released over 10,000 times the energy of the atomic bomb dropped on Hiroshima and was an order of magnitude more powerful than the eruption of Mount St. Helens. Tsunamis greater than 100 feet high roared over coastal habitats, inundating lowland forests and scouring them of wildlife.
How YouTube has put the world's only poisonous primates at risk
(07/25/2013) It all started with a video: in 2009 a Russian man uploaded a video of himself tickling his exotic pet (a pygmy slow loris) from Vietnam onto the hugely popular site YouTube. Since then the video has been viewed over half a million times. But a new study in the open source journal in PLoS ONE, finds that such YouTube videos have helped fuel a cruel, illegal trade that is putting some of the world's least-known primates at risk of extinction. Lorises are small, shy, and nocturnal primates that inhabit the forests of tropical Asia, but the existence of all eight species is currently imperiled by a booming illegal pet trade that has been aided by videos of lorises being tickled, holding tiny umbrellas, or doing other seemingly cute (but wholly unnatural) things.
Zoos call on governments to take urgent action against illegal wildlife trade (photos)
(07/24/2013) In a single night in March, a band of heavily-armed, horse-riding poachers slaughtered 89 elephants in southern Chad, thirty of which were pregnant females. The carnage was the worst poaching incident of the year, but even this slaughter paled in comparison to the 650 elephants killed in a Cameroon park in 2012. Elephant poaching is hitting new records as experts say some 30,000 elephants are being killed every year for their ivory tusks. But the illegal wildlife trade—estimated at $19 billion—is not just decimating elephants, but also rhinos, big cats, great apes, and thousands of lesser-known species like pangolins and slow lorises. This growing carnage recently led to representatives of over 40 zoos and dozens of wildlife programs to call on governments around the world to take immediate action on long-neglected wildlife crime.
First ever pangolin conference concludes all eight species in trouble

(07/23/2013) Demand for scales, meat, and even fetuses of pangolins have pushed all eight species of this unique mammalian order—Pholidota—toward extinction, according to the world's first ever pangolin conference with the International Union for Conservation of Nature - Species Survival Commission (IUCN-SSC) Pangolin Specialist Group. Meeting in Singapore earlier this month, 40 conservationists from 14 countries discussed the plight of these little-known scaly mammals and how to turn around their global decline.
Rare animal species and Buddhist monks in danger of losing their home to cement quarry
(07/22/2013) An international cement company Lafarge, winner of a Green Initiative award, is considering quarrying a cave in Malaysia which is the sole home of a critically endangered species. The proposed operations also threaten a Buddhist monastery near the cave where monks are facing eviction. Kanthan cave in Peninsular Malaysia is located in a limestone hill, already extensively quarried for the production of cement by Lafarge. The cave, just as most karst caves in Southeast Asia, harbors a unique ecosystem. One of the rare endemic organisms is the Kanthan Cave trapdoor spider (Liphistius kanthan), which was just designated as Critically Endangered by the IUCN Red List.
Weak laws governing Malaysia's indigenous people complicate conservation efforts
(07/22/2013) The balance between biodiversity conservation, land acquisition, natural resource utilization and indigenous peoples is often wrought with conflict. Legislation governing the use of natural resources should ideally protect biodiversity and address the needs of indigenous peoples, but in many places, falls short of these ambitions. In a recent study published in Biodiversity Conservation, researchers examined the weaknesses in select natural resource laws that affect the indigenous peoples of Peninsular Malaysia, and compared these laws with data on a specific group of indigenous people's use of natural resources, collected through questionnaires. In addition to suggesting potential solutions to address legislative weaknesses, the researchers make a strong case for why natural resource legislation is a matter of concern for conservationists.
Elephant killers should be brought to justice, Indonesia's president tweets [WARNING: brutally graphic images]
(07/20/2013) Indonesia's president spoke out against the killing of a critically endangered Sumatran elephant (Elephas maximus sumatranus) last week, using his Twitter account to urge local authorities to take action in the case. The large male elephant was found dead last Saturday morning near Rantau Sabon village in Indonesia's Aceh province. The elephant's face was crushed, its tusks had been removed and taken and its trunk was detached from its body. Photos of the grisly scene were quickly circulated via social media, generating over 10,000 mentions on Twitter less than 24 hours after the animal was found, prompting a response from the president and other high-level officials.
80% of rainforests in Malaysian Borneo logged
(07/17/2013) 80 percent of the rainforests in Malaysian Borneo have been heavily impacted by logging, finds a comprehensive study that offers the first assessment of the spread of industrial logging and logging roads across areas that were considered some of Earth's wildest lands less than 30 years ago. The research, conducted by a team of scientists from the University of Tasmania, University of Papua New Guinea, and the Carnegie Institution for Science, is based on analysis of satellite data using Carnegie Landsat Analysis System-lite (CLASlite), a freely available platform for measuring deforestation and forest degradation. It estimated the state of the region's forests as of 2009.
Billions lost to corruption in Indonesia's forest sector, says report
(07/17/2013) Corruption and mismanagement in Indonesia's forest sector have cost the government billions of dollars in losses in recent years, including over $7 billion in losses from 2007-2011, Human Rights Watch said in a report released yesterday. The report also blasted the country's 'green growth' strategy, saying that despite recent reforms, Indonesia's forestry policies as they are implemented today continue to allow widespread forest clearing and threaten the rights and livelihoods of forest-dependent communities.
Palm oil body, Greenpeace spar over Indonesia fire blame

(07/16/2013) Greenpeace and the Roundtable on Sustainable Palm Oil (RSPO), a body that sets criteria for greener palm oil production, are caught up in a row over the origin of fires that cast a pall over Sumatra, Singapore, and Malaysia last month. The dispute started when media outlets, based on independent analysis of satellite data, identified several members of the RSPO as possible culprits in the fires in Riau Province. Greenpeace said the findings indicated that the RSPO is failing to hold its members accountable for burning. The activist group also criticized the RSPO for not expressly prohibiting deforestation and conversion of peatlands.
New shrew discovered in Vietnam forest

(07/08/2013) Researchers have described a previously unknown species of white toothed shrew in the forests of Vietnam. The study was published July 2 in the open access journal ZooKeys.
Influential British editor banned from Sarawak

(07/03/2013) Clare Rewcastle Brown, the editor of Sarawak Report and Radio Free Sarawak, has been deported from Sarawak reports the Bruno Manser Fund. Both the Sarawak Report and Radio Free Sarawak are known for high-profile and investigative journalism that is often critical of Sarawak's chief minister, Abdul Taib Mahmud or 'Taib', and his family for alleged corruption.
Beaten and captured orangutan dies in Indonesia's Aceh Province

(07/02/2013) An orangutan in Indonesia's Aceh province died last Thursday after being beaten by residents of a local village attempting to capture the animal. The case casts a tragic spotlight on what is becoming an increasingly serious problem in the region, as habitat decline and weak law enforcement leave wild orangutans at risk of being killed or captured and kept illegally as pets.
Cause of haze? Up to 87% of recent deforestation in fire zone due to palm oil, timber
(06/26/2013) New analysis of land cover in Riau Province reveals the outsized role industrial plantations play in driving deforestation and associated haze. The analysis, conducted by Eyes on the Forest, finds that up to 56% of deforestation in Riau between 2007 and 2012 can be linked to timber plantations for pulp and paper production. The figure for oil palm plantations may be as high as 31%.
Indonesian NGOs demand inquiry into natural resource graft

(06/26/2013) A coalition of anti-corruption and environmental NGOs has urged Indonesia's anti-graft body to investigate cases of corruption in the natural resources sector. Corruption linked to the forestry, mining and plantation industries leads to billions of dollars in state losses each year, the coalition said, with the country's natural resources being used as a virtually bottomless piggy bank by corrupt officials.
Sarawak targets 1M ha of tree plantations by 2020

(06/22/2013) Sarawak, a state in Malaysian Borneo, aims to have 1 million hectares of industrial tree plantations by 2020 to offset declining timber production due to unsustainable forest management practices.
Indonesia drops water bombs on fires, may resort to cloud-seeding

(06/22/2013) In an effort to control peat fires casting a pall of haze over neighboring Singapore and Malaysia, Indonesia is using airplanes to drop water across hotspots in Riau Province on the island of Sumatra, reports AFP. Officials say they may try cloud-seeding — dumping silver iodide at high altitude — if current fire-fighting efforts fall short.
Singapore air pollution hits worst level on record, government blames palm oil and timber plantations in Sumatra

(06/21/2013) Singapore's Pollutant Standards Index hit the highest level on record Friday as 'haze' driven by fires burning across plantations, peatlands, and forest areas continued to rage across Sumatra. The air pollution gauge touched a record 400 at 11 am local time on Friday, according to the National Environment Agency's website. The level is considered "very unhealthy" with people advised to 'minimize all outdoor exposure' and wear masks when outside.
Tigers, orangutans, rhinos: Sumatra's big mammals on the edge of extinction

(06/12/2013) Karman Lubis's body was found near where he had been working on a Sumatran rubber plantation. His head was found several days later a mile away and they still haven't found his right hand. He had been mauled by a Sumatran tiger that has been living in Batang Gadis National Park and he was one of five people killed there by tigers in the last five years.
Conserving the long-neglected freshwater fish of Borneo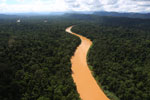 (06/11/2013) Borneo is a vast tropical island known for orangutans, rhinos, elephants, sun bears, proboscis monkeys, hornbills, and ubiquitous leeches. Conservationists have championed all of these species (aside from the leeches) in one way or another, but like many tropical regions Borneo's freshwater species have long been neglected, despite their rich biodiversity and importance to local people. But a new organization, the Kinabatangan River Spirit Initiative, is working to change that.
Illegal wildlife trade flourishes in Sumatra
(06/10/2013) In a chilly rain on Sunday, in a town just a few kilometers beyond the edge of a protected Sumatran rainforest, a young orangutan sat perched on a piece of plywood and grabbed the metal wires of his tiny cage. He has sat in that cage for six months and, like dozens of other species on display in this 'zoo' in the town of Kadang in Aceh, he has a price tag. This packed assembly is an acknowledged front for illegal trafficking in wildlife.
China to build $17B worth of dams in Indonesian Borneo

(06/09/2013) Two Chinese companies — China Power Investment Corporation and Anhui Conch Cement — will invest $17 billion in dams in North Kalimantan, Indonesia's newest province located on the island of Borneo, reports the Jakarta Globe.
Indonesian President visits Greenpeace ship 3 years after it was deported

(06/07/2013) Indonesian President Susilo Bambang Yudhoyono met with Greenpeace International Executive Director Kumi Naidoo aboard the activist group's ship, the Rainbow Warrior, today in Jakarta to discuss Indonesia's environmental issues. The meeting took place 31 months after the Rainbow Warrior was barred from Indonesian waters under pressure from interests in the forestry sector.
African militias trading elephant ivory for weapons
(06/05/2013) The Lord's Resistance Army (LRA) is using lucrative elephant poaching for ivory to fund its activities, according to a report published on Tuesday. Eyewitness accounts from park rangers, Lord's Resistance Army (LRA) escapees and recent senior defectors report that the fugitive warlord Joseph Kony, who is wanted by the international criminal court for war crimes and crimes against humanity, ordered African forest elephants to be killed in Garamba national park in the Democratic Republic of Congo (DRC) and the tusks sent to him.
Loris champion: conserving the world's most surprising primate family
(06/04/2013) Before Anna Nekaris began championing the cause of the world's lorises, little was known about this cryptic family of large-eyed, nocturnal, insect-eating, venomous primates. Nekaris, with Oxford Brookes University and founder of the Little Fireface project, has been instrumental in documenting rarely-seen loris behavior, establishing conservation programs, and identifying new species of these hugely-imperiled Asian primates.
Monitor lizards vanishing to international trade in pets and skins
(06/04/2013) The world's monitor lizards remind us that the world was once ruled by reptiles: this genus (Varanus) includes the world's biggest lizards, such as the stunning Komodo dragon and many other island kings. A large number beautifully-colored and patterned, these lizards are known for their intelligence and their apex role in many island food chains. However, a new study finds that the world's monitors, especially those in Southeast Asia, are vanishing due to the international pet trade and for their skins, which are turned into handbags and straps for watches. Meanwhile the rapid destruction of their rainforest homes is exacerbating the situation.
Mining in Indonesia taking a heavy social, environmental toll
(06/03/2013) In a patch of rainforest in northern Sumatra, a 28-year-old in jeans and tall rubber boots snubs out his cigarette and pulls a headlamp over his short black hair. Standing under a tarp, he flicks the light on and leans over the entrance of a narrow shaft lined with wooden planks that he and other miners cut from trees that once stood here. He gives a sharp tug on a rope that dangles 100 meters, plateauing in sections, and slides down. For hours, the man, Sarial, will use a pick to scrape away and bag rocks that are hauled to the surface by another miner, using a wooden wheel.
Indonesia's first REDD project finally approved

(05/30/2013) Rimba Raya, the world's largest REDD+ project, has finally been approved by the Indonesian government and verified under the Verified Carbon Standard (VCS), a leading certification standard for carbon credits.
Featured video: a glimpse into the life of Cambodia's Asian elephant

(05/29/2013) The Cambodian Government's Forestry Administration has recently teamed up with the Wildlife Conservation Society (WCS) in order to peer into the daily lives of the country's Asian Elephants (Elephas maximus). Through the use of camera traps, the organizations caught an intimate glimpse of the regular, day-to-day behavior of these animals.
Indonesia's largest coal plant will be built despite protests, minister says

(05/26/2013) Indonesia will go ahead with construction of what is set to be its largest coal-fired power plant in Batang, Central Java next year, a senior government official has said, downplaying opposition from environmental groups and the local community. Developers have struggled to acquire the approximately 200 hectares of land needed for the planned PLTU Batang plant, which would have a 2000 megawatt (MW) capacity. Residents of five villages have protested the project, with some refusing to release their land on fears of potential environmental damage to the area. Environmental groups also oppose the plant, saying it overlaps with a marine protected area and runs counter to President Susilo Bambang Yudhoyono's commitment to reduce carbon emissions.
Indigenous groups protest hydropower congress as controversy hits meeting in Malaysia
(05/22/2013) The opening of the International Hydropower Association (IHA) World Congress in the Malaysian state of Sarawak was marred today by indigenous protests and controversy after a local indigenous leader was barred from attending a pre-conference workshop. Over 300 people from local indigenous people protested the ongoing construction of around a dozen mega-dams in the state that threaten to flood traditional lands, force villages to move, and upend lives in the state. The Sarawak hydropower plans are some of the most controversial in the world—making the choice of Kuching, Sarawak for the IHA meeting an arguably ironic one—with critics contending that the dams are have been mired in political corruption, including kickbacks and bribes. IHA brings together dam builders, banks, and various related organizations worldwide every two years.
Scientists capture one of the world's rarest big cats on film (photos)
(05/21/2013) Less than a hundred kilometers from the bustling metropolis of Jakarta, scientists have captured incredible photos of one of the world's most endangered big cats: the Javan leopard (Panthera pardus melas). Taken by a research project in Gunung Halimun-Salak National Park, the photos show the magnificent animal relaxing in dense primary rainforest. Scientists believe that fewer than 250 mature Javan leopard survive, and the population may be down to 100.
Could the Tasmanian tiger be hiding out in New Guinea?
(05/20/2013) Many people still believe the Tasmanian tiger (Thylacinus cynocephalus) survives in the wilds of Tasmania, even though the species was declared extinct over eighty years ago. Sightings and reports of the elusive carnivorous marsupial, which was the top predator on the island, pop-up almost as frequently as those of Bigfoot in North America, but to date no definitive evidence has emerged of its survival. Yet, a noted cryptozoologist (one who searches for hidden animals), Dr. Karl Shuker, wrote recently that tiger hunters should perhaps turn their attention to a different island: New Guinea.
In landmark ruling, Indonesia's indigenous people win right to millions of hectares of forest
(05/17/2013) In a landmark ruling, Indonesia's Constitutional Court has invalidated the Indonesian government's claim to millions of hectares of forest land, potentially giving indigenous and local communities the right to manage their customary forests, reports Mongabay-Indonesia. In a review of a 1999 forestry law, the court ruled that customary forests should not be classified as "State Forest Areas". The move is significant because Indonesia's central government has control over the country's vast forest estate, effectively enabling agencies like the Ministry of Forestry to grant large concessions to companies for logging and plantations even if the area has been managed for generations by local people.





Analysis: Indonesia renews moratorium on logging, palm plantations

(05/16/2013) Indonesia's President Susilo Bambang Yudhoyono made a bold and courageous decision this week to extend the country's forest moratorium. With this decision, which aims to prevent new clearing of primary forests and peat lands for another two years, the government could help protect valuable forests and drive sustainable development.




Page 1 | Page 2 | Page 3 | Page 4 | Page 5 | Page 6 | Page 7 | Page 8 | Page 9 | Page 10 | Page 11 | Page 12 | Page 13 | Page 14 | Page 15 | Page 16 | Page 17