News articles on southeast asia

---
Mongabay.com news articles on southeast asia in blog format. Updated regularly.





Indonesian sugar company poised to destroy half of island paradise's forests


(03/14/2014) An Indonesian plantation company may be preparing to destroy up to half of the natural forests on Indonesia's remote Aru Islands, reports Forest Watch Indonesia. Analyzing land use plans for Aru, Forest Watch Indonesia found that local government officials have turned over 480,000 hectares (1.2 million acres) to 28 companies held by PT. Menara Group, a plantation conglomerate. 76 percent of the area is currently natural forest. Converting the area to sugar plantations would cut Aru's forest cover by half, from 730,000 ha to 365,000 ha.


Indonesia's proposed peat law too weak to protect peatlands, stop haze, says Greenpeace

(03/14/2014) A new regulation aiming to protect peatlands is likely to fall short of its goals, failing to stop peat degradation, emissions, and fires that are driving the current haze crisis in Southeast Asia, asserts a new analysis from Greenpeace.


Photos: Greenpeace stages protest in rainforest destroyed for palm oil


(03/10/2014) On Monday, Greenpeace activists in Indonesia staged a dramatic protest in an area of rainforest freshly cleared for a new oil palm plantation in Central Kalimantan. The demonstration came under the group's campaign to push consumer products giant Proctor & Gamble (P&G) to strengthen its palm oil sourcing policy to include a zero deforestation commitment like those signed recently by Nestle, Neste Oil, and Kellogg's, among others.


Islamic clerics issue 'fatwa' against poaching, declare the illegal wildlife trade 'haram'


(03/10/2014) Indonesia's Islamic clerics drew praise from conservation groups last week after the top clerical body in the world's largest Muslim-majority country issued a fatwa, or religious decree, against poaching and wildlife trafficking. The Indonesian Council of Ulema (MUI) announced the fatwa on Tuesday, declaring the illegal wildlife trade to be haram, or forbidden under Islamic law. The fatwa forbids Indonesia's Muslims from "all activities resulting in wildlife extinction" and is meant in part to help support existing national laws protecting endangered species, which are poorly enforced and have done little to prevent poaching.


Does haze from burning forests affect marine life?


(03/10/2014) Two scientists are calling on researchers, NGOs, and governments to begin studying the impact of burning forests and peatlands in Indonesia on the already-threatened marine ecosystems of Southeast Asia. Every year, Indonesian farmers set forests, vegetation, and peatlands alight to clear them for agriculture, often palm oil, and pulp and paper plantations. Not only do these practices destroy hugely-diverse tropical forests, but the resulting haze spreads to many parts of Southeast Asia, threatening regional health and impacting economies. Now, a new paper argues that the sinister impacts of Indonesia's burning may extend as far as the oceans.


Peatlands biosphere reserve facing severe encroachment in Sumatra

(03/06/2014) An important reserve that contains a block of fast-dwindling lowland swamp forest in Riau Province is facing an onslaught of encroachment for illegal oil palm plantations, worsening choking haze in the region, reports Mongabay-Indonesia.


Clash with palm oil company leaves one indigenous community member dead in Sumatra


(03/06/2014) A member of the Suku Anak Dalam indigenous community was killed and five others were injured during a clash with security forces on an oil palm concession owned by PT Asiatic Persada in Sumatra, reports Mongabay-Indonesia. The incident occurred Wednesday evening in Bungku, Jambi.


NASA photo reveals ongoing haze problem in Sumatra

(03/01/2014) A new satellite image released by NASA highlights Indonesia's ongoing problem with haze caused by land-clearing fires set across carbon-dense peatlands on the island of Sumatra.


New forest map for Sarawak reveals large-scale deforestation, encroachment on indigenous territories


(02/24/2014) A new online platform released by the Bruno Manser Fund reveals large-scale destruction of Sarawak's rainforests, peatlands, and traditional lands. Drawing from a variety of sources, the Sarawak Geoportal includes data on logging concessions, oil palm plantations, existing and proposed dams, historical forest cover, the extent of indigenous cultivated areas, election results, and area where there are current native customary rights (NCR) disputes.


Indonesia pledges to protect manta rays


(02/21/2014) In a move signaling their commitment to CITES agreements on international trade of plants and animals, the Indonesian government declared two species of manta ray 'protected' under Indonesian law. Decree Number 4/KEPMEN-KP/2014 issued by Ministry of Maritime Affairs and Fisheries states that two manta ray species, Manta birostris and Manta alfredi, now enjoy full protection throughout their entire life cycle. The decree explicitly extends that protection to all parts of their body.


APP, environmentalists talk future of Indonesia's forests


(02/20/2014) In February 2013, one of the world's most notorious forestry companies announced it would no longer chop down rainforests and peatlands to produce pulp and paper. The move was met with considerable skepticism by critics who had seen the company break previous high profile commitments to end deforestation. Why would this time be any different?


Uprising against illegal mining in Indonesia pits villagers against miners, police

(02/19/2014) Hundreds of villagers and fishermen on Bangka Island in North Sulawesi attempted to stop a ship owned by PT Mikgro Metal Perdana (MMP) from offloading heavy machinery to be used in mining operations. The Indonesian Supreme Court ruled in November that the company's mining permits, issued by the local government, should be invalidated.


Scientists discover new gecko hanging-on in single forest fragment


(02/17/2014) Scientists have identified a new species of day gecko that is the largest in its genus (Cnemaspis) to be found in Sri Lanka. To date, it has been observed only within the Rammalakanda Reserve in southern Sri Lanka, an area spanning just 1,700 hectares, raising questions about the viability of this population and hence the species' long-term prospects.


Cambodia protects forest for giant ibis

(02/10/2014) Cambodia has set aside an area of forest just slightly smaller than Singapore to protect the country's national bird: the giant ibis (Thaumatibis gigantea). Listed as Critically Endangered by the IUCN Red List, the giant ibis is down to just a few hundred birds.


Peatland plantations drive steep GHG emissions in Indonesia's Riau Province


(02/05/2014) Versatile is the best way to describe the reddish brown fruit born from oil palm trees. Both the flesh and seed of the fruit is used in many applications including cooking, cosmetics, and biofuel. In addition, the fruit is composed of 50 percent oil, making it a highly efficient product that requires less land than other oil producing crops.


New frog species discovered on tallest mountain in Indochina


(01/22/2014) A team of Australian and Vietnamese researchers recently discovered a new species of frog in the high elevations of Vietnam's Mount Fansipan, according to a new paper in Zootaxa. The amphibian was named Botsford's leaf-litter frog (Leptolalax botsfordi) as a tribute to Christopher Botsford for his role in amphibian biodiversity research in Asia.


Land conflicts complicate effort to spare forests from palm oil in Borneo


(01/17/2014) A widely-heralded effort to spare carbon-dense rainforests and peatlands from palm oil development in Indonesian Borneo is facing new criticism after an investigation by rights groups found evidence of unresolved conflicts over community land. The report, published Friday by the Forest Peoples Program and TUK-Indonesia, looked at a carbon conservation pilot project run by Golden Agri Resources (GAR), a Singapore-based agribusiness giant that is one of Indonesia's largest palm oil producers.


WALHI Jambi: Forestry giant allegedly evaded $15m in taxes


(01/16/2014) Sinar Mas Group allegedly defrauded the Indonesian government of $15 million by avoiding reforestation taxes on 2,000 hectares in Jambi province. The land is reportedly managed by subsidiaries of Sinar Mas Group which do not have the proper concession permits. The discovery came after analysis of public reports and an audit conducted last year by BPK (The Audit Board of the Republic of Indonesia), as reported by the non-profit Indonesian Forum for the Environment (WALHI), an Indonesian affiliate of Friends of the Earth.


Environmental groups: top secret Pacific trade agreement to sacrifice wildlife, environment

(01/16/2014) Environmental groups have blasted draft text of the Trans-Pacific Partnership (TPP) released yesterday by WikiLeaks as potentially devastating to the environment and wildlife. The massive 12-nation free trade agreement has been negotiated in secret now for almost four years, and the information release by WikiLeaks shows that key environmental safeguards in the agreement are being stripped away, including a ban on shark finning and illegal logging, as well as legally-enforced pollution regulations.


Requiem or recovery?: the Sumatran rhino 200 years after its description


(01/08/2014) In 1893, William Bell, a surgeon in the service of the Dutch East India Company stationed in Bencoolen, Sumatra, examined the body of a dead rhinoceros. The animal, a male, was relatively small as rhinoceroses go, measuring only four feet four inches at the shoulder and eight feet five inches from its nose to the tip of its tail. Dr. Bell noted that the animal resembled a large hog and judged it to be a young individual based upon the condition of the bones and teeth.


Rainforest news review for 2013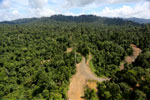 (12/26/2013) 2013 was full of major developments in efforts to understand and protect the world's tropical rainforests. The following is a review of some of the major tropical forest-related news stories for the year. As a review, this post will not cover everything that transpired during 2013 in the world of tropical forests. Please feel free to highlight anything this post missed via the comments section at the bottom. Also please note that this review focuses only on tropical forests.


Unraveling the secrets of one of the world's most mysterious big cats


(12/22/2013) The Sunda clouded leopard has always been shrouded in mystery. Only declared a separate species from its mainland cousin, the Borneo clouded leopard, in 2006, the IUCN lists the cat as Endangered. The distinction between the Borneo clouded leopard (Neofelis nebulas) and the Sunda clouded leopard (Neofelis diardi) was made by ground-breaking molecular coding technologies and anatomy studies of the two species. Although it is Borneo's largest predator, very little is known about the Sunda leopard. As a medium-sized, well-camouflaged and mostly nocturnal animal, the leopard has evaded researchers since its discovery eight years ago.


Indonesia appoints head of REDD+ agency to implement forest conservation plan


(12/20/2013) Indonesia has selected the first chief of its new REDD+ agency: Heru Prasetyo, an administrator and former private sector management consultant, reports Indonesian President Susilo Bambang Yudhoyono's office. Prasetyo will take up the challenging task of implementing Indonesia's REDD+ program, which aims to steer the Southeast Asian nation away from business-as-usual management of its fast dwindling forests. The REDD+ program is part of the broader government plan to cut Indonesia's greenhouse has emissions by at least 26 percent from a projected 2020 baseline.


Top 10 HAPPY environmental stories of 2013


(12/19/2013) China begins to tackle pollution, carbon emissions: As China's environmental crisis worsens, the government has begun to unveil a series of new initiatives to curb record pollution and cut greenhouse emissions. The world's largest consumer of coal, China's growth in emissions is finally slowing and some experts believe the nation's emissions could peak within the decade. If China's emissions begin to fall, so too could the world's.


Ongoing deforestation reported in Borneo concession held by APP supplier


(12/18/2013) Up to 1,400 hectares of forest have been cleared in a concession belonging to an Asia Pulp & Paper (APP) supplier in Borneo, potentially putting the company in breach of the forestry giant's zero deforestation commitment, reports a coalition of local NGO's. In a report released Tuesday, Relawan Pemantau Hutan Kalimantan (RPHK), a coalition of NGO's in part supported by WWF-Indonesia, said that blocks of natural forest have been cleared in a concession belonging to PT Daya Tani Kalbar (DTK), an APP supplier. The clearing has taken place since APP's moratorium went into effect February 1, 2013.


Indonesian palm oil company demolishes homes and evicts villagers in week-long raid


(12/14/2013) Nearly 150 homes were reportedly destroyed in the latest incident in a long-standing conflict between indigenous Batin Sembilan residents and former Wilmar unit PT Asiatic Persada. Indonesian security forces allegedly stormed several villages inside a Sumatran palm oil plantation concession last weekend and earlier this week, accompanying company staff and hired thugs accused of destroying dozens of homes and looting residents' property.


Big data shows tropical mammals on the decline


(12/12/2013) The world's largest remote camera trap initiative—monitoring 275 species in 17 protected areas—is getting some big data assistance from Hewlett-Packard (HP). To date, the monitoring program known as the Tropical Ecology Assessment and Monitoring (TEAM) Network has taken over 1.5 million photos of animals in 14 tropical countries, but conservationists have struggled with how to quickly evaluate the flood of data.


Logging kingpin linked to kidnapping, violent assault seeks legitimacy via IPO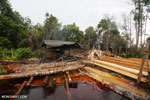 (12/11/2013) A businessman whose company kidnapped and violently assaulted environmentalists investigating illegal logging in a national park is set to earn millions of dollars from Thursday's initial public offering of Sawit Sumbermas Sarana, a palm oil company with holdings in Indonesian Borneo. Environmentalists are warning responsible investors to steer clear of the IPO.


Indonesia urged to implement decision recognizing indigenous rights to land


(12/10/2013) Indigenous rights groups are circulating a petition asking the Indonesian government to immediately implement a court ruling that would take management of million of hectares of customary forest out of the hands of the Ministry of Forestry and turn it over to traditional communities. The petition was posted on Change.org by Indigenous Peoples Alliance of the Archipelago (AMAN).


APP's Borneo expansion to be constrained by forest conservation policy


(12/04/2013) Asia Pulp & Paper (APP) will not convert any blocks of forest found to have high conservation value or substantial carbon stocks as it expands in Indonesian Borneo, according the forestry giant's managing director of sustainability. Responding to a report published by Greenomics, Aida Greenbury said APP's 10-month-old forest conservation policy applies to four suppliers operating in East and West Kalimantan.


Plantations used as cover for destruction of old-growth forests in Myanmar

(12/02/2013) As Wild Burma: Nature's Lost Kingdom airs on the BBC, the forests documented in the series are increasingly being cut down, according to a new report by U.S. NGO Forest Trends. The report alleges that wide swathes of forest are being cleared in ethnic minority areas of Myanmar (also known as Burma), ostensibly for palm oil and rubber plantations. However after the lucrative timber is extracted, the report finds little evidence that the companies involved are serious about establishing plantations.


New project works to raise the profile of the world's littlest bear


(12/02/2013) The world's least-known bear also happens to be the smallest: sun bears (Helarctos malayanus), so called for the yellowish horseshoe mark on its chest, are found across Southeast Asia. But despite their telltale markings, super-long tongues, and endearing cuteness, sun bears remain little-studied and little-known compared to many of the region's other large mammals. Now, a new project is working to raise the profile of the sun bears of Borneo—Survival of the Sun Bears—which are a smaller subspecies of the mainland animals.


Palm oil company Bumitama under fire for clearing rainforest, endangering orangutans


(12/02/2013) Bumitama Agri, an Indonesian palm oil producer, is breaking the law by clearing forests and developing plantations without the proper licenses, a coalition of NGOs said in a report released on Nov. 21. The groups have called on financiers to either force Bumitama to shape up or cut ties with the company and with global palm oil traders such as Wilmar and IOI that do business with Bumitama.


Indonesia's national airline carrier bans shark fins


(11/23/2013) Indonesia's national carrier Garuda Indonesia has joined a growing number of airlines looking to curb the international shark fin trade by banning the transport of shark fins and other shark products on their aircraft. The airline had previously transported 36 tons of shark fin products a year, the conservation group said in a media release on Nov. 15.


Greenpeace photos expose palm oil giant's deforestation in Indonesia


(11/22/2013) A series of photos released this week by Greenpeace shows that an Indonesian palm oil company is continuing to clear orangutan habitat in Borneo despite a pledge to stop destroying the forest. Flyovers of a concession owned by PT Andalan Sukses Makmur, a subsidiary of Bumitama Agri Ltd, show excavators clearing peat forests and digging drainage canals just outside Tanjung Puting National Park in Central Kalimantan. Tanjung Puting is famous for its population of orangutans that have been intensely studied by Birute Galdikas, a noted researcher and conservationist.


Satellites reveal browning mountain forests


(11/22/2013) In a dramatic response to global warming, tropical forests in the high elevation areas of five continents have been "browning" since the 1990s. They have been steadily losing foliage, and showing less photosynthetic activity. Scientists analyzed the forest cover by using satellites to measure sunlight bouncing off the surface of the earth, then determining the different surface types via reflection patterns.


Asia's most precious wood is soaked in blood


(11/21/2013) Deep in the tropical forests of Southeast Asia grows a rare and beautiful tree whose wood is so highly prized that men will kill to possess it. Wild rosewood, famous since antiquity in China and Japan for its unique, blood-hued luster and intricate grain, was once only used for the finest religious statues and princely ornaments. Now, China's nouveau riche lust for decorative baubles and furniture made of rosewood as a sign of status leading to a massive surge in demand for this precious timber that shows no signs of abating. In just a few short years the price has skyrocketed from just a hundred dollars a cubic meter to over $50,000 today.


Mining the Heart of Borneo: coal production in Indonesia


(11/20/2013) Indonesia is the world's top exporter of coal – supplying energy to China, India, and elsewhere. Indonesia is also ranked the fourth top emitter of greenhouse gases in the world (after China, the USA, and the European Union), largely due to high deforestation rates and peatland fires. This ranking does not take into consideration the carbon emissions that Indonesia 'exports' in the form of coal.


Malaysia has the world's highest deforestation rate, reveals Google forest map


(11/15/2013) Malaysia had the world's highest rate of forest loss between 2000 and 2012, according to a new global forest map developed in partnership with Google. Malaysia's total forest loss during the period amounted to 14.4 percent of its year 2000 forest cover. The loss translates to 47,278 square kilometers (18,244 square miles), an area larger than the country of Denmark.


Deforestation accelerates in Indonesia, finds Google forest map


(11/14/2013) Forest loss in Indonesia has sharply risen over the past 12 years, reports a new study published in the journal Science. The study, led by Matt Hansen of University of Maryland, finds that Indonesia lost 15.8 million hectares between 2000 and 2012, ranking it fifth behind Russia, Brazil, the United States, and Canada in terms of forest loss. Some 7 million hectares of forest regrew during the period.


Rent-a-mob disrupts court proceedings against Indonesian palm oil company


(11/14/2013) A mob of 150 palm oil workers has disrupted court proceedings against Kalista Alam, an Indonesian palm oil company accused of illegally converting blocks of protected peat forests for an oil palm plantation in Aceh, Sumatra. The Kalista Alam case is widely seen as a test of Indonesia's commitment to forestry sector reform.


HBSC financing deforestation for palm oil in Borneo


(11/11/2013) HSBC, the world's third largest bank, continues to lend to companies linked to deforestation despite a policy explicitly prohibiting such practices, alleges a new report from the London-based Environmental Investigation Agency (EIA). The report, published last week, looks at two Indonesian palm oil companies that recently received finance from HSBC: Bumitama Agri and Triputra Agro Persada.


Indigenous groups expel workers, blockade another dam in Sarawak


(11/05/2013) Hundreds of tribal people in Sarawak have started blockading a second big hydroelectric dam project being built by a government, which critics accuse of nepotism and corruption. Late last month around 200 native Kenyah, Kayan and Penan people chased away workers and set up a blockade on a road leading to the site of the proposed 1200 megawatt Baram dam.


World's most cryptic feline photographed in logging concession


(11/04/2013) The bay cat is arguably the world's least-known member of the cat family (Felidae). Although first described by scientists in 1874, no photo existed of a living specimen until 1998 and a wild cat in its rainforest habitat wasn't photographed until five years later. Given this, scientists with Zoological Society of London (ZSL) and Imperial College London were taken aback when their remote camera traps captured numerous photos of these elusive cats hanging out in a commercial logging concession in Sabah, a state in Malaysian Borneo.


Scientists: to save the Malayan tiger, save its prey


(10/31/2013) A major premise of biology, as any high-schooler can tell you, is the study of the connections between organisms. Perhaps nowhere is there a better example of this than in Malaysia, where the population of Endangered Malayan tigers (Panthera tigris jacksoni) is being undercut by dwindling prey. A recent study by MYCAT, the Malaysian Conservation Alliance for Tigers, highlights this connection by presenting a distinct correlation between prey and tiger population.


Greenpeace: APP making 'encouraging' progress on zero deforestation commitment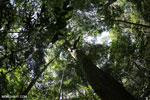 (10/29/2013) Asia Pulp & Paper (APP), an Indonesian forestry giant once notorious for destroying rainforests and peatlands, is making 'encouraging' progress in phasing forest destruction out of its supply chain, reports a new assessment from Greenpeace, which until recently was one of APP's fiercest critics. The review, released today, evaluates APP's progress on its Forest Conservation Policy, which commits the company to exclude fiber sourced from logging of natural forests and conversion of peatlands, and requires it to obtain Free, Prior Informed Consent from local communities in developing new plantations.


Mining Road Plan Threatens Forest Restoration Project in Indonesia

(10/29/2013) A plan for a coal transport road continues to threaten a project to restore one of the last remaining lowland forests in Sumatra. The status of the permit for the road, which would run through the Hutan Harapan (Forest of Hope) ecosystem restoration project, remains in limbo, despite multiple objections by the forest's concession holders. However, a representative from Indonesia's Ministry of Forestry has promised to convene a meeting with stakeholders to discuss the issue.


Palm oil giant profiting off tiger habitat destruction, alleges Greenpeace

(10/22/2013) The world's largest palm oil trader is continuing to traffic in palm oil linked to deforestation and illegal peatlands conversion, alleges a new report from Greenpeace.


The palm oil debate: can the world's most productive oilseed be less damaging to the environment?


(10/21/2013) On Thursday, 17 October 2013 Mongabay.com and the Roundtable on Sustainable Palm Oil (RSPO) co-hosted a discussion on environmental issues related to palm oil. The discussion involved representatives from WWF, Greenpeace and the RSPO. Mongabay.com Founder Rhett A. Butler served as the moderator.


June fires concentrated in peatlands, burned 1,500 sq km in Sumatra

(10/16/2013) Fires that sent a choking haze across Singapore and Malaysia in June burned some 1,500 square kilometers in Riau Province and were predominantly concentrated on peatlands, reports the World Resources Institute (WRI).



Page 1 | Page 2 | Page 3 | Page 4 | Page 5 | Page 6 | Page 7 | Page 8 | Page 9 | Page 10 | Page 11 | Page 12 | Page 13 | Page 14 | Page 15