News articles on south america

---
Mongabay.com news articles on south america in blog format. Updated regularly.





Earth systems disruption: Does 2011 indicate the "new normal" of climate chaos and conflict?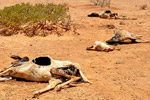 (12/21/2011) The year 2011 has presented the world with a shocking increase in irregular weather and disasters linked to climate change. Just as the 2007 "big melt" of summer arctic sea ice sent scientists and environmentalists scrambling to re-evaluate the severity of climate change, so have recent events forced major revisions and updates in climate science.


Is the Russian Forest Code a warning for Brazil?


(12/19/2011) Brazil, which last week moved to reform its Forest Code, may find lessons in Russia's revision of its forest law in 2007, say a pair of Russian scientists. The Brazilian Senate last week passed a bill that would relax some of forest provisions imposed on landowners. Environmentalists blasted the move, arguing that the new Forest Code — provided it is not vetoed by Brazilian President Dilma Rousseff next year — could undermine the country's progress in reducing deforestation.


Using palm hearts sustainably in Colombia

(12/12/2011) Long eaten by indigenous populations, palm hearts have also popular abroad, usually in fine dining establishments. However, palm hearts are cut-out of the inner core of various palm tree species, in some cases killing the tree. A new study published in mongabay.com's open access journal Tropical Conservation Society looks at the sustainability of palm heart extraction from the palm species Prestoea acuminata in the Colombian Andes. While harvesting from Prestoea acuminata does not kill the host tree, better management is needed to ensure the practice doesn't become unsustainable.


Estimating the rich diversity of galling insects

(12/12/2011) How does one estimate the number of tiny, cryptic "galling" insects without finding and describing every one (a task that could take centuries of taxonomic work)? According to a new paper in mongabay.com's open access journal Tropical Conservation Science, you count the plants. Galling insects use plant tissue for development creating a "gall," or abnormal growth on the plant. Such little-known insects include gall wasps, gall midges, aphids, and jumping plant lice. The groups are known to be highly diverse, with over 2,000 species described from the US alone; scientists have previously estimated that there may be as many as 132,000 different species.


Peru's Cocha Cashu biological station changes management

(12/08/2011) The San Diego Zoo Global Wildlife Conservancy is taking over management of the productive Cocha Cashu field station in Manu National Park, Peru. To date, nearly 600 scientific papers have come out of research conducted at the station, making it among the five most productive research stations in the Amazon and Andes. Located in a part of the Amazon rainforest that has seen little human impact, the station was founded in 1969, four years before Manu National Park was gazetted.


Yasuni ITT: the virtues and vices of environmental innovation

(12/07/2011) As the 17th Conference of the Parties to the United Nations Framework Convention on Climate Change (UNFCCC) is taking place in Durban, Ecuador has embarked on the development of a project presented as highly innovative. This project targets Yasuni National Park, which has been protected since 1979. Yasuni is home to several indigenous peoples and is a biodiversity hotspot. But it so happens that the park also sits atop a vast oil field of 846 million barrels, representing about 20 percent of the country's oil reserves. The acronym Yasuni ITT stands for Ishpingo-Tambococha-Tiputinin, which are the names of three potential zones for oil extraction.


Brazil passes controversial Forest Code reform environmentalists say will be 'a disaster' for the Amazon

(12/06/2011) The Brazilian Senate tonight passed controversial legislation that will reform the country's 46-year-old Forest Code, which limits how much forest can be cleared on private lands. Environmentalists are calling the move "a disaster" that will reverse Brazil's recent progress in slowing deforestation in the world's largest rainforests.


Amazon rainforest loss in Brazil drops to lowest ever reported

(12/05/2011) Deforestation in the Brazilian Amazon fell to the lowest level on record between August 2010 and July 2011 according to preliminary data from Brazil's National Institute of Space Research (INPE).


Volcano and cloud forests conserved in Ecuador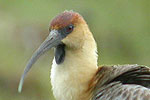 (12/05/2011) Conservation organizations and the Ecuadorian government have succeeded in securing over 250,000 acres (106,000 hectares) of cloud forest and grasslands surrounding the Antisana Volcano for protection. The area, long-used for cattle ranching, is home to Andean condors (Vultur gryphus), cougars (Puma concolor), Andean fox (Lycalopex culpaeus), silvery grebes (Podiceps occipitalis), black-faced ibis (Theristicus melanopis), spectacled bear (Tremarctos ornatus), and three species of endangered frogs. The protected area stretches from 3,900 feet (1,188 meters) to 18,700 feet (5,699 meters) above sea level.


Brazil's Forest Code vote delayed

(11/30/2011) The Brazilian Senate's much-anticipated vote over proposed changes to the country's Forest Code will take place Tuesday December 6, rather than today. The delay will give lawmakers more time to understand pending revisions to the code, which limits the amount of land private landowners can clear and restricts development in ecologically sensitive areas.


Thousands protest giant gold mine in Peru's mountains

(11/29/2011) Fearing water contamination and pollution, over ten thousand people in Cajamarca, Peru are taking part in protests against mining plans by US-company Newmont Mining Corporation. In its sixth day, the growing protests have caused flights in and out of Cajamarca to be cancelled. According to Reuters, police also clashed with protestors today, injuring two dozen.


Indigenous religious leader murdered in front of his tribe in Brazil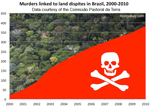 (11/28/2011) Amnesty International has called for an independent investigation of the murder of Nísio Gomes. A religious leader of the Guarani tribe, Gomes was executed by masked gunmen in front of his community earlier this month in the southwestern Brazilian state of Mato Grosso do Sul. Officials believe the gunmen were likely hired by local ranchers, who are embroiled in a land dispute with the Guarani tribe. In addition to killing Gomes, the gunmen allegedly kidnapped three young Guarani.


8 Amazon countries pledge more coordination in rainforest conservation

(11/27/2011) Eight Amazon countries pledged greater cooperation in efforts to protect the world's largest rainforest from deforestation and illegal mining and logging, reports AFP.


Ecotourism isn't bad for wildlife in the Amazon

(11/23/2011) Ecotourism doesn't hurt biodiversity, and in some cases may even safeguard vulnerable areas, concludes a new study from the Amazon in Mammalian Biology. Surveying large mammals in an ecotourism area in Manu National Biosphere, the researchers found that ecotourists had no effect on the animals. However, the researchers warn that not all ecotourism is the same, and some types may, in fact, hurt the very animals tourists come to see.


Brazilian dam-builder quits Peru project after indigenous protest

(11/23/2011) A large Brazilian construction company has pulled out of a Peruvian dam project citing opposition from indigenous communities, reports International Rivers.


Indigenous do not have right to free, prior and informed consultation on Amazon dam, rules Brazilian court

(11/09/2011) Indigenous communities do not have the right to free, prior and informed consultation on the Belo Monte dam because its infrastructure and reservoirs would not be physically located on tribal lands, ruled a Brazilian court.


Peruvian authorities raid illegal gold mining operations

(11/07/2011) Peru's Defense Ministry destroyed at least 75 illegal dredges and seized 15 vehicles from gold miners operating illegally in one of the most biodiverse parts of the Amazon rainforest.


Featured video: camera traps catch Andean cats and others in Argentina

(11/07/2011) Camera traps set up in the Jujuy Province of Argentina have captured rare images of the elusive and playful Andean cat and Pampas cat, along with other South American wildlife, including vizcachas, culpeo foxes, and skunks.


Breakthrough technology enables 3D mapping of rainforests, tree by tree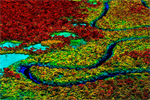 (10/24/2011) High above the Amazon rainforest in Peru, a team of scientists and technicians is conducting an ambitious experiment: a biological survey of a never-before-explored tract of remote and inaccessible cloud forest. They are doing so using an advanced system that enables them to map the three-dimensional physical structure of the forest as well as its chemical and optical properties. The scientists hope to determine not only what species may lie below but also how the ecosystem is responding to last year's drought—the worst ever recorded in the Amazon—as well as help Peru develop a better mechanism for monitoring deforestation and degradation.


Bolivian road project through Amazon reserve canceled

(10/23/2011) Following a violent crackdown on protestors which deeply embarrassed the Bolivian government, president Evo Morales has thrown-out plans to build a road through an indigenous reserve, reports the BBC. Protestors marched 310 miles (498 kilometers) from the Amazon to La Paz to show their opposition to the road, saying that the project would destroy vast areas of biodiverse rainforest and open up their land to illegal settlers.


Picture of the day: jaguars take self-portraits in Bolivia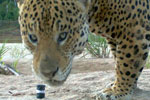 (10/19/2011) A study by the Wildlife Conservation Society (WCS) in Bolivia's Madidi National Park has produced 19 jaguar 'self-portraits' via digital cameras that snap photos of wildlife when they cross an infrared beam, known as camera traps. This is the most jaguars catalogued by camera trap study yet in Bolivia. "The preliminary results of this new expedition underscore the importance of the Madidi landscape to jaguars and other charismatic rainforest species," said Dr. Julie Kunen, Director of WCS's Latin America and Caribbean Program, in a press release.


World's largest beef company breaks commitment on avoiding Amazon deforestation

(10/19/2011) In a campaign launched in Italy on Wednesday, Greenpeace accused Brazilian beef giant JBS-Friboi of breaking its commitment to exclude cattle connected with illegal deforestation and slave labor from its supply chain.


Isolated indigenous people and tourists collide in Peru park

(10/19/2011) New video released by the Peruvian government shows a potentially disastrous encounter between tourists and indigenous people long isolated from the outside world. In a motor boat tourists follow a group of Mashco-Piro people walking along the shores of the Manu River in Manu National Park. At one point one of the tribal members prepares to fire at the boat with an arrow. But danger doesn't only come from the possibility of a violent clash: uncontacted indigenous people, those who have chosen isolation from the world, are incredibly susceptible to disease.


Belo Monte dam license 'illegal' rules Brazilian federal judge

(10/19/2011) The environmental license for the controversial Belo Monte dam violates the constitutional rights of indigenous communities and is therefore illegal, ruled a federal judge in Brazil on Monday.


Soy moratorium in Amazon maintaining its effectiveness

(10/14/2011) The moratorium on clearing Amazon rainforest for soy farms in Brazil appears to be maintaining its effectiveness for a fifth straight year, reports the Brazilian Association of Vegetable Oil Industries (ABIOVE).


High gold price triggers rainforest devastation in Peru


(10/11/2011) As the price of gold inches upward on international markets, a dead zone is spreading across the southern Peruvian rain forest. Tourists flying to Manu or Tambopata, the crown jewels of the country's Amazonian parks, get a jarring view of a muddy, cratered moonscape ... and then another ... and another in what the country boasts is its capital of biodiversity. While alluvial gold mining in the Amazon is probably older than the Incas, miners using motorized suction equipment, huge floating dredges and backhoes are plowing through the landscape on an unprecedented scale, leaving treeless scars visible from outer space. Sources close to the Peruvian Environment Ministry say the government is considering declaring an environmental emergency in the region, but emergency measures passed two years ago were not enough to contain the destruction, and some observers doubt that a new decree would have any more impact.


2010 Amazon drought released more carbon than India's annual emissions

(10/09/2011) The 2010 drought that affected much of the Amazon rainforest triggered the release of nearly 500 million tons of carbon (1.8 billion tons of carbon dioxide) into the atmosphere, or more than the total emissions from deforestation in the region over the period, estimates a new study published in the journal Environmental Research Letters.


Animal picture of the day: hyacinth macaw

(10/05/2011) Hyacinth macaws (Anodorhynchus hyacinthinus) are the world's largest macaw. They are found in Brazil, Bolivia, and Paraguay and prefer swamps and wooded savannah over rainforest habitats.


Colombian president: no oil drilling in award-winning Seaflower marine reserve

(10/03/2011) Colombian president, Juan Manuel Santos, announced over the weekend that there will be no oil exploration in the award-winning Seaflower Biosphere Reserve and Marine Protected Area (MPA). Spreading over 65,000 square kilometers (6,500,000 hectares), Seaflower MPA is home to over a hundred coral species, over 400 fish, some 150 birds, four marine turtles species, and the magnificent mollusk, the queen conch (Strombus gigas).


Judge: work must halt on monster dam, Belo Monte

(09/29/2011) The decades-long fight over Brazilian megadam, the Belo Monte, has taken another U-turn after a judge ordered work to stop immediately since the dam would devastate vital fishing grounds for local people. In June the Brazilian government gave a go-ahead to the $11-17 billion dam, despite large-scale opposition from indigenous groups along the Xingu River and international outcry, including a petition signed by 600,000 people.


Forest carbon projects rake in $178 million in 2010


(09/29/2011) Investors funneled $178 million into forest carbon projects intended to mitigate global climate change last year, according to a new report by Forest Trends' Ecosystem Marketplace. By trading a record 30.1 million tons of carbon dioxide equivalent (MtC02e), the market saw a 48 percent rise over 2009—including a rise in private investors over non-profits as well as greater support for the global program Reduced Emissions from Deforestation and forest Degradation (REDD)—shows that the burgeoning market may be beginning to make good on its promise to provide funds to save forests for their ecosystem services with an initial focus on carbon.


Animal picture of the day: chestnut breasted coronet

(09/29/2011) The chestnut-breasted coronet (Boissonneaua matthewsii) is native to the Andean forests of Peru, Ecuador, Colombia.


Following violent crackdown against protestors, Bolivia puts Amazon road project on ice

(09/27/2011) After a police crackdown against indigenous activists, Bolivian President Evo Morales has suspended a large highway project through the Amazon rainforest. The police reaction—which included tear gas, rounding up protestors en masse, and allegations of violence—resulted in several officials stepping down in protest of the government's handling. Some indigenous people marched 310 miles (498 kilometers) from the Amazon to La Paz to show solidarity against the road, saying they had not been consulted and the project would destroy vast areas of biodiverse rainforest.


Caatinga ecosystem almost wholly ignored in Brazil

(09/26/2011) Tropical dry forests have received little conservation and research attention as compared to their rainforest cousins, leaving these ecosystems to become gravely threatened while still largely unknown to the public and scientists. A new study in mongabay.com's open access journal finds that Caatinga, a seasonally dry tropical forest, is the least-known forest in Brazil.


Atlantic Forest stores less carbon due to drastic fragmentation

(09/26/2011) The Atlantic Forest in Brazil is one of the most fragmented and damaged forests in the world. Currently around 12 percent of the forest survives, with much of it in small fragments, many less than 100 hectares. A new study in mongabay.com's open-access journal Tropical Conservation Science finds that the bloodied nature of the Atlantic Forest impacts its capacity to sequester carbon. The study found that 92 percent of the forest stored only half its potential carbon due to fragmentation and edge-effects, which includes damage due to winds and exposure to drought.


Activists worldwide push for leaving the fossil fuel age behind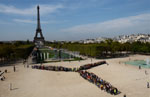 (09/25/2011) On six continents, in over 75 percent of the world's countries, people came out en masse yesterday to attend over 2,000 events to demonstrate the power of renewable energy to combat global climate change. As apart of the 'Moving Planet' campaign organized by 350.org, activists created a giant human-windmill in Paris, gave out bike lessons in Buenos Aires, practiced evacuation measure in the Pacific island of Tuvalu imperiled by rising sea levels, and marched in Cape Town for a strong agreement at the next UN climate meeting hosted in Durban, South Africa.


Tribal leader to the UN: Indigenous peoples of the Amazon are in danger

(09/22/2011) Amazonian indigenous peoples and their traditional territories are living under constant threat.


New map reveals the most biodiverse place on Earth, but already threatened by oil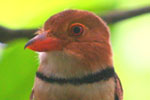 (09/22/2011) A new map highlights the importance of conserving Yasuni National Park as the most biodiverse ecosystem in the Western Hemisphere, and maybe even on Earth. Scientists released the map to coincide with the United National General Assembly in support of a first-of-its-kind initiative to save the park from oil exploration through international donations to offset revenue loss. Known as the Yasuni-ITT Initiative, the plan, if successful, would protect a 200,000 hectare bloc in Yasuni National Park from oil drilling in return for a trust fund of over $3 billion.


Amazon deforestation up moderately in August, but forest degradation falls

(09/22/2011) Deforestation in the Brazilian Amazon continues to be slightly higher than this time last year, reports a new bulletin from Imazon, a Brazilian NGO.


Indigenous people blockade river against 'murderous' oil company

(09/21/2011) Over the weekend more than 100 Shuar indigenous people, also known as Wampis, blockaded the Morona River in Peru in an effort to stop exploratory oil drilling by Canadian-owned Talisman Energy. The blockade in meant to prevent oil drilling in an area of the Peruvian Amazon known as Block 64, home to four indigenous tribes in total and the Pastaza River Wetland Complex, a Ramsar wetland site.


Two arrested in connection with murdering Amazon activists

(09/20/2011) Two suspects have been arrested for allegedly taking part in the killing of Amazon activist, José Cláudio Ribeiro da Silva, and his wife, Maria do Espírito Santo da Silva. The men, who are brothers, were arrested after police stormed their remote jungle camp on Sunday in Brazilian state of Para. A third man remains at large.


Loving the tapir: pioneering conservation for South America's biggest animal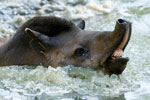 (09/11/2011) Compared to some of South America's megafauna stand-out species—the jaguar, the anaconda, and the harpy eagle come to mind—the tapir doesn't get a lot of love. This is a shame. For one thing, they're the largest terrestrial animal on the South American continent: pound-for-pound they beat both the jaguar and the llama. For another they play a very significant role in their ecosystem: they disperse seeds, modify habitats, and are periodic prey to big predators. For another, modern tapirs are some of the last survivors of a megafauna family that roamed much of the northern hemisphere, including North America, and only declined during the Pleistocene extinction. Finally, for anyone fortunate enough to have witnessed the often-shy tapir in the wild, one knows there is something mystical and ancient about these admittedly strange-looking beasts.


Sowing the seeds to save the Patagonian Sea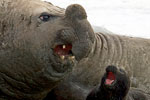 (09/07/2011) With wild waters and shores, the Patagonia Sea is home to a great menagerie of marine animals: from penguins to elephants seals, albatrosses to squid, and sea lions to southern right whales. The sea lies at crossroads between more northern latitudes and the cold bitter water of the Southern Ocean, which surround Antarctica. However the region is also a heavy fishing ground, putting pressure on a number of species and imperiling the very ecosystem that supplies the industry. Conservation efforts, spearheaded by marine conservationist Claudio Campagna and colleagues with the Wildlife Conservation Society (WCS), are in the early stages. Campagna, who often writes about the importance of language in the fight for preservation, has pushed to rename the area to focus on its stunning wildlife.


Peru president signs indigenous rights act into law

(09/07/2011) Peru's new president, Ollanta Humala, has signed into law a measure requiring that indigenous groups are consulted prior to any mining, logging, or oil and gas projects on their land. If properly enforced, the new legislation will give indigenous people free, prior and informed consent (FPIC) over such industrial projects, though the new law does not go so far as to allow local communities a veto over projects. Still, the law puts Peru in line with the Indigenous and Tribal Peoples Convention of 1989, which the South American nation ratified nearly two decades ago.


Cute animal picture of the day: baby Bolivian gray titi monkey

(09/07/2011) The Bolivian gray titi monkey (Callicebus donacophilus) is found in a small area of the Amazon in Bolivia and Brazil.


World's oldest person discovered in Amazon rainforest

(08/31/2011) Maria Lucimar Pereira is arguably the world's oldest living person: a member of the Kaxinawá tribe, Pereira lives in the Brazilian Amazon and will be soon celebrating her 121st birthday, according to Survival International.


Cute animal picture of the day: baby mara, the giant rabbit that wasn't

(08/30/2011) The Patagonian mara (Dolichotis patagonum) may look remarkably like a rabbit—or like a rabbit on stilts—but this animal is more closely related to a guinea pig than a rabbit.


Photo: new titi monkey discovered in Amazon area under siege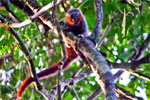 (08/25/2011) A new species of titi monkey has been discovered in the Brazilian Amazon. Found during a 2010 December expedition, this is the second new titi monkey discovered in the Amazon in three years. In 2008 another new titi, dubbed the Caquetá titi, was discovered in the Colombian Amazon, although it was only announced last year. An expedition backed by WWF-Brazil found the new titi between the Guariba River and the Roosevelt River in northwestern part of Mato Grosso, a state of Brazil known as a center of Amazon destruction.


Peru passes landmark indigenous rights legislation

(08/24/2011) A new administration in Peru is moving toward granting indigenous people long-sought legal rights, reports Survival International. Yesterday, the Peruvian congress approved new legislation that gives indigenous people free, prior and informed consent (FPIC) for any project on their land. If signed into law and enforced, the legislation would provide indigenous groups considerable clout in keeping industry off their lands if they choose.


Picture of the day: milking a fer-de-lance

(08/24/2011) If you're unfortunate enough to be bit by a venomous snake in South America, its most likely the fer-de-lance (Bothrops atrox).



Page 1 | Page 2 | Page 3 | Page 4 | Page 5 | Page 6 | Page 7 | Page 8 | Page 9 | Page 10 | Page 11 | Page 12 | Page 13 | Page 14 | Page 15 | Page 16 | Page 17 | Page 18 | Page 19 | Page 20 | Page 21 | Page 22 | Page 23 | Page 24