News articles on south america

---
Mongabay.com news articles on south america in blog format. Updated regularly.






Farmers drive deforestation in Rondonia, in the Brazilian Amazon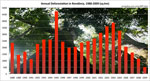 (01/31/2010) Small-scale farmers who lease land from the Brazilian government are very much responsible for deforestation in the Brazilian state of Rondonia in the Amazon area. In most areas with agrarian projects, more than fifty percent of the land has been cleared of forests, while the Brazilian Forestry Code permits farming concerns in the Amazon to clear only twenty percent of the land.
Photos: park in Ecuador likely contains world's highest biodiversity, but threatened by oil

(01/19/2010) In the midst of a seesaw political battle to save Yasuni National Park from oil developers, scientists have announced that this park in Ecuador houses more species than anywhere else in South America—and maybe the world. "Yasuní is at the center of a small zone where South America's amphibians, birds, mammals, and vascular plants all reach maximum diversity," Dr. Clinton Jenkins of the University of Maryland said in a press release. "We dubbed this area the 'quadruple richness center.'"
Photos: expedition in Ecuador reveals numerous new species in threatened cloud forest

(01/14/2010) An expedition into rainforests on Ecuador's coast by Reptile & Amphibian Ecology International (RAEI) have revealed a number of possible new species including a blunt-snouted, slug-eating snake; four stick insects; and up to 30 new 'rain' frogs. The blunt-snouted snake, which feeds on gastropods like slugs, is especially interesting, as its closest relative is in Peru, 350 miles away. In addition, a fifteen-year-old volunteer with the organization found a snake that specializes on snails. The researchers are unsure of this is a new species: the closest similar snake is 600 miles away in Panama.
Uncontacted natives confirmed in Brazil

(01/10/2010) An uncontacted tribe of about 60 people has been confirmed by FUNAI (Brazil's Indigenous Affairs Department) in the Indigenous Territory of Arariboia, located in the eastern Amazonian state, Maranhao.
Gone: a look at extinction over the past decade

(01/03/2010) No one can say with any certainty how many species went extinct from 2000-2009. Because no one knows if the world's species number 3 million or 30 million, it is impossible to guess how many known species—let alone unknown—may have vanished recently. Species in tropical forests and the world's oceans are notoriously under-surveyed leaving gaping holes where species can vanish taking all of their secrets—even knowledge of their existence—with them.
Rainforest conservation: a year in review
(12/27/2009) 2009 may prove to be an important turning point for tropical forests. Lead by Brazil, which had the lowest extent of deforestation since at least the 1980s, global forest loss likely declined to its lowest level in more than a decade. Critical to the fall in deforestation was the global financial crisis, which dried up credit for forest-destroying activities and contributed to a crash in commodity prices, an underlying driver of deforestation.
Ecuador to be paid to leave oil in the ground

(12/23/2009) Ecuador will establish a trust fund for receiving payments to leave oil reserves unexploited in Yasuni National Park, one of the world's most biodiverse rainforest reserves, reports the UN Development Programme, the agency that will administer the fund.
Brazil establishes 20,000 sq mi of new indigenous reserves in the Amazon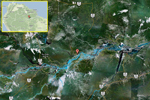 (12/23/2009) On Monday, Brazil decreed nine new indigenous reserves covering 51,000 square kilometers (19,700 square miles) of the Amazon rainforest, an areas larger than Denmark or Switzerland, reports the AFP. Five of the reserves are located in the state of Amazonas, two are in Pará, one is in Roraima, and another is in Mato Grosso do Sul. The protected areas house about seven thousand Indians from 29 ethnic groups, according to FUNAI (Fundação Nacional do Índio), Brazil's indigenous affairs agency.
The real Avatar story: indigenous people fight to save their forest homes from corporate exploitation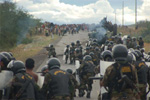 (12/22/2009) In James Cameron's newest film Avatar an alien tribe on a distant planet fights to save their forest home from human invaders bent on mining the planet. The mining company has brought in ex-marines for 'security' and will stop at nothing, not even genocide, to secure profits for its shareholders. While Cameron's film takes place on a planet sporting six-legged rhinos and massive flying lizards, the struggle between corporations and indigenous people is hardly science fiction.
Brazil grants deforestation amnesty for farmers and ranchers

(12/14/2009) A decree issued by President Luiz Inacio Lula da Silva suspends up to $5.7 billion in fines and gives ranchers and farmers in the Amazon two more years to come into compliance with environmental laws aimed to curtain deforestation, reports the Associated Press.
Ecuador's Rafael Correa: Copenhagen Climate Hero or Environmental Foe?

(12/14/2009) As climate change negotiations continue full force in the Danish city of Copenhagen, Latin American countries are hoping the Global North will commit to its "climate debt" by reducing greenhouse gas emissions and providing resources to poor nations. It's certainly an understandable aspiration: Latin America only produces five per cent of global emissions of carbon dioxide, a chief greenhouse gas, yet the region has borne the brunt of extreme weather ranging from droughts to flooding.
Google Earth to monitor deforestation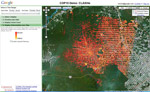 (12/10/2009) It what could be a critical development in helping tropical countries monitor deforestation, Google has unveiled a partnership with scientists using advanced remote sensing technology to rapidly analyze and map forest cover in extremely high resolution. The effort could help countries detect deforestation shortly after it occurs making it easier to prevent further forest clearing.
Cattle company bulldozing UNESCO site, threatening uncontacted natives

(12/09/2009) A Brazilian ranching company is bulldozing land within UNESCO Chaco Biosphere Reserve in Paraguay, home to the only uncontacted natives outside of the Amazon in South America. While the UNESCO status provides no legal protections to the area, it is meant as an international marker to protect the tribe of the Ayoreo-Totobiegosode and the forest they inhabit.
Brazilian tribe owns carbon rights to Amazon rainforest land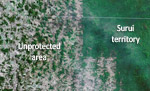 (12/09/2009) A rainforest tribe fighting to save their territory from loggers owns the carbon-trading rights to their land, according to a legal opinion released today by Baker & McKenzie, one of the world's largest law firms. The opinion, which was commissioned by Forest Trends, a Washington, D.C.-based forest conservation group, could boost the efforts of indigenous groups seeking compensation for preserving forest on their lands, effectively paving the way for large-scale indigenous-led conservation of the Amazon rainforest. Indigenous people control more than a quarter of the Brazilian Amazon.
Copenhagen and Brazilian Megalomania

(12/07/2009) When people think about preserving the Amazon rainforest, captivating animals may come to mind such as the jaguar, toucan or manatee. But while wildlife must be safeguarded there are now other urgent reasons to protect the jungle. The seriousness of the problem was recently brought home to me when I visited the Amazonian city of Manaus.
Eco-label for rainforest products could boost sustainability

(12/06/2009) Tropical forests around the world continue to fall, largely the result of logging and conversion to agriculture. But new hope for forests has emerged under a scheme that would reward countries for reducing greenhouse gas emissions from deforestation and degradation. Some variations of the concept, which is known as REDD, would allow for "sustainable forest management" (SFM), that is, reduced impact logging of forests, as well as harvesting of non-wood forest products (NWFPs) like seeds, fruit, and game. But the extent to which this harvesting affects forest ecology, and therefore carbon sequestration, is still poorly understood.
Extinctions on the rise in the Galapagos: fishing and global warming devastating islands' species

(12/03/2009) We may never see again the Galapagos black-spotted damselfish, the beautiful 24-rayed sunstar, or the Galapagos stringweed. These species from Galapagos waters may all very well be extinct. Other species are on the brink, such as the Galapagos penguin and the Floreana cup coral. A new report in Global Change Biology reveals that in just a matter of decades, overfishing and climate change has devastated the Galapagos' unique and famous ecosystems.
Brazil could halt Amazon deforestation within a decade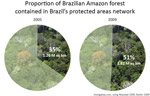 (12/03/2009) Funds generated under a U.S. cap-and-trade or a broader U.N.-supported scheme to reduce greenhouse gas emissions from deforestation and degradation ("REDD") could play a critical role in bringing deforestation in the Brazilian Amazon to a halt, reports a team writing in the journal Science. But the window of opportunity is short — Brazil has a two to three year window to take actions that would end Amazon deforestation within a decade.
Ethnographic maps built using cutting-edge technology may help Amazon tribes win forest carbon payments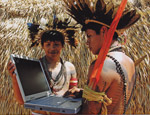 (11/29/2009) A new handbook lays out the methodology for cultural mapping, providing indigenous groups with a powerful tool for defending their land and culture, while enabling them to benefit from some 21st century advancements. Cultural mapping may also facilitate indigenous efforts to win recognition and compensation under a proposed scheme to mitigate climate change through forest conservation. The scheme—known as REDD for reducing emissions from deforestation and degradation—will be a central topic of discussion at next month's climate talks in Copenhagen, but concerns remain that it could fail to deliver benefits to forest dwellers.
No-shows among South American leaders at Amazon summit

(11/27/2009) A summit between South American leaders to devise a plan to save the Amazon, failed to come up with a "common stance" on deforestation, as five of the eight invited leaders failed to show up to the meeting, reports Al Jazeera.
How rainforest shamans treat disease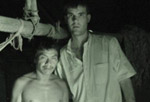 (11/10/2009) Ethnobotanists, people who study the relationship between plants and people, have long documented the extensive use of medicinal plants by indigenous shamans in places around the world, including the Amazon. But few have reported on the actual process by which traditional healers diagnose and treat disease. A new paper, published in the Journal of Ethnobiology and Ethnomedicine, moves beyond the cataloging of plant use to examine the diseases and conditions treated in two indigenous villages deep in the rainforests of Suriname. The research, which based on data on more than 20,000 patient visits to traditional clinics over a four-year period, finds that shamans in the Trio tribe have a complex understanding of disease concepts, one that is comparable to Western medical science. Trio medicine men recognize at least 75 distinct disease conditions—ranging from common ailments like fever [këike] to specific and rare medical conditions like Bell's palsy [ehpijanejan] and distinguish between old (endemic) and new (introduced since contact with the outside world) illnesses. In an interview with mongabay.com, Lead author Christopher Herndon, currently a reproductive medicine physician at the University of California, San Francisco, says the findings are a testament to the under-appreciated healing prowess of indigenous shaman.
REDD in Colombia: using forests to finance conservation and communities in Colombia's Choco, a former war zone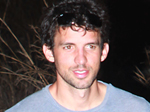 (11/03/2009) Reducing Emissions from Deforestation and Degradation (REDD), a climate change mechanism proposed by the U.N., has been widely lauded for its potential to simultaneously deliver a variety of benefits at multiple scales. But serious questions remain, especially in regard to local communities. Will they benefit from REDD? While much lip-service is paid to community involvement in REDD projects, many developers approach local communities as an afterthought. Priorities lie in measuring the carbon sequestered in a forest area, lining up financing, and making marketing arrangements, rather than working out what local people — the ones who are often cutting down trees — actually need in order to keep forests standing. This sets the stage for conflict, which reduces the likelihood that a project will successfully reduce deforestation for the 15-30 year life of a forest carbon project. Brodie Ferguson, a Stanford University-trained anthropologist whose work has focused on forced displacement of rural communities in conflict regions in Colombia, understands this well. Ferguson is working to establish a REDD project in an unlikely place: Colombia's Chocó, a region of diverse coastal ecosystems with some of the highest levels of endemism in the world that until just a few years ago was the domain of anti-government guerrillas and right-wing death squads.
Google partners with Amazon tribe

(10/29/2009) The story of an indigenous Amazon tribe that has embraced technology in its fight to protect its homeland and culture is now highlighted as a layer in Google Earth.
Brazil to support REDD in Copenhagen

(10/28/2009) Brazil will conditionally support a proposed climate change mitigation scheme that will compensate tropical countries for preserving their forests, reports Reuters.
Will Ecuador's plan to raise money for not drilling oil in the Amazon succeed?

(10/27/2009) Ecuador's Yasuni National Park is full of wealth: it is one of the richest places on earth in terms of biodiversity; it is home to the indigenous Waorani people, as well as several uncontacted tribes; and the park's forest and soil provides a massive carbon sink. However, Yasuni National Park also sits on wealth of a different kind: one billion barrels of oil remain locked under the pristine rainforest.
Amazonian natives say they will defend tribal lands from Hunt Oil with "their lives"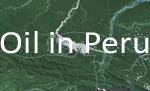 (10/25/2009) Indigenous natives in the Amazon are headed to the town of Salvacion in Peru with a plan to forcibly remove the Texas-based Hunt Oil company from their land as early as today. Peruvian police forces, numbering in the hundreds, are said to be waiting in the town. The crisis has risen over an area known as Lot 76, or the Amarakaeri Communal Reserve. The 400,000 hectare reserve was created in 2002 to protect the flora and fauna of the area, as well as to safeguard watersheds of particular importance to indigenous groups in the region.
Present day tropical plant families survived in warmer, wetter tropics 58 million years ago
(10/18/2009) Fifty eight million years ago the tropical rainforests of South America shared many similarities with today's Neotropical forests, according to research published in the Proceedings of the National Academy of Sciences. Looking at over 2,000 fossils in Colombia from one of the world's largest open pit coal mines, scientists were able to recreate for the first time the structure of a long vanished rainforest. One inhabited by a titanic snake, giant turtles, and crocodile-like reptiles.
Could agroforestry solve the biodiversity crisis and address poverty?, an interview with Shonil Bhagwat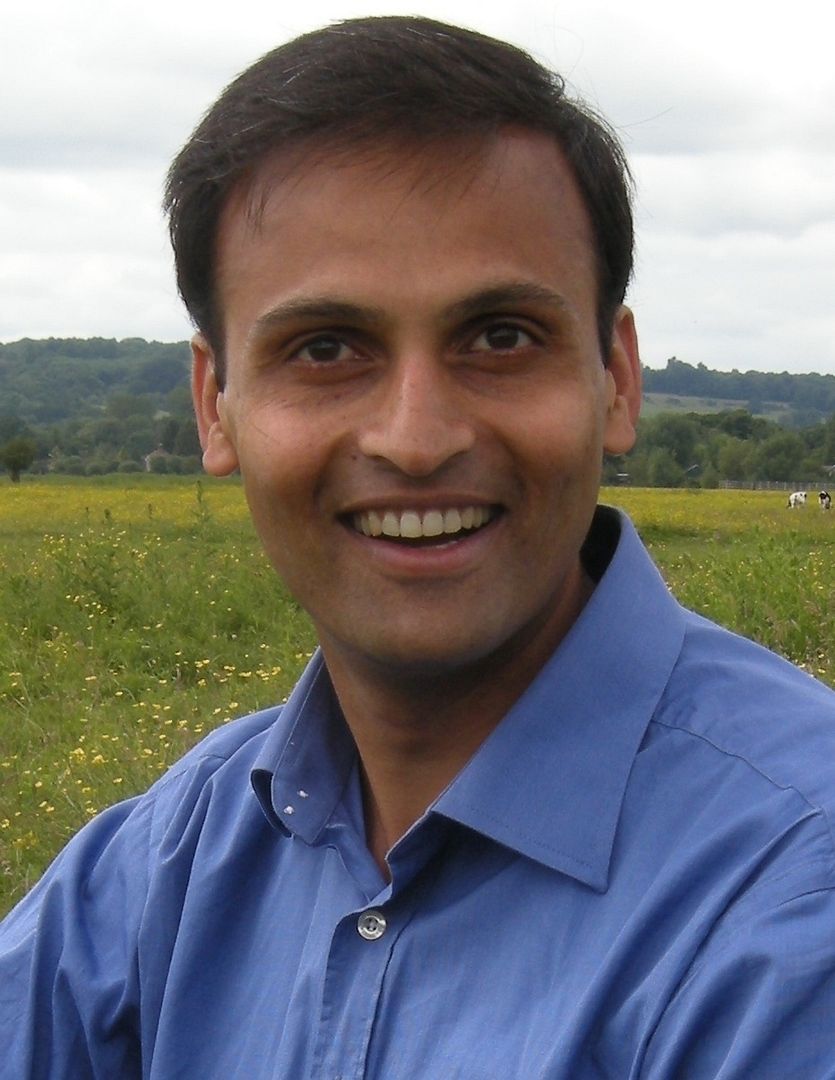 (09/24/2009) With the world facing a variety of crises: climate change, food shortages, extreme poverty, and biodiversity loss, researchers are looking at ways to address more than one issue at once by revolutionizing sectors of society. One of the ideas is a transformation of agricultural practices from intensive chemical-dependent crops to mixing agriculture and forest, while relying on organic methods. The latter is known as agroforestry or land sharing—balancing the crop yields with biodiversity. Shonil Bhagwat, Director of MSc in Biodiversity, Conservation and Management at the School of Geography and the Environment, Oxford, believes this philosophy could help the world tackle some of its biggest problems.
Roads are enablers of rainforest destruction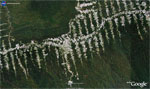 (09/24/2009) Chainsaws, bulldozers, and fires are tools of rainforest destruction, but roads are enablers. Roads link resources to markets, enabling loggers, farmers, ranchers, miners, and land speculators to convert remote forests into economic opportunities. But the ecological cost is high: 95 percent of deforestation in the Brazilian Amazon occurs within 50-kilometers of a road; in Africa, where logging roads are rapidly expanding across the Congo basin, the bulk of bushmeat hunting occurs near roads. In Laos and Sumatra, roads are opening last remnants of intact forests to logging, poaching, and plantation development. But roads also cause subtler impacts, fragmenting habitats, altering microclimates, creating highways for invasive species, blocking movement of wildlife, and claiming animals as roadkill. A new paper, published in Trends in Evolution and Ecology, reviews these and other impacts of roads on rainforests. Its conclusions don't bode well for the future of forests.
Working to save the 'living dead' in the Atlantic Forest, an interview with Antonio Rossano Mendes Pontes
(09/23/2009) The Atlantic Forest may very well be the most imperiled tropical ecosystem in the world: it is estimated that seven percent (or less) of the original forest remains. Lining the coast of Brazil, what is left of the forest is largely patches and fragments that are hemmed in by metropolises and monocultures. Yet, some areas are worse than others, such as the Pernambuco Endemism Centre, a region in the northeast that has largely been ignored by scientists and conservation efforts. Here, 98 percent of the forest is gone, and 70 percent of what remains are patches measuring less than 10 hectares. Due to this fragmentation all large mammals have gone regionally extinct and the small mammals are described by Antonio Rossano Mendes Pontes, a professor and researcher at the Federal University of Pernambuco, as the 'living dead'.
Brazil may ban sugarcane plantations from the Amazon, Pantanal

(09/18/2009) Brazil will restrict sugarcane plantations for ethanol production from the Amazon, the Pantanal, and other ecologically-sensitive areas under a plan announced Thursday by President Luiz Inacio Lula da Silva's administration, reports the Associated Press.
Heavy oil pollution remains in Amazon, despite company claiming clean-up is finished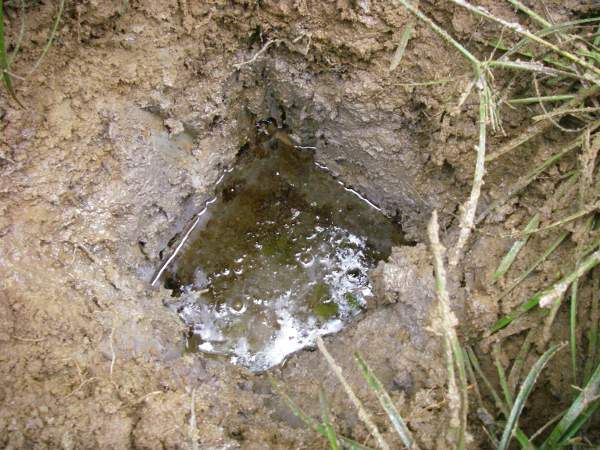 (09/17/2009) A new report shows that the Corrientes region of the Peruvian Amazon, which suffered decades of toxic contamination by Occidental Petroleum (OXY), is far from being cleaned-up. The survey, conducted by US non-profit E-Tech International, found that heavy metals, volatile organic compounds, and hydrocarbons still exist at levels above the safety limits set by Peru and continue to threaten the Achuar indigenous community, who have long fought against the oil companies.




Page 1 | Page 2 | Page 3 | Page 4 | Page 5 | Page 6 | Page 7 | Page 8 | Page 9 | Page 10 | Page 11 | Page 12 | Page 13 | Page 14 | Page 15 | Page 16 | Page 17 | Page 18 | Page 19 | Page 20 | Page 21 | Page 22 | Page 23 | Page 24 | Page 25 | Page 26 | Page 27