News articles on south america

---
Mongabay.com news articles on south america in blog format. Updated regularly.






Walmart takes on Amazon deforestation

(10/18/2010) The world's largest retailer last week announced new sourcing criteria for commodities closely associated with deforestation: palm oil and beef from the Amazon.
NGO warns oil exploration in Peru may 'decimate' uncontacted tribes

(10/17/2010) Survival International has warned that oil exploration in northern Peru threatens two uncontacted tribes. The organization, devoted to indigenous rights, has sent a letter to the UN's Special Rapporteur on indigenous peoples, James Anaya, alleging that Peru is "violating international law" by allowing oil companies to explore a region home to uncontacted people, who are especially vulnerable to disease.
The ultimate bike trip: the Amazon rainforest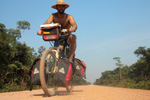 (10/17/2010) Like all commercial roads through rainforests, the 5,300 kilometer long Rodovia Transamazonica (in English, the Trans-Amazonia), brought two things: people and environmental destruction. Opening once-remote areas of the Amazon to both legal and illegal development, farmers, loggers, and miners cut swathes into the forest now easily visible from satellite. But the road has also brought little prosperity: many who live there are far from infrastructure and eek out an impoverished existence in a harsh lonely wilderness. This is not a place even the most adventurous travelers go, yet Doug Gunzelmann not only traveled the entirety of the Transamazonica in 2009, he cycled it. A self-described adventurer, Gunzelmann chose to bike the Transamazonica as a way to test his endurance on a road which only a few before have completed. But Gunzelmann wasn't just out for adrenaline-rushes, he was also deeply interested in the environmental issues related to the Transamazonica. What he found was a story without villains, but only humans—and the Amazon itself—trying to survive in a complex, confusing world.
Satellites show fragmented rainforests significantly drier than intact forest
(10/13/2010) A new study in Biological Conservation has shown that edge forests and forest patches are more vulnerable to burning because they are drier than intact forests. Using eight years of satellite imagery over East Amazonia, the researchers found that desiccation (extreme dryness) penetrated anywhere from 1 to 3 kilometers into forests depending on the level of fragmentation.
Brazil to auction off large blocks of Amazon rainforest for logging

(10/12/2010) Brazil will auction large blocks of the Amazon rainforest to private timber companies as part of an effort to reduce demand for illegal logging, reports Reuters. The government will grant 1 million hectares (2.5 million acres) of logging concessions by the end of the year, according to Antonio Carlos Hummel, head of Brazil's National Forestry Service. Within four to five years, 11 million hectares will be auctioned.
Can 'boutique capitalism' help protect the Amazon?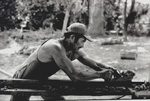 (10/11/2010) Most companies talk green, but few—almost none in fact—actually walk the walk. Sustainable design company, Ecostasy, not only walks the walk, but actually seeks out among the most challenging places to work: the imperiled Brazilian Amazon. Specializing in hand-crafted products by indigenous groups—such as jewelry, pots, and furniture—Ecostasy seeks to balance smart economics, environmental protection, and community development. Make no mistake, however, Ecostasy is not a non-profit, but a rare and refreshing example of a company truly dedicated to changing the world for the better. "In my mind, a virtuous company does not compromise ethical principles for economic interests. For me, being ethical is comprised of conducting oneself with honesty and responsibility to one's constituencies (customers, employees, suppliers), society and the environment," Katherine Ponte, founder of Ecostasy, told mongabay.com in an interview.
Citizens of 188 countries challenge leaders on climate change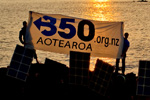 (10/11/2010) As world leaders continue to fumble a coherent, rapid, and comprehensive response to climate change, citizens from around the world yesterday sent a message to inert politicians by participating in over 7,300 events against climate change, according to 350.org, the head organizer of the day dubbed the 'Global Work Party'. "The fossil fuel industry may have thought that the collapse of the Copenhagen talks and its victory in the U.S. Congress were the final word—that people would give up in discouragement," said, Bill McKibben, founder of 350.org, so-called because 350 parts per millions (ppm) is the 'safe' amount of carbon in the atmosphere according to many scientists. Currently the concentration is around 390 ppm.
What is the Brazilian Brand?

(10/09/2010) An economic and social powerhouse, Brazil has burst forth on to the world stage with such tenacious drive and determination that observers may indeed wonder what sort of political impact the South American giant will have upon the wider region in the coming years. Though the country still faces incredible domestic challenges, the outgoing Luiz Inácio 'Lula' da Silva administration has done much to put Brazil's house in order and the president leaves office with record 80% popularity. Unlike its volatile and unstable Andean neighbors, Brazil has consolidated a credible democracy and recently concluded the first round of its presidential vote.
Green political revolution in Brazil?

(10/07/2010) Green party candidate Marina Silva captured 19 percent of the vote in Brazil's presidential election over the weekend, shocking analysts and forcing a run off between Dilma Rousseff, outgoing President Lula's hand-picked successor, and José Serra.
Yasuni on film: could a documentary save the world's most biodiverse ecosystem?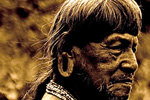 (10/04/2010) How do you save one of the most biologically and culturally diverse places in the world if most people have never heard of it? If you want a big audience—you make a film. This is what wildlife-filmmaker Ryan Killackey is hoping to do with his new movie Yasuni Man. Killackey says the film will show-off the wonders of Yasuni National Park while highlighting the complexity of its biggest threat: the oil industry. "Conceptually, the film resembles a true-life cross between the documentary Crude and the blockbuster Avatar—except it's real and it's happening now," Killackey told mongabay.com.
Brazil's Operation Jaguar: Busting a Poaching Ring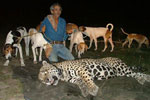 (10/03/2010) Twenty years ago Brazil's most notorious jaguar hunter, Teodoro Antonio Melo Neto, also known as 'Tonho da onça' or 'Jaguar Tony,' swore off poaching after logging 600 kills. The foe turned ally of the jaguar then convinced environmental and research institutes, such as the non-governmental organization Instituto Pró-Carnívoros, of his about face and to employ his tracking skills for conservation. Thus began years of assisting these agencies find the animals so that they could monitor their movements and research their habits. His dramatic change of heart even became the subject of a children's book titled Tonho da onça, which related a conservation message. But on July 20, 2010, 'Jaguar Tony,' now 71 years old, revealed his true spots when federal agents arrested him along with seven others preparing for another in a long series of illegal hunts.
Stunning toxic frog protected as a result of drug trafficking conflict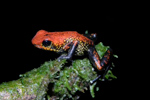 (09/29/2010) A spectacular poison dart frog on the edge of extinction in the wild has been afforded temporary protection by warring drug gangs in Colombia's Chocó region, reports ProAves. The La Brea Poison Frog (Oophaga occultator), a colorful species only documented by scientists in 1975, has suffered from unsustainable collection for the pet trade, severe deforestation for coca cultivation, and aerial spraying for coca eradication, resulting in a substantial population decline. But the species has clung to life in a deforested landscape along the Saija River in Colombian Pacific coast in part due to conflict between three armed groups which has kept collectors out of the area.
Discovery of new population boosts almost-extinct Colombian bird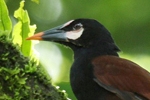 (09/28/2010) The Baudo oropendola (Psarocolius cassini) has gone from less than a dozen known individuals to nearly a hundred due to the discovery of two new colonies in northwestern Colombia by local conservation group, Fundación ProAves. However, the new colonies are located in an unprotected area currently being impacted by deforestation. George Fenwick, president of American Bird Conservancy which focuses on bird conservation, said in a press release that his organization "is thrilled to have helped fund the research expedition that led to this stunning discovery of these two new colonies of this rare bird. Now we need to work with ProAves to conserve and protect them."
The effect of forest regeneration strategies on beetles

(09/27/2010) As conservationists attempt to find the best way to re-establish forests in abandoned areas, a new study in the open-access journal Tropical Conservation Science compares the impacts on bess beetles of different method to regeneration forest. Bess beetles are important dead wood-recyclers in the forest. Looking at three different forests in the Colombian Andes—natural regeneration, monoculture reforestation, and an old-growth forest as a baseline—researchers found that old-growth and natural regeneration had the highest diversity of bess beetles, while old-growth sported the greatest abundance of beetles.
Is Brazil's Sustainable Development Really Sustainable?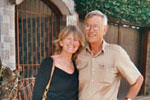 (09/26/2010) Sustainable development seems to have left the realms of institutional debate in Brazil and has emerged into a reality for businesses to remain competitive in their markets. It is also being used as a tool to stimulate the country's economic growth. A notable example of this is hydroelectricity, as the country has strived for many years to generate electricity in innovative ways, rather than relying on the use of fossil fuels. Companies are also voluntarily signing up and engaging in Brazil's GHG Protocol Program with a view to reduce carbon emissions and businesses large and small are leading on sustainable business practices. While Brazil has received a lot of respect for this forward thinking approach to sustainability, they have also been heavily criticized for hydro projects since the 1980s; in recent months the target has notably been the decision to move forward with the plan to build 3 dams on the Xingu River, which lies in the Amazon Basin.
Peru weighs deporting rainforest defender after 20 years in the Amazon

(09/22/2010) There are very few times in life that you get to see a priest on a motorcycle. Fewer still that same-said priest zips off from a training session on REDD and forestry law back to his school for Indigenous youths located in the heartland of the Amazon, next to a prison and down the road from the rapidly growing city-center of Iquitos, Peru.
An undamaged Amazon produces its own clouds and rain

(09/21/2010) Researchers recently traveled to the remote Brazilian Amazon to investigate how clouds are formed and rain falls in an atmosphere unburdened by human-caused pollution. Studying the atmospheric aerosol particles, which impact cloud formation and particles, above a pristine forests, researchers discovered that when left alone the Amazon acts as its own 'bioreactor': clouds and precipitation are produced by the abundance of plant materials.
How the overlooked peccary engineers the Amazon, an interview with Harald Beck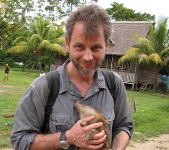 (09/20/2010) When people think of the Amazon rainforest, they likely think of roaring jaguars, jumping monkeys, marching ants, and squeezing anacondas. The humble peccary would hardly be among the first animals to cross their mind, if they even know such pig-like animals exists! Yet new research on the peccary is proving just how vital these species are to the world's greatest rainforest. As seed dispersers and seed destroyers, engineers of freshwater habitats and forest gaps, peccaries play an immense, long overlooked, role in the rainforest. "Peccaries have the highest density and biomass of any Neotropical mammal species. Obviously these fellows have quite an appetite for almost anything, but primarily they consume fruits and seeds. Their specialized jaws allow them to crush very hard seeds. The cracking sounds can be heard through the thick vegetation long before we could see them. As peccary herds bulldoze through the leaf litter in search for insects, frogs, seeds, and fruits, they destroy (i.e. snap and trample) many seedlings and saplings, sometimes leaving only the bare ground behind," Harald Beck, assistant professor at Towson University in Maryland, told mongabay.com in an interview.
Indigenous tribes, ranchers team to battle Amazon fires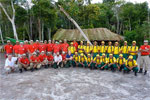 (09/14/2010) Facing the worst outbreak of forest fires in three years, cattle ranchers and indigenous tribesmen in the southern Amazon have teamed up to extinguish nearly two dozen blazes over the past three months, offering hope that new alliances between long-time adversaries could help keep deforestation rates in the Brazilian Amazon on a downward trajectory.
A look at Ecuador's agreement to leave 846 million barrels of oil in the ground

(09/13/2010) Ecuador's pioneering initiative to voluntarily leave nearly a billion barrels of oil under Yasuní National Park, an Amazonian reserve that is arguably the most biodiverse spot on Earth, took a major step forward in early August when the government signed an accord with the United Nations Development Programme (UNDP) for the long-awaited establishment of a trust fund. The signing event generated a wave of international media attention, but there has been very little scrutiny of what was actually signed. Here we present an initial analysis of the signed agreement, along with a brief discussion of some of the potential caveats. Due to the precedent-setting nature of this agreement, attention to the details is now of the utmost importance.
Peru's rainforest highway triggers surge in deforestation, according to new 3D forest mapping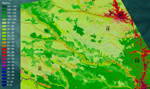 (09/06/2010) Scientists using a combination of satellite imagery, airborne-laser technology, and ground-based plot surveys to create three-dimensional high resolution carbon maps of the Amazon rainforest have documented a surge in emissions from deforestation and selective logging following the paving of the Trans-Oceanic Highway in Peru. The study, published this week in the early edition of the Proceedings of the National Academy of Sciences, reveals that selective logging and other forms of forest degradation in Peru account for nearly a third of emissions compared to deforestation alone.
80% of tropical agricultural expansion between 1980-2000 came at expense of forests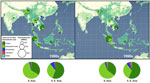 (09/02/2010) More than 80 percent of agricultural expansion in the tropics between 1980 and 2000 came at the expense of forests, reports research published last week in the early online edition of the Proceedings of the National Academy of Sciences (PNAS). The study, based on analysis satellite images collected by the United Nations Food and Agricultural Organization (FAO) and led by Holly Gibbs of Stanford University, found that 55 percent of new agricultural land came at the expense of intact forests, while 28 percent came from disturbed forests. Another six percent came from shrub lands.
NASA: surge in Amazon fires

(08/31/2010) The number of fire hotspots has surged in the Bolivian and Brazilian parts of the Amazon, reveals data and imagery from NASA.
Amazon deforestation falls significantly in 2010, according to preliminary data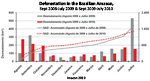 (08/31/2010) Deforestation in the Brazilian Amazon is down significantly since last year, according to preliminary estimates released by Brazil's National Institute for Space Research (INPE) and Imazon, a Brazil-based NGO that tracks forest loss and degradation across the Amazon. Analysis of NASA MODIS data by Imazon found some 1,488 square kilometers of forest were cleared during the 12 months ended July 31, 2010, down 16 percent from the same period last year, when 1,766 square kilometers were deforested. Meanwhile analysis by INPE shows an even steeper drop from 4,375 square kilometers in August 2008 through July 2009 to 2,296 square kilometers in the current period, a decline of 48 percent. The discrepancy between INPE's and Imazon's estimates results from differences in how deforestation is tracked.
Cold snap may have killed millions of fish in Bolivia, poisoning rivers

(08/31/2010) Although the last few months have been some of the warmest worldwide on record, including 17 countries reaching or breaking all-time highs, temperatures have not been above average everywhere. Cold air from Antarctica has brought chilling temperatures to parts of South America, including Bolivia where millions of fish and thousands of caimans, turtles, and river dolphins have perished according to Nature Communications.
Jump in fires in Brazil becomes Twitter sensation

(08/27/2010) The number of fires burning in Brazil more than doubled since last year, sparking a Twitter sensation, with more than 120,000 users tweeting messages with the hashtag '#chegadequeimadas' about the fires in a 48 hour window.
146 dams threaten Amazon basin

(08/19/2010) Although developers and government often tout dams as environmentally-friendly energy sources, this is not always the case. Dams impact river flows, changing ecosystems indefinitely; they may flood large areas forcing people and wildlife to move; and in the tropics they can also become massive source of greenhouse gases due to emissions of methane. Despite these concerns, the Amazon basin—the world's largest tropical rainforest—is being seen as prime development for hydropower projects. Currently five nations—Brazil, Bolivia, Colombia, Ecuador, and Peru—are planning over 146 big dams in the Amazon Basin. Some of these dams would flood pristine rainforests, others threaten indigenous people, and all would change the Amazonian ecosystem. Now a new website, Dams in Amazonia, outlines the sites and impacts of these dams with an interactive map.
Summer from hell: seventeen nations hit all-time heat records

(08/09/2010) The summer isn't over yet, but already seventeen nations have matched or beaten their all-time heat records. According to Jeff Masters' WunderBlog, Belarus, the Ukraine, Cyprus, Russia, Finland, Qatar, the Sudan, Saudi Arabia, Niger, Chad, Kuwait, Iraq, Pakistan, Colombia, Myanmar, Ascension Island, and the Solomon Islands have all equaled or broken their top temperature records this year. In addition, the hottest temperature ever recorded in Asia was taken in Pakistan at 128 degrees Fahrenheit (53 degrees Celsius); this incredible temperature still has to be reviewed by the World Meteorological Organization (WMO).
Colombian indigenous leader shot dead

(08/08/2010) Luis Alfredo Socarrás Pimienta, an indigenous leader with the Wayúu tribe, was murdered outside his home in Riohacha, Colombia on July 27th. A human rights activist and leader of several demonstrations against the abuse of indigenous people and for better living conditions, Socarrás Pimienta was thought to have been shot dead by a hitman who then fled the scene. Following the murder leaflets were given out citing the names of murderers' next targets which included a dozen more members of the Wayúu tribes, according to Survival International.
Hunting threatens the other Amazon: where harpy eagles are common and jaguars easy to spot, an interview with Paul Rosolie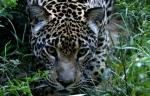 (08/05/2010) If you have been fortunate enough to visit the Amazon or any other great rainforest, you've probably been wowed by the multitude and diversity of life. However, you also likely quickly realized that the deep jungle is not quite what you may have imagined when you were a child: you don't watch as jaguars wrestle with giant anteaters or anacondas circle prey. Instead life in the Amazon is small: insects, birds, frogs. Even biologists will tell you that you can spend years in the Amazon and never see a single jaguar. Yet rainforest guide and modern day explorer Paul Rosolie says there is another Amazon, one so pristine and with such wild abundance that it seems impossible to imagine if not for Rosolie's stories, photos, and soon videos. This is an Amazon where the big animals—jaguars, tapir, anaconda, giant anteaters, and harpy eagles—are not only abundant but visible. Free from human impact and overhunting, these remote places—off the beaten path of tourists—are growing ever smaller and, according to Rosolie, are in danger of disappearing forever.
Bold rainforest idea makes good: Ecuador secures trust fund to save park from oil developers
(08/03/2010) In what may amount to a historic moment in the quest to save the world's rainforests and mitigate climate change, Ecuador and the United Nations Development Fund (UNDF) have created a trust fund to protect one of the world's most biodiverse rainforests from oil exploration and development. The fund will allow the international community to pay Ecuador to leave an estimated 850 million barrels of oil in Yasuni National Park in the ground instead of extracting it. This first-of-its-kind agreement, known as the Yasuni-ITT Initiative, will allow the rainforest protected area to remain pristine: preserving one of the most species-rich places on Earth, safeguarding the lives of indigenous people, and keeping an estimated 410 million tons of CO2 out of the atmosphere.
Oil devastates indigenous tribes from the Amazon to the Gulf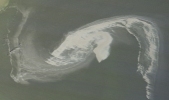 (07/27/2010) For the past few months, the mainstream media has focused on the environmental and technical dimensions of the Gulf mess. While that's certainly important, reporters have ignored a crucial aspect of the BP spill: cultural extermination and the plight of indigenous peoples. Recently, the issue was highlighted when Louisiana Gulf residents in the town of Dulac received some unfamiliar visitors: Cofán Indians and others from the Amazon jungle. What could have prompted these indigenous peoples to travel so far from their native South America? Victims of the criminal oil industry, the Cofán are cultural survivors. Intent on helping others avoid their own unfortunate fate, the Indians shared their experiences and insights with members of the United Houma Nation who have been wondering how they will ever preserve their way of life in the face of BP's oil spill.
Indigenous tribes occupy dam in Brazil, demand reparations

(07/27/2010) An indigenous group in Brazil has taken over a hydroelectric dam, which they state has polluted vital fishing grounds and destroyed sacred burial ground. They are demanding reparations for the damage done and that no more dams are built in the region without their prior consent.
Illegal logging declining worldwide, but still 'major problem'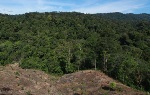 (07/15/2010) A new report by the Chatham House finds that illegal logging in tropical forest nation is primarily on the decline, providing evidence that new laws and international efforts on the issue are having a positive impact. According to the report, the total global production of illegal timber has fallen by 22 percent since 2002. Yet the report also finds that nations—both producers and consumers—have a long way to go before illegal logging is an issue of the past.
Controversial changes to Brazilian forest law passes first barrier

(07/08/2010) An amendment to undermine protections in Brazil's 1965 forestry code has passed it first legislative barrier, reports the World Wide Fund for Nature-Brasil (WWF). Yesterday the amendment passed a special vote in the Congress's Special Committee on Forest Law Changes.
With 'psychological cunning' wild cat lures monkeys by mimicking their babies' calls

(07/08/2010) It sounds like something out of a fairy-tale: the big bad predator lures its gullible prey by mimicking a loved one: 'why grandma, what big teeth you have!' But in this case it's the shocking strategy of one little-known jungle feline. In 2005 researchers with the Wildlife Conservation Society (WCS) were watching a group of eight pied tamarins ( Saguinus bicolor), squirrel-sized monkeys, feeding on a ficus tree in the Reserva Florestal Adolpho Ducke in Brazil. They then heard the sound of tamarin babies, but were surprised to see that the sound was not coming from young tamarins, but a hungry margay (Leopardus wiedii), a small cat native to Central and South America, which was hidden from the tamarins.
Top officials busted in Amazon logging raids, but political patronage may set them free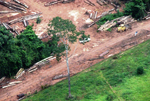 (07/08/2010) After two years of investigations, the Brazilian Federal Police arrested some of the most important politicians and authorities for illegal logging in the Amazon. Code-named Operation Jurupari, the Brazilian Federal Police uncovered a massive illegal logging scheme that resulted in the arrests of over 90 people and caused an estimated $500 million in damage to the Amazon rainforest. Over 496 square kilometers (192 square miles), an area the size of California or Spain, were affected and an estimated 1.5 million cubic meters (642 million board feet) of timber was illegally extracted. While the investigation focused on activities in the state of Mato Grosso, which is located in the southern Amazon and is one of the most deforested regions largely due to clearing land for expanding soya farms, it touched numerous others, including São Paulo, Paraná, Rio Grande do Sul, Espirito Santo, Minas Gerais and Distrito Federal.
The changing nature of illegal logging - and illegal logging investigations - in Brazil's Amazon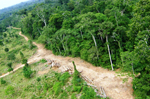 (07/08/2010) Operation Jurupari followed on several previous Brazilian Federal Police investigations into SEMA, including: Operation Curupira I (June 2005); Curupira II (August 2005); Mapinguari (2007), Arc of Fire (2008), Termes (April 2008); and Caipora (2008). It was led by Franco Perazzoni, Brazilian Federal Police "Delegado" (or chief), who, since 2006, has headed the environmental crimes unit in Mato Grosso and been responsible for about 300 investigations on environmental crimes, of which about 75% were on illegal deforestation in federal areas. The nature of the illegal deforestation has changed over the years.
Amazon soy moratorium extended

(07/08/2010) Brazilian soy farmers have extended their moratorium on Amazon deforestation for another year, reports Greenpeace.
Amazon and Atlantic Forest under threat: politicians press to dilute Brazil's forestry law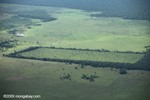 (07/01/2010) A group of Brazilian legislatures, known as the 'ruralistas', are working to change important aspects of the Brazil's landmark 1965 forestry code, undermining forest protection in the Amazon and the Mata Atlantica (also known as the Atlantic Forest) and perhaps heralding a new era of booming deforestation. The ruralistas, linked to big agribusiness and landowners, are taking aim at the part of the forestry code that requires landowners in the Amazon to retain 80 percent of their land area as legal reserves, arguing that the law threatens agricultural development.
Photos: researchers uncover top priority areas for Bolivian primates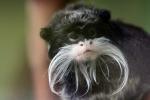 (06/28/2010) Employing a predictive model, researchers have located two areas in need of protection to ensure the survival of Bolivia's primate species. The study, published in Tropical Conservation Science, identified the potential distribution of Bolivia's 22 primates and discovered two priority regions, one in the Pando Department with a number of rare primates, and the other in Western Beni, home to two primate species that live no-where else.
Invertebrates in Brazilian traditional medicines

(06/28/2010) According to a new study in Tropical Conservation Science a surprising number of invertebrates are used in Brazilian traditional medicines, which are popular both in rural and urban areas. Researcher discovered that at least 81 species from five taxonomic groups are being used to treat a variety of illnesses in Brazil.
Ending deforestation could boost Brazilian agriculture
(06/26/2010) Ending Amazon deforestation could boost the fortunes of the Brazilian agricultural sector by $145-306 billion, estimates a new analysis issued by Avoided Deforestation Partners, a group pushing for U.S. climate legislation that includes a strong role for forest conservation. The analysis, which follows on the heels of a report that forecast large gains for U.S. farmers from progress in gradually stopping overseas deforestation by 2030, estimates that existing Brazilian farmers could see around $100 billion from higher commodity prices and improved access to markets. Meanwhile landholders in the Brazilian Amazon—including ranchers and farmers—could see $50-202 billion from carbon payments for forest protection.





Amazon logging industry declines

(06/17/2010) The global economic crisis and increased environmental law enforcement have taken a toll on the Amazon logging industry in Brazil, reports a major new assessment conducted by Imazon and the Brazilian Forest Service.




Page 1 | Page 2 | Page 3 | Page 4 | Page 5 | Page 6 | Page 7 | Page 8 | Page 9 | Page 10 | Page 11 | Page 12 | Page 13 | Page 14 | Page 15 | Page 16 | Page 17 | Page 18 | Page 19 | Page 20 | Page 21 | Page 22 | Page 23 | Page 24 | Page 25 | Page 26