News articles on south america

---
Mongabay.com news articles on south america in blog format. Updated regularly.








Assassinations of environmentalists continue in Brazil's Amazon, deforestation rises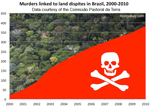 (05/28/2011) A community leader in the Brazilian Amazon was slain Friday just three days after two environmentalists were killed in a neighboring state, reports Reuters. Adelino "Dinho" Ramos, the president of the Movimento Camponeses Corumbiara e da Associação dos Camponeses do Amazonas, a small farmers association, was gunned down front of his family Friday morning in Rondônia. Brazil's Special Secretariat for Human Rights, an office of the president, said it was unclear who killed Ramos, who had received death threats from loggers.
Destruction of Brazil's most endangered forest, the Mata Atlantica, slows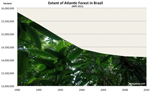 (05/27/2011) Deforestation of Brazil's most threatened forest ecosystem dropped substantially during the 2008-2010 period according to new data released by Brazil's National Institute for Space Research (INPE) and Fundação SOS Mata Atlântica. Analysis of satellite images across 16 of the 17 states the Atlantic Forest spans found that 312 square kilometers of forest was cleared between 2008 and 2010, down from 1,029 square kilometers between 2005 and 2008. Deforestation was concentrated in the states of Minas Gerais, Bahia, Santa Catarina and Parana.
Shareholders to Chevron: company showing 'poor judgment' in Ecuador oil spill case

(05/26/2011) After being found guilty in February of environmental harm and ordered to pay $8.6 billion in an Ecuador court of law, Chevron this week faced another trial: this time by shareholders in its Annual General Meeting in California. While Chevron has appealed the Ecuador case and a US court has put an injunction barring the enforcement of the ruling in the US, notable Chevron investors say the company has gone astray in its seemingly endless legal battle with indigenous groups in the Ecuadorian Amazon.
Amnesty for illegal rainforest loggers moves forward in Brazil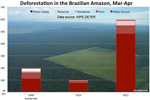 (05/25/2011) A controversial bill environmentalists say could increase deforestation in the Amazon rainforest moved a step forward to becoming law in Brazil after winning approval in Brazil's lower house of Congress. The measure, which has been hotly debated for months, next goes to the Senate where it is expected to pass, before heading to President Dilma Rousseff, who has vowed to veto any bill that grants amnesty for illegal deforestation. The bill includes such a measure, although it could be subject to change before a final decision by the president. The bill aims to reform Brazil's Forest Code, which requires landowners in the Amazon rainforest to maintain 80 percent of their holdings as forest.
Killing in the name of deforestation: Amazon activist and wife assassinated

(05/24/2011) José Cláudio Ribeiro da Silva and his wife, Maria do Espírito Santo da Silva, were gunned down last night in an ambush near their home in the Brazilian state of Pará. Da Silva was known as a community leader and an outspoken critic of deforestation in the region. Police believe the da Silvas were killed by hired assassins because both victims had an ear cut off, which is a common token for hired gunmen to prove their victims had been slain, according to local police investigator, Marcos Augusto Cruz, who spoke to Al Jazeera. Suspicion immediately fell on illegal loggers linked to the charcoal trade that supplies pig iron smelters in the region.
Photos: the top ten new species discovered in 2010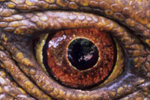 (05/23/2011) If we had to characterize our understanding of life on Earth as either ignorant or knowledgeable, the former would be most correct. In 250 years of rigorous taxonomic work researchers have cataloged nearly two million species, however scientists estimate the total number of species on Earth is at least five million and perhaps up to a hundred million. This means every year thousands of new species are discovered by researchers, and from these thousands, the International Institute for Species Exploration at Arizona State University selects ten especially notable new species.
Climate change and deforestation pose risk to Amazon rainforest
(05/20/2011) Deforestation and climate change will likely decimate much of the Amazon rainforest, says a new study by Brazil's National Institute for Space Research (INPE) and the UK's Met Office Hadley Centre. Climate change and widespread deforestation is expected to cause warmer and drier conditions overall, reducing the resistance of the rainforest ecosystem to natural and human-caused stressors while increasing the frequency of extreme rainfall events and droughts by the end of this century. While climate models show that higher temperatures resulting from global climate change will threaten the resilience of the Amazon, current deforestation is an immediate concern to the rainforest ecosystem and is likely driving regional changes in climate.
Uncovering the private lives of Amazon wildlife through camera traps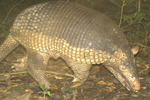 (05/20/2011) One of the best words to describe Amazon wildlife, including large mammals and birds, is cryptic. A person can spend a day trekking through the dense green and brown foliage of the Amazon and see nothing more than a few insects, maybe a frog here and there if they have good eyes. In fact, researchers have spent years in the jungle and never seen a jaguar, let alone a tapir. Some species like the bushdog and the giant armadillo are even more cryptic. Almost never encountered by people, in some parts of the Amazon they have taken on a mythic status, more rumor around the fire than reality. However, camera traps—automated cameras that take a flash photo whenever an animal triggers an infrared sensor—in the Amazon have begun to reveal long-sought information about the presence and abundance of species, providing new data on range and territories. And even at times giving glimpses into the private lives of species that remain largely shrouded in mystery.
Brazil confirms big jump in Amazon deforestation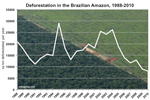 (05/18/2011) New data from the Brazilian government seems to confirm environmentalists' fears that farmers and ranchers are clearing rainforest in anticipation of a weakening of the country's rules governing forest protection. Wednesday, Brazil's National Space Research Agency (INPE) announced a sharp rise in deforestation in March and April relative to the same period last year. INPE's rapid deforestation detection system (DETER) recorded 593 square kilometers of forest clearing during the past two months, a 473 percent increase over the 103.5 sq km chopped down from March-April 2010.
Red rodent shows up at Colombian nature lodge after 113 years on the lam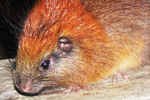 (05/18/2011) The red-crested tree rat (Santamartamys rufodorsalis) had not been recorded since 1898 and was thought possibly extinct—that is until one showed up at 9:30 PM on May 4th at a lodge in El Dorado Nature Reserve in northern Colombia. 'He just shuffled up the handrail near where we were sitting and seemed totally unperturbed by all the excitement he was causing,' said Lizzie Noble, a British volunteer with Fundacion ProAves.
Under pressure from rising deforestation, Brazil's IBAMA establishes 'Zero Deforestation Policy' in the Amazon

(05/17/2011) IBAMA, Brazil's equivalent of the EPA, is suspending 1,300 planned operations for 2011 in order to concentrate on curbing a spike in regional deforestation through a two-pronged strategy of greater institutional presence and reciprocal agreements with local municipal governments. Following a series of meetings in the Amazonian states of Pará, Mato Grosso, and Amazonas between IBAMA and political leaders, landowners, ranchers, and environmentalists, IBAMA announced a "Zero Deforestation Pact" last Wednesday in cooperation with the Federal Public Ministry (Ministério Público Federal). The increased emphasis on Amazonian forest protection follows the release of an IBAMA document obtained by Folha revealing a jump in Amazonian deforestation that the government believes is related to proposed changes to relax the Forest Code, a debate which has given confidence to those deforesting.
Violent protests follow approval of massive dam project in Patagonia

(05/16/2011) The wild rivers of Patagonia may soon never be the same. Last week, Chile's Aysén Environmental Review Commission approved the environmental assessment of a five dam proposal on two rivers. The approval, however, is marred in controversy and has set off protests in many cities, including Santiago. Critics say the series of dams will destroy a largely untouched region of Patagonia.
ConocoPhillips withdraws from oil exploitation in uncontacted indigenous territory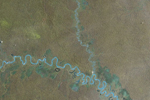 (05/11/2011) ConocoPhillips has announced it is withdrawing from its 45% share of oil drilling in Block 39 of Peru's Amazon rainforest. The withdrawal comes after pressure from indigenous-rights and environmental groups to leave two Peruvian oil blocks—39 and 67—alone, due to the presence of indigenous people who have chosen to remain uncontacted. ConocoPhillips and other companies have been warned they will 'decimate' tribes if they remain. However, Spanish oil company Repsol-YPF still operates in block 39 and is currently doing seismic testing for oil reserves in the untouched region. ConocoPhillips has not divulged what company is taking their place.
Brazil's forest code debate may determine fate of the Amazon rainforest

(05/05/2011) Brazil's forest code may be about to get an overhaul. The federal code, which presently requires landowners in the Amazon to keep 80 percent of their land forest (20-35% in the cerrado), is widely flouted, but has been used in recent years as a lever by the government to go after deforesters. For example, the forest code served as the basis for the "blacklists" which restricted funds for municipalities where deforestation has been particularly high. To get off the blacklist, and thereby regain access to finance and markets, a municipality must demonstrate its landowners are in compliance with environmental laws.
NASA image reveals extent of deforestation in western Brazil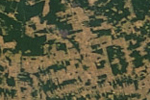 (05/04/2011) The Brazilian state of Rondônia has undergone tremendous change over the past decade as revealed by the NASA's Moderate Resolution Imaging Spectroradiometer (MODIS) on the Terra satellite. A hotspot for recent deforestation, Rondônia was once home to over 50 million acres (208,000 square kilometers of forest). By 2003 nearly a third of the rainforest in the state was gone and deforestation continues although at a slower pace. The state has the dubious honor of undergoing the highest percentage of forest loss in the Brazilian Amazon.
World's largest beef company signs Amazon rainforest pact
(04/29/2011) The world's largest meat processor has agreed to stop buying beef from ranches associated with slave labor and illegal deforestation in the Brazilian Amazon, according to the public prosecutor's office in the state of Acre. The deal absolves JBS-Friboi from 2 billion reals ($1.3 billion) in potential fines and paves the way for the firm to continue selling meat to companies concerned about their environmental reputation.
Protected areas cover 44% of the Brazilian Amazon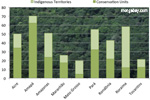 (04/20/2011) Protected areas now cover nearly 44 percent of the Amazon — an area larger than Greenland — but suffer from encroachment and poor management, reports a new study by Imazon and the Instituto Socioambiental (ISA). The report, published in Portuguese, says that by December 2010, protected areas in the Brazilian Amazon amounted to 2,197,485 square kilometers. Conservation units like national parks accounted for just over half the area (50.6 percent), while indigenous territories represented 49.4 percent.
Demand for gold pushing deforestation in Peruvian Amazon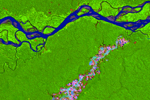 (04/19/2011) Deforestation is on the rise in Peru's Madre de Dios region from illegal, small-scale, and dangerous gold mining. In some areas forest loss has increased up to six times. But the loss of forest is only the beginning; the unregulated mining is likely leaching mercury into the air, soil, and water, contaminating the region and imperiling its people. Using satellite imagery from NASA, researchers were able to follow rising deforestation due to artisanal gold mining in Peru. According the study, published in PLoS ONE, Two large mining sites saw the loss of 7,000 hectares of forest (15,200 acres)—an area larger than Bermuda—between 2003 and 2009.
NASA image reveals extent of 2010 Amazon drought

(04/17/2011) NASA has revealed a satellite image of the crippling effect of last year's record-breaking drought on the Amazon ecosystem. For those of you counting, that's two record droughts in the Amazon Basin in 5 years.
Satellite evidence of deforestation in uncontacted tribe's territory sparks legal action

(04/12/2011) The destruction of 3,600 hectares (8,900 acres) of the Gran Chaco forest in Paraguay by large Brazilian cattle ranching companies has led to a legal complaint filed by a local indigenous-rights organization, since the land in question was one of the last refuges of a group of uncontacted indigenous people in the Ayoreo-Totobiegosode tribe. The loss of the forest was revealed in part by satellite images of the remote area.
Giant fish help grow the Amazon rainforest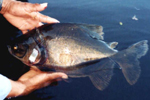 (04/12/2011) A fruit in the flooded Amazon falls from a tree and plops in the water. Before it can even sink to the floor, a 60-pound monster fish with a voracious appetite gobbles it. Nearly a week later—and miles away—the fish expels its waste, including seeds from the fruit eaten long ago and far away. One fortunate seed floats to a particularly suitable spot and germinates. Many years later the new fruit tree is thriving, while the same monster-fish returns from time-to-time, waiting for another meal to drop from the sky. This process is known as seed-dispersal, and while researchers have studied the seed-dispersal capacity of such species as birds, bats, monkeys, and rodents, one type of animal is often overlooked: fish.
Conversion of Brazil's cerrado slows

(04/08/2011) Destruction of Brazil's cerrado, a woody savanna that covers 20 percent of the country, slowed during the 2008-2009, reports Brazil's Ministry of Environment.
Indigenous group claims Ecuadorian government complicit in 'genocide'

(04/06/2011) Ecuador's paramount indigenous organization has filed a legal complaint against the government, including President Rafael Correa, for allegedly participating in 'genocide' against indigenous people in the Amazon. The Confederation of Indigenous Nationalities of Ecuador (CONAIE) is arguing that expanding oil exploration and mining is imperiling the lives of uncontacted tribes that have chosen voluntary isolation known as the Tagaeri and the Tarmenane, reports the AFP.
'Luck and perseverance': new plant genus discovered in Amazon

(03/31/2011) The discovery of a new plant species is not uncommon, especially in places of remarkable biodiversity such as the Amazon rainforest. However, discovering a new plant genus, a taxonomic rank above species, is, according to Henk van der Werff fromt the Missouri Botanical Garden (MBG), "a matter of luck and perseverance". Researchers with the Missouri Botanical Garden have been blessed with both as they have announced two new species of Amazonian plants, one from Ecuador and one from Peru, that comprise a completely new genus: named, Yasunia, since the plant was originally discovered in Ecuador's vast Yasuni National Park.
Last year's drought hit Amazon hard: nearly a million square miles impacted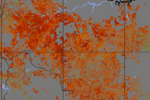 (03/29/2011) A new study on its way to being published shows that the Amazon rainforest suffered greatly from last year's drought. Employing satellite data and supercomputing technology, researchers have found that the Amazon was likely hit harder by last year's drought than a recent severe drought from 2005. The droughts have supported predictions by the Intergovernmental Panel on Climate Change's (IPCC) that climate change, among other impacts, could push portions of the Amazon to grasslands, devastating the world's greatest rainforest. "The greenness levels of Amazonian vegetation—a measure of its health—decreased dramatically over an area more than three and one-half times the size of Texas and did not recover to normal levels, even after the drought ended in late October 2010," explains the study's lead author Liang Xu of Boston University.
Amazon still neglected by researchers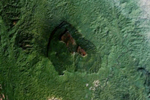 (03/28/2011) Although the Amazon is the world's largest tropical forest, it is not the most well known. Given the difficulty of access along with the fear of disease, dangerous species, indigenous groups, among other perceived perils, this great treasure chest of biology and ecology was practically ignored by scientists for centuries. Over the past few decades that trend has changed, however even today the Amazon remains lesser known than the much smaller, and more secure, tropical forests of Central America. A new study in mongabay.com's open access journal Tropical Conservation Science, which surveyed two prominent international tropical ecology journals (Biotropica and Journal of Tropical Ecology) between 1995 and 2008, finds that Central America was the subject of twice as many studies as the Amazon. In fact, according to the authors, much of the Amazon remains terra incognito to researchers, even as every year more of the rainforest is lost to human impacts.
Bill Clinton takes on Brazil's megadams, James Cameron backs tribal groups

(03/28/2011) Former US President, Bill Clinton, spoke out against Brazil's megadams at the 2nd World Sustainability Forum, which was also attended by former California governor, Arnold Schwarzenegger, and film director, James Cameron, who has been an outspoken critic of the most famous of the controversial dams, the Belo Monte on the Xingu River.
How to save the Pantanal and increase profits for the cattle industry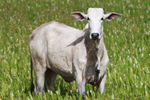 (03/28/2011) The Pantanal spanning Brazil, Bolivia, and Paraguay is the world's largest wetland—the size of Florida—and home to a wide-variety of charismatic species, such as jaguars, capybaras, and giant anteaters. However, the great wetland is threatened by expansion in big agriculture and an increasingly intensive cattle industry. Yet there is hope: a new study by Wildlife Conservation Society of Brazil (WCS-Brazil) researchers has found that cattle and the ecosystem can exist harmoniously. By replacing current practices with rotational grazing, cattle ranchers gain a healthier herd and more profits while safeguarding the ecological integrity and wildlife of the world's largest wetland system. The study published in mongabay.com's open access journal Tropical Conservation Science is a rare instance of a win-win situation.
New seabird discovered, first in 55 years

(03/23/2011) Stephen Maturin, if he were not fictional, would be delighted. A new seabird has been discovered by an international expedition headed by one of the world's top seabird-experts, Peter Harrison, after he received photos from vacationing birders of an unusual looking storm petrel off the coast of Chile.
Climate change caused by deforestation triggers species migration

(03/23/2011) Local climate shifts caused by deforestation and land cover change are causing insects to migrate to higher — and cooler — habitats, reports a new study published in the journal Biotropica. The research has implications for predicting how species will respond to climate change.
New population discovered of the America's mini snow leopard: the Andean cat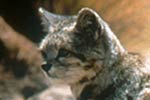 (03/16/2011) The elusive Andean cat (Leopardus jacobita), which until the late 1990s was only known to scientists by a couple photographs, has been discovered beyond the Andes mountain range for which it is named. According to researchers, the wild Andean cat resembles Asia's snow leopard, both in appearance and its habitat above altitudes of 3,000 meters (9,800 feet), only in this case the wild cat is about the size of a domesticated feline. But, scientists have now discovered that the cat, which is listed as Endangered by the IUCN Red List, also inhabits the Patagonian steppe at elevations as low as 650 meters (2,100 feet).
Into Colombia's Sierra Nevada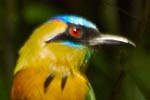 (03/11/2011) The highest coastal mountain on the planet rises 18,942 feet (5,775-meters) above the Caribbean Sea; it's snow-capped peaks piercing through the clouds some 24 miles from an idyllic tropical beach. But to the casual visitor, the Sierra Nevada of Santa Marta in Colombia does not seem so grandiose. It slopes up and down until it disappears into the clouds, jealously concealing its tropical glacier. Somewhere up there, shrouded in mystery, like an ancient treasure, hides the most impressive summit in the Caribbean. People living along this part of the coastline say the snows of the Sierra are visible from some beaches, but to me they remain elusive even after many trips to the region. To catch a glimpse of the snows from the Caribbean would be a welcoming gift, but I have really come here to experience the Sierra, whatever it would reveal.
Photos: two new freshwater stingrays discovered in the Amazon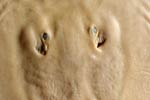 (03/09/2011) Few people probably realize that in the rivers and lakes of the Amazon rainforest large stingrays glide, searching for crustaceans and small fish. Equipped with a powerful barbed tail they are often feared by locals. However, even as big as these fish are, new species continue to be described. Recently, scientists have identified two new species of Amazonian freshwater stingray near Iquitos, Peru. The new stingrays are unique enough to be placed in a new genus (the taxonomic level above species) called Heliotrygon, the first new Amazonian stingray genus to be described in nearly 25 years.
World's most controversial dam, Brazil's Belo Monte, back on

(03/06/2011) A recent injunction against controversial dam, Belo Monte, in Brazil has been overturned, allowing the first phase of construction to go ahead. The ruling by a higher court argued that not all environmental conditions must be met on the dam in order for construction to start.
Report: 90 oil spills in Peruvian Amazon over 3 years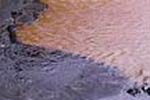 (03/03/2011) A new report has uncovered 90 oil spills by Pluspetrol in northern Peru's Amazon rainforest over the past 3 years. Covering two oil blocs—1-AB and 8—the report, complied by the Federation of Indigenous Communities of the Corrientes River (FECONACO), recorded 18 major oil spills in just the last year. "A week after the landmark ruling against Chevron in Ecuador for $9 billion of damage from operations in the 1970's and 80's, this new report highlights the ongoing devastation caused by the oil industry on the fragile Amazon ecosystem and the people that live there," said Atossa Soltani, Executive Director at Amazon Watch, in a press release.
New species of zombie-creating fungi discovered

(03/02/2011) As everyone knows, human zombies are created when an uninfected human is bitten by a member of the brain-craving undead. But what about ant zombies? Yes, that's right: ant zombies.
Indigenous leaders take fight over Amazon dams to Europe

(03/02/2011) Three indigenous Amazonian leaders spent this week touring Europe to raise awareness about the threat that a number of proposed monster dams pose to their people and the Amazon forest. Culminating in a press conference and protests in London, the international trip hopes to build pressure to stop three current hydroelectric projects, one in Peru, including six dams, and two in Brazil, the Madeira basin industrial complex and the massive Belo Monte dam. The indigenous leaders made the trip with the NGO Rainforest Foundation UK, including support from Amazon Watch, International Rivers, and Rainforest Concern.
Treasure chest of wildlife camera trap photos made public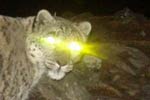 (02/27/2011) Photos taken by camera traps have not only allowed scientists to study little-seen, sometimes gravely endangered, species, they are also strangely mesmerizing, providing a momentary window—a snapshot in time—into the private lives of animals. These are candid shots of the wild with no human in sight. While many of the photos come back hazy or poor, some are truly beautiful: competing with the best of the world's wildlife photographers. Now the Smithsonian is releasing 202,000 camera trap photos to the public, covering seven projects in four continents. Taken in some of the world's most remote and untouched regions the automated cameras have captured such favorites as jaguars, pandas, and snow leopards, while also documenting little-known and rare species like South America's short-eared dog, China's golden snub-nosed monkey, and Southeast Asia's marbled cat.
Judge suspends Brazil's monster dam: contractor 'imposing' its interests

(02/27/2011) Construction on Brazil's planned mega-dam, the Belo Monte, has been ordered suspended by a federal judge, citing unmet environmental and social conditions. Just last month, the hugely controversial dam, was handed a partial license from Brazil's Environmental Agency (IBAMA). However, the judge, Ronaldo Destêrro, found that the partial license, the first of its kind in Brazil, was granted under pressure from the dam's contractor, Norte Energia or NESA.
First strike against illegal gold mining in Peru: military destroys miners' boats

(02/21/2011) Around a thousand Peruvian soldiers and police officers destroyed seven and seized thirteen boats used by illegal gold miners in the Peruvian Amazon, reports the AFP. The move is seen as a first strike against the environmentally destructive mining. Used to pump silt up from the river-bed, the boats are essential tools of the illegal gold mining trade which is booming in parts of the Amazon.
Researchers rediscover one of the world's most sought-after lost frogs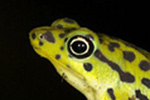 (02/17/2011) The Search for Lost Frogs, a global expedition to uncover amphibian species not seen for decades, has uncovered one of the expedition's most sought-after species: the Pescado stubfoot toad (Atelopus balios). The discovery in Ecuador was one bright spot in a search that revealed more about the crisis and extinctions of frogs than it did about the hopefulness of finding cryptic communities. In total the expedition rediscovered 4 of its 100 targeted species.
Worldwide search for 'lost frogs' ends with 4% success, but some surprises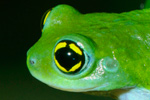 (02/16/2011) Last August, a group of conservation agencies launched the Search for Lost Frogs, which employed 126 researchers to scour 21 countries for 100 amphibian species, some of which have not been seen for decades. After five months, expeditions found 4 amphibians out of the 100 targets, highlighting the likelihood that most of the remaining species are in fact extinct; however the global expedition also uncovered some happy surprises. Amphibians have been devastated over the last few decades; highly sensitive to environmental impacts, species have been hard hit by deforestation, habitat loss, pollution, agricultural chemicals, overexploitation for food, climate change, and a devastating fungal disease, chytridiomycosis. Researchers say that in the past 30 years, its likely 120 amphibians have been lost forever.





Chevron found guilty, ordered to pay $8.2 billion in epic oil contamination fight

(02/14/2011) It was the environmental legal battle that some believed would never end (and they may still be right). But today in Lago Agrio, Ecuador, after 18 years of an often-dramatic court case, Chevron was found guilty of environmental harm and ordered to pay $8.2 billion in damages, however the oil giant says it will appeal the ruling. The lawsuit was filed by indigenous groups in the Ecuadorian Amazon who argue that poor environmental safeguards from Texaco in the 1970s and 80s led to widespread oil contamination and high rates of diseases, including cancer, among the populace. In 2001 Chevron purchased Texaco and inherited the legal fight. For its part, Chevron has dubbed the ruling "illegitimate" and with an appeal will drag the case on longer.




Page 1 | Page 2 | Page 3 | Page 4 | Page 5 | Page 6 | Page 7 | Page 8 | Page 9 | Page 10 | Page 11 | Page 12 | Page 13 | Page 14 | Page 15 | Page 16 | Page 17 | Page 18 | Page 19 | Page 20 | Page 21 | Page 22 | Page 23 | Page 24 | Page 25 | Page 26