News articles on sharks

---
Mongabay.com news articles on sharks in blog format. Updated regularly.






The biology and conservation of declining coral reefs, an interview with Kristian Teleki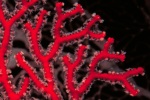 (08/15/2010) Coral reefs are often considered the "rainforests of the sea" because of their amazing biodiversity. In fact, coral reefs are one of the most diverse ecosystems on earth. It is not unusual for a reef to have several hundred species of snails, sixty species of corals, and several hundred species of fish. While they comprise under 1% of the world's ocean surface, one-quarter of all marine species call coral reefs their home. Fish, mollusks, sea stars, sea urchins, and more depend on this important ecosystem, and humans do too. Coral reefs supply important goods and services–from shoreline protection to tourism and fisheries–which by some estimates are worth $375 billion a year.
Citibank's shark fin soup promotion draws ire, ends early

(07/22/2010) Citibank Hong Kong has canceled its promotion of shark fin soup after activists cried foul, according to the New York Times. The branch had offered Citibank card holders 15 percent off a shark fin soup dinner at Maxim's Chinese Cuisine for the month of July.
Hawaii bans shark fin soup

(05/31/2010) Governor of Hawaii, Linda Lingle, has signed into law a ban on shark-fin soup beginning July 1st, 2011, according to Reuters. The soup is currently served in a number of Chinese restaurants in Hawaii, but the trade has decimated certain shark species due to overfishing.
World failing on every environmental issue: an op-ed for Earth Day
(04/22/2010) The biodiversity crisis, the climate crisis, the deforestation crisis: we are living in an age when environmental issues have moved from regional problems to global ones. A generation or two before ours and one might speak of saving the beauty of Northern California; conserving a single species—say the white rhino—from extinction; or preserving an ecological region like the Amazon. That was a different age. Today we speak of preserving world biodiversity, of saving the 'lungs of the planet', of mitigating global climate change. No longer are humans over-reaching in just one region, but we are overreaching the whole planet, stretching ecological systems to a breaking point. While we are aware of the issues that threaten the well-being of life on this planet, including our own, how are we progressing on solutions?
History repeats itself: the path to extinction is still paved with greed and waste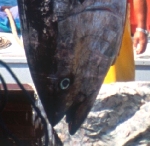 (04/05/2010) As a child I read about the near-extinction of the American bison. Once the dominant species on America's Great Plains, I remember books illustrating how train-travelers would set their guns on open windows and shoot down bison by the hundreds as the locomotive sped through what was left of the wild west. The American bison plunged from an estimated 30 million to a few hundred at the opening of the 20th century. When I read about the bison's demise I remember thinking, with the characteristic superiority of a child, how such a thing could never happen today, that society has, in a word, 'progressed'. Grown-up now, the world has made me wiser: last month the international organization CITES (Convention on International Trade in Endangered Species) struck down a ban on the Critically Endangered Atlantic bluefin tuna. The story of the Atlantic bluefin tuna is a long and mostly irrational one—that is if one looks at the Atlantic bluefin from a scientific, ecologic, moral, or common-sense perspective.
CITES chooses 'commerce' over sharks, leaving endangered species vulnerable

(03/23/2010) Only the porbeagle shark received protection today from the Convention on International Trade in Endangered Species (CITES). Seven other shark species failed to win international protection despite plummeting populations due to overfishing. Once again, Japan led the opposition to regulating the trade in white-tipped sharks and scalloped hammerheads, including two look-alike species: the great hammerhead and the smooth hammerhead. Japan has dominated the CITES meeting, successfully leading resistance to banning the trade in the Critically Endangered Atlantic bluefin tuna and against monitoring the coral trade.
Sharks lose out at UN meeting

(03/17/2010) An effort to bolster conservation measures for plummeting shark populations was defeated yesterday at the Convention on International Trade in Endangered Species (CITES), according to the AP. The nonbinding measure would have increased transparency in the shark trade and produced research on illegal fishing for sharks.
Sharks swim safe around the Maldives

(03/11/2010) Sharks that dwell in the Maldives can breathe a sigh of relief: the island nation has declared 90,000 square kilometers of the Indian Ocean a safe-haven for sharks, banning shark fishing as well as any trade in shark fins.
With increased protection, Gulf of California marine life could recover

(02/22/2010) The Gulf of California's once rich marine ecosystem is in trouble. Surveys from 1999 and 2009 revealed that during the ten-year-period 60 percent of the areas showed signs of degradation, including the loss of top predators necessary to keep an ecosystem healthy, for example sharks, groupers, and snappers.
UN to protect seven migratory sharks, but Australia opts out

(02/17/2010) One hundred and thirteen countries have signed on to an agreement to protect seven migratory sharks currently threatened with extinction byway of the Convention on the Conservation of Migratory Species of Wild Animals (CMS), according to the UN Environment Program (UNEP). The agreement prohibits hunting, fishing, or deliberate killing of the great white shark, basking shark, whale shark, porbeagle shark, spiny dogfish, as well as the shortfin and longfin mako sharks. However, Australia has declared it will ignore certain protections.
Actions taken to save sharks 'disappointing'

(11/15/2009) Environmentalists say that the International Commissions for the Conservation of Atlantic Tuna (ICCAT) did not do enough in their yearly meeting to protect the ocean's sharks.
California's great white sharks are a distinct population

(11/04/2009) Researchers have long thought that white sharks migrated across oceans, but a new study in the Proceedings of the Royal Society B shows that the population in the northeastern Pacific Ocean, along California, hasn't mixed with other white sharks for tens of thousands of years.
New species of ghostshark discovered off California's coast

(09/22/2009) The discovery of Eastern Pacific black ghostshark Hydrolagus melanophasma is notable for a number of reasons. It is the first new species of cartilaginous fish—i.e fish whose skeletons are made entirely of cartilage, such as sharks, rays, and skate—to be described in California water since 1947. It is also a representative of an ancient and little-known group of fish.
Over 30 percent of open ocean sharks and rays face extinction
(06/25/2009) The first global study of open ocean (pelagic) sharks and rays found that 32 percent of the species are threatened with extinction largely due to overfishing and bycatch, making pelagic sharks and rays more threatened than birds (12 percent), mammals (20 percent), and even amphibians (31 percent), which are considered to be undergoing an extinction crisis. The situation worsens when only sharks taken in high-seas fisheries are considered: 52 percent of these species are threatened.
Secret movements of the basking shark uncovered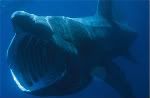 (05/07/2009) Researchers with the Massachusetts Mariner Fisheries have uncovered the secret life of the world's second largest fish, known for its cavernous mouth. The basking shark, which measures over 10 meters and weighs as much as seven tons, has long baffled scientists by disappearing from view half of every year. A new study from Current Biology found that the basking shark spends this time deep in the Atlantic's tropical waters.
Whale sharks threatened by interbreeding
(04/08/2009) The world's largest living fish, the whale shark, is threatened by interbreeding, according to a new study in PLoS ONE. Comparing the DNA of 68 individual whale sharks from eleven locations across the globe, geneticists found that the whale sharks had little genetic variation between the populations.
Hundreds of rare and bizarre marine species discovered

(11/09/2008) The evolutionary origin of deep sea octopuses, new species populating an underwater "continent", 12,000 amphipods crowding a square meter in the Gulf of Mexico, massive gatherings of white sharks in the middle of the Pacific: these are just a few highlights from the Census of Marine Life (COML)'s fourth report.
Sharks in trouble after nations fail to create sustainable management programs

(11/06/2008) Sharks are disappearing from the ocean at startling rates: currently one-in-five of these famous marine predators are threatened with extinction. According to a report from the Australian Government and TRAFFIC—an organization that monitors wildlife trade both legal and illegal—the collapse of shark populations is being caused largely by rising demand for shark fin in Asia. The report shows that legal fishing for sharks has become nearly as detrimental as illegal, since few fisheries have management strategies concerned with sustainability.
The long-ignored ocean emergency and what can be done to address it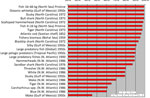 (08/18/2008) This year has been full of bad news regarding marine ecosystems: one-third of coral species threatened with extinction, dead-zones spread to 415 sites, half of U.S. reefs in fair or bad condition, increase in ocean acidification, tuna and shark populations collapsing, and only four percent of ocean considered pristine. Jeremy Jackson, director of the Scripps Center for Marine Biodiversity and Conservation at the University of California, San Diego, synthesizes such reports and others into a new paper, published in the journal Proceedings of the National Academy of Sciences, that boldly lays out the scope of the oceanic emergency and what urgently needs to be done.
Large shark populations fall 97% in the Mediterranean

(06/12/2008) Populations of some shark species in the Mediterranean have plunged by more than 97 percent over the past 200 years, report researchers writing in the journal conservation Biology. Several species are at risk of extinction.
Fatal San Diego Shark Attack a Rare Event

(04/25/2008) Friday morning a 66-year-old swimmer was attacked and killed by a shark off Solana Beach in San Diego county. It was the first fatal shark attack in San Diego since 1994.
Expedition finds inverted pyramid where sharks dominate marine ecology

(02/25/2008) A survey of a remote Pacific archipelago turned up pristine coral reefs that could offer a "baseline" for measuring the human impact on reefs worldwide, report researchers from the Scripps Institution of Oceanography (SIO) at the University of California at San Diego.
Mysteries of the Great White Shark unveiled

(02/17/2008) The Great White Shark has always been a creature of mystery. The world's largest shark has long fascinated humanity from the novel and film Jaws to recent sumptuous footage of the sharks catching sea lions in Planet Earth. The behemoth, who at times can reach seven meters in length, has also become famous for occasionally attacking swimmers and surfers, though scientists believe the sharks do not intentionally hunt humans. However, the great predator's behvaior and lifecycle remains mostly mysterious to science. Some of these mysteries are just now being unraveled thanks to the Tagging of Pacific Predators (TOPP) program.
Giant manta ray born in captivity for first time

(06/18/2007) For the first time, a giant manta ray was born in captivity at an aquarium in Japan, reports the Associated Press. The baby manta ray was born Saturday at the Okinawa Churaumi Aquarium, 374 days after its parents mated. The birth was recorded on film.
Trade in sawfish banned

(06/11/2007) Trade restrictions for the endangered sawfish have been approved at the Convention on International Trade in Endangered Species (CITES) meeting the The Hague. All seven species of sawfish has been added to Appendix I of the convention, banning international commercial trade. One species, found in Australia, was added to Appendix II, restricting trade to live animals for conservation purposes.
Sharks do not win CITES protection

(06/08/2007) Two endangered species of sharks failed to win protection at the Convention on International Trade in Endangered Species (CITES) meeting in The Hague.
Shark fin does not cure cancer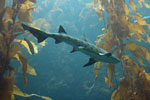 (06/03/2007) Shark cartilage, long believed in traditional medicine to be an anti-cancer agent, confers no health benefits in lung cancer survival reports an extensive study presented at the 43rd annual meeting of the American Society of Clinical Oncology. The lead author said the findings cast major skepticism on shark cartilage products that are being sold for profit and have no data to support their efficacy as cancer-fighting agent.
Shark has virgin birth

(05/23/2007) A captive hammerhead shark gave birth to a pup without mating, reported researchers on Wednesday. It is the first time that parthenogenesis, as virginal birth as called, has been observed in a shark.
Overfishing of sharks causing shellfish decline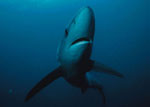 (03/29/2007) Overfishing of large sharks is reducing the abundance of shellfish reports a study published in the March 30 issue of the journal Science. A team of Canadian and American biologists has found that population declines in large predatory shark species -- including bull, great white, dusky, and hammerhead sharks -- due to overfishing has led to a boom in their ray, skate, and small shark prey species along the Atlantic Coast of the United States. Now these smaller species are depleting commercially important shellfish.
New shark species discovered in Indonesia

(02/28/2007) Scientists discovered at least 20 previously unknown species in the first comprehensive survey of Indonesia's sharks and rays in nearly 150 years. Six of their discoveries have now been formally described, while the others will be documented in forthcoming scientific papers.
Sharks increasingly endangered as finning, overfishing take toll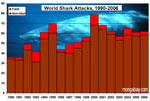 (02/23/2007) Scientists added several species of pelagic sharks to IUCN Red List of Threatened Species after research found them to be more endangered than previously thought. Three species of thresher sharks were listed as Vulnerable globally, while the shortfin mako was upgraded (or downgraded depending on one's perspective) from Near Threatened in 2000 to Vulnerable and the scalloped hammerhead shark was moved from Near Threatened to Endangered. The decisions are based on work by the IUCN SSC Shark Specialist Group (SSG).
U.S. leads world in shark attacks in 2006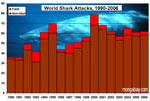 (02/13/2007) The United States led the world in shark attacks in 2006, according to figures released from the University of Florida's International Shark Attack File. The U.S. had 38 shark attacks, down from 40 in 2005. Globally there were 62 known shark attacks in 2006, an increase of 1 from 2005, but well below the 79 attacked recorded in 2000.
Unusual prehistoric shark beast captured in Japan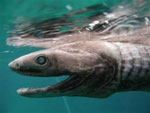 (01/24/2007) A rare frilled shark was captured live by fishermen off the coast of Japan. The toothy eel-like creature was taken to Awashima Marine Park in Shizuoka where it later died according to Reuters.





Great Barrier Reef shark populations collapsing finds study

(12/04/2006) Coral reef shark populations are declining rapidly due to fishing according to research published in the December 5th issue of the journal Current Biology. The paper says that "no-take zones" -- areas where fishing is prohibited -- can be effective in protecting sharks but only when the no-take regulations are strictly enforced. Examining two common species of sharks on the Great Barrier Reef in Australia, the researchers found that both populations are in the midst of a rapid population decline -- 7% per year for white tip sharks and 17% per year for gray reef sharks, showing that current shark conservation strategies are not effective.





Up to 73 million sharks killed per year for their fins

(10/04/2006) Between 26 million and 73 million sharks are killed each year for their fins according to a new paper published in the October 2006 edition of Ecology Letters. The estimates are three times higher than those projected by the United Nations.





New species of 'walking' shark discovered

(09/18/2006) Two recent expeditions led by conservation International (CI) to the heart of Asia'Coral Triangle' discovered dozens of new species of marine life including epaulette sharks, 'flasher' wrasse and reef-building coral, confirming the region as the Earthapos;s richest seascape.





Sharks tracked by satellite

(10/09/2005) Electronic tags broadcasting from the dorsal fins of salmon sharks reveal that these top predators migrate from the glacial waters of Alaska to the warm seas off Hawaii, according to a new study in the journal Science.





Great White Shark swims 12,400 miles, shocks scientists

(10/06/2005) A female great white shark tagged in waters off South Africa has completed the first known transoceanic trip for an individual shark, traveling farther than any other shark known, more than 12,400 miles (more than 20,000 kilometers) to the coast of Australia and back again, according to the Bronx Zoo-based Wildlife conservation Society (WCS) and other organizations in the most recent edition of the journal Science.




Page 1 | Page 2