News articles on sea ice

---
Mongabay.com news articles on sea ice in blog format. Updated regularly.






Ringed and bearded seals to be listed as Threatened

(12/29/2010) The National Oceanic and Atmospheric Administration has proposed listing bearded and ringed seals as threatened under the Endangered Species Act. NOAA highlights the disappearance of arctic sea ice and reduced snow cover as the major threats to the species.
Disappearance of arctic ice could create 'grolar bears', narlugas; trigger biodiversity loss

(12/22/2010) The melting of the Artic Ocean may result in a loss of marine mammal biodiversity, reports a new study published in the journal BNature and conducted jointly by the National Oceanic and Atmospheric Association (NOAA), the University of Alaska, and the University of Massachusetts. The study is the first to project what might happen if species pushed into new habitats because of ice loss hybridize with one another, resulting in such crossbreeds as "narlugas" and "grolar bears".
New hope for polar bears

(12/17/2010) Once thought of as a doomed species, new research published in the journal Nature and conducted by scientists from several institutions, including the National Science Foundation and the U.S. Geological Survey, finds that polar bears could be saved from extinction - if certain measures are taken.
June was the 304th month in a row above average temperatures

(07/20/2010) Data released from the US's National Oceanic and Atmospheric Administration (NOAA) and the National Climatic Data Center shows that June 2010 was a record breaker. It was the warmest month of June globally since record-taking began in 1880 and it is the 304th month in a row that has been above the 20th Century average. The last month to fall below the average was February 1985: the month Nelson Mandela, who recently celebrated his 92nd birthday, rejected an offer of freedom from the then apartheid government.
Arctic ice hits lowest record for June

(07/14/2010) In June the average sea ice extent in the Arctic was the lowest on record for that month, according to the National Snow and Ice Data Center (NSIDC). Measured by satellites, the seasonal movements of Arctic ice have been tracked since 1979 with a dramatic decline seen over the last 30 years. This decline is linked by climatologists to climate change.
High Arctic species plummeting across the board, others Arctic residents on the rise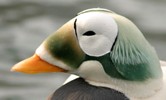 (03/18/2010) Between 1970 and 2004 species populations in the high Arctic have declined by 26 percent, according to the first report by the Arctic Species Trend Index (ASTI). While this may be a natural cycle, scientists are concerned that environmental impacts such as climate change are worsening natural population fluctuations in the high Arctic. Declining species include lemmings, red knot, and caribou. "Rapid changes to the Arctic's ecosystems will have consequences for the Arctic that will be felt globally. The Arctic is host to abundant and diverse wildlife populations, many of which migrate annually from all regions of the globe. This region acts as a critical component in the Earth's physical, chemical, and biological regulatory system," lead-author Louise McRae from the Zoological Society of London (ZSL) said in a press release.
Photos: ten beloved species threatened by global warming

(12/14/2009) The International Union for the Conservation of Nature (IUCN) has released a list of ten species that are likely to be among the hardest hit by climate change, including beloved species such as the leatherback sea turtle, the koala, the emperor penguin, the clownfish, and the beluga whale. The timing of the list coincides with the negotiations by world leaders at the UN Climate Change Conference to come up with an international agreement to combat climate change.
Sea levels set to rise more than expected due to 'deeply surprising' Greenland melt

(12/14/2009) A new study by the Arctic Monitoring and Assessment Program estimates that the sea will rise by 0.5 to 1.5 meters by 2100, threatening coastal cities and flooding island nations. This is double the predicted rise estimated by the UN's Intergovernmental Panel on climate Change (IPCC) in 2007, which did not incorporate sea level rise due to the melting of Greenland and Antarctica's ice sheets.
Satellite lasers show melting of Greenland, Antarctic worse than expected

(09/23/2009) Researchers examining 43 million satellite measurements of Antarctica's thinning ice sheets and 7 million of Greenland's, show that the ice is melting faster than expected. Published in Nature the research is the most comprehensive picture to date of the melting glaciers, allowing scientists to better predict how sea levels may rise.
Sea levels set to rise as Arctic warming replaces millennia long natural cooling cycle
(09/03/2009) According to a new study published in Science the Arctic should be cooling, and in fact has been cooling for millennia. But beginning in 1900 Arctic summer temperatures began rising until the mid-1990s when the cooling trend was completely overcome. Researchers fear that this sudden up-tick in temperatures could lead to rising sea levels threatening coastal cities and islands. "Scientists have known for a while that the current period of warming was preceded by a long-term cooling trend," said lead author Darrell Kaufman of Northern Arizona University. "But our reconstruction quantifies the cooling with greater certainty than ever before."
Summer sea ice likely to disappear in the Arctic by 2015

(08/31/2009) If current melting trends continue, the Arctic Ocean is likely to be free of summer sea ice by 2015, according to research presented at a conference organized by the National Space Institute at Technical University of Denmark, the Danish Meteorological Institute and the Greenland Climate Center.
Record global ocean temperature in July

(08/19/2009) The world's ocean surface temperature was the warmest on record for July, breaking the previous record set in 1998, reports NOAA's National Climatic Data Center. At 62.56°F (16.99°C), ocean temperatures were 1.06°F (0.59°C) above the 20th century average.
NASA reveals dramatic thinning of Arctic sea ice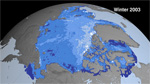 (07/07/2009) Arctic sea ice thinned dramatically between the winters of 2004 and 2008, with thin seasonal ice replacing thick older ice as the dominant type of sea ice for the first time on record, report NASA researchers. Scientists from NASA and the University of Washington used observations from NASA's Ice, Cloud and land Elevation Satellite (ICESat) to make the first Arctic Ocean basin-wide estimate of the thickness and volume of sea ice cover. The researchers found that overall Arctic sea ice thinned about 17.8 centimeters (7 inches) a year, for a total of 67 cm (2.2 feet) over the four winters from 2004 to 2008. The total area covered by thick older ice that survives one or more summers ("multi-year ice") shrank 42 percent or 1.54 million square kilometers (595,000 square miles), leaving thinner first-year ice ("seasonal ice") as the dominant type of ice in the region.
Photo: guano stains helps researchers track penguins by satellite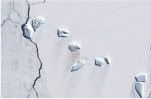 (06/10/2009) Researchers from the British Antarctic Survey (BAS) have uncovered a novel way to locate the world's largest penguin's breeding sites, employing satellite imagery they seek out Emperor penguin guano, droppings which show up starkly on the otherwise unsullied white sea ice of Antarctica. Searching for the penguins themselves had proven too difficult, since the birds' black-and-white coloring allowed them to blend in with the shadows made by the ice. The penguin droppings however are light-brown—a colors that has no other source on sea ice, besides guano.
Study refutes criticism of polar bear listing under the Endangered Species Act

(05/20/2009) In May 2008 the Bush Administration listed the polar bear under the Endangered Species Act (ESA). The listing immediately received allegations of being politically biased and not based on sound science. However, a new paper addresses the allegations point by point and concludes that the decision to add the polar bear under the ESA was not only scientifically sound, but right.
Antarctica's sea ice increasing due to ozone hole, but scientists predict global warming will catch-up

(04/23/2009) Increasing ice in Antarctica is not a sign that the earth is actually cooling instead of warming as some climate change-skeptics have attested. A new study finds that the growth in Antarctic ice during the last 30 years is actually due to shifting weather patterns caused by the hole in the ozone layer. The researchers predict that eventually global warming will catch up to Antarctica leading to overall melting as it has in the Arctic.
Cutting greenhouse gases now would save world from worst global warming scenarios
(04/14/2009) If nations worked together to produce large cuts in greenhouse gases, the world would be saved from global warming's worst-case-scenarios, according to a new study from the National Center for Atmospheric Research (NCAR). The study found that, although temperatures are set to rise this century, cutting greenhouse gases by 70 percent the globe could avoid the most dangerous aspects of climate change, including a drastic rise in sea level, melting of the Arctic sea ice, and large-scale changes in precipitation. In addition such cuts would eventually allow the climate to stabilize by the end of the century rather than a continuous rise in temperatures.
How satellites are used in conservation
(04/13/2009) In October 2008 scientists with the Royal Botanical Garden at Kew discovered a host of previously unknown species in a remote highland forest in Mozambique. The find was no accident: three years earlier, conservationist Julian Bayliss identified the site—Mount Mabu—using Google Earth, a tool that's rapidly becoming a critical part of conservation efforts around the world. As the discovery in Mozambique suggests, remote sensing is being used for a bewildering array of applications, from monitoring sea ice to detecting deforestation to tracking wildlife. The number of uses grows as the technology matures and becomes more widely available. Google Earth may represent a critical point, bringing the power of remote sensing to the masses and allowing anyone with an Internet connection to attach data to a geographic representation of Earth.
Arctic ecosystem in danger as ice thins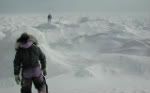 (04/07/2009) Recent dramatic news points to both poles undergoing transformation due to climate change. This weekend an ice bridge disintegrated on the Wilkins Ice Shelf in Antarctica, leaving the whole shelf vulnerable to melting, and then yesterday new evidence was released of the impact of warming in the Arctic. Younger thinner ice has become the dominant type in the Arctic over the past five years, reports a new study led by Research Associate Charles Fowler of the Colorado Center for Astrodynamics Research. The thinner ice does not bode well for the Arctic ecosystem, as the ice is more prone to summer melting.
Ice bridge collapses, leaving Wilkins Ice Shelf vulnerable

(04/05/2009) As though commenting on world leader's lack of progress in combating climate change at the G20 conference last week, an ice bridge connecting the Wilkins Ice Shelf to the Antarctic continent broke off over the weekend. Long expected by scientists, the break is perhaps the beginning of the Wilkins Ice Shelf completely coming loose from Antarctica.
Climate change doubles coastal erosion in Alaska over 5-year period

(02/18/2009) Coastal erosion along a 64-kilometer (40-mile) stretch of Alaska's Beaufort Sea doubled between 2002 and 2007, report researchers, who link the development to "declining sea ice extent, increasing summertime sea-surface temperature, rising sea level, and increases in storm power and corresponding wave action."
As sea ice retreats, swathe of Arctic closed to fishing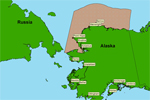 (02/06/2009) The North Pacific Fishery Management Council (NPFMC) voted unanimously to close off more than 150,000 square nautical miles of the Arctic sea to commercial fishing. The decision, welcomed by an array of environmentalists and industry groups, is a preventative measure to protect fisheries that have become more accessible as a result of declining sea ice in the Arctic. It is the first time that the federal government has closed a fishery due to climate change instead of over-fishing, says supporters of the ban.
Global warming to strengthen Arctic storms

(02/05/2009) Arctic storms could worsen due to climate change, putting fisheries, oil and gas exploration, and sea lanes at risk, warn researchers writing in the journal Climate Dynamics.
Observed sea level rise, ice melt far outpaces projections
(12/17/2008) Sea levels will rise faster than previously estimated due to rapid melting of glaciers and ice sheets, according to a U.S government report released at the annual meeting of the American Geophysical Union in San Francisco. The report, titled Abrupt Climate Change, incorporates research published since last year's Intergovernmental Panel on Climate Change (IPCC) report, which drew largely from studies dating up to 2006. Most significantly, Abrupt Climate Change suggests that IPCC estimates for future sea level rise (18-58 cm) are conservative, noting that recent observations on sea level rise and loss of sea ice are far outpacing previous projections.
NOAA offers "dramatic evidence" of Arctic warming

(10/16/2008) Fall air temperatures 9°F (5°C) above normal, the second lowest-ever extent of summer sea ice, and the melting of surface ice in Greenland are signs of continued warming in the Arctic, according to the Arctic Report Card, an annual review of Arctic conditions by U.S. National Oceanic and Atmospheric Administration (NOAA) and its partners.
U.S. to ban oil drilling in new Arctic reserves for polar bears

(10/07/2008) The U.S. Department of the Interior will designate two Arctic reserves in areas considered critical habitat for polar bears as part of a legal settlement with environmental groups, reports Reuters. The reserves will be off-limits of oil development and must be established by June 30, 2010.
Arctic sea ice "likely" hit lowest volume on record in 2008

(10/03/2008) The volume of sea ice in the Arctic has likely hit its lowest level since satellite measurements began in 1979, report researchers at the University of Colorado at Boulder's National Snow and Ice Data Center, who confirmed that Arctic sea ice extent was the second-lowest on record this year.
Arctic sea ice falls to second lowest on record

(09/16/2008) Arctic sea ice retreated to the second lowest level on record but remains about 9 percent above the low set last September, reports the NASA and the National Snow and Ice Data Center in Boulder, Colorado.
NASA: Sea ice melt opens the Northwest and Northeast Passage

(09/09/2008) An image released by NASA shows that Arctic sea ice has retreated to the point where both the Northwest Passage around North America and the Northern Sea Route around Russia are open simultaneously. The occurrence marks the first time on record that both passages have been open.
Canada's ice shelves lost 23% of their area this summer

(09/03/2008) A 19-square-mile (50 sq km) chuck of ice shelf broke off from Canada's Ellesmere Island in the northern Arctic, reports the Associated Press. The Manhattan-sized ice shelf is now adrift in the Arctic Ocean. It is the largest of more than 83 sq mi (214 sq km) of ice shelf that has broken up in the Canadian Arctic this year.
Researchers evacuated due to polar bear trapped on land by melting sea ice

(08/07/2008) The Wildlife Conservation Society (WCS) evacuated five of its scientists from a remote camp in northern Alaska because of a new and unusual threat: a polar bear stuck on land due to climate change. Polar bears would normally be out on sea ice this time of year, but with recent warming the ice is miles from shore and bears are becoming increasingly trapped on land well away from their usual seal prey.
The Arctic's most threatened marine mammals due to climate change

(04/25/2008) A recent study has measured the sensitivity to Arctic marine mammals to climate change. The study found that the three species most vulnerable to climate change are the hooded seal, the polar bear, and the narwhal: the common thread between these species being the loss of sea ice.
Sunshine worsens Arctic sea ice melt

(04/21/2008) Arctic sea ice is increasingly vulnerable to sunny days, concludes new research published in the journal Geophysical Research Letters.
Swan finds love with paddleboat

(03/25/2008) In a bizarre story out of Muenster, Germany, a black swam will be reunited with its companion — a paddleboat shaped like an outsized white swan, reports the Associated Press.
Photos: Warming triggers massive Antarctic ice shelf collapse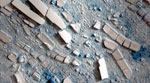 (03/25/2008) Satellites have captured the collapse of a massive ice shelf in Antarctica. At 160 square miles the area of collapsed ice was seven times the size of Manhattan. Scientists say the collapse is the beginning of a "runaway" disintegration of the 13,680 square kilometer (5,282 square mile) Wilkins Ice Shelf on the southwest Antarctic Peninsula. The region has experienced the largest temperature increase on the planet, rising by 0.5 degree Celsius (0.9 degree Fahrenheit) per decade over the past 50 years.





Perennial ice disappearing in the Arctic receives little attention from the media

(03/19/2008) A big story came out on the loss of perennial ice in Arctic from NASA on Wednesday — and was mostly ignored by the media. Despite a colder winter than usual, the Arctic is losing its perennial ice (ice that lasts longer than a season) making the region even more susceptible to global warming. Perennial ice used to cover 50-60 percent of the Arctic. Results from this year's satellites show that perennial ice has decreased to less than 30 percent. In addition ice older than six years has declined from 20 percent in the eighties to six percent today.







NASA: Arctic Ocean circulation reversal not due to global warming

(11/13/2007) A study published in Geophysical Research Letters shows that weakening of the Arctic Oscillation results from a cyclical process rather than climate change. The results suggest not all the large changes seen in Arctic climate in recent years are a result of long-term trends associated with global warming.







Northwest Passage now open for business

(09/15/2007) Melting sea ice has opened the Northwest Passage in the Arctic to navigation, reports the European Space Agency. The clearing allows direct access between the North Pacific and North Atlantic and could eventually be a cheaper shipping route that the Panama Canal.





Arctic sea ice thickness only half of 2001 level

(09/14/2007) Arctic sea is thinning and disappearing, report German researchers. An Alfred-Wegener-Institute for Polar and Marine Research expedition to the North Polar Sea found that large areas of the Arctic sea-ice are only one meter thick this year -- half the thickness found in 2001. The findings support concerns that large expanses of polar ice could soon disppaear from the Arctic during summer months.





Arctic sea ice melts to all-time record low

(09/12/2007) Sea ice cover in the Arctic Ocean is presently 20 percent below its all time lowest extent and may decline further before winter, said scientists from the National Snow and Ice Data Center in Boulder (NSIDC).





Two-thirds of polar bears at risk of extinction by 2050

(09/07/2007) Two-thirds the world's polar bears could be threatened with extinction by 2050 due to melting sea ice, said U.S. government scientists Friday. U.S. Geological Survey scientists said that the United States (the north coast of Alaska) and Russian would likely lose all of their polar bear populations. The only bears expected to survive would be those in the northern Canadian Arctic islands and the west coast of Greenland. Overall, bears are forecast to lose 42 percent of the Arctic range they need to hunt and breed during summer months.




Page 1 | Page 2 | Page 3