News articles on saving the amazon

---
Mongabay.com news articles on saving the amazon in blog format. Updated regularly.






The real Avatar story: indigenous people fight to save their forest homes from corporate exploitation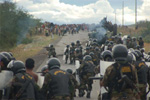 (12/22/2009) In James Cameron's newest film Avatar an alien tribe on a distant planet fights to save their forest home from human invaders bent on mining the planet. The mining company has brought in ex-marines for 'security' and will stop at nothing, not even genocide, to secure profits for its shareholders. While Cameron's film takes place on a planet sporting six-legged rhinos and massive flying lizards, the struggle between corporations and indigenous people is hardly science fiction.
Brazilian tribe owns carbon rights to Amazon rainforest land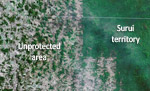 (12/09/2009) A rainforest tribe fighting to save their territory from loggers owns the carbon-trading rights to their land, according to a legal opinion released today by Baker & McKenzie, one of the world's largest law firms. The opinion, which was commissioned by Forest Trends, a Washington, D.C.-based forest conservation group, could boost the efforts of indigenous groups seeking compensation for preserving forest on their lands, effectively paving the way for large-scale indigenous-led conservation of the Amazon rainforest. Indigenous people control more than a quarter of the Brazilian Amazon.
Destruction of old-growth forests looms over climate talks
(12/08/2009) Destruction of old-growth or primary forests looms large in discussions in Copenhagen over a scheme to compensate tropical countries for reducing emissions from deforestation and degradation (REDD). Some environmental groups are pressing for conservation of old-growth forests — the most carbon-dense, and biologically-rich state of forests — to be the centerpiece of REDD, while industry and other actors are pushing for "sustainable forest management" or logging using reduced-impact techniques to be the primary focus of REDD.
Brazil could halt Amazon deforestation within a decade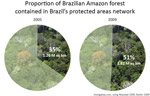 (12/03/2009) Funds generated under a U.S. cap-and-trade or a broader U.N.-supported scheme to reduce greenhouse gas emissions from deforestation and degradation ("REDD") could play a critical role in bringing deforestation in the Brazilian Amazon to a halt, reports a team writing in the journal Science. But the window of opportunity is short — Brazil has a two to three year window to take actions that would end Amazon deforestation within a decade.
Ethnographic maps built using cutting-edge technology may help Amazon tribes win forest carbon payments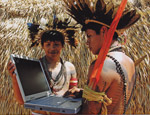 (11/29/2009) A new handbook lays out the methodology for cultural mapping, providing indigenous groups with a powerful tool for defending their land and culture, while enabling them to benefit from some 21st century advancements. Cultural mapping may also facilitate indigenous efforts to win recognition and compensation under a proposed scheme to mitigate climate change through forest conservation. The scheme—known as REDD for reducing emissions from deforestation and degradation—will be a central topic of discussion at next month's climate talks in Copenhagen, but concerns remain that it could fail to deliver benefits to forest dwellers.
No-shows among South American leaders at Amazon summit

(11/27/2009) A summit between South American leaders to devise a plan to save the Amazon, failed to come up with a "common stance" on deforestation, as five of the eight invited leaders failed to show up to the meeting, reports Al Jazeera.
Deforestation emissions should be shared between producer and consumer, argues study
(11/19/2009) Under the Kyoto Protocol the nation that produces carbon emission takes responsibility for them, but what about when the country is producing carbon-intensive goods for consumer demand beyond its borders? For example while China is now the world's highest carbon emitter, 50 percent of its growth over the last year was due to producing goods for wealthy countries like the EU and the United States which have, in a sense, outsourced their manufacturing emissions to China. A new study in Environmental Research Letters presents a possible model for making certain that both producer and consumer share responsibility for emissions in an area so far neglected by studies of this kind: deforestation and land-use change.
Amazonian natives say they will defend tribal lands from Hunt Oil with "their lives"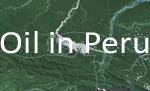 (10/25/2009) Indigenous natives in the Amazon are headed to the town of Salvacion in Peru with a plan to forcibly remove the Texas-based Hunt Oil company from their land as early as today. Peruvian police forces, numbering in the hundreds, are said to be waiting in the town. The crisis has risen over an area known as Lot 76, or the Amarakaeri Communal Reserve. The 400,000 hectare reserve was created in 2002 to protect the flora and fauna of the area, as well as to safeguard watersheds of particular importance to indigenous groups in the region.
Will tropical trees survive climate change?, an interview with Kenneth J. Feeley

(09/24/2009) One of the most pressing issues in the conservation today is how climate change will affect tropical ecosystems. The short answer is: we don't know. Because of this, more and more scientists are looking at the probable impacts of a warmer world on the Earth's most vibrant and biodiverse ecosystems. Kenneth J. Feeley, tropical ecologist and new professor at Florida International University and the Center for Tropical Plant Conservation at the Fairchild Tropical Botanic Garden, is conducting groundbreaking research in the tropical forests of Peru on the migration of tree species due to climate change.
Social causes of deforestation in the Amazon rainforest

(09/14/2009) Understanding the web of social groups involved in deforestation in the Brazilian Amazon is key to containing forest loss, argues a leading Amazon researcher writing in the journal Ecology and Society. Philip Fearnside of the National Institute for Research in the Amazon (INPA) reviews nine actors that have had significant roles in deforestation and reports differences in why they deforest, where they are active, and how they interact with each other.
Concerns over deforestation may drive new approach to cattle ranching in the Amazon
(09/08/2009) While you're browsing the mall for running shoes, the Amazon rainforest is probably the farthest thing from your mind. Perhaps it shouldn't be. The globalization of commodity supply chains has created links between consumer products and distant ecosystems like the Amazon. Shoes sold in downtown Manhattan may have been assembled in Vietnam using leather supplied from a Brazilian processor that subcontracted to a rancher in the Amazon. But while demand for these products is currently driving environmental degradation, this connection may also hold the key to slowing the destruction of Earth's largest rainforest.
Activists target Brazil's largest driver of deforestation: cattle ranching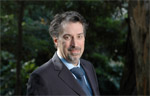 (09/08/2009) Perhaps unexpectedly for a group with roots in confrontational activism, Amigos da Terra - Amazônia Brasileira is calling for a rather pragmatic approach to address to cattle ranching, the largest driver of deforestation in the Brazilian Amazon. The solution, says Roberto Smeraldi, founder and director of Amigos da Terra, involves improving the productivity of cattle ranching, thereby allowing forest to recover without sacrificing jobs or income; establishing a moratorium on new clearing; and recognizing the economic values of maintaining the ecological functions of Earth's largest rainforest.
Amazon tribes have long fought bloody battles against big oil in Ecuador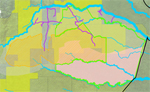 (09/03/2009) The promotional efforts ahead of the upcoming release of the film Crude have helped raise awareness of the plight of thousands of Ecuadorians who have suffered from environmental damages wrought by oil companies. But while Crude focuses on the relatively recent history of oil development in the Ecuadorean Amazon (specifically the fallout from Texaco's operations during 1968-1992), conflict between oil companies and indigenous forest dwellers dates back to the 1940s.
New Amazonian reserve saves over a million acres in Peru
(08/30/2009) On August 27th Peru's Ministry of the Environment approved the creation of the Matses National Reserve to protect the region's biodiversity, ensure its natural resources, and preserve the home of the Matses indigenous peoples (known as the Mayorunas in Brazil). The park is 1,039,390 acres (or 420,626 hectares) of lowland Amazonian rainforest in eastern Peru. The park is the culmination of over a decade of work by the local non-profit CEDIA (the Center for the Development of the Indigenous Amazonians) funded in part by the Worldland Trust.
Brazilian beef giant announces moratorium on rainforest beef
(08/13/2009) Brazil's second-largest beef exporter, Bertin, announced it would establish a moratorium on buying cattle from farms involved in Amazon deforestation, reports Greenpeace. The move comes after the World Bank's International Finance Corporation (IFC) withdrew a $90 million loan to Bertin following revelations in a Greenpeace report that the company was buying beef produced on illegally deforested lands. The report, which linked some of the world's most prominent brands to rainforest destruction in the Amazon, had an immediate impact, triggering a cascade of events.
Are we on the brink of saving rainforests?
(07/22/2009) Until now saving rainforests seemed like an impossible mission. But the world is now warming to the idea that a proposed solution to help address climate change could offer a new way to unlock the value of forest without cutting it down.Deep in the Brazilian Amazon, members of the Surui tribe are developing a scheme that will reward them for protecting their rainforest home from encroachment by ranchers and illegal loggers. The project, initiated by the Surui themselves, will bring jobs as park guards and deliver health clinics, computers, and schools that will help youths retain traditional knowledge and cultural ties to the forest. Surprisingly, the states of California, Wisconsin and Illinois may finance the endeavor as part of their climate change mitigation programs.
Brazil's development bank to require beef-tracking system to avoid illegal Amazon deforestation

(07/01/2009) Responding to allegations that major Brazilian cattle producers are responsible for illegal forest clearing in the Amazon, Brazil's development bank BNDES will soon require processors to trace the origin of beef back to the ranch where it was produced in order to qualify for loans, reports Brazil's Agencia Estado. The traceability program aims to ensure that cattle products do not come from illegally deforested land.
NASA images show huge drop in Amazon fires in 2008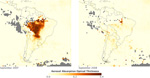 (06/30/2009) New NASA research shows a sharp decline in the amount of smoke over the Amazon during the 2008 burning season, coinciding with a drop in deforestation reported last week by Carlos Minc, Brazil's Environment Minister. Analyzing the aerosol concentrations over the Amazon each September from the past four burning seasons using the Ozone Monitoring Instrument on NASA's Aura satellite, atmospheric scientist Omar Torres of Hampton University and several colleagues found a dramatic decline in airborne particular matter in 2008, indicating reduced incidence of fire in the region. Fire in the Amazon is primarily used by humans for land-clearing to establish cattle pasture, which now accounts for the vast majority of land-use change in the world's largest rainforest.
Tesco responds to allegations of causing Amazon deforestation

(06/29/2009) Tesco, one of Europe's largest retailers, has sent a response to the British newspaper The Guardian in light of the paper's coverage of recent allegations that the chain store sells beef and leather products that caused deforestation of the Amazon.
Brazilian cattle giant declares moratorium on Amazon deforestation
(06/25/2009) Marfrig, the world's fourth largest beef trader, will no longer buy cattle raised in newly deforested areas within the Brazilian Amazon, reports Greenpeace. The announcement is a direct response to Greenpeace's Slaughtering the Amazon report, which linked illegal Amazon forest clearing to the cattle producers that supply raw materials to some of the world's most prominent consumer products companies. Marfrig was one several cattle firms named in the investigative report.
Amazon deforestation in 2009 declines to lowest on record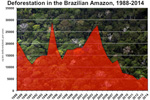 (06/22/2009) Annual deforestation in the Brazilian Amazon fell below 10,000 square kilometers for the first time since record-keeping began, reported Brazil's Environment Minister Carlos Minc. Yesterday Minc said preliminary data from the country's satellite-based deforestation detection system (DETER) showed that Amazon forest loss between August 2008 and July 2009 would be below 10,000 square kilometers, the lowest level in more than 20 years. Falling commodity prices and government action to crack down on illegal clearing are credited for the decline in deforestation rates.
World Bank revokes loan to Brazilian cattle giant accused of Amazon deforestation
(06/13/2009) The Work Bank's private lending arm has withdrawn a $90 million loan to Brazilian cattle giant Bertin, following Greenpeace's release of a report linking Bertin to illegal deforestation of the Amazon rainforest, report environmental groups, Friends of the Earth-Brazil and Greenpeace. The loan, granted by the International Finance Corporation (IFC) in March 2007, was to expand Bertin's meat-processing in the Brazilian Amazon. At the time, the IFC promoted the loan as a way to promote environmentally responsible beef production in the Amazon, although environmental groups — including Friends of the Earth-Brazil and Greenpeace — criticized the move.
Wal-Mart bans beef illegally produced in the Amazon rainforest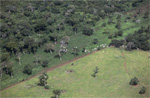 (06/12/2009) Brazil's three largest supermarket chains, Wal-Mart, Carrefour and Pão de Açúcar, will suspend contracts with suppliers found to be involved in Amazon deforestation, reports O Globo. The decision, announced at a meeting of the Brazilian Association of Supermarkets (Abras) this week, comes less than two weeks after Greenpeace's exposé of the Amazon cattle industry. The report, titled Slaughtering the Amazon, linked some of the world's most prominent brands — including Nike, Toyota, Carrefour, Wal-Mart, and Johnson & Johnson, among dozens of others — to destruction of the Amazon rainforest for cattle pasture.
Bill Clinton speaks out for rainforests in Brazil

(06/03/2009) Former US president Bill Clinton spoke out against rainforest destruction on Monday in Brazil. Headlining the Ethanol Summit 2009 in Sao Paulo, Clinton spoke of the positive role ethanol could play in lowering carbon emissions, but not when at the expense of rainforest.
Brazil's plan to save the Amazon rainforest
(06/02/2009) Accounting for roughly half of tropical deforestation between 2000 and 2005, Brazil is the most important supply-side player when it comes to developing a climate framework that includes reducing emissions from deforestation and forest degradation (REDD). But Brazil's position on REDD contrasts with proposals put forth by other tropical forest countries, including the Coalition for Rainforest Nations, a negotiating block of 15 countries. Instead of advocating a market-based approach to REDD, where credits generated from forest conservation would be traded between countries, Brazil is calling for a giant fund financed with donations from industrialized nations. Contributors would not be eligible for carbon credits that could be used to meet emission reduction obligations under a binding climate treaty.
Reserves with roads still vital for reducing fires in Brazilian Amazon

(04/08/2009) Analyzing ten years of data from on fires in the Brazilian Amazon, researchers found that roads built through reserves do not largely hamper a reserve's important role in reducing the spread of forest fires. The finding is important as Brazil continues a spree of road-building while at the same time paving over existing roads.
Revolutionary new theory overturns modern meteorology with claim that forests move rain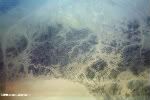 (04/01/2009) Two Russian scientists, Victor Gorshkov and Anastassia Makarieva of the St. Petersburg Nuclear Physics, have published a revolutionary theory that turns modern meteorology on its head, positing that forests—and their capacity for condensation—are actually the main driver of winds rather than temperature. While this model has widespread implications for numerous sciences, none of them are larger than the importance of conserving forests, which are shown to be crucial to 'pumping' precipitation from one place to another. The theory explains, among other mysteries, why deforestation around coastal regions tends to lead to drying in the interior.
Norway emerges as champion of rainforest conservation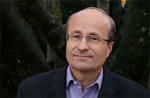 (03/19/2009) While citizens in western countries have long paid lip service to saving rainforests, Norway has quietly emerged as the largest and most important international force in tropical forest conservation. The small Scandinavian country has committed 3 billion krone ($440 million) a year to the effort, a figure vastly greater than the $100M pledged — but never fully contributed — by the United States under the Tropical Forest Conservation Act (TFCA). Norway now hopes it can help push to include forest conservation in the successor to the Kyoto Protocol by providing funding and fostering cooperation among international actors like the UN and World Bank, as well as developing countries, to fund the creation of an international architecture which makes it possible to incorporate deforestation and degradation into a post-2012 climate regime.
37,000 sq km of Amazon rainforest destroyed or damaged in 2008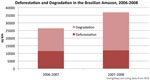 (03/19/2009) Logging and fires damaged nearly 25,000 square kilometers (9,650 square miles) of Amazon rainforest in the August 2007-July 2008 period, an increase of 67 percent over the prior year period, according to a new mapping system developed by Brazil's National Institute for Space Research (INPE). The damage comes on top of the nearly 12,000 sq km (4,600 sq mi) of rainforest that was cleared during the year.
Amazon rainforest in big trouble, says UN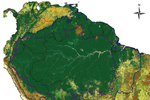 (02/19/2009) Economic development could doom the Amazon warns a comprehensive new report from the United Nations Environment Programme (UNEP). The report — titled GEO Amazonia [PDF-21.3MB] — is largely a synthesis of previously published research, drawing upon studies by more than 150 experts in the eight countries that share the Amazon.
Norway to pay Guyana to save its rainforests
(02/05/2009) Norway will provide financial support for Guyana's ambitious plan to conserve its rainforests, reports the Guyana Chronicle. Meeting in Oslo, Norway on Tuesday, Guyana President Bharrat Jagdeo and Norwegian Prime Minister Jens Stoltenberg signed a Memorandum of Understanding agreeing to establish a partnership to reduce greenhouse gas emissions from deforestation and forest degradation (REDD). The leaders will push for the incorporation of a REDD mechanism that includes low deforestation countries like Guyana in a post-2012 climate change agreement.
Beef drives 80% of Amazon deforestation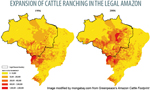 (01/29/2009) Nearly 80 percent of land deforested in the Amazon from 1996-2006 is now used for cattle pasture, according to new maps released today in a report by Greenpeace at the World Social Forum in Belem, Brazil. The report, Amazon Cattle Footprint: Mato Grosso: State of Destruction, confirms that cattle ranching is the primary driver of deforestation in Earth's largest rainforest: the Brazilian Amazon.
20 years ago the Amazon lost its strongest advocate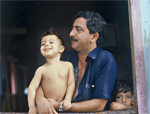 (12/22/2008) Twenty years ago ago today, Chico Mendes, an Amazon rubber tapper, was shot and killed in front of his family at his home. He was 44. His assassination in Xapuri, a remote town in the Brazilian state of Acre, would serve as a catalyst that led to the birth of the movement to protect the Amazon rainforest from loggers, ranchers, and developers. But the movement has stalled. Some would even say it has failed: since 1988 more than 348,000 square kilometers (134,000 square miles) of Amazon rainforest have been leveled.
Lula pledges big cuts in Amazon deforestation -- after he leaves office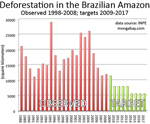 (12/12/2008) Last week Brazil unveiled plans to cut deforestation substantially from a 1996-2005 baseline of 19,533 square kilometers per year. The announcement met a mixed response from conservationists. Some applauded the decision to set hard targets for reducing deforestation, others say the targets were too low and that the country should aim for zero net deforestation by 2015. Nevertheless as more details have emerged, it becomes clear that the onus for reining in deforestation falls on Brazilian President Luiz Inacio Lula da Silva's successor.











Brazil to have high resolution imagery for 86% of the Amazon by year end

(10/15/2008) Brazil will have high resolution imagery for 86 percent of its Amazon territory by the end of the year, according to Reuters. The images will help the country protect the Amazon rainforest and prosecute alleged environmental crimes, including illegal logging and agricultural expansion.






Page 1 | Page 2 | Page 3 | Page 4 | Page 5