News articles on saving rainforests

---
Mongabay.com news articles on saving rainforests in blog format. Updated regularly.





Brazilian cattle giants move toward zero deforestation in the Amazon

(04/07/2010) Brazilian cattle companies are making progress in their effort to map their supply-chains in the Amazon but are still falling short of their commitment to zero deforestation in the region, reports Greenpeace after a meeting at the Brazilian Association of Meat Exporters (ABIEC) in Sao Paulo.


Chaos and the Accord: Climate Change, Tropical Forests and REDD+ after Copenhagen


(04/06/2010) The Copenhagen Accord, forged at COP15 upended international efforts to confront climate change. Never before have 115 Heads of State gathered together at one time, let alone for the singular purpose of crafting a new climate change agreement. Even though the new Accord is still in intensive care, two things are already clear. First, we have entered an entirely new world. And second, tropical forests have the greatest potential to breathe life into the new agreement.


James Cameron, in real life, fights to save indigenous groups from massive dam construction in Brazil

(04/01/2010) After creating a hugely successful science-fiction film about a mega-corporation destroying the indigenous culture of another planet, James Cameron has become a surprisingly noteworthy voice on environmental issues, especially those dealing with the very non-fantastical situation of indigenous cultures fighting exploitation. This week Cameron traveled to Brazil for a three-day visit to the Big Bend (Volta Grande) region of the Xingu River to see the people and rainforests that would be affected by the construction of the Belo Monte Hydroelectric Dam. Long-condemned by environmentalists and indigenous-rights groups, the dam would destroy 500 square kilometers of pristine rainforest and force the relocation of some 12,000 people.


Population density corresponds with forest loss in the Congo Basin

(03/29/2010) Africa's greatest rainforest ecosystem, the Congo Basin, has undergone significant deforestation and degradation during the past century. A new study in the open access journal Tropical Conservation Science examined whether or not there was a connection between population density and forest loss.


More research and conservation efforts needed to save Colombia's monkeys

(03/29/2010) Approximately thirty monkey species inhabit the tropical forests of Colombia with at least five found no-where else in the world. A new review appearing the open access journal Tropical Conservation Science of Colombia's primates finds that a number of these species, including some greatly endangered species, have been neglected by scientists. The researchers looked at over 3,500 studies covering over a century of research by primatologists.


Finding forest for the endangered golden-headed lion tamarin



(03/29/2010) Brazil's golden-headed lion tamarin is a small primate with a black body and a bright mane of gold and orange. Listed as Endangered by the IUCN Red List, the golden-headed lion tamarin (Leontopithecus chrysomelas) survives in only a single protected reserve in the largely degraded Atlantic Forest in Brazil. Otherwise its habitat lies in unprotected patches and fragments threatened by urbanization and agricultural expansion. Currently, a natural gas pipeline is being built through prime tamarin habitat.


Last chance to save Bangladeshi forest: 90 percent of the Sal ecosystem is gone

(03/29/2010) Considered the most threatened ecosystem in Bangladesh, the moist deciduous Sal forest (Shorea robusta) is on the verge of vanishing. In 1990 only 10 percent of the forest cover remained, down from 36 percent in 1985 according to statistics from the Food and Agricultural Organization (FAO). A new study in the online open-access journal Tropical Conservation Science looks at the threats posed to the Shal forest and ways in which it may still be saved.


Scientists: new study does not disprove climate change threat to Amazon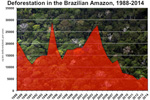 (03/19/2010) Recently, Boston University issued a press release on a scientific study regarding the Amazon's resilience to drought. The press release claimed that the study had debunked the Intergovernmental Panel on Climate Change's (IPCC) theory that climate change could turn approximately 40 percent of the Amazon into savanna due to declining rainfall. The story was picked up both by mass media, environmental news sites (including mongabay.com), and climate deniers' blogs. However, nineteen of the world's top Amazonian experts have issued a written response stating that the press release from Boston University was "misleading and inaccurate".


The Asian Animal Crisis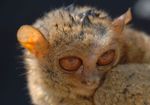 (03/18/2010) The United Nation declared 2010 as the International Year of Biodiversity (IYB). One of the goals of the IYB is to celebrate the achievements of the Convention of Biological Diversity signed by 192 countries since 1992. But what have we accomplished since 1992? Did we put an end to biodiversity loss? The truth is that there is not much to celebrate at all. Asia is a perfect example where the animal crisis and the loss of biodiversity have worsened over decades. The first question that should come to mind is: how many species have vanished in Asia because of human activities? Records of recently extinct species in Asia show 71 species that have disappeared in the wild. Examples include the Yunnan lake newt (Cynops wolterstorffi) from China, the Bonin thrush (Zoothera terrestris) from Japan, or the redtailed black shark (Epalzeorhynchos bicolor) from Thailand.


Forgotten Species: the marooned pygmy three-toed sloth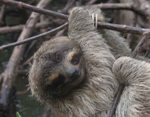 (03/16/2010) Many people consider tropical islands mini-paradises: sanctuaries cut-off from the rest of the world. Some species flourish on islands for the same reason. With few predators and a largely consistent environment, once a species has comfortably adapted to its habitat there's little to do but thrive. That is until something changes: like humans showing up. Changes in confined island ecosystems often have large and rapid impacts, too fast and too big for marooned species to survive.


Amazon confusion: new research shows forest is resilient to drought, but is this the whole picture?


(03/15/2010) A drought that happens once in a hundred years had little negative or positive effect on the Amazon rainforest according to a NASA funded study in Geophysical Research Letters. "We found no big differences in the greenness level of these forests between drought and non-drought years, which suggests that these forests may be more tolerant of droughts than we previously thought," said Arindam Samanta, the study's lead author from Boston University.


Environmental groups call on Delmas to cancel shipment of illegally logged wood from Madagascar

(03/15/2010) Pressure is building on the French shipping company Delmas to cancel large shipments of rosewood, which was illegally logged in Madagascar during the nation's recent coup. Today two environmental groups, Global Witness and the Environmental Investigation Agency (EIA) called on Delmas to cancel the shipment, which is currently being loaded onto the Delmas operated ship named 'Kiara' in the Madagascar port of Vohemar.


Thousands of tons of illegal timber in Madagascar readied for export



(03/13/2010) As the President of France, Nicholas Sarkozy, argues in Paris that more funding is needed to stop deforestation and mitigate climate change, a shipment of illegal rosewood is being readied for export in Madagascar by a French company with the tacit approval of the French government.


Secrets of the Amazon: giant anacondas and floating forests, an interview with Paul Rosolie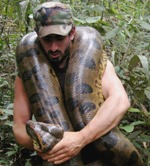 (03/10/2010) At twenty-two Paul Rosolie has seen more adventure than many of us will in our lifetime. First visiting the Amazon at eighteen, Rosolie has explored strange jungle ecosystems, caught anaconda and black caiman bare-handed, joined indigenous hunting expeditions, led volunteer expeditions, and hand-raised a baby giant anteater. "Rainforests were my childhood obsession," Rosolie told Mongabay.com. "For as long as I can remember, going to the Amazon had been my dream […] In those first ten minutes [of visiting], cowering under the bellowing calls of howler monkeys, I saw trails of leaf cutter ants under impossibly large, vine-tangled trees; a flock of scarlet macaws crossed the sky like a brilliant flying rainbow. I saw a place where nature was in its full; it is the most amazing place on earth."


Why seed dispersers matter, an interview with Pierre-Michel Forget, chair of the FSD International Symposium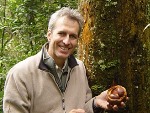 (03/07/2010) There are few areas of research in tropical biology more exciting and more important than seed dispersal. Seed dispersal—the process by which seeds are spread from parent trees to new sprouting ground—underpins the ecology of forests worldwide. In temperate forests, seeds are often spread by wind and water, though sometimes by animals such as squirrels and birds. But in the tropics the emphasis is far heavier on the latter, as Dr. Pierre-Michel Forget explains to mongabay.com. "[In rainforests] a majority of plants, trees, lianas, epiphytes, and herbs, are dispersed by fruit-eating animals. […] As seed size varies from tiny seeds less than one millimetres to several centimetres in length or diameter, then, a variety of animals is required to disperse such a continuum and variety of seed size, the smaller being transported by ants and dung beetles, the larger swallowed by cassowary, tapir and elephant, for instance."


Photos: Madagascar's wonderful and wild frogs, an interview with Sahonagasy



(03/03/2010) To save Madagascar's embattled and beautiful amphibians, scientists are turning to the web. A new site built by herpetologists, Sahonagasy, is dedicated to gathering and providing information about Madagascar's unique amphibians in a bid to save them from the growing threat of extinction. "The past 20 years have seen resources wasted because of a poor coordination of efforts," explains Miguel Vences, herpetologist and professor at the Technical University of Braunschweig. "Many surveys and reports have been produced that were never published, many tourists found and photographed amphibians but these photos were not made available to mapping projects, many studies carried out by Malagasy students did not make use of literature because it was not available."


Healthy coral reefs produce clouds and precipitation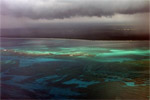 (03/03/2010) Twenty years of research has led Dr. Graham Jones of Australia's Southern Cross University to discover a startling connection between coral reefs and coastal precipitation. According to Jones, a substance produced by thriving coral reefs seed clouds leading to precipitation in a long-standing natural process that is coming under threat due to climate change.


Australia pledges $30m to reduce deforestation in Sumatra

(03/03/2010) Australia will contribute A$30 million to a project to reduce deforestation in the province of Jambi, on the Indonesian island of Sumatra, reports Reuters.


Guyana bans gold mining in the 'Land of the Giants'



(03/01/2010) Guyana has banned gold dredging in the Rewa Head region of the South American country after pressure from Amerindian communities in the area. A recent expedition to Rewa Head turned up unspoiled wilderness and mind-boggling biodiversity. The researchers, in just six weeks, stumbled on the world's largest snake (anaconda), spider (the aptly named goliath bird-eating spider), armadillo (the giant armadillo), anteater (the giant anteater), and otter (the giant otter), leading them to dub the area 'the Land of the Giants'. "During our brief survey we had encounters with wildlife that tropical biologists can spend years in the field waiting for. On a single day we had two tapirs paddle alongside our boat, we were swooped on by a crested eagle and then later charged by a group of giant otters."


Where two worlds collide: visiting Tabin Wildlife Reserve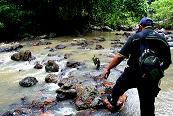 (02/21/2010) The vehicle stopped on the way into Tabin Wildlife Reserve as a troupe of pig-tailed macaques began making their way across the road. In a flash a domestic dog, which may or may not have been 'ownerless', ambushed the group. Chaos erupted as the big predator fell upon the community. As quickly as it began it was all over and the dog was rushing over with an infant monkey in its mouth, leaving the macaques' screeching out their helplessness. As my uncustomary welcome to Tabin Wildlife Reserve shows: the park is a meeting of two worlds. On the left side of the road leading into the reserve is a massive oil palm plantation, on the right is the rainforest and the many species the reserve protects. Tabin, therefore, gives the visitor a unique up-close view of the debate raging in Borneo and throughout much of Southeast Asia over conservation and environment versus oil palm plantations.


Asia's biggest logging company accused of bribery, violence in Papua New Guinea

(02/08/2010) A local organization in Papua New Guinea, known as Asples Madang, is fighting against one of the region's biggest industrial loggers, Rimbunan Hijau (RH) chaired by billionaire Tiong Hiew King. Aspeles Madang has accused Malaysian company, RH, of acquiring land illegally and of using brute force and bribery in its dealing with locals.


Birder captures first footage ever of long whiskered owlet, one of the world's rarest birds

(02/04/2010) It was any birders dream come true: not only to see one of the world's rarest birds, but to discover a new unknown population. Israeli birder, Shachar Alterman, was surveying birds with the UK organization Neotropical Primate Conservation in Peruvian cloud forest when he heard and then saw the long whiskered owlet.


Rainforest expert agrees with IPCC: warns of 'tipping point' for Amazon


(02/03/2010) Amid questions over the Amazon forests' capacity to survive climate change, a renowned tropical biologist says that in fact the fears are real, reports Tierramerica. Speaking at the Biodiversity Science Policy Conference in Paris, Thomas Lovejoy, biodiversity chair at the Washington DC-based Heinz Center for Science, Economics and the Environment, and chief biodiversity adviser to the president of the World Bank, described the Amazon rainforest as "very close to a tipping point".


Could special bonds fund the green revolution and stabilize the climate?


(02/02/2010) There is no question that governments around the world are moving slowly and sluggishly to combat climate change, especially when placed against the measures recommended by climate scientists. Only a handful of nations have actually cut overall greenhouse gas emissions, and the past couple decades have seen emissions rise rapidly worldwide as nations like India and China industrialize while Brazil and Indonesia continue massive deforestation. Global temperatures are rising in concert (though with natural fluctuations): the past decade is the warmest on record. After the failure of Copenhagen this past December to produce an ambitious and binding treaty, many are wondering if the world will ever address the threat of climate change or if future generations are set to live in a world far different—and more volatile—than the one we currently enjoy.


Dispelling myths about the US Lacey Act

(01/21/2010) The Environmental Investigation Agency (EIA) has released a document to dispel common myths related to the 2008 amendment to the Lacey Act, which makes it possible for the United States to support efforts to combat illegal logging both abroad and at home.


Photos: park in Ecuador likely contains world's highest biodiversity, but threatened by oil



(01/19/2010) In the midst of a seesaw political battle to save Yasuni National Park from oil developers, scientists have announced that this park in Ecuador houses more species than anywhere else in South America—and maybe the world. "Yasuní is at the center of a small zone where South America's amphibians, birds, mammals, and vascular plants all reach maximum diversity," Dr. Clinton Jenkins of the University of Maryland said in a press release. "We dubbed this area the 'quadruple richness center.'"


Photos: new bird discovered in well-known rainforest in Borneo



(01/14/2010) The Danum Valley Conservation Area in Sabah, Malaysia is a huge draw for tourists and scientists; a research station has been operating in Danum Valley since 1986. But the rainforest still has surprises left: in June two employees with a tour company named Field Guide came upon every ornithologist's dream, a bird species entirely unknown to science.


Dams a 'monument of corruption': Baru Bian, new leader of Sarawak's People's Justice Party

(01/12/2010) In an interview with the Bruno Manser Fond, the new leader of the Malaysian state Sarawak's People's Justice Party (PKR), Baru Bian, spoke out against the state government's plans for mega-dams in the middle of the rainforest, as well as continued rainforest destruction and corruption.


Bridge development in Kalimantan threatens rainforest, mangroves, and coral reef



(01/03/2010) Balikpapan Bay in East Kalimantan is home to an incredible variety of ecosystems: in the shallow bay waters endangered dugong feed on sea grasses and salt water crocodiles sleep; along the bay proboscis monkeys leap among mangroves thirty meters tall and Irrawaddy dolphins roam; beyond the mangroves lies the Sungai Wain Protection forest; here, the Sunda clouded leopard hunts, sun bears climb into the canopy searching for fruits and nuts, and a reintroduced population of orangutans makes their nests; but this wilderness, along with all of its myriad inhabitants, is threatened by a plan to build a bridge and road connecting the towns of Penajam and Balikpapan.


Brazil establishes 20,000 sq mi of new indigenous reserves in the Amazon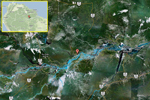 (12/23/2009) On Monday, Brazil decreed nine new indigenous reserves covering 51,000 square kilometers (19,700 square miles) of the Amazon rainforest, an areas larger than Denmark or Switzerland, reports the AFP. Five of the reserves are located in the state of Amazonas, two are in Pará, one is in Roraima, and another is in Mato Grosso do Sul. The protected areas house about seven thousand Indians from 29 ethnic groups, according to FUNAI (Fundação Nacional do Índio), Brazil's indigenous affairs agency.


The real Avatar story: indigenous people fight to save their forest homes from corporate exploitation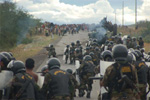 (12/22/2009) In James Cameron's newest film Avatar an alien tribe on a distant planet fights to save their forest home from human invaders bent on mining the planet. The mining company has brought in ex-marines for 'security' and will stop at nothing, not even genocide, to secure profits for its shareholders. While Cameron's film takes place on a planet sporting six-legged rhinos and massive flying lizards, the struggle between corporations and indigenous people is hardly science fiction.


Guyana to increase oversight of gold mining under deal to save forests with Norway

(12/21/2009) As apart of a deal with Norway to preserve its rainforests, Guyana will step up oversight of its gold mining industry, which has been accused of causing significant environmental damage including deforestation and mercury and cyanide pollution.


New tropical wood substitute could save rainforests worldwide

(12/18/2009) One of the main drivers of tropical deforestation is western consumption of hardwoods, more durable and weather-resistant than softwoods. For example, hardwood harvested in Southeast Asia—both legally and illegally obtained—often makes its way to China where it is crafted into cheap outdoor-ready hardwood products, which is then sold to the world's wealthy nations, such as the United States and countries in the EU. The trade releases significant greenhouse gases, threatens indigenous groups, and imperils the region's biodiversity. Yet a new product, apart of an art installation at the Climate Change conference in Copenhagen, may have the capacity to stem the loss of tropical forests for hardwoods.


Uninhabited tropical island paradise seeks REDD funding to save it from loggers

(12/17/2009) Tetepare may be one of the last tropical island paradises left on earth. Headhunting and a mysterious illness drove its original inhabitants from the island two hundred years ago, making Tetepare today the largest uninhabited island in the tropical Pacific. The 120 square kilometer island (46 square miles), long untouched by industry or agriculture, is currently threatened by logging interests. However, the island is not without champions: in 2002 descendents of the original inhabitants of Tetepare formed the Tetepare Descendents Association (TDA) to preserve the island. Recently they have teamed up with the Solomon Islands Government and the Solomon Islands Community Conservation Partnership to develop financing through REDD.


Is the US sinking climate change talks at Copenhagen?

(12/16/2009) While it's difficult to know what's truly going on inside the Bella Center at the UN Climate Change Conference in Copenhagen, a pattern seems to be emerging of the United States being unwilling to compromise on, well, anything.


Amazon cattle ranching accounts for half of Brazil's CO2 emissions

(12/12/2009) Cattle ranching accounts for half of Brazil's greenhouse gas emissions according to a new study led by scientists from Brazil's National Space Institute for Space Research (INPE).


Unilever suspends palm oil contract after supplier found to be destroying rainforests


(12/12/2009) The world's largest user of palm oil, Unilever, has suspended its $32.6 million contract with the Indonesian group Sinar Mas after an independent audit proved that Sinar Mas is involved in the destruction of rainforest, reports Reuters. The audit was conducted early this year after a report by Greenpeace alleged that Sinar Mas was engaged in deforestation and the draining of peatlands, both of which release significant amounts of greenhouse gases into the atmosphere. Deforestation across Indonesia and Malaysia, in part for oil palm plantations, has also added pressure on many many endangered species, including orangutans, tigers, elephants, and rhinos.


REDD may miss up to 80 percent of land use change emissions



(12/11/2009) The political definition of 'forest' used in REDD (Reduce Emissions from Deforestation and forest Degradation) threatens to undermine the program's objective to conserve ecosystems for their ability to sequester carbon, according to a new analysis by the Alternatives to Slash and Burn (ASB) Partnership for Tropical Forest Margins. In an analysis of three Indonesian provinces using REDD proposals for carbon accounting, ASB found that REDD may miss up to 80 percent of the actual emissions due to land use change. The carbon accounting problems could be fixed, according to ASB, by expanding REDD's purpose from reducing emissions linked to deforestation (considering the problematic definition of forests) to reducing emission from all land use changes that either release or capture greenhouse gases, including but not limited to forests.


Obama on global warming and forest protection

(12/10/2009) President of the United States, Barack Obama, was in Oslo, Norway this morning accepting the Nobel Peace Prize, which he won in part for promising to bring the United States to the negotiating table on climate change—something he has recently done.


Brazil allocates first funds under plan to save the Amazon

(12/10/2009) Brazil's development bank BNDES has announced the first five recipients of grants under the South American country's ambitious Amazon Fund, which aims to reduce deforestation by 70 percent over the next decade.


Changing drivers of deforestation provide new opportunities for conservation


(12/09/2009) Tropical deforestation claimed roughly 13 million hectares of forest per year during the first half of this decade, about the same rate of loss as the 1990s. But while the overall numbers have remained relatively constant, they mask a transition of great significance: a shift from poverty-driven to industry-driven deforestation and geographic consolidation of where deforestation occurs. These changes have important implications for efforts to protect the world's remaining tropical forests in that environmental lobby groups now have identifiable targets that may be more responsive to pressure on environmental concerns than tens of millions of impoverished rural farmers. In other words, activists have more leverage than ever to impact corporate behavior as it relates to deforestation.


Brazil could halt Amazon deforestation within a decade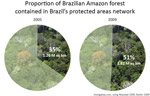 (12/03/2009) Funds generated under a U.S. cap-and-trade or a broader U.N.-supported scheme to reduce greenhouse gas emissions from deforestation and degradation ("REDD") could play a critical role in bringing deforestation in the Brazilian Amazon to a halt, reports a team writing in the journal Science. But the window of opportunity is short — Brazil has a two to three year window to take actions that would end Amazon deforestation within a decade.


Paper provider for fashion gurus drops APP due to deforestation across Indonesia

(12/02/2009) One by one, the fashion industry's biggest companies are leaving Asian Pulp and Paper (APP)—and deforestation in Indonesia—behind. The newest defector is PAK 2000, a packaging company for fashion products. After a sustained campaign by the Rainforest Action Network (RAN) and fashion companies buying from PAK 2000, the New Hampshire-based company, has announced that it is severing all ties with APP by the end of the year. The announcement means that big famous companies—from Versace to J. Crew—will have an easier time avoiding paper products that cause rainforest destruction.


Brazil to push for 10% limit on REDD carbon offsets

(12/02/2009) Brazil will propose limiting the amount of carbon an industrialized country can offset via a proposed forest conservation initiative to ten percent of their emissions, reports Bloomberg.


Face-to-face with what may be the last of the world's smallest rhino, the Bornean rhinoceros



(12/01/2009) Nothing can really prepare a person for coming face-to-face with what may be the last of a species. I had known for a week that I would be fortunate enough to meet Tam. I'd heard stories of his gentle demeanor, discussed his current situation with experts, and read everything I could find about this surprising individual. But still, walking up to the pen where Tam stood contentedly pulling leaves from the hands of a local ranger, hearing him snort and whistle, watching as he rattled the bars with his blunted horn, I felt like I was walking into a place I wasn't meant to be. As though I was treading on his, Tam's space: entering into a cool deep forest where mud wallows and shadows still linger. This was Tam's world; or at least it should be.


Guyana expedition finds biodiversity trove in area slated for oil and gas development, an interview with Robert Pickles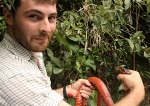 (11/29/2009) An expedition deep into Guyana's rainforest interior to find the endangered giant river otter—and collect their scat for genetic analysis—uncovered much more than even this endangered charismatic species. "Visiting the Rewa Head felt like we were walking in the footsteps of Wallace and Bates, seeing South America with its natural density of wild animals as it would have appeared 150 years ago," expedition member Robert Pickles said to Mongabay.com.


No-shows among South American leaders at Amazon summit

(11/27/2009) A summit between South American leaders to devise a plan to save the Amazon, failed to come up with a "common stance" on deforestation, as five of the eight invited leaders failed to show up to the meeting, reports Al Jazeera.


Deforestation emissions should be shared between producer and consumer, argues study


(11/19/2009) Under the Kyoto Protocol the nation that produces carbon emission takes responsibility for them, but what about when the country is producing carbon-intensive goods for consumer demand beyond its borders? For example while China is now the world's highest carbon emitter, 50 percent of its growth over the last year was due to producing goods for wealthy countries like the EU and the United States which have, in a sense, outsourced their manufacturing emissions to China. A new study in Environmental Research Letters presents a possible model for making certain that both producer and consumer share responsibility for emissions in an area so far neglected by studies of this kind: deforestation and land-use change.


New report: boreal forests contain more carbon than tropical forest per hectare


(11/12/2009) A new report states that boreal forests store nearly twice as much carbon as tropical forests per hectare: a fact which researchers say should make the conservation of boreal forests as important as tropical in climate change negotiations. The report from the Canadian Boreal Initiative and the Boreal Songbird Initiative, entitled "The Carbon the World Forgot", estimates that the boreal forest—which survives in massive swathes across Alaska, Canada, Northern Europe, and Russia—stores 22 percent of all carbon on the earth's land surface. According to the study the boreal contains 703 gigatons of carbon, while the world's tropical forests contain 375 gigatons.


Declaration calls for more wilderness protected areas to combat global warming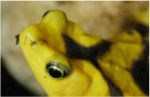 (11/11/2009) Meeting this week in Merida, Mexico, the 9th World Wilderness Congress (WILD9) has released a declaration that calls for increasing wilderness protections in an effort to mitigate climate change. The declaration, which is signed by a number of influential organizations, argues that wilderness areas—both terrestrial and marine—act as carbon sinks, while preserving biodiversity and vital ecosystem services.



Page 1 | Page 2 | Page 3 | Page 4 | Page 5 | Page 6 | Page 7 | Page 8 | Page 9 | Page 10 | Page 11 | Page 12