News articles on saving rainforests

---
Mongabay.com news articles on saving rainforests in blog format. Updated regularly.





U.S. to cut funding for rainforest conservation during Bali climate talks

(12/06/2007) While delegates meet in Bali to discuss a post-Kyoto framework on climate change, it appears likely that the U.S. Treasury Department will cut funding for the Tropical Forest conservation Act (TFCA), the largest pool of U.S. government money exclusively for helping developing countries conserve threatened tropical forests, according to the Tropical Forest Group, a forest policy group based in Santa Barbara.


Merrill Lynch announces carbon credits-for-forest conservation partnership

(12/06/2007) Merrill Lynch is working with Carbon conservation, an ecosystem services firms, to explore opportunities in avoided deforestation and integrated sustainable land management. The partnership was announced Thursday in Bali, Indonesia, where more than 10,000 policymakers, scientists, and activists are meeting to discuss a post-Kyoto framework on limiting climate change.


Tropical forests face huge threat from industrial agriculture

(12/05/2007) With forest conversion for large-scale agriculture rapidly emerging as a leading driver of tropical deforestation, a new report from the Woods Hole Research Center (WHRC) suggests the trend is likely to continue with Brazil, the Democratic Republic of the Congo, Indonesia, Peru, and Colombia containing 75 percent of the world's forested land that is highly suitable for industrial agriculture expansion. Nevertheless the study identifies forests that may be best suited (low population density, unsuitable climate and soils) for "Reduced Emissions from Deforestation and Degradation" (REDD) initiatives which compensate countries for preserving forest lands in exchange for carbon credits.


New satellite system will penetrate clouds to track deforestation

(12/05/2007) Satellite monitoring will play a critical role in any agreement that compensates tropical countries for preserving their forests, such as "Reduced Emissions from Deforestation and Degradation" (REDD) mechanisms currently under discussion at UN climate talks in Bali. Released Tuesday, a new study, "New Eyes in the Sky: Cloud-Free Tropical Forest Monitoring for REDD with the Japanese Advanced Land Observation Satellite (ALOS)", details significant advancements in the field of remote sensing of forests.


Returns from carbon offsets could beat palm oil in Congo DRC

(12/04/2007) A proposal to pay the Democratic of Congo (DRC) for reducing deforestation could add 15-50 percent to the amount of international aid given to the warn-torn country, reports a new study published by scientists at the Woods Hole Research Center (WHRC). The funds would help alleviate rural poverty while cutting emissions of greenhouse gases and protecting threatened biodiversity.


Amazon deforestation could be eliminated with carbon priced at $3

(12/04/2007) The Amazon rainforest could play a major part in reducing greenhouse gas emissions that result from deforestation, reports a new study published by scientists at the Woods Hole Research Center, the Instituto de Pesquisa Ambiental da Amazônia, and the Universidade Federal de Minas Gerais. At a carbon price of $3 per ton, protecting the Amazon for its carbon value could outweigh the opportunity costs of forgoing logging, cattle ranching, and soy expansion in the region. 2008 certified emission-reduction credits for carbon currently trade at more than $90 per ton ($25 per ton of CO2).


Could the carbon market save the Amazon rainforest?

(11/29/2007) The global carbon market could play a key role in saving the Amazon from the effects of climate change and economic development, which could otherwise trigger dramatic ecological changes, reports a new paper published in Science. The authors argue that a well-articulated plan, financed by carbon markets, could prevent the worst outcomes for the Amazon forest while generating economic benefits for the region's inhabitants.


Ground-breaking Amazon rainforest imagery will help monitor deforestation

(11/27/2007) Scientists have developed a ground-breaking high resolution snapshot of 400,000 square kilometers of Amazon rainforest. The work will help researchers remotely monitor deforestation, according to the Woods Hole Research Center (WHRC).


Dutch bank arranges carbon-conservation deal in the Amazon rainforest

(11/27/2007) Dutch bank Rabobank will launch the first-ever carbon credits project in the Xingu region of the Brazilian Amazon, reports The Financial Times.


Carbon credits for forest conservation concept faces challenges

(11/27/2007) While environmentalists, scientists, development exports, and policymakers across the political spectrum are ethusiastic about the idea of offsetting carbon emissions by preventing deforestation (a concept known as "avoided deforestation" or Reduced Emissions from Deforestation and Degradation (REDD)), the concept still faces many challenges, especially in implementation.


Can wildlife conservation banking generate investment returns?

(11/27/2007) A commercial venture in the Malaysian rainforest will seek to generate competitive returns on investment by protecting wildlife. The scheme -- signed by the Sabah government and Sydney-based New Forests Pty Ltd -- will establish a wildlife habitat conservation bank to manage the 34,000 ha Malua Forest Reserve on the island of Borneo.


Madagascar fires mapped with Google Earth in real-time

(10/29/2007) Every year as much as one-third of Madagascar, one of the planet's most biodiverse islands, goes up in flames. Now a new tool gives scientists the ability to monitor and track Madagascar's fires in real-time through the Internet.


Avoided deforestation beats timber, palm oil, in tax revenue for Indonesia

(10/29/2007) Indonesia could more than double its tax revenue by protecting forests and selling the resulting carbon emission credits instead of timber and palm oil, a University of Michigan researcher told Bloomberg.


Costa Rica gets $26M debt-for-nature swap

(10/18/2007) Under an agreement signed Wednesday by the governments of the United States and environmental groups, $26 million of Costa Rican debt will be forgiven in exchange for tropical forest conservation. The debt-for-nature swap comes under the Tropical Forest conservation Act of 1998, legislation intended to allow eligible developing countries to forego paying back debt owed to the U.S. in exchange for supporting local tropical forest conservation activities.


Environmentalists and palm oil producers should work together

(09/25/2007) Environmentalists and palm-oil producers are increasingly at odds. Greens groups say palm oil is driving the conversion of tens of thousands of hectares of peatlands and lowland forest in Indonesia, putting wildlife at risk, increasing the vulnerability of forests to fires, and triggering large emissions of greenhouse gases.


China urged to join sustainable soy efforts in the Amazon

(09/12/2007) Brazilian soy crushers have urged China to join an alliance to promote sustainable soybean production in the Amazon, according to Reuters. Brazil, soon to be the world's largest producer of soybeans, recently formed the Global Roundtable on Responsible Soy Association as concerns grow that global demand for biofuels will level the Amazon rainforest. Environmentalists say demand from China is playing an important role in surging soybean production in the region.


Australia puts $100M toward protecting forest in Borneo

(09/09/2007) Australian and Indonesian ministers signed a AU$100 million ($82M) deal to protect highly threatened forests on the island of Borneo, according to the Sydney Morning Herald. Funds will go towards conservation and rehabilitation of degraded forests and peatlands.


NGOs should use palm oil to drive conservation

(08/29/2007) Environmentalists view the expansion of oil palm plantations in southeast Asia as one of the greatest threats to the region's forests and biodiversity. Campaigners say oil palm is driving the conversion of tens of thousands of hectares of peatlands and lowland forest in Indonesia and Malaysia, putting wildlife at risk, increasing the vulnerability of the forests to fires, and triggering large emissions of greenhouse gases. Pressure from these groups have in recent months convinced European policymakers to reconsider sourcing energy crop production to the region.


Amazon deforestation in Brazil falls 29% for 2007

(08/13/2007) Deforestation in the Brazilian Amazon fell 29 percent for the 2006-2007 year, compared with the prior period. The loss of 3,863 square miles (10,010 square kilometers) of rainforest was the lowest since the Brazilian government started tracking deforestation on a yearly basis in 1988.


Amazon deforestation rate falls to lowest on record

(08/10/2007) Deforestation rates in the Brazilian Amazon for the previous year were the lowest on record, according to preliminary figures released by INPE, Brazil's National Institute of Space Research.


Experts: parks effectively protect rainforest in Peru

(08/09/2007) High-resolution satellite monitoring of the Amazon rainforest in Peru shows that land-use and conservation policies have had a measurable impact on deforestation rates. The research is published in the August 9, 2007, on-line edition of Science Express.


Australia funds first global deforestation monitoring system

(07/23/2007) At a High Level Meeting on Forests and Climate being held in Sydney, Australia today announced a series of measures to slow deforestation and fight global warming.


An interview with author and eco-lodge pioneer Jack Ewing



(06/12/2007) In 1970 a young man went to Costa Rica, a place he initially confused with Puerto Rico, on an assignment to accompany 150 head of cattle. 37 years and several lifetimes' worth of adventures later, Jack Ewing runs a eco-lodge that serves as a model for a country now considered the world leader in nature travel.


World Bank to raise $250M for avoided deforestation in tropics

(06/11/2007) The World Bank will soon launch an "avoided deforestation" pilot project that will pay tropical countries for preserving their forests, reports The Wall Street Journal. The $250 million fund will reward Indonesia, Brazil, Congo and other tropical forest countries for offsetting global warming emissions. Tropical deforestation accounts for roughly 20 percent of global greenhouse gas emissions, but slowing deforestation slows emissions of heat-trapping emissions. Researchers estimate that "avoided deforestation" schemes may be one of the most cost effective ways to slow climate change. Further, avoided deforestation offers simultaneous benefits including preservation of ecosystem services and biodiversity.


Google helps protect Amazon rainforest

(06/10/2007) Google is working with a indigenous tribe deep in the Amazon rainforest to protect their lands from illegal encroachment, reports the San Francisco Chronicle. For the first time, Google has confirmed details of the project. Working in conjuction with the Amazon conservation Team, Google Earth's technology is being used to monitor illegal mining and logging that threaten the lands of the Surui tribe in Brazil. Google is working with satellite providers to significantly improve image resolution in some of the most remote parts of the Amazon basin.


Can cattle ranchers and soy farmers save the Amazon?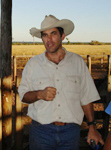 (06/06/2007) John Cain Carter, a Texas rancher who moved to the heart of the Amazon 11 years ago and founded what is perhaps the most innovative organization working in the Amazon, Alianca da Terra, believes the only way to save the Amazon is through the market. Carter says that by giving producers incentives to reduce their impact on the forest, the market can succeed where conservation efforts have failed. What is most remarkable about Alianca's system is that it has the potential to be applied to any commodity anywhere in the world. That means palm oil in Borneo could be certified just as easily as sugar cane in Brazil or sheep in New Zealand. By addressing the supply chain, tracing agricultural products back to the specific fields where they were produced, the system offers perhaps the best market-based solution to combating deforestation. Combining these approaches with large-scale land conservation and scientific research offers what may be the best hope for saving the Amazon.


Globalization could save the Amazon rainforest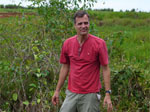 (06/03/2007) The Amazon basin is home to the world's largest rainforest, an ecosystem that supports perhaps 30 percent of the world's terrestrial species, stores vast amounts of carbon, and exerts considerable influence on global weather patterns and climate. Few would dispute that it is one of the planet's most important landscapes. Despite its scale, the Amazon is also one of the fastest changing ecosystems, largely as a result of human activities, including deforestation, forest fires, and, increasingly, climate change. Few people understand these impacts better than Dr. Daniel Nepstad, one of the world's foremost experts on the Amazon rainforest. Now head of the Woods Hole Research Center's Amazon program in Belem, Brazil, Nepstad has spent more than 23 years in the Amazon, studying subjects ranging from forest fires and forest management policy to sustainable development. Nepstad says the Amazon is presently at a point unlike any he's ever seen, one where there are unparalleled risks and opportunities. While he's hopeful about some of the trends, he knows the Amazon faces difficult and immediate challenges.


Reducing tropical deforestation will help fight global warming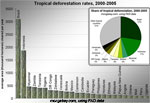 (05/10/2007) Scientists have lent support to a plan by developing countries to fight global warming by reducing deforestation rates. Tropical deforestation releases more than 1.5 billion metric tons of carbon into the atmosphere every year, though in some years, like the 1997-1998 el Nino year when fires released some 2 billion tons of carbon from peat swamps alone in Indonesia, emissions are more than twice that. Writing in the journal Science, an international team of scientists argue that the Reducing Emissions from Deforestation (RED) initiative, launched in 2005 by the United Nations Framework Convention on Climate Change, is scientifically and technologically sound, and that political and economic challenges facing the plan can be overcome.


Military technology uses satellite signals to catch poachers

(05/02/2007) Wild animals sought by poachers for their skins, meat and bones have a new means of protection developed by a visiting scholar at the SUNY College of Environmental Science and Forestry (ESF). Steve Gulick, an electrical engineer who calls himself a biologist wannabe, has designed a metal detector specifically to pick up the presence of poachers' weapons and send an electronic signal, via satellite, to law enforcement authorities.


Commercial hunting may be biggest threat to tropical rainforests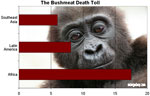 (05/01/2007) Commercial hunting is decimating wildlife populations across the tropics and may be one of the gravest threats presently facing rainforests, reports a series of studies published in the May issue of the journal Biotropica. The research reveals that large-scale loss of wildlife is already affecting forest health and regeneration.


Ecuador: pay us not to develop Amazon oil reserves

(04/27/2007) Ecuador says it will wait a year to see whether the international community takes its offer to forsake development of a giant oil field in the Amazon rainforest in exchange for compensation, reports the Environmental News Service.


Indonesia's Aceh, Papua pledge to protect forests

(04/26/2007) Governors from three Indonesian provinces which are home to most of the country's rainforests pledged on Thursday to conserve them as part of efforts to mitigate the impact of climate change.


China to push for sustainable logging overseas


(04/25/2007) In a surprising move, China has developed guidelines for the establishment of sustainable forest plantations abroad by Chinese firms, according to the International Tropical Timber Organization's (ITTO) April 1 Tropical Timber Market Report. The move comes as China faces increasing criticism from environmental groups for pillaging the world's forests to feed its rapidly growing economy.


Indonesia urges rich countries to ban illegally logged wood products


(04/25/2007) Indonesia has urged rich countries not to buy products made from illegally logged timber, echoing a similar call from Malaysia last month, according to the International Tropical Timber Organization's (ITTO) April 1 Tropical Timber Market Report.


How to stop haze and forest fires in Indonesia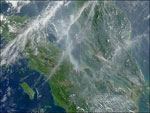 (04/19/2007) In recent years, annual forest fires in Indonesian have destroyed millions of hectares of forest and caused billions of dollars in economic damage. After each episode of fires the Indonesian government, facing criticism from neighboring governments, promises it will crack down. Nothing happens and the fires burn again the next year.


Australia puts $200M toward rainforest conservation


(03/30/2007) Australia has committed A$200m ($160m) to global forest conservation efforts to help fight illegal logging and slow global warming. The fund is one of the largest ever established by a government for reducing tropical deforestation. The new fund, known as the Global Initiative on Forests and Climate, aims to cut deforestation rates and promote reforestation schemes.


Brazil to give Amazonian tribes Internet access to fight deforestation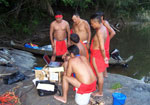 (03/30/2007) Brazil will offer free satellite Internet connections to indigenous tribes in the Amazon according to a report from Reuters. It says that the plan will help reduce illegal logging by enabling natives to monitor and report on illicit activities.


Rainforest education site recognized with community award

(03/29/2007) Mongabay.com, a leading environmental science web site, was awarded as this week's Cingular Spotlight community hero.by San Francisco-based radio station Energy 92.7 FM. The $500 cash prize was donated to the Amazon conservation Team, a group doing pioneering work in protecting the Amazon rainforest.


Important Congo basin parks get funding

(03/28/2007) A network of national parks and protected areas spanning three nations in Central Africa's Congo Basin, has received long-term funding through the establishment of a trust fund, thus ensuring further protection of the region's wildlife, according to the Wildlife conservation Society.


Malaysia to use certification to crack down on illegal logging

(03/27/2007) Malaysia will ask its timber suppliers in other countries to provide certification on the origin of wood according to a report from the International Tropical Timber Organization (ITTO). The move will help Malaysia fight allegations that its timber processors are complicit in the illegal logging industry.


Britain invests $100M to protect Congo rainforest


(03/23/2007) Britain will invest nearly $100 million in a initiative to protect the Congo rainforest, the second largest tropical forest in the world. Ten other countries are also supporting the project.


Timber industry teams with greens on new anti-illegal logging bill


(03/15/2007) A bipartisan group of U.S. lawmakers introduced a bill to ban the use of illegally-harvested timber and wood products. Led by Congressmen Earl Blumenauer (D-OR), Robert Wexler (D-FL), and Jerry Weller (R-IL) the legislation would make it a crime to import, export, possess, purchase or sell illicit timber.


Can new loan really bring sustainable cattle ranching to the Amazon?


(03/12/2007) Brazil's second largest exporter of beef has won approval of a controversial loan from the International Finance Corporation (IFC), the private equity lender of the World Bank, according to a report from the Associated Press. Environmentalists say the deal will drive further deforestation in the biologically rich Amazon rainforest. Cattle ranching is responsible for more than half of forest loss in the region.


Biodiversity extinction crisis looms says renowned biologist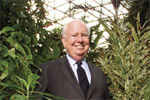 (03/12/2007) While there is considerable debate over the scale at which biodiversity extinction is occurring, there is little doubt we are presently in an age where species loss is well above the established biological norm. Extinction has certainly occurred in the past, and in fact, it is the fate of all species, but today the rate appears to be at least 100 times the background rate of one species per million per year and may be headed towards a magnitude thousands of times greater. Few people know more about extinction than Dr. Peter Raven, director of the Missouri Botanical Garden. He is the author of hundreds of scientific papers and books, and has an encyclopedic list of achievements and accolades from a lifetime of biological research. These make him one of the world's preeminent biodiversity experts. He is also extremely worried about the present biodiversity crisis, one that has been termed the sixth great extinction.


Billion Tree Campaign gets pledges totaling 562M trees since January

(03/06/2007) The UN Environment Programme (UNEP) announced that its 'Billion Tree Campaign' has so-far achieved commitments to plant 562,769,095 trees, following a pledge of 250 million trees by the Ministry of Environment and Natural Resources of Mexico.


Farming in the rainforest can preserve biodiversity, ecological services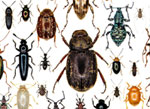 (03/05/2007) While conversion of tropical forest for agriculture results in significant declines in biodiversity and carbon storage, an analysis of Indonesian rainforests shows that farming cacao under the partial shade of high canopy trees can provide a way to balance economic gain with environmental considerations.


New park in French Guiana creates largest Amazon protected area

(02/28/2007) Environmental group WWF has applauded the creation of a new national park in French Guiana, a department of France located in northeaster South America. WWF says the 2 million-hectare Guyana Amazonian Park will link to protected areas in neighboring Brazil, including the Tumucumaque National Park, Grao-Para Station and Maicuru Reserve. In total, the protected areas network will encompass 12 million hectares of tropical forest, making it the world's largest rainforest park.


Philosophical shift in conservation reintegrates humans in nature



(02/28/2007) Humans are among the most successful of Earth's organisms. Living in every habitable, and sometimes uninhabitable, space, humans dominate the planet's surface and have become a global force that alters natural ecosystems, species distribution, and climate. Virtually no wilderness areas have escaped man's influence. While past conservation efforts have focused on preserving "pristine" wilderness, it is increasingly apparent that few such areas exist. Recognizing this, present conservation efforts are increasingly looking at how human use fits into protected areas management. A new paper published in Biodiversity conservation traces this shift in conservation philosophy since the 19th century. Reviewing the history of four main conservation approaches, Michelle Kalamandeen, a biologist at the University of Guyana, and Lindsey Gillson, a botanist at the University of Cape Town, conclude that current conservation efforts are integrating elements of each philosophy, resulting in a new conservation ethic that uses alternative criteria for designating and managing protected areas, and recognizes the importance of man's influence in wilderness areas.


Brazil to allow large-scale monitored harvesting of the Amazon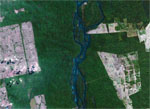 (02/23/2007) The International Tropical Timber Organization (ITTO) reports the Brazilian government plans to allow large-scale monitored harvesting of the Amazon rainforest. The new plan expands on an initiative proposed last year by Brazilian president Luiz Inacio Lula da Silva that would allow sustainable logging across 3 percent of the Amazon rain forest.


Borneo's rainforest protected



(02/12/2007) An agreement to protect large areas of forest in central Borneo was officially signed by three governments that share the island. Brunei Darussalam, Indonesia and Malaysia will 'conserve and sustainably manage' the so-called 'Heart of Borneo', one of the most biodiverse, and threatened, tropical rainforests in the world. The World Wildlife Fund (WWF) played a critical role in the initiative's creation.



Page 1 | Page 2 | Page 3 | Page 4 | Page 5 | Page 6 | Page 7 | Page 8 | Page 9 | Page 10 | Page 11 | Page 12