News articles on sabah

---
Mongabay.com news articles on sabah in blog format. Updated regularly.






Can we save the Sumatran rhino? Indonesia holds out hope
(06/19/2015) 'One percent of the world's population,' veterinarian Zulfi Arsan says as he nods towards Bina, a 714-kilogram, 30-year-old female Sumatran rhinoceros leisurely crunching branches whole. A gentle and easygoing rhino, pink-hued Bina doesn't seem to mind the two-legged hominids snapping pictures and awing at her every move at the Sumatran Rhino Sanctuary.
A toad's relationship with its prey endures in the face of deforestation for palm oil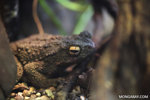 (06/15/2015) Biologists and conservationists have studied the effects of habitat degradation on individual species, but have rarely investigated how logging and conversion of rainforests to oil palm agriculture change interspecies relationships. A study of a toad and its ant prey found that while the toad dwindled in disturbed habitats, a shortage of food was not the reason.
Malaysian state eyes 100% certified palm oil by 2025
(05/30/2015) Sabah, a state in Malaysian Borneo, is weighing a proposal to produce only palm oil certified under the Roundtable on Sustainable Palm Oil (RSPO), an eco-certification initiative, by 2025. The move, if approved, would represent the first time a sub-national or state entity has committed to 100% certified palm oil production.
Borneo's rainforest may get high-tech 3D scan to boost conservation
(05/04/2015) Conservation efforts in Borneo's embattled rainforest may get a boost with the launch of the newest version of an advanced airplane-based monitoring and assessment system. On Friday, the Carnegie Institution officially unveiled the latest upgrade of the Carnegie Airborne Observatory, an airplane equipped with technologies that enable scientists to conduct extremely high resolution scans of forest structure, biomass, and biological diversity. The platform has generated a wealth of information in places where it has been flown before.
Officials: Sumatran rhino is extinct in the wild in Sabah
(04/23/2015) There are no Sumatran rhinos left in the wild in the Malaysian state of Sabah, confirmed Masidi Manjun, the Tourism, Culture and Envi­ronment Minister, over the weekend. In 2008, conservationists estimated there were around 50 rhinos in the state. Five years later, it dropped that estimate to just ten. Now, it's admitted the awful truth: the wild rhino is very likely gone.
Kaiduan dam in Borneo meets fierce opposition
(04/06/2015) Activists are calling on the government of Sabah, Malaysia, to reconsider the proposed Kaiduan dam, saying it has not considered other solutions to Sabah's looming water crisis and has failed to consult with the indigenous people who will be displaced if the project proceeds.
Sabah shocked by banteng poaching

(02/16/2015) Malaysia's Daily Express recently published graphic photos of poachers in the Malaysian state of Sabah posing proudly with a number of illegally slaughtered large animals, including the incredibly rare and cryptic banteng. Wild, forest cattle, banteng are scattered across parts of Southeast Asia, but Borneo is home to a distinct subspecies: Bos javanicus lowi.
When is a forest a forest? How definitions affect monitoring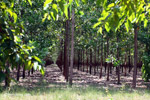 (01/29/2015) What exactly is a forest? With forest definitions differing from country to country, and primary forests, secondary forests, and even tree plantations all perceived collectively as "tree cover" by satellite data, how does one accurately keep tabs on land changes?
Tradeoff: Sabah banks on palm oil to boost forest protection
(12/05/2014) Last month Sabah set aside an additional 203,000 hectares of protected forest reserves, boosting the Malaysian state's extent of protected areas to 21 percent of its land mass. But instead of accolades, Sabah forestry leaders were criticized for how they went about securing those reserves: allowing thousands of hectares of deforested land within an officially designated forestry area to be converted for oil palm plantations
Termites suffer in logged forests and palm oil plantations
(09/25/2014) Ants appear more resilient to forest degradation than termites. Scientists have long studied how birds, mammals, and amphibians respond to forest degradation, but what about the most abundant animals in the forest? Insects. A new study in Biodiversity and Conservation looks at how ants and termites reacted to forest changes in Malaysian Borneo.
Elephants pay the price for palm oil in Malaysian Borneo, impact may reach far beyond reported kills
(09/10/2014) More than a dozen elephant kills were reported in Sabah in 2013 alone, but it is unknown exactly how many have lost their lives in recent years as palm plantations encroach further and further into the rainforest. What is clear is that if the loss of their forest habitat continues to drive conflicts with humans at the rate it is now, Borneo elephants' long-term survival may be in jeopardy.
30% of Borneo's rainforests destroyed since 1973
(07/16/2014) More than 30 percent of Borneo's rainforests have been destroyed over the past forty years due to fires, industrial logging, and the spread of plantations, finds a new study that provides the most comprehensive analysis of the island's forest cover to date. The research, published in the open-access journal PLOS ONE, shows that just over a quarter of Borneo's lowland forests remain intact.
Broken promises no more? Signs Sabah may finally uphold commitment on wildlife corridors
(06/23/2014) Five years ago an unlikely meeting was held in the Malaysian state of Sabah to discuss how to save wildlife amid worsening forest fragmentation. Although the meeting brought together longtime adversaries—conservationists and the palm oil industry—it appeared at the time to build new relationships and even point toward a way forward for Sabah's embattled forests.
The palm oil diet: study finds displaced orangutans have little else to eat
(06/20/2014) In a recent study, researchers assessed how orangutans have adapted to living among oil palm plantations on Borneo. They found that while orangutans have adapted to the island's human-transformed landscapes better than expected, oil palm plantations are unable to sustain orangutan populations in the long-term.
Riddled with tumors: another blow to the Sumatran rhino species
(04/14/2014) Conservation for Sumatran rhinos suffered another blow last week, only days after Suci—one of only ten rhinos in captive breeding efforts—died at Cincinnati Zoo. Scientists in the Malaysian state of Sabah revealed that a newly captured female, Iman, suffers from an assortment of tumors in her uterus, hugely complicating reproduction efforts.
Meet Iman: the Sumatran rhino's newest hope for survival
(03/24/2014) Hopes for one of the world's most imperiled megafauna rose this month when wildlife conservationists succeeded in catching a female Sumatran rhino named Iman in the Malaysian state of Sabah. The female, which experts believe to be fertile, has since been successfully transferred via helicopter to the Borneo Rhino Sanctuary where experts plan to mate her with the local male, Tam. Located in Tabin Wildlife Reserve, the Borneo Rhino Sanctuary is an uncompleted semi-wild enclosure and home to one of several last-ditch efforts to save the vanishing species from extinction.
Conservationists catch wild Sumatran rhino, raising hope for world's most endangered rhinoceros
(03/12/2014) Conservationists have succeeded in catching a wild Sumatran rhino in the Malaysia state of Sabah in Borneo, according to local media reports. Officials are currently transferring the rhino, an unnamed female, to a rhino sanctuary in Tabin National Park where experts will attempt to mate it with the resident male, Tam. The Sumatran rhino (Dicerorhinus sumatrensis) is one of the world's most imperiled species with less than 100 individuals left.
Unraveling the secrets of one of the world's most mysterious big cats
(12/22/2013) The Sunda clouded leopard has always been shrouded in mystery. Only declared a separate species from its mainland cousin, the Borneo clouded leopard, in 2006, the IUCN lists the cat as Endangered. The distinction between the Borneo clouded leopard (Neofelis nebulas) and the Sunda clouded leopard (Neofelis diardi) was made by ground-breaking molecular coding technologies and anatomy studies of the two species. Although it is Borneo's largest predator, very little is known about the Sunda leopard. As a medium-sized, well-camouflaged and mostly nocturnal animal, the leopard has evaded researchers since its discovery eight years ago.
New project works to raise the profile of the world's littlest bear
(12/02/2013) The world's least-known bear also happens to be the smallest: sun bears (Helarctos malayanus), so called for the yellowish horseshoe mark on its chest, are found across Southeast Asia. But despite their telltale markings, super-long tongues, and endearing cuteness, sun bears remain little-studied and little-known compared to many of the region's other large mammals. Now, a new project is working to raise the profile of the sun bears of Borneo—Survival of the Sun Bears—which are a smaller subspecies of the mainland animals.
World's most cryptic feline photographed in logging concession
(11/04/2013) The bay cat is arguably the world's least-known member of the cat family (Felidae). Although first described by scientists in 1874, no photo existed of a living specimen until 1998 and a wild cat in its rainforest habitat wasn't photographed until five years later. Given this, scientists with Zoological Society of London (ZSL) and Imperial College London were taken aback when their remote camera traps captured numerous photos of these elusive cats hanging out in a commercial logging concession in Sabah, a state in Malaysian Borneo.
Bornean elephant meets palm oil: saving the world's smallest pachyderm in a fractured landscape
(10/01/2013) In the Malaysian state of Sabah, where most conservation students are still foreigners—either European or American—Nurzahafarina Othman stands out: not only is she Malaysian, a Muslim, and a mother of a young daughter, but she's rapidly becoming a top researcher and champion for the world's smallest elephant: the Bornean elephant (Elephas maximus borneensis). Although sometimes described as a pygmy elephant, they still weigh 2,000 kilograms (4,400 pounds). The origin of these 'tiny' elephants in Malaysian Borneo have baffled scientists for decades.
Zombie coal: Borneo resurrects controversial coal plant

(09/18/2013) The Malaysian government is taking another look at building a hugely controversial coal-fired plant in the Bornean state of Sabah, a proposal that was thrown out in 2011 due to a large-scale grassroots movement. The 300 megawatt coal plant would have been built in Lahad Datu on the edge of a wildlife reserve and the state's renowned coral reefs. Reportedly, the government is now considering building the same plant only further south in Tawau, which also lies on the coast.
Conserving the long-neglected freshwater fish of Borneo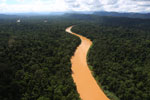 (06/11/2013) Borneo is a vast tropical island known for orangutans, rhinos, elephants, sun bears, proboscis monkeys, hornbills, and ubiquitous leeches. Conservationists have championed all of these species (aside from the leeches) in one way or another, but like many tropical regions Borneo's freshwater species have long been neglected, despite their rich biodiversity and importance to local people. But a new organization, the Kinabatangan River Spirit Initiative, is working to change that.
Unidentified toxin caused the deaths of Borneo elephants

(04/18/2013) After three months, officials still don't know for certain what killed at least 14 Bornean elephants (Elephas maximus borneensis) in the Malaysian state of Sabah. However tests do indicate that the herd perished from a "caustic intoxicant," possibly ingested accidentally or just as easily intentionally poisoned. A distinct subspecies, Bornean elephants are the world's smallest with a population that has fallen to around 2,000 on the island.
Sumatran rhino population plunges, down to 100 animals

(04/08/2013) Less than 100 Sumatran rhinos survive in the world today, according to a bleak new population estimate by experts. The last survey in 2008 estimated that around 250 Sumatran rhinos survived, but that estimate now appears optimistic and has been slashed by 60 percent. However conservationists are responding with a major new agreement between the Indonesian and Malaysian governments at a recent summit by the International Union for Conservation of Nature's Species Survival Commission (IUCN SSC).
Featured video: moving green, local energy forward in Southeast Asia
(02/25/2013) A new video highlights the work and drive of renewable energy proponents at the inaugural meeting of Southeast Asia Renewable Energy People's Assembly (SEAREPA) in the Malaysian state of Sabah. Held last year, the meeting brought together 80 organizations from 12 countries to discuss the potential and challenges of green energy in the region. The idea of SEAREPA came about after activists in Sabah successfully defeated plans for a coal-fired power plant to be built adjacent to old-growth rainforest and one of the world's most biodiverse coral reefs.
New palm oil concession imperils orangutan population in Borneo

(01/28/2013) Three conservation groups warn that a proposed palm oil plantation puts a significant Bornean orangutan (Pongo pygmaeus) population at risk in the Malaysian state of Sabah. The plantation, which would cover 400 hectares of private forest land, lies adjacent to Kulamba Wildlife Reserve, home to 480 orangutans.
Micro-hydro and decentralized green energy goals set in Borneo

(11/04/2012) The first ever meeting of the Southeast Asia Renewable Energy People's Assembly (SEAREPA) ended with agreement on 12 future projects, including developing community micro-hydro power and pushing for new policies on decentralized renewable energy in the region. Held in Malaysian state of Sabah on the island, the meeting brought together 130 people from some 80 different groups.
After defeating coal plant, Borneo hosts renewable energy meeting

(10/31/2012) Last year, a coalition of environmentalists and locals won a David-versus-Goliath battle against a massive coal plant in the Malaysian state of Sabah on Borneo. After facing a protracted campaign—including expert analysis of green energy options for Sabah—the state government announced it was scuttling plans to build the coal plant on a beach overlooking the Coral Triangle. Now, victorious grassroots campaigners are hosting the inaugural meeting of the Southeast Asia Renewable Energy People's Assembly (SEAREPA), bringing 80 organizations together to discuss green energy options across southeast Asia.
Photos: camera traps capture wildlife bonanza in Borneo forest corridor
(09/10/2012) Camera traps placed in a corridor connecting two forest fragments have revealed (in stunning visuals) the importance of such linkages for Borneo's imperiled mammals and birds. Over 18 months, researchers with the Sabah Wildlife Department (SWD) and the Danau Girang Field Centre (DGFC) have photographed wildlife utilizing the corridor located in the Lower Kinabatangan Wildlife Sanctuary in Malaysian Borneo.
Animal picture of the day: Sunda clouded leopard in Borneo

(07/09/2012) The Sunda clouded leopard (Neofelis diardi) is the largest wild cat in Borneo and is classified as Endangered by the IUCN Red list of threatened species. Due to their nocturnal and cryptic habits they are seldom observed and very little is known of their basic ecology and distribution. This large Clouded leopard was photographed by remote camera trap in Malua BioBank as part of the Bornean Banteng Program which studies the rare banteng (Bos javanicus lowi).
$90 million in corrupt logging money linked to Malaysian Chief Minister, UBS bank
(04/24/2012) Documents under investigation show that around $90 million may have been laundered from logging companies in Sabah to UBS bank accounts linked to high-ranking Malaysian officials, according to the Sarawak Report. Critics of the government say the money is likely kickbacks from logging companies to government officials for the right to log in the state's declining rainforests. Such transactions are alleged to occur typically in the run up to elections.
How a crippled rhino may save a species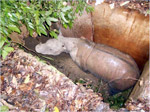 (04/09/2012) On December 18th, 2011, a female Sumatran rhino took a sudden plunge. Falling into a manmade pit trap, the rhino may have feared momentarily that her end had come, but vegetation cushioned her fall and the men that found her were keen on saving her, not killing her. Little did she know that conservationists had monitored her since 2006, and for her trappers this moment had been the culmination of years of planning and hope. A few days later she was being airlifted by helicopter to a new home. Puntung, as she has become called, was about to enter a new chapter in her life, one that hopefully will bring about a happy ending for her species.
Picture of the day: tarsier rescued from palm oil plantation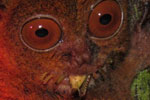 (03/20/2012) Earlier this month, biologists with Danau Girang Field Centre (DGFC) in the Malaysian state of Sabah in Borneo, found and rescued a tarsier from a locally owned palm oil plantation. "For a day, we kept the animal in a cage at the field centre and fed him with insects", explained Alice Miles, a Cardiff University student leading a project on tarsier and slow loris ecology at DGFC.
What a Bornean elephant wants: more protected forests and wildlife corridors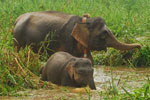 (02/16/2012) Forest fragmentation and destruction is imperiling the Bornean elephant (Elephas maximus borneensis), according to a new paper published in PLoS ONE. Using satellite collars to track the pachyderms for the first time in the Malaysian state of Sabah, scientists have found that the elephants are extremely sensitive to habitat fragmentation from palm oil plantations and logging.
Photos of the day: satellite tagging a 12-foot saltwater crocodile

(02/06/2012) Researchers in the Malaysian state of Sabah on Borneo have successfully satellite-tagged a 3.6 meter (11.8 feet) saltwater crocodile (Crocodylus porosus) in an effort to study human-wildlife conflict with the world's largest reptile. As massive, powerful reptiles they are quite capable of injuring and killing adult humans.
Wildlife official: palm oil plantations behind decline in proboscis monkeys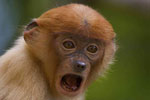 (12/05/2011) The practice of palm oil plantations planting along rivers is leading to a decline in proboscis monkeys (Nasalis larvatus) in the Malaysian state of Sabah on Borneo, says the director of the Sabah Wildlife Department, Laurentius Ambu. Proboscis monkeys, known for their bulbous noses and remarkable agility, depend on riverine forests and mangroves for survival, but habitat destruction has pushed the species to be classified as Endangered by the IUCN Red List.
Animal picture of the day: tracking the world's smallest elephant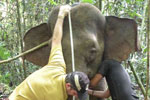 (11/15/2011) Researchers have fitted three Bornean elephants with satellite collars to track them across the Lower Kinabatangan Wildlife Sanctuary, in the Malaysian state of Sabah, Borneo. The effort means currently five elephants are being tracked. The tracking is a part of a collaborative effort by the Sabah Wildlife Department (SWD), the NGO HUTAN, and the Danau Girang Field Centre (DGFC).