News articles on rhinos

---
Mongabay.com news articles on rhinos in blog format. Updated regularly.





Kids campaign to save South Africa's rhinos from poaching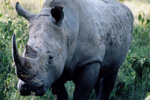 (08/09/2012) The young founders of the U.S. conservation group, One More Generation (OMG), have taken on a new task: halting rhino poaching in South Africa. After a trip last year to visit South Africa, Carter Ries (age 11) and Olivia Ries (age 9), have jump-started a campaign to help convince the South African government to put more resources into halting a rhino poaching plague in the country. Last year an astounding 448 rhinos were killed in South Africa for their horns, averaging more than one rhino a day.


New Sumatran rhino mama filmed giving birth and nursing

(06/25/2012) On early Saturday morning, scientists were elated when first-time Sumatran rhino mother, Ratu, gave birth to a healthy male calf. The birth was filmed as well footage has been taken of the little tike—with massive eyes—nursing (see videos below). The new calf gives hope to a species on the very brink of extinction.


Historic birth for the Sumatran rhino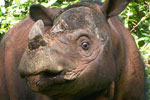 (06/24/2012) After two miscarriages and a pregnancy that lasted 15 months, Ratu, a female Sumatra rhino, has given birth to a healthy male calf, conservationists happily announced this weekend. The birth at a rhino sanctuary in Way Kambas National Park in Sumatra is the culmination of years of hard work, dedication, and the best reproductive rhino science in the world. This is the first captive birth in Indonesia, and only the fourth captive birth for the Sumatran rhino (Dicerorhinus sumatrensis) in the last hundred years. The successful birth brings new hope for one of the world's rarest mammals: less than 200 Sumatra rhinos are thought to survive in the world.


The rarest rhino's last stand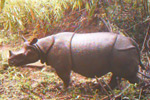 (06/04/2012) Trekking through deep mud and sawgrass we find a stinking wallow. The elite rangers, dressed completely in black despite the tropical heat, mark the site with the GPS unit, measure the mucky puddle's depth, and move on. This is the first sign of one of the planet's rarest animals—the Javan rhino. Only 35 or so remain, including none in captivity. This patch of rainforest and swamp in Ujung Kulon National Park—on the very tip of West Java—is their last and only refuge.


Organizations target rhino horn consumption in China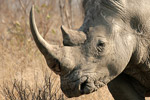 (05/07/2012) Last year nearly 450 rhinos were killed for their horns in South Africa, which has become the epicenter for the global rhino poaching epidemic. Rhinos are dying to feed rising demand for rhino horn in Asia, which is ground up and sold as traditional Chinese medicine, even though scientific studies have shown that rhino horn has no medicinal benefit. Now, two organizations, the African Wildlife Foundation (AWF) and Wildaid have announced a partnership to move beyond anti-poaching efforts and target rhino horn consumption in China.


New video documents nearly all the world's remaining Javan rhinos

(05/01/2012) Nearly all the world's remaining Javan rhino have been documented on video via camera traps in Indonesia's Ujung Kulon National Park, according to a montage put together by park authorities.


How a crippled rhino may save a species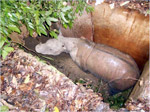 (04/09/2012) On December 18th, 2011, a female Sumatran rhino took a sudden plunge. Falling into a manmade pit trap, the rhino may have feared momentarily that her end had come, but vegetation cushioned her fall and the men that found her were keen on saving her, not killing her. Little did she know that conservationists had monitored her since 2006, and for her trappers this moment had been the culmination of years of planning and hope. A few days later she was being airlifted by helicopter to a new home. Puntung, as she has become called, was about to enter a new chapter in her life, one that hopefully will bring about a happy ending for her species.


Kruger National Park loses 95 rhinos to poachers in three months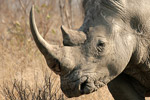 (04/05/2012) Since the first of the year, South Africa's Kruger National Park has lost 95 rhinos to poachers, reports the blog Rhino Horn is NOT Medicine. South Africa, and Kruger National Park in particular, continue to be the epicenter for rhino poaching worldwide. South Africa has lost 159 rhinos in total this year with Kruger bearing nearly 60 percent of the fatalities.


Wildlife corridor key to conserving tigers, rhinos in Nepal

(03/19/2012) A single forest corridor links two of Nepal's great wildlife areas: Chitwan National Park and the Mahabharat mountain range, also known as the "little Himalayas." The Barandabhar Forest Corridor (BFC) has become essential for the long term survival Nepal's Indian rhinos (Rhinoceros unicornis) and Bengal tigers (Panthera tigris tigris). Yet, according to a new paper published in mongabay.com's open access journal Tropical Conservation Society (TCS), the corridor is imperiled by deforestation, a highway, and inconsistent management policies.


National Geographic linked to rainforest destruction


(03/01/2012) A new report by Greenpeace has found a direct link between National Geographic Society (NGS) products and rainforest destruction in Indonesia that threatens tigers and orangutans. An analysis on National Geographic books found Sumatran rainforest fiber from Asia Pulp and Paper (APP), a brand whose suppliers have been linked to rainforest destruction in Sumatra, and, in the most recent Greenpeace report, alleged illegal logging of protected rainforest trees. One of the world's largest non-profit science and educational organizations, National Geographic is known worldwide for its magazines, documentaries, and award-winning photos. The organization also has a long-standing history of championing environmental and conservation issues. However, National Geographic says it has not sourced APP paper for "several years."


Feds bust rhino horn traffickers

(02/23/2012) Federal agents from the U.S. Fish and Wildlife Service (FWS) and U.S. Immigration and Customs Enforcement (ICE) arrested seven people on charges of trafficking endangered rhino horn in the United States, reports the Department of Justice and Department of the Interior. The arrests were made in Los Angeles, Newark, and New York.


Sumatran rhino pregnant: conservationists hope third time's the charm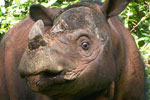 (02/07/2012) Ratu, a female Sumatra rhino (Dicerorhinus sumatrensis), is in the eleventh month of her third pregnancy raising hopes for a successful birth of one of the world's most imperiled big mammals. Ratu suffered two prior miscarriages, but researchers believe the current pregnancy—which still has four to five months to go (for a total term of around 15-16 months)—could produce what Indonesian officials have long hoped for: a bundle of joy at the Sumatran Rhino Sanctuary in Sumatra. With only around 200 Sumatran rhinos surviving today in Indonesia and Bornean Malaysia, many conservationists see such breeding efforts as the last and best chance to save the Critically Endangered species from extinction.


Happy rhino news: no rhinos poached in Nepal last year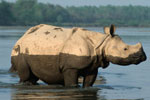 (01/10/2012) As rhinos again fell to poachers in record numbers in 2011, there was one bright-spot: Nepal. Not a single rhino was killed by poachers in the Himalayan nation, home to an estimated 534 greater one-horned rhinos (Rhinoceros unicornis), categorized as Vulnerable by the IUCN Red List. Conservationists celebrated at Chitwan National Park, which holds the vast majority of the country's rhinos.


Camera traps snap 35 Javan rhinos, including calves

(01/04/2012) Camera traps have successfully taken photos of 35 Javan rhinos (Rhinoceros sondaicus) in Ujung Kulon National Park. The small population, with an estimated 45 or so individuals, is the species' last stand against extinction. Late last year, a subspecies of the Javan rhino, the Vietnamese rhino (Rhinoceros sondaicus annamiticus), was declared extinct.


'Christmas miracle' for endangered rhinos

(12/24/2011) Conservationists and wildlife officials in the Malaysian state of Sabah airlifted a young female Sumatran Rhinoceros — one of the world's most endangered animals — to an area of forest where she would encounter a potential partner, reports the Sabah Wildlife Department and Borneo Rhino Alliance. Sumatran Rhinoceros populations are so low, some individuals live in areas where they have no hope of ever finding another rhino.


Top 10 Environmental Stories of 2011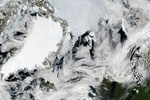 (12/22/2011) Many of 2011's most dramatic stories on environmental issues came from people taking to the streets. With governments and corporations slow to tackle massive environmental problems, people have begun to assert themselves. Victories were seen on four continents: in Bolivia a draconian response to protestors embarrassed the government, causing them to drop plans to build a road through Tipnis, an indigenous Amazonian reserve; in Myanmar, a nation not known for bowing to public demands, large protests pushed the government to cancel a massive Chinese hydroelectric project; in Borneo a three-year struggle to stop the construction of a coal plant on the coast of the Coral Triangle ended in victory for activists; in Britain plans to privatize forests created such a public outcry that the government not only pulled back but also apologized; and in the U.S. civil disobedience and massive marches pressured the Obama Administration to delay a decision on the controversial Keystone XL pipeline, which would bring tar sands from Canada to a global market.


A final farewell: the Western Black Rhino goes extinct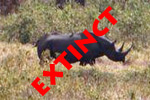 (11/12/2011) The western black rhinoceros (Diceros bicornis longipes) roams the woodlands of Africa no more. The rhino, one of four sub-species of black rhino, was declared extinct this week by the IUCN, five years after the last extensive survey of its habitat in Cameroon. The rhino becomes the second declared extinct this year. All rhinos are threatened by the rhino horn trade.


Malaysia must take action to avoid extinction of its last rhinos

(11/05/2011) Malaysia must take immediate action to prevent the extinction of the handful of rhinos that survive on the island of Borneo, says a coalition of environmental groups.


South Africa hits record poaching of rhinos—again


(11/03/2011) Two months before the end of the year, the number of rhinos killed for their horns in South Africa has surpassed last year's breaking record, reports conservation organizations WWF and TRAFFIC. So far, 341 rhinos have been lost to poaching this year; while last year saw a total record of 333. The news follows last week's announcement that the Vietnamese rhino (Rhinoceros sondaicus annamiticus), a subspecies of the Javan rhino, has gone extinct—the last individual killed by a poachers' bullet. Rhinos are killed for their horns which are used in traditional Chinese medicine, even though numerous studies have shown there is no medicinal benefit to consuming rhino horn.


The last goodbye: Vietnam's rhino goes extinct (PICTURES)

(10/26/2011) In 2009 poachers shot and killed the world's last Vietnamese rhinoceros (Rhinoceros sondaicus annamiticus), a subspecies of the Javan rhino. The Vietnamese rhino was the last rhino species that survived on the southeast Asia mainland.


Vietnamese rhino goes extinct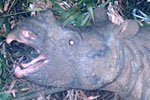 (10/25/2011) In 2009 poachers shot and killed the world's last Vietnamese rhinoceros (Rhinoceros sondaicus annamiticus), a subspecies of the Javan rhino, confirms a report from International Rhino Foundation (IRF) and the World Wide Fund for Nature (WWF). The Vietnamese rhino was the last Javan rhino to survive on the Asian mainland and the second subspecies to vanish, following the extinction of the Indian Javan rhino (rhinoceros sondaicus inermis). The Javan rhino is the world's most imperiled rhino species with now only around 50 individuals surviving in a single park on its namesake island in Indonesia.


Animal picture of the day: world's tiniest rhino for World Rhino Day

(09/22/2011) The Sumatran rhino is the world's smallest species of rhino, but the Bornean rhino—a subspecies of the Sumatra—is even tinier.


New US stamp seeks to raise money for endangered species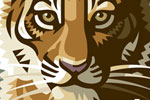 (09/20/2011) As of today, buying a stamp may help save some of the world's most beloved and endangered species. The US Postal Service has released a new stamp that will raise money for the Multinational Species Conservation Funds (MSCF) which works to save tigers, rhinos, great apes, marine turtles, and elephants. The new stamp sports the image of an Amur tiger cub, a subspecies of the tiger the Amur tiger (Panthera tigris altaica) is listed as Endangered by the IUCN Red List.


Saving the wrong rhino in Indonesia?

(07/29/2011) The slideshow titled "APP: Establishing the Facts" would indeed be laughable if they were not so sad. In the slides on "Investing in Biodiversity," APP appears to want to show how innovative it is in the conservation arena by focusing on the Javan rhino. The slides depict photos of wildlife and the Javan Rhino Sanctuary.


How to fight organized wildlife crime in East Asia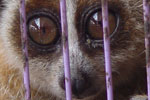 (07/27/2011) Organized criminal syndicates are wiping out some of the world's most charismatic wildlife to feed a growing appetite for animal parts in East Asia#8212;and so far governments and law enforcement are dropping the ball. This is the conclusion from a new paper in Oryx, which warns unless officials start taking wildlife crime seriously a number of important species could vanish from the Earth.


Rhino poaching on record pace

(07/08/2011) Nearly 200 rhinos have been killed in South Africa through the first six months of 2011, reports TRAFFIC, the wildlife trade monitoring network.


Eating rhino horn sends woman to hospital

(06/30/2011) A Vietnamese woman ended up in the hospital after consuming rhino horn, reports savingrhinos.org. Used for a rash around her mouth, the rhino horn instead caused a serious allergic reaction, including reddening skin, itching, and fever. Listed under the Convention on International Trade in Endangered Species of Wild Fauna and Flora (CITES), rhino horn is illegal to purchase or sell worldwide.


How do we save the Sumatran rhino?



(06/06/2011) Some conservation challenges are more daunting than others. For example, how do you save a species that has been whittled down to just a couple hundred individuals; still faces threats such as deforestation, poaching and trapping; is notoriously difficult to breed in captivity; and is losing precious time because surviving animals are so few and far-apart that simply finding one another—let alone mating and successfully bringing a baby into the world—is unlikely? This is the uphill task that faces conservationists scrambling to save the Sumatran rhino (Dicerorhinus sumatrensis). A new paper in Oryx, aptly named Now or never: what will it take to save the Sumatran rhinoceros Dicerorhinus sumatrensis from extinction? analyzes the conservation challenge, while putting forth a number of recommendations.


Down to 50, conservationists fight to save Javan Rhino from extinction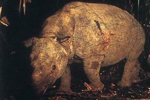 (05/17/2011) Earlier this year, the International Rhino Foundation launched Operation Javan Rhino to prevent the extinction of the critically endangered Javan Rhinoceros (Rhinoceros sondaicus), formerly found in rain forests across Southeast Asia. Operation Javan Rhino is a multi-layered project which links field conservation, habitat restoration, and management efforts with the interests of local governments and communities. The following is an interview with Susie Ellis, Executive Director of the International Rhino Foundation.


Google Earth animation reveals Indonesian forest targeted for destruction by pulp and paper companies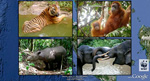 (05/14/2011) A new animation created using Google Earth offers a tour of an area of forest slated for destruction by logging companies. The animation, created by WWF-Indonesia and David Tryse, with technical assistance from Google Earth Outreach, highlights the rainforest of the Bukit Tigapuluh landscape in Sumatra, the only island in the world that is home to Sumatran tigers, elephants, rhinos, and orangutans. All of these species are considered endangered or critically endangered due to habitat destruction or poaching.


Belief and butchery: how lies and organized crime are pushing rhinos to extinction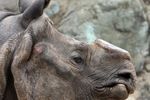 (05/11/2011) Few animals face as violent, as well organized, and as determined an enemy as the world's rhinos. Across the globe rhinos are being slaughtered in record numbers; on average more than one rhino is killed by poachers everyday. After being shot or drugged, criminals take what they came for: they saw off the animal's horn. Used in Traditional Chinese Medicine, which claims that it has curative properties, rhino horn is worth more than gold and cocaine on the black market. However, science proves all this cash and death is based on a lie. 'There is no medicinal benefit to consuming rhino horn. It has been extensively analyzed in separate studies, by different institutions, and rhino horn was found to contain no medical properties whatsoever,' says Rhishja Larson.


In spite of poaching, Nepal's rhino population on the rise

(04/27/2011) Good news for rhinos is rare recently, but a new census shows that Nepal's one-horned rhino (Rhinoceros unicornis) population has increased by 23% since 2008 even in the face of poaching. In total 534 rhinos survive in Nepal, a rise of 99 individuals from 3 years ago.


A new rhino species?

(04/11/2011) Using genetic data and re-assessing physical evidence, scientists write that they have uncovered a new species of rhino, long considered by biologists as merely a subspecies. Researchers write in an open access PLoS ONE paper published last year that evidence has shown the northern white rhino is in fact a distinct species from the more commonly known—and far more common—southern white rhino. If the scientific community accepts the paper's argument it could impact northern white rhino conservation, as the species would overnight become the world's most endangered rhino species with likely less than ten surviving.


New method to measure threat of extinction could help conservationists prioritize

(04/07/2011) Researchers have developed a new method to predict how close species are to extinction. Dubbed SAFE (Species Ability to Forestall Extinction) the researchers believe the new tool, published in the Frontiers in Ecology and Environment, should help conservationists select which species to focus on saving and which, perhaps controversially, should be let go.


Pulp and paper firms urged to save 1.2M ha of forest slated for clearing in Indonesia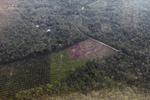 (03/17/2011) Indonesian environmental groups launched a urgent plea urging the country's two largest pulp and paper companies not to clear 800,000 hectares of forest and peatland in their concessions in Sumatra. Eyes on the Forest, a coalition of Indonesian NGOs, released maps showing that Asia Pulp and Paper (APP) and Asia Pacific Resources International Limited (APRIL) control blocks of land representing 31 percent of the remaining forest in the province of Riau, one of Sumatra's most forested provinces. Much of the forest lies on deep peat, which releases large of amount of carbon when drained and cleared for timber plantations.


Video: camera trap proves world's rarest rhino is breeding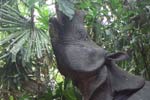 (02/28/2011) There may only be 40 left in the world, but intimate footage of Javan rhino mothers and calves have been captured by video-camera trap in Ujung Kulon National Park, the last stand of one of the world's most threatened mammals. Captured by World Wildlife Fund (WWF) and Indonesia's Park Authority, the videos prove the Javan rhinos are, in fact, breeding. "The videos are great news for Javan rhinos," said Dr. Eric Dinerstein chief scientist at WWF, adding that "there are no Javan rhinos in captivity—if we lose the population in the wild, we've lost them all."


Rhino horn price matches cocaine

(02/13/2011) As a rhino poaching epidemic continues throughout Africa and Asia, the price of rhino horn has matched cocaine, according to the UK's Daily Mirror. The price of illegal powdered rhino horn—obtained by killing wild rhinos and sawing off their horns—has hit £31,000 per kilo or nearly $50,000 per kilo. The price has already topped that of gold.


Last year worst yet for rhino killings in South Africa

(01/19/2011) Three hundred and thirty-three rhinos were killed in South Africa last year, the highest number yet. Ten of the rhino were black rhinos, which are listed as Critically Endangered by the IUCN Red List, the rest were white rhinos, listed as Near Threatened. In total South Africa has over 20,000 rhinos.


Reforestation effort launched in Borneo with nearly-extinct rhinos in mind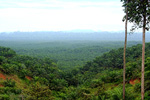 (11/18/2010) The Rhino and Forest Fund (RFF) has partnered with the Forestry Department of Sabah in northern Borneo to launch a long-term reforestation project to aid Malaysia's threatened species with particular emphasis on the Bornean rhino (Dicerorhinus sumatrensis harrissoni), one of the world's most imperiled big mammals. The reforestation project will be occurring in and adjacent to Tabin Wildlife Reserve, which is surrounded on all sides by oil palm plantations.


Rebuttal: Slaughtering farmed-raised tigers won't save tigers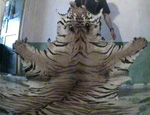 (11/18/2010) A recent interview with Kirsten Conrad on how legalizing the tiger trade could possibly save wild tigers sparked off some heated reactions, ranging from well-thought out to deeply emotional. While, we at mongabay.com were not at all surprised by this, we felt it was a good idea to allow a critic of tiger-farming and legalizing the trade to officially respond. The issue of tiger conservation is especially relevant as government officials from tiger range states and conservationists from around the world are arriving in St. Petersburg to attend next week's World Bank 'Tiger Summit'. The summit hopes to reach an agreement on a last-ditch effort to save the world's largest cat from extinction.


Alleged rhino horn dealer takes his own life

(11/10/2010) The illegal trade in rhino horn doesn't just end in the deaths of thousands of rhinos. Humans, too, often lose their lives in the trade. Both those poaching rhinos and those protecting them, such as park rangers, have been killed in gun battles. But the trade ruins lives in many ways: yesterday, Tommy Fourie, 51, who allegedly sold 36 rhino hunters to a game farmer, shot himself with a hunting rifle in South Africa.


Undercover for animals: on the frontline of wildlife crime in the US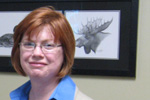 (11/03/2010) Special Agent O'Connor is a veteran wildlife law enforcement officer, with over 20 years of service under belt. She began her career in wildlife law enforcement as a Conservation Police Officer for the Illinois Department of Natural Resources, where she served for eight years. She then moved to federal wildlife law enforcement with the US Fish and Wildlife Service, where she was first posted to Ann Arbor, Michigan, and then to St. Paul, Minnesota. During that time, she investigated several major cases that led to felony convictions for violations of wildlife laws. She now serves as a training officer at the Federal Law Enforcement Training Center (FLETC), the interagency law enforcement training organization that serves 88 Federal agencies, in Georgia.


Chinese court sentences rhino horn smuggler to 12 years

(10/07/2010) A traditional Chinese medicine businessman has been sentenced to 12 years in prison for attempting to smuggler rhino horn from Vietnam to China, according to Saving Rhinos which has been following the case on ChinaCourt.org.


Fighting poachers, going undercover, saving wildlife: all in a day's work for Arief Rubianto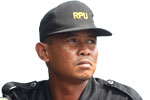 (09/29/2010) Arief Rubianto, the head of an anti-poaching squad on the Indonesian island of Sumatra best describes his daily life in this way: "like mission impossible". Don't believe me? Rubianto has fought with illegal loggers, exchanged gunfire with poachers, survived four days without food in the jungle, and even gone undercover—posing as a buyer of illegal wildlife products—to infiltrate a poaching operation. While many conservationists work from offices—sometimes thousands of miles away from the area they are striving to protect—Rubianto works on the ground (in the jungle, in flood rains, on rock faces, on unpredictable seas, and at all hours of the day), often risking his own life to save the incredibly unique and highly imperiled wildlife of Sumatra.


Could camera traps save wildlife worldwide?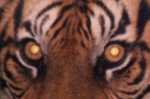 (08/31/2010) It's safe to say that the humble camera trap has revolutionized wildlife conservation. This simple contraption—an automated digital camera that takes a flash photo whenever an animal triggers an infrared sensor—has allowed scientists to collect photographic evidence of rarely seen, and often globally endangered species, with little expense and relative ease—at least compared to tromping through tropical forests and swamps looking for endangered rhino scat . Now researchers with the Wildlife Conservation Society (WCS) and the Zoological Society of London (ZSL) are taking the utility of the camera trap one step further: a study in Animal Conservation uses a novel methodology, entitled the Wildlife Picture Index (WPI), to analyze population trends of 26 species in Bukit Barisan Selatan National Park on the Indonesian island of Sumatra. While the study found a bleak decline in species, it shows the potential of camera traps for moving conservation forward since it marks the first time researchers have used camera traps to analyze long-term population trends of multiple species.


APP refutes Greenpeace charges on deforestation, though audit remains absent

(08/12/2010) Asia Pulp & Paper, which has long been a target of green groups for deforestation and threatening imperiled species, is touting a new audit the pulping company says finds allegations made by environmental NGOs, including Greenpeace and WWF, are "baseless, inaccurate, and without validity". Conducted by the international accounting and auditing firm Mazars, the audit itself has not been released; however Mazars has signed off on the validity of a 24 page document entitled "Getting the Facts Down on Paper".


Already illegal, one man tests poisoning rhino horn too

(07/28/2010) Given the epidemic of rhino poaching across Africa and Asia, which has placed four out of five species in jeopardy of extinction, one fed-up game manager wants to take the fight beyond the poachers to the consumer. Ed Hern, owner of the Lion and Rhino Park near Johannesburg, told South Africa's The Times that he has begun working with a veterinarian on injecting poison into a rhino's horn to consumers. He told The Times that people who consumed poisoned rhino horn "would get very sick or die".


Elle MacPherson promotes consumption of illegal rhino horn [warning: graphic image]

(07/02/2010) Despite a number of scientific studies showing that rhino horn has no curative properties, supermodel, entrepreneur, and recent host of Britain's Next Top Model, Elle Macpherson, says she ingests powdered rhino horn because: '[it] works for me'. In an interview with The Sunday Times via Twitter, Elle Macpherson says the illegal substance tastes like 'crushed bone and fungus'.


Poachers kidnap and murder ranger in India

(06/14/2010) A forest guard (i.e. ranger) in Orang National Park paid the ultimate price for protecting wildlife last week. Hassan Ali was found with two bullets in his stomach after being kidnapped by four men allegedly connected to poaching operations targeting the park.


To save species, Malaysia implements daring plan to trap wild Bornean rhino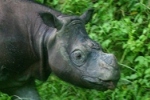 (06/13/2010) With less than 40 individuals left in the world, the Bornean rhino is a small step away from extinction. Yet conservationists and government officials in the Malaysian state of Sabah are not letting this subspecies of the Sumatran rhino go without a fight. Implementing a daring last-ditch plan to save the animal, officials are working to capture a wild female to mate with a fertile male named Tam, who was rescued after wandering injured into a palm oil plantation two years ago.



Page 1 | Page 2 | Page 3