News articles on rhinos

---
Mongabay.com news articles on rhinos in blog format. Updated regularly.








Can we save the Sumatran rhino? Indonesia holds out hope
(06/19/2015) 'One percent of the world's population,' veterinarian Zulfi Arsan says as he nods towards Bina, a 714-kilogram, 30-year-old female Sumatran rhinoceros leisurely crunching branches whole. A gentle and easygoing rhino, pink-hued Bina doesn't seem to mind the two-legged hominids snapping pictures and awing at her every move at the Sumatran Rhino Sanctuary.
What do China, Kenya and India have in common? Wildlife trafficking

(06/16/2015) When it comes to trafficking rhino, elephant, and tiger parts the biggest players are China, Kenya, India, Vietnam, South Africa and Thailand, according to a new paper in PNAS. Examining news media reports aggregated by HealthMap: Wildlife Trade, researchers were able to pinpoint the most important countries for exporting, moving and importing illegal wildlife parts worldwide.
Amid rhinoceros poaching frenzy, dark days for South African society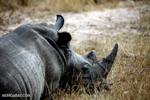 (06/05/2015) South Africa is in the eye of a global rhino-poaching cyclone, with highly organized and elusive international syndicates running a brisk black-market trade in rhino horn. Public trust is faltering: 'Rhino money buys many people at all levels,' a senior antipoaching official said.
Nepal's rhino population rises by 72% in ten years

(05/26/2015) A new survey in Nepal counted 645 one-horned rhinos, up from 375 animals ten years ago and 534 animals in 2011. This represent a rise of 72 percent over the last ten years, an impressive feat given that the world's rhinos are facing a savage poaching crisis.
South African Airways bans all wildlife trophies from flights
(05/14/2015) Trophy hunters may need to find another flight home, as South African Airlines (SAA) has announced a new ban on any wildlife trophies from their flights. The debate over trophy hunting in Africa is rising as many of the continent's most beloved mammals—including lions, elephants, rhinos, and giraffes—face precipitous declines.
Rhino poaching rate rises 18 percent in South Africa

(05/13/2015) In the first four months of 2015, poachers killed 393 rhinos in South Africa, the epicenter of the rhino poaching crisis. This is an 18 percent rise from last year, which saw 1,215 rhinos butchered in total. Like previous years, the biggest hotspot was Kruger National Park where 290 rhinos have died so far.
Officials: Sumatran rhino is extinct in the wild in Sabah
(04/23/2015) There are no Sumatran rhinos left in the wild in the Malaysian state of Sabah, confirmed Masidi Manjun, the Tourism, Culture and Envi­ronment Minister, over the weekend. In 2008, conservationists estimated there were around 50 rhinos in the state. Five years later, it dropped that estimate to just ten. Now, it's admitted the awful truth: the wild rhino is very likely gone.
Authorities catch kingpin responsible for killing 20 rhinos
(02/19/2015) With the aid of Interpol, authorities have arrested the leader of a rhino poaching gang responsible for killing a 20 Indian rhinoceros in Nepal. Last month, authorities nabbed Raj Kumar Praja in Malaysia where he had been evading capture for two years. Kumar was already evicted of 15 poaching incidents in absentia and sentenced to 15 years in prison.
1,215 rhinos butchered in South Africa in 2014
(01/22/2015) 1,215: that's the total number of rhinos butchered last year in South Africa for their horns. The number represents another annual record—the seventh in a row—topping last year's total by 195 rhinos. South Africa houses the bulk of the world's rhinos (around 80 percent), but has also become the center of the illegal poaching trade.
California introduces bill to close ivory loophole

(01/08/2015) California congresswoman, Toni G. Atkins, introduced a bill yesterday (AB 96) that would close a major loophole allowing ivory to be sold all over the state. Thousands of miles away, across Africa, poachers are decimating elephants for their ivory tusks. A recent study estimated that one fifth of the continent's elephants have been slaughtered in just three years.
How black rhinos and local communities help each other in Namibia
(01/07/2015) Africa's rhinos are in a state of crisis. Poaching for their horn has resulted in the deaths of thousands of animals and pushed the continent's two species—the white and black rhino—against the wall. Yet, despite the crisis, there are pockets of rhino territory where poaching remains rare and rhinos live comparatively unmolested. Indeed, one of the brightest spots for rhinos is in Namibia.
Then there were five: rhino death moves species closer to extinction

(12/15/2014) As if news for rhinos couldn't get any worse: this weekend, Angalifu, died a the San Diego Zoo. Forty four-year-old Angalifu was a male northern white rhino and his death means only five of this subspecies remains on the planet. Angalifu's death, which keepers suspect was simply from old age, follows soon after the death of another northern white rhino, Suni, in October.
Is captive breeding the final resort for the Sumatran rhino?
(12/03/2014) Nearing extinction, the Sumatran rhino is running out of options. A native of Indonesia and Malaysia, the Sumatran rhino has declined in the past 30 years from an estimated 800 individuals to no more than 75 remaining today. So far there have been three ad hoc meetings held in 1984, 1993, and 2013, each attempting to develop policies that would potentially save this critical species.
Rhino, cheetah win the world's top camera trap photo contest
(12/02/2014) Two big—and endangered—mammals took 2014's top prizes in the world's biggest camera trap photo contest: a black rhino and a Asiatic cheetah. The gorgeous shot of a black rhino at night in Zambia photo won the overall photo competition, while the image of a super-rare Asiatic cheetah in Iran took the top research prize.
Meet the world's most wanted environmental criminals

(11/26/2014) In keeping with recent efforts to ramp up action against environmental crime, INTERPOL has highlighted nine fugitives for breaking laws related to illegal logging, poaching and the wildlife trade, illegal fishing, and waste dumping, among other crimes.
New blood record: 1,020 rhinos killed in South Africa

(11/24/2014) South Africa has surpassed last year's grisly record for slaughtered rhinos—1,004—more than a month before the year ends. In an announcement on November 20th, the South African Department of Environmental Affairs said that 1,020 rhinos had been killed to date.
Conflict-fueled deforestation, poaching in Assam continue despite truce
(11/19/2014) Northeastern India boasts nearly 44 percent of the country's dense forests, and contains one of the most biodiverse areas in the world. However, the region lost approximately 548,440 hectares of tree cover—more than 3 percent—from 2001 through 2012. Sonitpur, Assam, has been particularly hard hit as people flooded into the area and cleared forest.
Disappearing oasis: northeastern India losing forests as people move in
(11/18/2014) Northeastern India is part of the Eastern Himalaya biodiversity hotspot, one of the megadiverse areas of the world. The region boasts more than 60 percent forest cover, compared to the 15 percent for India as a whole. However, not all is pristine when one visits areas designated as forest on the map.
Man plants forest, becomes film star
(11/14/2014) Jadav "Molai" Payeng is a 51-year-old man who lives in India's north-eastern state of Assam in the village of Aruna Chapori. A member of Assam's indigenous Mising tribe, Payeng is better known as the "Forest Man" for spending the last 35 years planting a forest bigger than New York City's Central Park.
One man plants forest larger than Central Park
(11/13/2014) Jadav "Molai" Payeng resides in northeast Assam's Jorhat district in the village of Aruna Chapori. Here, for the past 35 years, he has worked to plant trees on a sandbar island in the river near his home—and in the process, single-handedly established a forest larger than New York City's Central Park.
The inconvenient solution to the rhino poaching crisis
(10/28/2014) Daily, we read or hear of more rhino being poached to satisfy the seemingly insatiable demand from Asia for rhino horn. With countless articles and papers having been published on the subject - and the Internet abuzz with forums, including heated debates concerning possible solutions - current approaches seem to be failing. Evidence is in the numbers. Known poaching deaths in South Africa have risen sharply over the past three years: 668 rhinos in 2012, 1,004 last year, and 899 through the first nine months of 2014. This toll includes only documented kills — the real number is higher.
With death of rhino, only six northern white rhinos left on the planet
(10/20/2014) Rhino conservation suffered another tragic setback this weekend with the sudden death of Suni, a male northern white rhinoceros at the Ol Pejeta Conservancy in Kenya. Suni's passing means there are only six northern white rhinos left in the world, and only one breeding male. 'Consequently the species now stands at the brink of complete extinction, a sorry testament to the greed of the human race,' wrote the Conservancy.
Photos: Czech Republic publicly burns confiscated rhino horns
(10/06/2014) Late last month, armed guards escorted officials marching 60 kilograms (132 pounds) of rhino horns to a pyre for burning. The event, at the Dvůr Králové Zoo in the Czech Republic, was the first public burning of rhino horns in Europe. The Czech Republic burned the horns, which came from a government stockpile as well as from past rhinos held at the zoo, in a bid to help conserve rhinos.
Armed conflict decimates tigers, rhinos, and swamp deer in Indian park

(09/30/2014) The human cost of war is horrendous. However, while most attention is focused on the suffering caused to people—and rightly so—an understudied element is the impact on wildlife conservation. This is worrying given that many of the world's conflict zones are situated in biodiversity hotspots.
Camera traps capture 'fantastically bizarre' animal behavior in South African park
(09/17/2014) Cowbirds ride cattle to pick off their parasites; egrets pal around with wildebeest and eat the small creatures disturbed by their grazing. But mammals riding other mammals is something long-thought pretty much isolated to humans and their domestic creatures. Then, earlier this month, a camera trap in a park in South Africa captured something that contradicts this assumption: a genet riding around on giant herbivores.
U.S should sanction Mozambique for its role in elephant, rhino poaching, urges NGOs

(07/03/2014) Two prominent NGOs U.S should sanction Mozambique for its role in elephant, rhino poaching, urges NGOsare petitioning the U.S government to slap Mozambique with trade sanctions due to the country's role in regional poaching. The groups contend that Mozambique has done little to combat both its own poaching epidemic or stop its nationals from spilling over the border to kill rhinos and elephants in South Africa and Tanzania.
On the brink of extinction: Javan rhino has new enemy in invasive palm
(07/01/2014) The last of Indonesia's critically endangered Javan rhinoceroses have survived poachers, rapid deforestation and life in the shadow of one of the archipelago's most active volcanoes. But an invasive plant is now posing a new threat to the world's rarest species of rhino.
Broken promises no more? Signs Sabah may finally uphold commitment on wildlife corridors
(06/23/2014) Five years ago an unlikely meeting was held in the Malaysian state of Sabah to discuss how to save wildlife amid worsening forest fragmentation. Although the meeting brought together longtime adversaries—conservationists and the palm oil industry—it appeared at the time to build new relationships and even point toward a way forward for Sabah's embattled forests.
What's an environmental journalist to do with so much good news?
(06/12/2014) As an environmental journalist covering stories from the great Arctic ice melt to the rhino poaching crisis in Africa, you'll forgive me if sometimes in the morning—before I turn my computer on—I have a sudden desire to spend a few extra minutes in bed or have a leisurely breakfast with my daughter or just sit in the back yard with a cup of tea and a good book.
Despite poaching, Indian rhino population jumps by 27 percent in eight years

(06/10/2014) The world's stronghold for Indian rhinos—the state of Assam—has seen its population leap by 27 percent since 2006, despite a worsening epidemic of poaching that has also seen 156 rhinos killed during the same period. According to a new white paper, the population of Indian rhinos in Assam hit 2,544 this year.
Bears, cats, and mystery mammals: camera traps in 'paper park' prove it's worth protecting
(06/09/2014) Can a single photograph change the fate of a park? A new conservation group, HabitatID, believes so, and is putting this belief into action. Setting up camera traps in Cambodia's Virachey National Park, the group hopes that photos of charismatic and endangered species will help reinvigorate protection for a park that has been abandoned by conservation groups and underfunded by the government.
Riddled with tumors: another blow to the Sumatran rhino species
(04/14/2014) Conservation for Sumatran rhinos suffered another blow last week, only days after Suci—one of only ten rhinos in captive breeding efforts—died at Cincinnati Zoo. Scientists in the Malaysian state of Sabah revealed that a newly captured female, Iman, suffers from an assortment of tumors in her uterus, hugely complicating reproduction efforts.
Meet Iman: the Sumatran rhino's newest hope for survival
(03/24/2014) Hopes for one of the world's most imperiled megafauna rose this month when wildlife conservationists succeeded in catching a female Sumatran rhino named Iman in the Malaysian state of Sabah. The female, which experts believe to be fertile, has since been successfully transferred via helicopter to the Borneo Rhino Sanctuary where experts plan to mate her with the local male, Tam. Located in Tabin Wildlife Reserve, the Borneo Rhino Sanctuary is an uncompleted semi-wild enclosure and home to one of several last-ditch efforts to save the vanishing species from extinction.
Howard G. Buffett puts $24M toward saving rhinos

(03/21/2014) Howard G. Buffett, the son of Berkshire Hathaway chairman Warren Buffett, has pledged $23.7 million to South African National Parks to help fight rhino poaching in Kruger National Park, reports Reuters.
Conservationists catch wild Sumatran rhino, raising hope for world's most endangered rhinoceros
(03/12/2014) Conservationists have succeeded in catching a wild Sumatran rhino in the Malaysia state of Sabah in Borneo, according to local media reports. Officials are currently transferring the rhino, an unnamed female, to a rhino sanctuary in Tabin National Park where experts will attempt to mate it with the resident male, Tam. The Sumatran rhino (Dicerorhinus sumatrensis) is one of the world's most imperiled species with less than 100 individuals left.
Rhino with bullet in its brain and hacked off horn wanders for days before being put down
(03/05/2014) Last week, visitors in Kruger National Park came on a horrifying sight of the poaching trade: a rhino, still alive, with its horn and part of its face chopped off. The gruesome photo of the young rhino went viral and sent South African authorities scrambling. Five days after the sighting, South African National Parks (SANParks) has announced they found the rhino and put it out of its misery.
Javan rhino population jumps by over 10 percent

(03/04/2014) The Javan rhino population has increased by over ten percent from 2012 to last year, according to new figures released by Ujung Kulon National Park. Using camera traps, rangers have counted a total of 58 Javan rhinos, up from 51 in 2012. Although the species once roamed much of Southeast Asia, today it is only found in Ujung Kulon National Park in western Javan and is known as one of the most imperiled mammals on the planet.
South Africa loses nearly 150 rhinos to poachers so far this year

(02/28/2014) Since the first of the year, South Africa has lost 146 rhinos to poachers or approximately 2.5 rhinos every day. This is a slight dip from last year's poaching rate, which hit 1,004 for the whole year or 2.75 a day. South Africa is home to more rhinos than any other country on the planet, but the populations have been hit hard by poachers in recent years seeking rhino horn.
Shoot to conserve: Corey Knowlton's rhino hunt escalates the debate over trophy hunting and environmentalism
(02/20/2014) 'After a long conversation with the FBI I have decided to temporarily suspend my activity on this page. I want to thank all of you who have commented [on] this important issue of Black Rhino Conservation.' – Corey Knowlton, Feb 3, 2014. This was the last post on Corey Knowlton's Facebook page. Knowlton is the hunter who won the Dallas Safari Club auction on January 11th to kill a Critically Endangered black rhino. All the money—$350,000—will go to a fund to protect rhinos. The plan is that sometime soon—once the paperwork clears the U.S. Fish and Wildlife Service—Knowlton will go to Namibia on a "trophy hunt" (accompanied by a park service official), shoot the designated rhino, and bring the old bull's hide back home to Texas.
Proposed rail and road projects could devastate Nepal's tigers and rhinos
(02/06/2014) Chitwan National Park is a conservation success story. Since its establishment in 1973 the park's populations of both Bengal tigers (Panthera tigris tigris) and one-horned rhinos (Rhinoceros unicornis) have quintupled, a success achieved during a time when both species have been under siege globally by poachers. A UNESCO World Heritage site, the park is also a vital economic resource for locals: last year the park admitted over 150,000 tourists who brought in nearly $2 million in entry fees alone. But all this is imperiled by government plans for a new railway that would cut the park in half and a slew of new roads, according to a group of international conservationists known as the Alliance of Leading Environmental Researchers and Thinkers (ALERT).
Over 1,000 rhinos killed by poachers in South Africa last year

(01/17/2014) In another sign that Africa's poaching crisis has gotten completely out of control, South Africa lost 1,004 rhinos to poachers last year. According to the numbers released today by the South African Department of Environmental Affairs, 2013 was the worst year yet for rhino poaching in the country with nearly 3 rhinos killed every day.
Trophy hunters auction off life of Critically Endangered black rhino

(01/13/2014) The Dallas Safari Club has auctioned off a permit to shoot-and-kill a Critically Endangered black rhino in Namibia for $350,000. The club says the proceeds from the auction will aid rhino conservation, but the move has upset many wildlife organizations and attracted protestors outside the closed-door auction. In fact the issue has become so contentious that the FBI is currently investigating purported death threats against the Dallas Safari Club members over the issue. Currently, less than 5,000 black rhinos survive in the wild today, a drop of 90 percent since 1960 as the species has been decimated by poaching and habitat loss.
Requiem or recovery?: the Sumatran rhino 200 years after its description
(01/08/2014) In 1893, William Bell, a surgeon in the service of the Dutch East India Company stationed in Bencoolen, Sumatra, examined the body of a dead rhinoceros. The animal, a male, was relatively small as rhinoceroses go, measuring only four feet four inches at the shoulder and eight feet five inches from its nose to the tip of its tail. Dr. Bell noted that the animal resembled a large hog and judged it to be a young individual based upon the condition of the bones and teeth.
Rainforest news review for 2013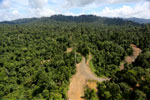 (12/26/2013) 2013 was full of major developments in efforts to understand and protect the world's tropical rainforests. The following is a review of some of the major tropical forest-related news stories for the year. As a review, this post will not cover everything that transpired during 2013 in the world of tropical forests. Please feel free to highlight anything this post missed via the comments section at the bottom. Also please note that this review focuses only on tropical forests.
Top 10 Environmental Stories of 2013
(12/10/2013) 1. Carbon concentrations hit 400ppm while the IPCC sets global carbon budget: For the first time since our appearance on Earth, carbon concentrations in the atmosphere hit 400 parts per million. The last time concentrations were this high for a sustained period was 4-5 million years ago when temperatures were 10 degrees Celsius higher. Meanwhile, in the slow-moving effort to curb carbon emissions, the Intergovernmental Panel on Climate Change (IPCC) crafted a global carbon budget showing that most of the world's fossil fuel reserves must be left untouched if we are to avoid catastrophic climate change.




Page 1 | Page 2 | Page 3 | Page 4