News articles on rhett butler

---
Mongabay.com news articles on rhett butler in blog format. Updated regularly.






Do we need to move 'beyond certification' to save forests?
(06/25/2015) Over the past two years dozens of companies have established 'zero-deforestation' or 'deforestation-free' policies for the commodities they source, trade, and produce. The pace of adoption has been staggeringly fast for a business that have been historically slow-moving relative to other industries. Some sectors, like the Indonesian palm oil industry and the Brazilian soy industry, even appear to be nearing a critical mass where the majority of international buyers and traders are now bound by such agreements.
Controversy emerges over alleged deforestation policy breach by APRIL supplier
(06/23/2015) Less than three weeks after APRIL unveiled a sustainability policy that is supposed to protect natural forests, an environmental group is alleging that one of the Indonesian forestry giant's subsidiaries is already breaching the commitment. But APRIL refuted the claim and says it continues to stand by the policy.
What's the current deforestation rate in the Amazon rainforest?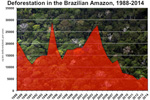 (05/15/2015) Nearly two-thirds of the Amazon rainforest is located in Brazil, making it the biggest component in the region's deforestation rate. Helpfully, Brazil also has the best systems for tracking deforestation, with the government and Imazon, a national civil society organization, releasing updates on a quarterly and monthly basis using MODIS satellite data, respectively. Both the Brazilian government and Imazon release more accurate data on an annual basis using higher resolution Landsat satellite imagery.
Borneo's rainforest may get high-tech 3D scan to boost conservation
(05/04/2015) Conservation efforts in Borneo's embattled rainforest may get a boost with the launch of the newest version of an advanced airplane-based monitoring and assessment system. On Friday, the Carnegie Institution officially unveiled the latest upgrade of the Carnegie Airborne Observatory, an airplane equipped with technologies that enable scientists to conduct extremely high resolution scans of forest structure, biomass, and biological diversity. The platform has generated a wealth of information in places where it has been flown before.
Activists target Roger Federer as brand ambassador for bank linked to deforestation
(04/22/2015) Environmentalists are asking tennis star Roger Federer to deliver a message to Credit Suisse over the banking giant's continued financing of a logging company linked to ongoing destruction of wildlife habitat in Indonesia. According to the Bruno Manser Fund two members of a rainforest community in Sumatra have written to Federer to ask for his help in persuading Credit Suisse to stop financing logging of peat forests.
50 nature pictures for Earth Day
(04/22/2015) Here at Mongabay we've developed a bit of a policy of not making a big deal for Earth Day. We believe that people should respect the planet on a daily basis. Nonetheless, below are a few pictures I've taken since Earth Day 2014 that remind me of why I started Mongabay nearly 16 years ago.
Condition of tropical forests 'worsening', could become 'critical'
(04/07/2015) World leaders are continuing to overlook the worsening condition of tropical forests despite the biome's vast potential to help mitigate climate change, support local livelihoods and ecosystem services, and stabilize global agriculture, warns a comprehensive review published by a body founded by Prince Charles.
Who's to blame for forest loss in Borneo timber concession?
(04/06/2015) The apparent loss of some 4,000 hectares of forested peatland in Indonesian Borneo is raising questions on who bears responsibility for forest clearing in un-utilized concessions. On Monday, Greenomics-Indonesia issued a report revealing the loss of significant tracts of peat forest in a West Kalimantan concession held by PT Bumi Mekar Hijau (BMH), a plantation company whose operation in South Sumatra supplies Asia Pulp & Paper (APP) with woodpulp for its mills.
Russia and Canada lead the world in forest loss in 2013
(04/02/2015) Russia and Canada led the world in forest loss, accounting for nearly forty percent of the 18 million hectares of forest lost globally in 2013, reveals a new analysis based on high resolution satellite imagery. The research — released today on Global Forest Watch, a forest monitoring and research platform — was led by Matt Hansen of the University of Maryland and involved Google, World Resources Institute (WRI), and other institutions
Brazil arrests 'Amazon's biggest destroyer'

(02/25/2015) Authorities in Brazil have arrested a man they claim to be the single biggest deforester in the Amazon, according to a statement issued by IBAMA, Brazil's environmental protection agency.
Rainforest loss increased in the 2000s, concludes new analysis
(02/25/2015) Loss of tropical forests accelerated roughly 60 percent during the 2000s, argues a paper published in the journal Geophysical Research Letters. The findings contradict previous research suggesting that deforestation slowed since the 1990s. The study is based on a map of 1990 forest cover developed last year by Do-Hyung Kim and colleagues from the University of Maryland. The map, which includes 34 countries that contain 80 percent of the world's tropical forests, enabled the researchers to establish a consistent baseline for tracking forest cover change across regions and countries over time.
New Guinea rainforest being leveled for palm oil, revealing gaps in zero deforestation pacts
(02/23/2015) An Indonesian palm oil firm is destroying rainforests in New Guinea despite high profile zero deforestation pledges from its customers, finds research by Greenomics-Indonesia. Landsat imagery acquired and analyzed by Greenomics shows that Austindo Nusantara Jaya Agri (ANJ) is clearing high carbon stock forests in the southern part of West Papua's Bird's Head Peninsula in Indonesian New Guinea.
Brazil's soy moratorium dramatically reduced Amazon deforestation
(01/23/2015) The moratorium on forest conversion established by Brazilian soy giants in 2006 dramatically reduce deforestation for soy expansion in the Amazon, and have been more effective in cutting forest destruction than the government's land use policy in the region, finds a study published today in the journal Science.
Tree climbing as a tool to build respect for forests
(01/16/2015) The bulk of life in the rainforest is found the leafy layers of the canopy. But little was known about this world until relatively recently, when hobbyists, naturalists, and researchers began devising ways to access the upper levels of the forest. These efforts accelerated in the 1970s when scientists started to use mountaineering techniques and ropes to climb towering rainforest trees for long-term study and observation.
Deforestation climbing - along with fears - in the Amazon
(01/13/2015) Deforestation in the Brazil Amazon continues to pace well ahead of last year's rate, shows data released today by Imazon. According to the Brazilian NGO's analysis of satellite data, 1,373 square kilometers of rainforest was chopped down between August 2014 and December 2014, a 224 percent increase relative to the prior corresponding period a year before.
Half of Indonesia's deforestation occurs outside concession areas
(01/06/2015) Roughly half of Indonesia's natural forest loss occurs outside officially designated concession areas, concludes a new assessment that also finds higher deforestation rates in places with worse forest governance scores. The report, released last month by Forest Watch Indonesia, is based on analysis of satellite data spanning the archipelago. Unlike assessments by the Ministry of Forestry, the data includes areas outside the 'forest estate'.
Rainforests: 10 things to watch in 2015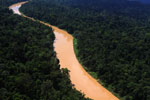 (01/02/2015) 2014 was a landmark year for tropical rainforests, with dozens of major companies committing to eliminating deforestation from their supply chains, the launch of new platforms for monitoring forests, and sharp drop in clearing in the Brazilian Amazon, among other big developments. Here's a quick look ahead at what might be in store for tropical forests in 2015.
Things you want to know about Mongabay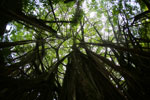 (01/01/2015) This is a compilation of responses to some of the most frequently asked questions for Mongabay. If you have additional questions you'd like me to answer, you can ask them using this form.
Most popular environmental news stories in 2014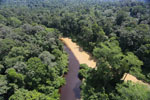 (12/31/2014) In 2014 Mongabay published more than 1,100 stories in English and over 450 posts in Spanish, French, Italian, Portuguese, German, Japanese, and Chinese. Mongabay-Indonesia published nearly 1,400 posts in Indonesian. Stories ran the gamut from light-hearted feel-good pieces to hard-hitting investigative content to thought-provoking interviews.
2014: the year in rainforests
(12/30/2014) 2014 could be classified as 'The Year of the Zero Deforestation Commitment'. During 2014, nearly two dozen major companies, ranging from palm oil producers to fast food chains to toothpaste makers, established policies to exclude palm oil sourced at the expense of rainforests and peatlands.
Top 10 HAPPY environmental stories of 2014
(12/29/2014) In what was widely seen as a possible breakthrough in the battle to coordinate some kind of response to global warming, China and the U.S. announced joint actions this year. On November 12th, the world's two most powerful countries surprised pretty much everyone by announcing that they would work together to tackle the crisis.
Favorite nature and wildlife photos from 2014
(12/24/2014) During the course of my reporting in 2014, I had the opportunity to travel to several countries and take some pictures in the field. Below are some of my favorite images from the year. Most of these photos are from Sumatra (Indonesia), Sabah (Malaysia), and Queensland (Australia), although there are a few from the United States.
Top 10 Environmental Stories of 2014
(12/23/2014) In 2014, the unimaginable happened: companies representing the majority of palm oil production and trade agreed to stop cutting down rainforests and draining peatlands for new oil palm plantations. After years of intense campaigning by environmentalists and dire warnings from scientists, nearly two dozen major producers, traders, and buyers established zero deforestation policies.
Tropical deforestation could disrupt rainfall globally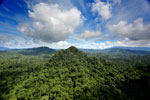 (12/18/2014) Large-scale deforestation in the tropics could drive significant and widespread shifts in rainfall distribution and temperatures, potentially affecting agriculture both locally and far from where forest loss is occurring, concludes a study published today in Nature Climate Change.
Tradeoff: Sabah banks on palm oil to boost forest protection
(12/05/2014) Last month Sabah set aside an additional 203,000 hectares of protected forest reserves, boosting the Malaysian state's extent of protected areas to 21 percent of its land mass. But instead of accolades, Sabah forestry leaders were criticized for how they went about securing those reserves: allowing thousands of hectares of deforested land within an officially designated forestry area to be converted for oil palm plantations
What we can learn from uncontacted rainforest tribes
(11/26/2014) If you have ever wondered about the connection between hallucinogenic frogs, uncontacted peoples, conservation, and climate change — and who hasn't? — check out this TED talk from ethnobotanist Mark Plotkin. An ethnobotanist by training, Plotkin serves as President of the Amazon Conservation Team. Plotkin took a few minutes from his busy schedule to answer a few questions from Mongabay.
Amazon deforestation moratorium extended 18 months
(11/25/2014) The Brazilian soy industry has extended its deforestation moratorium for another 18 months. The moratorium, which was established in 2006 after a high-profile Greenpeace campaign, bars conversion of forests in Brazilian Amazon for soy production. Independent analysis has shown it to be highly effective — just prior to the moratorium, soy accounted for roughly a fifth of recent deforestation, while today its share is less than one percent.
Jane Goodall: 5 reasons to have hope for the planet
(11/19/2014) Jane Goodall is not only arguably the most famous conservationist who ever lived, but also the most well-known and respected female scientist on the planet today. Her path to reach that stature is an unlikely as it is inspiring. Told to 'never give up' by her mother, Goodall set out in her 20s to pursue her childhood dream: to live with animals in Africa. By the time she was 26 she doing just this.
Using games to teach kids the value of nature and philanthropy
(11/18/2014) Kids are spending more time using tablets and smart phones for learning and entertainment. But hours spent gaming, Tweeting, and playing on Instagram and Facebook, may mean less engagement with nature, potentially making it more difficult for conservation organizations to inspire and influence the next generation of donors and decision makers. Given the state of the world's environment, that is a troubling thought.
A nature photographer's dream: staff photographer for the Wildlife Conservation Society
(11/17/2014) Julie Larsen Maher has what many wildlife photographers would consider a dream job: staff photographer for the Wildlife Conservation Society (WCS), a non-profit that runs five zoos and aquariums in New York City as well as numerous site-based field programs in the U.S. and overseas. As staff photographer, Maher helps tell the stories behind WCS's conservation work, which ranges from veterinary procedures with Bronx Zoo animals to working with local communities in remote parts of Zambia to protect wildlife.
Surprising reasons to be optimistic about saving forests
(11/14/2014) In the 1990s, the world watched with alarm as vast tracts of tropical rainforest were torn down for timber and croplands, dug up for minerals and energy, and flooded for hydroelectric projects. Conservation groups, governments, philanthropists, and institutions like the World Bank collectively spent billions of dollars on programs to stop the carnage. But as viewed from satellites high above Earth's surface, those efforts barely dented deforestation rates.
Only place where rhinos, tigers, elephants, and orangutans coexist is under threat
(11/12/2014) A forest that is the only place where rhinos, tigers, elephants, and orangutans coexist is under threat from planned infrastructure, mining, logging, and plantation projects, warns a new report from the Rainforest Action Network. The report looks at one of the last vestiges of wilderness on the island of Sumatra, which for the past three decades has been heavily ravaged by logging, fires, and conversion to industrial timber and oil palm plantations. This area, known as the Leuser Ecosystem, is today a battleground between business-as-usual interests seeking to mine its forests and a collection of conservationists, local communities, and a collection of companies seeking to steward its resources.
Peru has massive opportunity to avoid emissions from deforestation
(11/10/2014) Nearly a billion tons of carbon in Peru's rainforests is at risk from logging, infrastructure projects, and oil and gas extraction, yet opportunities remain to conserve massive amounts of forest in indigenous territories, parks, and unprotected areas, finds a study published this week in Proceedings of the National Academy of Sciences (PNAS).
Indonesian law bars palm oil companies from protecting forests
(10/21/2014) A law passed by the Indonesian government last month makes it even more difficult for palm oil companies to conserve tracts of wildlife-rich and carbon-dense forests within their concessions, potentially undermining these producers' commitments to phase deforestation out of their supply chains, warns a new report published by Greenomics, an Indonesian environmental group.
Brazil unlikely to sustain gains in reducing deforestation without new incentives for ranchers, says study
(10/09/2014) Cattle ranchers that drive the vast majority of forest clearing in the Brazilian Amazon are unlikely to be held at bay indefinitely unless they are afforded new incentives for keeping trees standing, argues new analysis published by an economic research group. The findings suggest that Brazil's recent progress in reducing deforestation — annual forest loss in the region has dropped by roughly 80 percent since 2004 — could easily be reversed.
Despite high deforestation, Indonesia making progress on forests, says Norwegian official
(10/02/2014) Despite having a deforestation rate that now outpaces that of the Brazilian Amazon, Indonesia is beginning to undertake critical reforms necessary to curb destruction of its carbon-dense rainforests and peatlands, says a top Norwegian official. Speaking with mongabay.com in Jakarta on Monday, Stig Traavik, Norway's ambassador to Indonesia, drew parallels between recent developments in Indonesia and initiatives launched in Brazil a decade ago, when deforestation was nearly five times higher than it is today.
FSC meeting weighs old-growth forest protection, smallholder participation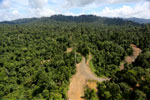 (09/11/2014) The Forest Stewardship Council (FSC), a body that sets social and environmental certification criteria for forestry products, is weighing measures that could step up protection for old-growth forests and make it easier for indigenous people and traditional forest communities to qualify for certification. The measures are set for a vote this week at the body's General Assembly, which is held every three years to establish and revise criteria that underpin the standard.
A path to becoming a conservation scientist
(09/05/2014) The path to finding a career often involves twists and turns. Serendipity is important — one rarely anticipates what small events, chance occurrences, and seeds of inspiration will spur decisions that lead to pursuing one job or another. For Zuzana Burivalova, a PhD candidate based at the Swiss Federal Institute of Technology in Zurich (ETH Zurich), the road to becoming a tropical forest ecologist began as a child in a small Czech Republic village with a foldout children's book about rainforests.
Invasive species worsen damage from Hawaii's storms
(08/22/2014) Damage from Hurricane Iselle, which recently battered Hawaii's Big Island, was exacerbated by invasion of non-native tree species, say experts who have studied the transformation of Hawaii's native forests. selle, which made landfall on the Big Island on August 7, was the third-strongest tropical cyclone to hit Hawaii since 1950. It caused upwards of $50 million in damage.
Indonesia's forests so damaged they burn whether or not there's drought
(08/21/2014) Air pollution caused by fires set for land-clearing on Sumatra has become a regularly occurrence in Southeast Asia. While these fires are often termed forest fires, the reality is much of the area that burns each year has already been deforested and today mostly consists of grass, scrub, and remnants of what was once forest. But the impacts are nonetheless very substantial, finds a new study published in the journal Scientific Reports.
Big palm oil companies move forward on carbon study
(08/14/2014) Seven palm oil giants have agreed to fund a study that will define what constitutes "High Carbon Stock" (HCS) forest, a move that will potentially determine the fate of ecosystems around the world as more companies commit to "zero-deforestation" policies based on the amount of carbon stored in vegetation.
Ecologists are underestimating the impacts of rainforest logging
(07/31/2014) Ecologists may be underestimating the impact of logging in old-growth tropical forests by failing to account for subtleties in how different animal groups respond to the intensity of timber extraction, argues a paper published today in the journal Current Biology. The study, led by Zuzana Burivalova of ETH Zurich, is based on a meta-analysis of 48 studies that evaluated the impact of selective logging on mammals, birds, amphibians, and invertebrates in tropical forests.
The future of tropical biology research and conservation
(07/30/2014) Last week, the Association for Tropical Biology and Conservation (ATBC) held its 51st annual meeting in Cairns, Australia. In addition to the normal symposia, plenaries, and poster sessions on a wide range of conservation topics, the convening produced a declaration calling for stronger protection of the Great Barrier Reef and two resolutions on expanding research funding in Papua New Guinea and >imploring Australia to restore its environmental leadership.
30% of Borneo's rainforests destroyed since 1973
(07/16/2014) More than 30 percent of Borneo's rainforests have been destroyed over the past forty years due to fires, industrial logging, and the spread of plantations, finds a new study that provides the most comprehensive analysis of the island's forest cover to date. The research, published in the open-access journal PLOS ONE, shows that just over a quarter of Borneo's lowland forests remain intact.
New palm oil sustainability manifesto met with criticism from environmentalists
(07/11/2014) This week several palm oil giants announced new environmental criteria for palm oil production. The companies say the initiative goes beyond the industry-leading standard set by the Roundtable on Sustainable Palm Oil (RSPO), but two prominent environmental groups quickly disagreed, arguing the measure has substantial loopholes that will allow growers to continue destroying forests.
APP won't acquire companies that continue to destroy forests
(07/08/2014) Asia Pulp & Paper (APP) will not acquire companies that continue to destroy forests, according to a new procedure for association introduced by the Indonesian forestry giant. The procedure, developed after months of consultations with NGOs, effectively closes a loophole some environmentalists feared would allow APP to sidestep its zero deforestation commitment by acquiring companies that continued to clear forest after its February 5, 2013 deadline.
Despite moratorium, Indonesia now has world's highest deforestation rate
(06/29/2014) Despite a high-level pledge to combat deforestation and a nationwide moratorium on new logging and plantation concessions, deforestation has continued to rise in Indonesia, according to a new study published in Nature Climate Change. Annual forest loss in the southeast Asian nation is now the highest in the world, exceeding even Brazil.
Despite early headwinds, Indonesia's biggest REDD+ project moves forward in Borneo
(06/26/2014) Just over a year ago, the Indonesian government officially approved the country's first REDD+ forest carbon conservation project: Rimba Raya, which aims to protect more than 64,000 hectares of peat forest in Central Kalimantan. The approval came after years of delays from the Ministry of Forestry and a substantial reduction in the project's concession area. But InfiniteEarth, the firm behind the project, pressed on. Now a year later, Rimba Raya's is not only still in business, but is scaling up its operations.
Discarded cell phones to help fight rainforest poachers, loggers in real-time
(06/24/2014) A technology that uses discarded mobile phones to create a real-time alert system against logging and poaching will soon be deployed in the endangered rainforests of Central Africa. Rainforest Connection (RFCx), a San Francisco-based non-profit startup, is partnering with the Zoological Society of London (ZSL) to install its real-time anti-deforestation technology at sites in Cameroon. 30 RFCx devices — recycled from old Android handsets — will monitor 10,000 hectares or nearly 40 square miles of rainforest, listening for audio signals associated with logging and poaching.
Protecting rainforests could sequester equivalent of a third of global emissions annually
(06/13/2014) liminating deforestation, peatlands and forest degradation, and forest fires in the tropics could reduce global carbon emissions by two billion tons a year, or nearly a fifth, argues a new study published in Global Change Biology. The research analyzed various emissions sources and sinks across the tropics. They found that carbon emissions from activities that damage and destroy forests are nearly counterbalanced by forest regrowth, reforestation, and afforestation.
In cutting deforestation, Brazil leads world in reducing emissions
(06/05/2014) Brazil's success in reducing deforestation in the world's largest rainforest has been much heralded, but progress may stall unless farmers, ranchers and other land users in the region are provided incentives to further improve the environmental sustainability of their operations, argues a study published this week in the journal Science.
Singapore intercepts massive illegal shipment of Madagascar rosewood
(06/03/2014) Authorities in Singapore have made the largest-ever international seizure of rosewood logs, providing further evidence that industrial-scale smuggling of Madagascar's rainforest timber continues despite an official ban on the trade. Details of the seizure remain sparse since the investigation is still active, but leaked correspondence between officials in Madagascar indicates that the shipment amounts to 3,000 tons, or more than 29,000 illicit rosewood logs.
APP commits to conserve, restore 1M ha of Indonesian forest; WWF pledges support
(04/28/2014) Asia Pulp & Paper (APP), Indonesia's largest pulp and paper company and a long-time target of environmental campaigners, has committed to protect and restore a million hectares of forest across Indonesia. The pledge, which represents an area equivalent to the total plantation area from which it sourced pulp in 2013, was immediately welcomed by WWF, which until today has remained one of APP's staunchest critics.
Earth Day Picture Gallery: Celebrating Indonesia
(04/22/2014) This Earth Day, we've decided to highlight the spectacular natural wonders of Indonesia, which is arguably the most biodiverse country on Earth. Indonesia is rich with wildlife thanks to its geography: some 17,000 islands spanning 1.9 million square kilometers (741,000 square miles) of tropical seas. Accordingly, the country is home to an incredible array of habitats ranging from rainforests to tropical glaciers to coral reefs, which support untold numbers of species.
Behind the scenes of Showtime's blockbuster series on climate change
(04/18/2014) For years climate change activists and environmentalists have been clamoring for a high-profile, high-impact TV series about climate change to make Americans more aware of an issue that will affect billions of people around the globe in coming decades. This week they finally got it when Showtime released the first episode of Years of Living Dangerously, a big-budget TV series featuring a number of Hollywood's biggest stars as reporters and corespondents.
Cargill commits to zero deforestation, but environmentalists have questions
(04/09/2014) After years of criticism from environmental groups, Cargill says it will establish policies to eliminate deforestation, peatlands conversion, and social conflict from its palm oil supply chain. But activists aren't yet sure what to make of the agribusiness giant's pledge. On Tuesday Cargill released a letter it sent to the Roundtable on Sustainable Palm Oil (RSPO), a body that sets eco-certification standards, in response to a Greenpeace Report linking it to deforestation.
Saving rainforests by buying them
(04/04/2014) For more than twenty five years, an international non-profit known as the World Land Trust has been working to protect tropical forests through land purchase and partnerships with local groups. Last year, the U.S. arm of the group decided to rebrand itself as the Rainforest Trust to better convey its core mission to the outside world. Since then, the Rainforest Trust has launched its most ambitious project yet: conserving 5.9 million acres of tropical forest in Peru.
Community's push to clear forest for plantation challenges efforts to conserve in Indonesia
(03/20/2014) In the swampy peatlands of Basilam Baru in Sumatra's Riau Province a conflict between a community and a woodpulp company is illustrating some of the intractable challenges of conserving forests and addressing deforestation in Indonesia. On first glance the story seems depressingly familiar. One actor wants to preserve the forest, which serves as critical habitat for endangered Sumatran tigers and clouded leopards. The other wants to clear it for a plantation.
APP pledges to restore forests, if given the opportunity
(03/18/2014) Over the past 20 years, Sumatra's lowland rainforests have been destroyed at a virtually unmatched rate and scale. Since 1990, the island's primary forests shrank by 40 percent while its overall forest cover declined by 36 percent, mostly the result of logging, agricultural expansion, and conversion for oil palm and timber plantations. What little forest does survive is often degraded — today less than 8 percent of Sumatra retains primary forest.
Will zero deforestation commitments save Indonesia's forests?
(03/17/2014) Skirting the Malacca Strait near the Indonesian city of Dumai the air is thick with haze from peat fires burning below. As the sky clears, a landscape of sharply-cut geometric shapes becomes apparent. What was once carbon-dense peat forests and rainforests are today massive oil palm and wood pulp plantations.
After GAR expands policy, over 50% of world's palm oil bound by zero deforestation commitments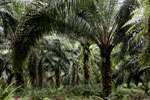 (03/03/2014) Over half the world's palm oil traded internationally is now bound by zero deforestation commitments after Singapore-based Golden-Agri Resources (GAR) extended its forest conservation policy across all palm oil it produces, sources and trades. In a filing posted Friday Singapore Stock Exchange, GAR announced its breakthrough forest conservation policy now applies to all the palm oil it trades.
Procter & Gamble's palm oil suppliers linked to deforestation (photos)
(02/26/2014) A year-long investigation by Greenpeace has found companies that supply Procter & Gamble (P&G) (NYSE:PG) with palm oil are engaged in clearing of rainforests and peatlands in Indonesia, suggesting that Head & Shoulders shampoo and other consumer products made by the company may be linked to forest destruction.
Revolutionary Google-backed system unlocks power of 'big data' to save forests
(02/20/2014) World Resources Institute (WRI) today announced the release of a tool that promises to revolutionize forest monitoring. The platform, called Global Forest Watch and developed over several years with more than 40 partners, draws from a rich array of big data related to the word's forests and translates it into interactive maps and charts that reveal trends in deforestation, forest recovery, and industrial forestry expansion. Global Forest Watch is the first tool to monitors global forests on a monthly basis, allowing authorities and conservationists to potentially take action against deforestation as it is occurring.
APP, environmentalists talk future of Indonesia's forests
(02/20/2014) In February 2013, one of the world's most notorious forestry companies announced it would no longer chop down rainforests and peatlands to produce pulp and paper. The move was met with considerable skepticism by critics who had seen the company break previous high profile commitments to end deforestation. Why would this time be any different?
Helping the Amazon's 'Jaguar People' protect their culture and traditional wisdom
(02/11/2014) Tribes in the Amazon are increasingly exposed to the outside world by choice or circumstance. The fallout of outside contact has rarely been anything less than catastrophic, resulting in untold extinction of hundreds of tribes over the centuries. For ones that survived the devastation of introduced disease and conquest, the process of acculturation transformed once proud cultures into fragmented remnants, their self-sufficiency and social cohesion stripped away, left to struggle in a new world marked by poverty and external dependence
Rainforest Alliance to independently audit APP's zero deforestation commitment
(01/29/2014) The Rainforest Alliance has agreed to conduct an audit of Asia Pulp & Paper's progress in implementing the zero deforestation policy the forestry giant signed last year. The deal, announced Thursday in Jakarta, could help boost the credibility of APP's policy, which while heralded as a breakthrough by several environmental groups, is still viewed with skepticism by some prominent critics, who remember past broken commitments from the paper producer.
287 amphibian and reptile species in Peruvian park sets world record (photos)
(01/28/2014) It's official: Manu National Park in Peru has the highest diversity of reptiles and amphibians in the world. Surveys of the park, which extends from high Andean cloud forests down into the tropical rainforest of the Western Amazon, and its buffer zone turned up 155 amphibian and 132 reptile species, 16 more than the 271 species documented in Ecuador's Yasuní National Park in 2010.
Norwegian insurance giant blacklists palm oil companies

(01/27/2014) Storebrand, one of Norway's largest life insurance and pension savings companies, has sold off holdings in eleven palm oil companies due to environmental concerns. In a statement issued last week, Storebrand said it divested after it found the companies had breached its sustainability standards.
New dolphin discovered in the Amazon surprises scientists
(01/23/2014) Researchers have discovered a new species of river dolphin from the Amazon. Writing in the journal Plos One, scientists led by Tomas Hrbek of Brazil's Federal University of Amazonas formally describe Inia araguaiaensis, a freshwater dolphin that inhabits the Araguaia River Basin. It is the first true river dolphin discovered since 1918.
Land conflicts complicate effort to spare forests from palm oil in Borneo
(01/17/2014) A widely-heralded effort to spare carbon-dense rainforests and peatlands from palm oil development in Indonesian Borneo is facing new criticism after an investigation by rights groups found evidence of unresolved conflicts over community land. The report, published Friday by the Forest Peoples Program and TUK-Indonesia, looked at a carbon conservation pilot project run by Golden Agri Resources (GAR), a Singapore-based agribusiness giant that is one of Indonesia's largest palm oil producers.
In precedent-setting case, palm oil company fined $30M for destroying orangutan forest
(01/09/2014) In a precedent-setting case, an Indonesian court has found a palm oil company guilty of violating environmental laws and ordered it to pay $30 million in fines and reparations for clearing an area of protected peat forest that is a stronghold for endangered orangutans in Indonesia's Aceh Province. In a ruling handed down Wednesday, the Meulaboh district court concluded that PT Kallista Alam illegally cleared and burned forest within the the protected Tripa peat swamp in northwestern Sumatra.
Most popular eco news articles of 2013

(01/01/2014) The most popular environmental news article on mongabay.com during 2013 was a story about the recovery of the endangered Huemul deer (Hippocamelus bisulcus) in Chile. The story, written by Alexander Holmgren, was visited 308,000 times, due largely to Reddit.
Rainforest news review for 2013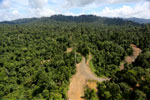 (12/26/2013) 2013 was full of major developments in efforts to understand and protect the world's tropical rainforests. The following is a review of some of the major tropical forest-related news stories for the year. As a review, this post will not cover everything that transpired during 2013 in the world of tropical forests. Please feel free to highlight anything this post missed via the comments section at the bottom. Also please note that this review focuses only on tropical forests.
Our favorite nature pictures from 2013
(12/24/2013) With 2013 drawing to a close, here are 100 nature pictures taken during my various Mongabay reporting trips in 2013, including Indonesia, the Pacific Northwest, Costa Rica, Namibia, and South Africa. Overall I added more than 15,000 new images — spanning rainforests, deserts and oceans — to the photo section of the site during the year.
Biggest new animal discoveries of 2013 (photos)
(12/23/2013) Thousands of species were scientifically described for the first time in 2013. Many of these were 'cryptic species' that were identified after genetic analysis distinguished them from closely-related species, while others were totally novel. Below are some of the most interesting "new species" discoveries that took place or were formally announced in 2013.
Top 10 HAPPY environmental stories of 2013
(12/19/2013) China begins to tackle pollution, carbon emissions: As China's environmental crisis worsens, the government has begun to unveil a series of new initiatives to curb record pollution and cut greenhouse emissions. The world's largest consumer of coal, China's growth in emissions is finally slowing and some experts believe the nation's emissions could peak within the decade. If China's emissions begin to fall, so too could the world's.
Ongoing deforestation reported in Borneo concession held by APP supplier
(12/18/2013) Up to 1,400 hectares of forest have been cleared in a concession belonging to an Asia Pulp & Paper (APP) supplier in Borneo, potentially putting the company in breach of the forestry giant's zero deforestation commitment, reports a coalition of local NGO's. In a report released Tuesday, Relawan Pemantau Hutan Kalimantan (RPHK), a coalition of NGO's in part supported by WWF-Indonesia, said that blocks of natural forest have been cleared in a concession belonging to PT Daya Tani Kalbar (DTK), an APP supplier. The clearing has taken place since APP's moratorium went into effect February 1, 2013.
Top 10 Environmental Stories of 2013
(12/10/2013) 1. Carbon concentrations hit 400ppm while the IPCC sets global carbon budget: For the first time since our appearance on Earth, carbon concentrations in the atmosphere hit 400 parts per million. The last time concentrations were this high for a sustained period was 4-5 million years ago when temperatures were 10 degrees Celsius higher. Meanwhile, in the slow-moving effort to curb carbon emissions, the Intergovernmental Panel on Climate Change (IPCC) crafted a global carbon budget showing that most of the world's fossil fuel reserves must be left untouched if we are to avoid catastrophic climate change.
World's biggest palm oil company makes zero deforestation commitment
(12/05/2013) Wilmar, the world's largest palm oil trader and a long-time target of environmentalists, has signed a landmark policy that commits the company to eliminate deforestation from its supply chain. The deal, if fully implemented, has the potential to transform the palm oil industry, which has emerged over the past decade as one of the world's most important drivers of tropical forest destruction.
Malaysia has the world's highest deforestation rate, reveals Google forest map
(11/15/2013) Malaysia had the world's highest rate of forest loss between 2000 and 2012, according to a new global forest map developed in partnership with Google. Malaysia's total forest loss during the period amounted to 14.4 percent of its year 2000 forest cover. The loss translates to 47,278 square kilometers (18,244 square miles), an area larger than the country of Denmark.
Deforestation accelerates in Indonesia, finds Google forest map
(11/14/2013) Forest loss in Indonesia has sharply risen over the past 12 years, reports a new study published in the journal Science. The study, led by Matt Hansen of University of Maryland, finds that Indonesia lost 15.8 million hectares between 2000 and 2012, ranking it fifth behind Russia, Brazil, the United States, and Canada in terms of forest loss. Some 7 million hectares of forest regrew during the period.
Zero net deforestation is the wrong target, warn experts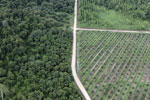 (11/14/2013) Environmental initiatives that target zero net deforestation may miss their mark when it comes to slowing climate change and protecting biodiversity, warns a commentary published in this week's issue of the journal Science. While zero net deforestation may seem like a worthy target in efforts to curb forest loss, Sandra Brown and Daniel Zarin argue that the goal is at best, ambiguous, and at worst, may lead to perverse outcomes for the world's forests.
Powered by Google, high resolution forest map reveals massive deforestation worldwide
(11/14/2013) Researchers today released a long-awaited tool that reveals the extent of forest cover loss and gain on a global scale. Powered by Google's massive computing cloud, the interactive forest map establishes a new baseline for measuring deforestation and forest recovery across all of the world's countries, biomes, and forest types. The map has far-reaching implications for efforts to slow deforestation, which accounts for roughly ten percent of greenhouse gas emissions produced by human activities, according to the authors of the paper that describes the tool and details its first findings.
3.5 million ha of Indonesian and Malaysian forest converted for palm oil in 20 years
(11/12/2013) Some 3.5 million hectares (8.7 million acres) of forest in Indonesia, Malaysia, and Papua New Guinea was converted for oil palm plantations between 1990 and 2010, finds a comprehensive set of assessments released by the Roundtable on Sustainable Palm Oil (RSPO). The research, conducted by an international team of scientists from a range of institutions, is presented in a series of seven academic papers that estimate change in land use and greenhouse gas emissions from oil palm expansion in the three countries, review the social and environmental impacts of palm oil production, forecast potential growth in the sector across the region, and detail methods for measuring emissions and carbon stocks of plantations establishing on peatlands.
Palm oil giant to forgo development of New Guinea rainforest
(11/06/2013) Palm oil giant Golden-Agri Resources (GAR) will forgo development of an oil palm plantation in an area of rainforest in Indonesian New Guinea in order to comply with its forest conservation policy. The decision by GAR — which is the parent company for PT SMART, one of Indonesia's largest private palm oil companies — was disclosed in a report on its high carbon stock pilot project, which is a key component of the company's forest conservation policy (FCP).
Thought-to-be-extinct 'halloween' frog rediscovered in Costa Rica
(11/04/2013) A breeding population of a critically endangered harlequin toad thought to be extinct in Costa Rica has been discovered in a tract of highland forest in the Central American country, reports a paper published in Amphibia-Reptilia. Atelopus varius, an orange-and-black harlequin toad, was once relatively common from central Costa Rica to western Panama. But beginning in the 1980's the species experienced a rapid population collapse across most of its range.
Gold mining in the Amazon rainforest surges 400%
(10/28/2013) The extent of gold mining in the Peruvian Amazon has surged 400 percent since 1999 due to rocketing gold prices, wreaking havoc on forests and devastating local rivers, finds a new study published in the Proceedings of the National Academy of Sciences (PNAS). The assessment, led by Greg Asner of the Carnegie Institution for Science, is based on a combination of satellite imagery, on-the-ground field surveys, and an advanced airplane-based sensor that can accurately measure the rainforest canopy and sub-canopy vegetation at a resolution of 1.1 meters (42 inches).
Nature tours in Costa Rica: an economic alternative to palm oil?
(10/16/2013) Oil palm plantations have been rapidly expanding across the tropics for the better part of the past twenty years due to high returns from palm oil production. But palm oil isn't necessarily the most profitable form of land use in wildlife-rich areas, as one conservation entrepreneur is demonstrating in Costa Rica.David Lando Ramirez, a landowner in Sarapiqui, northeastern Costa Rica, has converted a small patch of oil palm into a thriving ecotourism business centered around people's love of the Central American nation's stunning diversity of birds.
Environmental journalism: rich with stories but 'extremely under-resourced'
(10/15/2013) Erik Hoffner is an environmental journalist and photographer whose work has appeared in a wide range of publications, including Orion, The Sun, Northern Woodlands, Yale Environment 360, Earth Island Journal, and World Ark. Recently two of his stories triggered strong public reactions: an exposé on damaging logging practices in Sweden and a photo feature on suburban fracking in Colorado. In an October interview with Mongabay.com, Hoffner discusses the fallout from these stories as well as his career in environmental journalism.
Large-scale opposition among Borneo villagers to deforestation
(09/10/2013) Nearly two-thirds of villagers surveyed across rainforests in Indonesian and Malaysian Borneo are against large-scale deforestation due to the adverse impacts on livelihoods and the environment, finds a comprehensive new study across 185 communities. The research, conducted over a one-year period by an international team of scientists, is published in this week's issue of the journal PLOS ONE. The study found that people who live near forests place the greatest value on the benefits they afford, including medicinal plants, game, clean water, and fiber.
Indonesia should convert logging concessions to protected areas to stop deforestation for plantations, argues study
(09/05/2013) Reclassifying logging concessions as permanent forest estates and thereby barring them from conversion to industrial plantations would be an effective strategy for helping conserve Indonesia's fast-dwindling forests, argues a new study published in PLoS ONE. The study analyzed forest loss in areas zoned for different uses in Indonesian Borneo. It found that deforestation rates in timber concessions and protected areas were 'not significantly different' provided logging concessions were not reclassified as industrial plantation concessions.




Page 1 | Page 2 | Page 3 | Page 4