News articles on rewilding

---
Mongabay.com news articles on rewilding in blog format. Updated regularly.





Scientists reintroduce agoutis in rainforest in city of 12 million


(12/17/2014) When one thinks of Rio de Janeiro, one usually doesn't think: rainforest. However, in the heart of the city sits a massive rainforest sprung over long-gone sugar and coffee plantations. The forest—protected today as the Tijuca National Park—is home to hundreds of threatened species, but no agoutis, a common ground mammal in Latin America.


Feds: gray wolf may have returned to the Grand Canyon after 70 years

(11/04/2014) Over 70 years since the last gray wolf was killed in Grand Canyon National Park, the top predator may be back. Tourists have reported numerous sightings—and taken photos—of a wolf-like animal roaming federal forest land just north of the park. Agents with the U.S. Fish and Wildlife Service now intend to capture the animal to determine if it is indeed a wolf or perhaps a wolf-dog hybrid.


Connecting forests, saving species: conservation group plans extensive wildlife corridor in Panama


(05/16/2014) With the cooperation of hundreds of ranchers and researchers, Azuero Earth Project aims to replant a swath of tropical dry forest, connecting the dry tropical forest on the coast to cloud forest further inland. The trees along the 140-kilometer (80-mile) wildlife corridor will create a continuous habitat for the Critically Endangered Azuero spider monkey (Ateles geoffroyi azuerensis) and improve the soil for people who farm and ranch along the way.


Scientists uncover new marine mammal genus, represented by single endangered species


(05/14/2014) This is the story of three seals: the Caribbean, the Hawaiian, and the Mediterranean monk seals. Once numbering in the hundreds of thousands, the Caribbean monk seal was a hugely abundant marine mammal found across the Caribbean, and even recorded by Christopher Columbus during his second voyage, whose men killed several for food.


Rewilding Chile's savanna with guanacos could increase biodiversity and livestock


(01/06/2014) Local extinctions have occurred across a variety of habitats on every continent, affecting a gamut of species from large predators such as the wolves of North America, to tiny amphibians like the Kihansi spray toad of Tanzania. The long trek toward reversing such extinctions has begun, but it is not without its challenges, both ethical and logistical.


Reversing local extinction: scientists bring the northern bald ibis back to Europe after 300 years


(12/02/2013) The northern bald ibis (Geronticus eremita), also called the hermit ibis or waldrapp, is a migratory bird. Once, the bald ibis lived in the Middle East, northern Africa and southern and central Europe, but due to hunting, loss of habitat and pesticide-use, the birds disappeared from most of these areas and is currently considered Critically Endangered. It became extinct in Europe 300 years ago; the bird is almost gone in Syria, with only a single individual recorded at the country's lone breeding site in 2013; and the only stronghold left is a small population of around 500 birds in Morocco. But now, a team of scientists from Austria is working to reestablish a self-sustaining, migratory population of bald ibis in Europe.


Key European species make 'refreshing' comebacks

(10/15/2013) Beaver, bison and eagles are among the species that have made a successful comeback in Europe in the past 50 years, according to a major survey published by a coalition of conservation groups on Thursday. The report selected 37 species that have showed signs of recovery, studied changes in their numbers and range since 1960, and examined the reasons driving their comeback.


Featured video: could we rewild Britain with wolves and lions?

(07/07/2013) Environmentalist and journalist, George Mobiot, makes a passionate new plea for the controversial idea of rewilding parts of Europe in his new book Feral: Searching for Enchantment on the Frontiers of Rewilding. Rewildling—a relatively recent idea—entails bringing back some of the animals (especially large ones) lost in parts of the world in order to restore ecosystems and, in Mobiot's view, retrieve a deeper connection between humans and the wild again.


Flying rainbows: the scarlet macaw returns to Mexico


(06/11/2013) On April 21, 2013, the first flock of scarlet macaws (of many more to come) was released into the jungles of Aluxes Ecopark, nearby classified World Heritage Site Palenque National Park, as a part of a massive reintroduction project to restore the popular and culturally-significant bird to the well preserved rainforests of Palenque and the rest of its southern Mexico homeland—where the species has been extinct for close to 70 years.


Bison return to Germany after 300 year absence

(04/18/2013) Earlier this month, officials took down a fence allowing the first herd of European bison (Bison bonasus) to enter the forests freely in Germany in over 300 years, reports Wildlife Extra. The small herd, consisting of just eight animals (one male, five females and two calves) will now be allowed to roam unhindered in the Rothaar Mountains as their ancestors did long ago.


Scientists successfully reintroduce gaur in Indian park

(03/18/2013) Gaur (Bos gaurus gaurus) is one of the large wild ungulates of Asian jungles. It is the tallest living ox, and one of the four heaviest land mammals (elephant, rhino and wild buffalo are the other three), weighing up to 940 kilograms (2,070 pounds) and standing between 1.6 and 1.9 meters (5.2 to 6.2 feet) at the shoulder. Gaur were once distributed throughout the forested tracts of India and South Nepal, east to Vietnam and south to Malaya. Today, however, they are confined to just over a hundred existing, and 27 proposed, Protected Areas in India.


Artificial 'misting system' allows vanished toad to be released back into the wild


(11/01/2012) In 1996 scientists discovered a new species of dwarf toad: the Kihansi spray toad (Nectophrynoides asperginis). Although surviving on only two hectares near the Kihansi Gorge in Tanzania, the toads proved populous: around 17,000 individuals crowded the smallest known habitat of any vertebrate, living happily off the moist micro-habitat created by spray from adjacent waterfalls. Eight years later and the Kihansi spray toad was gone. Disease combined with the construction of a hydroelectric dam ended the toads' limited, but fecund, reign.


Chinook salmon return to Olympic National Park after dam demolished

(08/21/2012) In March of this year the Elwha Dam, which had stood for 99 years, was demolished in the U.S. state of Washington. Five months later, Chinook salmon (Oncorhynchus tshawytscha) made their way down 70 miles of long-blocked off habitat and entered Olympic National Park.


Over 450 wolves shot dead in Idaho, Montana to date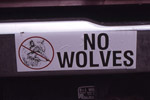 (02/27/2012) Less than a year after being pulled off the Endangered Species Act (ESA), gray wolves (Canis lupus) in the western U.S. are facing an onslaught of hunting. The hunting season for wolves has just closed in Montana with 160 individuals killed, around 75 percent of 220-wolf kill quota for the state. In neighboring Idaho, where 318 wolves have been killed so far by hunters and trappers, the season extends until June. In other states—Oregon, Washington, California, and Utah—wolf hunting is not currently allowed, and the species is still under federal protection in Wyoming.


The heroic wolf: are wolves the key to saving the Canada lynx?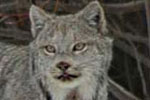 (08/31/2011) In 2000 the Canada lynx (Lynx canadensis) was listed as threatened under the US Endangered Species Act (ESA). While remaining stable in Canada and Alaska, the Canada lynx population had essentially collapsed in much of the continental US, excluding Alaska. Aside from habitat loss, one of the main factors imperiling the medium-sized wild cat was a decline in prey, specifically snowshoe hares (Lepus americanus). Researchers have now come up with an innovative way to aid hungry lynx in the US: wolves.


Decline in top predators and megafauna 'humankind's most pervasive influence on nature'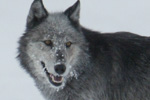 (07/14/2011) Worldwide wolf populations have dropped around 99 percent from historic populations. Lion populations have fallen from 450,000 to 20,000 in 50 years. Three subspecies of tiger went extinct in the 20th Century. Overfishing and finning has cut some shark populations down by 90 percent in just a few decades. Though humpback whales have rebounded since whaling was banned, they are still far from historic numbers. While some humans have mourned such statistics as an aesthetic loss, scientists now say these declines have a far greater impact on humans than just the vanishing of iconic animals. The almost wholesale destruction of top predators—such as sharks, wolves, and big cats—has drastically altered the world's ecosystems, according to a new review study in Science. Although researchers have long known that the decline of animals at the top of food chain, including big herbivores and omnivores, affects ecosystems through what is known as 'trophic cascade', studies over the past few decades are only beginning to reveal the extent to which these animals maintain healthy environments, preserve biodiversity, and improve nature's productivity.


What do wolves and sharks have in common?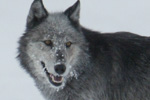 (11/15/2010) Sharks dwell in the ocean, wolves on land; sharks are a type of fish, wolves are a mammal; sharks go back some 400 million years, wolves only some 2 million years. So, these animals should have little in common, right? However, a new study in Frontiers in Ecology and the Environment points to surprising similarities among these disparate animals. As top predators, both wolves and sharks impact their prey and other species in similar ways.


Saving the best for last: a journey into the final phases of orangutan rehabilitation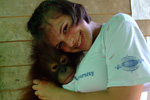 (11/08/2010) Rehabilitation is a powerful word these days. Fashionable, too. In wildlife conservation, rehabilitation can serve functions ranging from augmenting threatened animal populations to desperate attempts to save species from permanent extinction. At its base, rehabilitation consists of handling, preparing and releasing wild animals that have been in some way negatively affected by humans. Rehabilitation programs cover the globe (from cottage-scale sparrow and raccoon rescues in suburban parks to well-established raptor protection programs, wolf rehabilitation and public education about these wild predators in Colorado, semi-touristy rehabilitation centers in Thailand housing everything from gibbons to elephants, vet hospitals dedicated to flu-ridden bobtail lizards in Australia, and sexy lion and cheetah hubs in southern Africa which breed endangered serval cats). The motivations behind these programs are also diverse, but the umbrella goal is unified: to aid the continued survival, so often precarious, of animals valued by people.


Tigers successfully reintroduced in Indian park

(09/27/2010) Poachers killed off the last Bengal tiger in India's Sariska Tiger Reserve in 2004. Four years later, officials transferred three tigers from Ranthambhore National Park to Sariska in an attempt to repopulate the park with the world's biggest feline. A new study in mongabay.com's open-access journal Tropical Conservation Science evaluates the reintroduction by tracking radio-collared tigers and studying their scat.