News articles on remote sensing

---
Mongabay.com news articles on remote sensing in blog format. Updated regularly.






New global carbon map for 2.5 billion ha of forests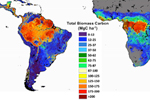 (05/31/2011) Tropical forests across Latin America, Africa, and Southeast Asia stored 247 gigatons of carbon — more than 30 years' worth of current emissions from fossil fuels use — in the early 2000s, according to a comprehensive assessment of the world's carbon stocks. The research, published in the journal Proceedings of the National Academy of Sciences by an international team of scientists, used data from 4,079 plot sites around the world and satellite-based measurements to estimate that forests store 193 billion tons of carbon in their vegetation and 54 billion tons in their roots structure. The study has produced a carbon map for 2.5 billion ha (6.2 billion acres) of forests.
Destruction of Brazil's most endangered forest, the Mata Atlantica, slows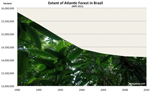 (05/27/2011) Deforestation of Brazil's most threatened forest ecosystem dropped substantially during the 2008-2010 period according to new data released by Brazil's National Institute for Space Research (INPE) and Fundação SOS Mata Atlântica. Analysis of satellite images across 16 of the 17 states the Atlantic Forest spans found that 312 square kilometers of forest was cleared between 2008 and 2010, down from 1,029 square kilometers between 2005 and 2008. Deforestation was concentrated in the states of Minas Gerais, Bahia, Santa Catarina and Parana.
Brazil confirms big jump in Amazon deforestation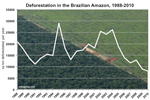 (05/18/2011) New data from the Brazilian government seems to confirm environmentalists' fears that farmers and ranchers are clearing rainforest in anticipation of a weakening of the country's rules governing forest protection. Wednesday, Brazil's National Space Research Agency (INPE) announced a sharp rise in deforestation in March and April relative to the same period last year. INPE's rapid deforestation detection system (DETER) recorded 593 square kilometers of forest clearing during the past two months, a 473 percent increase over the 103.5 sq km chopped down from March-April 2010.
Huge surge in Amazon deforestation

(05/17/2011) Analysis by Imazon, a research institute, has confirmed a huge surge in deforestation in a critical part of the Brazilian Amazon.
Google Earth animation reveals Indonesian forest targeted for destruction by pulp and paper companies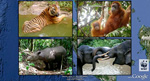 (05/14/2011) A new animation created using Google Earth offers a tour of an area of forest slated for destruction by logging companies. The animation, created by WWF-Indonesia and David Tryse, with technical assistance from Google Earth Outreach, highlights the rainforest of the Bukit Tigapuluh landscape in Sumatra, the only island in the world that is home to Sumatran tigers, elephants, rhinos, and orangutans. All of these species are considered endangered or critically endangered due to habitat destruction or poaching.
Election cycle linked to deforestation rate in Indonesia

(04/14/2011) Increased fragmentation of political jurisdictions and the election cycle contribute to Indonesia's high deforestation rate according to analysis published by researchers at the London School of Economics (LSE), the Massachusetts Institute of Technology (MIT), and South Dakota State University (SDSU). The research confirms the observation that Indonesian politicians in forest-rich districts seem repay their election debts by granting forest concessions.
Amazon deforestation flat since last year

(03/23/2011) Deforestation in the Brazilian Amazon is roughly flat for the 7 months ended February 28 relative to the same period last year, reports Imazon, a Brazil-based NGO.
Using Google Earth to monitor threats to archeological sites

(03/16/2011) A new alert system uses Google Earth and other satellite-based tools to protect cultural heritage sites from fire, looting, encroachment, destructive tourism, and other threats, says the Global Heritage Fund, the group that launched the initiative.
First large-scale map of oil palm plantations reveals big environmental toll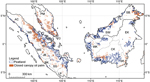 (03/07/2011) Expansion of industrial oil palm plantations across Malaysia and Indonesia have laid waste to vast areas of forest and peatlands, exacerbating greenhouse gas emissions and putting biodiversity at risk, reports a new satellite-based analysis that maps mature oil palm estates across Peninsular Malaysia, Borneo, and Sumatra.
Indonesian Borneo and Sumatra lose 9% of forest cover in 8 years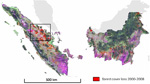 (02/25/2011) Kalimantan and Sumatra lost 5.4 million hectares, or 9.2 percent, of their forest cover between 2000/2001 and 2007/2008, reveals a new satellite-based assessment of Indonesian forest cover. The research, led by Mark Broich of South Dakota State University, found that more than 20 percent of forest clearing occurred in areas where conversion was either restricted or prohibited, indicating that during the period, the Indonesian government failed to enforce its forestry laws.
Monitoring deforestation: an interview with Brazilian space researcher Gilberto Camara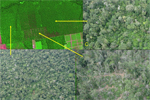 (02/08/2011) Perhaps unsurprisingly, the world's best deforestation tracking system is found in the country with the most rainforest: Brazil. Following international outcry over immense forest loss in the 1980s, Brazil in the 1990s set in motion a plan to develop a satellite-based system for tracking changes in forest cover. In 2003 Brazil made the system available to the world via its web site, providing transparency on an issue that was until then seen as a badge of shame by some. Since then Brazil has become recognized as the standard-bearer for deforestation tracking and reporting—no other country offers the kind of data Brazil provides. Space engineer Gilberto Camara has overseen much of INPE's earth sensing work and during his watch, INPE has released several new exciting capabilities.
Burning up biodiversity: forest fires increase in Madagascar

(01/10/2011) The number of fires burning in and around forests in the northeastern part of Madagascar increased during the 2010 burning season relative the the year before, according to analysis of NASA data by WildMadagascar.org / Mongabay.com. The rise in burning corresponds to an especially dry year and continued illegal logging of the region's biologically-rich rainforests.
Map: 15 million sq km of land suitable for forest restoration

(12/22/2010) 1.5 billion hectares (5.8 million square miles) of land are suitable for forest restoration, according a new analysis by the Global Partnership on Forest Landscape Restoration, a partnership between the World Resources Institute, South Dakota State University, and IUCN.
New data shows REDD+ is succeeding
(12/15/2010) Amid the whirlwind of climate change news before and after the Cancún climate conference, including a landmark agreement on REDD+ (reducing emissions from deforestation, and related pro-forest actions), an important story seems to have passed by with little notice. Over the past two months, several new analyses have given clear evidence that deforestation has gone down over the past several years. In fact, the drop is quite impressive, and shows that of all the approaches to avoiding the worst consequences of global warming, reducing tropical deforestation is the one that has contributed by far the most to date.
2,700 sq km of Brazil's most endangered rainforest destroyed in 8 years

(12/03/2010) 270,000 hectares of the Mata Atlântica, Brazil's most threatened ecosystem, was cleared between 2002 and 2008, reports a new assessment by the Brazilian Institute of Environment and Natural Resources (IBAMA). Less than 8 percent of the Atlantic forest—famed for its biodiversity—remains.
Pulp plantations destroying Sumatra's rainforests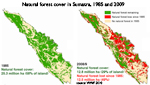 (11/30/2010) Indonesia's push to become the world's largest supplier of palm oil and a major pulp and paper exporter has taken a heavy toll on the rainforests and peatlands of Sumatra, reveals a new assessment of the island's forest cover by WWF. The assessment, based on analysis of satellite imagery, shows Sumatra has lost nearly half of its natural forest cover since 1985. The island's forests were cleared and converted at a rate of 542,000 hectares, or 2.1 percent, per year. More than 80 percent of forest loss occurred in lowland areas, where the most biodiverse and carbon-dense ecosystems are found.
Google Earth now features 3-D trees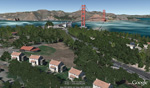 (11/29/2010) With world leaders meeting at climate talks in Cancun to discuss the future of forests, Google has added 3D trees to the latest version of Google Earth. Google has populated several major cities with more than 80 million virtual trees based on an automated process that identifies trees in satellite images. The realistic 3D representations are based on actual tree species found in urban areas. But Google has also extended realistic tree coverage to sites in some of the world's most biologically diverse forests.
Belize lost 10,000 ha of forest per year since 1980
(11/07/2010) Forests in Belize have been cleared at a rate of nearly 10,000 hectares per year for the past 30 years, a recent study shows. In 1980, forests covered 79.5% of the land surface of Belize but as of February 2010 it had decreased to 62.7%. The area covered by forests in the country thus went from about 6500 square miles 30 years ago to around 5300 square miles today, losing an area the size of Rhode Island.
Free availability of satellite imagery has boosted deforestation monitoring applications, but risk of data gap looms
(09/29/2010) In recent years there has been an explosion in the number of satellite-based monitoring applications and technologies, which is perhaps best exemplified in the eyes of the public by Google Earth, which allows anyone with a decent internet connection to view overhead images of nearly any place on Earth. But these new applications are also helping scientists more effectively monitor environmental change, including the fluctuations in polar sea ice, shifts in oceanic plankton, and deforestation. An important factor in the expanded use of satellite imagery has been the U.S. government's free Landsat Data Distribution Policy, which allows free or inexpensive access to data captured by Landsat satellites, which have been collected data on a regular basis since 1972. But the Landsat program is not presently operating at its full capacity, increasing the risk of a 'data gap' before a new system is in place in 2012.
Peru's rainforest highway triggers surge in deforestation, according to new 3D forest mapping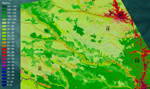 (09/06/2010) Scientists using a combination of satellite imagery, airborne-laser technology, and ground-based plot surveys to create three-dimensional high resolution carbon maps of the Amazon rainforest have documented a surge in emissions from deforestation and selective logging following the paving of the Trans-Oceanic Highway in Peru. The study, published this week in the early edition of the Proceedings of the National Academy of Sciences, reveals that selective logging and other forms of forest degradation in Peru account for nearly a third of emissions compared to deforestation alone.
NASA: surge in Amazon fires

(08/31/2010) The number of fire hotspots has surged in the Bolivian and Brazilian parts of the Amazon, reveals data and imagery from NASA.
Amazon deforestation falls significantly in 2010, according to preliminary data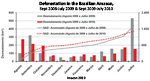 (08/31/2010) Deforestation in the Brazilian Amazon is down significantly since last year, according to preliminary estimates released by Brazil's National Institute for Space Research (INPE) and Imazon, a Brazil-based NGO that tracks forest loss and degradation across the Amazon. Analysis of NASA MODIS data by Imazon found some 1,488 square kilometers of forest were cleared during the 12 months ended July 31, 2010, down 16 percent from the same period last year, when 1,766 square kilometers were deforested. Meanwhile analysis by INPE shows an even steeper drop from 4,375 square kilometers in August 2008 through July 2009 to 2,296 square kilometers in the current period, a decline of 48 percent. The discrepancy between INPE's and Imazon's estimates results from differences in how deforestation is tracked.
The changing nature of illegal logging - and illegal logging investigations - in Brazil's Amazon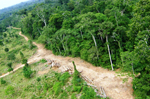 (07/08/2010) Operation Jurupari followed on several previous Brazilian Federal Police investigations into SEMA, including: Operation Curupira I (June 2005); Curupira II (August 2005); Mapinguari (2007), Arc of Fire (2008), Termes (April 2008); and Caipora (2008). It was led by Franco Perazzoni, Brazilian Federal Police "Delegado" (or chief), who, since 2006, has headed the environmental crimes unit in Mato Grosso and been responsible for about 300 investigations on environmental crimes, of which about 75% were on illegal deforestation in federal areas. The nature of the illegal deforestation has changed over the years.
Amazon soy moratorium extended

(07/08/2010) Brazilian soy farmers have extended their moratorium on Amazon deforestation for another year, reports Greenpeace.
New protected areas in Brazil contribute to major drop in Amazon deforestation rate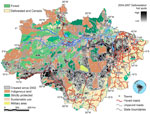 (06/01/2010) Protected areas in the Brazilian Amazon are proving highly effective in reducing forest loss in Earth's largest rainforest, reports a new study based on analysis of deforestation trends in and around indigenous territories, parks, military holdings, and sustainable use reserves. The research, published in the early edition of Proceedings of the National Academy of Sciences, finds that 37 percent of the recent decline in deforestation in the Brazilian Amazon can be attributed to newly established protected areas. Brazil designated some 709,000 square kilometers (274,000 sq mi) of Amazon forest — an area larger than the state of Texas — between 2002 and 2009 under its Amazon Protected Areas Program (ARPA). Meanwhile deforestation in the Brazilian Amazon fell by nearly three-quarters between 2004 and 2009.
Google Earth boosts deforestation monitoring capabilities

(02/07/2010) Google has taken a step towards ramping up the deforestation monitoring capabilities the Google Earth Engine by contracting Massachusetts-based Clark Labs to develop an online version of its Land Change Modeler application.
Satellites being used to track illegal logging, rosewood trafficking in Madagascar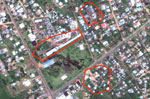 (01/28/2010) Analysts in Europe and the United States are using high resolution satellite imagery to identify and track shipments of timber illegally logged from rainforest parks in Madagascar. The images could be used to help prosecute traders involved in trafficking and put pressure on companies using rosewood from Madagascar.
The warmest decade on record

(01/27/2010) The 2000s were the warmest decade on record according to analysis by NASA's Goddard Institute for Space Studies (GISS).
Biggest private funder of Amazon conservation teams with Google and scientists to develop earth monitoring platform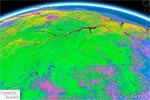 (12/18/2009) The Gordon and Betty Moore Foundation, the largest private funder of Amazon rainforest conservation, is playing an unheralded but integral role in the development of the Earth Engine platform, a system that combines the computing power of Google with advanced monitoring and analysis technologies developed by leading environmental scientists. The platform, which was officially unveiled at climate talks in in Copenhagen, promises to enable near real-time monitoring of the world's forests and carbon at high resolution at selected sites before COP-16 in Mexico.
Google's Earth Engine to help tropical countries monitor forests

(12/16/2009) A powerful forest monitoring application unveiled last week by Google will be made freely available to developing countries as a means to build the capacity to quality for compensation under REDD, a proposed climate change mitigation mechanism that would pay tropical countries for protecting forests, according to a senior Google engineer presenting at a side event at COP15 in Copenhagen.
Global forest map moves forward

(12/11/2009) A plan to create a pan-tropical map of forest cover and carbon stocks is moving ahead with data now available on Google Earth, reports the Woods Hole Research Center.
Google Earth to monitor deforestation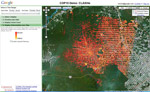 (12/10/2009) It what could be a critical development in helping tropical countries monitor deforestation, Google has unveiled a partnership with scientists using advanced remote sensing technology to rapidly analyze and map forest cover in extremely high resolution. The effort could help countries detect deforestation shortly after it occurs making it easier to prevent further forest clearing.
Brazilian tribe owns carbon rights to Amazon rainforest land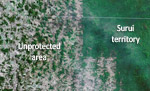 (12/09/2009) A rainforest tribe fighting to save their territory from loggers owns the carbon-trading rights to their land, according to a legal opinion released today by Baker & McKenzie, one of the world's largest law firms. The opinion, which was commissioned by Forest Trends, a Washington, D.C.-based forest conservation group, could boost the efforts of indigenous groups seeking compensation for preserving forest on their lands, effectively paving the way for large-scale indigenous-led conservation of the Amazon rainforest. Indigenous people control more than a quarter of the Brazilian Amazon.
Ethnographic maps built using cutting-edge technology may help Amazon tribes win forest carbon payments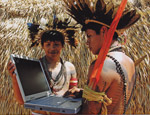 (11/29/2009) A new handbook lays out the methodology for cultural mapping, providing indigenous groups with a powerful tool for defending their land and culture, while enabling them to benefit from some 21st century advancements. Cultural mapping may also facilitate indigenous efforts to win recognition and compensation under a proposed scheme to mitigate climate change through forest conservation. The scheme—known as REDD for reducing emissions from deforestation and degradation—will be a central topic of discussion at next month's climate talks in Copenhagen, but concerns remain that it could fail to deliver benefits to forest dwellers.
Google – the new eye in the sky for protecting forests?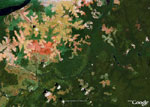 (11/22/2009) Google looks set to play a part in a called-for "new environmental world order" by satellite-monitoring the rates of deforestation of tropical rainforests and pinpointing illegal logging and land misuse, Google's Northern and Central Europe head Philipp Schindler has revealed. Schindler made the announcement in London on November 19 at a meeting at St James's Palace hosted by the Prince's Rainforests Project about a new climate change reduction mechanism, REDD (Reduced Emissions from Deforestation and Degradation). An inter-governmental report produced this month by an Informal Working Group (IWG) for Interim Funding of REDD has outlined an initiative to save the CO2 equivalent of the annual emissions of the US over five years by rewarding developing countries for reducing deforestation, with payments on a performance basis.




Page 1 | Page 2 | Page 3 | Page 4 | Page 5 | Page 6 | Page 7