News articles on reforestation

---
Mongabay.com news articles on reforestation in blog format. Updated regularly.






Coastal habitats may sequester 50 times more carbon than tropical forests by area
(11/16/2009) Highly endangered coastal habitats are incredibly effective in sequestering carbon and locking it away in soil, according to a new paper in a report by the IUCN. The paper attests that coastal habitats—such as mangroves, sea grasses, and salt marshes—sequester as much as 50 times the amount of carbon in their soil per hectare as tropical forest. "The key difference between these coastal habitats and forests is that mangroves, seagrasses and the plants in salt marshes are extremely efficient at burying carbon in the sediment below them where it can stay for centuries or even millennia."
"Money is not a problem," palm oil CEO tells conservationists during speech defending the industry
(10/26/2009) Earlier this month at a colloquium to implement wildlife corridors for orangutans in the Malaysian state of Sabah, Dr. Yusof Basiron, the CEO of Malaysian Palm Oil Council (MPOC), told conservationists and primate experts that the palm oil industry was ready to fund reforestation efforts in the corridors. "We can raise the money to replant [the corridors] and keep contributing as a subsidy in the replanting process of this corridor for connecting forests," Basiron said in response to a question on how the palm oil industry will contribute. "Money is not a problem. The commitment is already there, the pressure is already very strong for this to be done, so it's just trying to get the thing into motion."
Business and conservation groups team up to conserve and better manage US's southern forests

(10/15/2009) A new project entitled Carbon Canopy brings together multiple stakeholders—from big business to conservation organizations to private landowners—in order to protect and better manage the United State's southern forests. The program intends to employ the emerging US forest carbon market to pay private forest owners for conservation and restoration efforts while making certain that all forest-use practices subscribes to the standards of the Forest Stewardship Council (FSC).
Private U.S. landowners may qualify for carbon payments under proposed legislation

(10/07/2009) Have you ever found yourself wondering what your backyard is worth in carbon? It may seem like a silly question – especially when deforestation in rainforest nations with millions of acres of tropical forest are spewing more CO2 into the atmosphere than any single industry – but small-scale deforestation in the developed world adds up. Now, eight US Senators, who have sponsored a bipartisan bill in the United States to supplement the American Clean Energy and Security Act, aim to prove that small-scale forest projects are nothing to sneeze at.
Palm oil industry pledges wildlife corridors to save orangutans

(10/03/2009) In an unlikely—and perhaps tenuous—alliance, conservationists and the palm oil industry met this week to draw up plans to save Asia's last great ape, the orangutan. As if to underscore the colloquium's importance, delegates on arriving in the Malaysian State of Sabah found the capital covered in a thick and strange fog caused by the burning of rainforests and peat lands in neighboring Kalimantan. After two days of intensive meetings the colloquium adopted a resolution which included the acquisition of land for creating wildlife buffer zones of at least 100 meters along all major rivers, in addition to corridors for connecting forests. Researchers said such corridors were essential if orangutans were to have a future in Sabah.
Working to save the 'living dead' in the Atlantic Forest, an interview with Antonio Rossano Mendes Pontes
(09/23/2009) The Atlantic Forest may very well be the most imperiled tropical ecosystem in the world: it is estimated that seven percent (or less) of the original forest remains. Lining the coast of Brazil, what is left of the forest is largely patches and fragments that are hemmed in by metropolises and monocultures. Yet, some areas are worse than others, such as the Pernambuco Endemism Centre, a region in the northeast that has largely been ignored by scientists and conservation efforts. Here, 98 percent of the forest is gone, and 70 percent of what remains are patches measuring less than 10 hectares. Due to this fragmentation all large mammals have gone regionally extinct and the small mammals are described by Antonio Rossano Mendes Pontes, a professor and researcher at the Federal University of Pernambuco, as the 'living dead'.
Global campaign has planted 7 billion trees

(09/23/2009) The campaign to plant seven billion trees has achieved its goal, the United Nations announced Tuesday. 7.3 billion trees have been planted in 167 countries since the UN Environment Programme (UNEP) launched the initiative in 2006. The effort aimed to sequester vast amounts of carbon from the atmosphere while generating benefits for human populations and wildlife.
Innovative reforestation project threatened by 'regime change' in Madagascar, an interview with Rainer Dolch
(09/16/2009) In Madagascar the TAMS Program (Tetik'asa Mampody Savoka, meaning "the project to bring back the forest") is under threat due to the new government's unwillingness to provide funding. The current government, after gaining power in a coup this year, has frozen all funds slated for the project and has yet to sign a carbon credit agreement with the World Bank which would bring much needed funding. "It remains to be seen if the recognition or not of Madagascar's transitional Government will lead to signing the contract with the World Bank in the near future. This is of course essential for the continuity of the project and its future," Rainer Dolch told Monagaby.com in an interview.
Concerns over deforestation may drive new approach to cattle ranching in the Amazon
(09/08/2009) While you're browsing the mall for running shoes, the Amazon rainforest is probably the farthest thing from your mind. Perhaps it shouldn't be. The globalization of commodity supply chains has created links between consumer products and distant ecosystems like the Amazon. Shoes sold in downtown Manhattan may have been assembled in Vietnam using leather supplied from a Brazilian processor that subcontracted to a rancher in the Amazon. But while demand for these products is currently driving environmental degradation, this connection may also hold the key to slowing the destruction of Earth's largest rainforest.
Activists target Brazil's largest driver of deforestation: cattle ranching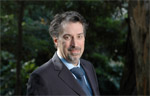 (09/08/2009) Perhaps unexpectedly for a group with roots in confrontational activism, Amigos da Terra - Amazônia Brasileira is calling for a rather pragmatic approach to address to cattle ranching, the largest driver of deforestation in the Brazilian Amazon. The solution, says Roberto Smeraldi, founder and director of Amigos da Terra, involves improving the productivity of cattle ranching, thereby allowing forest to recover without sacrificing jobs or income; establishing a moratorium on new clearing; and recognizing the economic values of maintaining the ecological functions of Earth's largest rainforest.
Trees sprout across farmland worldwide

(08/26/2009) Half the planet's farmed landscapes have significant tree cover, reports a new satellite-based study. The research, conducted by the Consultative Group on International Agricultural Research's World Agroforestry Centre found that tree cover exceeds 10 percent on more than 1 billion hectares of farmland, indicating that agroforestry is a "vital part" of worldwide agricultural production. 320 million hectares of forested agricultural land are found in Latin America, 190 million hectares in sub-Saharan Africa and 130 million hectares in Southeast Asia.
Turning wasteland into rainforest

(07/31/2009) The highly touted reforestation project launched by orangutan conservationist Willie Smits in Indonesian Borneo is detailed in this week's issue of Science.
Forest Recovery Programs in Madagascar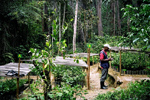 (06/01/2009) Despite being one of the last habitable land masses on earth to be settled by man, Madagascar has lost more of its forests than most countries; less than 10% of its original forest cover now remains, and much of that is degraded. Political turmoil that erupted earlier this year continues to rumble on and the ensuing lawlessness has created the opportunity for illegal logging syndicates to plunder national parks, most notably Marojejy and Masoala, for valuable hardwoods and wildlife.
Polluted, degraded ecosystems can recover in less than a lifetime

(05/31/2009) Restoration efforts can return polluted or degraded landscapes to previous states in less than a lifetime, according to study Yale School of Forestry and Environmental Studies. The study rebuts a common assumption that ecosystem recovery takes centuries, even millennia.
Revolutionary new theory overturns modern meteorology with claim that forests move rain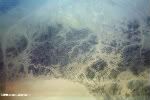 (04/01/2009) Two Russian scientists, Victor Gorshkov and Anastassia Makarieva of the St. Petersburg Nuclear Physics, have published a revolutionary theory that turns modern meteorology on its head, positing that forests—and their capacity for condensation—are actually the main driver of winds rather than temperature. While this model has widespread implications for numerous sciences, none of them are larger than the importance of conserving forests, which are shown to be crucial to 'pumping' precipitation from one place to another. The theory explains, among other mysteries, why deforestation around coastal regions tends to lead to drying in the interior.
In exchange for marriage certificate Indonesians must donate trees

(03/05/2009) An Indonesian district in West Java, Garut, has started a unique program to support reforestation. As reported by Reuters, any couple planning to get married must give ten trees to local authorities for reforestation efforts before marriage will be legally sanctioned.
Could engineering rainforests save the planet from global warming?

(01/21/2009) At the Smithsonian symposium entitled "Will the Rainforests Survive?", leading tropical biologists vigorously debated current threats to the rainforest and what the future may hold. While climate change was identified as a leading threat to rainforests, many of the scientists argued that the tropics may also be the key to mitigating the impact of global warming.
Secondary forest should become new conservation initiative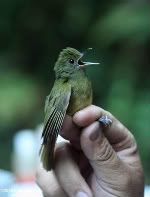 (01/19/2009) "I want to convince you we need to go beyond primary forests to preserve biodiversity", Robin Chazdon told an audience at the National Natural History Museum during a symposium on the tropics. Chazdon, a professor of ecology and evolutionary biology at the University of Connecticut, has been studying secondary growth forests for over eighteen years. Secondary forests are those forests in the process of regrowth after being used for agriculture or logging. In her study area of NE Costa Rica, many of these forests were converted to pastures in the 1970s and 1980s, but have since been abandoned. In her presentation Chazdon argued that to preserve biodiversity numerous types of human-impacted landscapes, such as secondary forest, require attention by the conservation community.
Symposium tackles big question: how many species will survive our generation

(01/16/2009) Nine scientists dusted off their crystal balls Monday at the National Museum of Natural History in Washington DC, weighing in on the future of the world's tropical forest. Despite the most up-to-date statistics, prognosis for the future of tropical forests varied widely. In the last few years a schism has occurred among biologists regarding the future of the tropics. No tropical scientist denies that rainforests and the species which inhabit them face unprecedented threats; neither do they argue that some of these forested regions and species will likely not survive the next fifty years. What has sparked debate, sometimes heated, is how bad will is it really? When the dust settles, what percentage of species will survive and how much forest will remain?
European conquest of the Americas may have driven global cooling
(12/18/2008) Recovery of forests following the collapse of human populations in the Americas after the arrival of Europeans may have driven the period of global cooling from 1500-1750 known as the Little Ice Age, report researchers speaking at the annual meeting of the American Geophysical Union in San Francisco. By some estimates, diseases introduced by Europeans may have killed more than 90 percent of population on the New World within a century of first contact. The rapid depopulation led to large-scale abandonment, and subsequent reforestation, of agricultural lands in the Americas. Analyzing charcoal found in soils and lake sediments at sites across the Americas, Richard Nevle and Dennis Bird found evidence to suggest that this forest regeneration sequestered enough carbon to trigger global cooling.
Deal on forests falls short

(12/11/2008) A deal reached Wednesday in Poznan to include forests in future climate treaties is a positive step but falls short of the progress needed to get the REDD (reducing emissions from deforestation and degradation) mechanism on track for incorporation into the framework that will succeed the Kyoto Protocol, say environmentalists speaking from the talks.
Rainforests continue to fall but hope may rest in a market solution

(12/11/2008) Environmentalists attempting to preserve the vanishing Amazon rain forest now confront a stark paradox: Never before have they succeeded in protecting so much of the world's largest tropical forest, yet never before has so much of it simultaneously been destroyed. The key question today is whether new models of conservation — including an increasingly popular, market-based program known as REDD — will be able to reverse the steady loss of tropical forests, not only in the Amazon, but also in Indonesia, Borneo, and Africa's Congo basin, where virgin woodlands continue to be razed at an unprecedented rate.
Macedonians plant six million trees—in one day

(12/10/2008) While the world meets in Poznan, Poland to discuss actions related to global warming, the small Republic of Macedonia has already achieved an impressive goal. On November 19th, thousands of Macedonians took part in planting trees in a massive reforestation effort. Altogether they planted six million trees: three trees for every citizen of the country.
Indigenous people win voice in climate negotiations

(12/10/2008) Negotiators at U.N. climate conference have struck a deal to give forest-dependent people a voice in determining the role forest conservation will play future agreements to reduce greenhouse gas emissions, reports the Associated Press (AP). The agreement clears a key obstacle that had been blocking progress on reducing emissions from deforestation and degradation (REDD), a mechanism that would compensate tropical countries for protecting their forest cover.
Salvage logging offers hope for forests, communities devastated by industrial logging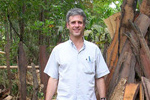 (12/04/2008) As currently practiced, logging is responsible for large-scale destruction of tropical forests. Logging roads cut deep into pristine rainforests, opening up once remote areas to colonization, subsistence and industrial agriculture, wildlife exploitation, and other forms of development. Timber extraction thins the canopy, damages undergrowth, and tears up soils, reducing biodiversity and leaving forests more vulnerable to fire. Even selective logging is damaging. Nevertheless demand for wood products continues to grow. China is expected to import more than 100 million cubic meters of industrial roundwood by 2010, much of which will go into finished products shipped off to Europe and the United States. As much as 60 percent of this is illicitly sourced. Meanwhile in Brazil domestic hunger for timber is fueling widespread illegal logging of the Amazon rainforest. Armed standoffs between environmental police and people employed by unlicensed operators are increasingly common. Tropical Salvage, a Portland, Oregon-based producer of wood products, is avoiding these issues altogether by taking a different approach to meet demand for products made from high-quality tropical hardwoods. The company salvages wood discarded from building sites, unearthed from mudslides and volcanic sites, and dredged from rivers in Indonesia and turns it into premium wood products. In the process, Tropical Salvage is putting formers loggers to work and supporting a conservation, education and reforestation project on Java.
Rural depopulation to have biodiversity impacts

(12/01/2008) Urbanization -- and accompanying rural abandonment -- may have profound implications for global biodiversity and therefore should factor into conservation planning, argue researchers writing in the December issue of Tropical Conservation Science.
Breakthrough may enable reforestation using mahogany

(10/16/2008) Brazilian researchers are closer to developing a way to establish large-scale mahogany plantations, reports the ITTO in its bi-monthly update. Scientists at the Federal Rural University of Amazonia (UFRA) have found that planting a matrix of mahogany with cedar reduces the incidence of the Hypsipyla grandella caterpillar, a chief pest of mahogany that has doomed previous attempts to reforest with the valuable hardwood species.
Ecuador's Choco under siege, but hope remains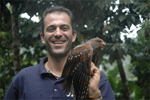 (10/09/2008) The Chocó, a region of humid tropical forest in western Colombia and northwestern Ecuador, is one of the world's biodiversity hotspots with high levels of endemic species but large-scale habitat loss. The situation is particularly dire in Ecuador where more than 90 percent of the Chocó has been cleared for agriculture. But hope is not lost. A dedicated team of researchers is working with local communities to ensure that Chocó will be around for future generations.







Regrowing the Amazon rainforest will require help from bats and birds

(09/15/2008) As large tracts of Amazon rainforest are degraded by industrial logging and cleared for cattle pasture and agriculture, other deforested areas are abandoned and being reclaimed by forest. Understanding this recolonization of degraded forest lands by pioneer species will critical to efforts to rehabilitate restore forests around the world.









Mangrove species flourishes in the United Arab Emirates after a century of local extinction

(08/20/2008) A long-absent mangrove species is flowering again in the United Arab Emirates a hundred years since its disappearance. Seeds of the rhizophora mucronata were brought from Pakistan and planted along the coast. The project was a joint venture between the United Arab Emirate's (UAE) Department of President's Affairs and the Environment Agency-Abu Dhabi.





Adaptation to climate change will be difficult for Madagascar

(07/29/2008) Madagascar's high levels of endemism coupled with its extensive loss and degradation of ecosystems leave its species particularly vulnerable to climate change. A new paper evaluates these risks and sets forth conservation priorities to best maintain the ecological resilience of the island nation.





How to replant a mangrove forest: local, low-cost initiatives prove most successful

(07/23/2008) Mangrove replanting and rehabilitation has become a widespread and important environmental initiative worldwide. Mangrove forests play key ecological roles, including sustaining fish populations and other wildlife, preventing erosion along coastlines, and acting as an overall carbon sink. Furthermore, mangroves have received attention lately for their role in providing an effective buffer against typhoons. In light of the many replanting initiatives now occurring, researchers J.H. Primavera and J.M.A. Esteban conducted a study of the overall effectiveness of different mangrove rehabilitation schemes. Their findings show that small, local, and generally cheaper initiatives have a higher success rate over large costly government and international programs.





Reforestation a growing, but complicated, initiative

(06/12/2008) As the rate of deforestation continues apace — 13 million hectares per year in a global basis — several countries have begun to look at reforesting degraded areas to aid suffering biodiversity, indigenous groups, and small local economies. However most of the interest and activity surrounding reforestation is as a tool to mitigate climate change. A new program just launched by the Nature Conservancy and several local partners plans to plant a billion trees in the fragmented Atlantic Forest of Brazil. The United Nations Environmental Program has already planted over two billion trees worldwide and plans to plant five billion more. China has planted billions more. However effective reforestation is not proving as easy as simply planting trees and waiting for them to grow, in fact, sometimes it may be best to leave the whole process to nature.





Rare golden primates help speed recovery of endangered Brazilian forest

(06/09/2008) The endangered golden lion tamarin — a flagship species for conservation efforts in Brazil's highly threatened Atlantic Forest or Mata Atlantica — plays an important role in seed dispersal, thereby helping forest regeneration, according to research published in the June issue of the open access e-journal Tropical conservation Science.





2 billion trees planted in 18 months

(05/13/2008) A campaign to plant one billion trees has planted more than 2 billion trees in just 18 months and now aims for seven billion, according to the UN Environment Programme, one of the backers of the initiative.







A billion trees to be planted in Brazil's Atlantic Forest over the next 7 years

(04/22/2008) A billion trees to be planted in the Atlantic Forest over the next seven years. The Nature Conservancy has begun a program to plant a billion trees in Brazil's dwindled Atlantic Forest. The Atlantic Forest used to cover Brazil's long coast, but today only seven percent of the forest remains. Both the megacities of Sao Paulo (the world's fifth largest city) and Rio de Janeiro have emerged and grown in what used to be tropical forest. Yet, the forest remaining retains an incredible bio-diversity much of it endemic.





Regrowing the rainforest

(03/30/2008) Half a century after most of Costa Rica's rainforests were cut down, researchers from the Boyce Thompson Institute took on a project that many thought was impossible - restoring a tropical rainforest ecosystem.




Page 1 | Page 2 | Page 3 | Page 4