News articles on reduced impact logging

---
Mongabay.com news articles on reduced impact logging in blog format. Updated regularly.








Tradeoff: Sabah banks on palm oil to boost forest protection
(12/05/2014) Last month Sabah set aside an additional 203,000 hectares of protected forest reserves, boosting the Malaysian state's extent of protected areas to 21 percent of its land mass. But instead of accolades, Sabah forestry leaders were criticized for how they went about securing those reserves: allowing thousands of hectares of deforested land within an officially designated forestry area to be converted for oil palm plantations
Reduced impact logging failing to cut emissions in Indonesia
(02/10/2014) Advocates for reduced impact logging in tropical forests often make a case that better forest management cuts carbon emissions relative to traditional forms of timber harvesting. While the argument for altering logging approaches to limit forest damage makes intuitive sense, a new study suggests that the carbon benefits may not bear out in practice.
REDD+ carbon market stabilizes, but risk of supply glut looms
(11/13/2013) The market for carbon credits generated under projects that reduce emissions from deforestation and forest degradation (REDD) showed signs of stabilizing in 2012 after a sharp drop in 2011, finds Forest Trends' new assessment of the global forest carbon market. The report shows that offsets representing 8.6 million metric tons of carbon dioxide were transacted in 2012, a 16 percent increase over 2011. But the average value of each credit dipped 8 percent from $8.50 to $7.80. Nonetheless the activity suggests the market of REDD+ credits may have stabilized after the volume fell 62 percent between 2010 and 2011.
Logging of primary rainforests not ecologically sustainable, argue scientists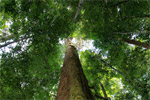 (01/25/2012) Tropical countries may face a risk of 'peak timber' as continued logging of rainforests exceeds the capacity of forests to regenerate timber stocks and substantially increases the risk of outright clearing for agricultural and industrial plantations, argues a trio of scientists writing in the journal Biological Conservation. The implications for climate, biodiversity, and local economies are substantial.
Logged rainforests are a cheap conservation option
(09/14/2011) With old-growth forests fast diminishing and land prices surging across Southeast Asia due to rising returns from timber and agricultural commodities, opportunities to save some of the region's rarest species seem to be dwindling. But a new paper, published in the journal Conservation Letters, highlights an often overlooked opportunity for conservation: selectively logged forests.
Ecosystem Goods and Services from Plantation Forests

(06/06/2011) Given that plantations cover 140 million hectares, or 4% of the global forested area, and are a growing source of round wood and pulp, Ecosystem Goods and Services from Plantation Forests is very well timed edited value that can add value to the discussion and implementation of sustainable forest management within a carbon constrained and biodiversity depleted global economic system.
Fighting illegal logging in Indonesia by giving communities a stake in forest management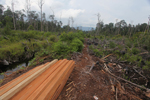 (03/10/2011) Over the past twenty years Indonesia lost more than 24 million hectares of forest, an area larger than the U.K. Much of the deforestation was driven by logging for overseas markets. According to the World Bank, a substantial proportion of this logging was illegal. Curtailing illegal logging may seem relatively simple, but at the root of the problem of illegal logging is something bigger: Indonesia's land policy. Can the tide be turned? There are signs it can. Indonesia is beginning to see a shift back toward traditional models of forest management in some areas. Where it is happening, forests are recovering. Telapak understands the issue well. It is pushing community logging as the 'new' forest management regime in Indonesia. Telapak sees community forest management as a way to combat illegal logging while creating sustainable livelihoods.
Indonesia is the 3rd largest GHG emitter but reducing deforestation offers big opportunity, says government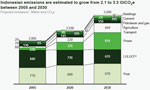 (09/28/2010) Indonesia's greenhouse gas emissions reached 2.1 billion tons of carbon dioxide in 2005, making it the world's third largest emitter of greenhouse gases, but offering opportunities to substantially reduce emissions through forest conservation, reduced use of fire, protection of peatlands, and better forest management, reports a series of studies released earlier this month by the country's National Climate Change Council (DNPI).
Scientists sound warning on forest carbon payment scheme
(07/22/2010) Scientists convening in Bali expressed a range of concerns over a proposed mechanism for mitigating climate change through forest conservation, but some remained hopeful the idea could deliver long-term protection to forests, ease the transition to a low-carbon economy, and generate benefits to forest-dependent people.
Timber certification is not enough to save rainforests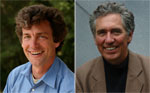 (06/02/2010) In the 1980s and 1990s pressure from activist groups led some of the world's largest forestry products companies and retailers to join forces with environmentalists to form the Forest Stewardship Council (FSC), a certification standard that aims to reduce the environmental impact of wood and paper production on natural forests. Despite initial skepticism on whether buyers would pay a premium for greener forest products, FSC quickly grew and by 2000 had become a standard in many markets, including Europe and the United States. Companies like Home Depot, Lowe's, and Ikea are today strong supporters of the FSC. But the FSC has not been without controversy. In recent years some activists have voiced concern about FSC standards as well as the credibility of auditors that certify timber operations. Among the initiative's supporters is the Rainforest Action Network (RAN), a group best known for its aggressive protest tactics. RAN says engagement with the FSC is better than the alternative: leaving the timber industry to devise its own sustainability standards.
Destruction of old-growth forests looms over climate talks
(12/08/2009) Destruction of old-growth or primary forests looms large in discussions in Copenhagen over a scheme to compensate tropical countries for reducing emissions from deforestation and degradation (REDD). Some environmental groups are pressing for conservation of old-growth forests — the most carbon-dense, and biologically-rich state of forests — to be the centerpiece of REDD, while industry and other actors are pushing for "sustainable forest management" or logging using reduced-impact techniques to be the primary focus of REDD.
Weak forest definition may undermine REDD efforts

(08/20/2009) The weak definition of what constitutes forest under the United Nations Framework Convention on Climate Change (UNFCCC) puts the effectiveness of a proposed mechanism for reducing emissions from deforestation and degradation (REDD) at risk, argue researchers writing in the journal Conservation Letters.