News articles on rainforests

---
Mongabay.com news articles on rainforests in blog format. Updated regularly.





Tropical deforestation emissions were 3 billion tons/yr from 2000-2005

(12/03/2012) Two prominent groups of researchers have reached a consensus estimate for emissions from tropical deforestation between 2000 and 2005.


REDD+ negotiations in Doha at impasse, potentially delaying decisions on safeguards another year


(12/03/2012) Negotiations over a program that would pay tropical countries for reducing greenhouse gas emissions from deforestation and degradation — or REDD+ — are stuck at an impasse over how emissions reductions would be verified, reports Ecosystem Marketplace. The disagreement, which has been characterized as a standoff between Brazil, which is potentially a beneficiary of REDD+, and Norway, which is the world's largest funder of tropical forest conservation, could push any final decisions on REDD+ out another year.


'Exporting deforestation': China is the kingpin of illegal logging


(11/29/2012) Runaway economic growth comes with costs: in the case of China's economic engine, one of them has been the world's forests. According to a new report by the Environmental Investigation Agency (EIA), China has become the number one importer of illegal wood products from around the world. Illegal logging—which threatens biodiversity, emits carbon, impoverishes local communities, and is often coupled with other crimes—has come under heavy pressure in recent years from the U.S., the EU, and Australia. Each of these has implemented, or will soon implement, new laws that make importing and selling illegal wood products domestic crimes. However, China's unwillingness to tackle its vast appetite for illegal timber means the trade continues to decimate forests worldwide.


5 years in, debates over REDD+ continue


(11/28/2012) An initiative that aims to slow global warming by paying developing countries to protect and better manage their forests is expected to be an important storyline during climate talks in Doha this week and next. REDD+ (Reducing Emissions from Deforestation and Degradation), as the mechanism is known, has grown in complexity since it gained momentum during the 2005 climate talks in Montreal, but is arguably moving forward faster than other areas of climate negotiations. Still, many elements of REDD+ continue to be as hotly debated today as they were five years ago when it got the conceptual OK from the U.N. These include the process for establishing baselines to measure reductions in emissions, safeguards to protect against adverse outcomes for biodiversity and forest-dependent communities, and financing and markets.


Brazil's deforestation at record low from 2011-2012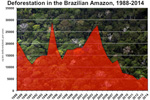 (11/27/2012) Deforestation in the Brazilian Amazon fell to the lowest rate since annual record-keeping began in 1988 according to provisional data released Tuesday by Brazil's National Space Research Agency (INPE). 1,798 square miles (4,656 square kilometers) of Amazon forest was chopped down during the 12 months ending July 31, 2012, 27 percent less than the year earlier period.


Featured video: how locals depend on Kalimantan's vanishing forests

(11/27/2012) A new video explores local indigenous views of the forests of Kalimantan or Indonesian Borneo. Having depended on the rainforest ecosystems for centuries, indigenous groups now find themselves under pressure to exploit forest for logging, coal mining, or industrial plantations. While biodiversity, carbon sequestration, and other ecosystem services are at stake, the forests are also deeply intertwined with the culture and way-of-life for indigenous group.


Legislation leaves future of world's largest temperate rainforest up in the air


(11/27/2012) Although unlikely to pass anytime in the near term, recurring legislation that would hand over 80,000 acres of the Tongass Rainforest to a Native-owned logging corporation has put local communities on guard in Southeast Alaska. "The legislation privatizes a public resource. It takes land that belongs to all of us, and that all of us have a say in the use and management of, and it gives that land to a private for-profit corporation," Andrew Thoms, Executive Director of the Sitka Conservation Society, told mongabay.com in a recent interview.


Photos reveal destruction of Cameroon rainforest for palm oil


(11/26/2012) Newly released photos by Greenpeace show the dramatic destruction of tropical forest in Cameroon for an oil palm plantation operated by SG Sustainable Oils Cameroon (SGSOC), a subsidiary of the U.S. company Herakles Farm. The agriculture company is planning to convert 73,000 hectares to palm oil plantations on the edge of several protected areas, but has faced considerable opposition from environmentalists and some local communities. In addition to the aerial photos, Greenpeace alleges that ongoing forest clearing by Herakles is illegal since the companies 99-year lease has yet to be fully approved by the Cameroonian government.


Unique program to leave oil beneath Amazonian paradise raises $300 million


(11/26/2012) The Yasuni-ITT Initiative has been called many things: controversial, ecological blackmail, revolutionary, pioneering, and the best chance to keep oil companies out of Ecuador's Yasuni National Park. But now, after a number of ups and downs, the program is beginning to make good: the Yasuni-ITT Initiative has raised $300 million, according to the Guardian, or 8 percent of the total amount needed to fully fund the idea.


Forests worldwide near tipping-point from drought


(11/23/2012) Forests worldwide are at 'equally high risk' to die-off from drought conditions, warns a new study published this week in the journal Nature. The study, conducted by an international team of scientists, assessed the specific physiological effects of drought on 226 tree species at 81 sites in different biomes around the world. It found that 70 percent of the species sampled are particularly vulnerable to reduction in water availability. With drought conditions increasing around the globe due to climate change and deforestation, the research suggests large swathes of the world's forests — and the services they afford — may be approaching a tipping point.


Australia outlaws illegally-logged wood from abroad

(11/21/2012) In another blow to illegal loggers, Australia has passed the Illegal Logging Prohibition Bill, joining the U.S. in outlawing the importation of illegal logged timber from abroad. The new legislation makes it a criminal offense for Australian businesses to import timber from illegal operations. The Australian government estimates that $400 million worth of illegal timber products are sold in the country each year often as outdoor furniture and wood for decks


Colombia gets world's first VCS validated and verified REDD project on collective lands

(11/16/2012) A conservation project in Colombia has broken new ground in the world of forest carbon credits. The project, run as partnership between an Afro-indigenous community and a Colombian company, is the first REDD+ project certified under the Verified Carbon Standard (VCS) in Colombia. More importantly, it is also the first certified REDD+ project on community-owned, collectively-titled land.


Rights groups, environmentalists aim to block funding for new Sumatran pulp mill

(11/16/2012) A coalition of more than 60 civil society groups has warned bankers and insurers not to invest in a massive new mill slated for construction on the island of Sumatra. The NGOs say the mill will drive deforestation and increase conflict in a region already wracked with social and environmental problems.


Amazon deforestation tracking higher in Brazil

(11/16/2012) Deforestation in the Brazilian Amazon continues to rise off historic lows according to satellite data released this week by Imazon, a Brazil-based NGO.


Penan suspend dam blockade, give government one month to respond to demands

(11/15/2012) Members of the Penan tribe have suspended their month long blockade of the Murum dam in the Malaysian state of Sarawak, reports Survival International. However, according to the indigenous group the fight is not over: the departing Penan said the Sarawak government had one month to respond to demands for sufficient compensation for the dam's impact or face another blockade. Over 300 Penan people participated in the blockade, which stopped traffic leading to the construction site.


Featured video: on-the-ground look at Brazil's fight against deforestation

(11/15/2012) A new video by the Guardian takes an on-the-ground look at Brazil's efforts to tackle deforestation in the Amazon. Using satellite imagery, an elite team of enforcement agents are now able to react swiftly to illegal deforestation. The crackdown on deforestation has been successful: destruction of the Amazon has slowed by around 75 percent in the last 8 years.


Norway's $650B pension fund to require deforestation disclosure among portfolio companies

(11/12/2012) Norway's $650 billion sovereign wealth fund will ask companies in which it invests to disclose their impacts on tropical forests, as part of its effort to reduce deforestation, reports Reuters. The move could usher in broader reporting on the forest footprint of operations.


Gaining from rain: precipitation is an indicator of tropical forest biodiversity

(11/12/2012) Policymakers seeking to conserve forests in southern India should focus on those receiving the highest levels of rainfall, according to new research. Scientists from the Center for International Forestry Research (CIFOR) found rainfall to be the most important environmental determinant of species richness in the Anamalai region of the southern Western Ghats.


Foreign loggers and corrupt officials flouting logging moratorium in the Democratic Republic of Congo


(11/08/2012) In 2002 the Democratic Republic of Congo (DRC) announced a moratorium on commercial logging in a bid to save rapidly falling forests, however a new report by Global Witness alleges that industrial loggers are finding a way around the logging freeze. Through unscrupulous officials, foreign companies are abusing artisanal permits—meant for local community logging—to clear-cut wide swathes of tropical forest in the country. These logging companies are often targeting an endangered tree—wenge (Millettia laurentii)—largely for buyers in China and Europe.


Development halted in crucial wildlife corridor in Malaysia


(11/07/2012) Kenyir Wildlife Corridor in northeast Malaysia is teeming with wildlife: elephants, gibbons, tigers, tapirs, and even black panthers (melanistic leopards) have been recorded in the 60 kilometer (37 mile) stretch of forest. In fact, researchers have recorded over 40 mammal species (see species list below), including 15 threatened with extinction according to the IUCN Red List. When these findings were presented by scientists to the Terengganu state government action followed quickly: all development projects have been halted pending a government study.


Over 100,000 farmers squatting in Sumatran park to grow coffee


(11/06/2012) Sumatra's Bukit Barisan Selatan National Park—home to the Critically Endangered Sumatran rhinos, tigers, and elephants—has become overrun with coffee farmers, loggers, and opportunists according to a new paper in Conservation and Society. An issue facing the park for decades, the study attempted for the first time to determine the number of squatters either living in or farming off Bukit Barisan Selatan National Park, a UNESCO World Heritage Site; the rough census—over 100,000 people—shocked scientists.


New rare frog discovered in Sri Lanka, but left wholly unprotected


(11/05/2012) Sri Lanka, an island country lying off the southeast coast of India, has long been noted for its vast array of biodiversity. Islands in general are renowned for their weird and wonderful creatures, including high percentages of endemic species—and Sri Lanka, where scientists recently discovered a new frog species, is no exception.


HSBC bank funding large-scale rainforest destruction and invasion of indigenous lands in Borneo, alleges report


(11/02/2012) HSBC has earned tens of millions financing the destruction of rainforests and invasion of indigenous land in the Malaysian state of Sarawak on the island of Borneo, alleges an explosive new report from Global Witness.


Future of the Tongass forest lies in salmon, not clear-cut logging


(10/25/2012) The Parnell administration's Timber Task Force recently unveiled a proposal to carve out two million acres of the Tongass National Forest for clear-cut logging under a state-managed "logging trust." The stated goal is to revive Southeast Alaska's timber industry that collapsed two decades ago amid changing market conditions, logging cutbacks and evolving public opinion about timber harvesting on national forests.


APP overstates significance of its logging moratorium in Indonesia, says report

(10/25/2012) Beleaguered forestry giant Asia Pulp & Paper (APP) is overstating the conservation significance of its recently announced moratorium on forest conversion on the islands of Sumatra and Borneo, argues a new report issued by an Indonesian activist group.


Will designation of new administrative districts lead to more deforestation in Indonesia?


(10/24/2012) On Monday Indonesia's House of Representatives moved to establish 'North Kalimantan', a new province in Indonesian Borneo. It also voted for four new districts: Pangandaran in West Java, South Coast in Lampung, and South Manokwari and Arfak Mountains in West Papua. While the moves aim to improve governance by boosting local autonomy, they could make it more difficult for Indonesia to meet its deforestation reduction goals if recent trends — detailed in a 2011 academic paper — hold true.


Rehabilitated orangutans in danger if industrial project proceeds in Borneo


(10/22/2012) The proposed extension of an industrial area in East Kalimantan, Indonesia will likely mean the end of a population of rehabilitated orangutans who reside there, according to the Indonesian environmental group Peduli Teluk Balikpapan. The Kariangau Industrial Area (KIK) will comprise 5,130 hectares of land currently covered by hardwood forests and mangroves when completed, including one third of orangutan habitat in Sungai Wain forest—a crucial portion that is not within the boundaries of the Sungai Wain Protection Forest and therefore not under any governmental protection.


Most controversial aspects of Brazil's new Forest Code vetoed as legislation signed into law

(10/19/2012) Brazilian President Dilma Rousseff signed into law a revised version of the country's Forest Code, vetoing some of the most controversial changes proposed by agricultural interests in Brazil's Congress.


The world's 25 most endangered primates: nearly a quarter in Madagascar


(10/15/2012) A coalition of conservation groups released the biannual Top 25 Primates list today, including nine species not appearing on the 2010 list, at the UN's Convention on Biological Diversity (CBD) in Hyderabad, India. Madagascar tops the list as home to the most threatened primates, including six on the list. Following Madagascar, Vietnam contains five, Indonesia three, and Brazil two. In all, over half (54 percent) of the world's primates, which have been evaluated, are considered threatened by the IUCN Red List.


UNESCO disturbed by gas plans for Peru's Manu National Park


(10/15/2012) Major concerns about the danger posed by gas exploration in a UNESCO World Heritage site in the Amazon rainforest has prompted UNESCO to promise to lobby the Peruvian government. Manu National Park's biological diversity exceeds "that of any other place on Earth," according to UNESCO's website, and is inhabited by indigenous people living in "voluntary isolation" who could be decimated if they come into contact with gas workers.


Disney drops paper suppliers linked to deforestation

(10/12/2012) Disney this week announced sweeping changes to its paper-sourcing policy that will exclude fiber produced via the destruction of tropical rainforests.


Is your Halloween candy linked to rainforest destruction?

(10/11/2012) A campaign by the Cheyenne Mountain Zoo hopes to raise awareness about the link between Halloween candy and deforestation in Indonesia and Malaysia. Employing the images of Critically Endangered orangutans, the zoo urges consumer to only buy candy containing eco-certified palm oil by the Round Table on Sustainable Palm Oil (RSPO).


Brazil forms special environmental security force to combat spike in deforestation

(10/11/2012) Brazil will set up a special environmental security force in an effort to stem rising deforestation in the Amazon rainforest, reports AFP.


Dollar General drops APP due to rainforest destruction concerns

(10/11/2012) U.S. retailer Dollar General has stopped sourcing paper products from controversial brand Asia Pulp and Paper (APP), according to the World Wide Fund for Nature (WWF) which has targeted 20 companies for selling APP-sourced tissue and paper towels. APP has been under fire for years for deforestation on the Indonesian island of Sumatra, the last home to the Sumatran tiger (Panthera tigris sumatrae), Sumatran orangutan (Pongo abelii), and Sumatran elephant (Elephas maximus sumatranus), each of which is listed as Critically Endangered by the IUCN Red List.


Indigenous groups re-occupy Belo Monte dam in the Amazon

(10/09/2012) Construction on Brazil's megadam, Belo Monte, has been halted again as around 150 demonstrators, most of them from nearby indigenous tribes, have occupied the main construction site at Pimental. Over a hundred indigenous people joined local fishermen who had been protesting the dam for 24 days straight. Indigenous people and local fishermen say the dam will devastate the Xingu River, upending their way of life.


First REDD Textbook - Forest and Climate Change: The Social Dimensions of REDD in Latin America – Book Review

(10/08/2012) Thank you Professor Anthony Hall. After many years, we finally have a REDD textbook that can be used in the undergraduate and graduate classroom. Professor Hall has produced an excellent contribution to the growing Reduced Emissions from Deforestation and Forest Degradation (REDD) literature.


90 percent of oil palm plantations came at expense of forest in Kalimantan


(10/08/2012) From 1990 to 2010 almost all palm oil expansion in Kalimantan came at the expense of forest cover, according to the most detailed look yet at the oil palm industry in the Indonesian state, published in Nature: Climate Change. Palm oil plantations now cover 31,640 square kilometers of the state, having expanded nearly 300 percent since 2000. The forest loss led to the emission of 0.41 gigatons of carbon, more than Indonesia's total industrial emissions produced in a year. Furthermore the scientists warn that if all current leases were converted by 2020, over a third of Kalimantan's lowland forests outside of protected areas would become plantations and nearly quadruple emissions.


Indigenous blockade expands against massive dam in Sarawak


(10/08/2012) Indigenous people have expanded their blockade against the Murum dam in the Malaysian state of Sarawak, taking over an additional road to prevent construction materials from reaching the dam site. Beginning on September 26th with 200 Penan people, the blockade has boomed to well over 300. Groups now occupy not just the main route to the dam site, but an alternative route that the dam's contractor, the China-located Three Gorges Project Corporation, had begun to use.


Roundtable on Sustainable Palm Oil hits 10 year mark


(10/04/2012) The Roundtable on Sustainable Palm Oil (RSPO) is holding its tenth annual meeting later this month. The initiative, which aims to improve the social and environmental performance of palm oil production through a certification standard, has advanced considerably during that time, moving from an idea to a reality: RSPO-certified palm oil now accounts for 12 percent of global palm oil production. Yet the RSPO is not without controversy. Some palm oil companies say its criteria are too costly to adopt and are therefore discriminatory, while environmental critics argue its bar for "sustainable" palm oil is too low and the loopholes allow producers to claim membership even if they aren't actually producing certified palm oil across all their holdings. Nonetheless the RSPO has support from many of the world's largest palm oil producers, traders, and consumers as well as the biggest NGOs.


NASA satellites catch vast deforestation inside Virunga National Park

(10/03/2012) Two satellite images by NASA, one from February 13, 1999 and the other from September 1, 2008 (see below), show that Virunga National Park is under assault from deforestation. Located in the eastern edge of the Democratic Republic of Congo (DRC) the park has been assailed by entrenched conflict between rebels and government forces, as well as slash-and-burn farming, the charcoal trade, and a booming human population.


Photos: new mammal menagerie uncovered in remote Peruvian cloud forest


(10/03/2012) Every year scientists describe around 18,000 new species, but mammals make up less than half a percent of those. Yet mammal surprises remain: deep in the remote Peruvian Andes, scientists have made an incredible discovery: a rich cloud forest and alpine grassland ecosystem that may be home to no less than eight new mammal species. Although most of these new mammals are currently under study—and have not been officially described yet (a process which can take several years)—lead scientists, Horacio Zeballos of Peru and Gerardo Ceballos of Mexico are certain they have uncovered a small forest, surrounded by deforestation and farmland, that shelters a remarkable menagerie of mammals unknown to scientists until now.


Gaming for rainforests


(10/03/2012) The average gamer will spend thousands of hours playing video games by the time they reach adulthood, but the most popular games among some demographics — shoot-em-up and sports games — don't seem to offer many dividends to society or the environment. However Jan Dwire doesn't believe that has to be the case. With a small team in Costa Rica, Dwire has developed "Rainforest Rangers", a multi-platform game that teaches kids about rainforests, including their importance and the threats they face.


Illegal logging worth $30-100B annually

(10/01/2012) Illegal logging accounts for 15-30 percent of forestry in the tropics and is worth $30-100 billion worldwide, alleges a new report published by the United Nations Environment Programme (UNEP) and INTERPOL. Consuming countries play a major role in the trade, which is increasingly sophisticated and in some places is facilitated by the expansion of industrial plantations.


Sustainability pact aside, Greenpeace says paper giant APP must stop facilitating deforestation

(09/27/2012) Asia Pulp & Paper (APP) must stop accepting timber sourced from clearance of rainforests and peatlands for its sustainability pact to have any credibility, says Greenpeace.


Another journalist attacked in Cambodia for covering illegal logging

(09/27/2012) Two weeks after an environmental journalist was found murdered in the trunk of his car, another journalist has been brutally attacked in Cambodia. Ek Sokunthy with the local paper Ta Prum says he was beaten in his home by three assailants by a pistol and a stick. The attack follows swiftly after the high-profile murder of 44-year-old forest journalist Hang Serei Oudom.


Agriculture causes 80% of tropical deforestation


(09/27/2012) Agriculture is the direct driver of roughly 80 percent of tropical deforestation, while logging is the biggest single driver of forest degradation, says a new report funded by the British and Norwegian governments. The report presents an overview of drivers of deforestation to inform policymakers involved in developing the REDD+ mechanism, an international program that aims to reduce emissions from deforestation and forest degradation.


Commentary: Protecting the people, not the polluters, says Greenpeace

(09/27/2012) Greenpeace is dedicated to ending deforestation and preventing catastrophic climate change. We are often recognized for putting our lives and freedoms on the line to accomplish these goals. In the U.S. alone, Greenpeace is campaigning to save ancient forests, speaking out against the coal industry; mobilizing millions to save the arctic from new oil drilling; and pushing key industries to commit to renewable energy.


In eco-pact, will controversial paper giant APP turn over a new leaf?


(09/26/2012) Over the past decade-and-a-half there has arguably been no paper supplier as controversial as Asia Pulp & Paper (APP), an umbrella brand for several Indonesian forestry companies. The paper giant has been dogged by allegations that is destroying key wildlife habitat, driving substantial greenhouse gas emissions through the conversion of peat forests, dispossessing local communities of land, and engaging in a heavy-handed campaign to undermine its critics within Indonesia and abroad. Its reputation hasn't be helped by its financial record — in 2001 it defaulted on $13.9 billion in debt, making it difficult for APP to raise money for expansion.


Corruption still plundering forests in Laos for furniture

(09/26/2012) The forests of Lao are still suffering from widespread destruction with the government turning a blind eye to a thriving black market logging trade on the border of Laos and Vietnam, according to an update report by the Environmental Investigation Agency (EIA). Last year, the EIA found that powerful players, including the Vietnamese military, were plundering Laos of its forests for raw logs. Smuggled from Laos into Vietnam, the raw logs are crafted into furniture, which are eventually exported to Europe and the U.S. Now, over a year later a new report finds little has changed.


Greenpeace targets forest carbon offsets in California's cap-and-trade

(09/25/2012) California's inclusion of forest conservation-based carbon offsets in its climate change legislation may not lead to net reductions in greenhouse gas emissions and could exacerbate social conflict in places like southern Mexico, argues a report released Monday by Greenpeace. But the activist group faced sharp criticism from backers of California's initiative.



Page 1 | Page 2 | Page 3 | Page 4 | Page 5 | Page 6 | Page 7 | Page 8 | Page 9 | Page 10 | Page 11 | Page 12 | Page 13 | Page 14 | Page 15 | Page 16 | Page 17 | Page 18 | Page 19 | Page 20 | Page 21 | Page 22 | Page 23 | Page 24 | Page 25 | Page 26 | Page 27 | Page 28 | Page 29 | Page 30 | Page 31 | Page 32 | Page 33 | Page 34 | Page 35 | Page 36 | Page 37 | Page 38 | Page 39 | Page 40 | Page 41 | Page 42 | Page 43 | Page 44