News articles on rainforests

---
Mongabay.com news articles on rainforests in blog format. Updated regularly.






Roads are enablers of rainforest destruction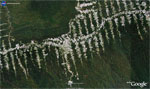 (09/24/2009) Chainsaws, bulldozers, and fires are tools of rainforest destruction, but roads are enablers. Roads link resources to markets, enabling loggers, farmers, ranchers, miners, and land speculators to convert remote forests into economic opportunities. But the ecological cost is high: 95 percent of deforestation in the Brazilian Amazon occurs within 50-kilometers of a road; in Africa, where logging roads are rapidly expanding across the Congo basin, the bulk of bushmeat hunting occurs near roads. In Laos and Sumatra, roads are opening last remnants of intact forests to logging, poaching, and plantation development. But roads also cause subtler impacts, fragmenting habitats, altering microclimates, creating highways for invasive species, blocking movement of wildlife, and claiming animals as roadkill. A new paper, published in Trends in Evolution and Ecology, reviews these and other impacts of roads on rainforests. Its conclusions don't bode well for the future of forests.
Palm oil both a leading threat to orangutans and a key source of jobs in Sumatra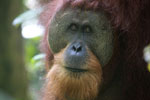 (09/24/2009) Of the world's two species of orangutan, a great ape that shares 96 percent of man's genetic makeup, the Sumatran orangutan is considerably more endangered than its cousin in Borneo. Today there are believed to be fewer than 7,000 Sumatran orangutans in the wild, a consequence of the wildlife trade, hunting, and accelerating destruction of their native forest habitat by loggers, small-scale farmers, and agribusiness. Gunung Leuser National Park in North Sumatra is one of the last strongholds for the species, serving as a refuge among paper pulp concessions and rubber and oil palm plantations. While orangutans are relatively well protected in areas around tourist centers, they are affected by poorly regulated interactions with tourists, which have increased the risk of disease and resulted in high mortality rates among infants near tourist centers like Bukit Lawang. Further, orangutans that range outside the park or live in remote areas or on its margins face conflicts with developers, including loggers, who may or may not know about the existence of the park, and plantation workers, who may kill any orangutans they encounter in the fields. Working to improve the fate of orangutans that find their way into plantations and unprotected community areas is the Orangutan Information Center (OIC), a local NGO that collaborates with the Sumatran Orangutan Society (SOS).
Working to save the 'living dead' in the Atlantic Forest, an interview with Antonio Rossano Mendes Pontes
(09/23/2009) The Atlantic Forest may very well be the most imperiled tropical ecosystem in the world: it is estimated that seven percent (or less) of the original forest remains. Lining the coast of Brazil, what is left of the forest is largely patches and fragments that are hemmed in by metropolises and monocultures. Yet, some areas are worse than others, such as the Pernambuco Endemism Centre, a region in the northeast that has largely been ignored by scientists and conservation efforts. Here, 98 percent of the forest is gone, and 70 percent of what remains are patches measuring less than 10 hectares. Due to this fragmentation all large mammals have gone regionally extinct and the small mammals are described by Antonio Rossano Mendes Pontes, a professor and researcher at the Federal University of Pernambuco, as the 'living dead'.
Indonesia: emissions to rise 50% by 2030, 3rd largest GHG emitter

(09/22/2009) A report released by the Indonesian government shows the country is the world's third largest greenhouse gas emitter, largely as a result of the destruction of rainforests and carbon-dense peatlands. Indonesia accounts for 8 percent of global carbon dioxide emissions.
Prince Charles making progress in effort to save rainforests, says leading British environmentalist

(09/22/2009) Prince Charles of Great Britain has emerged as one of the world's highest-profile promoters of a scheme that could finally put an end to destruction of tropical rainforests. The Prince's Rainforest Project, launched in 2007, is promoting awareness of the role deforestation plays in climate change—it accounts for nearly a fifth of greenhouse gas emissions. The project also publicizes the multitude of benefits tropical forests provide, including maintenance of rainfall, biodiversity, and sustainable livelihoods for millions of people. But the initiative goes beyond merely raising awareness. Prince Charles is using his considerable influence to bring political and business leaders together to devise and support a plan to provide emergency funding to save rainforests. Tony Juniper, one of Britain's best-known environmentalists and Special Adviser to the project, spoke about Prince Charles' efforts in an interview with mongabay.com.
EU biofuels policy undermines governance in Indonesia, alleges report
(09/21/2009) Indonesian authorities are failing to prevent illegal logging and conversion of protected areas for oil palm cultivation used to supply the European market with supposedly "green" biofuels, alleges a new report from Milieudefensie (Friends of the Earth Netherlands) and WALHI KalBar (Friends of the Earth Indonesia, West Kalimantan). The report, "Failing governance - Avoiding responsibilities", claims that European biofuel policies have driven reckless oil palm expansion in Ketapang District, West Kalimantan, resulting in illegal issuance of development permits and land conflicts, thereby undermining governance structures.
Fashion labels drop APP after party highlights the plight of Indonesian forests

(09/21/2009) The fashion world has been rocked: not by the newest designer or the most shocking outfit, but by the continuing destruction of forests in Indonesia. On September 15th, the Rainforest Action Network (RAN) helped open New York City's styling Fashion Week with a party to encourage fashion designers to take a closer look at the paper bags they give customers.
Heavy oil pollution remains in Amazon, despite company claiming clean-up is finished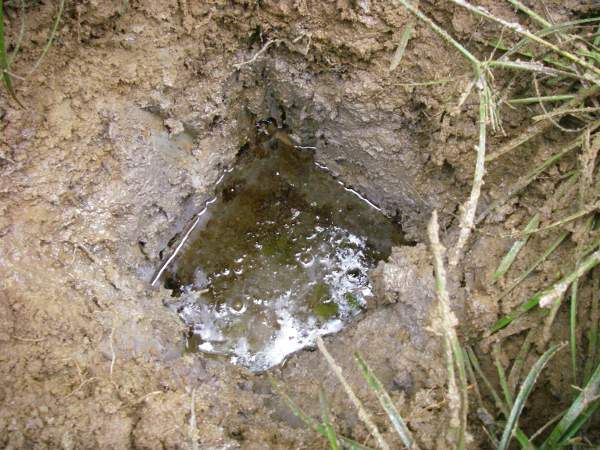 (09/17/2009) A new report shows that the Corrientes region of the Peruvian Amazon, which suffered decades of toxic contamination by Occidental Petroleum (OXY), is far from being cleaned-up. The survey, conducted by US non-profit E-Tech International, found that heavy metals, volatile organic compounds, and hydrocarbons still exist at levels above the safety limits set by Peru and continue to threaten the Achuar indigenous community, who have long fought against the oil companies.
Saving gorillas by bringing healthcare to local people in Uganda, an interview with Dr. Gladys Kalema-Zikusoka
(09/16/2009) How can bringing healthcare to local villagers in Uganda help save the Critically Endangered mountain gorilla? The answer lies in our genetics, says Dr. Gladys Kalema-Zikusoka, wildlife veterinarian and director of Conservation through Public Health (CTPH). "Because we share 98.4% genetic material with gorillas we can easily transmit diseases to each other." Therefore, explains Kalema-Zikusoka "our efforts to protect the gorillas will always be undermined by the poor public health of the people who they share a habitat with. In order to effectively improve the health of the gorillas we needed to also improve the health of the people, which will not only directly reduced the health threat to gorillas through improvement of public health practices, but also improved community attitudes toward wildlife conservation."
Independent review finds logging company has abused rights of indigenous Penan in Borneo
(09/15/2009) An independent review of Interhill Logging found that the Sarawak logging company has regularly violated forest laws and abused the rights of the indigenous Penan peoples. The review, conducted by French tourism giant ACCOR, found that Interhill Logging had not received free, prior, and informed consent from the local Penan people for its logging operations; the logging being done by Interhill "is very definitely not sustainable"; the company is not fully compiling with Sarawak's Natural Resources and Environment Board; and Interhill is providing no long-term benefits to the Penan peoples.
Saving the last megafauna of Malaysia, an interview with Reuben Clements
(09/15/2009) Reuben Clements has achieved one success after another since graduating from the National University of Singapore. Currently working in peninsular Malaysia, he manages conservation programs for the Endangered Malayan tiger and the Critically Endangered Sumatran Rhino with World Wildlife Fund. At the same time he has discovered three new species of microsnails, one of which was named in the top ten new species of 2008 (a BIG achievement for a snail) due to its peculiar shell which has four different coiling axes. ie7uhig
Social causes of deforestation in the Amazon rainforest

(09/14/2009) Understanding the web of social groups involved in deforestation in the Brazilian Amazon is key to containing forest loss, argues a leading Amazon researcher writing in the journal Ecology and Society. Philip Fearnside of the National Institute for Research in the Amazon (INPA) reviews nine actors that have had significant roles in deforestation and reports differences in why they deforest, where they are active, and how they interact with each other.
Oil road transforms indigenous nomadic hunters into commercial poachers in the Ecuadorian Amazon
(09/13/2009) The documentary Crude opened this weekend in New York, while the film shows the direct impact of the oil industry on indigenous groups a new study proves that the presence of oil companies can have subtler, but still major impacts, on indigenous groups and the ecosystems in which they live. In Ecuador's Yasuni National Park—comprising 982,000 hectares of what the researchers call "one of the most species diverse forests in the world"—the presence of an oil company has disrupted the lives of the Waorani and the Kichwa peoples, and the rich abundance of wildlife living within the forest.
Britain bans palm oil ad campaign
(09/09/2009) Britain's Advertising Standards Authority (ASA), a group that regulates advertisements, has again banned "misleading" ads by the palm oil industry, reports the Guardian. ASA ruled that a campaign run by the Malaysian Palm Oil Council (MPOC) makes dubious claims, including that palm oil is the "only product able to sustainably and efficiently meet a larger portion of the world's increasing demand for oil crop-based consumer goods, foodstuffs and biofuels." The ad said criticism over "rampant deforestation and unsound environmental practices" were part of "protectionist agendas" not based on scientific fact. ASA held the ad breached several of its advertising standards codes, including "substantiation," "truthfulness," and "environmental claims." In rebuking the MPOC, the ASA said that the merits of new eco-certification scheme promoted by the palm oil industry is "still the subject of debate" and that the ad's attacks on detractors implied that all criticisms of the palm oil industry "were without a valid or scientific basis." wzthpdc5kq
Concerns over deforestation may drive new approach to cattle ranching in the Amazon
(09/08/2009) While you're browsing the mall for running shoes, the Amazon rainforest is probably the farthest thing from your mind. Perhaps it shouldn't be. The globalization of commodity supply chains has created links between consumer products and distant ecosystems like the Amazon. Shoes sold in downtown Manhattan may have been assembled in Vietnam using leather supplied from a Brazilian processor that subcontracted to a rancher in the Amazon. But while demand for these products is currently driving environmental degradation, this connection may also hold the key to slowing the destruction of Earth's largest rainforest.
Crowned sifaka population on the verge of local extinction: dispatch from the field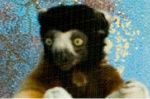 (09/08/2009) A small group of crowned sifaka lemurs Propithecus coronatus have been located in the corridor d'Amboloando-Dabolava, Miandrivazo district-Madagascar, but are immediately threatened with local extinction. The small, fragmented, and isolated forest shelters a group of only six adults and one baby. Interviews with local people revealed that once several groups of the species resided in the corridor, and even last year, about 20 individuals were still found there. However, within one year, the population dropped from 20 to 6 individuals.
Activists target Brazil's largest driver of deforestation: cattle ranching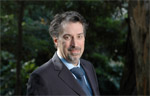 (09/08/2009) Perhaps unexpectedly for a group with roots in confrontational activism, Amigos da Terra - Amazônia Brasileira is calling for a rather pragmatic approach to address to cattle ranching, the largest driver of deforestation in the Brazilian Amazon. The solution, says Roberto Smeraldi, founder and director of Amigos da Terra, involves improving the productivity of cattle ranching, thereby allowing forest to recover without sacrificing jobs or income; establishing a moratorium on new clearing; and recognizing the economic values of maintaining the ecological functions of Earth's largest rainforest.
New species everywhere in Papua New Guinea's 'lost' volcano
(09/07/2009) A five week expedition into a remote extinct volcano has uncovered a treasure trove of new species in Papua New Guinea, including what may be the world's largest rat, a fanged frog, and a grunting fish. In all the expedition estimates it may have found around forty species unknown to science. The expedition was undertaken by a BBC film crew and scientists in January. Local trackers led them into the unexplored jungle, hidden beneath the Bosavi volcano's 2,800 meter summit. Six months prior to arrival, fields of spinach and sweet potato were planted to feed the expedition in such a remote area.
Power, profit, and pollution: dams and the uncertain future of Sarawak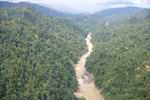 (09/03/2009) Sarawak, land of mystery, legend, and remote upriver tribes. Paradise of lush rainforest and colossal bat-filled caves. Home to unique and bizarre wildlife including flying lemurs, bearcats, orang-utans and rat-eating plants. Center of heavy industry and powerhouse of Southeast Asia. Come again? This jarring image could be the future of Sarawak, a Malaysian state on the island of Borneo, should government plans for a complex of massive hydroelectric dams comes to fruition. The plan, which calls for a network of 12 hydroelectric dams to be built across Sarawak's rainforests by 2020, is proceeding despite strong opposition from Sarawak's citizens, environmental groups, and indigenous human rights organizations. By 2037, as many as 51 dams could be constructed.
Amazon tribes have long fought bloody battles against big oil in Ecuador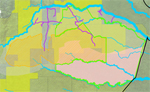 (09/03/2009) The promotional efforts ahead of the upcoming release of the film Crude have helped raise awareness of the plight of thousands of Ecuadorians who have suffered from environmental damages wrought by oil companies. But while Crude focuses on the relatively recent history of oil development in the Ecuadorean Amazon (specifically the fallout from Texaco's operations during 1968-1992), conflict between oil companies and indigenous forest dwellers dates back to the 1940s.
Amazon deforestation to fall 30% in 2009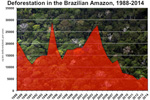 (09/02/2009) Deforestation is the Brazilian Amazon is likely to fall between 8,500 square kilometers (3,088 square miles) and 9,000 sq km (3,474 sq mi) for the 12 months ended July 31, 2009, a reduction of 29-37 percent from last year, reports Brazil's Environment Minister Carlos Minc. If the estimate is confirmed by high resolution satellite data to be published later this year, the rate of forest loss for 2008-2009 would be the lowest since annual record-keeping began in the 1980s.
Vietnam outsources deforestation to neighboring countries
(09/02/2009) Taking a cue from its much larger neighbor to the north, Vietnam has outsourced deforestation to neighboring countries, according to a new study that quantified the amount of displacement resulting from restrictions on domestic logging. Like China, Vietnam has experienced a resurgence in forest cover over the past twenty years, largely as a result a forestry policies that restricted timber harvesting and encouraged the development of processing industries that turned raw log imports into finished products for export. These measures contributed to a 55 percent of Vietnam's forests between 1992 and 2005, while bolstering the country's stunning economic growth. But the environmental benefit of the increase in Vietnam's forest cover is deceptive: it came at the expense of forests in Laos, Cambodia, and Indonesia. Authors Patrick Meyfroidt and Eric F. Lambin of the Universite Catholique de Louvain in Belgium calculate that 39 percent of Vietnam's forest regrowth between 1987 and 2006 was effectively logged in other countries. Half of the wood imports into Vietnam were illegal.
Saving Africa's 'unicorn', the okapi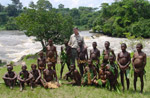 (09/02/2009) The giraffe is one of Africa's most recognizable animals, but its shy and elusive forest cousin, the okapi, was so little known that until just over a century ago the western world believed it was a mythical beast, an African unicorn. Today, a shroud of mystery still envelops the okapi, an animal that looks like a cross between a zebra, a donkey, and a giraffe. But what is known is cause for concern. Its habitat, long protected by its remoteness, was the site of horrific civil strife, with disease, famine, and conflict claiming untold numbers of Congolese over the past decade. Now, as a semblance of peace has settled over Democratic Republic of Congo (DRC), the okapi's prospects have further dimmed, for its home is increasingly seen as a rich source of timber, minerals, and meat to help the war-torn country rebuild. In an effort to ensure that the okapi does not become a victim of economic recovery, the Okapi Conservation Project (OCP) is working to protect the okapi and its habitat. Founded by John Lukas in 1987, well before the conflict, OCP today manages the Okapi Wildlife Reserve, a 13,700-square-kilometer tract of wilderness in the Ituri Forest of northeastern DRC.
Penan tribe to continue blockade against loggers with blowpipes and spears

(09/01/2009) A meeting between the Penan indigenous tribe, Malaysian government officials, and representatives of a logging company ended without an agreement on Friday. After the meeting, a Penan spokesman declared that the group's blockade would continue. Blockaders, dressed in traditional garb, have armed themselves with blowguns and spears.
New Amazonian reserve saves over a million acres in Peru
(08/30/2009) On August 27th Peru's Ministry of the Environment approved the creation of the Matses National Reserve to protect the region's biodiversity, ensure its natural resources, and preserve the home of the Matses indigenous peoples (known as the Mayorunas in Brazil). The park is 1,039,390 acres (or 420,626 hectares) of lowland Amazonian rainforest in eastern Peru. The park is the culmination of over a decade of work by the local non-profit CEDIA (the Center for the Development of the Indigenous Amazonians) funded in part by the Worldland Trust.
Environmental disappointments under Obama

(08/24/2009) While the President has been bogged down for the last couple months in an increasingly histrionic health-care debate-which has devolved so far into ridiculousness that one doesn't know whether to laugh or cry-environmental decisions, mostly from the President's appointees have still been coming fast and furious. However, while the administration started out pouring sunshine on the environment (after years of obfuscated drudgery under the Bush administration), they soon began to move away from truly progressive decisions on the environment and into the recognizable territory of playing it safe-and sometimes even stupid.
Destruction worsens in Madagascar

(08/20/2009) Armed bands are decimating rainforest reserves in northeastern Madagascar, killing lemurs and intimidating conservation workers, despite widespread condemnation by international environmental groups.
Rehabilitation not enough to solve orangutan crisis in Indonesia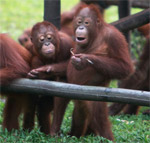 (08/20/2009) A baby orangutan ambles across the grass at the Borneo Orangutan Survival Foundation's Nyaru Menteng rehabilitation center in Central Kalimantan, in the heart of Indonesian Borneo. The ape pauses, picks up a stick and makes his way over to a plastic log, lined with small holes. Breaking the stick in two, he pokes one end into a hole in an effort to extract honey that has been deposited by a conservation worker. His expression shows the tool's use has been fruitful. But he is not alone. To his right another orangutan has turned half a coconut shell into a helmet, two others wrestle on the lawn, and another youngster scales a papaya tree. There are dozens of orangutans, all of which are about the same age. Just outside the compound, dozens of younger orangutans are getting climbing lessons from the Borneo Orangutan Survival Foundation (BOS) staff, while still younger orangutans are being fed milk from bottles in a nearby nursery. Still more orangutans—teenagers and adults—can be found on "Orangutan Island" beyond the center's main grounds. Meanwhile several recently wild orangutans sit in cages. This is a waiting game. BOS hopes to eventually release all of these orangutans back into their natural habitat—the majestic rainforests and swampy peatlands of Central Kalimantan, on the island of Borneo. But for many, this is a fate that may never be realized.
Weak forest definition may undermine REDD efforts

(08/20/2009) The weak definition of what constitutes forest under the United Nations Framework Convention on Climate Change (UNFCCC) puts the effectiveness of a proposed mechanism for reducing emissions from deforestation and degradation (REDD) at risk, argue researchers writing in the journal Conservation Letters.
World's rarest tree kangaroo gets help from those who once hunted it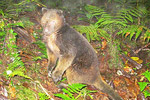 (08/17/2009) The world's rarest tree kangaroo is in the midst of a comeback in a remote part of Papua New Guinea. On the brink of extinction in 2001 with a population estimated at fewer than 100 individuals, Scott's Tree Kangaroo (Dendrolagus scottae), or the tenkile, is recovering, thanks to the efforts of the Tenkile Conservation Alliance to motivate local communities to reduce hunting and respect critical forest habitat. The tenkile Conservation Alliance, led by Australians Jim and Jean Thomas, works to provide alternative sources of protein and raise environmental awareness among local communities.
Forest fires set by Borneo dam developer contributes to haze in Malaysia, Singapore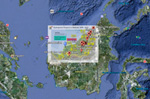 (08/17/2009) The developer of a massive hydroelectric project in Borneo plans to set fire to thousands hectares of logged over rainforest in the dam area, contributing to polluting haze already blanketing the region and raising the risk of forest fires in adjacent areas, reports a local environmental group. The Sarawak Conservation Action Network has learned that Sarawak Hidro Sdn Bhd, the operator of the Bakun Hydroelectric Power Dam project, is in the process of clear-cuting 80,000 hectares (200,000 acres) of rainforest set to be flooded by the dam. The remnants are being torched, in direct violation of Malaysia's laws against open burning.
Cadbury dumps palm oil after consumer protests
(08/17/2009) Cadbury New Zealand, responding to widespread consumer protests, will stop adding palm oil to its milk chocolate products, reports the New Zealand Herald. The candy-maker substituted palm oil and other vegetable fat for cocoa butter earlier this year. The company cited cost savings for the decision, but the move triggered outcry from environmental groups who blame palm oil production for destruction of rainforests across Indonesia and Malaysia, key habitat for orangutans and other endangered species. Concerns that Cadbury chocolate could be imperiling orangutans led the Auckland Zoo and others to ban Cadbury products. Meanwhile consumers swamped the company with letters and petitions protesting its use of palm oil.
Photos reveal illegal logging near uncontacted natives in Peru

(08/17/2009) Ariel photos show proof of illegal logging for mahogany occurring in a Peruvian reserve set aside for uncontacted natives. The photos, taken by Chris Fagan from Round River Conservation Studies, show logging camps set-up inside the Murunahua Reserve, meant to protect the uncontacted indigenous group, known as the Murunahua Indians, in the Peruvian Amazon.
Police face murder charges in killing of indigenous protesters in Peru

(08/16/2009) A federal prosecutor in Peru filed murder charges against two police generals and 15 other officers over the deaths of indigenous protesters at a roadblock in June, reports the Associated Press. The Indians were protesting new rules that would have made it easier for foreign developers to exploit oil and gas, timber, and minerals in Peru's Amazon rainforest. The skirmish left 23 police and at least ten protesters dead.
Largely unexplored rainforest slated to be leveled for gold mining in Colombia
(08/13/2009) Serrania de San Luca is a rainforest-covered massif rising to 2,300 meters (7,500 feet) in northern Colombia. Despite being little-explored and containing several endangered species, the forest is threatened by industrial gold mining operations, according to the local conservation group ProAves. Already the forest has been reduced to 10 percent of its original 2.5 million acres due to agriculture, small-scale mining, and other human impacts. Now, the Colombian government has granted large concessions to AngloGold Ashanti, a gold mining company out of South Africa which has been criticized by the Human Rights Watch for allegedly aligning itself with locally armed gangs in the Democratic Republic of Congo.
Brazilian beef giant announces moratorium on rainforest beef
(08/13/2009) Brazil's second-largest beef exporter, Bertin, announced it would establish a moratorium on buying cattle from farms involved in Amazon deforestation, reports Greenpeace. The move comes after the World Bank's International Finance Corporation (IFC) withdrew a $90 million loan to Bertin following revelations in a Greenpeace report that the company was buying beef produced on illegally deforested lands. The report, which linked some of the world's most prominent brands to rainforest destruction in the Amazon, had an immediate impact, triggering a cascade of events.
Amazon stores 10 billion tons of carbon in 'dead wood'

(08/12/2009) Old growth forests in the Amazon store nearly 10 billion tons of carbon in dead trees and branches, a total greater than global annual emissions from fossil fuel combustion, according to scientists who have conducted the first pan-Amazon analysis of "necromass."
Issues around palm oil development prove complex, controversial
(08/12/2009) A new report from published by the Center for International Forestry Research (CIFOR) highlights the benefits — and controversies — of large-scale expansion of oil palm agriculture in Southeast Asia. The review, titled "The impacts and opportunities of oil palm in Southeast Asia: What do we know and what do we need to know?", notes that while oil palm is a highly productive and profitable crop, there are serious concerns about its environmental and social impact when established on disputed land or in place of tropical forests and peatlands.
Lessons from the crisis in Madagascar, an interview with Erik Patel
(08/11/2009) On March 17th of this year the President of Madagascar, Marc Ravalomanana, resigned his post. This made way for Andry Rajoelina, mayor of Madagascar's capital, to install himself as president with help from the military. The unrest and confusion that usually accompanies such a coup brought disaster on many of Madagascar's biological treasures. Within days of Ravalomanana's resignation, armed gangs, allegedly funded by Chinese traders, entered two of Madagascar's world-renowned national parks, Marojejy and Masoala parks, and began to log rosewood, ebonies, and other valuable hardwoods. The pillaging lasted months but the situation began to calm down over the summer. Now that the crisis in Madagascar has abated—at least for the time being—it's time to take stock. In order to do so, Mongabay spoke to Erik Patel, an expert on the Critically Endangered Silky Sifaka and frequent visitor to Madagascar, to find out what the damage looks like firsthand and to see what lessons might be learned.
LUSH cosmetics launches campaign against palm oil
(08/10/2009) LUSH Cosmetics, a leading cosmetics-maker, will no longer use palm oil due to environmental concerns over its production. LUSH, which is now selling a palm oil-free soap, has launched a two-pronged campaign to make consumers aware of the impacts of palm cultivation on tropical forests and encourage other consumer-products companies, including Procter & Gamble, Unilever and Nestle, to reformulate their products using alternatives to palm oil.




Page 1 | Page 2 | Page 3 | Page 4 | Page 5 | Page 6 | Page 7 | Page 8 | Page 9 | Page 10 | Page 11 | Page 12 | Page 13 | Page 14 | Page 15 | Page 16 | Page 17 | Page 18 | Page 19 | Page 20 | Page 21 | Page 22 | Page 23 | Page 24 | Page 25 | Page 26 | Page 27 | Page 28 | Page 29 | Page 30 | Page 31 | Page 32 | Page 33 | Page 34 | Page 35 | Page 36 | Page 37 | Page 38 | Page 39 | Page 40 | Page 41 | Page 42 | Page 43 | Page 44 | Page 45 | Page 46 | Page 47 | Page 48 | Page 49 | Page 50 | Page 51 | Page 52 | Page 53 | Page 54 | Page 55 | Page 56 | Page 57