News articles on rainforests

---
Mongabay.com news articles on rainforests in blog format. Updated regularly.






Amazon deforestation in 2009 declines to lowest on record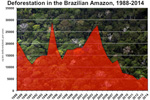 (06/22/2009) Annual deforestation in the Brazilian Amazon fell below 10,000 square kilometers for the first time since record-keeping began, reported Brazil's Environment Minister Carlos Minc. Yesterday Minc said preliminary data from the country's satellite-based deforestation detection system (DETER) showed that Amazon forest loss between August 2008 and July 2009 would be below 10,000 square kilometers, the lowest level in more than 20 years. Falling commodity prices and government action to crack down on illegal clearing are credited for the decline in deforestation rates.
War and conservation in Cambodia
(06/21/2009) The decades-long conflict in Cambodia devastated not only the human population of the Southeast Asian country but its biodiversity as well. The conflict led to widespread declines of species in the once wildlife-rich nation while steering traditional society towards unsustainable hunting practices, resulting in a situation where wildlife is still in decline in Cambodia, according to a new study from researchers with the World Wildlife Fund (WWF).
Peru revokes decrees that sparked Amazon Indian uprising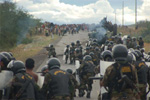 (06/19/2009) Peru's Congress revoked two controversial land laws that sparked violent conflicts between indigenous protesters and police in the country's Amazon region. The move temporarily defuses a two-week crisis, with protesters agreeing to stand down by removing blockades from roads and rivers. Congress voted 82-14 Thursday to overturn legislative decrees 1090 and 1064, which would have facilitated foreign development of Amazon land. Indigenous groups said the decrees threatened millions of hectares of Amazon rainforest and undermined their traditional land use rights.
Fate of world's rainforests likely to be determined in next 2 years

(06/19/2009) The fate of millions of hectares of tropical forests will probably be sealed this year and next year, reports a new set of policy papers detailing an emerging climate change mitigation mechanism known as Reducing Emissions from Deforestation and Degradation (REDD). REDD has been proposed by the U.N. and other entities as a form of carbon finance under which industrialized nations would pay tropical countries for conserving their forest cover.
Commission on Climate and Tropical Forests forms to advise Congress, Obama on forest conservation
(06/18/2009) Leaders in business, government, advocacy, conservation, global development, science and national security have formed a commission to "provide bipartisan recommendations to Congress and the President about how to reduce tropical deforestation through U.S. climate change policies," according to a statement released by the newly established group, named the Commission on Climate and Tropical Forests.
Cameroon rainforest given 30 days to be conserved or sold off for logging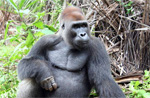 (06/18/2009) An 830,000-hectare tract of rainforest in Cameroon has been granted a 30-day reprieve from logging following a 4-week exploratory expedition that turned up large populations of lowland gorillas, forest elephants, mandrills, and chimpanzees, according to expedition leader Mike Korchinsky, founder of the conservation group Wildlife Works. The Cameroonian government has given Wildlife Works, which pioneered the first forest-based carbon project in Kenya, 30 days to come up with a competitive proposal to logging. The group is now scrambling to secure necessary funding to finance the early stages of the project.
Amazon could lose 60% of forest without triggering catastrophic die-off, claims new study
(06/16/2009) Brazil's setting aside of more than 500,000 square miles (1.25 million square kilometers) of rainforest in protected areas over the past decade may effectively buffer the Amazon from the effects of climate change, preventing Earth's largest rainforest from tipping towards arid savanna in the face of ongoing deforestation and rising temperatures, argues a new paper published in Proceedings of the National Academy of Sciences.
Attacking the demand side of deforestation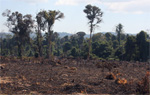 (06/16/2009) A new UK government-sponsored initiative seeks to address the demand side of deforestation by identifying how an organization's activities and supply chains contribute to forest destruction. The initiative, called the Forest Footprint Disclosure Project (FFD Project), will ask companies to "disclose how their operations and supply chains are impacting forests worldwide, and what is being done to manage those impacts responsibly." The disclosure information will be reported on an annual basis, enabling investors to identify possible risks related to a company's "forest footprint." Disclosure will also provide consumers with information to make better informed decisions about the products they purchase.
Forest fires burn in Sumatra

(06/15/2009) Fires set by developers in Sumatra are causing a choking haze to spread across the island and over to Malaysia, reducing visibility and raising health concerns, reports Reuters.
World Bank revokes loan to Brazilian cattle giant accused of Amazon deforestation
(06/13/2009) The Work Bank's private lending arm has withdrawn a $90 million loan to Brazilian cattle giant Bertin, following Greenpeace's release of a report linking Bertin to illegal deforestation of the Amazon rainforest, report environmental groups, Friends of the Earth-Brazil and Greenpeace. The loan, granted by the International Finance Corporation (IFC) in March 2007, was to expand Bertin's meat-processing in the Brazilian Amazon. At the time, the IFC promoted the loan as a way to promote environmentally responsible beef production in the Amazon, although environmental groups — including Friends of the Earth-Brazil and Greenpeace — criticized the move.
Wal-Mart bans beef illegally produced in the Amazon rainforest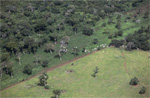 (06/12/2009) Brazil's three largest supermarket chains, Wal-Mart, Carrefour and Pão de Açúcar, will suspend contracts with suppliers found to be involved in Amazon deforestation, reports O Globo. The decision, announced at a meeting of the Brazilian Association of Supermarkets (Abras) this week, comes less than two weeks after Greenpeace's exposé of the Amazon cattle industry. The report, titled Slaughtering the Amazon, linked some of the world's most prominent brands — including Nike, Toyota, Carrefour, Wal-Mart, and Johnson & Johnson, among dozens of others — to destruction of the Amazon rainforest for cattle pasture.
Amazon deforestation doesn't make communities richer, better educated, or healthier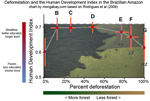 (06/11/2009) Deforestation generates short-term benefits but fails to increase affluence and quality of life in the long-run, reports a new study based an analysis of forest clearing in 286 municipalities across the Brazilian Amazon. The research, published in Friday's issue of the journal Science, casts doubt on the argument that deforestation is a critical step towards development and suggests that mechanisms to compensate communities for keeping forests standing may be a better approach to improving human welfare, while simultaneously sustaining biodiversity and ecosystem services, in rainforest areas.
Climate pact must halt deforestation and industrial logging of old-growth forests, exclude carbon credits for forest conservation, say activists
(06/09/2009) A global framework on climate change must immediately halt deforestation and industrial logging of the world's old-growth forests, while protecting the rights of forest communities and indigenous groups, said a broad coalition of activist groups in a consensus statement issued today at U.N. climate talks in Bonn Germany. The statement said the successor treaty to the Kyoto Protocol should not include mechanisms that allow industrialized countries to "offset" their emissions by purchasing carbon credits from reducing deforestation in developing countries, a position that puts the coalition at odds with larger environmental groups who say a market-based approach with tradable credits is the only way to generate enough money fund forest protection on a global scale.
Lear's Macaw: back from the brink
(06/09/2009) The 2009 IUCN Red List for birds broke records by listing more Critically Endangered birds than ever before. Despite this, there were individual species that bucked the global trend: Lear's Macaw Anodorhynchus leari, a bright blue parrot from northeastern Brazil, was one of these. Due to effective conservation measures the parrot's population has reached nearly a thousand birds (up from a low of just a hundred individuals in 1989), and therefore was moved down the list, from Critically Endangered to Endangered.
Brazil to sanction illegal colonization in 230,000 sq mi of Amazon rainforest

(06/08/2009) Brazil moved a step closer to passing a controversial law that would allow landowners who illegally deforested land in the Amazon to get legal title to these holdings. Environmentalists say HB 458 — which now only needs the signature of President Lula, an avid supporter — will legitimize years of illegal colonization and may promote new deforestation.
REDD can compete financially with palm oil in Indonesia peatlands while protecting endangered species
(06/04/2009) A new paper by Oscar Venter, a PhD student at the University of Queensland, and colleagues finds that forest conservation via REDD — a proposed mechanism for compensating developing countries for Reducing Emissions from Deforestation and Degradation — could be economically competitive with oil palm production, a dominant driver of deforestation in Indonesia. The study, based on overlaying maps of proposed oil palm development with maps showing carbon-density and wildlife distribution in Kalimantan (Indonesian Borneo), estimates that REDD is financially competitive, and potentially able to fund forest conservation, with oil palm at carbon prices of $10-$33 per ton of carbon dioxide equivalent (tCO2e). In areas with low agricultural suitability and high forest carbon, notably peatlands, Venter and colleagues find that a carbon price of $2 per tCO2e would be sufficient to beat out returns from oil palm.
Bill Clinton speaks out for rainforests in Brazil

(06/03/2009) Former US president Bill Clinton spoke out against rainforest destruction on Monday in Brazil. Headlining the Ethanol Summit 2009 in Sao Paulo, Clinton spoke of the positive role ethanol could play in lowering carbon emissions, but not when at the expense of rainforest.
Tropical East Asian forests under great threat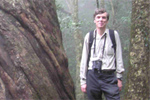 (06/02/2009) Tropical East Asia's rapid population growth and dramatic economic expansion over the past half century have taken a heavy toll on its natural resources. More than two-thirds of the region's original forest cover has been cleared or converted for agriculture and plantations, while its flora and fauna have suffered dearly from a burgeoning trade in wildlife products—several charismatic species have gone extinct as a direct consequence of human exploitation. Nevertheless tropical East Asia remains a top global priority for conservation, supporting up to a quarter of the world's terrestrial species.
Reducing emissions from deforestation in developing countries
(06/02/2009) Global forest covers around 30 per cent of the Earth's land surface (nearly 4 billion hectares). Forests provide valuable ecosystem services and goods, serve as a habitat for a wide range of flora and fauna and hold a significant standing stock of global carbon. The total carbon content of forests has been estimated at 638 Gt for 2005, which is more than the amount of carbon in the entire atmosphere. Deforestation, mainly conversion of forests for agriculture activities, has been estimated at an alarming rate of 13 million hectares per year (in the period 1990-2005).
Brazil's plan to save the Amazon rainforest
(06/02/2009) Accounting for roughly half of tropical deforestation between 2000 and 2005, Brazil is the most important supply-side player when it comes to developing a climate framework that includes reducing emissions from deforestation and forest degradation (REDD). But Brazil's position on REDD contrasts with proposals put forth by other tropical forest countries, including the Coalition for Rainforest Nations, a negotiating block of 15 countries. Instead of advocating a market-based approach to REDD, where credits generated from forest conservation would be traded between countries, Brazil is calling for a giant fund financed with donations from industrialized nations. Contributors would not be eligible for carbon credits that could be used to meet emission reduction obligations under a binding climate treaty.
Political infighting in Brazil threatens the Amazon rainforest
(06/01/2009) Brazil's Environment Minister Carlos Minc accused other government agencies of working to undermine environmental laws in favor of Amazon development projects, report Reuters and the Associated Press. His charge comes a year after his predecessor, Senator Marina Silva, resigned due to the same opposition from development interests. Minc has taken an active role in battling Amazon deforestation, reducing credit access to illegal loggers and ranchers, seizing agricultural products and cattle produced on illegally deforested lands, and pushing for new protected areas. His efforts have angered powerful development interests and at times have put his at odds with President Lula, who is promoting new road and hydroelectric projects.
Forest Recovery Programs in Madagascar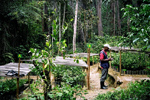 (06/01/2009) Despite being one of the last habitable land masses on earth to be settled by man, Madagascar has lost more of its forests than most countries; less than 10% of its original forest cover now remains, and much of that is degraded. Political turmoil that erupted earlier this year continues to rumble on and the ensuing lawlessness has created the opportunity for illegal logging syndicates to plunder national parks, most notably Marojejy and Masoala, for valuable hardwoods and wildlife.
Orangutan guerrillas fight palm oil in Borneo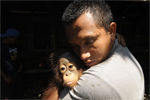 (06/01/2009) Despite worldwide attention and concern, prime orangutan habitat across Sumatra and Borneo continues to be destroyed by loggers and palm oil developers, resulting in the death of up to 3,000 orangutans per year (of a population less than 50,000). Conservation groups like Borneo Orangutan Survival report rescuing record numbers of infant orangutans from oil palm plantations, which are now a far bigger source of orphaned orangutans than the illicit pet trade. The volume of orangutans entering care centers is such that these facilities are running out of room for rescued apes, with translocated individuals sometimes waiting several months until suitable forest is found for reintroduction. Even then they aren't safe; in recent months loggers have started clearing two important reintroduction sites (forests near Bukit Tigapuluh National Park in Sumatra and Mawas in Central Kalimantan). Meanwhile across half a dozen rehabilitation centers in Malaysia and Indonesia, more than 1,000 baby orangutans—their mothers killed by oil palm plantation workers or in the process of forest clearing—are being trained by humans for hopeful reintroduction into the wild, assuming secure habitat can be found. Dismayed by the rising orangutan toll, a grassroots organization in Central Kalimantan is fighting back. Led by Hardi Baktiantoro, the Center for Orangutan Protection (COP) has mounted a guerrilla-style campaign against companies that are destroying orangutan habitat in Kalimantan, the Indonesian part of Borneo.
Nike, Unilever, Burger King, IKEA may unwittingly contribute to Amazon destruction, says Greenpeace
(06/01/2009) Major international companies are unwittingly driving the deforestation of the Amazon rainforest through their purchases of leather, beef and other products supplied from the Brazil cattle industry, alleges a new report from Greenpeace. The report, Slaughtering the Amazon, is based on a three-year undercover investigation of the Brazilian cattle industry, which accounts for 80 percent of Amazon deforestation and roughly 14 percent of the world's annual forest loss. Greenpeace found that Brazilian beef companies are important suppliers of raw materials used by leading global brands, including Adidas/Reebok, Nike, Carrefour, Eurostar, Unilever, Johnson & Johnson, Toyota, Honda, Gucci, Louis Vuitton, Prada, IKEA, Kraft, Tesco and Wal-Mart, among others.
Destruction of Brazil's most imperiled rainforest continues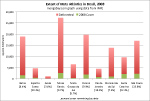 (05/31/2009) More than 100,000 hectares of Brazil's most threatened ecosystem was cleared between 2005 and 2008, reports a study by the Fundação SOS Mata Atlãntica and the National Institute for Space Research (INPE). The "Atlas of Mata Atlântica Remnants", released May 26, assessed the extent of the Mata Atlântica (Atlantic Forest) across 10 of the 17 states where the coastal rainforest occurs. It found that an 102,938 hectares were destroyed during the three year period. The annual loss of 34,121 hectares per year was 2.4 percent lower than the 34,965 ha recorded from the 2000-2005 period.
Excluding forest carbon from climate policy will spur massive deforestation
(05/28/2009) Failure to develop policies that account for emissions from land use change will lead to widespread deforestation and higher costs for addressing climate change, warn researchers writing in the journal Science. Using a computer model that incorporates economics, energy, agriculture, land-use changes, emissions and concentrations of greenhouse gases, a team of researchers from the Department of Energy's Pacific Northwest National Laboratory (PNNL) and the University of Maryland found that efforts to limit atmospheric carbon dioxide levels while ignoring emissions from terrestrial sources would lead to nearly a complete loss of unmanaged forests by 2100, resulting largely from increased expansion of bioenergy crops. Meanwhile placing a value ("tax") on terrestrial carbon emissions equivalent to that on industrial and fossil fuel emissions would lead to an increase in forest cover.
Indigenous people, forest communities in Africa control less than 2% of forest land

(05/28/2009) Less than 2 percent of Africa's tropical forests are under community control, hindering efforts to slow deforestation and alleviate rural poverty, reports a new assessment from the International Tropical Timber Organization (ITTO) and the Rights and Resources Initiative (RRI), a global coalition of non-governmental and community organizations.
New rainforest reserve in Congo benefits bonobos and locals

(05/25/2009) A partnership between local villages and conservation groups, headed up by the Bonobo Conservation Initiative (BCI), has led to the creation of a new 1,847 square mile (4,875 square kilometer) reserve in the Democratic Republic of Congo (DRC). The reserve will save some of the region's last pristine forests: ensuring the survival of the embattled bonobo—the least-known of the world's four great ape species—and protecting a wide variety of biodiversity from the Congo peacock to the dwarf crocodile. However, the Kokolopori Bonobo Reserve is worth attention for another reason: every step of its creation—from biological surveys to reserve management—has been run by the local Congolese NGO and villages of Kokolopori.
Did Malaysia cancel plans for palm oil development in the Amazon?

(05/21/2009) The Malaysian government's federal land agency (FELDA) is now denying its well-documented plan to develop oil palm plantations in the Amazon rainforest, reports Ecological Internet, a forest advocacy group that carried out a campaign against the project.
Chevron faces shareholder rebuke on claims by Amazon rainforest Indians

(05/21/2009) Calpers, the country's largest public pension fund with $170 billion in assets, announced Thursday it will support a resolution calling on Chevron to examine whether it complies with environmental regulations in Ecuador. The move comes as the oil giant faces a potential $27 billion dollar liability for environmental damage caused by Texaco, a company Chevron (NYSE:CVX) acquired in 2001. In court filings Texaco has admitted to dumping and spilling billions of gallons of toxic waste and oil in eastern Ecuador's Amazon rainforest between 1964 and 1990.
Green groups, corporations call for forest conservation to counter global warming
(05/20/2009) A group of leading U.S. businesses and environmental groups today formed a coalition calling for the inclusion of forest conservation in domestic cap-and-trade legislation. The pact endorses policies that would allow companies to receive credit for reducing emissions by financing activities that protect forests in tropical countries. It also calls for five percent of proceeds from the auctioning of greenhouse gas emissions allowances under a cap-and-trade system to go towards funding forest conservation projects.
APP, Sinar Mas plan to log habitat of critically endangered orangutans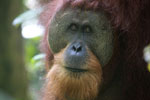 (05/20/2009) Asia Pulp & Paper and Sinar Mas Group have acquired a license to clear hundreds of hectares of unprotected rainforest near Bukit Tigapuluh National Park on the Indonesian island of Sumatra, report environmental groups who say the activity threatens a population of critically endangered orangutans that have been re-introduced into the wild. The companies intend to log the concession for timber and plant it for industrial timber and oil palm plantations.
Congo biochar initiative will reduce poverty, protect forests, slow climate change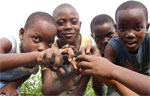 (05/19/2009) An initiative using soil carbon enrichment techniques to boost agricultural yields, alleviate poverty, and protect endangered forests in Central Africa was today selected as one of six projects to win funding under the Congo Basin Forest Fund (CBFF). The scientific committee of the CBFF awarded Belgium's Biochar Fund and its Congolese partner ADAPEL €300,000 to implement its biochar concept in 10 villages in the Equateur Province of the Democratic Republic of Congo. The approach improves the fertility of soils through the introduction of "biochar" — charcoal produced from the burning of agricultural residues and waste biomass under reduced oxygen conditions — thereby increasing crop yields and reducing the need to clear forest for slash-and-burn agriculture.
Brazil moves closer to legitimizing illegal land-grab in the Amazon

(05/17/2009) Brazil moved a step closer to approving a controversial law that would grant land title to 300,000 properties illegally established across some 600,000 square kilometers (230,000 square miles) of protected Amazon forest, reports AFP. The move may improve governance in otherwise lawless areas, but could carry a steep environmental cost without safeguards.
Orangutan population in Borneo park plunges 90% in 5 years

(05/16/2009) The population of orangutans in Indonesia's Kutai National Park has plunged by 90 percent in the past five years due to large-scale deforestation promoted by local authorities, reports The Centre for Orangutan Protection (COP), an Indonesian environmental group.
U.S. reauthorizes funding for rainforest conservation

(05/16/2009) The Senate Foreign Relations Committee last week unanimously passed the Tropical Forest and Coral Conservation Reauthorization Act of 2009 (S. 345) introduced by Senate Foreign Relations Committee Chairman John Kerry (D-MA) and Ranking Member Senator Dick Lugar (R-IN). The bill would provide up to $115 million in debt relief to tropical countries in exchange for commitments to conserve forests and coral reefs.
Prince Charles' new online initiative for rainforests makes media splash

(05/06/2009) Releasing a video with as many species of celebrity as ants in the rainforest, while simultaneously turning to online sites such as MySpace and YouTube, appears to have worked for Prince Charles, a longtime advocate of rainforest conservation. His conservation organization's new outreach to online users has garnered considerable coverage from the international media.
Expedition in Philippines uncovers one of the world's rarest mammals along with possible new species

(04/21/2009) A two week expedition into the North Negros Natural Park (NNNP) in the Philippines has led to several discoveries. In the 80,454 hectare park (nearly 200,000 acres), the expedition found what may be new species of insects and plants, in addition to a frog likely unknown to science. They also discovered evidence of the Visayan spotted deer, considered to be the world's rarest deer and one of the rarest mammals. The team discovered droppings from the deer, which will be analyzed for food content.
New chameleon species named after carbon conservation pioneer

(04/21/2009) A newly discovered species of chameleon from Tanzania has been named after Dorjee Sun, CEO of Carbon Conservation, an outfit which seeks to make rainforest conservation profitable through a carbon market mechanism known as REDD for Reducing Emissions from Deforestation and Degradation.
Republic of Congo to turn over 25 M acres of land to South African farmers

(04/20/2009) The government of Republic of Congo (Brazzaville) has offered 25 million acres (10 million hectares) of land to South African farmers in an effort to improve the central African nation's food security, reports Reuters. The area is nearly twice the amount of arable land in South Africa.
Gabonese environmental activist receives prize for standing up to government, Chinese company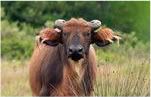 (04/20/2009) Marc Ona Essangui is a beloved environmental leader in his native Gabon, however by winning the prestigious Goldman Environmental Prize he is now being introduced to a larger audience: the world. Essangui received the prize for exposing unsavory truths about a deal between the Gabon government and a Chinese company, CMEC, to mine for iron ore in the Congo rainforest, the world's second largest tropical forest. The Belinga mine is a $3.5 billion project that also includes a hydroelectric dam, which will flood traditional lands and destroy what is considered the most beautiful waterfall in the forests of equatorial Africa. The Kongou Falls is located in the Ivindo National Park.




Page 1 | Page 2 | Page 3 | Page 4 | Page 5 | Page 6 | Page 7 | Page 8 | Page 9 | Page 10 | Page 11 | Page 12 | Page 13 | Page 14 | Page 15 | Page 16 | Page 17 | Page 18 | Page 19 | Page 20 | Page 21 | Page 22 | Page 23 | Page 24 | Page 25 | Page 26 | Page 27 | Page 28 | Page 29 | Page 30 | Page 31 | Page 32 | Page 33 | Page 34 | Page 35 | Page 36 | Page 37 | Page 38 | Page 39 | Page 40 | Page 41 | Page 42 | Page 43 | Page 44 | Page 45 | Page 46 | Page 47 | Page 48 | Page 49 | Page 50 | Page 51 | Page 52 | Page 53 | Page 54 | Page 55