News articles on rainforests

---
Mongabay.com news articles on rainforests in blog format. Updated regularly.






Fighting fire with money: can finance protect Indonesia's forests?
(04/06/2015) In previous articles, we have seen an overview of the problems with the Indonesian palm oil industry. Such problems are largely caused by rent-seeking politicians and businessmen, who are willing to sacrifice endangered wildlife, the health of their countrymen and long-term environmental stability in the pursuit of profit. These actors exert a significant influence on and within the Indonesian government. As a result, Indonesia remains conflicted between the opposing goals of conservation and economic growth.
Russia and Canada lead the world in forest loss in 2013
(04/02/2015) Russia and Canada led the world in forest loss, accounting for nearly forty percent of the 18 million hectares of forest lost globally in 2013, reveals a new analysis based on high resolution satellite imagery. The research — released today on Global Forest Watch, a forest monitoring and research platform — was led by Matt Hansen of the University of Maryland and involved Google, World Resources Institute (WRI), and other institutions
Illegal deforestation driven by EU appetite for beef, palm oil, soy, say new reports
(04/01/2015) A new report finds that the European Union is driving international trade in commodities grown on land cleared outside of the law. In 2012 alone, the report says, the EU imported $6.5 billion worth of illegally sourced beef, leather, palm oil and soy, which amounts to nearly one-fourth of all global trade and some 2.4 million hectares (59.3 million acres) of forest illegally cleared.
Archer Daniels Midland to demand suppliers stop chopping down forests
(03/31/2015) Agribusiness giant Archer Daniels Midland (NYSE:ADM) will establish a zero deforestation policy for its global commodity supply chains, potentially forcing its soy, palm oil, and cattle suppliers to also eliminate deforestation from their operations or face losing business with the firm. The move, announced today and expected to be formally approved in May, came after a campaign by institutional investors and environmentalist groups.
9 months after Amazonian oil pipeline spill, effects and fears linger
(03/30/2015) When Peru's state-run oil company pulled out of this small Kukama Indian village in mid-December after cleaning up an oil pipeline spill, residents thought life could slowly return to normal. But more than three months later, wisps of oil floating down the Cuninico River—along with a larger spill in the neighboring community of San Pedro—are a reminder that the problems are not over.
Just how useful is forest restoration? New study seeks to find out
(03/27/2015) Across the world, scientists estimate there are about two billion hectares of degraded forestland. In Indonesia alone, 25 million hectares of former logging concessions currently have no management, according to research. A study recently published in mongabay.com's open access journal Tropical Conservation Science suggests this may represent an important opportunity for biodiversity conservation through restoration.
APRIL violates sustainability policy by clearing peat forest after Jan cut-off
(03/26/2015) New data shows Asia Pacific Resources International Holdings Limited (APRIL) is continuing to destroy rainforests on deep peat despite a high profile pledge to clean up its operations. Today Greenomics-Indonesia released an analysis of two NASA Landsat images confirming that APRIL's subsidiary PT Riau Andalan Pulp Paper (RAPP) has cleared significant tracts of peat forest on Pulau Pedang island off Sumatra's coast since January 2015.
Why palm oil expanded, and what keeps it growing
(03/26/2015) Today, oil palm is Indonesia's most important cash crop. In 2014, Indonesia produced 33.5 million tons of palm oil, generating $18.9 billion in export revenue. This makes palm oil Indonesia's third most valuable export, behind only coal and petroleum gas. However, the rise of Indonesian palm oil is only a relatively recent phenomenon. The chart below shows the remarkable growth that the industry has displayed over the past 30 years.
Mexico's club mosses at risk of extinction
(03/26/2015) All nine species of the club moss genus Phlegmariurus found in the state of Veracruz in eastern Mexico are at risk of extinction, according to a new study published in the journal Tropical Conservation Science. One of these species, P. orizabae, has not been recorded in the wild since 1854.
Destruction of elephant, tiger, and orangutan habitat doubles
(03/25/2015) The rate of forest loss in Indonesia's Leuser Ecosystem — the only place on Earth where rhinos, orangutans, tigers, and elephants live in the same habitat — has more than doubled due to logging, encroachment, and conversion to industrial plantations, warn conservationists. In a statement issued Tuesday, the Sumatran Orangutan Society reported that 80,316 hectares of forest were lost between 2008 and 2013, a sharp increase from the 30,830 hectares cleared between 2002 and 2008.
Photos: expedition to Amazon's white sands may have found new primate
(03/24/2015) Most people think of the Amazon rainforest as one massive, homogenous ecosystem—a giant castle of green. However, within the Amazon rainforest lie a myriad of distinct ecosystems, sporting unique characteristics and harboring endemic species. One of the rarer ecosystems in the Amazon is the white sands forest.
Reforestation programs may help reduce illegal logging in Indonesian Borneo
(03/24/2015) Can the act of planting a tree change one's attitude towards forests and conservation? Erica Pohnan, Hotlin Ompusunggu, and Campbell Webb, from the conservation NGO Alam Sehat Lestari (ASRI), set out to answer this question by evaluating the effectiveness of reforestation programs in and around Gunung Palung National Park in West Kalimantan, Indonesia.
World's fragmented forests are deteriorating
(03/24/2015) The world's forests are fragmented and deteriorating, states a new paper published in Science Advances. After analyzing satellite imagery and compiling data from long-term fragmentation studies, the authors conclude that 70 percent of remaining forest land exists within 1 km of an edge, which negatively impacts their fauna, flora, and ecosystem services.
Seeing the trees but not the forest (commentary)
(03/20/2015) Understanding forest dynamics is necessary for the sound management of forests, for both production and conservation. This includes an understanding of the extent of forest area, information about what the forest contains and how the forest resource is managed. Forest monitoring provides this information.
Study finds roads in Southeast Asia may be devastating forests, wildlife
(03/20/2015) Habitat loss and illegal hunting are leading drivers behind mammal population decline and extinction in the tropical forests of Southeast Asia. But what's driving these drivers? Road infrastructure, according to research. Researchers conducted the first-ever comprehensive study examining the impacts of road infrastructure on mammal populations in Southeast Asia; their findings were recently published in PLOS One.
DRC mulls changing Virunga's boundaries for oil

(03/19/2015) Last Friday, the government of the Democratic Republic of Congo (DRC) announced it was considering changing the boundaries of Virunga National Park to accommodate oil exploitation. Africa's oldest park, Virunga is home to around a quarter of the world's mountain gorillas as well as thousands of other species, many of them threatened with extinction.
Who's funding palm oil?
(03/19/2015) Palm oil may be the single most important crop that you never heard of. A vegetable fat that resembles reddish butter at room temperature, palm oil is derived from the fruit of the oil palm tree. Both nutritious and highly versatile, palm oil is now an important component of products ranging from biofuels and food to soaps and cosmetics. Estimates indicate that as much as 50 percent of the products used by the average Western consumer every day contain palm oil or its derivatives.
Discovery of 'Lost City' spurs conservation pledge
(03/18/2015) Earlier this month, National Geographic made big news: the discovery of what it called a 'lost city' below the thick jungles of Honduras. While the coverage has led to scientists crying sensationalism, it also resulted this week in a commitment of protection by the Honduras President, Juan Orlando Hernández, for a long-neglected portion of the country.
Road rage: scientists denounce $60 trillion infrastructure expansion
(03/14/2015) Last November, at the annual G-20 summit - for the 20 wealthiest of the world's nations - in Brisbane, Australia, a staggering commitment was made to invest $60 to $70 trillion worldwide in new infrastructure over the next 15 years. This is akin to doubling the current value of all global infrastructure put together.
Brazil confirms rising deforestation in the Amazon
(03/14/2015) The Brazilian government has officially confirmed that deforestation in the Amazon is pacing sharply higher than a year ago. Figures released last week by the National Institute for Space Research (INPE) shows that forest clearing detected by DETER — a short term deforestation monitoring system based on coarse satellite imagery — is 63 percent higher for the twelve months ended January 31, 2015 relative to the year earlier period.
Scientists warn of global warming threat to temperate rainforests
(03/13/2015) In a new study published recently in Earth Systems and Environmental Sciences, researchers warn that temperate rainforests may be in for big changes in the face of global warming, and they recommend reducing greenhouse gas emissions before it's too late.
Newly discovered Brazilian bird may number fewer than 10 individuals
(03/12/2015) In October 2002, a team of ornithologists at Murici in northeastern Brazil observed and recorded the call of a bird. At that time, the team believed they had chanced upon a rare bird previously described by other researchers as the Alagaos foliage-gleaner (Philydor novasei).
Local land rights may be in danger from push for palm oil in Liberia
(03/12/2015) The rights of local and indigenous peoples aren't being adequately protected in the drive for economic development, according to a report published in February by the Rights and Resources Initiative (RRI), a coalition of forest-oriented organizations. For a place like Liberia, reeling from both decades of persistent poverty and the recent Ebola epidemic, economic development seems critical at just about any cost.
Endangered forests shrink as demand for soy rises
(03/10/2015) As battles over labeling genetically modified foods or displaying calorific breakdowns per serving rage on, it appears that a possibly more significant battle is in its infancy - where do all the ingredients on the package actually come from?
Photo essay: filming in the remote Amazon
(03/09/2015) You wake up at 4:30 AM, a little before the first rays of tropical sun begin to dance behind the treetops. You put on your wet clothes from the previous day, pack your bag, and pick up your tripod. The jungle is shrouded in a thick mist from the previous nights rain. As you walk, you recognize many of the strange calls that echo between the trees.
Newly described monkey species found in threatened Amazon forest
(03/06/2015) In 2011, Julio César Dalponte noticed a peculiar looking titi monkey on the bank of the Roosevelt River in Mato Grasso, Brazil. Titi monkeys, genus Callicebus, are common throughout South America, but this one had a flaming orange tail, light gray forehead stripe and ochre sideburns, which didn't match any known titi species.
New bird species confirmed in Sulawesi 15 years after first sighting
(03/06/2015) Although it's a hotspot of avian biodiversity, the Indonesian island of Sulawesi has been "poorly studied ornithologically," according to a study published in the scientific journal PloS one. Case in point: the subject of the study, a new species of flycatcher first observed in 1997 but not formally described by scientists until November 2014.
Firewood fervor may turn Zimbabwe into an 'outright desert'
(03/05/2015) In developing countries like Zimbabwe and in much of the rest of sub-Saharan Africa, fuelwood is a major source of energy for cooking and heating for people who can't afford electricity. A 2014 study published in Resources and Environment highlights the severity of this issue in Zimbabwe.
Madagascar's frog haven: rich, underexplored, threatened
(03/04/2015) Madagascar is a treasure trove of frogs. Located off the east coast of Africa, this large island nation has more than 500 species of frogs, many of which are found nowhere else in the world. Much of Madagascar's rich biodiversity remains understudied. As researchers comb through the country's forests, they continue to discover previously undescribed species of frogs, adding to Madagascar's amphibian diversity.
Colombia proposes protected corridor across South America
(03/03/2015) Colombian President Juan Manuel Santos has announced plans to create the world's largest protected area, stretching from the Atlantic Ocean to the Andes Mountains. Santos plans to propose the protected environmental corridor during the UN climate talks in Paris later this year as a means to combat global warming.
Reports slam Malaysian timber companies, urge reforms in forest management
(02/27/2015) Two international NGOs have called out Malaysia in recent months over the country's widespread illegal logging. Malaysia has been accused of not doing enough to protect its diminishing forests and thwart the illicit timber trade, particularly in Sarawak, the site of the country's worst deforestation. Lax oversight, endemic corruption and limited transparency have allowed for Malaysia's forests to be plundered by both the government and the private sector.
Researchers propose improvements for Peru's protected areas
(02/26/2015) In a study published recently in PLOS ONE, researchers examined Peru's network of protected areas. They found that many of these don't exist in the areas most important for preserving the country's biodiversity and addressing its threats, and suggest alternatives to make the system more effective.
Jokowi's environmental commitments in Indonesia
(02/26/2015) Last fall Indonesia elected its first president with no ties to the established political order or the military. Joko Widodo's election was widely heralded by reformers who hoped the politician's capable management in his stints as mayor of the town of Solo and metropolis of Jakarta could transform Indonesia's chronically underperforming bureaucracy, potentially ushering in a new era of improved human rights, better environmental stewardship, reduced corruption, and healthier economic growth.
One of Brazil's rarest primates still holds out in single patch of rainforest
(02/26/2015) For many years, particularly after renowned naturalist Philip Hershkovitz of the Field Museum in Chicago published his valuable taxonomy of Neotropical Primates, Saimiri vanzolinii was considered to be a mere subspecies of the larger Bolivian squirrel monkey (Saimiri boliviensis). Today, it has the distinction of being one of the most range-restricted primates in all of the Neotropics.
Reports blame illegal logging for felling Sarawak forest
(02/25/2015) A recent report by the international affairs think tank Chatham House has highlighted Malaysia's lack of progress in dealing with illegal logging, blaming corruption and a lack of transparency on the country's sluggish approach to environmental policy reform.
Brazil arrests 'Amazon's biggest destroyer'

(02/25/2015) Authorities in Brazil have arrested a man they claim to be the single biggest deforester in the Amazon, according to a statement issued by IBAMA, Brazil's environmental protection agency.
Rainforest loss increased in the 2000s, concludes new analysis
(02/25/2015) Loss of tropical forests accelerated roughly 60 percent during the 2000s, argues a paper published in the journal Geophysical Research Letters. The findings contradict previous research suggesting that deforestation slowed since the 1990s. The study is based on a map of 1990 forest cover developed last year by Do-Hyung Kim and colleagues from the University of Maryland. The map, which includes 34 countries that contain 80 percent of the world's tropical forests, enabled the researchers to establish a consistent baseline for tracking forest cover change across regions and countries over time.
Study finds Peru's protected areas aren't where they should be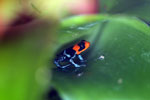 (02/25/2015) Many of the world's protected areas may not be located in the areas that need them the most, according to a recently published study in the journal PLoS ONE. The study examined the effectiveness of Peru's existing protected area system in holistically preserving the biodiversity in this megadiverse country, finding it inadequately protecting many of the country's species.
$7 million could save lemurs from extinction
(02/25/2015) Last year, scientists released an emergency three-year plan that they argued could, quite literally, save the world's lemurs from mass extinction. Costing just $7.6 million, the plan focused on setting up better protections in 30 lemur hotspots. However, there was one sticking point: donating to small programs in one of the world's poorest countries was not exactly user friendly.
Cunning carnivorous plants catch more prey by letting some go
(02/25/2015) Pitcher plants (Nepenthes species) have long captivated our fascination. Typically growing in acidic and nutrient-poor soils, they have developed the ability to eat insects and other small prey to supplement their diets. Nepenthes grow modified leaf structures which form a saucer cup with a slippery rim lined with visual or edible bait. When an insect approaches to investigate the reward, they slip off the rim and into the cup which is usually filled with a viscoelastic fluid. Unable to escape, the prey is slowly digested and absorbed by the plant.





Santander Bank cuts off APRIL due to deforestation

(02/24/2015) Banking giant Santander says it will not extend further financing to Asia Pacific Resources International Limited (APRIL) due to evidence that the Singapore-based pulp and paper company is continuing to destroy rainforests in Indonesia. The move comes after Greenpeace launched a global campaign against the bank.




Page 1 | Page 2 | Page 3 | Page 4 | Page 5 | Page 6 | Page 7 | Page 8 | Page 9 | Page 10 | Page 11 | Page 12 | Page 13 | Page 14 | Page 15 | Page 16 | Page 17 | Page 18 | Page 19 | Page 20 | Page 21 | Page 22 | Page 23 | Page 24 | Page 25 | Page 26 | Page 27 | Page 28 | Page 29 | Page 30 | Page 31 | Page 32 | Page 33 | Page 34 | Page 35 | Page 36 | Page 37 | Page 38 | Page 39 | Page 40 | Page 41 | Page 42 | Page 43 | Page 44 | Page 45 | Page 46 | Page 47 | Page 48 | Page 49 | Page 50 | Page 51 | Page 52 | Page 53 | Page 54 | Page 55 | Page 56 | Page 57 | Page 58 | Page 59