News articles on rainforests

---
Mongabay.com news articles on rainforests in blog format. Updated regularly.





Amazon deforestation to fall 30% in 2009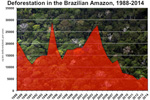 (09/02/2009) Deforestation is the Brazilian Amazon is likely to fall between 8,500 square kilometers (3,088 square miles) and 9,000 sq km (3,474 sq mi) for the 12 months ended July 31, 2009, a reduction of 29-37 percent from last year, reports Brazil's Environment Minister Carlos Minc. If the estimate is confirmed by high resolution satellite data to be published later this year, the rate of forest loss for 2008-2009 would be the lowest since annual record-keeping began in the 1980s.


Vietnam outsources deforestation to neighboring countries


(09/02/2009) Taking a cue from its much larger neighbor to the north, Vietnam has outsourced deforestation to neighboring countries, according to a new study that quantified the amount of displacement resulting from restrictions on domestic logging. Like China, Vietnam has experienced a resurgence in forest cover over the past twenty years, largely as a result a forestry policies that restricted timber harvesting and encouraged the development of processing industries that turned raw log imports into finished products for export. These measures contributed to a 55 percent of Vietnam's forests between 1992 and 2005, while bolstering the country's stunning economic growth. But the environmental benefit of the increase in Vietnam's forest cover is deceptive: it came at the expense of forests in Laos, Cambodia, and Indonesia. Authors Patrick Meyfroidt and Eric F. Lambin of the Universite Catholique de Louvain in Belgium calculate that 39 percent of Vietnam's forest regrowth between 1987 and 2006 was effectively logged in other countries. Half of the wood imports into Vietnam were illegal.


Saving Africa's 'unicorn', the okapi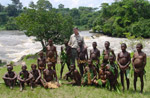 (09/02/2009) The giraffe is one of Africa's most recognizable animals, but its shy and elusive forest cousin, the okapi, was so little known that until just over a century ago the western world believed it was a mythical beast, an African unicorn. Today, a shroud of mystery still envelops the okapi, an animal that looks like a cross between a zebra, a donkey, and a giraffe. But what is known is cause for concern. Its habitat, long protected by its remoteness, was the site of horrific civil strife, with disease, famine, and conflict claiming untold numbers of Congolese over the past decade. Now, as a semblance of peace has settled over Democratic Republic of Congo (DRC), the okapi's prospects have further dimmed, for its home is increasingly seen as a rich source of timber, minerals, and meat to help the war-torn country rebuild. In an effort to ensure that the okapi does not become a victim of economic recovery, the Okapi Conservation Project (OCP) is working to protect the okapi and its habitat. Founded by John Lukas in 1987, well before the conflict, OCP today manages the Okapi Wildlife Reserve, a 13,700-square-kilometer tract of wilderness in the Ituri Forest of northeastern DRC.


Penan tribe to continue blockade against loggers with blowpipes and spears

(09/01/2009) A meeting between the Penan indigenous tribe, Malaysian government officials, and representatives of a logging company ended without an agreement on Friday. After the meeting, a Penan spokesman declared that the group's blockade would continue. Blockaders, dressed in traditional garb, have armed themselves with blowguns and spears.


New Amazonian reserve saves over a million acres in Peru


(08/30/2009) On August 27th Peru's Ministry of the Environment approved the creation of the Matses National Reserve to protect the region's biodiversity, ensure its natural resources, and preserve the home of the Matses indigenous peoples (known as the Mayorunas in Brazil). The park is 1,039,390 acres (or 420,626 hectares) of lowland Amazonian rainforest in eastern Peru. The park is the culmination of over a decade of work by the local non-profit CEDIA (the Center for the Development of the Indigenous Amazonians) funded in part by the Worldland Trust.


20,000 orangutans killed or poached in 10 years without a single prosecution

(08/24/2009) At least 20,000 orangutans have been killed or captured for the illegal pet trade in the past ten years in Indonesia without a single prosecution, according to a report published by Nature Alert and the Centre for Orangutan Protection, groups that campaign on behalf of orangutans.


Environmental disappointments under Obama

(08/24/2009) While the President has been bogged down for the last couple months in an increasingly histrionic health-care debate-which has devolved so far into ridiculousness that one doesn't know whether to laugh or cry-environmental decisions, mostly from the President's appointees have still been coming fast and furious. However, while the administration started out pouring sunshine on the environment (after years of obfuscated drudgery under the Bush administration), they soon began to move away from truly progressive decisions on the environment and into the recognizable territory of playing it safe-and sometimes even stupid.


Destruction worsens in Madagascar

(08/20/2009) Armed bands are decimating rainforest reserves in northeastern Madagascar, killing lemurs and intimidating conservation workers, despite widespread condemnation by international environmental groups.


Rehabilitation not enough to solve orangutan crisis in Indonesia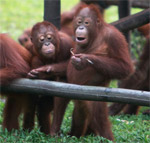 (08/20/2009) A baby orangutan ambles across the grass at the Borneo Orangutan Survival Foundation's Nyaru Menteng rehabilitation center in Central Kalimantan, in the heart of Indonesian Borneo. The ape pauses, picks up a stick and makes his way over to a plastic log, lined with small holes. Breaking the stick in two, he pokes one end into a hole in an effort to extract honey that has been deposited by a conservation worker. His expression shows the tool's use has been fruitful. But he is not alone. To his right another orangutan has turned half a coconut shell into a helmet, two others wrestle on the lawn, and another youngster scales a papaya tree. There are dozens of orangutans, all of which are about the same age. Just outside the compound, dozens of younger orangutans are getting climbing lessons from the Borneo Orangutan Survival Foundation (BOS) staff, while still younger orangutans are being fed milk from bottles in a nearby nursery. Still more orangutans—teenagers and adults—can be found on "Orangutan Island" beyond the center's main grounds. Meanwhile several recently wild orangutans sit in cages. This is a waiting game. BOS hopes to eventually release all of these orangutans back into their natural habitat—the majestic rainforests and swampy peatlands of Central Kalimantan, on the island of Borneo. But for many, this is a fate that may never be realized.


Weak forest definition may undermine REDD efforts

(08/20/2009) The weak definition of what constitutes forest under the United Nations Framework Convention on Climate Change (UNFCCC) puts the effectiveness of a proposed mechanism for reducing emissions from deforestation and degradation (REDD) at risk, argue researchers writing in the journal Conservation Letters.


New center for studying temperate rainforests announced in Alaska

(08/18/2009) Temperate rainforests will soon have a new center in Juneau, Alaska. It is hoped that the Alaska Coastal Rainforest Center (ACRC) will instigate new research and educational opportunities.


World Bank violated environmental rules in lending to palm oil companies, finds internal audit

(08/18/2009) A coalition of indigenous rights' organizations and green groups is calling on the World Bank's International Finance Corporation (IFC) to suspend lending to oil palm plantation developers over revelations by its own internal auditors that the loan-making entity failed to follow its own procedures for protecting against social and environmental abuses.


World's rarest tree kangaroo gets help from those who once hunted it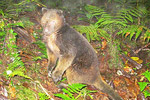 (08/17/2009) The world's rarest tree kangaroo is in the midst of a comeback in a remote part of Papua New Guinea. On the brink of extinction in 2001 with a population estimated at fewer than 100 individuals, Scott's Tree Kangaroo (Dendrolagus scottae), or the tenkile, is recovering, thanks to the efforts of the Tenkile Conservation Alliance to motivate local communities to reduce hunting and respect critical forest habitat. The tenkile Conservation Alliance, led by Australians Jim and Jean Thomas, works to provide alternative sources of protein and raise environmental awareness among local communities.


Guyana uses aggressive deforestation baseline in its plan to seek carbon payments

(08/17/2009) Guyana's deforestation projections under its proposal for seeking carbon payments for conserving its forests are raising questions, according to commentary published in Stabroek News.


Oil companies in the UK are big users of palm oil biodiesel

(08/17/2009) British motorists are unwittingly big consumers of palm oil produced on rainforest lands in southeast Asia, reports The Times.


Forest fires set by Borneo dam developer contributes to haze in Malaysia, Singapore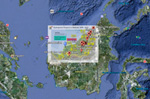 (08/17/2009) The developer of a massive hydroelectric project in Borneo plans to set fire to thousands hectares of logged over rainforest in the dam area, contributing to polluting haze already blanketing the region and raising the risk of forest fires in adjacent areas, reports a local environmental group. The Sarawak Conservation Action Network has learned that Sarawak Hidro Sdn Bhd, the operator of the Bakun Hydroelectric Power Dam project, is in the process of clear-cuting 80,000 hectares (200,000 acres) of rainforest set to be flooded by the dam. The remnants are being torched, in direct violation of Malaysia's laws against open burning.


Cadbury dumps palm oil after consumer protests


(08/17/2009) Cadbury New Zealand, responding to widespread consumer protests, will stop adding palm oil to its milk chocolate products, reports the New Zealand Herald. The candy-maker substituted palm oil and other vegetable fat for cocoa butter earlier this year. The company cited cost savings for the decision, but the move triggered outcry from environmental groups who blame palm oil production for destruction of rainforests across Indonesia and Malaysia, key habitat for orangutans and other endangered species. Concerns that Cadbury chocolate could be imperiling orangutans led the Auckland Zoo and others to ban Cadbury products. Meanwhile consumers swamped the company with letters and petitions protesting its use of palm oil.


Photos reveal illegal logging near uncontacted natives in Peru

(08/17/2009) Ariel photos show proof of illegal logging for mahogany occurring in a Peruvian reserve set aside for uncontacted natives. The photos, taken by Chris Fagan from Round River Conservation Studies, show logging camps set-up inside the Murunahua Reserve, meant to protect the uncontacted indigenous group, known as the Murunahua Indians, in the Peruvian Amazon.


Police face murder charges in killing of indigenous protesters in Peru

(08/16/2009) A federal prosecutor in Peru filed murder charges against two police generals and 15 other officers over the deaths of indigenous protesters at a roadblock in June, reports the Associated Press. The Indians were protesting new rules that would have made it easier for foreign developers to exploit oil and gas, timber, and minerals in Peru's Amazon rainforest. The skirmish left 23 police and at least ten protesters dead.


Largely unexplored rainforest slated to be leveled for gold mining in Colombia


(08/13/2009) Serrania de San Luca is a rainforest-covered massif rising to 2,300 meters (7,500 feet) in northern Colombia. Despite being little-explored and containing several endangered species, the forest is threatened by industrial gold mining operations, according to the local conservation group ProAves. Already the forest has been reduced to 10 percent of its original 2.5 million acres due to agriculture, small-scale mining, and other human impacts. Now, the Colombian government has granted large concessions to AngloGold Ashanti, a gold mining company out of South Africa which has been criticized by the Human Rights Watch for allegedly aligning itself with locally armed gangs in the Democratic Republic of Congo.


Tropical plant expert Stephen P. Hubbell wins this year's Eminent Ecologist Award

(08/13/2009) Stephen P. Hubbell has won the 2009 Eminent Ecologist Award. Hubbell is a staff scientist at the Smithsonian Tropical Research Institute (STRI) and professor of ecology and evolutionary biology at UCLA.


Brazilian beef giant announces moratorium on rainforest beef


(08/13/2009) Brazil's second-largest beef exporter, Bertin, announced it would establish a moratorium on buying cattle from farms involved in Amazon deforestation, reports Greenpeace. The move comes after the World Bank's International Finance Corporation (IFC) withdrew a $90 million loan to Bertin following revelations in a Greenpeace report that the company was buying beef produced on illegally deforested lands. The report, which linked some of the world's most prominent brands to rainforest destruction in the Amazon, had an immediate impact, triggering a cascade of events.


Amazon stores 10 billion tons of carbon in 'dead wood'

(08/12/2009) Old growth forests in the Amazon store nearly 10 billion tons of carbon in dead trees and branches, a total greater than global annual emissions from fossil fuel combustion, according to scientists who have conducted the first pan-Amazon analysis of "necromass."


Issues around palm oil development prove complex, controversial


(08/12/2009) A new report from published by the Center for International Forestry Research (CIFOR) highlights the benefits — and controversies — of large-scale expansion of oil palm agriculture in Southeast Asia. The review, titled "The impacts and opportunities of oil palm in Southeast Asia: What do we know and what do we need to know?", notes that while oil palm is a highly productive and profitable crop, there are serious concerns about its environmental and social impact when established on disputed land or in place of tropical forests and peatlands.


Lessons from the crisis in Madagascar, an interview with Erik Patel


(08/11/2009) On March 17th of this year the President of Madagascar, Marc Ravalomanana, resigned his post. This made way for Andry Rajoelina, mayor of Madagascar's capital, to install himself as president with help from the military. The unrest and confusion that usually accompanies such a coup brought disaster on many of Madagascar's biological treasures. Within days of Ravalomanana's resignation, armed gangs, allegedly funded by Chinese traders, entered two of Madagascar's world-renowned national parks, Marojejy and Masoala parks, and began to log rosewood, ebonies, and other valuable hardwoods. The pillaging lasted months but the situation began to calm down over the summer. Now that the crisis in Madagascar has abated—at least for the time being—it's time to take stock. In order to do so, Mongabay spoke to Erik Patel, an expert on the Critically Endangered Silky Sifaka and frequent visitor to Madagascar, to find out what the damage looks like firsthand and to see what lessons might be learned.


LUSH cosmetics launches campaign against palm oil


(08/10/2009) LUSH Cosmetics, a leading cosmetics-maker, will no longer use palm oil due to environmental concerns over its production. LUSH, which is now selling a palm oil-free soap, has launched a two-pronged campaign to make consumers aware of the impacts of palm cultivation on tropical forests and encourage other consumer-products companies, including Procter & Gamble, Unilever and Nestle, to reformulate their products using alternatives to palm oil.


Golden lion tamarins play key role in seed dispersal in Brazil's Mata Atlantica

(08/10/2009) Golden lion tamarins play an important role in seed dispersal in Brazil's Mata Atlantica, report researchers writing in the the journal Tropical Conservation Science.


Peru to proceed with oil and gas auctions in the Amazon despite indigenous protests

(08/07/2009) Despite violent protests by indigenous groups over plans to expand oil and gas exploration in the Peru's Amazon rainforest, energy investments in the South American country are expected to increase to $1.5 billion in both 2009 and 2010, reports Reuters.


Limit palm oil development to lands that store less than 40 tons of carbon/ha - study

(08/06/2009) A new study finds oil palm plantations store less carbon than previously believed, suggesting that palm oil produced through the conversion of tropical forests carries a substantial carbon debt.


Amazon deforestation falls in June

(08/05/2009) Deforestation in the Brazilian Amazon during June dropped at least 4.4 percent to the year earlier period, keeping Brazil on pace for the lowest forest loss since annual record-keeping began in 1988.


Madagascar issues fines for timber stolen from national parks during political crisis

(08/03/2009) Authorities in Madagascar have blocked shipment of 176 containers of rosewood and other valuable timber from Vohémar port, pending payment of 72 million Malagasy ariary ($37,500) in fines reports Noro Niaina of Les Nouvelles. The wood was illegally harvested from Marojejy and Masoala National Parks during the chaos that followed a March military coup on the Indian Ocean island nation.


Peru to raise payment to indigenous communities for Amazon forest conservation


(08/03/2009) Peru's environment minister now says the government will pay indigenous communities 10 sols ($3.30) for every hectare of rainforest they help to preserve, reports the Latin American Herald. Previously Antonio Brack said that communities would see about half that amount. The $3.30-per-hectare figure is low by international standards. Under a proposed mechanism that compensates countries for reducing deforestation (REDD), forest land could be worth $800 or more per hectare for its carbon (225 tons of carbon/ha), depending on its level of threat. Forests in areas of high deforestation would be compensated at a higher rate than inaccessible forests at low-risk of development. But Brack left open the possibility that communities could receive higher payment if parties agree to include REDD compensation in a future climate framework.


Weeks after bloodshed, American oil moves into Peruvian Amazon, putting rainforest, possible archeological site at risk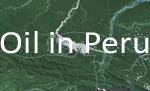 (08/03/2009) Barely six weeks after a dozen Amazon natives were gunned down by the Peruvian Army in the oil town of Bagua for protesting the cozy relationship between Big Oil and the government of President Alan Garcia, I find myself on the banks of the Mother of God River in Salvacion, Peru, wondering if all those folks died in vain. Any day now, the bulldozers will be moving in as Texas-based Hunt Oil Company – with the full go-ahead of the Peruvian government -- fires its first salvo in its assault against the million-acre pristine rainforest wilderness of the little-known and largely unexplored Amarakaeri Communal Reserve.


Emissions from Amazon deforestation to rise as loggers move deeper into the rainforest

(07/31/2009) Emissions from Amazon deforestation are growing as developers move deeper into old-growth forest areas where carbon density is higher, report scientists writing in Geophysical Research Letters.


Alcoa mine to clear 25,000 acres of rainforest, suck 133,407 gallons of water per hour from the Amazon

(07/31/2009) A bauxite mine under development by Alcoa, the world's second-largest primary aluminum producer, will consume 10,500 hectares (25,900 acres) of primary Amazon rainforest and suck 133,407 gallons of water per hour from the Amazon, reports Bloomberg News in an extensive write-up.


Forest people set up logging blockades in Borneo

(07/31/2009) Indigenous Penan have set up roadblocks in Malaysian Borneo to stop loggers from encroaching on their rainforest land, reports Survival International, an indigenous rights' group.


REDD shouldn't neglect biodiversity say scientists

(07/30/2009) Schemes to mitigate climate change by protecting tropical forests must take into account biodiversity conservation, said two leading scientific organizations at the conclusion of a four day meeting in Marburg, Germany.


Timberland announces policy to avoid using leather produced by Amazon destruction


(07/29/2009) Timberland, a maker of hiking boots and other footwear, today announced it would demand a moratorium on leather produced from newly deforested areas in the Amazon. The move is a direct response to pressure from Greenpeace, which last month released Slaughtering the Amazon, a report that linked some of the world's most prominent brands to illegal clearing of the Amazon rainforest. Timberland says it will require its leather suppliers to commit to the moratorium on newly deforested areas in the Amazon. Greenpeace says the policy "makes Timberland the industry leader in environmentally and socially responsible Brazilian leather procurement."


Borneo orangutan release in jeopardy over fate of coal mining concession


(07/29/2009) A plan to release orangutans in a 250,000-hectare (618,000-acre) tract of forest in the Heart of Borneo has been disrupted by uncertainty around BHP Billiton's decision to pull out of a coal mining project in Kalimantan, the Indonesian part of Borneo, reports the Independent and conservation groups familiar with the situation. BHP Billiton had provided funds to help establish the forest reserve in Central Kalimantan and offered conservationists mapping support and use of helicopters to deposit orangutans into otherwise inaccessible areas. The two-year program would have reintroduced scores of orangutans but the first scheduled airlift of 48 orangutans for July 20 was canceled after BHP warned it could no longer guarantee the safety of reintroduced orangutans.


Palm oil producer Wilmar launches plantation in Uganda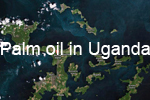 (07/29/2009) Wilmar, one of the world's largest palm oil traders, is investing $10 million to establish an oil palm plantation in Kalangala, Uganda over the next three years, reports Bernama, Malaysia's state new agency. The investment is the first in Uganda by a Malaysian oil palm developer. In recent years Uganda has looked toward foreign investors to launch an industrial palm oil industry in the country but has been thwarted by protests over environmental concerns.


Burning by Asia Pulp & Paper contributes to haze in Indonesia, Malaysia

(07/28/2009) One quarter of fire hotspots recorded in the Indonesia province of Riau on the island of Sumatra in 2009 have occurred in concessions affiliated with Sinar Mas Group's Asia Pulp & Paper (APP), according to new analysis by Eyes on the Forest, a coalition of environmental groups. The fires are contributing to the "haze" that is affecting air quality and causing health problems in Malaysia.


Brazilian soy industry extends moratorium on Amazon deforestation

(07/28/2009) The Brazilian soy industry has agreed to extend a moratorium on soy production in newly deforested areas in the Amazon rainforest, reports Greenpeace. The moratorium has been in place since 2006.


Nike implements policy to avoid leather produced via Amazon deforestation

(07/22/2009) Nike is working with Greenpeace to ensure its products don't contribute to destruction of the Amazon rainforest, according to statements from the shoe giant and the environmental activist group. The partnership comes after Greenpeace report accused Nike of using leather derived from cattle raised on illegal deforested Amazon land. The report, "Slaughtering the Amazon", also linked other shoemakers to rainforest destruction, including Adidas, Reebok and Timberland.


Chevron expects to lose $27B suit but will refuse to pay damages

(07/22/2009) Chevron Corp. expects to lose a multibillion dollar environmental lawsuit in Ecuador but has no intention of paying damages and will continue to fight for "decades", reports the Wall Street Journal.


Are we on the brink of saving rainforests?


(07/22/2009) Until now saving rainforests seemed like an impossible mission. But the world is now warming to the idea that a proposed solution to help address climate change could offer a new way to unlock the value of forest without cutting it down.Deep in the Brazilian Amazon, members of the Surui tribe are developing a scheme that will reward them for protecting their rainforest home from encroachment by ranchers and illegal loggers. The project, initiated by the Surui themselves, will bring jobs as park guards and deliver health clinics, computers, and schools that will help youths retain traditional knowledge and cultural ties to the forest. Surprisingly, the states of California, Wisconsin and Illinois may finance the endeavor as part of their climate change mitigation programs.


NASA photos show severe flooding in the Amazon

(07/22/2009) Photos released by NASA highlight last month's severe flooding of the Amazon River near the Brazilian city of Manaus.


Can non-timber forest products help conserve the Amazon?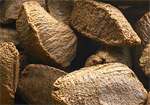 (07/20/2009) Industrial-scale logging and resource exploitation continue to plague the South American rainforests, contributing to their systematic destruction. Today, indigenous inhabitants and other local residents of the rainforests and their surrounding areas, faced with the enormous pressures of the global economy, often find themselves in a crucible. Many of their opportunities for supporting themselves and their families financially involve logging or other large-scale operations that deplete and ultimately decimate the forests. In order to make even a marginal living, local people often find themselves forced to participate in the destruction of the very ecosystems that they live in and depend on.


Malaysia's rainforests being insidiously replaced with plantations of clones


(07/20/2009) Rainforests once managed for selective logging in Malaysia are now being are clear-felled and replaced with latex-timber clones, rubber trees that yield latex and can be harvested for timber, reports the Malaysian Star. Up to 80 percent of Malaysia's remaining forest cover could be at risk. Journalist Tan Cheng Li reports that permanent forest reserves in Selandor and Johor have already been cleared for rubber plantations, while other reserves are now being targeted. Permanent forest reserves are forest areas that have been set aside for selective logging under sustainable forest management. They account for 82 percent of Malaysia's remaining forest cover.


Temperate forests store more carbon than tropical forests, finds study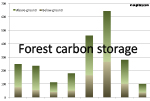 (07/17/2009) Temperate forests trump rainforests when it comes to storing carbon, reports a new assessment of global forest carbon stocks published July 14th in Proceedings of the National Academy of Sciences (PNAS). The findings have important implications for efforts to mitigate climate change by protecting forests. Sampling and reviewing published data from nearly 100 forest sites around the world, Heather Keith, Brendan G. Mackey, and David B. Lindenmayer of Australian National University found that Australia's temperate Eucalyptus forests are champions of carbon storage, sequestering up to 2,844 metric tons of carbon per hectare, a figure that far exceeds previous estimates. These forests, located in the Central Highlands of Victoria in southeastern Australia, are dominated by giant Mountain Ash (Eucalyptus regnans) trees, which can reach a height of 320 feet and live for more than 350 years. They are also favored by the timber industry. Mountain Ash forests have been widely logged across Australia, with only limited old-growth stands remaining.


Environmental groups increasingly powerful, says researcher


(07/12/2009) With deforestation increasingly driven by industrial actors, rather than subsistence farmers, tropical timber managers should be aware of the growing clout of environmental groups in swaying public opinion, says a forest expert from the Smithsonian Tropical Research Institute, writing in the International Tropical Timber Organization's July Tropical Forest Update.



Page 1 | Page 2 | Page 3 | Page 4 | Page 5 | Page 6 | Page 7 | Page 8 | Page 9 | Page 10 | Page 11 | Page 12 | Page 13 | Page 14 | Page 15 | Page 16 | Page 17 | Page 18 | Page 19 | Page 20 | Page 21 | Page 22 | Page 23 | Page 24 | Page 25 | Page 26 | Page 27 | Page 28 | Page 29 | Page 30 | Page 31 | Page 32 | Page 33 | Page 34 | Page 35 | Page 36 | Page 37 | Page 38 | Page 39 | Page 40 | Page 41 | Page 42 | Page 43 | Page 44