News articles on rainforest people

---
Mongabay.com news articles on rainforest people in blog format. Updated regularly.





Exploring Asia's lost world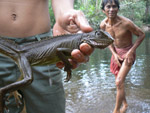 (05/03/2012) Abandoned by NGOs and the World Bank, carved out for rubber plantations and mining by the Cambodian government, spiraling into a chaos of poaching and illegal logging, and full of endangered species and never-explored places, Virachey National Park may be the world's greatest park that has been written off by the international community. But a new book by explorer and PhD student, Greg McCann, hopes to change that. Entitled Called Away by a Mountain Spirit: Journey to the Green Corridor, the book highlights expeditions by McCann into parts of Virachey that have rarely been seen by outsiders and have never been explored scientifically, including rare grasslands that once housed herds of Asian elephants, guar, and Sambar deer, before poachers drove them into hiding, and faraway mountains with rumors of tigers and mainland Javan rhinos.


Oil company Perenco endangering 'uncontacted' indigenous people, says Peru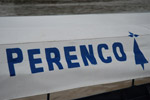 (04/25/2012) The company hoping to exploit the oil deposits slated to transform Peru's economy has been declared to be endangering the lives of indigenous people living in "voluntary isolation" by the country's indigenous affairs department (INDEPA). Perenco, an Anglo-French company with headquarters in London and Paris, is currently seeking approval from Peru's Energy Ministry (MEM) to develop its operations in the Loreto region in the north of the country.


Featured video: How to save the Amazon

(04/22/2012) The past ten years have seen unprecedented progress in fighting deforestation in the Amazon. Indigenous rights, payments for ecosystem services, government enforcement, satellite imagery, and a spirit of cooperation amongst old foes has resulted in a decline of 80 percent in Brazil's deforestation rates.


Photos: Uncontacted Amazon tribes documented for first time in Colombia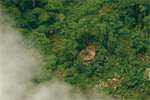 (04/19/2012) Aerial surveys of a remote area of rainforest along the Colombia-Brazil border have produced the first photographic evidence of uncontacted tribes, according to a conservation group that works to safeguard indigenous territories and culture. The photos, released by the Amazon Conservation Team (ACT), show five long houses or malokas thought to belong to two indigenous groups, the Yuri or Carabayo and Passé, some of the last isolated tribes in the Colombian Amazon. The images provide confirmation that uncontacted communities still exist within the Rio Puré National Park, which protects a million hectares (2.47 million acres) of mostly pristine rainforest between the Caquetá and Putumayo River basins along the Brazilian border.


Indigenous groups oppose priest pushing for road through uncontacted tribes' land

(04/19/2012) A grassroots indigenous organization in Peru is calling for the removal of an Italian Catholic priest from the remote Amazon in response to his lobbying to build a highway through the country's biggest national park.


Will mega-dams destroy the Amazon?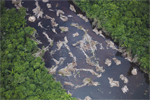 (04/18/2012) More than 150 new dams planned across the Amazon basin could significantly disrupt the ecological connectivity of the Amazon River to the Andes with substantial impacts for fish populations, nutrient cycling, and the health of Earth's largest rainforest, warns a comprehensive study published in the journal PLoS ONE. Scouring public data and submitting information requests to governments, researchers Matt Finer of Save America's Forests and Clinton Jenkins of North Carolina State University documented plans for new dams in Bolivia, Brazil, Colombia, Ecuador, and Peru.


Pictures: Destruction of the Amazon's Xingu River begins for Belo Monte Dam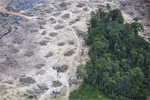 (04/18/2012) The Xingu River will never be the same. Construction of Belo Monte Dam has begun in the Brazilian Amazon, as shown by these photos taken by Greenpeace, some of the first images of the hugely controversial project. Indigenous groups have opposed the dam vigorously for decades, fearing that it will upend their way of life. Environmentalists warn that the impacts of the dam—deforestation, methane emissions, and an irreparable changes to the Xingu River's ecosystem—far outweigh any benefits. The dam, which would be the world's third largest, is expected to displace 16,000 people according to the government, though some NGOs put the number at 40,000. The dam will flood over 40,000 hectares of pristine rainforest, an area nearly seven times the size of Manhattan.


Police hired by loggers in Papua New Guinea lock locals in shipping containers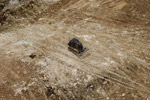 (04/16/2012) Locals protesting the destruction of their forest in Papua New Guinea for two palm oil plantations say police have been sent in for a second time to crack-down on their activities, even as a Commission of Inquiry (COI) investigates the legality of the concession. Traditional landowners in Pomio District on the island East New Britain say police bankrolled by Malaysian logging giant Rimbunan Hijau (RH) have terrorized the population, including locking people in shipping containers for three consecutive nights. The palm oil concessions belongs to a company known as Gilford Limited, which locals say is a front group for RH.


Amazon tribe becomes first to get OK to sell REDD credits for rainforest conservation

(04/12/2012) An Amazon tribe has become the first indigenous group in the world's largest rainforest to win certification of a forest carbon conservation project, potentially setting a precedent for other forest-dependent groups to seek compensation for safeguarding their native forests.


Featured video: the battle for Tripa is about people too

(04/05/2012) Environmentalists have largely focused on the plight of orangutans as fires burn in Aceh, Sumatra to clear rainforest for a hugely controversial palm oil plantation, however as the video above highlights, local people will also feel the impacts of the destruction of forest for palm oil.


Judge suspends Brazilian dam that would flood sacred waterfalls

(04/02/2012) A federal judge has suspended the construction of a 1,820 megawatt dam on the Teles Pires River in the Amazon. The judge found that indigenous communities were not properly consulted about the dam, which would flood a sacred site, known as the Seven Waterfalls, as well as imperil the livelihoods of indigenous fishermen.


Mining cancellation throws wrench into Sarawak dam-building spree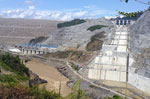 (03/27/2012) The world's third largest mining company, Rio Tinto, and a local financial and construction firm, Cahya Mata Sarawak (CMS), have cancelled plans for a $2 billion aluminum smelter to be constructed in the Malaysian state of Sarawak. The cancellation calls into question Sarawak's plan to build a dozen massive dams—known as the Sarawak Corridor of Renewable Energy (SCORE) initiative—that were proposed, in part, to provide power to the massive aluminum smelter. However, the mega-dam proposal has been heavily criticized for its impact on Sarawak's rivers, rainforest and indigenous people.


Featured video: indigenous community witnesses end of forest for palm oil

(03/26/2012) Forests are falling across Borneo. A new videoblog by the Environmental Investigation Agency (EIA) and Telepak have documented the loss of one such forest in Indonesian Borneo, and its impact on the indigenous Dayak Benuaq people.


Indigenous groups fight for recognition and illumination in Peru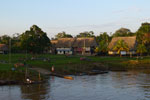 (03/26/2012) "Shh, wait here," Wilson told me. I ducked down behind the buttress of a large tree to wait. We had been walking through the jungle for a few hours. At first we followed a path through the undergrowth, a wet world of ferns, trunks and lianas speckled with the sunlight that made it down through the canopy and understory, but soon we simply walked along a route Wilson picked out. I had been trying to concentrate on the myriad sounds: cicadas were the background and various small birds tweeted from different points. We were listening and looking for signs that would lead us to prey—perhaps the calm whistle of a perdiz or the scent—marking of a boar—but just before Wilson became excited I had heard nothing. He stopped and said, "Red monkeys," pointing ahead.


Wildlife corridor key to conserving tigers, rhinos in Nepal

(03/19/2012) A single forest corridor links two of Nepal's great wildlife areas: Chitwan National Park and the Mahabharat mountain range, also known as the "little Himalayas." The Barandabhar Forest Corridor (BFC) has become essential for the long term survival Nepal's Indian rhinos (Rhinoceros unicornis) and Bengal tigers (Panthera tigris tigris). Yet, according to a new paper published in mongabay.com's open access journal Tropical Conservation Society (TCS), the corridor is imperiled by deforestation, a highway, and inconsistent management policies.


Gold mining in the Peruvian Amazon: a view from the ground


(03/15/2012) On the back of a partially functioning motorcycle I fly down miles of winding footpath at high-speed through the dense Amazon rainforest, the driver never able to see more than several feet ahead. Myriads of bizarre creatures lie camouflaged amongst the dense vines and lush foliage; flocks of parrots fly overhead in rainbows of color; a moss-covered three-toed sloth dangles from an overhanging branch; a troop of red howler monkeys rumble continuously in the background; leafcutter ants form miles of crawling highways across the forest floor. Even the hot, wet air feels alive.


Amazon plant yields miracle cure for dental pain

(03/14/2012) The world may soon benefit from a plant long-used by indigenous people in the Peruvian Amazon for toothaches, eliminating the need for local injections in some cases. Researchers have created a medicinal gel from a plant known commonly as spilanthes extract (Acmella Oleracea), which could become a fully natural alternative to current anesthetics and may even have a wide-range of applications beyond dental care.


International Labor Organization raps Brazil over monster dam

(03/07/2012) The UN's International Labor Organization (ILO) has released a report stating that the Brazilian government violated the rights of indigenous people by moving forward on the massive Belo Monte dam without consulting indigenous communities. The report follows a request last year by the The Inter-American Commission on Human Rights for the Brazilian government to suspend the dam, which is currently being constructed on the Xingu River in the Amazon.


Tourism for biodiversity in Tambopata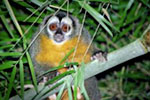 (02/27/2012) Research and exploration in the Neotropics are extraordinary, life-changing experiences. In the past two decades, a new generation of collaborative projects has emerged throughout Central and South America to provide access to tropical biodiversity. Scientists, local naturalists, guides, students and travelers now have the chance to mingle and share knowledge. Fusion programs offering immersion in tropical biology, travel, ecological field work, and adventure often support local wilderness preservation, inspire and educate visitors.


Activists form network to fight Sarawak dam-building spree

(02/15/2012) Last October indigenous groups, local people, and domestic NGOs formed the Save Sarawak's Rivers Network to fight the planned construction of a dozen dams in the Malaysian state on the island of Borneo. The coalition opposes the dam-building plans, known as the Sarawak Corridor of Renewable Energy (SCORE) initiative, due to its impacts on indigenous and river communities, the destruction of pristine rainforest, and the degradation of the state's rivers.


New rainforest and indigenous reserve established in Peru

(02/07/2012) On February 4th, the Peruvian government and a small indigenous group created a new Amazon reserve, dubbed the Maijuna Reserve. Located in northeastern Peru, the 390,000 hectare (970,000 acres) reserve is larger than California's Yosemite National Park and over three times the size of Hong Kong.


Guyanese tribe maps Connecticut-sized rainforest for land rights


(02/07/2012) In a bid to gain legal recognition of their land, the indigenous Wapichan people have digitally mapped their customary rainforest land in Guyana over the past ten years. Covering 1.4 million hectares, about the size of Connecticut, the rainforest would be split between sustainable-use regions, sacred areas, and wildlife conservation according to a plan by the Wapichan tribe that will be released today. The plan says the tribe would preserve the forest from extractive industries.


Supernatural beliefs keep hunting sustainable on Indonesian island

(02/02/2012) How do indigenous communities hunt without pushing target species to local extinction? In other words, how have communities retained sustainable practices over countless generations. One answer is given in a new study by the Center for International Forestry Research (CIFOR) and the Center for International Research in Agronomy and Development (CIRAD): supernatural beliefs. Looking at a community of indigenous people on the Indonesian island of Seram, researchers found that supernatural hunting beliefs ensured animals never vanished for good.


Group releases close-up photos of 'uncontacted' tribe in Peru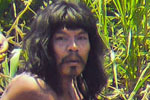 (02/01/2012) New photos provide visual evidence of just how close the long-isolated tribe of Mashco-Piro people in the Amazon rainforest are to being contacted by the outside world—a perilous moment for tribes highly susceptible to disease and likely to defend their people and territory with weapons. According to indigenous rights NGO Survival International, the Maschco-Piro tribe has been seen more frequently outside of their forest home in Manu National Park in recent years. Some experts blame illegal logging in the park and helicopters used in oil and gas projects for the sightings.


Brazilian mining company connected to Belo Monte dam voted worst corporation

(01/31/2012) The world's second largest mining company, Vale, has been given the dubious honor of being voted the world's most awful corporation in terms of human rights abuses and environmental destruction by the Public Eye Awards. Vale received over 25,000 votes online, likely prompted in part by its stake in the hugely controversial Brazilian mega-dam, Belo Monte, which is being constructed on the Xingu River. An expert panel gave a second award to British bank Barclay's for speculation on food prices, which the experts stated was worsening hunger worldwide.


Photos: 46 new species found in little-explored Amazonian nation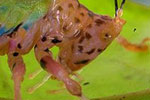 (01/25/2012) South America's tiniest independent nation still hides a number of big surprises: a three week survey to the sourthern rainforests of Suriname found 46 potentially new species and recorded nearly 1,300 species in all. Undertaken by Conservation International's (CI) Rapid Assessment Program (RAP) the survey found new species of freshwater fish, insects, and a new frog dubbed the "cowboy frog" for the spur on its heel. While Suriname may be small, much of its forest, in the Guyana Shield region of the Amazon, remains intact and pristine. The Food and Agriculture Organization (FAO) estimates that 91 percent of Suriname is covered in primary forests, however this data has not been updated in over two decades.


Feared extinct, obscure monkey rediscovered in Borneo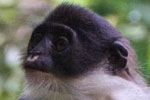 (01/20/2012) A significant population of the rarely seen, little-known Miller's grizzled langurs (Presbytis hosei canicrus) has been discovered in Indonesian Borneo according to a new paper published in the American Journal of Primatology. Feared extinct by some and dubbed one of the world's 25 most threatened primates in 2005 by Conservation International (CI), the langur surprised researchers by showing up on camera trap in a region of Borneo it was never supposed to be. The discovery provides new hope for the elusive monkey and expands its known range, but conservationists warn the species is not out of the woods yet.


New book series hopes to inspire research in world's 'hottest biodiversity hotspot'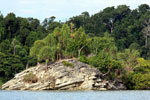 (01/17/2012) Entomologist Dmitry Telnov hopes his new pet project will inspire and disseminate research about one of the world's last unexplored biogeographical regions: Wallacea and New Guinea. Incredibly rich in biodiversity and still full of unknown species, the region, also known as the Indo-Australian transition, spans many of the tropical islands of the Pacific, including Indonesia's Sulawesi, Komodo and Flores, as well as East Timor—the historically famous "spice islands" of the Moluccan Archipelago—the Solomon Islands, and, of course, New Guinea. Telnov has begun a new book series, entitled Biodiversity, Biogeography and Nature Conservation in Wallacea and New Guinea, that aims to compile and highlight new research in the region, focusing both on biology and conservation. The first volume, currently available, also includes the description of 150 new species.


Top 10 Environmental Stories of 2011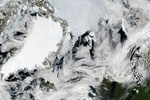 (12/22/2011) Many of 2011's most dramatic stories on environmental issues came from people taking to the streets. With governments and corporations slow to tackle massive environmental problems, people have begun to assert themselves. Victories were seen on four continents: in Bolivia a draconian response to protestors embarrassed the government, causing them to drop plans to build a road through Tipnis, an indigenous Amazonian reserve; in Myanmar, a nation not known for bowing to public demands, large protests pushed the government to cancel a massive Chinese hydroelectric project; in Borneo a three-year struggle to stop the construction of a coal plant on the coast of the Coral Triangle ended in victory for activists; in Britain plans to privatize forests created such a public outcry that the government not only pulled back but also apologized; and in the U.S. civil disobedience and massive marches pressured the Obama Administration to delay a decision on the controversial Keystone XL pipeline, which would bring tar sands from Canada to a global market.


The other side of the Penan story: threatened tribe embraces tourism, reforestation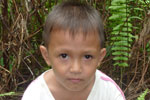 (12/19/2011) News about the Penan people is usually bleak. Once nomadic hunter-gatherers of the Malaysian state of Sarawak on Borneo, the indigenous Penan have suffered decades of widespread destruction of their forests and an erosion of their traditional culture. Logging companies, plantation developments, massive dams, and an ambivalent government have all played a role in decimating the Penan, who have from time-to-time stood up to loggers through blockades, but have not been successful in securing recognition of legal rights to their traditional lands. Yet even as the Penan people struggle against the destruction of their homelands, they are not standing still. Several Penan villages have recently begun a large-scale reforestation program, a community tourism venture, and proclaimed their a portion of their lands a "Peace Park."


Cultural shifts in Madagascar drive lemur-killing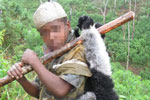 (12/15/2011) Conservationists have often found that some cultural norms, religious beliefs, and taboos play a role in holding back traditional peoples from overusing their environment. Examples of such beliefs include days wherein one cannot hunt or fish, or certain species or regions that are off limits to exploitation. But the influence of the modern world can rapidly extinguish such beliefs, sometimes for the better, in other cases not. In many parts of Madagascar, lemurs are off the menu. These primates, found only in Madagascar, play a big role in Malagasy 'fady' or taboo-related folk stories: lemurs are protectors and, in some cases, even relatives. However, according to a new paper in PLoS ONE an influx of migrants, widespread poverty, lack domestic meat, and poor law enforcement has caused a sudden rise in eating lemurs, many of which are already near-extinction due to habitat loss.


Yasuni ITT: the virtues and vices of environmental innovation

(12/07/2011) As the 17th Conference of the Parties to the United Nations Framework Convention on Climate Change (UNFCCC) is taking place in Durban, Ecuador has embarked on the development of a project presented as highly innovative. This project targets Yasuni National Park, which has been protected since 1979. Yasuni is home to several indigenous peoples and is a biodiversity hotspot. But it so happens that the park also sits atop a vast oil field of 846 million barrels, representing about 20 percent of the country's oil reserves. The acronym Yasuni ITT stands for Ishpingo-Tambococha-Tiputinin, which are the names of three potential zones for oil extraction.


Community mapping of African rainforests could show way forward for preservation, REDD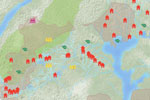 (12/01/2011) A new initiative to place community mapping of central African rainforests online could prove key to local rights in the region, says the UK-based NGO Rainforest Foundation. Working with forest communities in five African countries, Rainforest Foundation has helped create digital maps of local forests, including use areas, parks, and threats such as logging and mining. The website, MappingForRights.org, includes interactive maps, photos, and video.


Carbon piracy, lack of recognition of indigenous rights undermining REDD in Peru, alleges report

(11/30/2011) Lack of meaningful consultation with indigenous communities over forest carbon projects is causing social conflict and undermining efforts to responsibly reduce emissions from deforestation and forest degradation in Peru under the REDD mechanism, argues a new report released during international climate talks in Durban.


Cultural erosion among indigenous groups in Venezuela brings new risks for Caura rainforest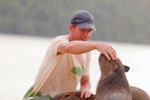 (11/14/2011) One of the planet's most beautiful landscapes is in danger. Deep in southern Venezuela, among ancient forested tabletop mountains known as tepuis, crystalline rivers, and breathtaking waterfalls, outside influences — malaria, the high price of gold, commercial hunting, and cultural erosion — are threatening one of world's largest remaining blocks of wilderness, one that is home to indigenous people and strikingly high levels of biological diversity.


Indigenous do not have right to free, prior and informed consultation on Amazon dam, rules Brazilian court

(11/09/2011) Indigenous communities do not have the right to free, prior and informed consultation on the Belo Monte dam because its infrastructure and reservoirs would not be physically located on tribal lands, ruled a Brazilian court.


Indigenous technicians scour Amazonia to help researchers track wildlife populations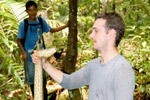 (11/09/2011) Scientists only have so many hands and eyes. That's why ecologists enlisted hundreds of Makushi and Wapishana villagers to record the sights and signs of animals across 48,000 square kilometers of the Amazon basin near the Brazil-Guyana border. In the ongoing project, scientists seek to describe the interactions between indigenous peoples, their environment and the native fauna.


Unsung heroes: the life of a wildlife ranger in the Congo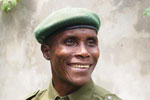 (11/01/2011) The effort to save wildlife from destruction worldwide has many heroes. Some receive accolades for their work, but others live in obscurity, doing good—sometimes even dangerous—work everyday with little recognition. These are not scientists or big-name conservationists, but wildlife rangers, NGO staff members, and low level officials. One of these conservation heroes is Bunda Bokitsi, chief guard of the Etate Patrol Post for Salonga National Park in the Democratic Republic of the Congo. In a nation known for a prolonged civil war, desperate poverty, and corruption—as well as an astounding natural heritage—Bunda Bokitsi works everyday to secure Salonga National Park from poachers, bushmeat hunters, and trappers.


Peru's real test is a 200km pipeline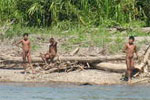 (10/27/2011) One of Ollanta Humala's most striking achievements since becoming Peru's president three months ago is new legislation guaranteeing indigenous people the right to be consulted about and in agreement with any project that affects them. Leading indigenous organization AIDESEP, usually so critical of the government, cautiously welcomed the move, while Survival International called it 'a significant step away from the policies of former Peruvian president Alan Garcia, who vetoed a similar bill.'


Bolivian road project through Amazon reserve canceled

(10/23/2011) Following a violent crackdown on protestors which deeply embarrassed the Bolivian government, president Evo Morales has thrown-out plans to build a road through an indigenous reserve, reports the BBC. Protestors marched 310 miles (498 kilometers) from the Amazon to La Paz to show their opposition to the road, saying that the project would destroy vast areas of biodiverse rainforest and open up their land to illegal settlers.


Should public or private money finance efforts to save forests?


(10/11/2011) The 11th Rights and Resources Initiative Dialogue on Forests, Governance and Climate Change in London, which will focus on The Status and Role of Public and Private Finance to Reduce Forest Loss and Degradation. The goal of the RRI Dialogue is to examine the current state of public and private financial mechanisms for REDD+ and adaptation and contribute to developing an updated vision for the optimal design and deployment of finance to reduce forest loss and degradation - while respecting the rights and development needs of local people. RRI has partnered with Mongabay.com to present two diverging viewpoints on issues to be discussed at length at the dialogue, featuring Vicky Tauli-Corpuz (Executive Director, Tebtebba) and Scott Poynton (Executive Director, The Forest Trust).


Following violent crackdown against protestors, Bolivia puts Amazon road project on ice

(09/27/2011) After a police crackdown against indigenous activists, Bolivian President Evo Morales has suspended a large highway project through the Amazon rainforest. The police reaction—which included tear gas, rounding up protestors en masse, and allegations of violence—resulted in several officials stepping down in protest of the government's handling. Some indigenous people marched 310 miles (498 kilometers) from the Amazon to La Paz to show solidarity against the road, saying they had not been consulted and the project would destroy vast areas of biodiverse rainforest.


Featured video: new documentary puts human face on logging in Papua New Guinea

(09/27/2011) A new documentary, filmed single-handily by filmmaker David Fedele, covers the impact of industrial logging on a community in Papua New Guinea. Entitled Bikpela Bagarap(or 'Big Damage' in English), the film shows with startling intimacy how massive corporations, greedy government, and consumption abroad have conspired to ruin lives in places like Vanimo, Papua New Guinea.


Tribal leader to the UN: Indigenous peoples of the Amazon are in danger

(09/22/2011) Amazonian indigenous peoples and their traditional territories are living under constant threat.


Indigenous people blockade river against 'murderous' oil company

(09/21/2011) Over the weekend more than 100 Shuar indigenous people, also known as Wampis, blockaded the Morona River in Peru in an effort to stop exploratory oil drilling by Canadian-owned Talisman Energy. The blockade in meant to prevent oil drilling in an area of the Peruvian Amazon known as Block 64, home to four indigenous tribes in total and the Pastaza River Wetland Complex, a Ramsar wetland site.


Loving the tapir: pioneering conservation for South America's biggest animal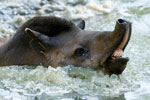 (09/11/2011) Compared to some of South America's megafauna stand-out species—the jaguar, the anaconda, and the harpy eagle come to mind—the tapir doesn't get a lot of love. This is a shame. For one thing, they're the largest terrestrial animal on the South American continent: pound-for-pound they beat both the jaguar and the llama. For another they play a very significant role in their ecosystem: they disperse seeds, modify habitats, and are periodic prey to big predators. For another, modern tapirs are some of the last survivors of a megafauna family that roamed much of the northern hemisphere, including North America, and only declined during the Pleistocene extinction. Finally, for anyone fortunate enough to have witnessed the often-shy tapir in the wild, one knows there is something mystical and ancient about these admittedly strange-looking beasts.


Malaysian court blocks rainforest tribes' fight against mega-dam in Borneo

(09/09/2011) Indigenous tribes in Borneo suffered a stinging defeat Thursday after Sarawak's highest court ruled against them in 12-year-long legal battle. Tribal groups had challenged the Malaysian state government for seizing indigenous lands in order to build a massive hydroelectric power plant, dubbed the Bakun dam, but the three-person top court found unanimously against the tribes.


Big damage in Papua New Guinea: new film documents how industrial logging destroys lives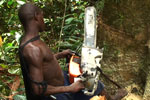 (08/29/2011) In one scene a young man, perhaps not long ago a boy, named Douglas stands shirtless and in shorts as he runs a chainsaw into a massive tropical tree. Prior to this we have already heard from an official how employees operating chainsaws must have a bevy of protective equipment as well as training, but in Papua New Guinea these are just words. The reality is this: Douglas straining to pull the chainsaw out of the tree as it begins to fall while his fellow employees flee the tumbling giant. The new film Bikpela Bagarap('Big Damage') documents the impact of industrial logging on the lives of local people in Papua New Guinea.


Peru passes landmark indigenous rights legislation

(08/24/2011) A new administration in Peru is moving toward granting indigenous people long-sought legal rights, reports Survival International. Yesterday, the Peruvian congress approved new legislation that gives indigenous people free, prior and informed consent (FPIC) for any project on their land. If signed into law and enforced, the legislation would provide indigenous groups considerable clout in keeping industry off their lands if they choose.


Indigenous protestors embark on 300-mile walk to protest Amazon road in Bolivia

(08/21/2011) Indigenous protesters are targeting a new road in the Bolivian Amazon, reports the BBC. The 190-mile highway under construction in the Bolivian Amazon will pass through the Isiboro-Secure Indigenous Territory and National Park (Tipnis), a 4,600-square mile (11,900 square kilometers) preserve which boasts exceptional levels of rainforest biodiversity, including endangered blue macaws and fresh-water dolphins. Indigenous peoples who live in Tipnis are participating in a month-long protest march against the road, which they claim violates their right to self-governance.



Page 1 | Page 2 | Page 3 | Page 4 | Page 5 | Page 6 | Page 7 | Page 8