News articles on rainforest conservation

---
Mongabay.com news articles on rainforest conservation in blog format. Updated regularly.





EU says emissions trading system may fund forest conservation

(10/17/2008) Europe's carbon trading scheme may be used to generate funds to fight deforestation, reports Reuters. Speaking at a news conference on Friday, EU Environment Commissioner Stavros Dimas said he hoped the EU's emissions trading scheme could reduce gross tropical deforestation by half by 2020 and eliminate net forest loss by 2030.


Carbon conservation schemes will fail without forest people

(10/16/2008) Mechanisms that use forest conservation to reduce greenhouse gas emissions are doomed to fail unless they are "based on respect for the rights of indigenous peoples and forest communities," warn environmentalists and indigenous rights groups meeting in Oslo this week. Indigenous groups fear they are being excluded from discussions on Reduced Emissions from Deforestation and Forest Degradation (REDD), a proposed financial mechanism that would compensate tropical countries for reducing emissions caused by deforestation and land use. Such emissions account for a fifth of the global total, or more than the total emissions from transportation. In particular, indigenous groups and forest communities are concerned they will not see benefits from REDD. Worse, some believe the mechanism could trigger a new wave of land grabs and evictions by parties seeking to capitalize on carbon payments. Indigenous groups and forest communities have long struggled against development interests seeking to exploit their traditional lands and resources. But supporters of so-called "avoided deforestation" schemes say that properly-designed policy offers unprecedented opportunities to create sustainable livelihoods for forest people while safeguarding biodiversity and services provided by healthy forest ecosystems.


UK government: rainforests are weapon against global warming

(10/15/2008) Protecting tropical forests will simultaneously reduce carbon emissions, support poverty reduction and help preserve biodiversity and other forest services, says a new report commissioned by the British government. The report — dubbed the "Eliasch Review" after the lead author, Johan Eliasch, a multimillionaire Swede who runs a sports equipment company and owns 162,000 hectares (400,000 acres) of rainforest in the Brazilian Amazon — takes a comprehensive look at the role forests can play in mitigating climate change. It concludes: "Urgent action to tackle the loss of global forests needs to be a central part of any future international deal on climate change"


Exelon signs rainforest conservation deal to help reduce emissions

(10/13/2008) Environmental crime is generating $10 billion a year in revenue for gangsters and criminal syndicates reports the Environmental Investigation Agency (EIA) in a paper released today.


Indonesian governors agree to protect Sumatra's endangered forests

(10/09/2008) The ten governors of Sumatra — along with four federal ministers — have signed an agreement to protect forests and other ecosystems on the Indonesian island, according to WWF. The announcement is significant because Sumatra is a biodiversity hotspot — home to rare and endemic wildlife — that is under great threat from logging and expansion oil palm plantations. The island has lost 48 percent of its forest cover since 1985.


Forest conservation can fight climate change and poverty

(10/08/2008) The Forests Dialogue — a coalition consisting of more than 250 representatives of governments, forestry companies, trade unions, environmental and social groups, international organizations, forest owners, indigenous peoples and forest-community groups — has issued guiding principles for including forests in climate change negotiations.


Indigenous people demand greater say in using forests to fight global warming

(10/08/2008) Indigenous leaders renewed their call for greater say in how tropical forests are managed to reduce greenhouse gas emissions, according to AFP.


Cutting deforestation can fight climate change, reduce poverty and conflict

(09/24/2008) Forest conservation can play a critical role in efforts to reduce greenhouse gas emissions and alleviate poverty, said a prominent group of politicians, development experts, and environmental NGOs meeting in New York City to discuss U.S. climate policy. Organized by Avoided Deforestation Partners, an international policy group, the meeting sought to establish a strategy to highlight the global impact of deforestation and push for the inclusion of tropical forests in domestic climate policy. Attendees included leaders of WWF, the Nature Conservancy, Conservation International, World Vision, Oxfam, Mercy Corps, Care International, and the Union of Concerned Scientists; former Vice President Al Gore; Wangari Maathai, a Nobel Prize-winning activist from Kenya; Bharrat Jagdeo, president of the South American country of Guyana; and executives from a number of carbon-trading and financial firms. The event was hosted by veteran journalist Dan Rather.


Forest carbon credits could guide development in Congo

(05/28/2008) An initiative to reduce greenhouse gas emissions by offering carbon credits to countries that reduce deforestation may be one of the best mechanisms for promoting sustainable development in Central Africa says a remote sensing expert from the Woods Hole Research Center (WHRC). Dr. Nadine Laporte, an associate scientist with WHRC who uses remote sensing to analyze land use change in Africa, says that REDD could protect forests, safeguard biodiversity, and improve rural livelihoods in Democratic Republic of Congo (DRC) and other Central African nations.


Defaunation, like deforestation, threatens global biodiversity



(05/20/2008) Loss of wildlife is a subtle but growing threat to tropical forests, says a leading plant ecologist from Stanford University. Speaking in an interview with mongabay.com, Dr. Rodolfo Dirzo says that the disappearance of wildlife due to overexploitation, fragmentation, and habitat degradation is causing ecological changes in some of the world's most biodiverse tropical forests. He ranks defaunation — as he terms the ongoing biological impoverishment of forests — as one of the world's most significant global changes, on par with environmental changes like global warming, deforestation, and shifts in the nitrogen cycle.


Greenpeace says carbon fund will save forests and climate

(05/20/2008) In a report unveiled today at the UN conference on biodiversity in Bonn, Greenpeace announced support for a plan to save tropical forests through a fund for carbon and other ecosystem services.


Carbon market could fund rainforest conservation, fight climate change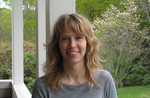 (05/19/2008) A mechanism to fund forest conservation through the carbon market could significantly reduce greenhouse emissions, help preserve biodiversity, and improve rural livelihoods, says a policy expert with the Woods Hole Research Center (WHRC) in Massachusetts. In an interview with mongabay.com, WHRC Policy Advisor and Research Associate Tracy Johns says that Reducing Emissions from Deforestation and Degradation (REDD), a proposed policy mechanism for combating climate change by safeguarding forests and the carbon they store, offers great potential for protecting tropical rainforests.


Tropical deforestation is 'one of the worst crises since we came out of our caves'

(05/15/2008) Speaking at the Asia-Pacific Forestry Week in Vietnam, keystone speaker Dr. Norman Myers stated: "I'm going to give you my bottom-line message right now, up front, this is a super crisis that we are facing, it's an appalling crisis, it's one of the worst crises since we came out of our caves 10,000 years ago. I'm referring of course to elimination of tropical forests and of their millions of species."


Prince Charles calls for rainforest protection to fight climate change

(05/15/2008) Ending the destruction of tropical rainforests is the simplest step to helping address climate change, said Prince Charles in an interview with the BBC.


Papua signs REDD carbon deal to generate income from rainforest protection

(05/14/2008) The government of the Indonesian province of Papua has entered into an agreement with an Australian financial firm to establish a forestry-based carbon finance project on the island of New Guinea.


Al Gore's investment firm bets that rainforest conservation will be profitable

(05/14/2008) Al Gore's investment firm has signaled an interest in the emerging market for ecosystem services by taking an equity position in an innovative Australian financial company.


U.S. climate policy could help save rainforests



(05/14/2008) U.S. policy measures to fight global warming could help protect disappearing rainforests, says the founding partner of an "avoided deforestation" policy group. In an interview with mongabay.com, Jeff Horowitz of the Berkeley-based Avoided Deforestation Partners argues that U.S. policy initiatives could serve as a catalyst for the emergence and growth of a carbon credits market for forest conservation. REDD or Reducing Emissions from Deforestation and Degradation is a proposed policy mechanism that would compensate tropical countries for safeguarding their forests. Because deforestation accounts for around a fifth of global greenhouse gas emissions, efforts to reduce deforestation can help fight climate change. Forest protection also offers ancillary benefits like the preservation of ecosystem services, biodiversity, and a homeland for indigenous people.


Investing to save rainforests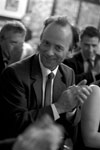 (04/02/2008) Last week London-based Canopy Capital, a private equity firm, announced a historic deal to preserve the rainforest of Iwokrama, a 371,000-hectare reserve in the South American country of Guyana. In exchange for funding a "significant" part of Iwokrama's $1.2 million research and conservation program on an ongoing basis, Canopy Capital secured the right to develop value for environmental services provided by the reserve. Essentially the financial firm has bet that the services generated by a living rainforest — including rainfall generation, climate regulation, biodiversity maintenance and carbon storage — will eventually be valuable in international markets. Hylton Murray-Philipson, director of Canopy Capital, says the agreement — which returns 80 percent of the proceeds to the people of Guyana — could set the stage for an era where forest conservation is driven by the pursuit of profit rather than overt altruistic concerns.


Private equity firm buys rights to ecosystem services of Guyana rainforest

(03/27/2008) A private equity firm has purchased the rights to environmental services generated by 371,000 hectare rainforest reserve in Guyana. Terms of the deal were not disclosed, but the agreement is precedent-setting in that a financial firm is betting that the services generated by a living rainforest — including rainfall generation, climate regulation, biodiversity maintenance and water storage — will eventually see compensation in international markets.


Prince Charles says protecting forests vital against climate change 'doomsday clock'

(02/15/2008) Long-time environmental activist, Prince Charles delivered an impassioned speech yesterday to the European Parliament on global warming and the importance of rainforest conservation in mitigating the crises.


Norway puts $560m toward rainforest conservation

(12/09/2007) Norway will commit NOK 3 billion ($560m) to rainforest conservation efforts in an effort to slow climate change, reports Aftenposten, a Norwegian newspaper.


REDD will fail if needs of forest communities aren't addressed

(12/07/2007) Initiatives to reduce emissions by reducing tropical deforestation (REDD) will fail unless policymakers adequately address the underlying drivers of forest degradation and destruction, argues a new report published by the Center for International Forestry Research (CIFOR).


Merrill Lynch announces carbon credits-for-forest conservation partnership

(12/06/2007) Merrill Lynch is working with Carbon conservation, an ecosystem services firms, to explore opportunities in avoided deforestation and integrated sustainable land management. The partnership was announced Thursday in Bali, Indonesia, where more than 10,000 policymakers, scientists, and activists are meeting to discuss a post-Kyoto framework on limiting climate change.


Global warming accelerates destruction of the Amazon

(12/06/2007) Deforestation and climate change could damage or destroy as much as 60 percent of the Amazon rainforest by 2030, according to a new report from environmental group WWF. The report, The Amazon's Vicious Cycles: Drought and Fire in the Greenhouse, shows that degradation in the Amazon could release 55-97 million tons of carbon dioxide by 2030. Forest loss could also dramatically impact water cycles in the region, affecting rainfall that is critical for river flows and agriculture.


U.S. to cut funding for rainforest conservation during Bali climate talks

(12/06/2007) While delegates meet in Bali to discuss a post-Kyoto framework on climate change, it appears likely that the U.S. Treasury Department will cut funding for the Tropical Forest conservation Act (TFCA), the largest pool of U.S. government money exclusively for helping developing countries conserve threatened tropical forests, according to the Tropical Forest Group, a forest policy group based in Santa Barbara.


Kyoto pact ignores CO2 emissions from biofuels

(12/05/2007) The Kyoto climate pact, as it currently stands, ignores millions of tons of carbon dioxide emissions from the drainage of peatsoils for palm oil production in Indonesia and Malaysia, warnned Wetlands International, an international NGO, in a report released at the UN climate meeting in Bali.


Returns from carbon offsets could beat palm oil in Congo DRC

(12/04/2007) A proposal to pay the Democratic of Congo (DRC) for reducing deforestation could add 15-50 percent to the amount of international aid given to the warn-torn country, reports a new study published by scientists at the Woods Hole Research Center (WHRC). The funds would help alleviate rural poverty while cutting emissions of greenhouse gases and protecting threatened biodiversity.


Amazon deforestation could be eliminated with carbon priced at $3

(12/04/2007) The Amazon rainforest could play a major part in reducing greenhouse gas emissions that result from deforestation, reports a new study published by scientists at the Woods Hole Research Center, the Instituto de Pesquisa Ambiental da Amazônia, and the Universidade Federal de Minas Gerais. At a carbon price of $3 per ton, protecting the Amazon for its carbon value could outweigh the opportunity costs of forgoing logging, cattle ranching, and soy expansion in the region. 2008 certified emission-reduction credits for carbon currently trade at more than $90 per ton ($25 per ton of CO2).


Ground-breaking Amazon rainforest imagery will help monitor deforestation

(11/27/2007) Scientists have developed a ground-breaking high resolution snapshot of 400,000 square kilometers of Amazon rainforest. The work will help researchers remotely monitor deforestation, according to the Woods Hole Research Center (WHRC).


Dutch bank arranges carbon-conservation deal in the Amazon rainforest

(11/27/2007) Dutch bank Rabobank will launch the first-ever carbon credits project in the Xingu region of the Brazilian Amazon, reports The Financial Times.


Carbon credits for forest conservation concept faces challenges

(11/27/2007) While environmentalists, scientists, development exports, and policymakers across the political spectrum are ethusiastic about the idea of offsetting carbon emissions by preventing deforestation (a concept known as "avoided deforestation" or Reduced Emissions from Deforestation and Degradation (REDD)), the concept still faces many challenges, especially in implementation.


Can wildlife conservation banking generate investment returns?

(11/27/2007) A commercial venture in the Malaysian rainforest will seek to generate competitive returns on investment by protecting wildlife. The scheme -- signed by the Sabah government and Sydney-based New Forests Pty Ltd -- will establish a wildlife habitat conservation bank to manage the 34,000 ha Malua Forest Reserve on the island of Borneo.


7-year old nature guide becomes Belize environmental hero as adult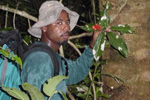 (11/16/2007) Each year hundreds of thousands of nature-oriented tourists visit Belize to see the Central American country's spectacular coral reefs, biodiverse rainforests, and ancient Mayan ruins. However few visitors realize that Belize's natural resources are at risk. Timber and oil extraction, agricultural encroachment, coastal development, pollution and unrestrained tourism are all increasing threats to Belizean ecosystems. Unless something is done to address these concerns, within a generation these pressures could present considerable problems for Belize. Dr. Colin Young, head of the environmental science program at Galen University in Belize, says that while he is greatly concerned about these issues, there is still time to ensure healthy forests and reefs in Belize.


Subtle threats could ruin the Amazon rainforest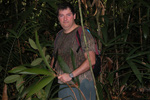 (11/07/2007) While the mention of Amazon destruction usually conjures up images of vast stretches of felled and burned rainforest trees, cattle ranches, and vast soybean farms, some of the biggest threats to the Amazon rainforest are barely perceptible from above. Selective logging -- which opens up the forest canopy and allows winds and sunlight to dry leaf litter on the forest floor -- and 6-inch high "surface" fires are turning parts of the Amazon into a tinderbox, putting the world's largest rainforest at risk of ever-more severe forest fires. At the same time, market-driven hunting is impoverishing some areas of seed dispersers and predators, making it more difficult for forests to recover. Climate change -- an its forecast impacts on the Amazon basin -- further looms large over the horizon.


Madagascar fires mapped with Google Earth in real-time

(10/29/2007) Every year as much as one-third of Madagascar, one of the planet's most biodiverse islands, goes up in flames. Now a new tool gives scientists the ability to monitor and track Madagascar's fires in real-time through the Internet.


Costa Rica gets $26M debt-for-nature swap

(10/18/2007) Under an agreement signed Wednesday by the governments of the United States and environmental groups, $26 million of Costa Rican debt will be forgiven in exchange for tropical forest conservation. The debt-for-nature swap comes under the Tropical Forest conservation Act of 1998, legislation intended to allow eligible developing countries to forego paying back debt owed to the U.S. in exchange for supporting local tropical forest conservation activities.


Environmentalists announce support for carbon trading

(09/14/2007) A coalition of environmental groups announced it will support the development of carbon trading policies that help protect tropical rainforests and other important ecosystems, noting that "conservation alone has proven no match for commerce."


China urged to join sustainable soy efforts in the Amazon

(09/12/2007) Brazilian soy crushers have urged China to join an alliance to promote sustainable soybean production in the Amazon, according to Reuters. Brazil, soon to be the world's largest producer of soybeans, recently formed the Global Roundtable on Responsible Soy Association as concerns grow that global demand for biofuels will level the Amazon rainforest. Environmentalists say demand from China is playing an important role in surging soybean production in the region.


NGOs should use palm oil to drive conservation

(08/29/2007) Environmentalists view the expansion of oil palm plantations in southeast Asia as one of the greatest threats to the region's forests and biodiversity. Campaigners say oil palm is driving the conversion of tens of thousands of hectares of peatlands and lowland forest in Indonesia and Malaysia, putting wildlife at risk, increasing the vulnerability of the forests to fires, and triggering large emissions of greenhouse gases. Pressure from these groups have in recent months convinced European policymakers to reconsider sourcing energy crop production to the region.


Amazon deforestation in Brazil falls 29% for 2007

(08/13/2007) Deforestation in the Brazilian Amazon fell 29 percent for the 2006-2007 year, compared with the prior period. The loss of 3,863 square miles (10,010 square kilometers) of rainforest was the lowest since the Brazilian government started tracking deforestation on a yearly basis in 1988.


Amazon deforestation rate falls to lowest on record

(08/10/2007) Deforestation rates in the Brazilian Amazon for the previous year were the lowest on record, according to preliminary figures released by INPE, Brazil's National Institute of Space Research.


Experts: parks effectively protect rainforest in Peru

(08/09/2007) High-resolution satellite monitoring of the Amazon rainforest in Peru shows that land-use and conservation policies have had a measurable impact on deforestation rates. The research is published in the August 9, 2007, on-line edition of Science Express.


Australia funds first global deforestation monitoring system

(07/23/2007) At a High Level Meeting on Forests and Climate being held in Sydney, Australia today announced a series of measures to slow deforestation and fight global warming.


Is peat swamp worth more than palm oil plantations?

(07/16/2007) Could peat swamp be worth more intact for their carbon value than palm oil plantations for their oil? Quick analysis suggests yes, though binding limits on emissions will be needed to trigger the largest ever flow of money from the industrialized world to developing countries. At stake: the bulk of the world's biodiversity.


An interview with author and eco-lodge pioneer Jack Ewing



(06/12/2007) In 1970 a young man went to Costa Rica, a place he initially confused with Puerto Rico, on an assignment to accompany 150 head of cattle. 37 years and several lifetimes' worth of adventures later, Jack Ewing runs a eco-lodge that serves as a model for a country now considered the world leader in nature travel.


World Bank to raise $250M for avoided deforestation in tropics

(06/11/2007) The World Bank will soon launch an "avoided deforestation" pilot project that will pay tropical countries for preserving their forests, reports The Wall Street Journal. The $250 million fund will reward Indonesia, Brazil, Congo and other tropical forest countries for offsetting global warming emissions. Tropical deforestation accounts for roughly 20 percent of global greenhouse gas emissions, but slowing deforestation slows emissions of heat-trapping emissions. Researchers estimate that "avoided deforestation" schemes may be one of the most cost effective ways to slow climate change. Further, avoided deforestation offers simultaneous benefits including preservation of ecosystem services and biodiversity.


Google helps protect Amazon rainforest

(06/10/2007) Google is working with a indigenous tribe deep in the Amazon rainforest to protect their lands from illegal encroachment, reports the San Francisco Chronicle. For the first time, Google has confirmed details of the project. Working in conjuction with the Amazon conservation Team, Google Earth's technology is being used to monitor illegal mining and logging that threaten the lands of the Surui tribe in Brazil. Google is working with satellite providers to significantly improve image resolution in some of the most remote parts of the Amazon basin.


Can cattle ranchers and soy farmers save the Amazon?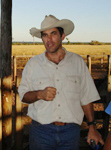 (06/06/2007) John Cain Carter, a Texas rancher who moved to the heart of the Amazon 11 years ago and founded what is perhaps the most innovative organization working in the Amazon, Alianca da Terra, believes the only way to save the Amazon is through the market. Carter says that by giving producers incentives to reduce their impact on the forest, the market can succeed where conservation efforts have failed. What is most remarkable about Alianca's system is that it has the potential to be applied to any commodity anywhere in the world. That means palm oil in Borneo could be certified just as easily as sugar cane in Brazil or sheep in New Zealand. By addressing the supply chain, tracing agricultural products back to the specific fields where they were produced, the system offers perhaps the best market-based solution to combating deforestation. Combining these approaches with large-scale land conservation and scientific research offers what may be the best hope for saving the Amazon.


Globalization could save the Amazon rainforest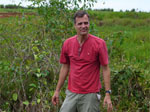 (06/03/2007) The Amazon basin is home to the world's largest rainforest, an ecosystem that supports perhaps 30 percent of the world's terrestrial species, stores vast amounts of carbon, and exerts considerable influence on global weather patterns and climate. Few would dispute that it is one of the planet's most important landscapes. Despite its scale, the Amazon is also one of the fastest changing ecosystems, largely as a result of human activities, including deforestation, forest fires, and, increasingly, climate change. Few people understand these impacts better than Dr. Daniel Nepstad, one of the world's foremost experts on the Amazon rainforest. Now head of the Woods Hole Research Center's Amazon program in Belem, Brazil, Nepstad has spent more than 23 years in the Amazon, studying subjects ranging from forest fires and forest management policy to sustainable development. Nepstad says the Amazon is presently at a point unlike any he's ever seen, one where there are unparalleled risks and opportunities. While he's hopeful about some of the trends, he knows the Amazon faces difficult and immediate challenges.


Reducing tropical deforestation will help fight global warming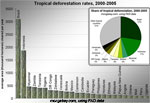 (05/10/2007) Scientists have lent support to a plan by developing countries to fight global warming by reducing deforestation rates. Tropical deforestation releases more than 1.5 billion metric tons of carbon into the atmosphere every year, though in some years, like the 1997-1998 el Nino year when fires released some 2 billion tons of carbon from peat swamps alone in Indonesia, emissions are more than twice that. Writing in the journal Science, an international team of scientists argue that the Reducing Emissions from Deforestation (RED) initiative, launched in 2005 by the United Nations Framework Convention on Climate Change, is scientifically and technologically sound, and that political and economic challenges facing the plan can be overcome.



Page 1 | Page 2 | Page 3 | Page 4 | Page 5 | Page 6 | Page 7 | Page 8 | Page 9 | Page 10 | Page 11