News articles on rainforest conservation

---
Mongabay.com news articles on rainforest conservation in blog format. Updated regularly.





Learning to live with elephants in Malaysia


(09/18/2012) Humans and elephants have a lot in common: both are highly intelligent, intensely social, and both are capable of having a massive impact on their local environments. Given their similarities, it might not be surprising that elephants and human have often run afoul of one another. Conflict between these two great species has probably been going on for thousands of years, but as human populations have grown dramatically, elephant populations have been crippled and forced into smaller-and-smaller pockets. No-where is this more true than in Southeast Asia.


Pictures: Bolivian park may have the world's highest biodiversity


(09/12/2012) With over 90 species of bat, 50 species of snake, 300 fish, 12,000 plants, and 11 percent of the world's bird species, Madidi National Park in Bolivia may be the world's most biodiverse place, according to new surveys by the the Bolivian Park Service (SERNAP) with aid from the Wildlife Conservation Society (WCS).


Photos: camera traps capture wildlife bonanza in Borneo forest corridor


(09/10/2012) Camera traps placed in a corridor connecting two forest fragments have revealed (in stunning visuals) the importance of such linkages for Borneo's imperiled mammals and birds. Over 18 months, researchers with the Sabah Wildlife Department (SWD) and the Danau Girang Field Centre (DGFC) have photographed wildlife utilizing the corridor located in the Lower Kinabatangan Wildlife Sanctuary in Malaysian Borneo.


New contest seeks for-profit efforts to save rainforests

(09/04/2012) The World Wide Fund for Nature (WWF)-Switzerland has kick-started a new contest to award innovative ideas devoted to protecting tropical forests. Focusing on for-profit enterprises, the Tropical Forest Challenge will reward the best idea, startup, and company as voted by the public.


Indigenous groups in Panama wait for UN REDD to meet promises


(08/30/2012) A dispute over the implementation of REDD+ (Reducing Emissions from Deforestation and Degradation) in Panama has pitted the United Nations (UN) against the nation's diverse and large indigenous groups. Represented by the National Coordinator of Indigenous Peoples in Panama (COONAPIP), indigenous groups charge that the UN has failed to meet several pledges related to kick-starting REDD+ with their support, including delaying a $1.79 million payment to the group to begin REDD+-related activities. The on-going dispute highlights the perils and complexities of implementing REDD+, especially concerns that the program might disenfranchise indigenous groups who have long been the stewards of their forest territories.


Private reserve safeguards newly discovered frogs in Ecuadorian cloud forest


(08/28/2012) Although it covers only 430 hectares (1,063 acres) of the little-known Chocó forest in Ecuador, the private reserve las Gralarias in Ecuador is home to an incredible explosion of life. Long known as a birder's paradise, the Reserva las Gralarias is now making a name for itself as a hotspot for new and endangered amphibians, as well as hundreds of stunning species of butterfly and moth. This is because the reserve is set in the perfect place for evolution to run wild: cloud forest spanning vast elevational shifts. "The pacific slope cloud forests [...] are among the most endangered habitats in the world," explains Reserva las Gralarias' founder, Jane Lyons, in a recent interview with mongabay.com.


Recommendations to save India's Western Ghats creates political stir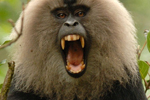 (08/20/2012) A massive expert panel report on the conservation of the Western Ghats has caused a political stir in India. The report, headed by noted ecologist Madhav Gadgil, recommends that the government phase out mining projects, cancel damaging hydroelectric projects, and move toward organic agriculture in ecologically-sensitive sections of the Ghats. The report, which was leaked after the government refused to release it, has yet to be implemented. Recently dubbed a UNESCO World Heritage Site, the Western Ghats is one of India's largest wildernesses and home to thousands of species, many found no-where else.


Key mammals dying off in rainforest fragments


(08/15/2012) When the Portuguese first arrived on the shores of what is now Brazil, a massive forest waited for them. Not the Amazon, but the Atlantic Forest, stretching for over 1.2 million kilometers. Here jaguars, the continent's apex predator, stalked peccaries, while tapirs waded in rivers and giant anteaters unearthed termites mounds. Here, also, the Tupi people numbered around a million people. Now, almost all of this gone: 93 percent of the Atlantic Forest has been converted to agriculture, pasture, and cities, the bulk of it lost since the 1940s. The Tupi people are largely vanished due to slavery and disease, and, according to a new study in the open access journal PLoS ONE, so are many of the forest's megafauna, from jaguars to giant anteaters.


Evidence of 'isolated' indigenous people found in Peru where priest is pushing highway

(08/14/2012) Evidence of indigenous people living in "voluntary isolation" in a remote part of the Amazon has been found where an Italian Catholic priest is campaigning for Peru's government to build a highway. The discovery is controversial because the priest has questioned the existence of the isolated people, sometimes referred to as uncontacted, who live without regular contact with anyone else.


Hundreds of hotspots burn Tesso Nilo National Park, threatening elephants


(08/08/2012) From June to July, hundreds of fires spread in Tesso Nilo National Park in Indonesia. Based on the data from World Wide Fund for Wildlife (WWF) Program-Riau, fire hotspots reached their peak in the third week of June. As of early July, fires, which were triggered a month earlier, could not be totally extinguished.


Cambodia's largest lowland rainforest spared from new land concessions

(08/06/2012) Four economic land concessions have been cancelled in Cambodia's Prey Lang forest, known as the largest intact lowland forest in Southeast Asia, reports the Phnom Penh Post. The economic land concessions, totaling over 40,000 hectares, would have been used for rubber plantations.


'National scandal:' foreign companies stripped Papua New Guinea of community-owned forests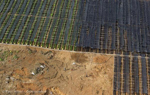 (07/30/2012) Eleven percent of Papua New Guinea's land area has been handed over to foreign corporations and companies lacking community representation, according to a new report by Greenpeace. The land has been granted under controversial government agreements known as Special Agricultural and Business Leases (SABLs), which scientists have long warned has undercut traditional landholding rights in the country and decimated many of Papua New Guinea's biodiverse rainforests. To date, 72 SABLs have been granted—mostly to logging companies—covering an area totaling 5.1 million hectares or the size of Costa Rica.


Guyana rainforests secure trust fund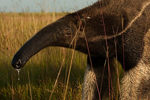 (07/30/2012) The nation of Guyana sports some of South America's most intact and least-imperiled rainforests, and a new $8.5 million trust fund hopes to keep it that way. The Guyanese government has teamed up with Germany and Conservation International (CI) to create a long-term trust fund to manage the country's protected areas system (PAS).


Half of tropical forest parks losing biodiversity


(07/25/2012) Governments have set up protected areas, in part, to act as reservoirs for our Earth's stunning biodiversity; no where is this more true than in the world's tropical forests, which contain around half of our planet's species. However a new study in Nature finds that wildlife in many of the world's rainforest parks remains imperiled by human pressures both inside and outside the reserves, threatening to undercut global conservation efforts. Looking at a representative 60 protected areas across 36 tropical nations, the scientists found that about half the parks suffered an "erosion of biodiversity" over the last 20-30 years.


Experts: sustainable logging in rainforests impossible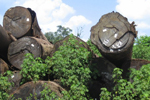 (07/19/2012) Industrial logging in primary tropical forests that is both sustainable and profitable is impossible, argues a new study in Bioscience, which finds that the ecology of tropical hardwoods makes logging with truly sustainable practices not only impractical, but completely unprofitable. Given this, the researchers recommend industrial logging subsidies be dropped from the UN's Reducing Emissions from Deforestation and Forest Degradation (REDD+) program. The study, which adds to the growing debate about the role of logging in tropical forests, counters recent research making the case that well-managed logging in old-growth rainforests could provide a "middle way" between conservation and outright conversion of forests to monocultures or pasture.


Scientists propose a new way forward on orangutan conservation


(07/16/2012) Orangutans are in dire need of a revised conservation approach, according to a new study in the Annals of the New York Academy of Sciences. While the plight of the species is widely recognized within the conservation community—receiving international attention in the form of scientific research, funding, and NGO efforts—the authors argue that "there has been frustratingly little progress."


Still time to save most species in the Brazilian Amazon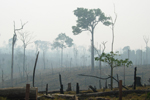 (07/12/2012) Once habitat is lost or degraded, a species doesn't just wink out of existence: it takes time, often several generations, before a species vanishes for good. A new study in Science investigates this process, called "extinction debt", in the Brazilian Amazon and finds that 80-90 percent of the predicted extinctions of birds, amphibians, and mammals have not yet occurred. But, unless urgent action is taken, the debt will be collected, and these species will vanish for good in the next few decades.


Poacher known as 'Morgan' behind devastating massacre at Okapi Wildlife Reserve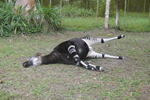 (07/05/2012) Officials have pointed to an infamous elephant poacher known as 'Morgan' as the head of the murderous attack at the Okapi Wildlife Reserve station in the Democratic Republic of the Congo (DRC) late last month. The attack by Morgan and his crew left seven people dead, including two wildlife rangers. The poachers also shot dead 13 captive okapis at the headquarters, which were considered ambassadors for the imperiled forest. One okapi remains alive, but injured and conservationists are not optimistic about its survival. UNESCO and the the NGO Fauna and Flora international have issued an emergency appeal to raise $120,000 dollars within two weeks for the victim's families as well as for rapidly rebuilding the station.


Experts dispute recent study that claims little impact by pre-Columbian tribes in Amazon


(07/05/2012) A study last month in the journal Science argued that pre-Columbian peoples had little impact on the western and central Amazon, going against a recently composed picture of the early Amazon inhabited by large, sophisticated populations influencing both the forest and its biodiversity. The new study, based on hundreds of soil samples, theorizes that indigenous populations in much of the Amazon were tiny and always on the move, largely sticking to rivers and practicing marginal agriculture. However, the study raised eyebrows as soon as it was released, including those of notable researchers who openly criticized its methods and pointed out omissions in the paper, such as no mention of hundreds of geoglyphs, manmade earthen structures, found in the region.


Forgotten species: the overlooked Sumatran striped rabbit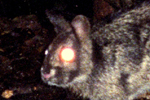 (06/28/2012) When you read the words 'Sumatra' and 'Endangered Species' in the same sentence there is a 99 percent chance that you will be reading about one of four animals: orangutans, tigers, elephants, or rhinos. These big four of Sumatra have become the rallying cry to save the island's ever-dwindling forests. This is not surprising, given that these species include some of the world's most publicly beloved animals and, in addition, they are all considered Critically Endangered by the IUCN Red List. But by dominating the headlines in Sumatra's deforestation crisis, these four species often overshadow the thousands of other species found on the island, many of which also face extinction. In fact when you read the words 'Sumatra' and 'Endangered Species' you will almost certainly not be reading about the Sumatran striped rabbit.


Congolese experts needed to protect Congo Basin rainforests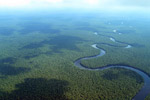 (06/20/2012) This summer, the Democratic Republic of Congo (DRC) is expected to approve a new higher education strategy which the country has developed with the World Bank and other international donors. The shape of this educational reform initiative will be critical to Congo's future in many ways. It could finally offer Congo's long-suffering people a route into the 21st century. It will also help determine the future of the DRC's forests. Nearly half of the Congo Basin's remaining rainforest is in the DRC—yet the critical role of Congolese experts in forestry, agricultural science, wildlife management and other rural sciences in protecting this forest is not widely recognized.


Over 700 people killed defending forest and land rights in past ten years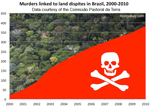 (06/19/2012) On May 24th, 2011, forest activist José Cláudio Ribeiro da Silva and his wife, Maria do Espírito Santo da Silva, were gunned down in an ambush in the Brazilian state of Pará. A longtime activist, José Cláudio Ribeiro da Silva had made a name for himself for openly criticizing illegal logging in the state which is rife with deforestation. The killers even cut off the ears of the da Silvas, a common practice of assassins in Brazil to prove to their employers that they had committed the deed. Less than a year before he was murdered, da Silva warned in a TEDx Talk, "I could get a bullet in my head at any moment...because I denounce the loggers and charcoal producers."


Indigenous rights rising in tropical forests, but big gaps remain


(05/31/2012) In the last twenty years, rights for indigenous forest dwellers have expanded significantly, according to a new report by the Rights and Resources Initiative (RRI). Covering nearly thirty tropical forest countries, the report finds that indigenous people now hold rights to 31 percent of the forest land in these countries, rising from 21 percent in 1992. However, landmark land rights for indigenous people remain imperiled by lack of enforcement, land-grabbing, government ambivalence, and industrial development. The report comes less than a month before the Rio+20 Summit on Sustainable Development, a meeting of global leaders that marks two decades since the Rio Earth Summit.


Herp paradise preserved in Guatemala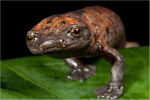 (05/29/2012) Fifteen conservation groups have banded together to save around 2,400 hectares (6,000 acres) of primary rainforest in Guatemala, home to a dozen imperiled amphibians as well as the recently discovered Merendon palm pit viper (Bothriechis thalassinus). The new park, dubbed the Sierra Caral Amphibian Reserve, lies in the Guatemalan mountains on the border with Honduras in a region that has been called the most important conservation area in Guatemala.


Tribe partners to protect Argentina's most endangered forest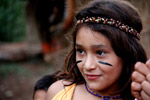 (05/17/2012) Last month, three Guarani communities, the local Argentine government of Misiones, and the UK-based NGO World Land Trust forged an agreement to create a nature reserve connecting three protected areas in the fractured, and almost extinct, Atlantic Forest. Dubbed the Emerald Green Corridor, the reserve protects 3,764 hectares (9,301 acres) in Argentina; although relatively small, the land connects three protected other protected areas creating a combined conservation area (41,000 hectares) around the size of Barbados in the greater Yaboti Biosphere Reserve. In Argentina only 1 percent of the historical Atlantic Forest survives.


Can loggers be conservationists?


(05/10/2012) Last year researchers took the first ever publicly-released video of an African golden cat (Profelis aurata) in a Gabon rainforest. This beautiful, but elusive, feline was filmed sitting docilely for the camera and chasing a bat. The least-known of Africa's wild cat species, the African golden cat has been difficult to study because it makes its home deep in the Congo rainforest. However, researchers didn't capture the cat on video in an untrammeled, pristine forest, but in a well-managed logging concession by Precious Woods Inc., where scientist's cameras also photographed gorillas, elephants, leopards, and duikers.


Cambodia suspends economic land concessions

(05/07/2012) Cambodian Prime Minister Hun Sen announced today that Cambodia would be temporarily suspending new economic land concessions and would revoke any concessions from companies involved in illegal logging, the evictions of locals or land-grabbing. The announcement comes two week after the high-profile death of local forest activist, Chut Wutty, who was shot and killed by military police while investigating illegal logging with two journalists.


Exploring Asia's lost world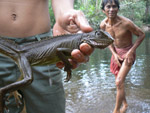 (05/03/2012) Abandoned by NGOs and the World Bank, carved out for rubber plantations and mining by the Cambodian government, spiraling into a chaos of poaching and illegal logging, and full of endangered species and never-explored places, Virachey National Park may be the world's greatest park that has been written off by the international community. But a new book by explorer and PhD student, Greg McCann, hopes to change that. Entitled Called Away by a Mountain Spirit: Journey to the Green Corridor, the book highlights expeditions by McCann into parts of Virachey that have rarely been seen by outsiders and have never been explored scientifically, including rare grasslands that once housed herds of Asian elephants, guar, and Sambar deer, before poachers drove them into hiding, and faraway mountains with rumors of tigers and mainland Javan rhinos.


Forest activist shot dead in Cambodia allegedly over photos of illegal logging

(04/26/2012) Chut Wutty, a prominent activist against illegal logging and deforestation, has been killed in the Koh Kong province of Cambodia. Wutty was shot dead at a military police checkpoint while traveling with two journalists with The Cambodia Daily. The journalists are currently being held for questioning by the military police.


Oil company Perenco endangering 'uncontacted' indigenous people, says Peru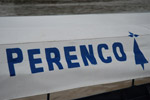 (04/25/2012) The company hoping to exploit the oil deposits slated to transform Peru's economy has been declared to be endangering the lives of indigenous people living in "voluntary isolation" by the country's indigenous affairs department (INDEPA). Perenco, an Anglo-French company with headquarters in London and Paris, is currently seeking approval from Peru's Energy Ministry (MEM) to develop its operations in the Loreto region in the north of the country.


Featured video: How to save the Amazon

(04/22/2012) The past ten years have seen unprecedented progress in fighting deforestation in the Amazon. Indigenous rights, payments for ecosystem services, government enforcement, satellite imagery, and a spirit of cooperation amongst old foes has resulted in a decline of 80 percent in Brazil's deforestation rates.


Mad frog bonanza: up to 36 new frogs discovered in tiny Madagascar forest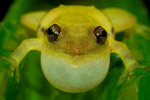 (04/19/2012) A forest less than half the size of Manhattan sports an astounding number of frogs, according to a new paper in Biodiversity Conservation. Two surveys of Madagascar's Betampona Nature Reserve, which covers 2,228 hectares, has uncovered 76 unique frogs, 36 of which may be new to science. To put this in perspective: the U.S. and Canada combined contain just 88 frog species, but cover an area nearly a million times larger than Betampona.


Indigenous groups oppose priest pushing for road through uncontacted tribes' land

(04/19/2012) A grassroots indigenous organization in Peru is calling for the removal of an Italian Catholic priest from the remote Amazon in response to his lobbying to build a highway through the country's biggest national park.


David vs. Goliath: Goldman Environmental Prize winners highlight development projects gone awry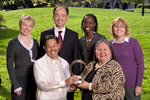 (04/16/2012) A controversial dam, a massive mine, poisonous pesticides, a devastating road, and criminal polluters: many of this year's Goldman Environmental Prize winners point to the dangers of poorly-planned, and ultimately destructive, development initiatives. The annual prize, which has been dubbed the Green Nobel Prize is awarded to six grassroots environmental heroes from around the world and includes a financial award of $150,000 for each winner.


Photos: the aye-aye of frogs rediscovered after 62 years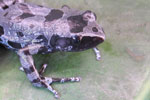 (03/27/2012) A pair of researchers have rediscovered a long-lost frog in the tiny African country of Burundi. Known as the Bururi long-fingered frog (Cardioglossa cyaneospila), the species hadn't been seen for over 60 years—since the Soviet Union tested its first nuclear weapon in 1949—but was rediscovered in Bururi Forest Reserve.


Indigenous groups fight for recognition and illumination in Peru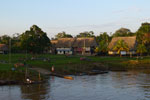 (03/26/2012) "Shh, wait here," Wilson told me. I ducked down behind the buttress of a large tree to wait. We had been walking through the jungle for a few hours. At first we followed a path through the undergrowth, a wet world of ferns, trunks and lianas speckled with the sunlight that made it down through the canopy and understory, but soon we simply walked along a route Wilson picked out. I had been trying to concentrate on the myriad sounds: cicadas were the background and various small birds tweeted from different points. We were listening and looking for signs that would lead us to prey—perhaps the calm whistle of a perdiz or the scent—marking of a boar—but just before Wilson became excited I had heard nothing. He stopped and said, "Red monkeys," pointing ahead.


Cloud forests may be particularly vulnerable to climate change

(03/26/2012) Mexico could lose nearly 70 percent of its cloud forests due to climate change by 2080, according to new research published in Nature Climate Change, that has implications for cloud forests worldwide.


Chimp conservation requires protecting fragmented river forests in Uganda

(03/19/2012) Forest fragments along riversides in Uganda may make good habitats for chimpanzees but remain unprotected, according to a new study in mongabay.com's open access journal Tropical Conservation Society (TCS). Researchers surveyed a riverine forest known as Bulindi in Uganda, in-between Budongo and Bugoma Forest Reserves, to determine if it was suitable for the long-term survival of eastern chimpanzee (Pan troglodytes schweinfurthii) populations.


Wildlife corridor key to conserving tigers, rhinos in Nepal

(03/19/2012) A single forest corridor links two of Nepal's great wildlife areas: Chitwan National Park and the Mahabharat mountain range, also known as the "little Himalayas." The Barandabhar Forest Corridor (BFC) has become essential for the long term survival Nepal's Indian rhinos (Rhinoceros unicornis) and Bengal tigers (Panthera tigris tigris). Yet, according to a new paper published in mongabay.com's open access journal Tropical Conservation Society (TCS), the corridor is imperiled by deforestation, a highway, and inconsistent management policies.


Airborne lasers discover undocumented deforestation in Belize park

(03/19/2012) A NASA funded expedition using airborne lasers to study ancient Mayan ruins has also documented widespread illegal deforestation in the Caracol Archaeological Reserve. The lasers found that forest disturbance was actually 58 percent greater than recent satellite surveys showed, according new study in mongabay.com's open access journal Tropical Conservation Society (TCS). Such deforestation not only imperils biodiversity, carbon storage, and migration routes for Central American species, but could also lead to plundering of the Maya site of Caracol.


How best to monitor biodiversity in REDD+ projects?


(03/19/2012) If done well, REDD+ projects (Reducing Emissions from Deforestation and Forest Degradation) may not only save carbon rich forests, but also protect embattled biodiversity. But what's the best way to ensure both and carbon and species are preserved under REDD+, a program that proposes to pay nations to keep forests standing? A new study in mongabay.com's open access journal Tropical Conservation Society (TCS) argues that a one-size-fits-all approach to monitoring biodiversity in REDD+ projects would not only be difficult to develop, but would likely fail given vast differences in forest ecology and threats worldwide. Instead local sites should develop monitoring programs based on a generally approved roadmap.


Oil exploration approved in Africa's oldest park, Virunga National Park

(03/19/2012) Permits for controversial oil exploration in Virunga National Park have been released after request by NGO Global Witness. Oil company, SOCO International, has confirmed it has received two permits to undertake preliminary exploration, including seismic tests, in the UNESCO World Heritage Site. Located in the Democratic Republic of Congo (DRC), Virunga is famous for its population of the Critically Endangered mountain gorillas (Gorilla beringei beringei).


Scientists say massive palm oil plantation will "cut the heart out" of Cameroon's rainforest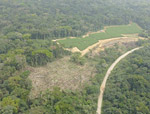 (03/15/2012) Eleven top scientists have slammed a proposed palm oil plantation in a Cameroonian rainforest surrounded by five protected areas. In an open letter, the researchers allege that Herakles Farm, which proposes the 70,000 hectare plantation in southwest Cameroon, has misled the government about the state of the forest to be cleared and has violated rules set by the Roundtable on Sustainable Palm Oil (RSPO), of which it's a member. The scientists, many of whom are considered leaders in their field, argue that the plantation will destroy rich forests, imperil endangered species, and sow conflict with local people.


Climate change could increase fires, logging, and hunting in rainforests


(03/13/2012) The combined impacts of deforestation and climate change will bring a host of new troubles for the world's tropical rainforests argues a new study in Trends in Ecology and Evolution. Drying rainforests due to climate change could lead to previously inaccessible forests falling to loggers, burning in unprecedented fires, or being overexploited by hunters.


Rally calls on Brazil President to veto new forest code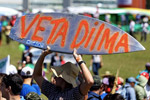 (03/07/2012) A coalition of 200 organizations, known as the Comitê Brasil in Defense of Forests and Sustainable Development, rallied today in Brasilia against proposed changes to Brazil's Forestry Code. The code, which was supposed to be voted on this week but has been delayed to shore up more support, would make changes in over 40-year-old code that some conservationists fear could lead to further deforestation in the Amazon. Protestors called on the President of Brazil, Dilma Rousseff, to veto the bill as it stands now, holding signs exclaiming, "Veta Dilma!" ("Veto it Dilma!").


Innovative program seeks to safeguard Peruvian Amazon from impacts of Inter-Oceanic Highway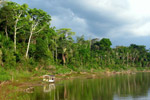 (03/06/2012) Arbio was begun by Michel Saini and Tatiana Espinosa Q. in the Peruvian Amazon region of Madre de Dios. The project focuses on a protective response to the increased encroachment and destructive land use driven by development. The recent construction of the Inter-Oceanic Highway in the Madre de Dios area presents an enormous threat to forest biodiversity. Arbio provides opportunities to help establish a buffer zone near the road to limit intrusive agricultural and deforestation activities.


World's most toxic frog gets new reserve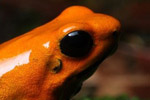 (03/05/2012) Touching a wild golden poison frog could kill you within minutes: in fact, a single golden poison frog, whose Latin name Phyllobates terribilis is even more evocative than its common one, is capable of killing 10 humans with its one milligram dose of poison. Yet the deadly nature of this tiny frog has not stopped it from nearing extinction. Now, in a bid to save the species, the World Land Trust (WLT) and Colombian NGO ProAves have teamed up to establish a 50 hectare (124 acres) reserve in the Chocó rainforest.


National Geographic linked to rainforest destruction


(03/01/2012) A new report by Greenpeace has found a direct link between National Geographic Society (NGS) products and rainforest destruction in Indonesia that threatens tigers and orangutans. An analysis on National Geographic books found Sumatran rainforest fiber from Asia Pulp and Paper (APP), a brand whose suppliers have been linked to rainforest destruction in Sumatra, and, in the most recent Greenpeace report, alleged illegal logging of protected rainforest trees. One of the world's largest non-profit science and educational organizations, National Geographic is known worldwide for its magazines, documentaries, and award-winning photos. The organization also has a long-standing history of championing environmental and conservation issues. However, National Geographic says it has not sourced APP paper for "several years."


Tourism for biodiversity in Tambopata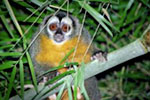 (02/27/2012) Research and exploration in the Neotropics are extraordinary, life-changing experiences. In the past two decades, a new generation of collaborative projects has emerged throughout Central and South America to provide access to tropical biodiversity. Scientists, local naturalists, guides, students and travelers now have the chance to mingle and share knowledge. Fusion programs offering immersion in tropical biology, travel, ecological field work, and adventure often support local wilderness preservation, inspire and educate visitors.


NASA map reveals the heights of the world's forests

(02/20/2012) The height of a forest is important in a number of different ways. First the taller a forest, the more likely there are important niche habitats in the canopy providing homes to unique species. In addition, a forests' height says something about its ability to sequester carbon: the taller a forest the more carbon it can hold. Now a team of researchers, led by NASA, has created the world's first global map showing the height of the world's forests (click here for interactive map), publishing their findings in the Journal of Geophysical Research.



Page 1 | Page 2 | Page 3 | Page 4 | Page 5 | Page 6 | Page 7 | Page 8 | Page 9 | Page 10 | Page 11 | Page 12