News articles on primates

---
Mongabay.com news articles on primates in blog format. Updated regularly.





Entertainment media skews public perception of chimpanzees in the wild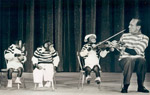 (11/14/2011) You've probably seen them: the TV ads showing chimpanzees wearing suits, driving cars, or smoking cigars. These ads may tickle our funny bone, but they warp our perceptions of how chimpanzees are faring in the wild, researchers at Duke University have found. The study, published October 12 in the journal PLoS ONE, examined whether watching commercials featuring chimpanzees influenced people's understanding of their endangered status.


Orangutans in Indonesian Borneo doomed to extinction?


(11/14/2011) A new study finds orangutans in Indonesian Borneo in unprotected areas are being killed at a rate faster than what population viability analysis considers sustainable. Conflict between orangutans and humans is worst in areas that have been fragmented and converted for timber, wood-pulp, and palm oil production, but hunting is occurring in relatively intact forest zones away from industrial development.


Critically Endangered lemurs disperse seeds, store carbon


(11/13/2011) Many tropical plants depend on other species to carry their progeny far-and-wide. Scientists are just beginning to unravel this phenomenon, known as seed dispersal, which is instrumental in supporting the diversity and richness of tropical forests. Researchers have identified a number of animal seed dispersers including birds, rodents, monkeys, elephants, and even fish. Now a new study in the Journal of Tropical Ecology adds another seed disperser to that list: the Critically Endangered black-and-white ruffed lemur (Varecia variegata). Capable of dispersing big tree species, the black-and-white ruffed lemur may even play a big role in carbon sequestration.


Animal picture of the day: crowned lemur and baby

(11/06/2011) Like all of the world's hundred-plus lemur species, the crowned lemur (Eulemur coronatus) is only found on the island of Madagascar. They inhabit the northern tip of the island.


If camera traps don't prove existence of Bigfoot or Yeti nothing will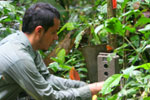 (10/13/2011) Let me state for the record that I am skeptical of the existence of Bigfoot or the Yeti, however I do have a fascination for following the latest news on the seemingly never-ending search for these hidden hominids. This week a Yeti conference in Russia announced 'indisputable proof' of the legendary hairy ape in the wilds of Southern Siberia. What did this proof consist of? Not DNA, photographs, video, or the Yeti itself (dead or alive) as one would expect from the word 'indisputable', but a few alleged Yeti hairs, an alleged bed, and alleged footprints. Cryptozoologists, those who are fascinated by hidden species such as the proposed Yeti and Bigfoot, don't serve their cause by stating the reality of a species without the evidence long-deemed necessary by scientific community to prove it—either a body or DNA samples combined with clear photographic evidence—instead they make themselves easy targets of scorn and ridicule.


'Indisputable proof' of Yeti discovered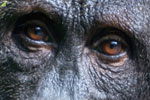 (10/10/2011) A conference has announced that given recent evidence they are 95 percent convinced the yeti, a mythical or perhaps actual primate, exists in the cold wilds of Siberia. Scientists and cryptozoologists (those who have a fascination for the 'study of hidden species' such as Bigfoot) met in the Kemerovo region of Russia to exchange information on the yeti, also known as the Abominable Snowman, and to conduct fieldwork. According to a statement from the conference, members found new evidence of the yeti's cryptic existence.


Gorilla poachers brutally murder forest ranger

(10/09/2011) Forest ranger, Zomedel Pierre Achille, was brutally murdered by gorilla poachers near Lobéké National Park in Cameroon, according to the World Wide Fund for Nature (WWF).


Little-known animal picture of the day: Thomas's leaf monkey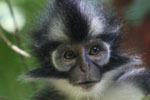 (10/06/2011) With unmistakable coloring and a philosophical, at times almost melancholy expression, the Thomas's leaf monkey (Presbytis thomasi) is one of Asia's little-known primates. Thomas's leaf monkey (also known as Thomas's langur) is found only on the island of Sumatra in Indonesia. The monkeys roam forests eating fruits and flowers, and sometimes snails, mushrooms, and coconut stalks.


Cute animal picture of the day: ginger-haired baby monkey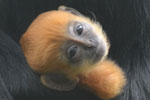 (09/29/2011) One of the world's most endangered primates recently gave birth to an orange-haired baby at the Zoological Society of London (ZSL) Zoo in London. It's the mother Francois langur (Trachypithecus francoisi)'s first birth. The fire-orange hair of the baby is typical of this species and will only last around six months.


Cute animal picture of the day: baby Bolivian gray titi monkey

(09/07/2011) The Bolivian gray titi monkey (Callicebus donacophilus) is found in a small area of the Amazon in Bolivia and Brazil.


Photo: new titi monkey discovered in Amazon area under siege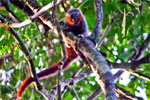 (08/25/2011) A new species of titi monkey has been discovered in the Brazilian Amazon. Found during a 2010 December expedition, this is the second new titi monkey discovered in the Amazon in three years. In 2008 another new titi, dubbed the Caquetá titi, was discovered in the Colombian Amazon, although it was only announced last year. An expedition backed by WWF-Brazil found the new titi between the Guariba River and the Roosevelt River in northwestern part of Mato Grosso, a state of Brazil known as a center of Amazon destruction.


Cameratraps take global snapshot of declining tropical mammals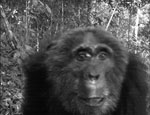 (08/17/2011) A groundbreaking cameratrap study has mapped the abundance, or lack thereof, of tropical mammal populations across seven countries in some of the world's most important rainforests. Undertaken by The Tropical Ecology Assessment and Monitoring Network (TEAM), the study found that habitat loss was having a critical impact on mammals. The study, which documented 105 mammals (nearly 2 percent of the world's known mammals) on three continents, also confirmed that mammals fared far better—both in diversity and abundance—in areas with continuous forest versus areas that had been degraded.


Animal picture of the day: ninja lemurs

(08/14/2011) On the ground Verreaux's Sifaka (Propithecus verreauxi) move in sideways jumps giving them the appearance of elegant dancers or dangerous ninjas.


Balancing agriculture and rainforest biodiversity in India's Western Ghats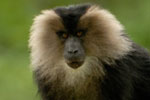 (08/08/2011) When one thinks of the world's great rainforests the Amazon, Congo, and the tropical forests of Southeast Asia and Indonesia usually come to mind. Rarely does India—home to over a billion people—make an appearance. But along India's west coast lies one of the world's great tropical forests and biodiversity hotspots, the Western Ghats. However it's not just the explosion of life one finds in the Western Ghats that make it notable, it's also the forest's long—and ongoing—relationship to humans, lots of humans. Unlike many of the world's other great rainforests, the Western Ghats has long been a region of agriculture. This is one place in the world where elephants walk through tea fields and tigers migrate across betel nut plantations. While wildlife has survived alongside humans for centuries in the region, continuing development, population growth and intensification of agriculture are putting increased pressure on this always-precarious relationship. In a recent paper in Biological Conservation, four researchers examine how well agricultural landscapes support biodiversity conservation in one of India's most species-rich landscapes.


Featured video: Trouble in Lemur Land

(08/08/2011) A new film, Trouble in Lemur Land, showcases the Critically Endangered silky sifaka (Propithecus candidus). With only some 300 silky sifaka's surviving in the wild, this large and distinct lemur is considered one of the top 25 most endangered primates in the world.


How fruit defines Borneo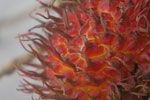 (08/01/2011) Among conservationists and biologists, the mega-island of Borneo is a sort of Mecca. Its rich plant and animal biodiversity, as well as high degree of endemism (unique species found nowhere else) make it a naturalist's dream. There is one aspect of this biological richness which applies to the wellbeing and happiness of all of Borneo's residents, human and animal, in a very direct way: fruit. From wild forest berries to juicy cultivated rambutans, fruit permeates the ecology, landscape and culture of Borneo. On the island there are over 70 wild fruit trees species and around 45 cultivated species that are consumed by people (1). Science has certainly not yet documented all the fruit consumed by wildlife, but we know that the total must be over 500 species.


Cute animal picture of the day: baby tarsier

(07/29/2011) The spectral tarsier of Sulawesi is one of the world's smallest primates, weighing roughly the equivalent ten U.S. quarters when full-grown.


How to fight organized wildlife crime in East Asia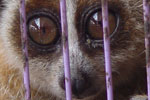 (07/27/2011) Organized criminal syndicates are wiping out some of the world's most charismatic wildlife to feed a growing appetite for animal parts in East Asia#8212;and so far governments and law enforcement are dropping the ball. This is the conclusion from a new paper in Oryx, which warns unless officials start taking wildlife crime seriously a number of important species could vanish from the Earth.


Saving (and studying) one of Nigeria's last montane forests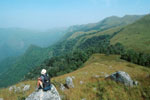 (07/26/2011) Between 2000 and 2010, Nigeria lost nearly a third (31 percent) of its forest cover, while its primary forests suffered even worse: in just five years (2000 to 2005) over half of the nation's primary forests were destroyed, the highest rate in the world during that time. Yet, Nigeria's dwindling forests have never received the same attention as many other country's, such as Indonesia, Brazil, Malaysia, or Peru, even though in many ways Nigeria struggles with even deeper problems than other developing nations. Despite vast oil business, the nation is plagued by poverty and destitution, a prime example of what economists call the 'resource curse'. Environmentally, it has been named one of the worst in the world. Yet, not all forest news out of Nigeria is bleak: the success of the Nigerian Montane Forest Project in one of the country's remaining forests is one such beacon of hope, and one example of how the country could move forward.


WWF partnering with companies that destroy rainforests, threaten endangered species


(07/25/2011) Arguably the globe's most well-known conservation organization, the World Wide Fund for Nature (WWF), has been facilitating illegal logging, vast deforestation, and human rights abuses by pairing up with notorious logging companies in a flagging effort to convert them to greener practices, alleges a new report by Global Witness. Through its program, the Global Forest and Trade Network (GFTN), WWF—known as World Wildlife Fund in the US and Canada—has become entangled with some dubious companies, including one that is imperiling orangutans in Borneo and another which has been accused of human rights abuses in the Congo rainforest. Even with such infractions, these companies are still able to tout connections to WWF and use its popular panda logo. The Global Witness report, entitled Pandering to the Loggers, calls for WWF to make large-scale changes in order to save the credibility of its corporate program.


Pictures: Researchers to track proboscis monkey in Borneo by satellite

(07/24/2011) Researchers with the Sabah Wildlife Department and Danau Girang Field Center in Malaysia have become the first to fit a proboscis monkey with a satellite tag.


Hundreds of Critically Endangered apes found in remote Vietnam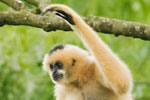 (07/18/2011) A new population—hundreds strong—of northern white-cheeked crested gibbon (Nomascus leucogenys) has been found in Vietnam by researchers with Conservation International (CI). The group estimates that around 130 gibbon groups—455 individuals—survive in Pu Mat National Park, making it the only known viable population of this species in the world and effectively tripling the global populations. Unfortunately, these newly-discovered gibbons are imperiled by road-building through the park.


Animal picture of the day: radio collaring a slow loris

(07/17/2011) Researchers in the Malaysian state of Sabah recently radio-collared a Bornean slow loris (Nycticebus menagensis) in order to study the little known species. A small, but big-eyed, primates slow loris spend the days sleeping and the night tracking prey, such as insects and lizards, with its large flashlight-like eyes.


Conservationists seek $15M for rarest chimp

(06/27/2011) A new conservation plan calls for $14.6 million to save the world's rarest subspecies of chimp: the Nigeria-Cameroon chimpanzee, reports the Wildlife Conservation Scoeity (WCS).


Over 80 percent of urban Congolese eat bushmeat

(06/27/2011) Bushmeat is one of the major threats to wildlife in parts of Africa: large and medium-sized animals are vanishing from regions in a trend dubbed by biologists the 'empty forest syndrome'. A number of popularly consumed species are also threatened with global extinction. A new study in mongabay.com's open access journal Tropical Conservation Science surveyed 1,050 households in Brazzaville, the capital of Republic of the Congo, regarding their consumption of bushmeat only to find that the practice was practically universal: 88.3 percent of households in Brazzaville consumed bushmeat.


FSC to continue allowing baboon killing on sustainably-certified plantations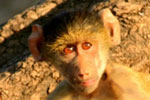 (06/23/2011) Shooting baboons will continue in Forest Stewardship Council (FSC)-certified plantations. After examining a complaint by the NGO GeaSphere against South African plantations for trapping and shooting hundreds of baboons, the FSC has announced it will not place a moratorium on baboon-killing in its sustainably-certified plantations.


Ahead of meeting, Forest Stewardship Council (FSC) loses another supporter

(06/19/2011) The forest organization, FERN, has pulled its support from the Forest Stewardship Council (FSC), reports FSC-Watch. FERN has quit the increasingly troubled organization due to FSC pursuing carbon credits through forestry. The FSC loses FERN just weeks before its 6th General Assembly, in which FSC partners—including private corporations and some environmental groups—will meet to debate current practices.


Richard Branson's pet lemur project is a terrible idea

(04/19/2011) Richard Branson's plan to introduce lemurs on one of his private islands in the Caribbean is a terrible idea if he really aims to protect the primates from extinction. Beyond the much-discussed ecological impact of bringing in non-native primates, Branson's scheme risks undermining conservation efforts where lemurs actually exist in the wild: Madagascar.


Photo: Population of world's biggest gorilla increases in Congo

(04/15/2011) A population of the world's largest subspecies of gorilla has increased despite ongoing human conflict, reports the Wildlife Conservation Society (WCS).


From the Serengeti to Lake Natron: is the Tanzanian government aiming to destroy its wildlife and lands?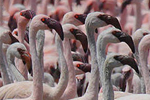 (04/14/2011) What's happening in Tanzania? This is a question making the rounds in conservation and environmental circles. Why is a nation that has so much invested in its wild lands and wild animals willing to pursue projects that appear destined not only to wreak havoc on the East African nation's world-famous wildlife and ecosystems, but to cripple its economically-important tourism industry? The most well known example is the proposed road bisecting Serengeti National Park, which scientists, conservationists, the UN, and foreign governments alike have condemned. But there are other concerns among conservationists, including the fast-tracking of soda ash mining in East Africa's most important breeding ground for millions of lesser flamingo, and the recent announcement to nullify an application for UNESCO Heritage Status for a portion of Tanzania's Eastern Arc Mountains, a threatened forest rich in species found no-where else. According to President Jakaya Kikwete, Tanzania is simply trying to provide for its poorest citizens (such as communities near the Serengeti and the Eastern Arc Mountains) while pursuing western-style industrial development.


Counting orangutans: the best way to survey the great apes

(03/28/2011) How do you count orangutans when they are difficult to spot in the wild given that they are shy, arboreal, and few and far between? To find a solution, biologists have turned to estimating orangutan populations by counting their nests, which the great apes make anew every night. In order to make the most accurate count possible, researchers have studied the different factors that could impact the success, or lack thereof, of nest-counters in mongabay.com's open access journal Tropical Conservation Science.


'Cute' umbrella video of slow loris threatens primate

(03/13/2011) A new video of a slow loris holding an umbrella in a pet store has been viewed nearly a million and a half times, yet such viral videos may imperil these 'cute' and endangered primates by encouraging an illegal and often cruel pet trade. "Most people who see them in this setting want one, too!" says Angelina Navarro-Montes, a graduate student at Oxford Brookes University who has conducted studies of the slow-loris Internet trade, told mongabay.com in 2009. "There is also a big misconception on [YouTube] and a lot of viewers think it's perfectly legal to have them as pets."


Critically endangered capuchins make tools to gather termites

(03/10/2011) Less than 200 blond capuchins (Cebus falvius) survive in the highly-fragmented habitat of Brazil's Atlantic Forest. But this tiny group of monkeys, only rediscovered in 2006, is surprising scientists with its adept tool-using abilities. Displaying similar behavior to that which made the chimpanzees of Gombe famous worldwide, the blond capuchins modify sticks to gather termites from trees; however, according to the study published in Biology Letters the blond capuchins use two techniques never witnessed before: twisting the stick when inside the termite nest and tapping the nest before inserting the stick.


Elephants cooperate as well as chimps

(03/07/2011) A new study proves that elephants understand how sometimes two is better than one. Working with Asian elephants (Elephas maximus) at the Thai Elephant Conservation Center, researchers reconstructed a classic cooperation test that was originally developed for chimpanzees. Subjects must pull on a rope to receive a reward, such as food, however—and here's the crux—the treat is only released if two subjects cooperate by pulling on two different ropes simultaneously. The paper published in Proceedings of the National Academy of Sciences found that elephants were as capable of cooperation as chimpanzees.


Oil company charged after allegedly forcing entry into Virunga National Park

(02/21/2011) The Democratic Republic of Congo's (DRC) national parks authority, ICCN, has filed a suit against oil company, SOCO International, for allegedly forcing entry into Virunga National Park. The legal row comes amid revelations that two oil companies, SOCO and Dominion Petroleum, are exploring the park for oil.


Complaint lodged at FSC for plantations killing baboons

(02/20/2011) The African environmental group, GeaSphere, has lodged a complaint with the Forest Stewardship Council's (FSC) for certifying tree plantations as sustainable that are culling baboons in South Africa, as first reported by FSC-Watch. The primates are trapped with bait and then shot. According to the complaint, "unofficial numbers from reliable sources state that more than 1000 baboons have been shot over the past 2 years" in Mpumalanga Province. Documents record permits given to cull 1,914 baboons in 13 separate plantations, however Philip Owen of GeaSphere says that plantations have refused to release official data on how many baboons have been killed.


Rehabilitated orangutans need guards in Borneo, says activist

(02/19/2011) 1,200 orangutans set for reintroduction into the wild in Indonesian Borneo will be immediately at risk from poaching and illegal logging, warned an orangutan welfare group.


Saving Madagascar's largest carnivorous mammal: the fossa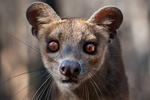 (02/17/2011) Madagascar is a land of wonders: dancing lemurs, thumbnail-sized chameleons, the long-fingered aye-aye, great baobab trees, and the mighty fossa. Wait—what? What's a fossa? It's true that when people think of Madagascar rarely do they think of its top predator, the fossa—even if they are one of the few who actually recognizes the animal. While the fossa gained a little notice in the first Madagascar film by DreamWorks, its role in the film was overshadowed by the lemurs. In this case, art imitates life: in conservation and research this feline-like predator has long lived in the shadow of its prey, the lemur. Even scientists are not certain what to do with the fossa: studies have shown that it's not quite a cat and not quite a mongoose and so the species—and its few Malagasy relatives—have been placed in their own family, the Eupleridae, of which the fossa (Cryptoprocta ferox) is the biggest. But if this is the first you've heard of such matter, don't feel bad: one of the world's only fossa-researchers, Mia-Lana Lührs also stumbled on the species.


Bushmeat trade pushing species to the edge in Tanzania

(02/06/2011) Hunters are decimating species in the Uzungwa Scarp Forest Reserve, a part of the Eastern Arc Mountains in Southern Tanzania, according to a new report compiled by international and Tanzanian conservationists. Incorporating three research projects, the report finds that bushmeat hunting in conjunction with forest degradation imperils the ecology of the protected area.


New hope for rare lemurs in Madagascar

(01/20/2011) A survey of a remote forest area in Madagascar turned up seven new groups of silky sifaka, a critically endangered lemur threatened by habitat destruction. The finding raises hope that the species—which is listed as one of the world's 25 most endangered primates—is surviving in Marojejy National Park despite an outbreak of illegal rosewood logging in 2009 and 2010.


UN and conservation organizations condemn big oil's plan to drill in Virunga National Park

(01/20/2011) WWF, the International Union for the Conservation of Nature (IUCN), and the UN have all recently expressed concerns about two oil companies' plan to explore for oil in Africa's oldest and famed Virunga National Park. Home to a quarter of the world's mountain gorillas, as well as chimpanzees, hippos, lions, forest elephants, and rare birds Virunga National Park in the Democratic Republic of Congo (DRC) is one of Africa's most biodiverse parks and is classified by the UN as a World Heritage Site. But according to WWF plans by oil companies SOCO International and Dominion Petroleum could jeopardize not only the wildlife and ecosystems, but also local people.


Lemur poaching continues in Madagascar [warning: graphic pictures]

(01/03/2011) A lemur poacher was intercepted with 32 dead lemurs on New Year's Eve in Madagascar's northeastern town of Vohemar, suggesting that killing of lemurs for the commercial bushmeat trade continues on the island nation, reports Fanamby, a Madagascar-based conservation group.


Lemur milestone: captive-born female successfully breeds with wild male

(01/01/2011) After 13 years of releasing captive-born lemurs into the wild, the Madagascar Fauna Group (MFG) has finally succeeded in breeding a captive-born black-and-white ruffed lemur female with a wild male, a pairing that last October produced twins in Betampona Natural Reserve. This is a milestone for lemur conservation, since it is the first time a captive-born lemur and a wild lemur have successfully mated and given birth.


Teaching orangutans to be wild – orangutan rehabilitation


(12/15/2010) Michelle Desilets, Executive Director of the Orangutan Land Trust, spoke with Laurel Neme on her 'The WildLife' radio show and podcast about the process of rehabilitating orphaned orangutans and teaching them to be wild. This is the second in a two-part interview. The first part covered orangutan biology, habits and the interconnected threats, from the pet trade to habitat loss and expansion of oil palm plantations, facing these creatures. This second part focuses on what happens to surviving orangutans.


Primatologists: the best hope for apes is the best hope for us


(12/15/2010) Distinguished conservation luminaries, eminent primate experts, ape-suited bucket wielders, a group of African drummers and nearly 1,500 people gathered in London last week for an evening of talks to shine the spotlight on the plight of apes and the forests in which they live, sending a strong message to the climate negotiators hammering out a REDD+ mechanism in Cancun. Hosted by conservation heavyweight Sir David Attenborough, Hope 4 Apes was something of a reunion of the first Hope 4 Apes event that took place ten years ago to raise awareness of -- and funding for -- ape conservation.


Picture: New lemur in Madagascar

(12/15/2010) Researchers have discovered a new species of lemur in Madagascar.


The problem-solving ape: what makes orangutans special and why they are threatened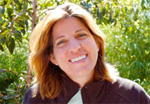 (12/13/2010) Michelle Desilets, Executive Director of the Orangutan Land Trust, spoke with Laurel Neme on her "The WildLife" radio show and podcast about orangutans. In the first part of her interview, they discussed orangutan biology, habits and the interconnected threats, from the pet trade to habitat loss and expansion of oil palm plantations, facing these creatures. The second part covers the process of rehabilitating orangutans and teaching them to be wild.


Mountain gorilla population up by 100 individuals

(12/07/2010) Conservation appears to be working for the Critically Endangered mountain gorilla (Gorilla beringei beringei) in the Virunga massif region, as a new census shows an additional 100 individuals from the last census in 2003, an increase of over a quarter. The Virunga massif is a region in three nations—Rwanda, the Democratic Republic of Congo, and Uganda—and covering three protected area.


Logging concession could extinguish endangered Sumatran elephant population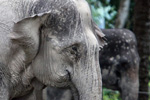 (11/30/2010) Local conservationists are urging the Indonesian government to halt the destruction of a 42,000 hectare forest in the renowned Bukit Tigapuluh Forest Landscape for a pulpwood plantation. According to researchers, the forest concession—owned by PT Lestari Asri Jaya, a subsidiary of Barito Pacific Group—contains the last population of Sumatran elephants (Elephas maximus sumatranus) in the Bukit Tigapuluh and approximately 5% of the island's total population. In a letter being sent to the Ministry of Forests, conservationists write that the destruction of the forest "would immediately lead to local extinction of elephants in Bukit Tigapuluh". They argue that given its ecological importance, the PT Lestari Asri Jaya forest concession should be placed under permanent protection.


New population of Critically Endangered monkey discovered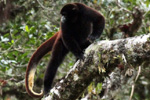 (11/22/2010) Classified as Critically Endangered by the IUCN Red List, listed among the Top 25 Most Endangered primates in the world, and rated number 71 on the EDGE's list of world's most endangered and unique mammals, the yellow-tailed woolly monkey needed some good news—and this week it got it. The conservation organization, Neotropical Primate Conservation (NPC), has announced the discovery of an unknown population of the yellow-tailed woolly monkey (Oreonax flavicauda), buttressing hopes that the species will survive in the long-term.



Page 1 | Page 2 | Page 3 | Page 4 | Page 5 | Page 6 | Page 7 | Page 8 | Page 9