News articles on poison arrow frogs

---
Mongabay.com news articles on poison arrow frogs in blog format. Updated regularly.






New study finds the brilliant-thighed poison frog can learn its way home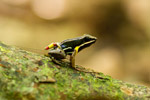 (05/12/2015) Poison dart frogs (Dendropatidae), named for their poisonous secretions used by indigenous tribes to coat blow gun darts, may possess another less deadly talent. According to a recent study, published in the journal Biology Letters, the curiously named brilliant-thighed poison frog (Allobatis femoralis) can use its memory to find its way home through the rainforest.
New poison dart frog needs immediate conservation plan
(12/15/2014) It was a surprising discovery in an unlikely location. In a leaf litter nearly four inches deep under a dense canopy of rainforest trees, researchers Marcos Ponce and Abel Batista with the Universidad Autónoma de Chiriquí worked to complete an inventory of endangered species in Panama's Isthmian-Atlantic moist forest. But they were both completely unsuspecting of what they were about to find: a new poison dart frog.
World's most toxic frog gets new reserve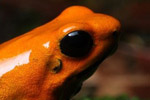 (03/05/2012) Touching a wild golden poison frog could kill you within minutes: in fact, a single golden poison frog, whose Latin name Phyllobates terribilis is even more evocative than its common one, is capable of killing 10 humans with its one milligram dose of poison. Yet the deadly nature of this tiny frog has not stopped it from nearing extinction. Now, in a bid to save the species, the World Land Trust (WLT) and Colombian NGO ProAves have teamed up to establish a 50 hectare (124 acres) reserve in the Chocó rainforest.
Poison frog diversity linked to the Andes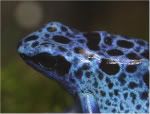 (03/10/2009) Electric colors, wild markings, and toxic skin have made poison frogs well-known inhabitants of the Amazon rainforest. With 353 recognized species, and probably more awaiting discovery, poison frogs are an incredibly diverse group of amphibians. While it has long been believed that the Amazon basin, itself, was the source of their diversity, a new study published in PLoS Biology has uncovered that the Andes mountain chain has served as an oven of evolutionary biodiversity for poison frogs over several million years.
New poison frog species discovered in Colombia

(08/28/2007) Scientists have discovered a previously unknown species of poison frog in a remote mountainous region in Colombia. The tiny frog has been dubbed the "golden frog of Supata" and lives only in a 20 hectare area in Colombia's Cundinamarca region.
Why poison dart frogs are poisonous
(05/14/2007) Mites -- not ants as long believed -- appear to be the primary source of toxins used by poison arrow frogs to defend against predators, reports new research published in the early online edition of Proceedings of the National Academy of Sciences (PNAS). Poison dart frogs, colorful amphibians with skin secretions so toxic that they are used by indigenous populations to poison the tips of hunting arrows, are one of several groups of animals capable of sequestering deadly compounds from dietary sources without being harmed. Until now, it was believed that ants were the primary source of these defensive skin alkaloids in frogs.
Frogs avoid damaging UV-B radiation, reducing extinction risk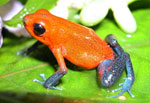 (04/18/2007) Poison arrow frogs appear to make special effort to avoid exposure to damaging ultraviolet-B radiation, according to research published in the journal Biotropica. The findings are significant in light of increasing levels of UV-B radiation due to ozone depletion.
Snake becomes poisonous by eating toxic frogs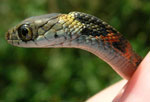 (01/29/2007) A new study shows that the Asian snake Rhabdophis tigrinus becomes poisonous by sequestering toxins from its prey which consists of venomous toads. While sequestering defensive toxins from prey is unusual among terrestrial vertebrates it is not unknown. Research published last year by Valerie C. Clark of Cornell University showed that poison dart frogs (Dendrobates species) and their Madagascar counterparts, the Mantella frogs, sequester toxic skin chemicals, called alkaloids, from the ants they eat. These alkaloids protect the frogs from predation. Similarly, some garter snakes are known to store tetrodotoxin from ingested newts while birds in New Guinea appear to sequester poisons from insects.
Harmless frogs gain protection by mimicking toxic species

(03/13/2006) When predators learn to avoid a highly toxic frog, they generalize, and this allows a harmless frog to mimic and be more abundant than a frog whose poison packs less punch, biologists at The University of Texas at Austin studying poison dart frogs in the Amazon have discovered.
Study discovers why poison dart frogs are toxic

(08/09/2005) A new study published in the current issue of The Proceedings of the National Academy of Sciences reports that poison dart frogs, as well as the Mantella poison frogs of Madagascar, derive their toxicity from the ants they eat. Specifically, both groups are frogs are capable of storing ants' toxic alkaloid molecules in their glands without being harmed.