News articles on poaching

---
Mongabay.com news articles on poaching in blog format. Updated regularly.








Illegal hunting threatens iconic animals across Africa's great savannas, especially predators
(10/25/2012) Bushmeat hunting has become a grave concern for species in West and Central Africa, but a new report notes that lesser-known illegal hunting in Africa's iconic savannas is also decimating some animals. Surprisingly, illegal hunting across eastern and southern Africa is hitting big predators particularly hard, such as cheetah, lion, leopard, and wild dog. Although rarely targets of hunters, these predators are running out of food due to overhunting and, in addition, often becoming victims of snares set out for other species.
Authorities confiscate 600 dead elephants' worth of ivory in Hong Kong

(10/22/2012) Hong Kong authorities have confiscated two massive shipments of elephant tusks, totaling 1,209 tusks, stemming from Kenya and Tanzania. Representing over 600 poached elephants, the shipments are estimated to be worth $3.4 million on the black market. African elephants are being decimated for their tusks in recent years with heavily-armed and well-connected poachers—backed by criminal syndicates—killing off whole herds in some cases.
South Africa hits another new record in rhino killings

(10/18/2012) Four hundred and fifty-five rhinos have been killed by poachers in South Africa since the beginning of the year. The number surpasses the record set last year (448) and proves that national efforts to stem poaching have not yet made a dent in actual killings. The mass killing has been spurred on by high demand for powdered rhino horn in Vietnam and China. A traditional curative in Asia, rhino horn has no medicinal properties according to scientists.
The world's 25 most endangered primates: nearly a quarter in Madagascar
(10/15/2012) A coalition of conservation groups released the biannual Top 25 Primates list today, including nine species not appearing on the 2010 list, at the UN's Convention on Biological Diversity (CBD) in Hyderabad, India. Madagascar tops the list as home to the most threatened primates, including six on the list. Following Madagascar, Vietnam contains five, Indonesia three, and Brazil two. In all, over half (54 percent) of the world's primates, which have been evaluated, are considered threatened by the IUCN Red List.
The riot over rhinos: how a luxury and illegal commodity is driving the slaughter of one of the world's iconic megafauna
(10/15/2012) 23,680 = the estimated number of wild rhinoceroses in South Africa. 35,000,000 = the number of American dollars generated by rhino hunting in South Africa. 97% = the percentage increase in illegally-hunted rhinos in 2011 from the national average in 1990. 30,000 = the number of pounds of rhino horns confiscated from poachers since 2010. 65 = the number of horns that have been stolen in South Africa from public display. 430...the number of rhinos killed this year, and counting...
In midst of rhino poaching epidemic, Lewa Wildlife Conservancy has happy problem: too many black rhinos
(10/02/2012) So far this year, South Africa has lost 430 rhinos to poachers, more than one animal a day. The epidemic of rhino poaching, fueled by demand for black-market powdered rhino horn in Vietnam and China, is decimating rhino species worldwide. In fact, last year saw the official extinction of two rhino subspecies: the Vietnamese rhino (Rhinoceros sondaicus annamiticus), a subspecies of the Javan, and the western black rhino (Diceros bicornis longipes), a subspecies of the black. However there is one place where rhinos still thrive. The Lewa Wildlife Conservancy in Kenya has found itself with a unique, but happy, problem: they have so many black rhinos, which are considered Critically Endangered by the IUNC Red List, that they need to move some to stop rhino-fights. In other words, their rhino population has hit its limit for the 25,000 hectare (62,000 acre) nonprofit protected area.
New website highlights the plight of the pangolin
(09/25/2012) Scaly, insect-devouring, nocturnal, and notoriously shy, pangolins are strange mammals who remain unknown to many. But they are facing a major crisis as they are stolen from the wild in East Asia to serve as meat or traditional medicine. In Asia, two of the four species are now listed as Endangered due largely to poaching. Now, a new expert group through the International Union for the Conservation of Nature (IUCN) aims to work toward better research and conservation of the world's imperiled pangolins, starting with launching a new website, PangolinSG.
Conflict and perseverance: rehabilitating a forgotten park in the Congo
(09/19/2012) Zebra racing across the yellow-green savannah is an iconic image for Africa, but imagine you're seeing this not in Kenya or South Africa, but in the Democratic Republic of Congo (DRC). Welcome to Upemba National Park: once a jewel in the African wildlife crown, this protected area has been decimated by civil war. Now, a new bold initiative by the Frankfurt Zoological Society (FZS), dubbed Forgotten Parks, is working to rehabilitate Upemba after not only decades of conflict but also poaching, neglect, and severe poverty.
Bushmeat consumption differs between communities in Tanzania

(09/17/2012) Bushmeat consumption depends on the make-up of individual communities, according to a new study in the open access journal Tropical Conservation Science. By interviewing indigenous groups and refugees living near two protected areas in western Tanzania, researchers found that consumption rates differed significantly, likely based on costliness and access.
Over 80 species targeted by hunters in Brazil's northeast

(09/17/2012) A new survey of hunting in Brazil's northeastern state of Paraíba, finds that hunters target, often illegally over 80 species for food, the pet trade, medicine, leather, fur, and ornaments. Over half of the species, mainly birds and mammals, are targeted for food, according to the research published in mongabay.com's open access journal Tropical Conservation Science.
Religious fervor drives elephant slaughter

(09/14/2012) The legal ivory trade is failing to protect elephants which are being slaughtered en mass across the African continent to meet demand for religious trinkets, argues a new investigative report published in National Geographic by Bryan Christy.
Remarkable new monkey discovered in remote Congo rainforest
(09/12/2012) In a massive, wildlife-rich, and largely unexplored rainforest of the Democratic Republic of the Congo (DRC), researchers have made an astounding discovery: a new monkey species, known to locals as the 'lesula'. The new primate, which is described in a paper in the open access PLoS ONE journal, was first noticed by scientist and explorer, John Hart, in 2007. John, along with his wife Terese, run the TL2 project, so named for its aim to create a park within three river systems: the Tshuapa, Lomami and the Lualaba (i.e. TL2), a region home to bonobos, okapi, forest elephants, Congo peacock, as well as the newly-described lesula.
Picture of the day: Yao Ming with baby elephant orphaned by ivory trade

(08/27/2012) Former NBA Basketball player and Olympian, Yao Ming is taking his first trip through Africa in order to see the on-the-ground impacts of the black-market ivory and rhino trades in East Asia. Ming, who stands 7-and-a-half feet (2.3 meters), has become not only well-known for his athletic prowess, but also his devotion to endangered wildlife.
Key mammals dying off in rainforest fragments
(08/15/2012) When the Portuguese first arrived on the shores of what is now Brazil, a massive forest waited for them. Not the Amazon, but the Atlantic Forest, stretching for over 1.2 million kilometers. Here jaguars, the continent's apex predator, stalked peccaries, while tapirs waded in rivers and giant anteaters unearthed termites mounds. Here, also, the Tupi people numbered around a million people. Now, almost all of this gone: 93 percent of the Atlantic Forest has been converted to agriculture, pasture, and cities, the bulk of it lost since the 1940s. The Tupi people are largely vanished due to slavery and disease, and, according to a new study in the open access journal PLoS ONE, so are many of the forest's megafauna, from jaguars to giant anteaters.
Turning gorilla poachers into conservationists in the Congo [warning: graphic photos]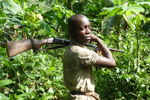 (08/13/2012) Although founded only four years ago, Endangered Species International-Congo, has ambitious plans to protect dwindling Western gorilla populations and aid local people in the Republic of the Congo. The organization, an offshoot of Endangered Species International (ESI), has been spending the last few years studying the bushmeat trade in Pointe-Noire, the country's second largest city, and developing plans for turning hunters into conservationists.
Camera traps confirm that Sumatran rhinos still roam Leuser rainforest

(08/12/2012) With the help of remote camera traps, wildlife rangers have confirmed that the Sumatran rhino (Dicerorhinus sumatrensis) still inhabits the Leuser ecosystem in northern Sumatra, making the forest the only place on the Earth where Sumatran tigers, orangutans, elephants, and rhinos survive in a single ecosystem, though all remain Critically Endangered.
Kids campaign to save South Africa's rhinos from poaching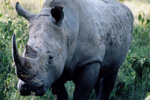 (08/09/2012) The young founders of the U.S. conservation group, One More Generation (OMG), have taken on a new task: halting rhino poaching in South Africa. After a trip last year to visit South Africa, Carter Ries (age 11) and Olivia Ries (age 9), have jump-started a campaign to help convince the South African government to put more resources into halting a rhino poaching plague in the country. Last year an astounding 448 rhinos were killed in South Africa for their horns, averaging more than one rhino a day.
A new tool for taking on elephant poaching: DNA forensics

(08/08/2012) One of the difficulties plaguing law enforcement and authorities when it comes to tackling elephant poaching is determining where the ivory originates. Now, research published in the journal Evolutionary Applications, has found a new way of tracking ivory back to wild elephants populations: forensic genetic studies.
President of Chad sends troops after elephant poachers
(08/03/2012) Following the July 24 massacre of dozens of elephants in southwestern Chad, President Idriss Deby Itno sent helicopters to the Mayo Lemie – Chari Baguiri area to catch the poachers, according to Stephanie Vergniault, president of SOS Elephants, a wildlife NGO. President Deby also gave orders to check all the country's exit points for both the poachers and smuggled ivory. Reputedly, President Deby is personally concerned about elephant poaching and was unhappy to learn of last week's incident.
Dozens of elephants massacred in Chad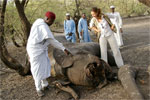 (07/26/2012) Poachers killed at least 30 elephants in southwestern Chad during the early hours of Tuesday, July 24. During the night, Stephanie Vergniault, president of the organization SOS Elephants, described on her Facebook page how a group of armed horsemen chased a herd of elephants with "war weapons near the SOS Elephants camp in the Chari Baguirmi area. After daybreak, the SOS Elephants team counted 28 carcasses, most with missing tusks. The exact number of carcasses with missing tusks is unclear because the team was afraid to stay and investigate further due to the presence of the poachers hiding on the other side of the Chari River.
Gang raids remote national park in the Democratic Republic of the Congo

(07/26/2012) Mai mai rebels, likely linked to poachers, raided the headquarters of the remote Upemba National Park last weekend, reports the Frankfurt Zoological Society (FZS) which is working to rehabilitate the park in the Democratic Republic of the Congo (DRC). Fortunately, no one was injured in the raid, but equipment was stolen. The raid comes only a few weeks after a different group of rebels murdered seven people and shot dead 13 captive okapis at the Okapi Wildlife Reserve.
Half of tropical forest parks losing biodiversity
(07/25/2012) Governments have set up protected areas, in part, to act as reservoirs for our Earth's stunning biodiversity; no where is this more true than in the world's tropical forests, which contain around half of our planet's species. However a new study in Nature finds that wildlife in many of the world's rainforest parks remains imperiled by human pressures both inside and outside the reserves, threatening to undercut global conservation efforts. Looking at a representative 60 protected areas across 36 tropical nations, the scientists found that about half the parks suffered an "erosion of biodiversity" over the last 20-30 years.
Scientists propose a new way forward on orangutan conservation
(07/16/2012) Orangutans are in dire need of a revised conservation approach, according to a new study in the Annals of the New York Academy of Sciences. While the plight of the species is widely recognized within the conservation community—receiving international attention in the form of scientific research, funding, and NGO efforts—the authors argue that "there has been frustratingly little progress."
Poaching in the Serengeti linked to poverty, high legal hunting prices

(07/09/2012) In the effort to protect the Serengeti—arguably Africa's most famous ecosystem—one of the major problems is the bushmeat trade. Population growth, little available protein, poverty, and a long-standing history of hunting has led many communities to poach wildlife within Serengeti National Park. Interviewing over a thousand community members in the western Serengeti, scientists found that community members are largely aware that wildlife hunting is illegal and that conservation of wild species is important, but hunt animals anyway partly out of necessity.
Poaching results in elephant gender imbalance in Indian park

(07/09/2012) Scientists have undertaken a new census of Asian elephants (Elephas maximus) in India's Biligiri Rangaswamy Temple Tiger Reserve (BRT) following almost 30 years of sustained poaching. Estimating that the park contains four female elephants for every male, the scientists warn in a new study in mongabay.com's open access journal Tropical Conservation Science that this gender imbalance threatens the population. Poachers target male Asian elephants for their tusks, generally leaving females untouched.
Tracking elephants in Cameroon to mitigate conflict with locals

(07/09/2012) Elephant conservation is imperiled by poor spatial planning, according to a new study in mongabay.com's open access journal Tropical Conservation Science. Tracking two elephant matriarchs in and around Bénoué National Park in Cameroon, scientists found that the herds spent over half their time outside of the park, highlighting the potential for human-wildlife conflict as elephants are known to raid fields.
Endangered fruit bats, and many other species, on the menu in the Philippines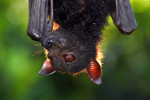 (07/09/2012) Bushmeat hunting is well-known to be decimating animal populations in Africa, but has been little studied much of Southeast Asia. However, a new paper in mongabay.com's open access journal Tropical Conservation Science shines light on the size and scale of bushmeat poaching in the Philippines. Studying an anonymous community near a national park on the island of Luzon, researchers found that poachers targeted 22 species, ten of which are considered either threatened or near threatened with extinction by the IUCN Red List.
Poacher known as 'Morgan' behind devastating massacre at Okapi Wildlife Reserve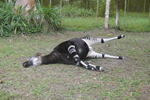 (07/05/2012) Officials have pointed to an infamous elephant poacher known as 'Morgan' as the head of the murderous attack at the Okapi Wildlife Reserve station in the Democratic Republic of the Congo (DRC) late last month. The attack by Morgan and his crew left seven people dead, including two wildlife rangers. The poachers also shot dead 13 captive okapis at the headquarters, which were considered ambassadors for the imperiled forest. One okapi remains alive, but injured and conservationists are not optimistic about its survival. UNESCO and the the NGO Fauna and Flora international have issued an emergency appeal to raise $120,000 dollars within two weeks for the victim's families as well as for rapidly rebuilding the station.
Gabon torches their ivory stock as poachers attack okapi reserve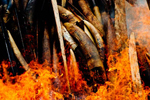 (07/02/2012) Last week, the west African nation of Gabon committed over 1,200 ivory tusks and carvings to the fire. The act, which was meant to send a strong signal to illegal wildlife poachers across Africa, came only a few days after militia poachers stormed the Okapi Wildlife Reserve in the Democratic Republic of the Congo (DRC). The assailants killed 13 okapis and six people, including two wildlife rangers, in retaliation for a crackdown against poaching and mining in the protected area. Poaching has reached epidemic levels in Africa due to increasing bushmeat consumption and a rise in East Asian demand for black-market ivory and rhino horns.
96 percent of the world's species remain unevaluated by the Red List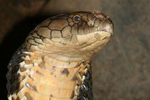 (06/28/2012) Nearly 250 species have been added to the threatened categories—i.e. Vulnerable, Endangered, and Critically Endangered—in this year's update of the International Union for Conservation of Nature's (IUCN) Red List. The 247 additions—including sixty bird species—pushes the number of threatened species globally perilously close to 20,000. However to date the Red List has only assessed 4 percent of the world's known species; for the other 96 percent, scientists simply don't know how they are faring.
Historic birth for the Sumatran rhino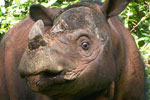 (06/24/2012) After two miscarriages and a pregnancy that lasted 15 months, Ratu, a female Sumatra rhino, has given birth to a healthy male calf, conservationists happily announced this weekend. The birth at a rhino sanctuary in Way Kambas National Park in Sumatra is the culmination of years of hard work, dedication, and the best reproductive rhino science in the world. This is the first captive birth in Indonesia, and only the fourth captive birth for the Sumatran rhino (Dicerorhinus sumatrensis) in the last hundred years. The successful birth brings new hope for one of the world's rarest mammals: less than 200 Sumatra rhinos are thought to survive in the world.
Congolese experts needed to protect Congo Basin rainforests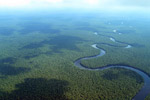 (06/20/2012) This summer, the Democratic Republic of Congo (DRC) is expected to approve a new higher education strategy which the country has developed with the World Bank and other international donors. The shape of this educational reform initiative will be critical to Congo's future in many ways. It could finally offer Congo's long-suffering people a route into the 21st century. It will also help determine the future of the DRC's forests. Nearly half of the Congo Basin's remaining rainforest is in the DRC—yet the critical role of Congolese experts in forestry, agricultural science, wildlife management and other rural sciences in protecting this forest is not widely recognized.
Nearly 50 tigers die in India in last six months

(06/18/2012) Since January 1st, 48 Bengal tigers (Panthera tigris tigris) have been found dead in India, which has the world's largest population of tigers. According to India's National Tiger Conservation Authority (NTCA), 19 of those deaths have been confirmed to be at the hands of poachers, but that number could become even higher. In order to combat a surge in tiger poaching, the Indian state of Maharashtra has recently granted legal immunity to any forest ranger who shoots a poacher.
New campaign targets snares in effort to save world's big cats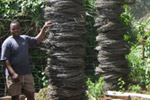 (06/05/2012) Last summer, a wild Sumatran tiger—one of only a few hundred surviving on the island—made news in a story that did not have a happy ending. The cat had become entangled in a snare in a logging concession owned by Asia Pulp and Paper (APP). The tiger spent seven days without food or water before wildlife rangers found it, but its snared right paw was a bloody black mess. Although the rangers were able to sedate and free the cat, it died shortly thereafter from its wounds.
Saving Indonesia's monkey with a heart-shaped bottom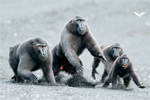 (06/05/2012) North Sulawesi is one of the world's most beautiful places. Verdant forests and stunning coral reefs, combined with high levels of species endemism, make it a top biodiversity hotspot. But pressure on the region's natural resources is mounting. Mining projects, conversion of forests for plantations, overfishing, and the expansion of a commercial bushmeat trade is endangering some of Sulawesi's most charismatic animals, including the distinctive Sulawesi crested black macaque. Found only in North Sulawesi, the crested black macaque could be one of Indonesia's most iconic conservation symbols, but relatively few people know of its existence. And the locals who do may be inclined to eat it as a delicacy.
The rarest rhino's last stand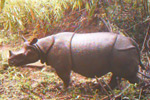 (06/04/2012) Trekking through deep mud and sawgrass we find a stinking wallow. The elite rangers, dressed completely in black despite the tropical heat, mark the site with the GPS unit, measure the mucky puddle's depth, and move on. This is the first sign of one of the planet's rarest animals—the Javan rhino. Only 35 or so remain, including none in captivity. This patch of rainforest and swamp in Ujung Kulon National Park—on the very tip of West Java—is their last and only refuge.
Over half of world's tiger reserves lack minimum protection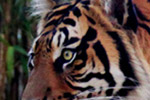 (05/21/2012) A year-and-a-half after a landmark summit that pledged to double the world's number of tigers by 2022, and still 65 percent of tiger reserves lack minimum standards of protection for the world's largest cat, according to the World Wide Fund for Nature (WWF). Reporting at the first meeting of all 13 tiger-range countries since the 2010 summit, WWF said that 41 tiger reserves of 63 did not have enough boots on the ground to combat tiger poaching.
Organizations target rhino horn consumption in China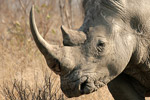 (05/07/2012) Last year nearly 450 rhinos were killed for their horns in South Africa, which has become the epicenter for the global rhino poaching epidemic. Rhinos are dying to feed rising demand for rhino horn in Asia, which is ground up and sold as traditional Chinese medicine, even though scientific studies have shown that rhino horn has no medicinal benefit. Now, two organizations, the African Wildlife Foundation (AWF) and Wildaid have announced a partnership to move beyond anti-poaching efforts and target rhino horn consumption in China.
Exploring Asia's lost world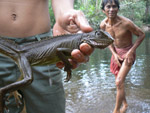 (05/03/2012) Abandoned by NGOs and the World Bank, carved out for rubber plantations and mining by the Cambodian government, spiraling into a chaos of poaching and illegal logging, and full of endangered species and never-explored places, Virachey National Park may be the world's greatest park that has been written off by the international community. But a new book by explorer and PhD student, Greg McCann, hopes to change that. Entitled Called Away by a Mountain Spirit: Journey to the Green Corridor, the book highlights expeditions by McCann into parts of Virachey that have rarely been seen by outsiders and have never been explored scientifically, including rare grasslands that once housed herds of Asian elephants, guar, and Sambar deer, before poachers drove them into hiding, and faraway mountains with rumors of tigers and mainland Javan rhinos.
Camera traps discover tigers, elephants in "empty" forest park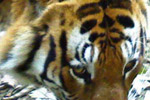 (04/16/2012) Although it's named Namdapha Tiger Reserve, conservationists had long feared that tigers, along with most other big mammals, were gone from the park in northeast India. However, an extensive camera trap survey has photographed not only Bengal tigers (Panthera tigris tigris), but also Asian elephants (Elephas maximus), which were also thought extirpated from the park. Once dubbed an "empty forest" due to poaching, the new survey shows that Namdapha still has massive conservation potential.
Gabon to burn ivory stockpiles

(04/09/2012) The government of Gabon has announced it will burn its stockpiles of ivory later this year in a bid to undercut illegal elephant poaching, which is decimating populations in central Africa.
Kruger National Park loses 95 rhinos to poachers in three months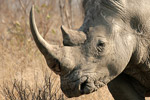 (04/05/2012) Since the first of the year, South Africa's Kruger National Park has lost 95 rhinos to poachers, reports the blog Rhino Horn is NOT Medicine. South Africa, and Kruger National Park in particular, continue to be the epicenter for rhino poaching worldwide. South Africa has lost 159 rhinos in total this year with Kruger bearing nearly 60 percent of the fatalities.
Banning ivory sales to China could save elephants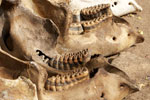 (03/24/2012) Although the international ivory trade has been banned since 1989, last year was the worst ever for elephant poaching, and this year has begun little better as reports come out of Cameroon of hundreds of elephants slaughtered in a single park. What went wrong? According to a new briefing by the Environmental Investigation Agency (IEA), approved legal auctions of ivory by the Convention on International Trade in Endangered Species (CITES) to Japan and, especially, China has fueled, rather than abated as promised, the illegal trade along with mass deaths of elephants across Africa.
Scientists say massive palm oil plantation will "cut the heart out" of Cameroon's rainforest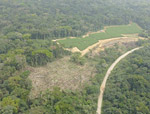 (03/15/2012) Eleven top scientists have slammed a proposed palm oil plantation in a Cameroonian rainforest surrounded by five protected areas. In an open letter, the researchers allege that Herakles Farm, which proposes the 70,000 hectare plantation in southwest Cameroon, has misled the government about the state of the forest to be cleared and has violated rules set by the Roundtable on Sustainable Palm Oil (RSPO), of which it's a member. The scientists, many of whom are considered leaders in their field, argue that the plantation will destroy rich forests, imperil endangered species, and sow conflict with local people.
Without data, fate of great apes unknown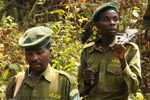 (03/12/2012) Our closest nonhuman relatives, the great apes, are in mortal danger. Every one of the six great ape species is endangered, and without more effective conservation measures, they may be extinct in the wild within a human generation. The four African great ape species (bonobos, chimpanzees and two species of gorilla) inhabit a broad swath of land across the middle of Africa, and two species of orangutans live in rainforests on the islands of Borneo and Sumatra in Southeast Asia.




Page 1 | Page 2 | Page 3 | Page 4 | Page 5 | Page 6 | Page 7 | Page 8 | Page 9 | Page 10 | Page 11 | Page 12 | Page 13