News articles on plantations

---
Mongabay.com news articles on plantations in blog format. Updated regularly.






Dead tigers, dead people: logging by paper industry worsens human-tiger conflict in Sumatra, alleges report
(01/10/2013) Destruction of rainforests and peatlands on the Indonesian island of Sumatra by the pulp and paper industry is worsening conflict between tigers and humans, including fatal encounters, alleges a new report published by a coalition of environmental groups in Riau, Sumatra. The report looks specifically at five concessions operated by companies that supply wood to Asia Pulp & Paper (APP) and its corporate parent, the Sinar Mas Group (SMG). The report says that the majority of human-tiger conflict incidents in Riau between 1997 and 2009 occurred within these concessions.
Paradigm shift needed to avert global environmental collapse, according to author of new book The Blueprint: Averting Global Collapse
(01/10/2013) Global strategist, trained educator, and international lecturer Daniel Rirdan set out to create a plan addressing the future of our planet. His book The Blueprint: Averting Global Collapse, published this year, does just that. "It has been a sixty hour a week routine," Rirdan told mongabay.com in a recent interview. "Basically, I would wake up with the burden of the world on my shoulders and go to sleep with it. It went on like this for eighteen months." It becomes apparent when reading The Blueprint that it was indeed a monumental undertaking.
Biofuel boom could lead to life-threatening ozone pollution

(01/09/2013) Not long ago biofuels were seen as one of the major tools to combat climate change, but a large number of studies in recent years have shown that many first generation biofuels may have little climate benefit—and some are actually harmful—and are also linked to rising food prices. Now, a new study in Nature Climate Change warns that biofuels using fast-growing trees (polar, willow, and eucalytpus) could also exacerbate ground-level ozone pollution.
The year in rainforests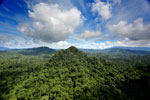 (12/31/2012) 2012 was another year of mixed news for the world's tropical forests. This is a look at some of the most significant tropical rainforest-related news stories for 2012. There were many other important stories in 2012 and some were undoubtedly overlooked in this review. If you feel there's something we missed, please feel free to highlight it in the comments section. Also please note that this post focuses only on tropical forests.
Paper giant breaks pledge to end rainforest logging in Sumatra, says group
(12/26/2012) Pulp and paper giant Asia Pacific Resources International Limited (APRIL) continues to destroy large areas of rainforests and peatlands despite a commitment to end natural forest logging by 2009, says a new report issued by a coalition of Indonesian environmental groups. The Eyes on the Forest report finds that APRIL and its suppliers cleared at least 140,000 hectares (346,000 acres) of natural forest between 2008 and 2011 in Riau, accounting for 27 percent of all forest loss in the province during the period. Some of the area cleared by APRIL and its subsidiaries consisted of deep peat swamp forest, which stores massive amount of carbon.
Cutting through the rhetoric on palm oil production
(12/14/2012) Palm oil is widely acknowledged as one of the most important drivers of deforestation and forest diminishment in Southeast Asia. Conversion of forests and peatlands for oil palm plantations is both a substantial source of greenhouse gas emissions and a major threat to biodiversity — one study called palm oil the 'single most immediate threat to the greatest number of species'.
Palm oil or lard?

(12/07/2012) Animal fats and margarine consumption in the United States have been largely replaced by palm oil, a plant-based oil that has similar cooking properties, but may not be as environmentally-friendly as commonly believed, argues a researcher in this week's issue of Nature.
Asia Pulp & Paper hires top U.S. lobbyist to help 'green' its image
(12/05/2012) Indonesian forestry giant Asia Pulp & Paper (APP) has hired a top U.S. official to help it work through trade and environmental issues. In November, APP announced it had retained Stuart Eizenstat of Covington & Burling, a U.S.-based law firm, to help 'ensure APP's trade and sustainability compliance in North America'. Eizentstat's hiring is notable because he led the U.S. delegation that negotiated the Kyoto Protocol and has served in a number of high-level government positions, including U.S. Ambassador to the European Union; Under Secretary of Commerce for International Trade; Under Secretary of State for Economic, Business and Agricultural Affairs; and Deputy Secretary of the Treasury in the Clinton Administration.
Indonesia approves first REDD+ project in Borneo

(12/05/2012) The Indonesian government has approved its first REDD+ project to reduce emissions from deforestation and peatlands degradation, reports President Susilo Bambang Yudhoyono's office.
Indonesia lost 8.8m ha of forest in the 2000s, generating 7 billion tons of CO2

(12/02/2012) Indonesia's greenhouse gas emissions from deforestation could have been reduced by hundreds of millions of tons had a moratorium on new concessions in high carbon forest areas and peatlands been implemented earlier, reported a researcher presenting at a forests conference on the sideline of climate talks in Doha.
Complaint filed with palm oil body over orangutan rescue case
(11/29/2012) Conservationists have filed a complaint against an Indonesian palm oil company for allegedly clearing an area of forest that contained orangutans. Earlier this month, the Sumatran Orangutan Society (SOS) filed a complaint against PT Sisirau for allegedly breaching the Roundtable on Sustainable Palm Oil's rules on sparing high conservation value forest. PT Sisirau is a member of the Roundtable on Sustainable Palm Oil (RSPO), a multistakeholder body that sets criteria for more environmentally responsible palm oil production.
E.U. OKs biofuels produced from certified palm oil
(11/28/2012) The European Commission has approved palm oil-based biodiesel for the renewable fuels standard provided it is certified under the Roundtable for Sustainable Palm Oil (RSPO), a body that sets social and environmental criteria for palm oil production. The move, which could dramatically boost sales of palm oil in Europe, was sharply criticized by environmental activists, who said that without stronger safeguards, increased palm oil production could increase deforestation and greenhouse gas emissions.
Featured video: how locals depend on Kalimantan's vanishing forests

(11/27/2012) A new video explores local indigenous views of the forests of Kalimantan or Indonesian Borneo. Having depended on the rainforest ecosystems for centuries, indigenous groups now find themselves under pressure to exploit forest for logging, coal mining, or industrial plantations. While biodiversity, carbon sequestration, and other ecosystem services are at stake, the forests are also deeply intertwined with the culture and way-of-life for indigenous group.
Photos reveal destruction of Cameroon rainforest for palm oil
(11/26/2012) Newly released photos by Greenpeace show the dramatic destruction of tropical forest in Cameroon for an oil palm plantation operated by SG Sustainable Oils Cameroon (SGSOC), a subsidiary of the U.S. company Herakles Farm. The agriculture company is planning to convert 73,000 hectares to palm oil plantations on the edge of several protected areas, but has faced considerable opposition from environmentalists and some local communities. In addition to the aerial photos, Greenpeace alleges that ongoing forest clearing by Herakles is illegal since the companies 99-year lease has yet to be fully approved by the Cameroonian government.
Borneo may lose half its orangutans to deforestation, hunting, and plantations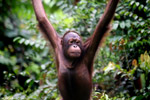 (11/13/2012) Borneo will likely lose half of its orangutans if current deforestation and forest conversion trends continue, warns a comprehensive new assessment by an international team of researchers. The study, published in the journal PLoS ONE, overlays orangutan distribution with land use regulations in Malaysian and Indonesian Borneo. Borneo has suffered high rates of deforestation, logging, and forest conversion for industrial plantations in recent decades, endangering the world's largest surviving populations of orangutans.
Will designation of new administrative districts lead to more deforestation in Indonesia?
(10/24/2012) On Monday Indonesia's House of Representatives moved to establish 'North Kalimantan', a new province in Indonesian Borneo. It also voted for four new districts: Pangandaran in West Java, South Coast in Lampung, and South Manokwari and Arfak Mountains in West Papua. While the moves aim to improve governance by boosting local autonomy, they could make it more difficult for Indonesia to meet its deforestation reduction goals if recent trends — detailed in a 2011 academic paper — hold true.
Is your Halloween candy linked to rainforest destruction?

(10/11/2012) A campaign by the Cheyenne Mountain Zoo hopes to raise awareness about the link between Halloween candy and deforestation in Indonesia and Malaysia. Employing the images of Critically Endangered orangutans, the zoo urges consumer to only buy candy containing eco-certified palm oil by the Round Table on Sustainable Palm Oil (RSPO).
90 percent of oil palm plantations came at expense of forest in Kalimantan
(10/08/2012) From 1990 to 2010 almost all palm oil expansion in Kalimantan came at the expense of forest cover, according to the most detailed look yet at the oil palm industry in the Indonesian state, published in Nature: Climate Change. Palm oil plantations now cover 31,640 square kilometers of the state, having expanded nearly 300 percent since 2000. The forest loss led to the emission of 0.41 gigatons of carbon, more than Indonesia's total industrial emissions produced in a year. Furthermore the scientists warn that if all current leases were converted by 2020, over a third of Kalimantan's lowland forests outside of protected areas would become plantations and nearly quadruple emissions.
Roundtable on Sustainable Palm Oil hits 10 year mark
(10/04/2012) The Roundtable on Sustainable Palm Oil (RSPO) is holding its tenth annual meeting later this month. The initiative, which aims to improve the social and environmental performance of palm oil production through a certification standard, has advanced considerably during that time, moving from an idea to a reality: RSPO-certified palm oil now accounts for 12 percent of global palm oil production. Yet the RSPO is not without controversy. Some palm oil companies say its criteria are too costly to adopt and are therefore discriminatory, while environmental critics argue its bar for "sustainable" palm oil is too low and the loopholes allow producers to claim membership even if they aren't actually producing certified palm oil across all their holdings. Nonetheless the RSPO has support from many of the world's largest palm oil producers, traders, and consumers as well as the biggest NGOs.
Illegal logging worth $30-100B annually

(10/01/2012) Illegal logging accounts for 15-30 percent of forestry in the tropics and is worth $30-100 billion worldwide, alleges a new report published by the United Nations Environment Programme (UNEP) and INTERPOL. Consuming countries play a major role in the trade, which is increasingly sophisticated and in some places is facilitated by the expansion of industrial plantations.
Aceh revokes permit for controversial oil palm plantation in Sumatra

(10/01/2012) Aceh Governor Zaini Abdullah officially revoked the business permit for a company developing a controversial oil palm plantation in a peat swamp in Sumatra, concluding a case that had tested Indonesia's commitment to a moratorium on new concessions in peatlands and rainforests.
In eco-pact, will controversial paper giant APP turn over a new leaf?
(09/26/2012) Over the past decade-and-a-half there has arguably been no paper supplier as controversial as Asia Pulp & Paper (APP), an umbrella brand for several Indonesian forestry companies. The paper giant has been dogged by allegations that is destroying key wildlife habitat, driving substantial greenhouse gas emissions through the conversion of peat forests, dispossessing local communities of land, and engaging in a heavy-handed campaign to undermine its critics within Indonesia and abroad. Its reputation hasn't be helped by its financial record — in 2001 it defaulted on $13.9 billion in debt, making it difficult for APP to raise money for expansion.
What's wrong with tree plantations?

(09/21/2012) Public environmental awareness has come a long way since September 1962, when Rachel Carson's 'Silent Spring' was published, stimulating the birth of the environmental movement.
NGO: Malaysian leader worth $15 billion despite civil-servant salary; timber corruption suspected

(09/19/2012) Abdul Taib Mahmud, who has headed the Malaysian state of Sarawak for over 30 years, is worth $15 billion according to a new report by the Bruno Manser Fund. The report, The Taib Timber Mafia, alleges that Taib has used his position as head-of-state to build up incredible amounts of wealth by employing his family or political nominees to run the state's logging, agriculture, and construction businesses. Some environmental groups claim that Sarawak has lost 90 percent of its primary forests to logging, while indigenous tribes in the state have faced the destruction of their forests, harassment, and eviction.
Learning to live with elephants in Malaysia
(09/18/2012) Humans and elephants have a lot in common: both are highly intelligent, intensely social, and both are capable of having a massive impact on their local environments. Given their similarities, it might not be surprising that elephants and human have often run afoul of one another. Conflict between these two great species has probably been going on for thousands of years, but as human populations have grown dramatically, elephant populations have been crippled and forced into smaller-and-smaller pockets. No-where is this more true than in Southeast Asia.
Photos: camera traps capture wildlife bonanza in Borneo forest corridor
(09/10/2012) Camera traps placed in a corridor connecting two forest fragments have revealed (in stunning visuals) the importance of such linkages for Borneo's imperiled mammals and birds. Over 18 months, researchers with the Sabah Wildlife Department (SWD) and the Danau Girang Field Centre (DGFC) have photographed wildlife utilizing the corridor located in the Lower Kinabatangan Wildlife Sanctuary in Malaysian Borneo.
Palm oil company in Cameroon drops bid for eco-certification of controversial plantation

(09/05/2012) Herakles Farm, a U.S.-based agricultural developer, will no longer seek eco-certification of its 70,000-hectare oil palm plantation in Cameroon, reports the Roundtable on Sustainable Palm Oil (RSPO). The move comes amid criticism from environmental groups that Herakles is converting high conservation value rainforest for the plantation.
Rainforests decline sharply in Sumatra, but rate of deforestation slows
(08/28/2012) The extent of old-growth forest in Sumatra shrank by 40 percent over the past 20 years, while overall forest on the Indonesian island declined by 36 percent, finds a comprehensive new satellite-based assessment published in Environmental Research Letters. The research, conducted by an international team led by Belinda Arunarwati Margono of South Dakota State University and Indonesia's Ministry of Forestry, reveals the dire condition of Sumatra's once extensive rainforests. Overall Sumatra lost 7.5 million hectares of forest between 1990 and 2010, of which about 2.6 million hectares was primary forest. The bulk of forest loss occurred in secondary forests that had been previously degraded by logging.
Palm oil need not come at expense of the environment

(08/16/2012) Palm oil production need not come at the expense of the environment, says Greenpeace in a new campaign that highlights a smallholder approach used by a community in Riau Province on the island of Sumatra.
Indonesia's pulp and paper targets incompatible with green growth goals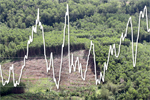 (08/10/2012) Indonesia's pulp and paper targets incompatible with green growth goals Indonesia's ambitious targets for boosting pulp and paper production to make it the world's lowest-cost producer are at odds with its push for green economic growth should expansion proceed on its current business-as-usual path, said a forestry expert presenting at the annual meeting of the Association for Tropical Biology and Conservation (ATBC) in Bonito, Brazil.
Hundreds of hotspots burn Tesso Nilo National Park, threatening elephants
(08/08/2012) From June to July, hundreds of fires spread in Tesso Nilo National Park in Indonesia. Based on the data from World Wide Fund for Wildlife (WWF) Program-Riau, fire hotspots reached their peak in the third week of June. As of early July, fires, which were triggered a month earlier, could not be totally extinguished.
Cambodia's largest lowland rainforest spared from new land concessions

(08/06/2012) Four economic land concessions have been cancelled in Cambodia's Prey Lang forest, known as the largest intact lowland forest in Southeast Asia, reports the Phnom Penh Post. The economic land concessions, totaling over 40,000 hectares, would have been used for rubber plantations.
Tigers vs. coal in India: when big energy meets vanishing cats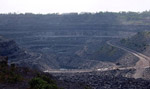 (08/01/2012) Burning coal fuels climate change, causes acid rain, and spreads toxic pollutants into the environment, but now a new Greenpeace report warns that coal may also imperil the world's biggest feline: the tiger. Home to world's largest population of tigers—in this case the Bengal subspecies (Panthera tigris tigris)—India is also the world's third largest coal producer. The country's rapacious pursuit of coal—it has nearly doubled production since 2007—has pushed the industry into tiger territory, threatening to destroy forests and fragment the tiger's already threatened population.
'National scandal:' foreign companies stripped Papua New Guinea of community-owned forests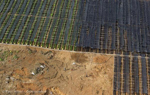 (07/30/2012) Eleven percent of Papua New Guinea's land area has been handed over to foreign corporations and companies lacking community representation, according to a new report by Greenpeace. The land has been granted under controversial government agreements known as Special Agricultural and Business Leases (SABLs), which scientists have long warned has undercut traditional landholding rights in the country and decimated many of Papua New Guinea's biodiverse rainforests. To date, 72 SABLs have been granted—mostly to logging companies—covering an area totaling 5.1 million hectares or the size of Costa Rica.
Chart: Indonesia's forest moratorium

(07/22/2012) Indonesia's moratorium on new forestry concessions was proposed in 2010 under an agreement with Norway to reduce emissions from deforestation and peatlands degradation. Set to begin Jan 1, 2011, the moratorium was not defined until May 2011 due to battles over what lands would be included. The moratorium was originally expected to include all forest areas, but lobbying by industrial sectors led to significant weakening, resulting in only peatlands and primary forests being included in the moratorium, with loopholes for mining and some energy and food crops.
Experts: sustainable logging in rainforests impossible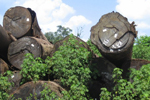 (07/19/2012) Industrial logging in primary tropical forests that is both sustainable and profitable is impossible, argues a new study in Bioscience, which finds that the ecology of tropical hardwoods makes logging with truly sustainable practices not only impractical, but completely unprofitable. Given this, the researchers recommend industrial logging subsidies be dropped from the UN's Reducing Emissions from Deforestation and Forest Degradation (REDD+) program. The study, which adds to the growing debate about the role of logging in tropical forests, counters recent research making the case that well-managed logging in old-growth rainforests could provide a "middle way" between conservation and outright conversion of forests to monocultures or pasture.
Industrial logging leaves a poor legacy in Borneo's rainforests
(07/17/2012) For most people "Borneo" conjures up an image of a wild and distant land of rainforests, exotic beasts, and nomadic tribes. But that place increasingly exists only in one's imagination, for the forests of world's third largest island have been rapidly and relentlessly logged, burned, and bulldozed in recent decades, leaving only a sliver of its once magnificent forests intact. Flying over Sabah, a Malaysian state that covers about 10 percent of Borneo, the damage is clear. Oil palm plantations have metastasized across the landscape. Where forest remains, it is usually degraded. Rivers flow brown with mud.




Page 1 | Page 2 | Page 3 | Page 4 | Page 5 | Page 6 | Page 7 | Page 8 | Page 9 | Page 10 | Page 11 | Page 12 | Page 13 | Page 14 | Page 15